15 Easy Chinese Restaurant Recipes You Can Make at Home
Between commuting home from work and trying to balance a packed schedule, it's no wonder so many people go with takeout or delivery during the week. Although you can't beat these meals for convenience, they fall flat in the nutrition department. With Chinese food, many preparations are battered, fried, then coated in sweet sauces. By cooking your own versions at home, you can enjoy the same flavors without destroying your diet. Because most of these 15 copycat Chinese takeout recipes are so easy, dinner might even be on the table in less time than if you'd ordered out.
1. Wonton Soup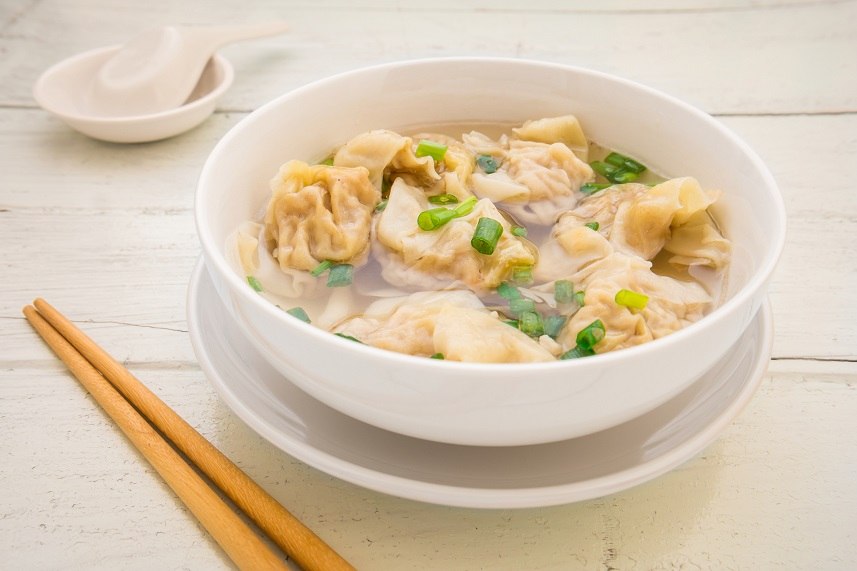 A bowl of steaming wonton soup is the perfect way to start off your meal, but the stuff you get from your local takeout joint might leave something to be desired. In this heartier version of wonton soup from Rasa Malaysia, the wontons are stuffed with shrimp and served in a chicken broth. The whole thing is ready in about 15 minutes.
Serves: 3 to 4
Ingredients:
For the wontons:
8 ounces peeled and deveined big shrimp
1 ounce yellow chives or scallions, chopped finely
15 wonton wrappers
Water, for boiling wontons
¼ teaspoon sesame oil
½ teaspoon chicken bouillon powder
¼ teaspoon fish sauce
Pinch of salt
3 dashes white pepper
½ teaspoon cornstarch
For the soup:
3 cups low sodium chicken broth
Salt to taste
White pepper to taste
Sesame oil to taste
Directions: Rinse the shrimp. Pat dry, and cut each into 3 to 4 pieces.
Transfer shrimp pieces to a bowl and add the yellow chives along with the seasonings. Let marinate for 1 hour.
Place a wonton wrapper on your palm. Spoon about 1 teaspoon of filling onto the center of the wrapper (you should have 3 to 4 pieces of shrimp). Gather the corners of the wrappers together and pinch to seal. Repeat until you've used up all the filling.
Bring the chicken broth to a boil. Add the salt, white pepper, and sesame oil.
Fill a separate pot with water. Bring to a boil and add the wontons. Cook until the wonton are fully cooked and float to the top of the pot, stirring gently to prevent sticking.
Remove wontons from put using a strainer and add to the broth. Serve.
2. Chicken Lettuce Wraps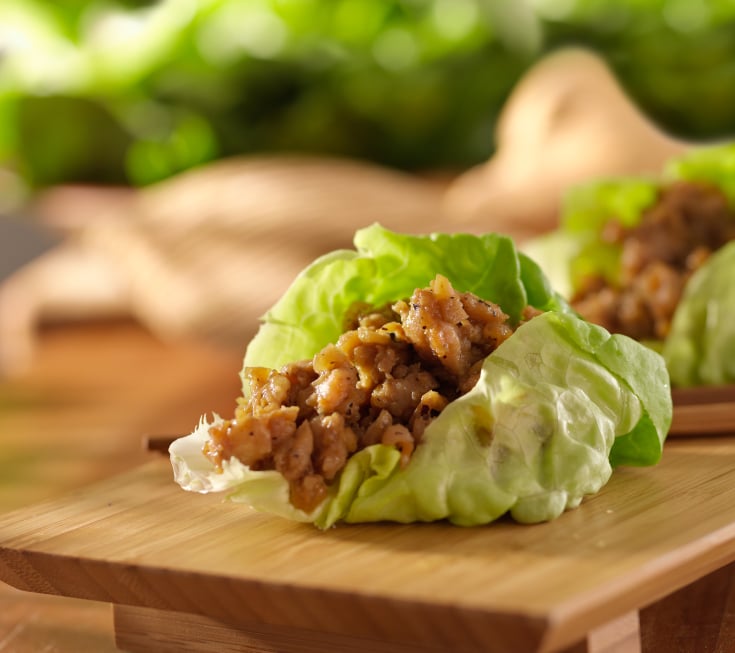 The chicken lettuce wraps are one of the most popular menu items at P.F. Chang's, but you don't need to wait in line for a table to enjoy them. Just make this copycat recipe from Damn Delicious. The low-carb recipe is perfect for a quick and easy dinner or no-fuss appetizer. Leftover filling can be stored in the refrigerator for future meals.
Serves: 4
Ingredients:
1 tablespoon olive oil
1 pound ground chicken
2 cloves garlic, minced
1 onion, diced
¼ cup hoisin sauce
2 tablespoons soy sauce
1 tablespoon rice wine vinegar
1 tablespoon freshly grated ginger
1 tablespoon Sriracha, optional
1 (8-ounce) can whole water chestnuts, drained and diced
2 green onions, thinly sliced
Kosher salt and freshly ground black pepper, to taste
1 head butter lettuce
Directions: Add the olive oil to a saucepan. Heat over medium-high. Add ground chicken to the pan and cook for 3 to 5 minutes, until browned, breaking up any large chunks of meat as the chicken cooks. Drain fat.
Add the garlic, onion, hoisin sauce, soy sauce, rice wine vinegar, ginger, and Sriracha to the pan. Cook until for 1 to 2 minutes, until onions turn translucent. Stir in the water chestnuts and green onions and cook until tender, about 1 to 2 minutes more. Season to taste with salt and pepper.
To assemble the wraps, spoon several tablespoons of the chicken mixture into the center of a lettuce leaf, then serve.
3. Quick Sesame Chicken with Broccoli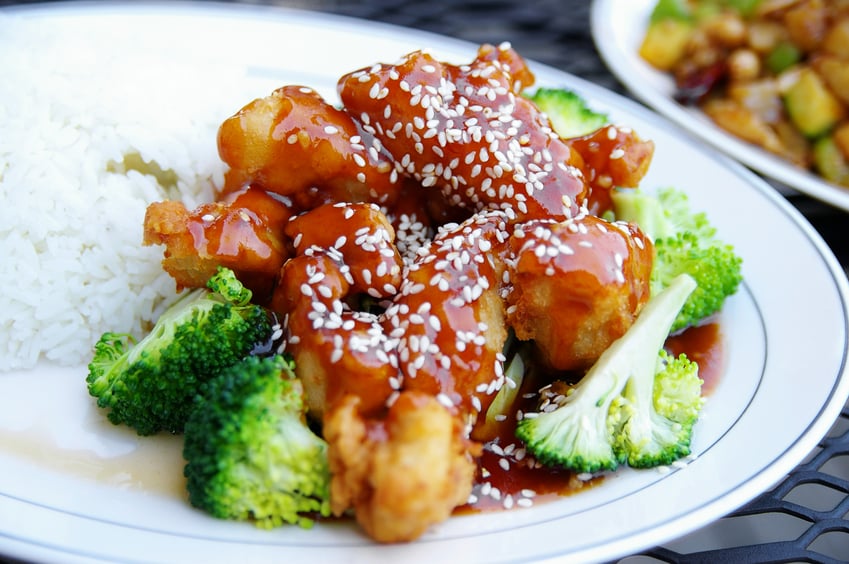 Most folks are perfectly happy to make dinner if it can come together in 30 minutes or less. This sesame chicken from Epicurious more than meets the requirement, hitting the table in just 22 minutes. With protein, veggies, and rice, it's also a complete meal. Your regular Chinese restaurant is about to lose a customer.
Serves: 4
Ingredients:
1½ cups quick-cooking white rice
1¾ teaspoons kosher salt, divided, plus more
8 cups broccoli florets
6 tablespoons cornstarch
½ teaspoon freshly ground pepper
2 pounds boneless, skinless chicken thighs, breasts, or a combination, trimmed, patted dry, and cut into 1½-inch pieces
4 tablespoons vegetable oil, divided
5 tablespoons honey
4 tablespoons low-sodium soy sauce
3 tablespoons rice wine vinegar
1 tablespoon Sriracha
1 large garlic cloves, minced or grated
1 teaspoon grated fresh ginger
1½ teaspoons toasted sesame oil
2 tablespoons toasted sesame seeds, divided
2 green onions, thinly sliced
Directions: Cook rice according to package directions, adding a pinch of salt.
Set a steam basket over a medium pot filled with 1 inch of simmering water. Add broccoli and steam until crisp-tender, about 5 to 6 minutes. Drain and set aside.
Meanwhile, combine cornstarch, pepper, and 1½ teaspoons salt in a large bowl. Add chicken and toss to coat. Heat 2 tablespoons vegetable oil in a large skillet set over high heat. Add half of chicken and cook, turning occasionally, until lightly browned and cooked through, about 5 minutes. Transfer to a plate and repeat with remaining oil and chicken.
In a medium bowl, combine honey, soy sauce, vinegar, Sriracha, garlic, ginger, sesame oil, 1 tablespoon sesame seeds, and ¼ teaspoon salt. Add to skillet and let reduce for about 1 minute. Add chicken back to skillet and cook, tossing occasionally, until sauce is reduced and coats chicken, about 2 minutes. Fold in broccoli and remove from heat.
Serve chicken and broccoli with rice. Garnish with sesame seeds and scallions.
4. Mongolian Beef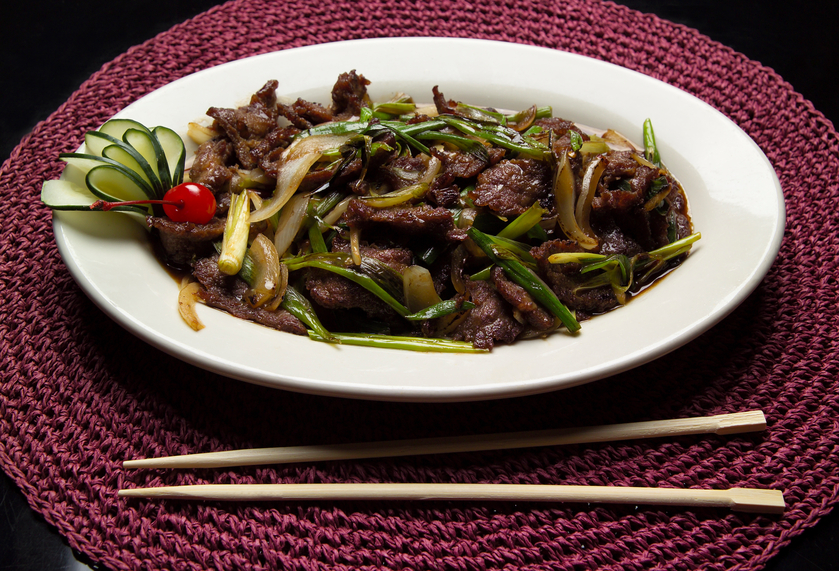 This takeout favorite is the go-to order for those who love combining sweet and savory flavors. This version from Just a Taste, inspired from a recipe on Food.com, is one of our favorites because it delivers a huge dose of flavor with just nine ingredients. If you have a few extra minutes, toss the steak into the freezer for a bit. This helps to firm it up, making the slicing process go much more easily.
Serves: 2
Ingredients:
Vegetable oil
½ teaspoon minced fresh ginger
1 tablespoon minced garlic
½ cup low-sodium soy sauce
½ cup water
⅔ cup dark brown sugar
1 (1-pound) flank steak, sliced against the grain into ¼-inch-thick slices
¼ cup cornstarch
Green portion of 3 scallions, cut into 1-inch lengths
Directions: Heat 2 teaspoons oil in a small saucepan set over  medium-low heat. Add ginger and garlic. Cook, stirring, until fragrant, about 2 minutes. Stir in soy sauce, water, and brown sugar. Bring to a boil and let cook for 3 minutes to reduce slightly. Remove from heat.
Toss steak with cornstarch, shaking to remove excess. Let sit for 10 minutes.
Heat a wok or other large, heavy skillet over medium-high heat. Add ½ cup oil. Cook beef until deeply seared on the outside but still quite pink inside, about 2 minutes. Remove to a paper towel-lined plate.
Pour off excess oil from pan then return to the stove over medium heat. Add reserved sauce to the still hot skillet, then stir in the beef. Cook, stirring, for 2 minutes. Add scallions, stir, then remove from heat. Serve.
5. Egg Rolls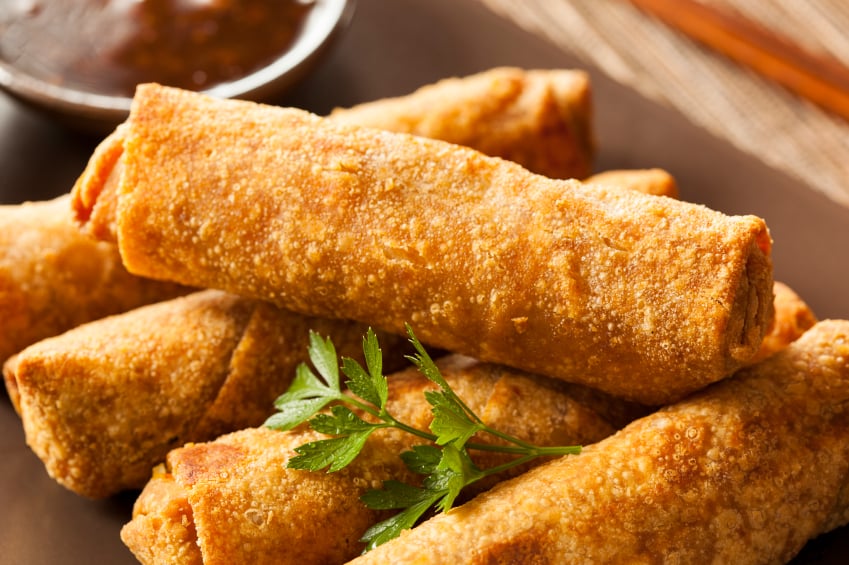 Crispy fried egg rolls stuffed with a mix of cabbage, pork, and shrimp are a must-have when you're ordering Chinese takeout. This recipe from the Woks of Life will probably take longer than delivery, but you'll have the satisfaction of making them yourself.
Serves: Makes about 24 rolls
Ingredients:
8 cups shredded savoy cabbage
8 cups shredded green cabbage
2 cups shredded carrot
2 cups shredded celery
3 scallions, chopped
2½ teaspoons salt
2 teaspoons sugar
1 tablespoon sesame oil
2 tablespoons oil
¼ teaspoon five spice powder (optional)
¼ teaspoon white pepper
3 cups shredded or diced cooked roast pork
2 cups cooked shrimp, chopped (optional)
1 package egg roll wrappers (about 24 pieces)
1 egg, beaten
Peanut or vegetable oil, for frying
Directions: Fill a large pot with water and bring to a boil. Add the cabbage, celery, and carrots and cook for 2 minutes. Scoop out the vegetables (using a spider strainer will make it easier) and transfer to an ice bath, then drain. Place the vegetables in a clean kitchen towel and squeeze out as much of the excess water as you can. (If your filling is too wet, your egg rolls will be soggy.)
Transfer the vegetables to a mixing bowl. Add the scallions, salt, sugar, sesame oil, 2 tablespoons oil, five-spice powder, white pepper, roast pork, and cooked shrimp. Toss to combine.
Wrap the egg rolls. After cleaning your hands, take up a small fist full of filling, squeeze to compress, then place it on an egg roll wrapper as if you were filling a burrito. Brush the wrapper with egg and fold up to seal. (See the original post for a visual guide to assembling your egg rolls.)
Add enough oil to submerge the egg rolls to a small pot and heat to 325 degrees Fahrenheit. Transfer a few egg rolls to the oil and cook for about 5 minutes, until golden brown in color, turning the rolls as they cook to ensure they cook evenly. Remove from pan and set aside. Repeat with the remaining egg rolls. Leftover egg rolls can be reheated in the oven.
6. Mapo Tofu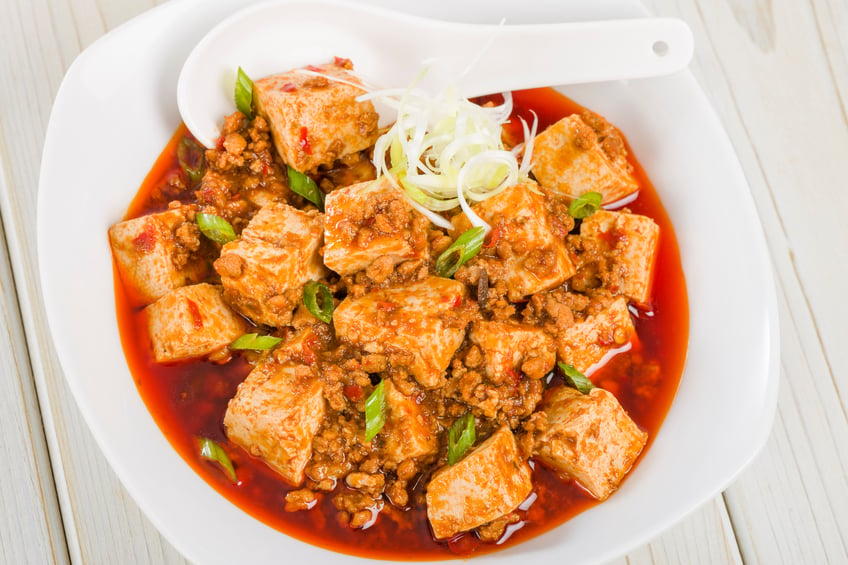 The idea of using meat as a seasoning rather than a main ingredient is relatively new in the U.S., but other cultures have been using this method to stretch a buck for quite a while. China's mapo tofu is the perfect example, featuring plenty of the soy protein and just a bit of pork. Try the dish with this simple recipe from chef Marc Matsumoto, featured on PBS' Fresh Tastes blog. Using Sichuan peppercorns ensures the signature tongue-tingling effect, but the dish will still be delicious if you can't find any.
Serves: 3 to 4
Ingredients:
½ cup low-sodium chicken broth
2 teaspoons potato starch or 1 teaspoon cornstarch
2 teaspoons soy sauce
1 teaspoon sugar
1 tablespoon sesame oil
2 medium garlic cloves, minced
2 teaspoons minced fresh ginger
4 green onions, whites and greens separated, minced
1 tablespoon fermented black beans, roughly chopped or substitute black bean paste
½ teaspoon Sichuan peppercorns, ground (optional)
6 ounces ground pork
2 teaspoons doubanjiang, sometimes called chili bean paste
1 (14-ounce) block silken tofu, drained and cut into ¾-inch cubes
Directions: Combine chicken stock, potato starch or corn starch, soy sauce, and sugar in a small bowl. Mix well.
Heat a wok or large skillet over high heat. Add sesame oil, garlic, ginger, and white portion of green onions. Stir-fry using a spatula until fragrant. Add black beans and Sichuan pepper. Cook briefly.
Add pork. Cook, breaking up into pieces with the spatula, until fully cooked. Add chili bean paste and stir to combine. Add tofu and toss to combine. Avoid stirring to prevent tofu from breaking apart.
Pour reserved sauce into pan and continue cooking, tossing, until sauce reduces and coats everything. Serve garnished with remaining green onions.
7. Pork and Egg Lo Mein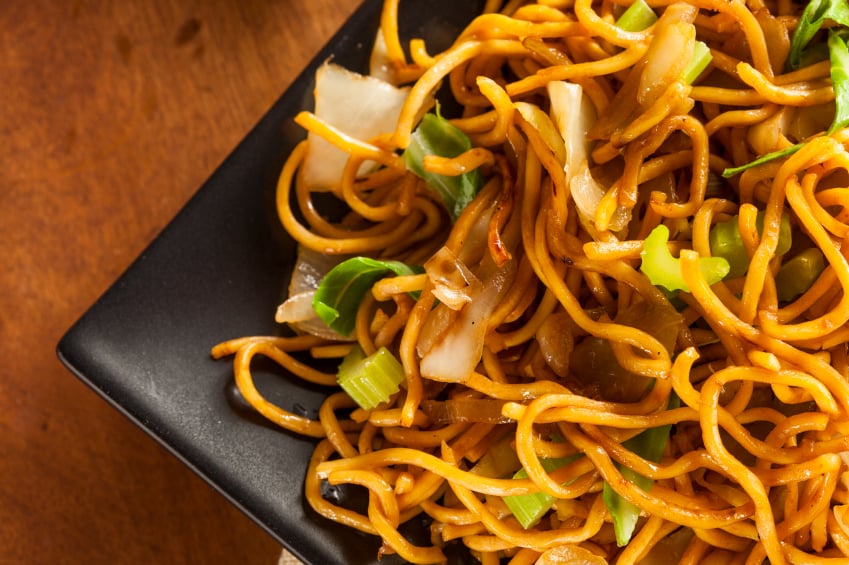 Even though we're all familiar with cooking pasta at home, most of us still leave the cooking to others when it comes to the Chinese counterpart. It's time for things to change because this recipe for the takeout version of lo mein from Food Network is both easy and delicious. It's also a great way to use up veggies, so feel free to add any you have sitting in your fridge.
Serves: 4
Ingredients:
Salt
6 ounces dried lo mein noodles, spaghetti, or linguine
3 tablespoons soy sauce
2 tablespoons oyster sauce
2 (1-inch-thick) boneless pork chops, thinly sliced
2½ tablespoons vegetable oil, divided
2 large eggs, lightly beaten
1 bunch green onions, thinly sliced
1 tablespoon finely chopped fresh ginger
2 garlic cloves, finely chopped
4 cups broccoli slaw mix
1 red bell pepper, thinly sliced
Directions: Bring a pot of salted water to a boil, add noodles, and cook according to package directions. Drain, reserving 3 tablespoons of cooking water. Rinse noodles with cold water. Meanwhile, combine soy sauce and oyster sauce in a small bowl. In a separate small bowl, toss pork with 1 tablespoon of soy sauce mixture.
Heat ½ tablespoon oil in a large skillet set over medium-high heat. Add eggs and cook without stirring until set, about 1 minute. Flip and cook for 3o seconds longer. Transfer to a cutting board and slice into strips.
Heat remaining oil in skillet. Add pork and cook until golden but not fully cooked, about 2 minutes. Transfer to a plate. Add scallions, ginger, and garlic. Stir-fry for 30 seconds. Add slaw mix and bell pepper, then stir-fry for 4 minutes. Return pork to skillet along with noodles, reserved cooking water, and remaining soy mixture. Stir-fry until pork is fully cooked, about 2 minutes longer. Stir in egg. Serve.
8. Black Bean and Garlic String Bean Stir-Fry with Cashews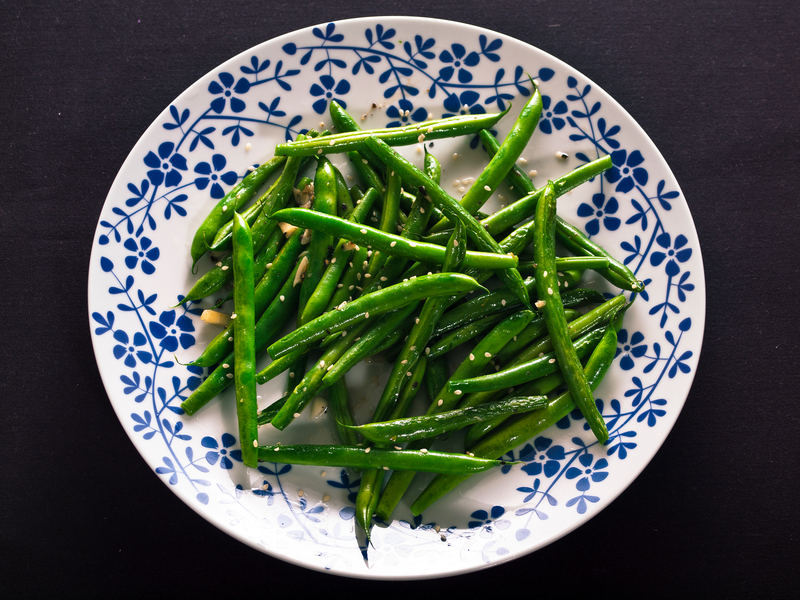 Eating your veggies is so much more interesting when you toss them with a flavor-packed black bean sauce. See for yourself with this easy green bean dish from Food & Wine. Because this recipe has so much flavor, you can get by with nothing more than steamed rice and some simply cooked shrimp or chicken to round out the meal. No cashews on hand? Substitute sesame seeds.
Serves: 4
Ingredients:
2 tablespoons peanut oil
⅓ cup raw cashews
1 pound green beans, halved crosswise
4 garlic cloves, thinly sliced
1 teaspoon Chinese black beans
Pinch of crushed red pepper
2 tablespoons soy sauce
½ teaspoon sesame oil
Directions: Heat oil in a wok or other heavy skillet over medium-high heat. Add cashews and stir-fry until golden, about 2 minutes. Remove to a paper towel-lined plate. Add beans to skillet and stir-fry until crisp-tender, about 4 minutes. Add garlic, black beans, and crushed red pepper. Cook until garlic is fragrant and lightly golden, about 1 minute. Add soy sauce and continue to cook, stirring, until beans are coated, about 1 minute. Remove from heat and stir in sesame oil. Serve.
9. Easy Vegetable Fried Rice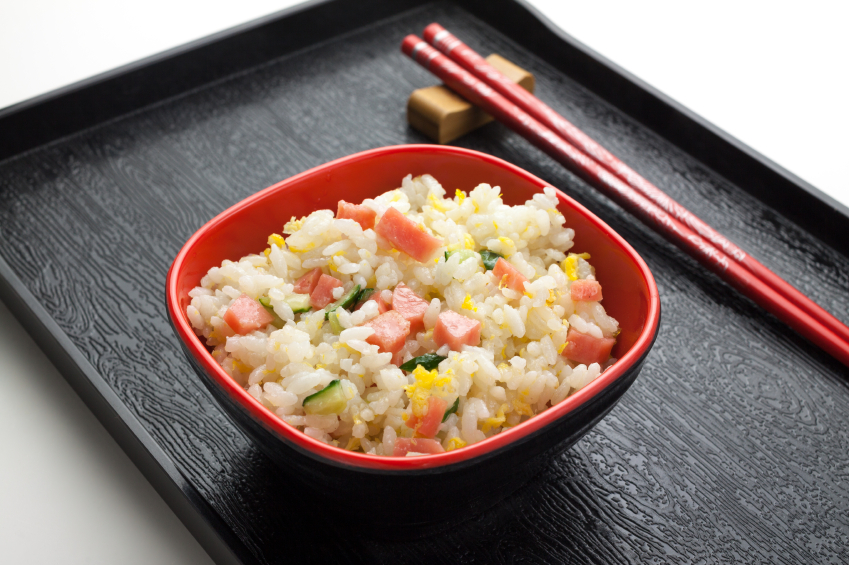 Instead of tossing out leftover rice, save the starch for a super fast route to dinner the next day. We really like this fried rice recipe from Serious Eats because it's quick, easy, and insanely tasty. If you're looking to turn this dish into an entrée, you might want to skip the egg in the actual rice. Instead, fry a few eggs per person, then use them to top each portion of rice.
Serves: 2 to 3
Ingredients:
2 cups cooked white rice
2 tablespoons vegetable or canola oil, divided
1 small onion, finely chopped
1 medium carrot, peeled, and cut into small dice
2 green onions, thinly sliced
2 medium garlic cloves, minced
1 teaspoon soy sauce
1 teaspoon toasted sesame oil
Salt and ground white pepper
1 large egg
4 ounces frozen peas
Directions: If using day-old rice, use your hands to break it up in a medium sized bowl. Heat ½ tablespoon oil in a wok or other heavy skillet over high heat until just smoking. Add half of rice and cook, tossing, until lightly golden and slightly toasted, about 3 minutes. Transfer to a medium bowl and repeat with another ½ teaspoon oil and remaining rice.
Return all rice to pan and press out to sides, leaving an open space in the center of the pan. Add ½ tablespoon oil, then onion, carrot, green onion, and garlic. Cook, stirring gently, until softened and fragrant, about 1 minute. Mix veggies into rice, then add soy sauce and sesame oil. Toss to coat and season with salt and white pepper.
Push rice to one side of pan and add remaining ½ tablespoon oil. Add egg, season lightly with salt, and scramble. Toss with rice to combine, then add peas. Toss until peas are heated through and rice grains are separated. Serve at once.
10. Kung Pao Chicken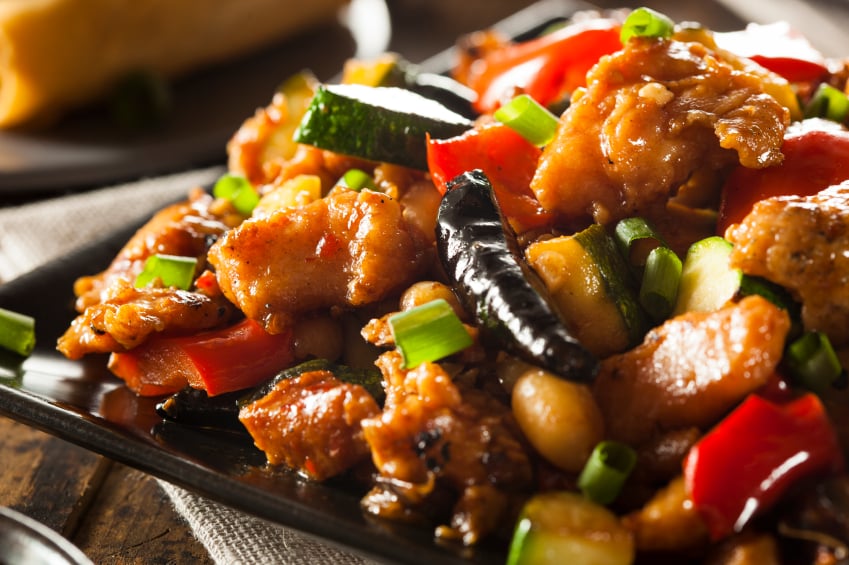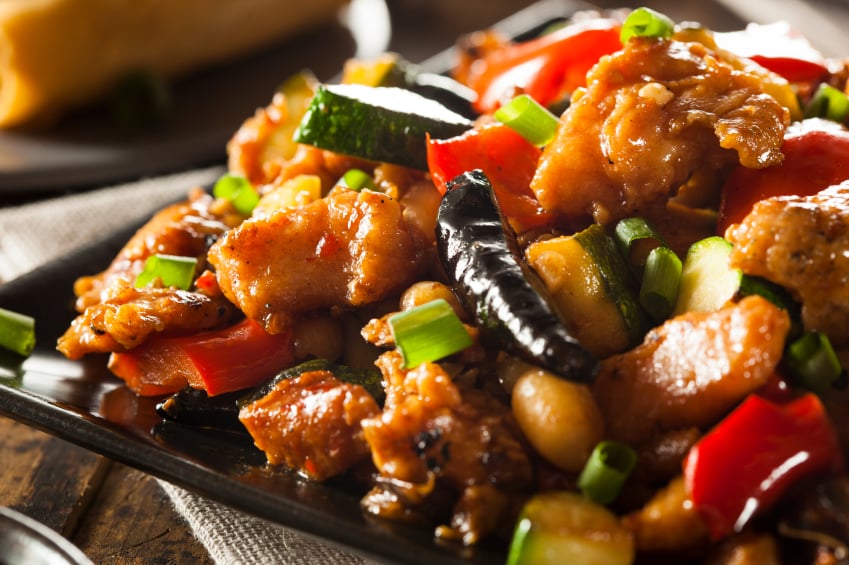 Kung pao chicken is a favorite among diners who like the mix of spicy, sweet, and sour flavors in the dish. You'll find it on the menu at pretty much any carry-out Chinese restaurant, though it's also a cinch to make at home. If you don't have it on hand in your kitchen, make the extra effort to seek out the Sichuan pepper this recipe from Epicurious calls for, as it's key to the dish's unique flavor.
Serves: 4
Ingredients:
For the marinade:
1 tablespoon soy sauce
2 teaspoons Chinese rice wine or dry sherry
1½ teaspoons cornstarch
1 pound boneless, skinless, chicken breasts or thighs, cut into 1-inch cubes
For the sauce:
1 tablespoon Chinese black vinegar, or substitute good-quality balsamic vinegar
1 teaspoon soy sauce
1 teaspoon hoisin sauce
1 teaspoon sesame oil
2 teaspoons sugar
1 teaspoon cornstarch
½ teaspoon ground Sichuan pepper
2 tablespoons peanut or vegetable oil
8 to 10 dried red chilies
3 scallions, white and green parts separated, thinly sliced
2 garlic cloves, minced
1 teaspoon minced or grated fresh ginger
¼ cup unsalted dry-roasted peanuts
Directions: Marinate the chicken: In a medium bowl, stir together the soy sauce, rice wine, and cornstarch until the cornstarch is dissolved. Add the chicken and stir gently to coat. Let stand at room temperature for 10 minutes.
Prepare the sauce: In another bowl, combine the black vinegar, soy sauce, hoisin sauce, sesame oil, sugar, cornstarch, and Sichuan pepper. Stir until the sugar and cornstarch are dissolved and set aside.
Turn on your stove's exhaust fan. Heat a wok or large skillet over high heat until a bead of water sizzles and evaporates on contact. Add the peanut oil and swirl to coat the base. Add the chilies and stir-fry for about 30 seconds, or until the chilies have just begun to blacken and the oil is slightly fragrant. Add the chicken and stir-fry until no longer pink, 2 to 3 minutes.
Add the scallion whites, garlic, and ginger and stir-fry for about 30 seconds. Pour in the sauce and mix to coat the other ingredients. Stir in the peanuts and cook for another 1 to 2 minutes. Transfer to a serving plate, sprinkle the scallion greens on top, and serve.
11. Sweet and Sour Chicken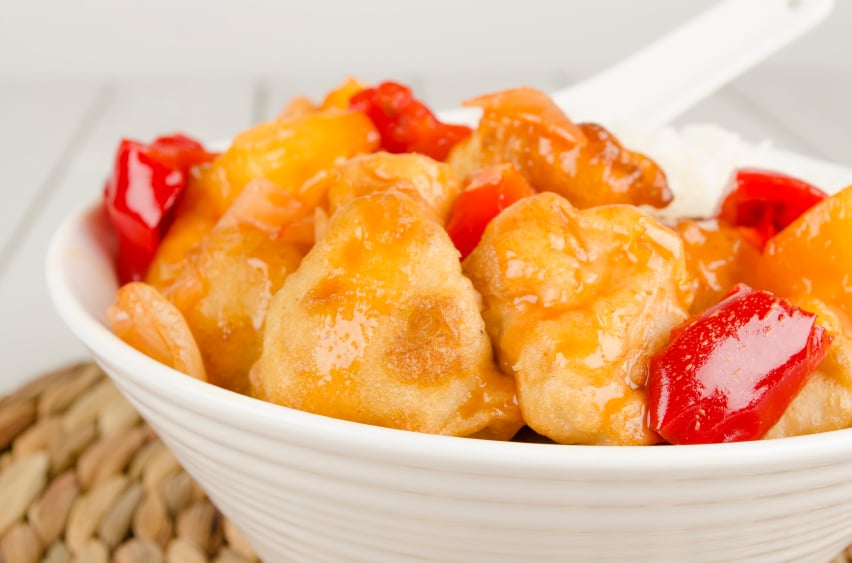 Even picky eaters won't turn their noses up at this kid-friendly recipe for sweet and sour chicken. The Food Network's spin on a carryout favorite is made with canned pineapple, as well as chopped green and red pepper. And because the boneless chicken breast isn't breaded and fried like in some recipes, it's a bit healthier, too. Although the recipe might be a bit bland for more sophisticated palates (try adding some chili sauce, red pepper flakes, or ginger if you need more flavor), pint-sized diners will lap it up.
Serves: 2 to 4
Ingredients:
2 tablespoons vegetable oil
2 boneless chicken breasts, sliced into strips
Salt and pepper
½ cup chopped red pepper
4 teaspoons cornstarch, mixed with 4 teaspoons water
1 cup canned pineapple chunks, drained with ½ cup reserved juice
3 tablespoons light brown sugar
3 tablespoons rice wine vinegar
¼ cup chicken stock
½ cup chopped green pepper
Cooked rice, for serving
Directions: In a large non-stick skillet, heat oil over medium high heat. Season chicken strips and add to pan. Brown chicken and remove to plate. Add red and green peppers and cook for 1 minute. Stir in pineapple chunks, juice, sugar, vinegar and chicken stock and bring to a simmer. Simmer until sauce begins to reduce. Stir in cornstarch mixture and bring liquid to a simmer. Stir in chicken strips and cook for 5 minutes. Serve over rice.
12. Shrimp in Spicy Garlic Sauce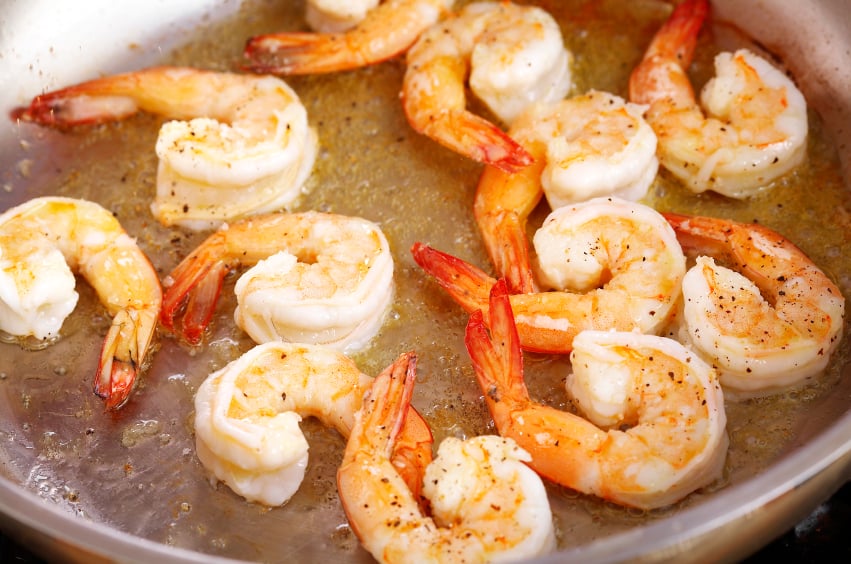 This garlic shrimp from Appetite for China is spicy but not too spicy, though you can always dial up the heat if you like. The dish is also incredibly easy to prepare and requires just a few minutes of cooking time. Serve your spicy shrimp on their own or with rice and vegetables.
Serves: 4
Ingredients:
1½ pounds uncooked large shrimp
3 tablespoons soy sauce
2 tablespoons chili sauce
2 teaspoons sesame oil
2 teaspoons Chinese rice wine or dry sherry
1 teaspoon sugar
2 tablespoons olive oil
4 cloves garlic, crushed or finely chopped
1 pinch freshly-ground black pepper
1 scallion, thinly sliced
Directions: Peel the shrimp, leaving the tails intact. Devein if you prefer.
Combine the soy sauce, chili sauce, sesame oil, rice wine, and sugar in a small bowl and set aside.
Heat the olive in a wok or large pan over medium-high. Add the garlic and stir fry until fragrant, about 30 seconds. Add the shrimp and cook until pink, about 2 minutes per side. Add the sauce and stir until the shrimp is fully coated. Season to taste with black pepper.
Transfer shrimp and sauce to a serving dish and garnish with scallions. Serve.
13. Egg Foo Yung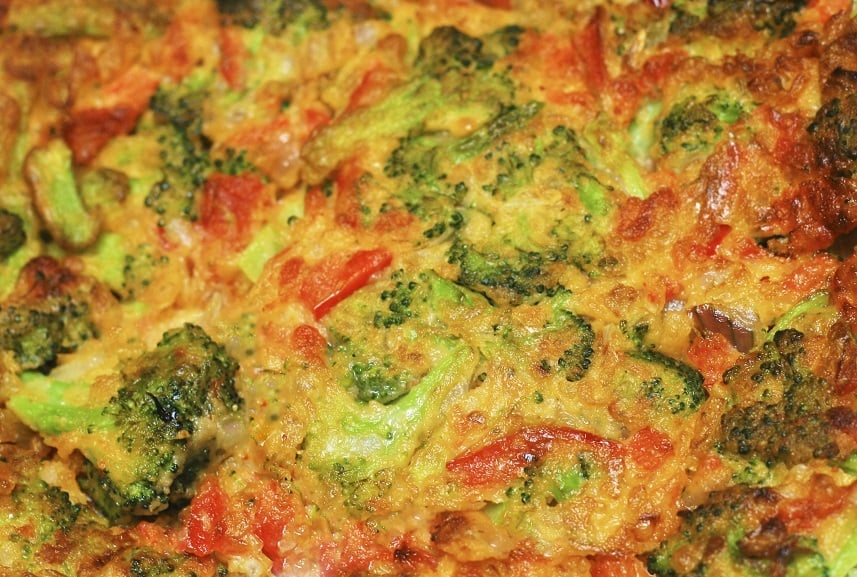 Egg foo young — a kind of Chinese omelette served with gravy — used to be a common sight on Chinese takeout menus, but the dish has waned in popularity in recent years. The good news is making your own egg foo yung at home isn't hard, as this recipe from Saveur proves. The omelettes are filled with ground pork, shrimp, water chestnuts, and bean sprouts and served with a sauce made of soy sauce, ginger, and oyster sauce.
Serves: 8
Ingredients:
For the sauce:
1 cup chicken stock
3 tablespoons soy sauce
2 tablespoons oyster sauce
1 tablespoon dry sherry
1 tablespoon cornstarch
2 cloves garlic, thinly sliced
1½-inch pieces ginger, peeled and thinly sliced
For the egg foo yung:
½ pound ground pork
3 tablespoons soy sauce
3 tablespoons cornstarch
1½ teaspoons rice wine vinegar
1 teaspoon dry sherry
1 teaspoon plus 1 tablespoon sesame oil
Kosher salt and ground black pepper
1 teaspoon canola oil, plus more for frying
6 ounces raw shrimp, peeled, deveined, and finely chopped
½ cup water chestnuts, finely chopped, drained and squeezed dry
⅓ cup bean sprouts
⅓ cup sliced scallions, plus more for serving
6 eggs, beaten
Directions: To make the sauce, bring stock, 3 tablespoons soy sauce, the oyster sauce, 1 tablespoon sherry, 1 tablespoon cornstarch, the garlic, and ginger to a boil in a 1-quart saucepan over high heat. Cook, whisking, until thickened, 2 to 3 minutes; strain sauce and keep warm.
To make the egg foo yung, mix pork, 2 tablespoons soy sauce, 1 tablespoon cornstarch, the vinegar, 1 teaspoon sherry, 1 teaspoon sesame oil, salt, and pepper in a bowl; set aside for 10 minutes. Heat 1 teaspoon canola oil in an 8-inch nonstick skillet over medium-high heat. Add pork mixture; cook, stirring and breaking up meat, until it is no longer pink, 3 to 4 minutes. Using a slotted spoon, transfer pork to a bowl; set aside.
Pour canola oil into a 6-quart saucepan to a depth of 2 inches. Heat until a deep-fry thermometer reads 350 degrees Fahrenheit. Combine remaining soy sauce, cornstarch, and sesame oil, plus reserved pork, the shrimp, water chestnuts, bean sprouts, scallions, eggs, salt, and pepper in a bowl. Using a ladle and working in batches, gently lower ½-cup amounts of egg mixture into oil; cook, flipping once, until omelettes are puffed and brown, 1½ to 2 minutes. Using a slotted spoon, transfer omelettes to paper towels. Serve drizzled with reserved sauce; garnish with scallions.
14. Quick Peking Duck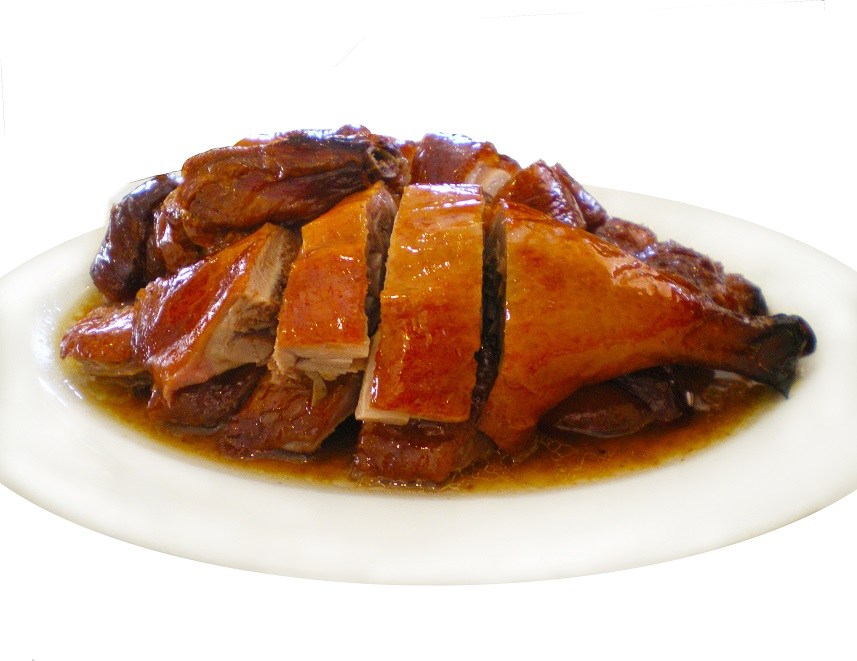 Making an authentic Peking duck is a labor-intensive process. But if you're craving succulent duck coated in a delicious plum sauce and haven't planned ahead, there's a quick fix. Rather than cooking an entire duck, this recipe from the New York Times uses boneless, skinless duck breast. You won't get the crispy skin that's the hallmark of this meal, but you will have dinner on the table in 30 minutes or less, which might be a worthwhile trade-off.
Serves: 2 to 4
Ingredients:
12 ounces skinless, boneless duck breast
2 tablespoons dark soy sauce
2 tablespoons honey
1 teaspoon Chinese five-spice powder
¼ teaspoon coarse black pepper
1 teaspoon toasted sesame oil
1 garlic clove, crushed
1 tablespoon white wine vinegar
3 tablespoons plum jam or hoisin sauce
Pinch dried chili flakes
8 Chinese wheat-flour pancakes
1 tablespoon sunflower or peanut oil
4 scallions, trimmed and slivered
½ cucumber, peeled, seeded and cut in matchsticks
1 tablespoon fresh cilantro leaves plus sprigs for garnish
Directions: Halve duck breast horizontally. Then cut with the grain in thin slivers. Mix 1 tablespoon soy sauce with honey, five-spice powder, and pepper, toss with duck, and set aside.
Heat sesame oil in small saucepan, add garlic, cook briefly, then stir in vinegar, jam, chili flakes, and remaining soy sauce. Cook 2 minutes over medium heat to blend, then strain through a sieve, mashing the garlic. Set sauce aside.
Place pancakes on a heat-proof plate. Cover with foil. Set them on top of pan of simmering water to warm.
Heat sunflower or peanut oil in wok or skillet. Drain duck in sieve to remove excess marinade, add to wok, and stir-fry over high heat 2 to 3 minutes, until browned. Remove from heat.
Spread warm pancakes with sauce mixture. Top with strips of duck, scallion, and cucumber, sprinkle with cilantro, and roll up. Garnish with cilantro sprigs, and serve.
15. Homemade Fortune Cookies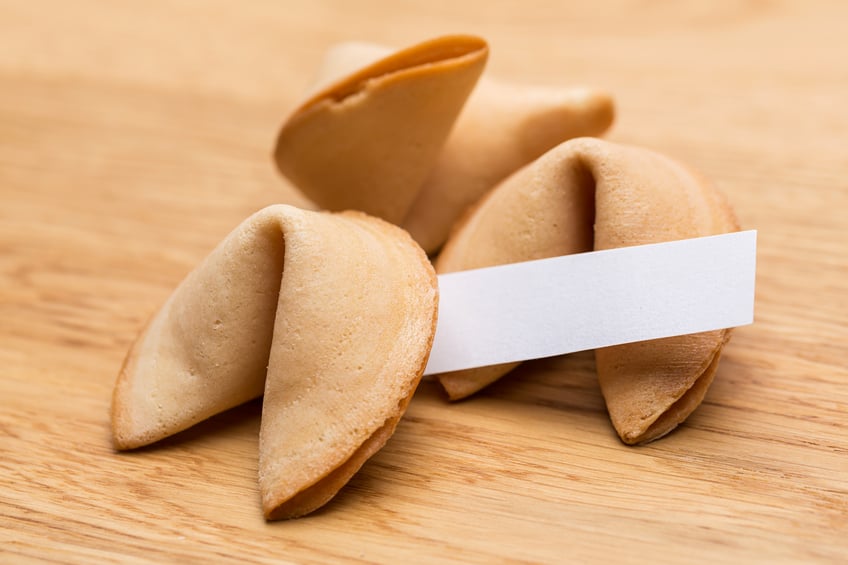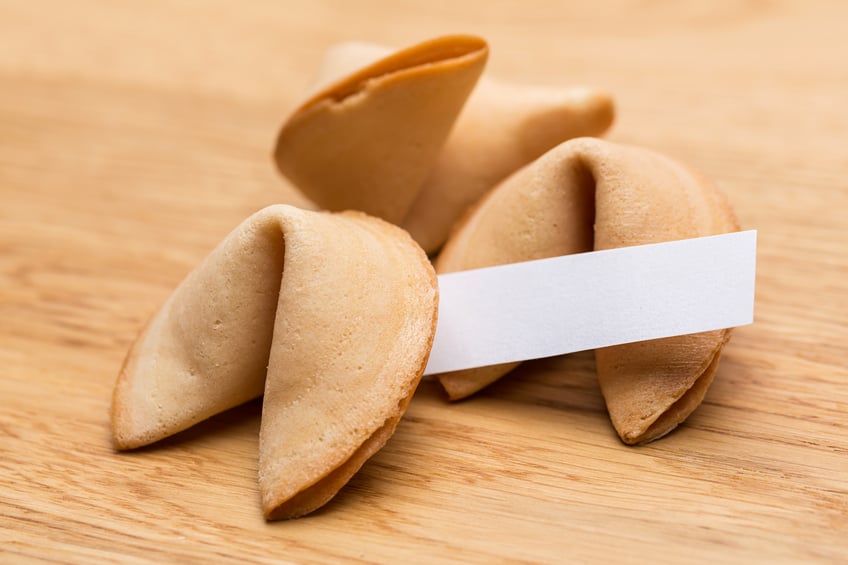 We'll admit this isn't necessarily the most practical recipe to pull off on a Wednesday evening, but making your own fortune cookies is a really fun way to spend a weekend afternoon. And with this recipe from Taste of Home, they're super simple. Even if you don't want to go through the trouble of crafting your own fortunes, they're still a nice way to end a meal.
Serves: 10
Ingredients:
3 tablespoons butter, softened
3 tablespoons sugar
1 large egg white
½ teaspoon vanilla extract
⅓ cup all-purpose flour
Directions: Preheat oven to 400 degrees Fahrenheit. Write fortunes on 3½-by-¼-inch strips of paper, if desired. Line a baking sheet with parchment paper. Use a pencil to draw two (3½-inch) circles on a sheet of parchment paper. Place paper, pencil-side down, on a baking sheet. Set aside.
In a small bowl, beat butter, sugar, egg white, and vanilla until well combined. Add flour and mix to combine. Spread 1 tablespoon batter over each circle and bake for 4 to 5 minutes, or until lightly browned.
Slide parchment onto a work surface. Working quickly, cover one cookie with a kitchen towel, then place a fortune in the center of exposed cookie. Use a thin spatula to remove fortune-covered cookie, then immediately fold in half over fortune, making sure edges line up. Hold edges together for 3 seconds.
Place center of cookie over the rim of a glass and press gently to bend cookie into a fortune cookie shape. Let cool for 1 minute, then transfer to a wire rack. Repeat with towel-covered cookie. If needed, rewarm in the oven for about 1 minute. Repeat with remaining cookie batter.
Christine Skopec also contributed to this article.