Easy $5 Crockpot Recipes Anyone Can Make
Is your food budget breaking the bank? The average family of four with a moderate food budget should expect to spend between $203 and $242 per week, according to estimates from the U.S. Department of Agriculture. But if you eat out frequently or aren't smart about planning your meals, your spending could easily exceed that.
Fortunately, it's easy to get your food budget under control with a little planning. Slow cookers might seem like an appliance you only need to pull out for potlucks or soups, but they're actually a convenient timesaver for all kinds meals, allowing you to quickly and easily prepare tasty foods for your family.
These 13 easy crockpot recipes cost an average of $5 to make, proving once and for all it's possible to eat well on a budget.
1. Black Bean Enchiladas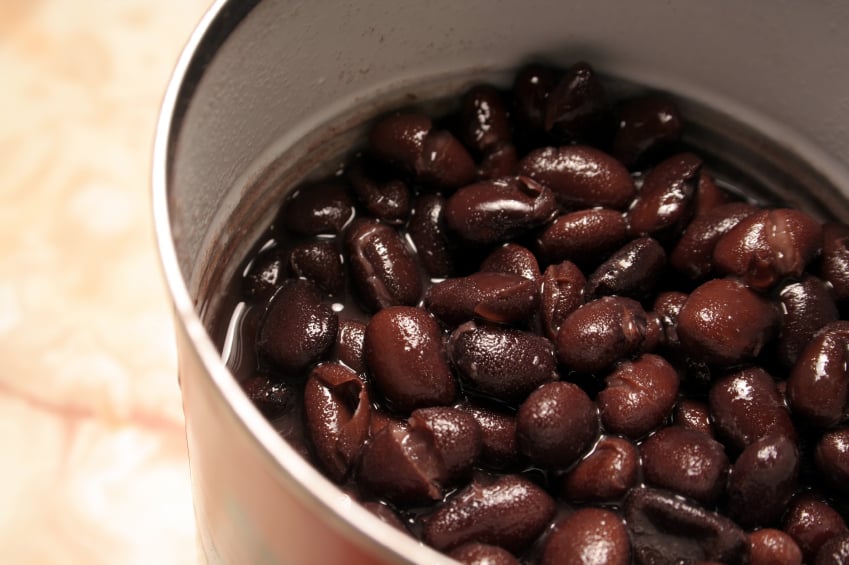 A vegetarian alternative to a Mexican favorite, slow cooker black bean enchiladas are both filling and cheap. This recipe from the $5 Dinner Mom (courtesy of the Today show) requires just 15 minutes of prep time.
Serves: 4
Ingredients:
1 (15-ounce) can black beans, drained and rinsed
1 (15-ounce) can corn, drained (or 2 cups frozen corn)
4 ounces can diced green chilis, drained
1 teaspoon ground cumin
1 teaspoon salt
2 cups shredded quesadilla blend cheese, divided
2 to 3 cups salsa
12 corn tortillas, warmed
Directions: In a mixing bowl, mash the black beans with a potato masher or fork. Mix in the corn and green chilies. Stir in the ground cumin and salt. Last, add 1 cup of the shredded cheese and combine well.
Add about 1 cup of salsa to the base of the slow cooker, and spread evenly on the bottom. Roll the bean-corn mixture into the warmed tortillas, dividing evenly. Place in the slow cooker seam side down, nestled tightly together. Pour the other cup of salsa over the top, and then sprinkle the other cup of cheese on top.
Set the slow cooker on low, and cook for 3 to 4 hours. Serve with a side of rice or salad.
2. Crockpot Whole Chicken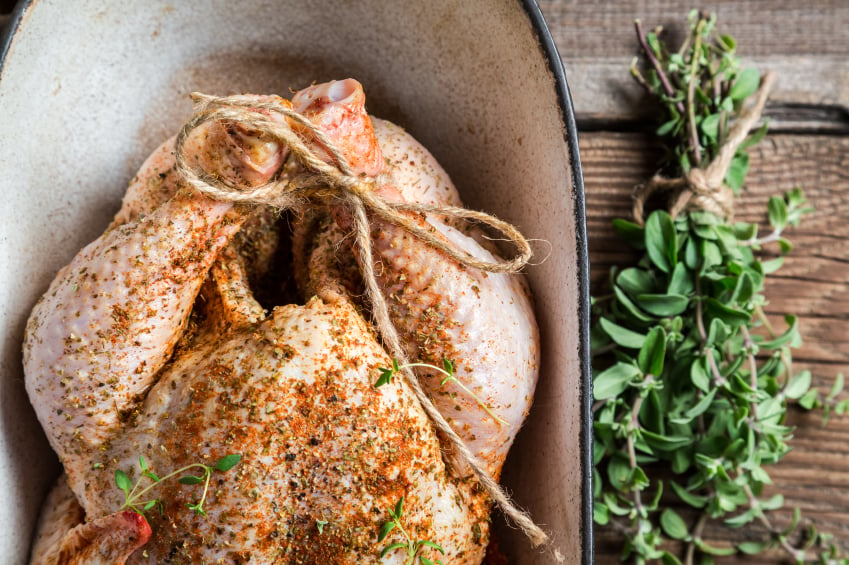 Served with a salad or other side, cooked chicken makes a fine meal on its own. Plus, leftovers can be used in a variety of other recipes, including soups and sandwiches. Whole chickens cost an average of $1.46 per pound and can often be found on sale for less than a $1 per pound. Aside from the whole chicken, the other ingredients in this recipe from Food.com are pantry staples you're likely to have on hand. For a different flavor, use fajita seasonings, or substitute the onion for a lemon.
Serves: 4
Ingredients:
2 to 4 teaspoons salt
2 teaspoons paprika
1 teaspoon cayenne pepper
1 teaspoon onion powder
1 teaspoon thyme
1 teaspoon white pepper
½ teaspoon garlic powder
½ teaspoon black pepper
1 large roasting chicken
1 cup chopped onion (optional)
Directions: In a small bowl, combine the spices.
Remove any giblets from chicken and clean chicken. Rub spice mixture onto the chicken. Place in resealable plastic bag, and refrigerate overnight.
When ready to cook, put chopped onion in bottom of crock pot. Add chicken. No liquid is needed; the chicken will make its own juices. Cook on low for 4 to 8 hours.
3. Leftover Rotisserie Chicken Soup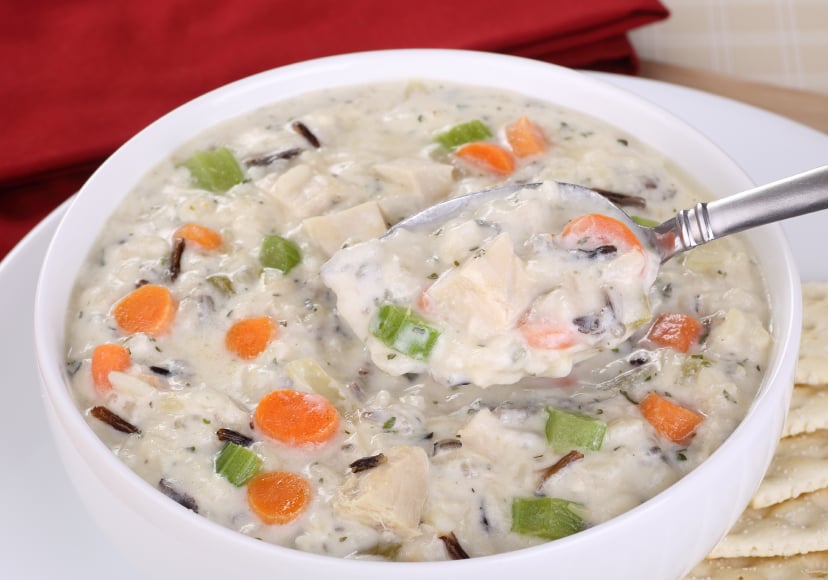 You can stretch your crockpot rotisserie chicken into a second budget-friendly meal with this recipe from The Gracious Pantry. After removing any extra meat from the chicken, transform the bones into a flavorful stock. Then, use the leftover chicken and a few other cheap pantry staples to make a comforting chicken soup.
Ingredients:
For the stock:
1 tablespoon garlic powder
1 tablespoon onion powder
2 cups sliced carrot tops (or carrots)
2 tablespoons dried parsley
1 tablespoon dried thyme
1 tablespoon dried rosemary
1 chicken carcass (bones and skin)
Water to fill your slow cooker to ¾ full
For the soup:
Leftover chicken
Chicken broth
½ pound baby carrots
2 large stalks celery, sliced
1 tablespoon Italian seasoning
1 (15-ounce) can kidney beans, drained and rinsed (optional)
¾ cup dry wild rice
Salt and pepper to taste
Directions: Remove all the meat from the chicken. Store in a container in the refrigerator until ready to use.
Put the chicken carcass in a 5-quart slow cooker, breaking it apart to fit if necessary. Fill the crock ¾ full with water. Add the carrots and spices. Cover and cook on low overnight, or for 8 hours.
Strain the broth, and return to the slow cooker, or store in the refrigerator if you're not making the soup immediately.
Add the leftover chicken, carrots, celery, Italian seasoning, beans, and wild rice to the crock pot along with all the broth. Cover and cook on low for 3 to 5 hours, until the rice if fully cooked. (The grains will split when it is done.)
Season to taste with salt and pepper. Serve.
4. Herbed Pork Roast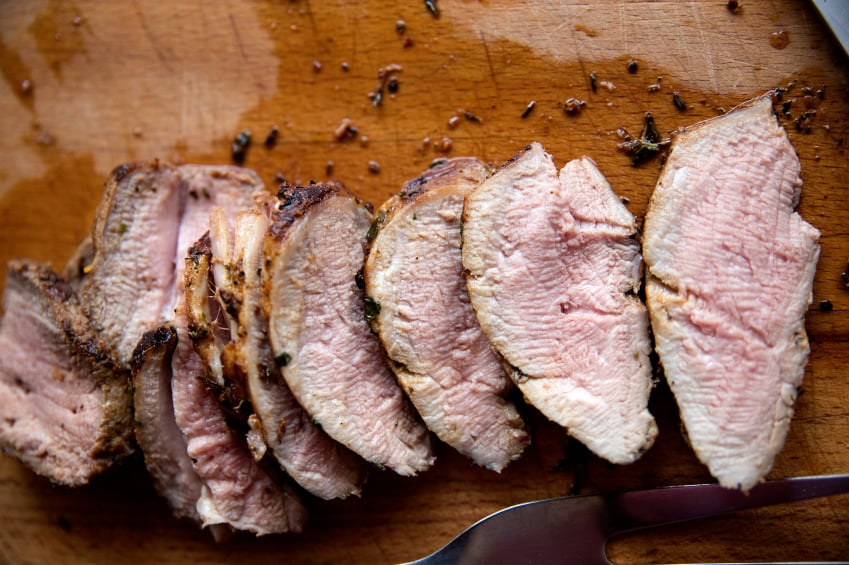 Herbed pork roast is a simple but delicious meal for two that won't break the bank. Pork sells for less than $3 a pound, and most of the other ingredients in this recipe from Crock-Pot.com come from your pantry. Pair the meat with a side salad for a complete dinner.
Serves: 4 to 6
Ingredients:
3 tablespoons extra virgin olive oil
1 tablespoon grated Parmesan
4 tablespoons fresh rosemary, divided
1 teaspoon minced garlic
3 unpeeled potatoes, washed and scrubbed
1 cup baby carrots
1 onion, chopped
Salt and pepper to taste
1 pork tenderloin (about 1½ pounds)
2 tablespoons parsley
2 teaspoon onion powder
2 teaspoons garlic powder
2 teaspoons seasoned salt
¼ cup beef broth
2 tablespoons vegetable oil
Directions: Place onions, carrots and potatoes in a medium sized bowl. Sprinkle with olive oil, Parmesan, half of the rosemary, and garlic. Add salt and pepper to taste. Toss to coat all vegetables well. Place coated vegetables in the slow cooker.
Combine parsley, onion powder, garlic powder, remaining rosemary, and seasoned salt in a small bowl to create the rub. Rub pork tenderloin with seasonings.
Add vegetable oil to a skillet over high heat. Oil is hot enough once it starts to ripple. Add pork tenderloin and sear for 1 to 2 minutes per side.
Keep the pan hot while you place seared tenderloin over top vegetables in the slow cooker.
Pour beef broth in hot skillet to deglaze, scraping up any brown bits. Pour juice in the slow cooker.
Cover; cook on high for 3 hours and 30 minutes or on low for 5 hours, or until pork tenderloin is cooked through and the vegetables are softened to your liking.
Once done cooking, place pork on a serving platter and let sit (covered) for 10 minutes before cutting. Slice and serve with vegetables from slow cooker.
5. Crockpot White Chicken Chili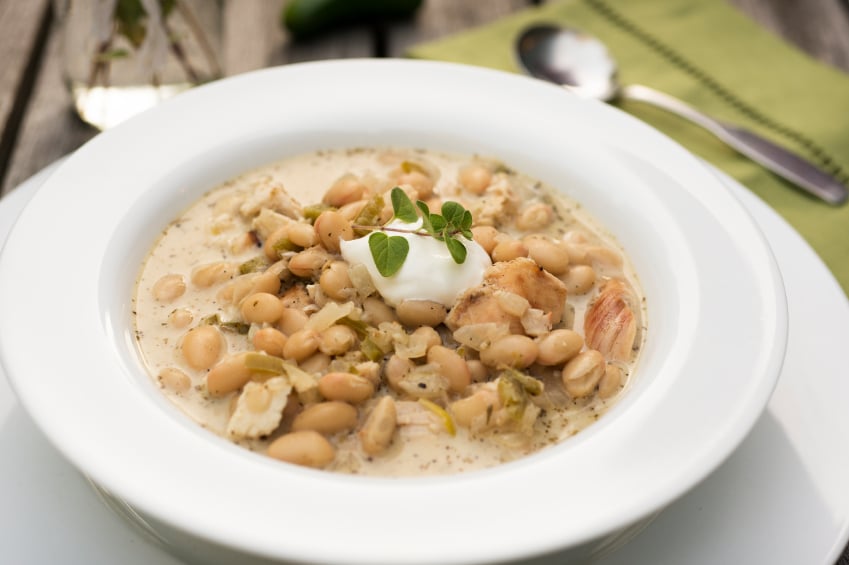 Slow cooking chili is the perfect cheap crockpot meal. This recipe from Eating on a Dime calls for boneless skinless chicken breasts, which should cost you about $3.29, assuming you use a pound of meat in the dish. But boneless chicken thighs, a cheaper cut, would likely work just as well.
The beans should cost about $1.19 a can, per The Simple Dollar, though you might get them for less if you opt for a store brand. To save even more, buy dry beans, and soak them yourself. A bag of dried beans costs about $1.50 a pound and will yield about 8 cups once cooked. With those cost-saving adjustments, the total cost of this dish easily comes to less than $5.
Serves: 4 to 6
Ingredients:
2 boneless skinless chicken breasts
2 cans of great northern or other white beans
2 cups of water
½ to 1 onion, chopped
¼ cup salsa verde
Seasoning: garlic salt, cumin, and pepper
Monterey Jack cheese (optional)
Cilantro (optional)
Directions: Put all the ingredients except the cheese and cilantro in the crockpot. Add seasoning to taste. Cook on low 6 to 8 hours. Top with Monterey Jack cheese and/or cilantro, and serve with tortilla chips.
6. Chunky Lentil and Vegetable Soup
Vegetarian soups are a budget-friendly meal. Make this simple lentil soup for dinner on Sunday night and then eat leftovers for lunch throughout the week, or freeze the extras for later.
A 1-pound bag of lentils, the main ingredient in this recipe from The Gracious Pantry, should cost about $1.50. All the other ingredients are affordable as well, especially if you make your own vegetable stock ahead of time.
Serves: Makes 9 cups
Ingredients:
2 cups dry lentils
8 cups vegetable stock
1 pound bag baby carrots
1½ cups sliced celery
1 tablespoon of onion powder
¼ cup balsamic vinegar
Salt to taste after cooking
Directions: Combine all ingredients in slow cooker, and cook for 8 to 10 hours on low.
7. Slow-Cooker Bratwurst with Sauerkraut and Apples
This recipe for slow cooker bratwurst with sauerkraut and apples from All You costs just $1.46 per serving. The original recipe serves eight, but we halved it. At just $5.84 for four, it's a cheap dinner solution for on-the-go families. If you're trying to eat healthy, substitute turkey for pork bratwurst — you'll save calories and fat.
Serves: 4
Ingredients:
4 bratwurst links
1 (8-ounce) package sauerkraut, rinsed and drained
1 medium Granny Smith apple, peeled, cored, and cut into ½-inch dice
½ medium onion, finely chopped
1 tablespoon packed light brown sugar
½ tablespoon caraway seeds
¼ cup mustard
4 hot dog buns
Directions: Place bratwurst links in slow cooker, and top with sauerkraut, apples, and onion. Sprinkle with brown sugar and caraway seeds. Cover and cook on low until bratwurst reaches 165 degrees Fahrenheit on an instant-read thermometer, 3 to 4 hours
Spread 1 tablespoon of mustard on each hot dog bun. Spoon some sauerkraut mixture on buns, top each with a sausage, and serve.
8. Slow Cooker Chana Masala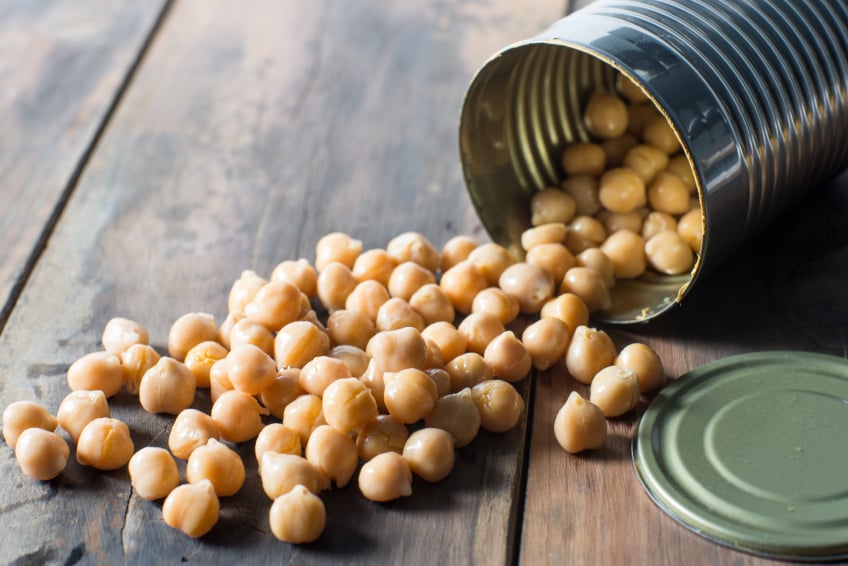 Meat-free meals like this chana masala from 5 Dollar Dinners are perfect for cost-conscious cooks. You'll save money by forgoing expensive chicken or beef for cheap but filling chickpeas, though your costs will be a bit higher if you don't already have ingredients, such as turmeric and garam masala, on hand. The recipe as written below calls for canned chickpeas, but to save even more money, use the dried variety. If using the dried chickpeas, add 1 pound of them to the recipe with the sauce, and cook for six to eight hours.
Ingredients:
4 cups water
1 large onion, diced
28-ounce can diced tomatoes
6-ounce can tomato paste
⅓ cup chopped fresh cilantro leaves
2 teaspoons garam masala
2 teaspoon garlic powder
1 teaspoon cumin
½ teaspoon cayenne pepper (more if you like your meals on the spicier side)
1 teaspoon ground coriander
1 teaspoon turmeric
1 teaspoon sea salt
2 (15-ounce) cans chickpeas
Basmati rice, for serving
Directions: Add all the ingredients to the slow cooker. Stir to combine. Cover and cook on low for 6 to 8 hours.
Add the canned chickpeas to the crock pot. Cover again, and continue to cook for 2 hours more, until the chickpeas are tender.
Toward the end of the cooking time, prepare the rice. Serve the chana masala over the rice.
9. Slow Cooker Ham & Eggs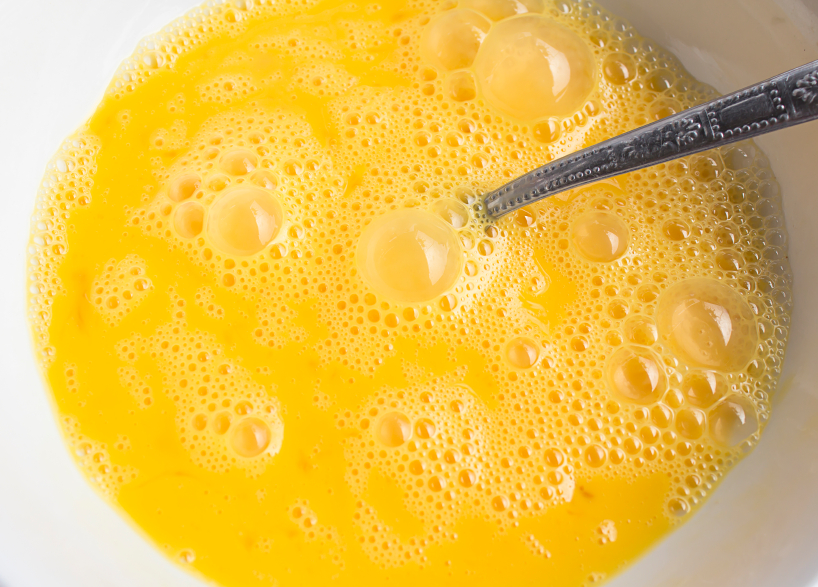 Not sure what to do with the leftovers from your Sunday ham? Turn them into a cheap slow cooker breakfast — or even dinner — with this recipe from Taste of Home. The meat is paired with eggs, one of the cheapest sources of protein out there, with a dozen selling for $1.40 on average. You'll also need biscuit mix, Swiss cheese, and some other staples to whip up this meal.
Serves: 6
Ingredients:
6 large eggs
1 cup biscuit/baking mix
⅔ cup 2% milk
⅓ cup sour cream
2 tablespoons minced fresh parsley
2 garlic cloves, minced
½ teaspoon salt
½ teaspoon pepper
1 cup cubed fully cooked ham
1 cup shredded Swiss cheese
1 small onion, finely chopped
⅓ cup shredded Parmesan cheese
Directions: In a large bowl, whisk the first eight ingredients until blended; stir in remaining ingredients. Pour into a greased 3- or 4-quart slow cooker. Cook, covered, on low 3 to 4 hours or until eggs are set. Cut into wedges.
10. Crockpot Maple-Cinnamon Steel Cut Oatmeal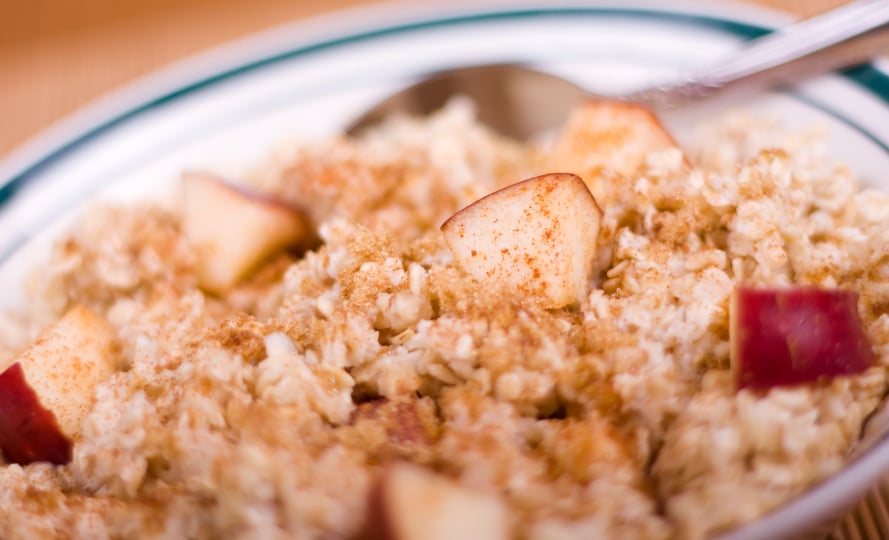 Treat yourself to a little extra shut-eye in the morning when you prepare this crockpot oatmeal the night before. The recipe comes from Fit Foodie Finds and calls for steel cut oats, which are usually a bit more expensive than rolled or quick-cooking oats. To save money, buy them in bulk at a health food store.
Serves: 8
Ingredients:
1½ cups steel cut oats
6 cups almond milk, unsweetened
⅓ to ½ cup maple syrup
1 vanilla bean
1 teaspoon cinnamon
⅛ teaspoon sea salt
Directions: Combine the oats and other ingredients in the crockpot. Cover and cook on high for 4 hours or on low for 8 hours. Stir for 2 to 3 minutes until the oatmeal thickens, then serve.
11. Crock Pot Beef Goulash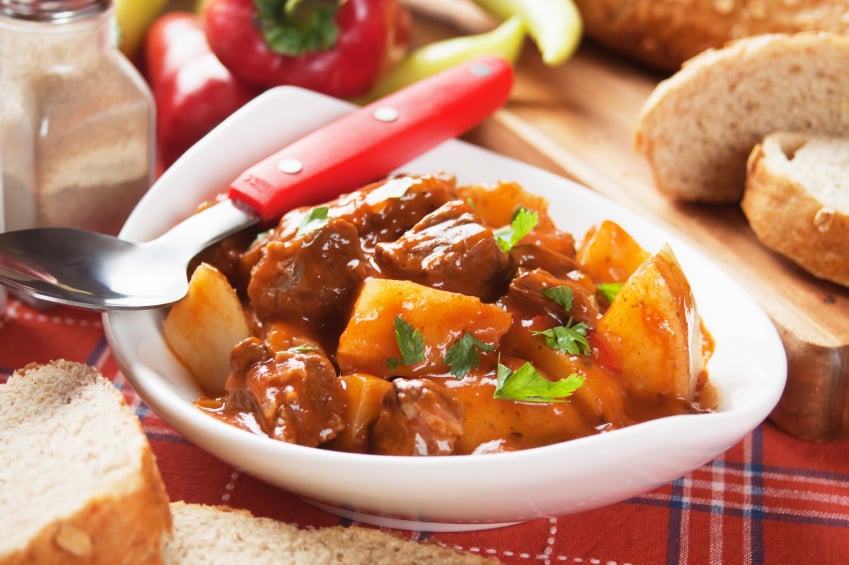 This spin on Hungarian-style goulash is both affordable and easy to make. For the most budget-friendly meal, stock up on stew meat when it's on sale, and freeze until you're ready to use it. (It usually sells for about $5 a pound.) Most of the other ingredients in this class comfort food are cheap staples you probably have in your fridge or pantry. The recipe is from The Spruce.
Ingredients:
1 to 1½ pounds beef stew meat or lean chuck steak, cut into 1-inch cubes
1 cup chopped onion
2 small cloves garlic, minced
½ teaspoon kosher salt
½ teaspoon freshly ground black pepper
½ cup water or beef stock
2 tablespoons tomato paste
2 tablespoons sweet paprika
2 tablespoons all-purpose flour
¼ cup water or beef stock
¼ cup sour cream
Hot cooked buttered noodles, tossed with poppy seeds if desired
Directions: Place the beef in slow cooker with the chopped onion and garlic. Sprinkle the beef mixture with kosher salt and freshly ground black pepper.
In a bowl, combine the ½ cup of stock or water, tomato paste, and paprika; stir or whisk to blend. Pour over beef mixture.
Cover and cook on low for 7 to 9 hours.
Combine flour, water, and sour cream; stir into meat mixture. Cook, uncovered, on high for about 10 minutes or until slightly thickened.
Serve with buttered noodles. If desired, toss the noodles with poppy seeds
12. Slow Cooker Meatloaf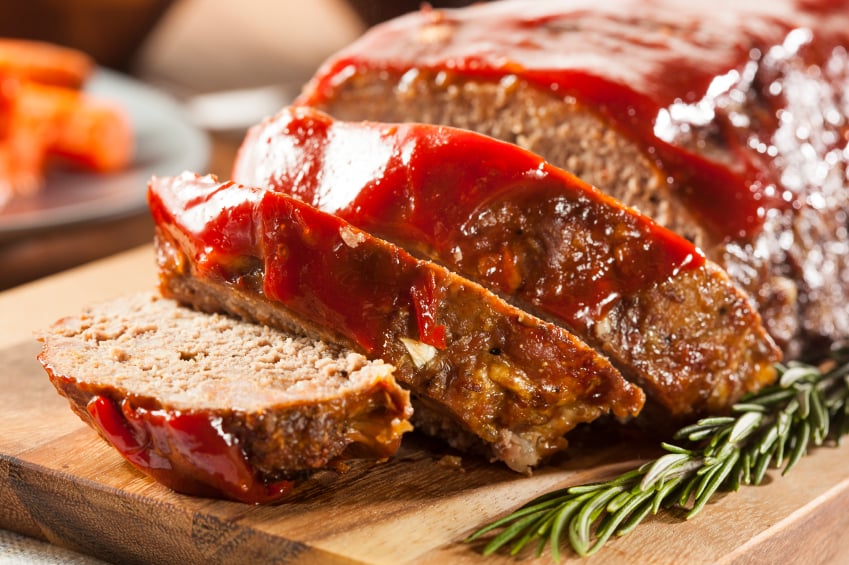 Meatloaf has long been a popular meal for people trying to feed their family on a budget, and it's easy to see why. Made with affordable ingredients and simple to prepare, it's the ideal recipe for busy cooks looking to pinch a few pennies. This version of the dinnertime staple comes from Betty Crocker.
Serves: 6
Ingredients:
1½ pounds lean (at least 80%) ground beef
1 cup milk
1 teaspoon chopped fresh sage leaves or ¼ teaspoon dried sage leaves
½ teaspoon salt
½ teaspoon ground mustard
¼ teaspoon pepper
1 clove garlic, finely chopped, or ⅛ teaspoon garlic powder
1 egg
3 slices bread, torn into small pieces
1 small onion, chopped (¼ cup)
½ cup ketchup
Directions: Line 4½ to 5-quart slow cooker with foil. Spray foil with cooking spray.
In large bowl, mix all ingredients except ketchup. Shape mixture into loaf, and place in center of slow cooker. Spread ketchup over top.
Cover; cook on low heat setting 3 to 4 hours or until meat thermometer inserted in center of loaf reads 160 degrees Fahrenheit. Remove meatloaf from slow cooker to serving platter. Cut into pieces to serve.
13. Barbecue Pork Chops for 2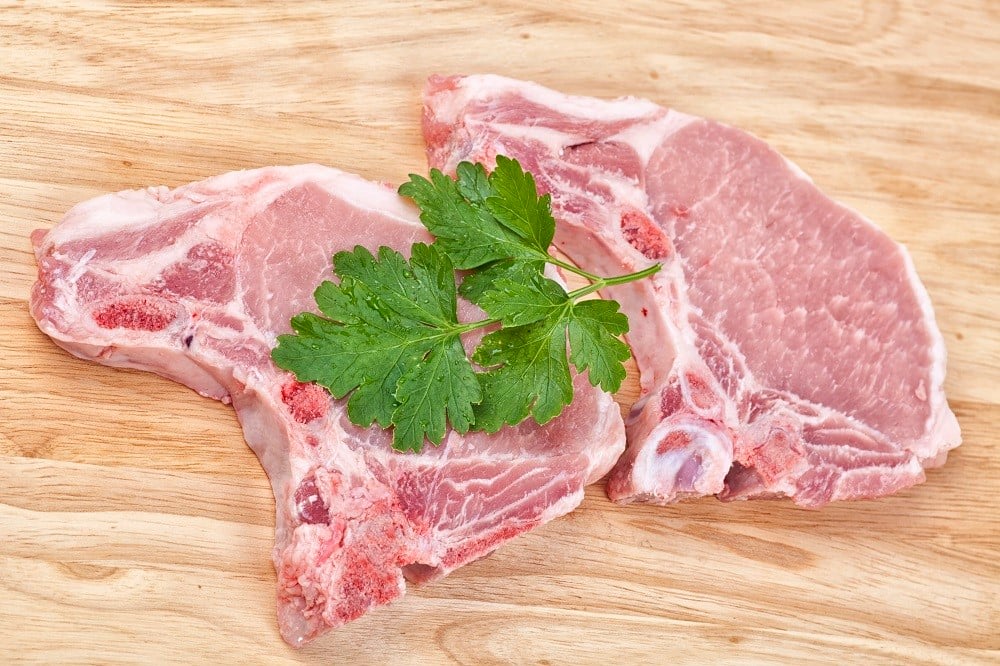 Boneless pork chops should run you about $3.82 a pound, according to the Bureau of Labor Statistics. Combine them with barbecue sauce, onion, and a few other ingredients in your slow cooker, and you have the making a perfect budget meal for two. You can serve the cooked chops with a salad or other side. The recipe is from Pillsbury.
Serves: 2
Ingredients:
2 (1-inch-thick) boneless pork loin chops (about ¾ pound), trimmed of fat
2 slices onion
1 garlic clove, minced
½ cup barbecue sauce
1 tablespoon water
1 teaspoon cornstarch
Directions: Place pork chops in 2- to 3½-quart slow cooker. Top each with onion slice. Sprinkle with garlic. Pour barbecue sauce over pork.
Cover; cook on low setting for 5 to 6 hours.
About 5 minutes before serving, remove pork from slow cooker; place on serving platter. Top each chop with onion slice; cover to keep warm.
In 2-cup glass measuring cup or small microwave-safe bowl, blend water and cornstarch until smooth. Pour juices from slow cooker into cornstarch mixture; mix well. Microwave on high for 1 to 2 minutes or until mixture boils and thickens slightly, stirring once halfway through cooking. Serve sauce with pork.