Easy Crockpot Recipes That Will Help You Build Muscle
If you're serious about building muscle, you know that just hitting the gym isn't going to give you the physique you want. To really get cut, you need to eat right too. For most people looking to bulk up, that means eating lots of protein plus plenty of foods that are rich in other vitamins and minerals that help your body repair itself after a tough workout.
Sticking to a muscle-building diet can be hard, though. Protein shakes, cottage cheese, and chicken breasts are convenient ways to give your body the fuel it needs, but they can get a little boring after a while. But between work, the gym, and the rest of your life, who has time to cook?
Enter the slow cooker. You can throw together delicious, healthy meals in a matter minutes with this handy counter-top appliance. Just take a few minutes in the morning or evening to prepare your food, and you'll have a delicious meal ready to eat as soon as you walk in the door after a workout. Here are five recipes that will help make those hours you log in the weight room count.
1. Slow Cooker Greek Lentil Soup with Spinach, Tomatoes, and Feta
Call it the Popeye effect. Scientists have found that consuming nitrates, which are found in high quantities in foods like spinach, can help increase muscle strength. When paired with a high-protein food like lentils (1 cup of cooked lentils contains 18 grams of protein), as in this soup recipe from Kalyn's Kitchen, you have the perfect muscle-building meal.
Ingredients:
2 cups brown lentils, washed and picked over
8 cups vegetable or chicken stock
1 medium onion, small dice
1 cup chopped celery, chopped into fairly small pieces
1 tablespoon Greek seasoning
1 teaspoon dried thyme
2 teaspoon dried oregano (preferably Greek or Turkish)
1 tablespoon minced garlic
Fresh-ground black pepper to taste
1 (14½-ounce) can petite diced tomatoes with juice
1 bunch spinach leaves, stems cut off, chopped and washed
2 tablespoons fresh-squeezed lemon juice
Crumbled feta cheese for serving
Directions: Combine the onions, celery, lentils, vegetable or chicken stock, Greek seasoning, dried thyme, dried oregano, minced garlic, black pepper, and canned tomatoes with juice in the crock of a 5-quart slow cooker. Cover and cook on high for 4 hours or on low for 8 to 9 hours, or until the lentils are soft. (Fresher lentils will cook a little faster than older ones.)
When the lentils are fully cooked, chop and wash the spinach. Add the greens along with the lemon juice to the soup. Add a little more stock if the soup seems too thick. If the slow cooker was set to low, turn it to high. Cover and cook for another 30 minutes.
Ladle soup into bowls, top with some crumbled feta, and serve.
2. Healthy Crockpot Breakfast Casserole
Eggs are cheap and easy to cook, plus they're rich in protein (there's roughly 6 grams inside each shell), B vitamins, and other nutrients. But you may never have thought of putting them in the slow cooker. This slow cooker casserole recipe from Apple of My Eye dresses up basic, boring eggs with healthy veggies and some savory bacon for a morning meal that will actually make you eager to get out of bed. Plus, it reheats easily, so you'll have a go-to breakfast that will last for several days.
Ingredients:
8 eggs
4 egg whites
¾ cup milk
2 teaspoons stone ground mustard
½ teaspoon garlic salt
1 teaspoon salt
½ teaspoon pepper
1 30-ounce bag frozen hash browns
4 strips cooked bacon (optional)
½ onion, roughly chopped
2 bell peppers, roughly chopped
1 small head of broccoli, roughly chopped
6 ounces cheddar cheese
Directions: Whisk the eggs, egg whites, milk, mustard, garlic salt, salt, and pepper in a medium bowl. Set aside.
Lightly grease the inside of your slow cooker. Place half of the hash browns in a layer at the bottom. Top with half of the bacon, chopped onion, bell peppers, broccoli, and cheese. Top with the other half of the hash browns, then add another layer of the remaining bacon, vegetables, and cheese. Pour in the egg mixture.
Cover and cook for 4 hours on low. Serve warm.
3. Slow Cooker Bison Chili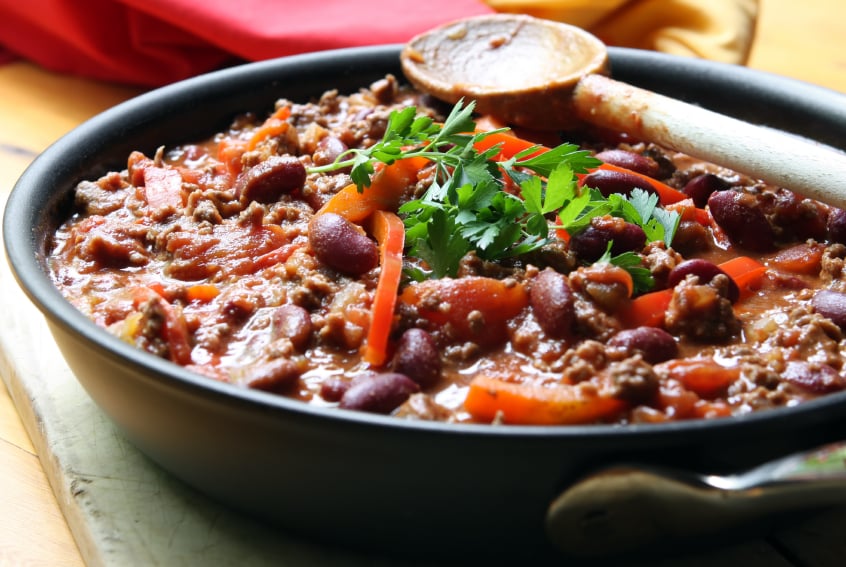 If you're on a mission to bulk up, you may automatically reach for beef at the meat counter. Bison may be a better alternative, though. It's lower in fat and calories than regular beef, but it still rich in protein, with a little more than 28 grams per 3½-ounce serving. Try it in this hearty chili recipe from Dr. Axe.
Ingredients:
2 pounds ground bison
1 onion, chopped
4 garlic cloves, chopped
1 cup bell pepper, chopped
1 cup carrots, chopped
1 cup celery, chopped
1 jalepeño, deseeded and chopped
1 (28-ounce) can crushed tomatoes
1 (14-ounce) can diced tomatoes
½ of 1 (15-ounce) can tomato sauce
1 can black beans, drained
1 can kidney beans, drained
2 tablespoons chili powder
1 tablespoon oregano
1 tablespoon basil
1 tablespoon cumin
1 teaspoon adobo sauce
Sea salt and black pepper to taste
½ teaspoon cayenne pepper
Sour cream, grated cheese, chopped green onion (optional, for garnish)
Directions: Saute the onions, garlic, and bison meat in a large skillet or other pan over medium heat. Once meat is no longer pink, add it and the garlic and onions to the slow cooker. Add all the remaining ingredients, stir, and cover. Cook on low for 8 to 10 hours.
Add salt and pepper to taste. Ladle into bowls and serve with sour cream, cheese, green onions, or other toppings of your choice.
4. Herbed Chicken with Beets and Brussels Sprouts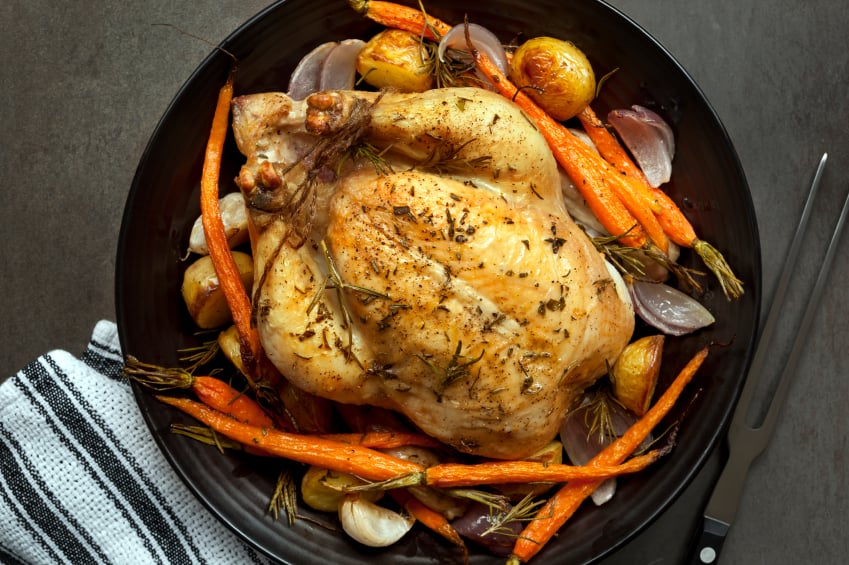 Like spinach, beets are also a good source of nitrates, which can help build strong muscles. This recipe combine good-for-you beets (which also have lots of fiber and potassium) with the lean protein in chicken and Vitamin-C-rich Brussels sprouts for a healthy, tasty meal. Recipe from Country Living.
Ingredients:
1 tablespoon Kosher salt
2 teaspoons paprika
1½ teaspoon dried thyme
1 teaspoon fresh-ground pepper
1 whole chicken
1 lemon
1 large celery rib
1 red onion
4 cloves garlic
½ pound baby carrots
¾ pound small assorted beets
12 large Brussels sprouts
1½ teaspoon Dijon mustard
Fresh rosemary leaves
Directions: Stir together first 4 ingredients. Remove and discard neck and giblets from chicken. Sprinkle chicken with salt mixture. Place lemon into cavity of chicken. Tie legs together with kitchen string, and tuck wingtips under.
Place celery, onion, and garlic in a single layer in a lightly greased 6-quart slow cooker. Place chicken on top of onions, breast side up. Arrange and tuck remaining vegetables around chicken. Sprinkle vegetables with any remaining salt mixture.
Cover and cook on low 8 hours or until done. Remove chicken to a serving dish. Rub skins from beets and cut into quarters; arrange with other vegetables around chicken. Garnish with rosemary. Whisk mustard into remaining cooking juices in slow cooker; season with salt and pepper to taste. Serve sauce with chicken.
5. Crockpot Pork Tenderloin with Sweet Potatoes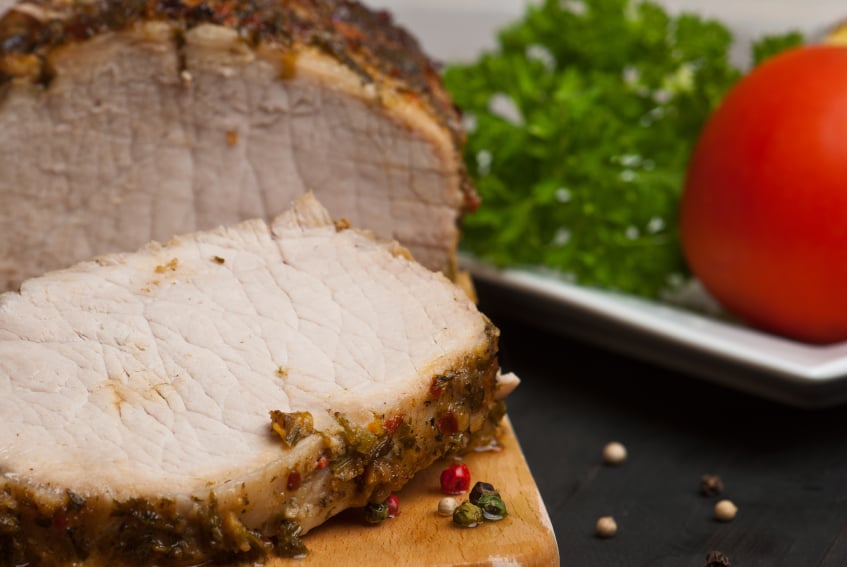 Pork tenderloin is an excellent source of lean, muscle-building protein – a 3-ounce serving contains 22 grams. This incredibly easy-to-prepare recipe combines the meat with sweet potatoes, which are loaded with vitamin A and fiber. The result is a delicious comfort food that's also good for you. Recipe from Civilized Caveman Cooking.
Ingredients:
3 to 5 pounds boneless pork loin roast
1 white onion, sliced
2 granny smith apples, peeled and sliced
5 cloves of garlic
1 sweet potato peeled and chopped into cubes
1 tablespoon dried rosemary
1 tablespoon dried thyme
3 dried bay leaves
2 tablespoons apple cider vinegar
½ cup stock of your choice
Salt and pepper to taste
Directions: Place a layer of sliced onion, apples, and sweet potatoes in the bottom of your slow cooker.
Use a knife to poke 5 deep holes in the pork loin. Insert a garlic clove in each hole. Season the meat with salt and pepper and then place in the crock pot, fat side down.
Sprinkle the pork with rosemary and thyme and add the bay leaves. Top with the rest of the apples, onions, and sweet potatoes. Pour in the apple cider vinegar and stock.
Cover, set crock pot to low, and cook for 8 hours, or until the pork reaches an internal temperature of 160 degrees.
Follow Megan on Twitter @MeganE_CS
More from Culture Cheat Sheet: