Easy Desserts You Can 'Bake' in the Microwave
Not everyone is cut out to be a Martha Stewart in the kitchen. Fancy home-baked desserts may look and taste great, but actually making them is another story. If you've endured one too many cake-related disasters, you may be looking for alternatives to the traditional baked dessert. Thankfully, there's a whole world of easy desserts out there, including any number of tasty treats you can "bake" in the microwave.
If you're going to try your hand at microwave baking, there are a few things to keep in mind. First, a microwave isn't really an ideal appliance for baking, since it cooks by heating up the water molecules in the food. That's fine for some recipes, but when it comes to baking, the resulting dessert may be tough, dried out, or undercooked. Recipes created specifically for the microwave may manage to avoid these issues, but even then, the results can be iffy. Cooking times and results can vary depending on the power of your microwave, and the texture and appearance of your baked goods may not be quite what you're used to.
Still, if you're willing to experiment, microwave baking can yield some surprisingly tasty results. Here are seven easy desserts you can make in the microwave.
1. Chocolate Cake in a Mug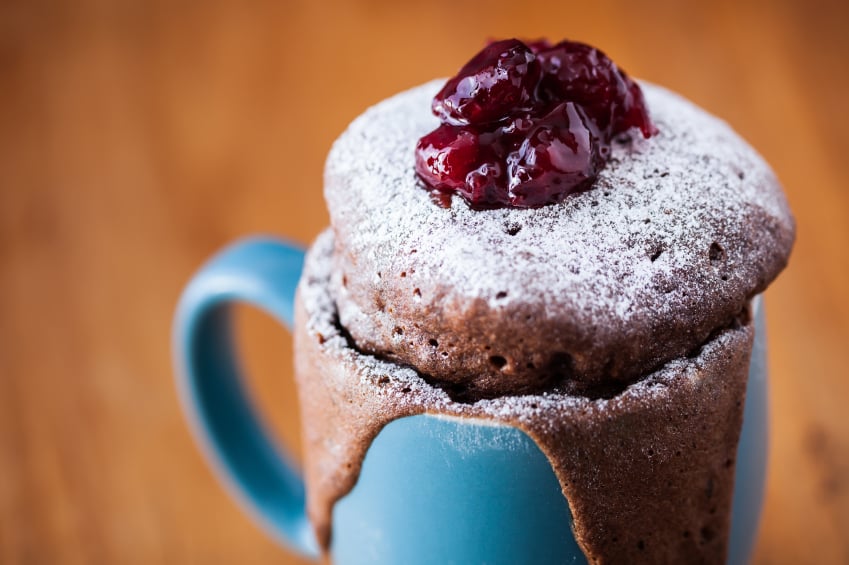 There are a lot of mug cake recipes out there (a whole book of them, in fact), but this one from the Food Network's Ree Drummond has some of the best reviews. Try this five-minute microwave dessert recipe if you need a quick-fix for your chocolate craving.
Ingredients:
3 tablespoons all-purpose flour
3 tablespoons sugar
2 tablespoons cocoa powder
¼ teaspoon baking powder
Pinch of salt (optional)
3 tablespoons milk
3 tablespoons vegetable oil
Splash vanilla extract (optional)
3 tablespoons chocolate chips
Directions: Put the flour, sugar, cocoa powder, baking powder, and salt (if using) in a 12-ounce microwave-safe ceramic mug. Blend thoroughly with a fork. Add the milk, vegetable oil, and vanilla (if using) and blend until smooth. Stir in the chocolate chips.
Microwave on high for 90 seconds. Do not overcook or the cake will be dry. Let cool for 2 to 3 minutes before eating
2. One-Minute Chocolate Chip Cookie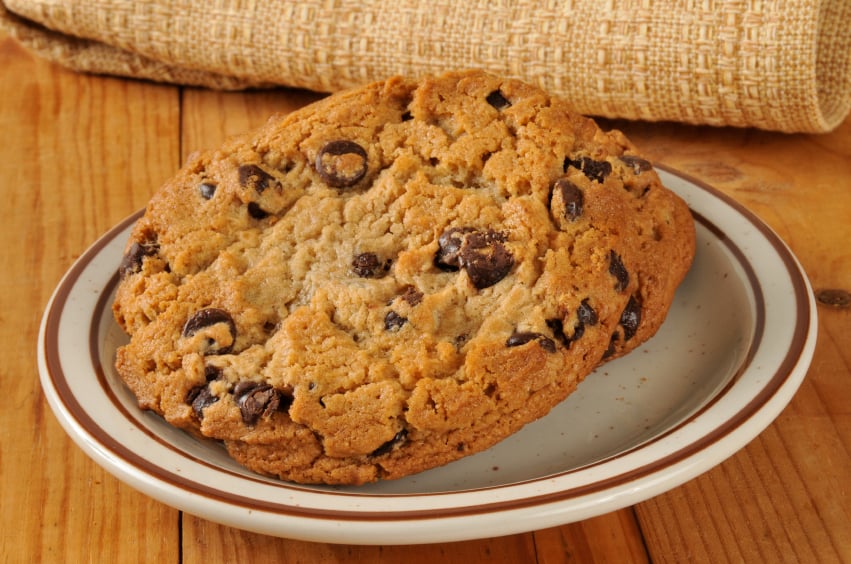 Is there anything more comforting than a fresh-baked chocolate chip cookie? If you have a hankering for cookies and milk but don't want to go to the trouble of making an entire batch from scratch, this one-minute recipe from Pretty Prudent will seem genius. It might not have the crispy, browned outside that a oven-baked cookie has, but the taste will be just right.
Ingredients:
1 tablespoon butter
1½ teaspoons sugar
1 teaspoon packed brown sugar
Drop of vanilla
1 to 2 teaspoons of egg
2 tablespoons all-purpose flour
Pinch of baking powder
Pinch of salt
Chocolate chips
Directions: Place the butter in a microwave-safe mug or small bowl and soften for 6 to 8 seconds. Add the sugar and packed brown sugar and stir until light and fluffy. Add the vanilla and stir to combine.
Add the egg. (You can either use egg whites from a carton or crack a whole egg and separate out some for the cookie, reserving the rest for another recipe.) Mix to combine. Add the flour, baking powder, and salt. Stir to combine. Mix in the chocolate chips.
Transfer the cookie dough to a microwave-safe plate. Heat for 40 seconds. If cookie isn't done, continue heating in 5-second increments. Serve immediately.
3. Microwave Brownies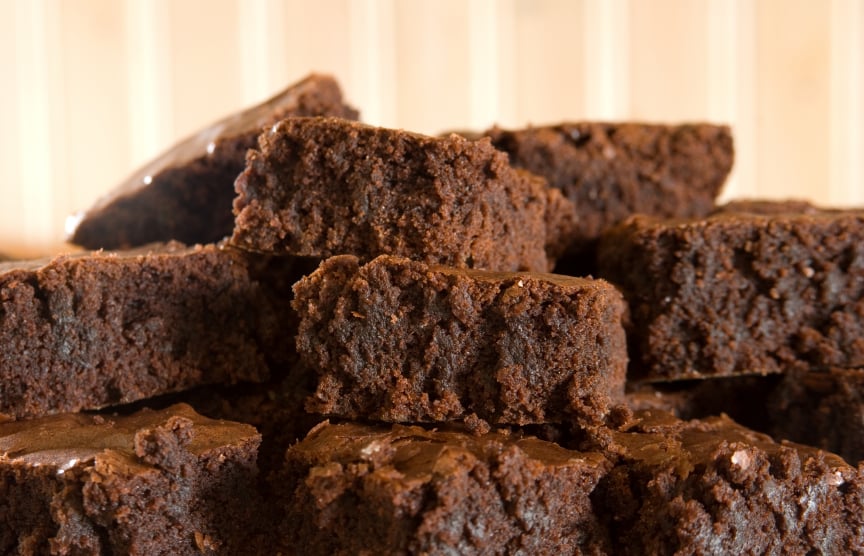 Kids who want to try their hand at baking can start with this easy recipe for microwave brownies from the Food Network. They'll get practice measuring and combining ingredients, but without running the risk of burning themselves on a hot oven. Mom and dad, all you have to do is sit back and reap the rewards of their effort.
Ingredients:
½ cup (1 stick) unsalted butter
3 ounces unsweetened chocolate
2 large eggs
1 cup sugar
½ cup all-purpose flour
½ teaspoon baking powder
½ teaspoon salt
1 teaspoon vanilla extract
½ cup chocolate chunks or chips
Nonstick cooking spray
Directions: Put the butter and chocolate into a microwave safe bowl and heat on high for 1 to 2 minutes, stirring every 30 seconds to melt the chocolate. Set aside.
In another bowl, whisk together the eggs and sugar.
In a large bowl sift the flour with the baking powder and salt. Add the egg and chocolate mixtures along with the vanilla and stir well to combine.
Spray an 8-by-8-by-2-inch microwave-safe glass pan with cooking spray. Pour the batter into the pan, spread it out evenly, and scatter the chocolate chunks on top. Cook on high for 5 minutes. Remove from the oven and let rest for 3 minutes before cutting and eating.
4. Microwave Lemon Bars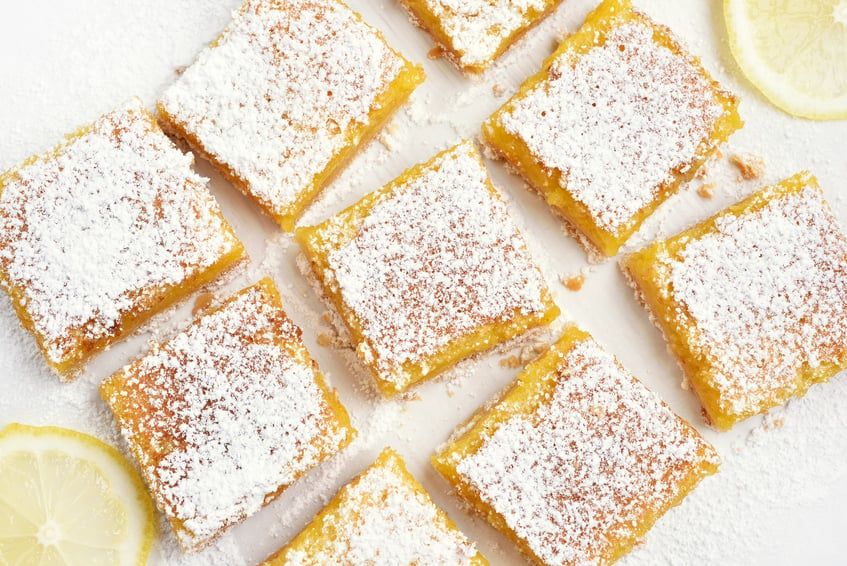 You can have a just-baked dessert when you make this easy lemon bar recipe from Mom on Timeout. The bottom crust for these bars "bakes" in just three minutes. Then, add the lemon filling, nuke for another three minutes, chill in the fridge, and you're done. Makes 25 bars.
Ingredients:
For the crust
1 cup all-purpose flour
3 tablespoon powdered sugar
Zest from 1 lemon (about 1 tablespoon)
6 tablespoons butter, melted
For the filling
1 cup granulated sugar
Zest from 2 lemons (about 2 tablespoons)
3 large eggs, room temperature
⅓ cup fresh lemon juice (from zested lemons)
1 tablespoon all-purpose flour
½ teaspoon baking powder
¼ teaspoon salt
Directions: Light grease a 9-by-9-inch microwave-safe dish, or line with parchment paper.
In a bowl, whisk together the flour, sugar, and lemon zest. Stir in the melted butter. Press the dough into the prepared baking dish. Microwave for 3 minutes at 80% power. Check the crust. If it's not firm, microwave for another 30 seconds at 80% power. Set aside.
To make the filling, beat the sugar, lemon zest, eggs, and lemon juice together in a large bowl. Add the flour, baking power, and salt and continue to beat to 2 to 3 minutes.
Pour the lemon filling over the crust. Microwave for 3 minutes at 80% power. Check to see if the filling has set (it should jiggle just slightly). If not set, microwave for 1 minute more at 80% power.
Let cool, then transfer to the refrigerator. Bars should chill for several hours or overnight. Cut into squares, dust with powdered sugar, and serve. Refrigerate any uneaten bars.
5. 5-Minute Blackberry Cobbler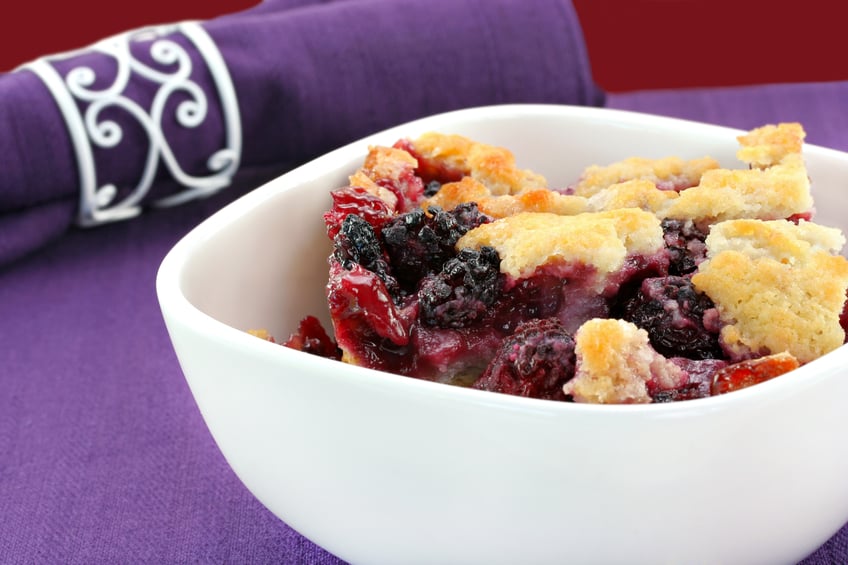 Fresh blackberries are transformed into a piping hot cobbler after just a few minutes in the microwave. If you don't have blackberries on hand, you can make this recipe with almost any other fruit, such as raspberries, cherries, or blueberries. Recipe from Babble.
Ingredients:
1/8 cup flour
Pinch salt
1/8 teaspoon baking powder
½ heaping tablespoon sugar
1 tablespoon cold butter
1 tablespoon milk
8 large blackberries
1 teaspoon sugar
Directions: Place blackberries into a microwavable cup or wide-mouth jar. Sprinkle with 1 teaspoon of sugar. Microwave for 10 to 15 seconds. Set aside.
Mix together the flour, salt, baking powder, and sugar in a small bowl. Add butter and mix with your fingers until it becomes a crumbly mixture. Add the milk. Stir to combine until a dough forms. Spoon topping over the blackberries. Microwave for 1 minute. Check cobbler. If it doesn't look done, microwave for another 20 seconds.
Remove from microwave and let cool for a few minutes. Serve plain or topped with ice cream.
6. Coconut Frenzy Cake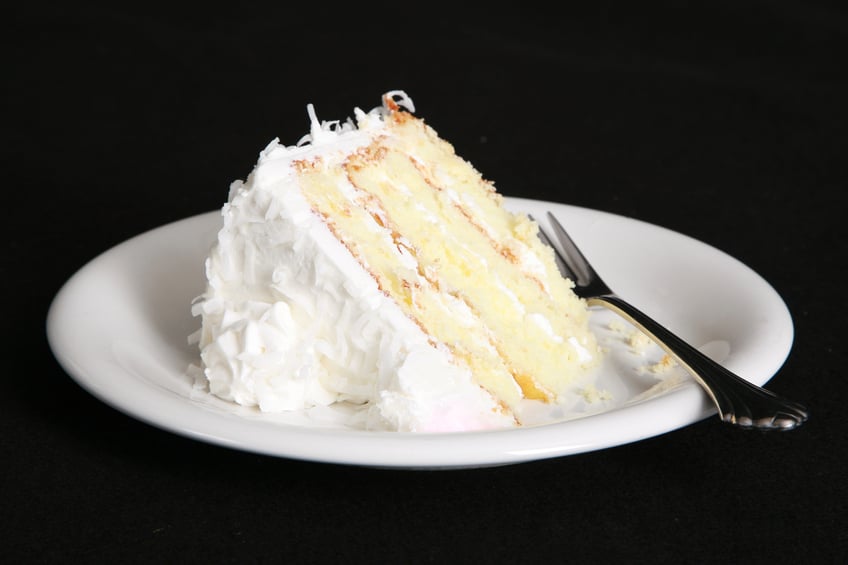 Coconut-lovers won't be able to get enough of this cake, which features a coconut and whipped cream frosting, coconut filling, and cake layers made with coconut flour. And since you cook the cake in the microwave, it's ready in a manner of minutes. This recipe from I Breathe I'm Hungry makes four 3-inch cakes.
Ingredients:
For the cake
4 ounces cream cheese, softened
3 eggs
1 tablespoon coconut cream
1 tablespoon sugar-free coconut-flavored syrup
2 tablespoons coconut flour
For the coconut filling
1 cup dried unsweetened coconut
½ cup coconut cream
3 tablespoons sugar-free coconut-flavored syrup
For the frosting
1 cup heavy whipping cream
1 tablespoon sugar-free coconut-flavored syrup
1 teaspoon stevia powder
¼ cup coconut cream
Directions: Grease and 8-by-8-inch microwave-safe baking dish. Combine all the ingredients for the cake in a blender. Process at medium speed until smooth. If mixture is frothy, let rest for a few minutes. Pour half the batter into prepared pan.
Cook cake in the microwave for 3 minutes, until completely firm. Flip pan over and transfer cooked cake to a plate or platter. Grease the pan again, then fill with the remaining batter. Cook for 3 minutes, then remove cake layer from pan.
Cut each cake layer into 9 squares of equal size (3 rows by 3 rows). Set aside. (You will have two leftover squares after assembling the cakes.)
To make the filling, combine the unsweetened coconut, coconut cream, and coconut-flavored syrup in a medium bowl. Let sit for 10 minutes.
While the filling sits, make the frosting. Whip the heavy cream until it starts to thicken. Add the coconut cream, sugar-free coconut syrup, and the stevia. Continue to while until peaks form.
To assemble the cakes, lay one cake square on a plate. Top with 1 tablespoon of coconut filling and spread to make an even layer. Cover with another cake square and more filling, repeating until you have four layers of cake. Frost the top and sides of the cake. Decorate as desired. Repeat the process with the remaining cake layers, filling, and frosting. Serve.
7. Microwave Cherry Crisp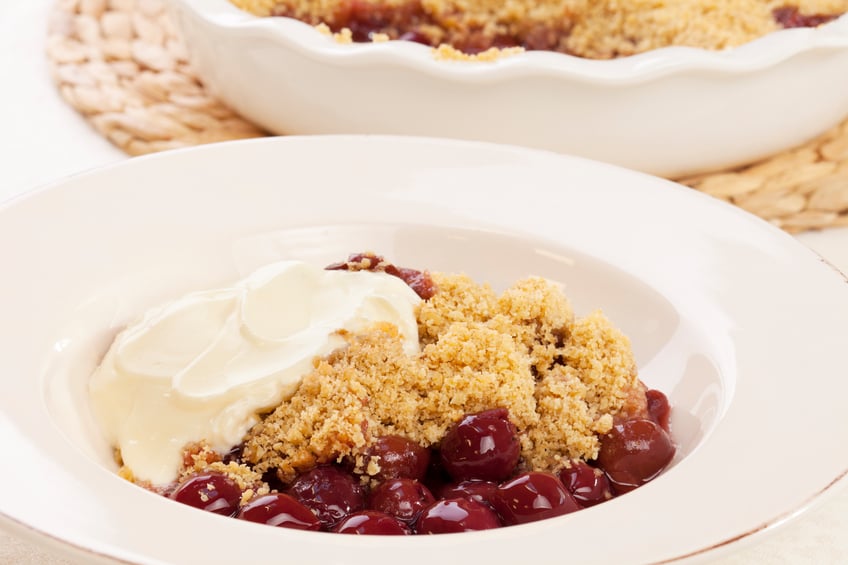 When you need a last-minute dessert solution, this recipe is the answer. You can make this cherry crisp with ingredients you may already have on hand in your pantry or fridge, including cherry pie filling and oats. Plus, it's ready in just 20 minutes. This recipe from Taste of Home makes 4 servings.
Ingredients:
1 (21-ounce) can cherry pie filling
¾ cup packed brown sugar
2/3 cup quick-cooking oats
1/3 cup all-purpose flour
¼ cup butter, cubed
Vanilla ice cream, optional
Directions: Spoon pie filling into a greased 9-inch pie plate. In a small bowl, mix the brown sugar, oats, and flour; cut in butter until crumbly. Sprinkle over filling. Microwave, uncovered, on high for 7 to 9 minutes or until hot. If desired, serve warm with ice cream.
Follow Megan on Twitter @MeganE_CS