15 Easy Microwave Mug Meals That Are Simple to Make
Microwaves are handy but wildly underutilized. The potential of this ultra-convenient appliance seems untapped in most households, considering the vast majority of people use microwaves to zap leftovers and warm up old coffee. The truth is, you probably had no idea you can create some of your absolute favorite meals without ever having to turn on your stove or oven. These mug meals will have you abandoning tradition and embracing the game-changing simplicity of your microwave's endless possibilities. 
1. French toast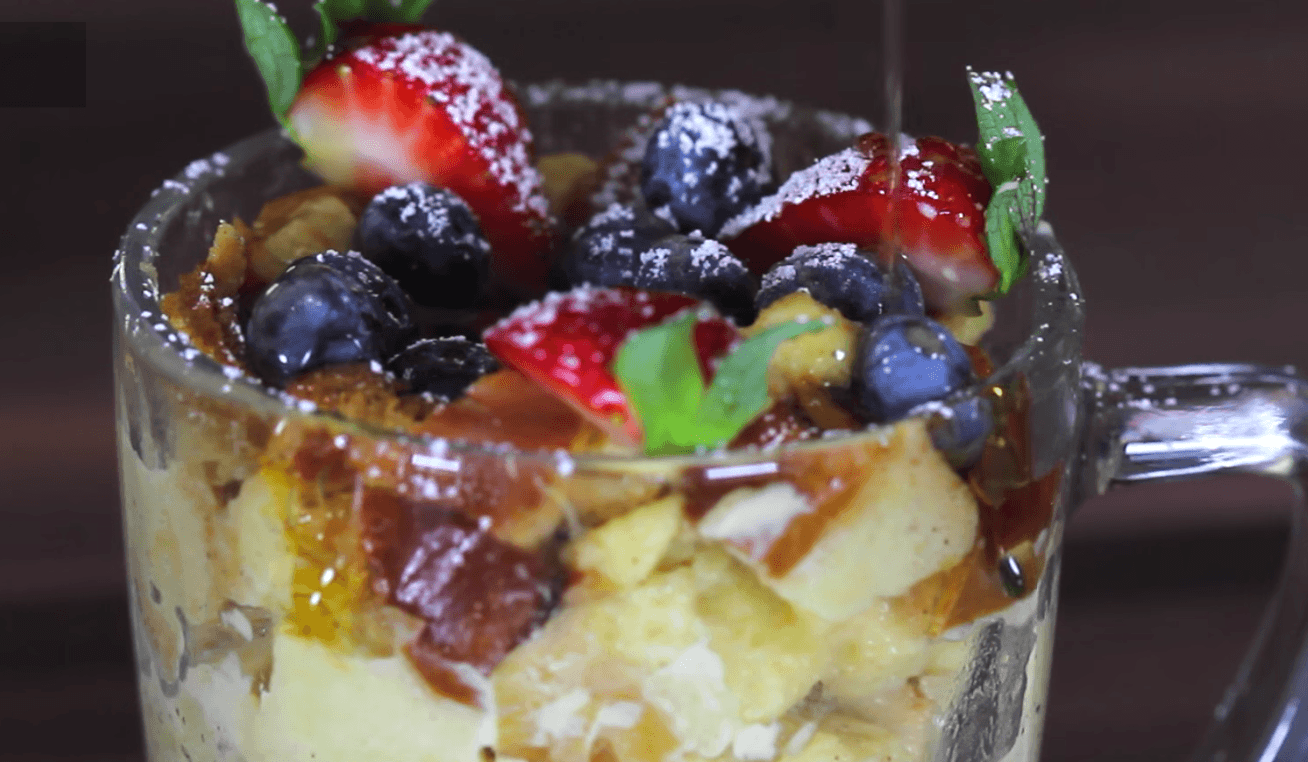 This indulgent breakfast favorite just got a whole lot easier to make. Sure, French toast may not be particularly difficult to make, but individual mug servings prepared inside your microwave makes for an easy, stress-free way to wow your household and your palette. All you need is a microwave-safe mug and this recipe:
Ingredients:
1 tablespoon butter
1/4 cup milk
1 beaten egg
1/4 teaspoon ground cinnamon
1/4 teaspoon sugar
1/4 teaspoon vanilla extract
2 slices of bread, cubed
Directions:
Place butter in mug and microwave for 30 seconds. Remove from the microwave and swirl the butter around until sides of the mug are evenly coated.
Place milk, egg, cinnamon, sugar, and vanilla extract inside the mug and stir until all of the ingredients are combined.
Press bread cubes into the mug and microwave on high for 90 seconds.
Serve with your favorite French toast toppings.
Next: Comfort food made into just the right portions.
2. Pizza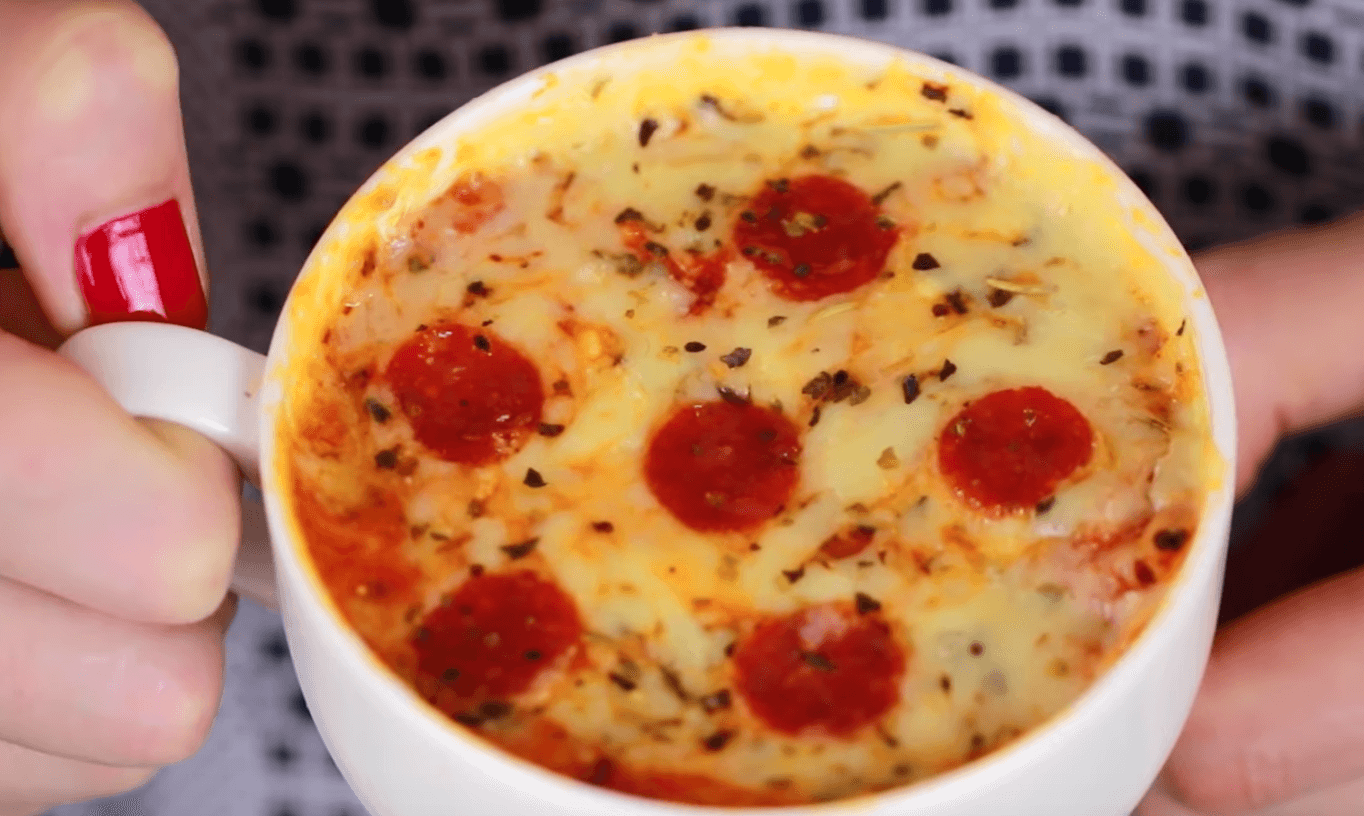 We have all been there — wanting the comfort of pizza without the guilt associated with ordering an entire pie. When you are craving a few bites of pizza, consider springing for this microwaved mug version. Made from scratch, this pizza recipe will satisfy your cravings.
Ingredients:
4 tablespoons flour
1/8 teaspoon salt
1/8 teaspoon baking powder
Pinch of baking soda
3 tablespoons milk
1 tablespoon oil
Your favorite marinara
Shredded mozzarella
Pepperoni
Dried Italian seasonings
Directions:
Inside a microwave-safe mug, combine flour, salt, baking powder, and baking soda.
Thoroughly whisk in the milk and oil with the dry ingredients.
Add a dollop of marinara, then top with mozzarella, pepperoni, and Italian seasonings
Microwave the mug on high for 70 to 80 seconds and enjoy.
Next: A southern favorite just got even easier.
3. Cheesy homemade grits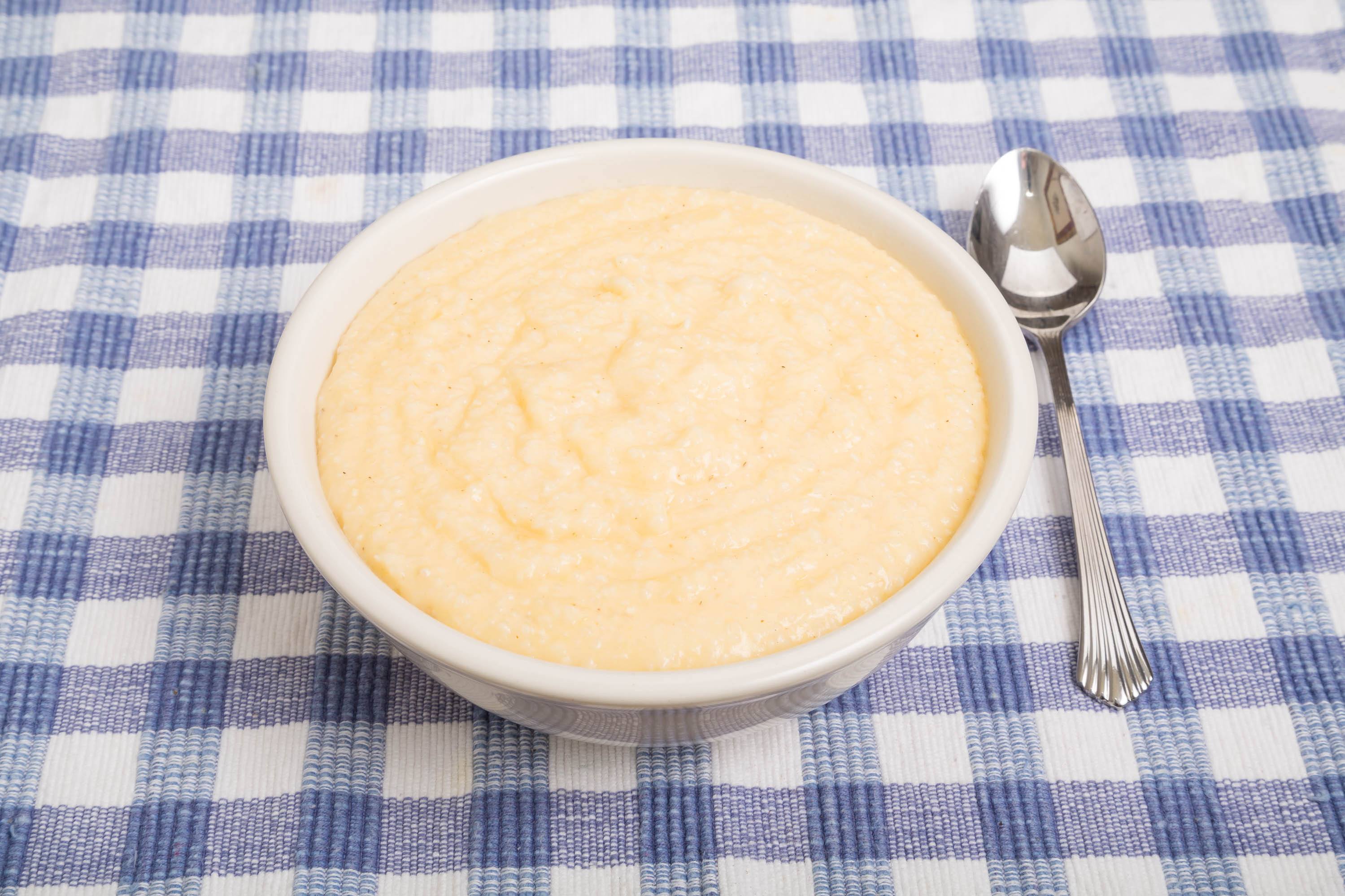 These are not your out-of-the-box Quaker instant grits. Instead, these microwave mug cheesy grits a healthier, homemade version of the classic, southern breakfast staple. Notably, if you are having trouble finding grits at your local grocery store, polenta is the exact same product (just a different name). It does not get more convenient than this recipe:
Ingredients:
1 cup of water
1/4 cup grits
Kosher salt
Butter
Shredded cheddar cheese
Directions: 
Combine the water, grits, and salt in your microwave-safe mug.
Cook on high for 5 minutes, remove and stir.
If grits are not cooked to your preference, continue microwaving in 1-minute intervals.
Remove cooked grits from the microwave and stir in the butter and cheese.
Enjoy.
Next: A game-changing muffin recipe that you must try.
4. Blueberry muffin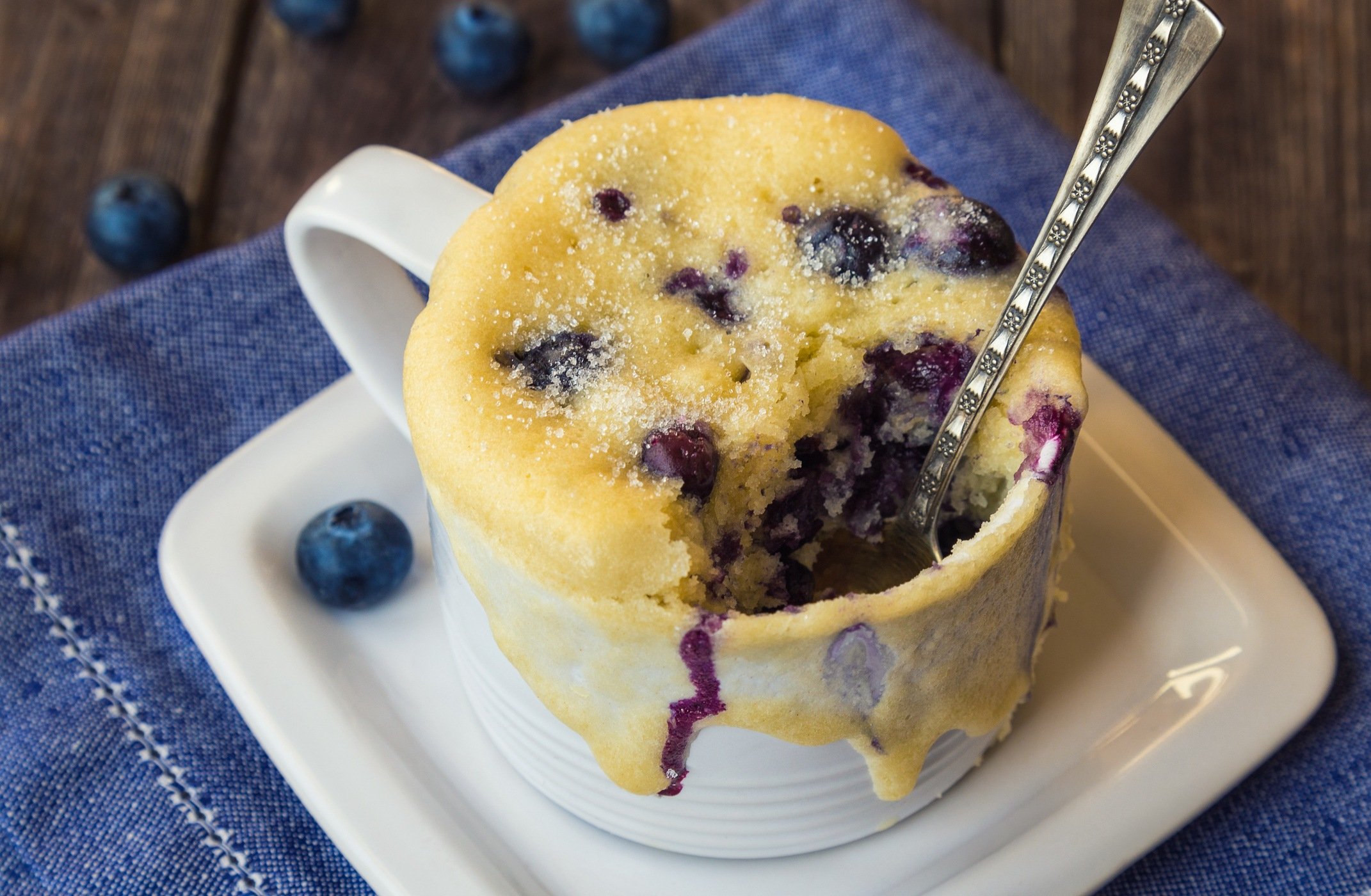 No matter what time of year or what type of weather, blueberry muffins never seem to disappoint. They satisfy any sweet tooth while simultaneously filling you up. However, the biggest downside to the tasty treat is its lack of health benefits. Well, look no further. This 1-minute blueberry muffin recipe is not only made for your microwaveable mug, but it is paleo and gluten-free. Check out the recipe.
Ingredients:
1 tablespoon coconut flour
1 tablespoon almond flour
1 tablespoon oat flour (omit for paleo version)
2 tablespoons sugar
1/2 teaspoon baking powder
Dash of cinnamon
1 large egg (can sub for 1 large egg white or 1 flax egg)
1 tablespoon mashed banana
1 tablespoon+ of your favorite dairy-free milk
2-3 tablespoons of frozen blueberries
Directions:
Combine your dry ingredients inside your microwaveable mug.
Then mix in the egg, mashed banana, and milk.
Fold in the blueberries.
Microwave for 50 seconds and voila!
Next: This go-to indulgence doesn't have to come out of a box. 
5. Macaroni and cheese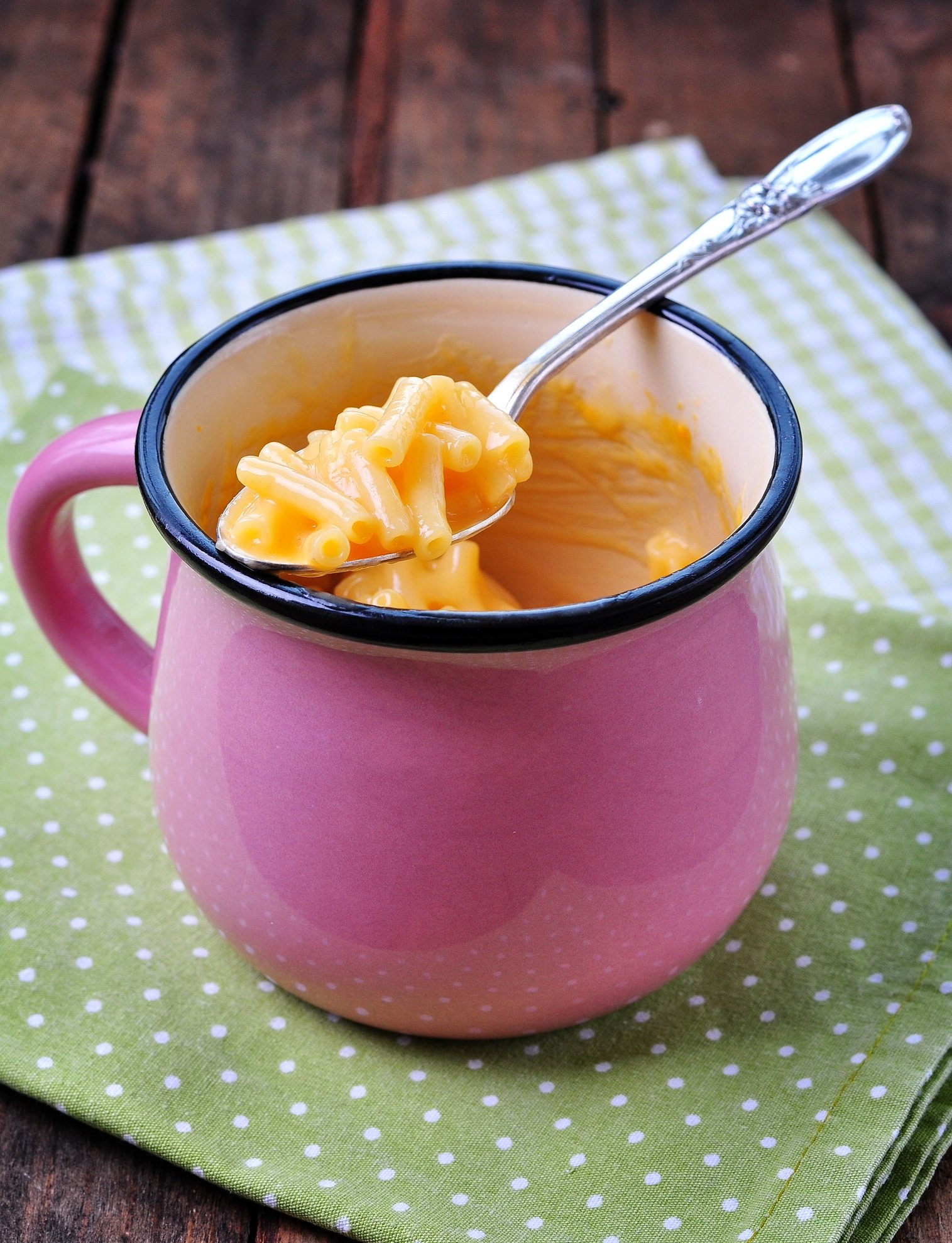 Kraft may have cornered the convenience factor of macaroni and cheese, but the powdered and packaged cheeses will always be questionable.  Luckily, making homemade macaroni and cheese does not have to involve a casserole dish, oven, or stovetop. So, grab your larger microwave-safe mug (or bowl) and check out this recipe:
Ingredients:
1/3 cup pasta
3/4 cup cold water
4 tablespoons milk
¼ teaspoons cornstarch (aka cornflour)
4 tablespoons cheddar cheese, grated
Salt and pepper
Directions: 
Combine the pasta and water and cook on high in the microwave for 3 1/2 minutes. The pasta needs to be fully cooked.
Drain the water.
Add the milk, cornstarch, and cheese into the mug, stirring to thoroughly combine. Place the mug back in the microwave and cook on high for one more minute.
Remove from microwave, salt, and pepper to taste, and enjoy.
Next: You don't have to visit a Chili's or Applebee's to get this crowdpleaser. 
6. Molten chocolate cake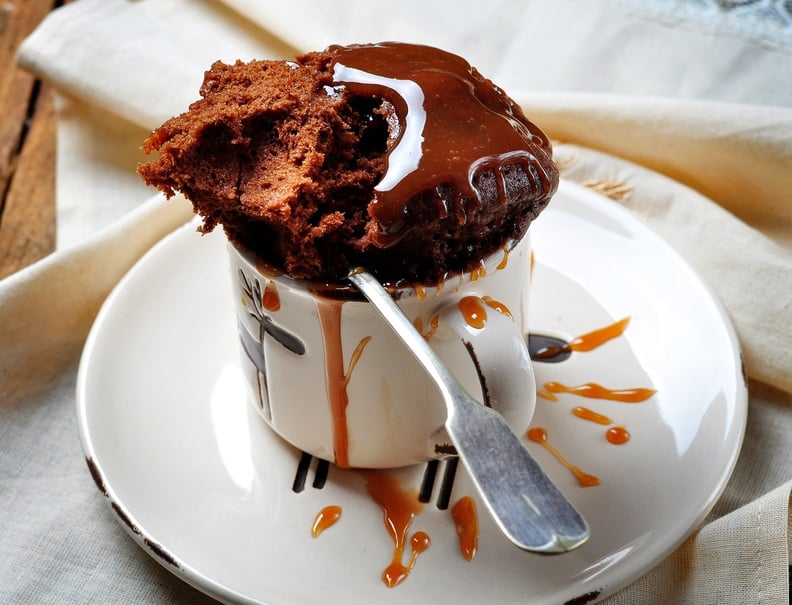 Is there any dessert more indulgent than molten chocolate cake? Besides a classic cheesecake, the molten cake has to be one of the most popular restaurant desserts of all time, don't you think? Regardless, its popularity comes honest, because it is truly so delicious. Luckily, you don't have to visit a Chili's or an Applebee's to enjoy this dessert. Instead, it can be whipped up in your microwave. Also, to avoid any molten overflow, you may want to opt for either a bowl or a 2-cup mug. Here's the recipe:
Ingredients:
1/4 cup all-purpose flour
1/4 cup granulated sugar
2 tablespoons unsweetened cocoa powder
1/2 teaspoon baking powder
Pinch of salt
3 tablespoons unsalted butter, melted
3 tablespoons whole milk
1 small egg
1/4 teaspoon vanilla extract
1 ounce lightly broken up chocolate of your choice
1 tablespoon water
Directions: 
In your bowl or mug, whisk together all of your dry ingredients.
Add in your wet ingredients, whisking until all of the ingredients are well-combined.
Place your chocolate pieces in the center on top of the mixture — it will sink down during the cooking process, so don't shove it.
Pour the tablespoon of water on top of mixture.
Cook on high for 1 minute 15 seconds to 1 minute 30 seconds. You're looking for the cake to rise, but not overcook. Upon removing the cake from the microwave and let it rest.
The cake will fall once you remove it from the microwave, so don't stress about it.
Once the cake has cooled for 5 minutes, top it with your favorite ice cream, and enjoy.
Next:
7. Sweet potato hash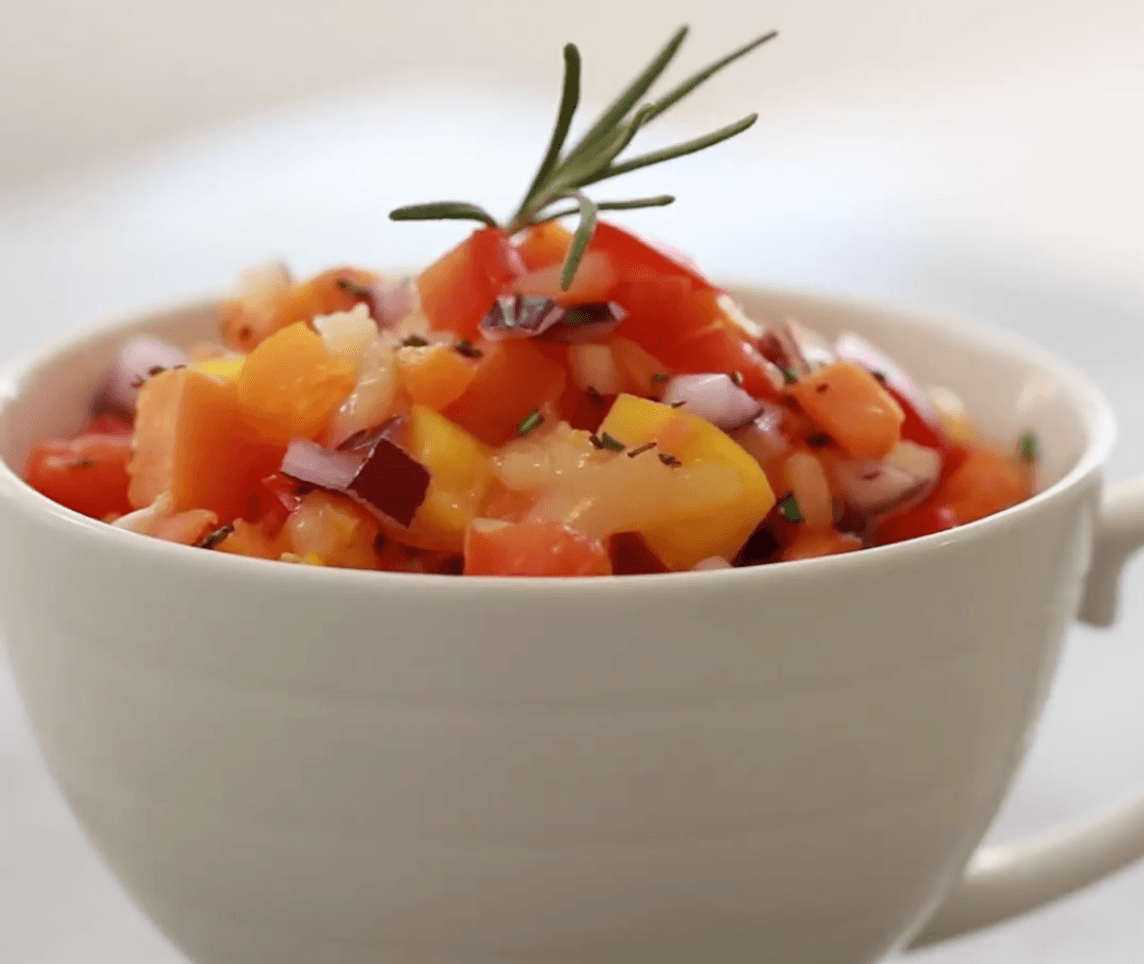 The beauty of a hash transcends all meal times. Whether you eat a hash for breakfast, lunch, or dinner, it is always satisfying, and it is always a healthy option. Plus, sprucing up the flavor profile with fresh herbs or a favorite salsa is a great option to avoid food burn-out. So, without further ado, here is a delicious sweet potato hash recipe for any time of the day.
Ingredients:
1 small sweet potato (around 1 cup), peeled and cubed
Water, enough to cover the potatoes
2 peppers, chopped
1 tablespoon red onion, chopped
2 tablespoons grated cheese
A pinch of salt and pepper
2 teaspoon rosemary, fresh or dried
1/4 tablespoon
Directions: 
Place your sweet potato cubes in a large microwave-safe mug and completely cover with water.
Cook on high for 3 to 4 minutes. Once the potatoes are cooked, remove the mug from the microwave, and drain off the water.
Add in the remaining ingredients and cook in the microwave on high for another 40 seconds.
Enjoy!
Next: A warm and cozy soup suitable for any occasion
8. Chicken noodle soup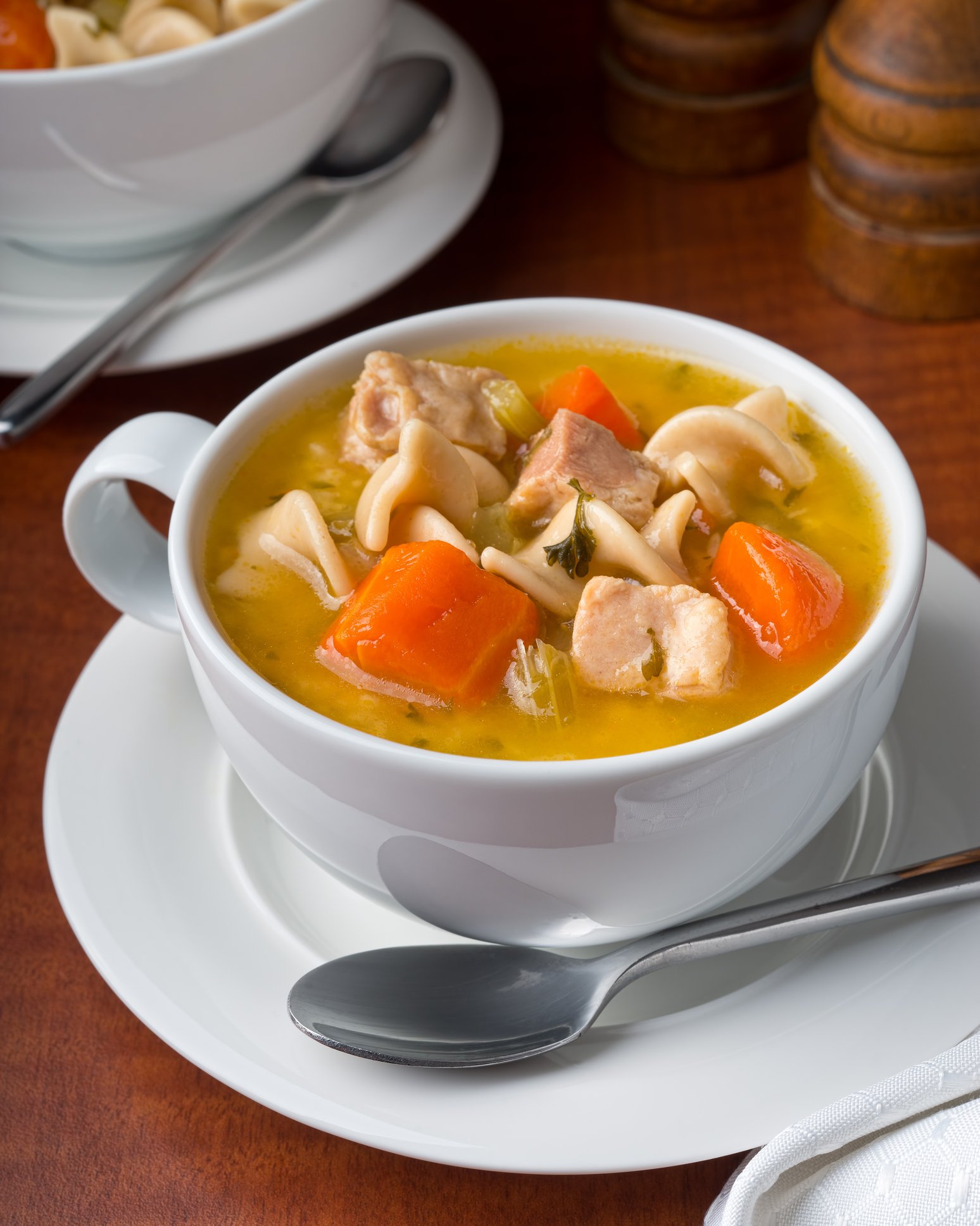 The epitome of comfort food lies in a chicken noodle soup, and nearly every person knows someone who can make a phenomenal version. The only drawback is that it can be time-consuming, until now. Whipping up your own chicken noodle soup does not have to involve the stove and can be accomplished very quickly. Check out this recipe:
Ingredients:
1 cup chicken broth
½ cup shredded rotisserie or roasted chicken (skin removed)
¼ cup very thinly sliced carrots
¼ cup cooked small egg noodles
1 tablespoon plus 1 teaspoon thinly sliced trimmed scallions
1 teaspoon fresh lemon juice
⅛ teaspoon kosher salt
2 grinds of black pepper
1 tablespoon finely chopped fresh dill or parsley
Directions:
In a large microwave-safe mug, mix together the broth, chicken, carrots, noodles, scallions, juice, salt, and pepper.
Microwave on high for 7 minutes.
Remove from microwave, add dill or parsley, and enjoy.
Next: A special Sunday morning breakfast has never been so simple (and it's paleo).
9. Paleo cinnamon roll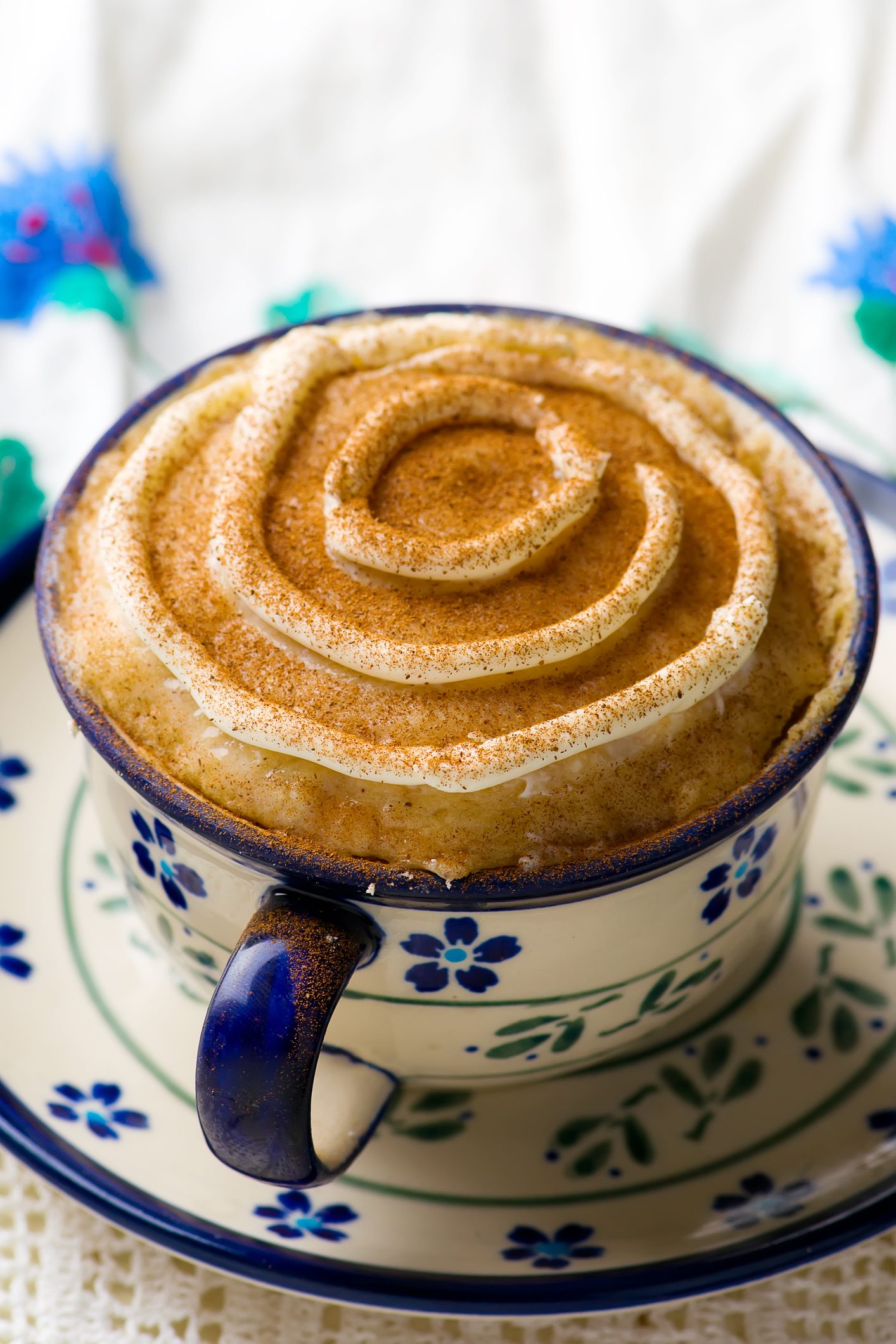 Whether they come out of a can, a plastic wrapper, or off the shelf at your local bakery, cinnamon rolls are divine. But for those watching their intake or following a paleo diet, indulging in a cinnamon roll can seem like a total health derailment. Not only is this cinnamon roll recipe paleo, but you can cook it in your microwave. Here's the recipe:
Cinnamon roll ingredients:
2 tablespoons coconut flour
1 teaspoon ground cinnamon
Pinch of fine grain sea salt
Pinch of nutmeg
1/2 teaspoon baking powder
1 egg
2 tablespoons milk (almond, coconut work well)
1 1/2 tablespoons maple syrup
1 tablespoon coconut oil or butter, melted
1/2 teaspoon vanilla extract
Icing ingredients:
1 tablespoon coconut butter
1 tablespoon milk of your choice
1 teaspoon coconut sugar
1/2 teaspoon lemon juice
To cook the cinnamon roll, mix all of the ingredients inside of your microwave-safe mug, adding the baking powder last.
Microwave on high for 2 minutes.
As for the icing, mix all of the ingredients together and drizzle over the cooked cinnamon roll.
Enjoy.
Next: A simple and healthy breakfast go-to. 
10. Omelet in a mug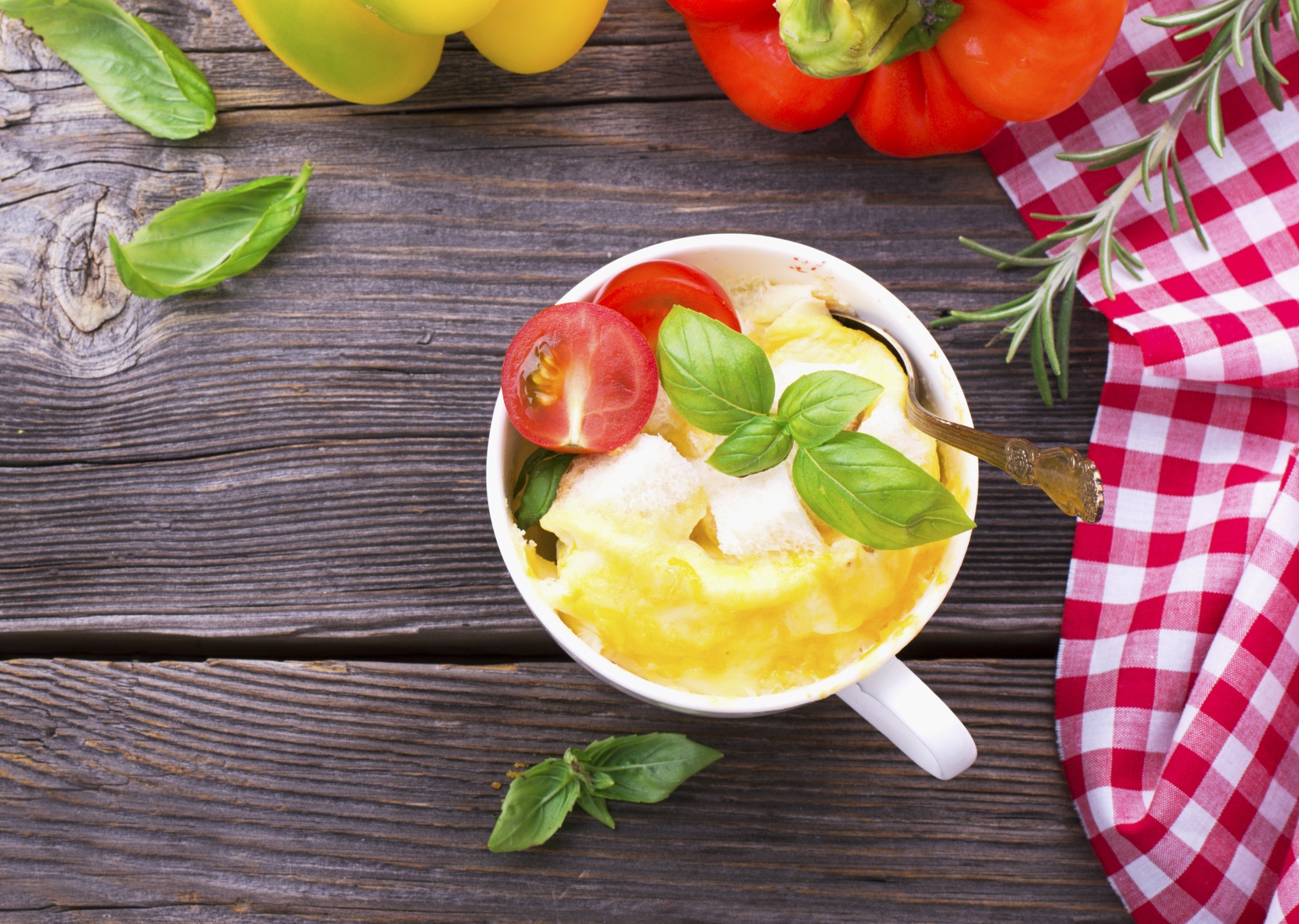 Eggs are a breakfast staple here in the United States and beyond, which means it's easy to get burned out on the same-thing-different-day staple. Luckily, zapping an egg in the microwave doesn't have to be a bland experience. Consider the following recipe a good base for an omelet, where you can add in vegetables, meats, and herbs to suit your taste.
Ingredients: 
1 large egg
2 egg whites
2 tablespoons shredded cheese
Salt and pepper
Cooking spray
Directions: 
Combine the egg, egg whites, shredded cheese, and salt and pepper into an oil-coated microwave-safe mug.
Microwave on high for 1 to 1 1/2 minutes.
Enjoy.
Next: Mexican-style brunch to impress all of your friends.
11. Chilaquiles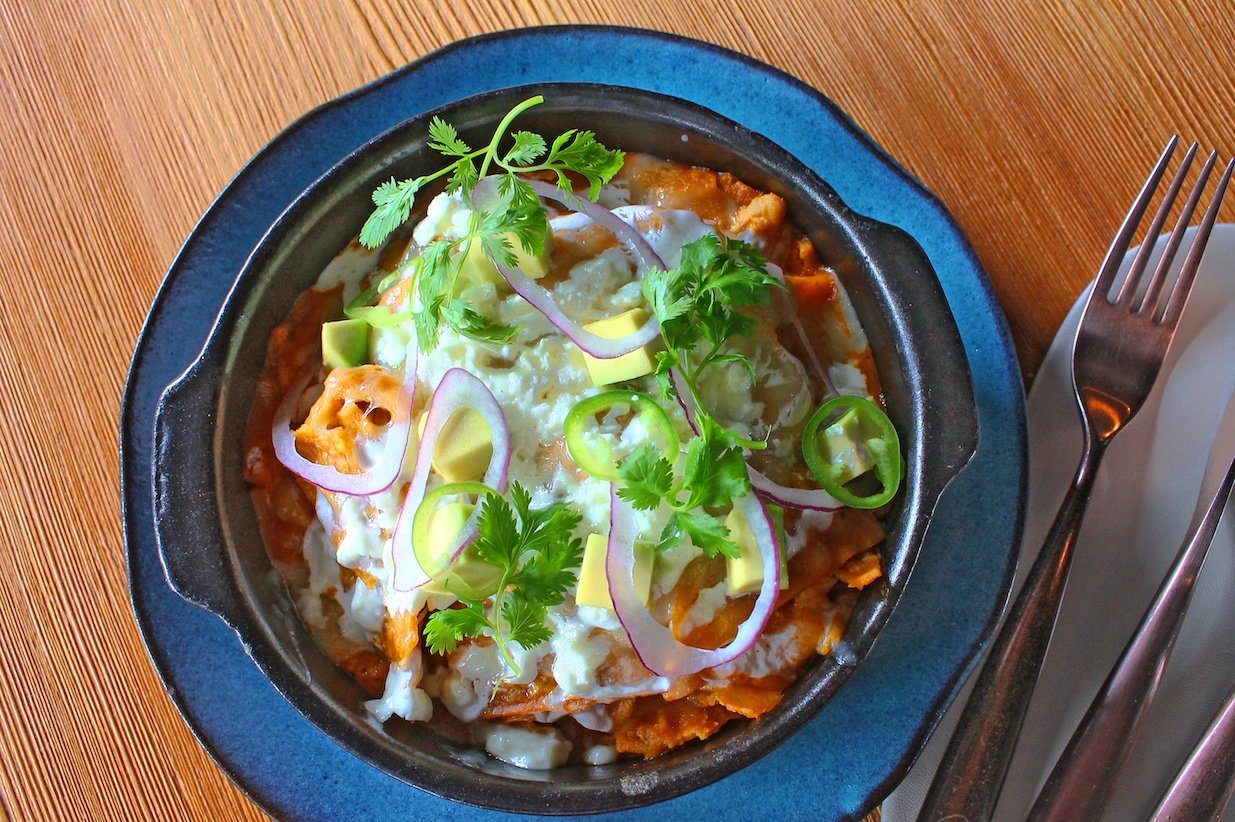 Resting on the solid foundation of tortilla chips, the possibilities for spicing up this Mexican tradition seem neverending. Chilaquiles is a brunch go-to that is capable of wearing many sombreros and satisfying the palettes of vegetarians and meat-lovers alike. Pick and choose how you wish to top this delicious recipe:
Ingredients:
1 egg, beaten
Salt
Ground black pepper
1 tablespoon sharp cheddar cheese
5 tortilla chips, divided
1 tablespoon salsa
Sour cream
Queso fresco
Chopped green onion
Directions: 
Combine the egg, salt, and pepper in a microwave-safe mug.
Add the shredded cheese to the egg mixture, then mix in the chip pieces.
Add salsa and microwave for 1 minute and 10 seconds.
Top with remaining ingredients and enjoy.
Next: This classic Italian dish just got way easier. 
12. Lasagna in a mug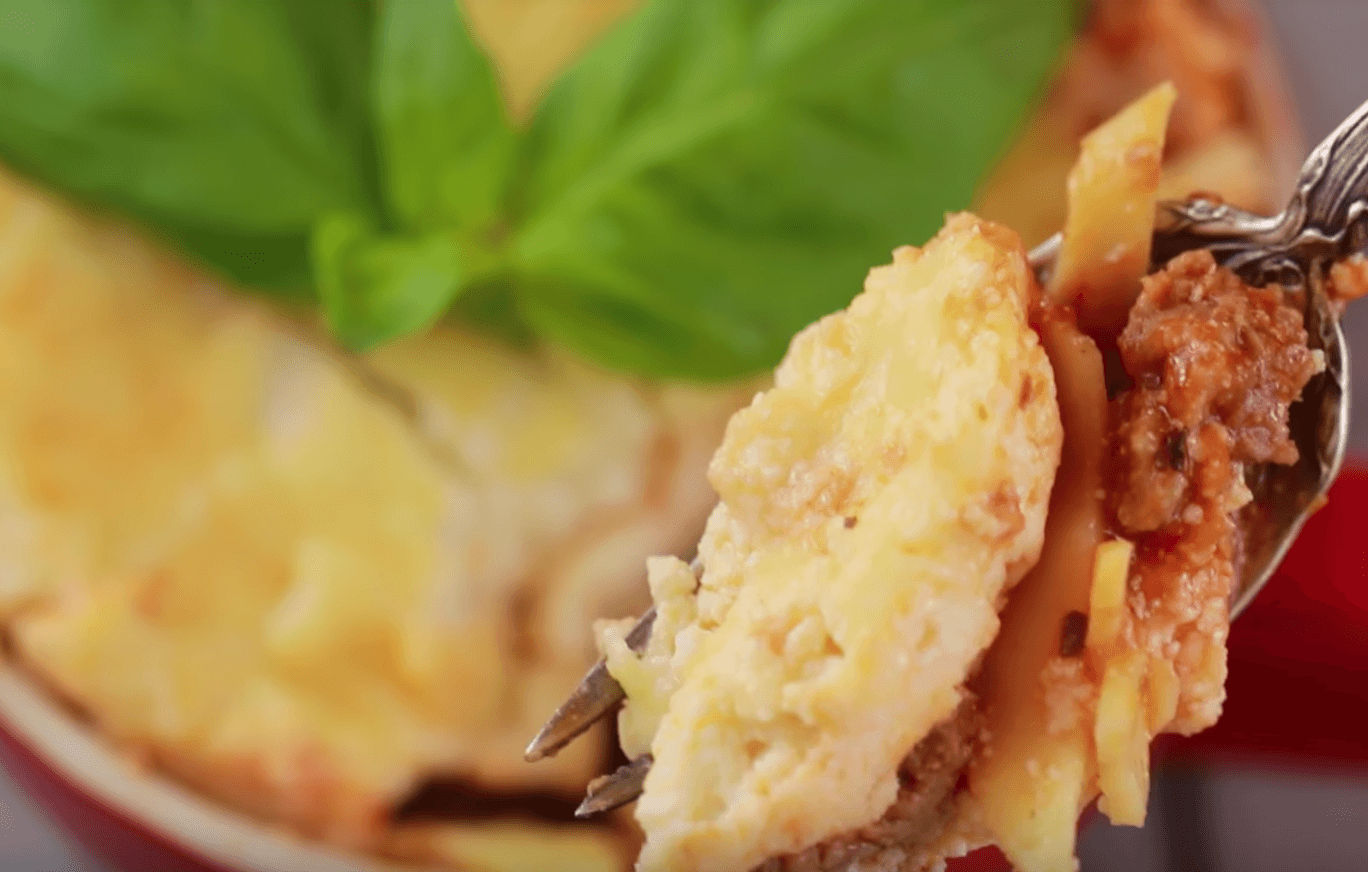 Having a dish full of homemade lasagna may be as good as it gets, but creating it from scratch can be quite the undertaking. When you don't have it in you, opt for a microwave version of the Italian staple. This 11-minute easy lasagna recipe may become your new favorite dinner.
Ingredients:
2 pasta lasagna sheets
3/4 cup water
1 teaspoon olive oil
3 tablespoons pizza sauce
4 tablespoons ricotta cheese
3 tablespoons spinach, uncooked
2 tablespoons cooked sausage, optional
1 tablespoon shredded cheddar cheese
Directions:
Break lasagna sheets into a large microwave-safe mug. Pour in water and olive oil, microwaving for 3 to 4 minutes. It's a good idea to check the pasta halfway through and stir.
Drain noodles in a separate colander.
Add pizza sauce to the bottom of the mug, then layer in the pasta, spinach, sausage, and ricotta, repeating the layers until you reach the top of the mug.
Top with shredded cheese and microwave on high for 2  1/2 to 3 minutes, keeping a close eye to make sure nothing is overflowing.
Allow the lasagna to cool and enjoy.
Next: This one is for the meat-lovers.
13. Mug meatloaf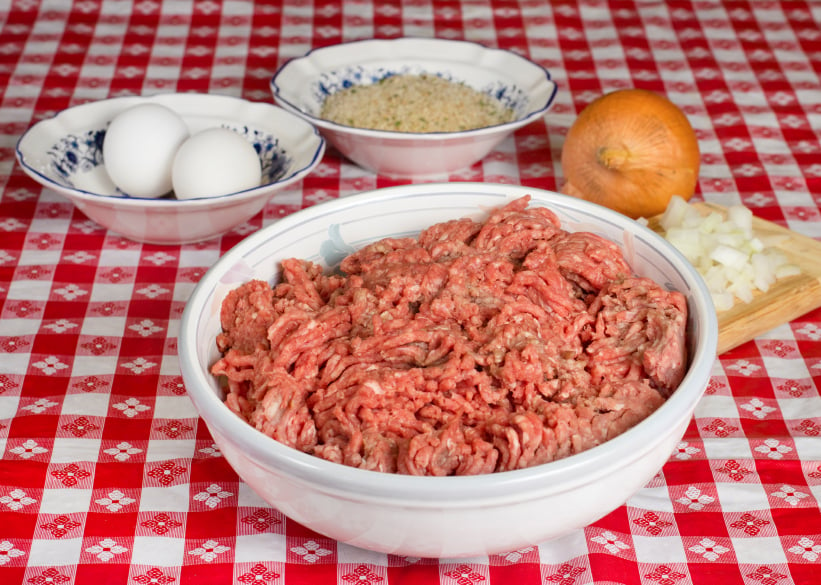 Not everyone loves meatloaf, but if you do, you'll absolutely appreciate this recipe. This healthy and delicious rendition of the traditional dish only takes about 13 minutes from start to finish. And if you prefer to add or subtract certain ingredients of this recipe, go for it.
Ingredients:
2 tablespoons milk
1 tablespoon ketchup
2 tablespoons quick oats
1 teaspoon onion soup mix
1/4 pound lean ground beef
Directions:
In a large microwave-safe mug or bowl, mix together the milk, ketchup, onion soup mix, and oats.
Fold in the ground beef until everything is well-combined.
Cover and microwave on high for three minutes or until the meatloaf reach 160 degrees Fahrenheit.
Drain any excess liquid and allow the meatloaf to rest for about three minutes.
Top with ketchup, if you'd like and enjoy.
Next: A 2-minute dessert you must try.
14. 2-minute pumpkin pie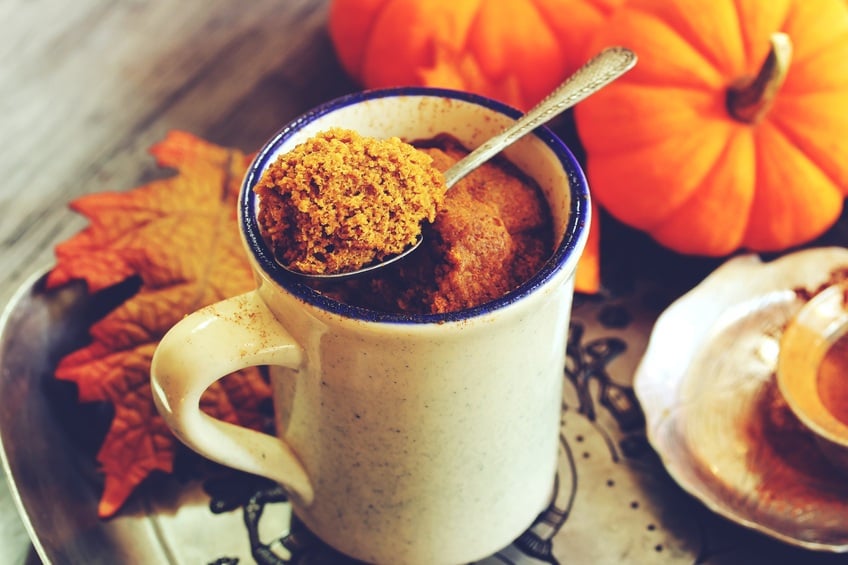 Pumpkin pie doesn't have to be enjoyed only around the holidays. But we get it. Sometimes having an entire pie resting on your countertop is just a bad idea, and because of that, this 2-minute pumpkin pie recipe can be enjoyed in individual portions, avoiding the temptation of a whole pie.
Ingredients: 
1/2 cup of pureed pumpkin
1 egg
1/4 teaspoon of stevia or 2 tablespoons of raw honey or maple syrup
1 teaspoon of pumpkin pie spice
Crust ingredients (optional):
1 tablespoon butter
1 tablespoon shredded coconut
1 tablespoon almond flour
A sprinkle of coconut sugar
Directions: 
If making crust, microwave butter inside of microwave-safe mug for 30 seconds.
Add shredded coconut and almond flour, patting the mixture into the bottom of the mug.
Sprinkle the sugar over the top of crust mixture.
In a separate dish, combine all pie filling ingredients then pour mixture into mug.
Microwave on high for 2 minutes and enjoy.
Next: A healthy spin on a breakfast go-to. 
15. Coconut flour pancake
Who doesn't enjoy a pancake every now and then? If you don't, we would all prefer to not know. This pancake recipe uses coconut flour instead of the usual all-purpose flour and takes a total of seven minutes to complete, from start to finish. Give this pancake recipe a try:
Ingredients: 
1 tablespoon butter
2 tablespoons coconut flour
2 tablespoons non-fat Greek yogurt
1 tablespoon milk
1 egg
Syrup or other toppings of choice
Directions: 
In a microwave-safe mug, melt butter for 10 to 20 seconds.
Swirl the melted butter around the mug to thoroughly coat the inside.
Add the coconut flour, yogurt, milk, and egg into the mug and mix thoroughly. Lumps are fine.
Microwave on high for 1 to 1 1/2 minutes.
Remove from the microwave and top with syrup, additional butter, or fruit.