Easy Recipes for Savory Breakfast Pastries
Breakfast eaters fall into two camps: sweet and savory. The latter usually opt for eggs, bacon, and the occasional potato while the former group noshes on muffins, scones, and turnovers. It seems unfair that folks who like to indulge in something sweet have reign over all the morning pastries, though. No one should have to subsist on dry toast just to get a taste of some kind of bread without all that sugar.
To make matters worse, many morning baked goods are pretty fussy. It's unrealistic to spend three hours making homemade dough, letting it rise, filling, and baking it just to end up with something that you're probably going to scarf as you run out the door. Never fear, because we've found five savory breakfast pastries that are insanely easy and completely satisfying. Your sweets-loving friends might even get a little jealous.
1. Spinach, Parmesan, and Sausage Cornbread Muffins
Take cornbread muffins up about 50 notches with this satisfying morning pastry from The Kim Six Fix. The cheese and sausage make them salty and delicious while the spinach helps keep them moist and serves up some great nutrients. Once the spinach is thawed, make sure to drain it extremely well. Wet greens will lead to a thin batter and a murky appearance. You can drain the spinach by using a sieve, or wringing it out in a clean kitchen towel.
Ingredients:
1 box cornbread mix
⅓ cup oil
⅔ cup milk
1 egg
6- to 8-ounces frozen chopped spinach, thawed, and drained
½ cup grated Partmesan cheese
1 pound pork breakfast sausage, cooked, and drained
Directions: Preheat oven to 400 degrees Fahrenehit. Grease a 12-cup muffin pan.
Combine oil, milk, and egg in a medium bowl. Add spinach, Parmesan, and sausage to wet ingredients. Stir in cornbread mix just to combine. Divide mixture evenly among muffin cups.
Bake until a toothpick inserted in the center comes out with a few moist crumbs attached, about 25 minutes. Let cool. Serve.
2. Bacon, Egg, and Cheese Breakfast Roll-Ups
Back in 1999, Pillsbury took its Toaster Strudels into new territory by introducing savory versions alongside the standard blueberry and strawberry flavors. Though you may have been a fan at one time, one look at the ingredient list reveals they're pretty light on filling. Seeded at the Table's recipe will give you even more of the good stuff with a quick method that uses crescent roll dough.
Just pile some cheese, scrambled eggs, and bacon into the center of each dough triangle, roll, and bake. Though this recipe calls for bacon and cheddar, you can use any of your favorite breakfast meats and cheeses. Or keep it vegetarian and add some chopped broccoli or peppers to the eggs.
Ingredients:
12 ounces bacon strips, chopped
2 tablespoons unsalted butter
5 large eggs
2 tablespoons cold water
 Salt and pepper
2 (8-count) packages crescent roll dough
1 cup shredded sharp cheddar cheese
Directions: Heat a skillet over medium-high heat. Add bacon. Cook, stirring occasionally, until crisp, 10 to 15 minutes. Remove bacon to a paper towel-lined plate, and set aside.
In a seperate large skillet set over medium heat, melt butter. Beat eggs with water, and season with salt and pepper. Add eggs, and cook, scrambling with a spatula, until eggs are cooked, 5 to 8 minutes.
Preheat oven to 375 degrees Fahrenheit. Unroll crescent rolls on a work surface. On each triangle, pile 1 tablespoon each bacon, eggs, and cheese in center. Roll dough, using fingers to keep filling inside. Pinch edges closed.
Place filled rolls onto parchment-lined baking sheets. Bake 12 minutes, until golden. Serve warm.
3. Ham Cheddar Biscuits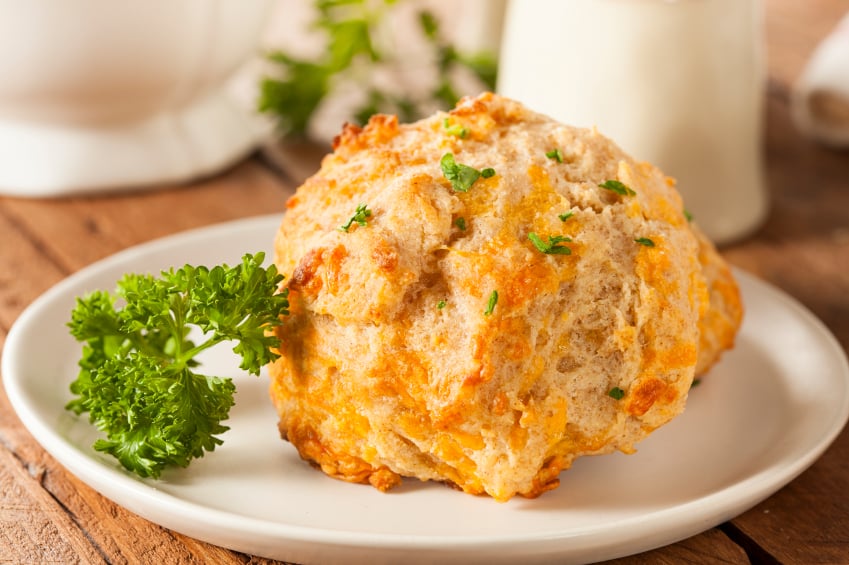 Few biscuit recipes are truly difficult, but many of them take a fair amount of time. To get the flakiest results, you often have to employ a technique where you fold and roll the dough multiple times. You also need a delicate hand or the final results will end up tough. Skip all the fuss with this four-ingredient recipe from Taste of Home. Full of cheese and ham, it's a complete breakfast in one handy pastry. If you'd like to add even more flavor, try mixing in some sliced scallions or chopped herbs.
Ingredients:
2¼ cups biscuit mix
¾ cup milk
¾ cup shredded cheddar cheese
½ cup chopped ham
Directions: Preheat oven to 450 degrees Fahrenheit. In a medium bowl, combine biscuit mix and milk until just combined. Stir in cheese and ham. Drop mixture by tablespoonfuls onto greased baking sheets. Bake 8 to 10 minutes, or until golden. Serve warm.
4. Tomato and Cream Cheese Turnovers
While there are tons of versions of savory pies, not many of them seem to make an appearance in this shrunken form for breakfast. Food 52's turnovers are looking to change that with a burst of summery tomato and a slick of unsweetened cream cheese. Instead of wrestling with a frustrating pie dough, these treats use frozen puff pastry to make things really easy.
Ingredients:
6 ounces cream cheese, at room temperature
2 large eggs, divided
Salt and pepper
2 sheets all-butter puff pastry dough, defrosted
1 large tomato, sliced ¼-inch thick
2 tablespoons sesame seeds
Flour
Directions: Preheat oven to 375 degrees Fahrenheit. In a large bowl, beat together cream cheese, one egg, a few pinches of salt, and a few pinches of pepper. Beat until smooth.
On a floured surface, roll out one sheet of pastry to ⅛-inch thickness. Cut into 6 rectangles. Spread cream cheese mixture over each rectangle and divide tomato slices evenly on top.
Roll out second sheet of pastry in the same way, and cut into 6 rectangles. Top each filled rectangle with an empty piece of pastry, and press to seal with a fork. Transfer pastries to baking sheets.
In a small bowl, whisk remaining egg with a splash of water. Brush over each pastry. Sprinkle tops with sesame seeds. Bake until golden and puffed, about 25 minutes. Remove from oven, and transfer to a cooling rack. Serve. Best eaten same day.
5. Southwest Breakfast Pockets
If you want something really substantial in the morning, these spicy breakfast pockets from Pillsbury might be your new favorite breakast. Pizza dough acts as the crust for a filling of potatoes, cheese, eggs, chicken sausage, and a hint of chipotle. And don't worry about dealing with peeling and cooking the spuds, because this dish uses pre-cooked ones from the freezer aisle. It doesn't get much better than easy and delicious.
Ingredients:
1 (12-ounce) package frozen cooked potato cubes
2 eggs
½ to 1 teaspoon ground chipotle powder
1 link fully cooked chicken sausage, chopped
1 cup shredded Mexican cheese blend
3 tablespoons chopped fresh cilantro
1 can refrigerated thin pizza crust
Directions: Heat oven to 400 degrees Fahrenheit. Microwave frozen potatoes as directed. Let cool 3 minutes. Coarsely chop potatoes and place in a large bowl. Set aside.
In a medium bowl, beat eggs and chipotle with a whisk. Stir in sausage. In a 10-inch nonstick skillet, cook egg mixture over medium heat, stirring, until eggs are set, 2 to 3 minutes. Add egg mixture, cheese, and cilantro to potatoes, and stir to combine.
Unroll dough, and press into a 15-by-10-inch rectangle. Cut into 6 rectangles. Spoon ½ cup egg mixture on one side of each rectangle. Fold dough over filling, and place on nonstick cookie sheet. Press edges with a fork to seal. Bake 12 to 17 minutes, or until golden. Let cool. Serve.