Master the Art of French Cooking With These 7 Recipes
French food is refined and delicious, but it can also be expensive if you exclusively enjoy it at fancy restaurants. French chefs have mastered the art of French cooking, but there's no reason you can't try your hand at the cuisine, too. While there are many complicated recipes for French dishes, there are also easy ones that anyone can learn, and we're rounding up 7 of these recipes today. From soups to salads to quiches to meats, these food formulas will make French food more accessible to you.
1. Salade Nicoise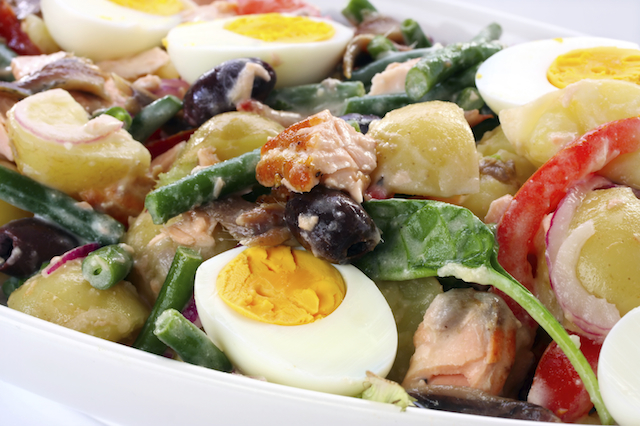 This first recipe comes from Saveur and it yields the light French dish that is salade nicoise. In this dish of greens, it's all about the tuna. Your protein will pair with potatoes, beets, tomatoes, olives, radishes, anchovies, hard-boiled eggs, and cucumbers. It's safe to say this salade nicoise packs a punch. The recipe also has you making your own dressing to flavor the good stuff that is a combination of oil, lemon juice, mustard, and shallots. This light lunch or dinner will remind you how satisfying a well-done salad can be.
Ingredients:
Dressing:
1 clove garlic
Kosher salt, to taste
1⁄3 cup olive oil
2 tablespoons fresh lemon juice
1 tablespoon Dijon mustard
1 shallot, minced
Freshly ground black pepper, to taste
For the Salad:
1 pound small new potatoes, boiled until tender
6 ounces yellow baby beets, boiled until tender, peeled
6 ounces red baby beets, boiled until tender, peeled
8 ounces haricot verts, blanched
12 ounces cherry tomatoes, halved
½ cup black Niçoise olives
8 small radishes, trimmed and thinly sliced
8 salt-packed anchovies, rinsed and drained
4 hard-boiled eggs, halved lengthwise
1 small cucumber, thinly sliced
3 (4-ounce) cans high-quality oil-packed tuna, drained
½ cup loosely packed basil leaves, to garnish
¼ cup thinly sliced scallions, to garnish
Check out the full recipe at Saveur. 
2. French Quiche Lorraine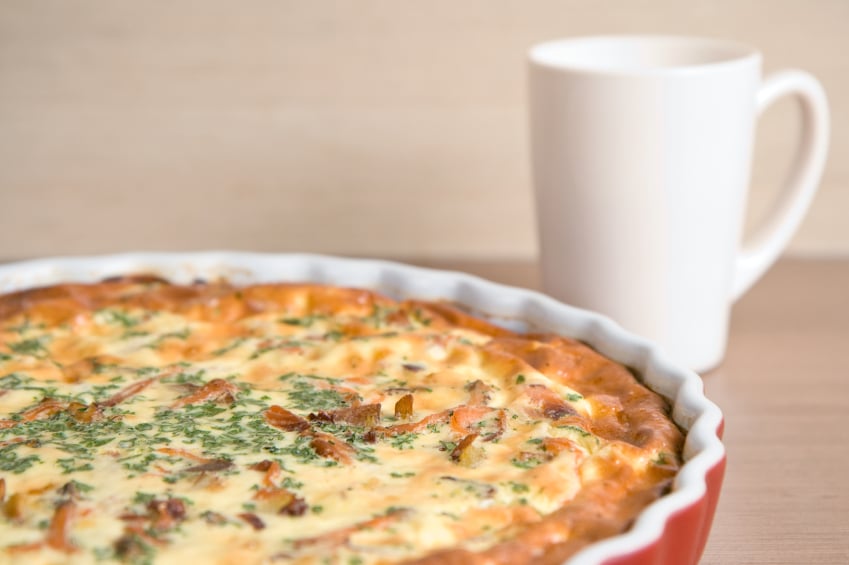 Up next is another classic French dish from Del's Cooking Twist. The French are all about their eggs, and they often enjoy enlisting them in inventive dishes like quiches and frittatas. For a homemade quiche, try this quiche lorraine recipe that calls for bacon, butter, eggs, cream, and cheese. All the good stuff is accounted for, and the quiche crust is simply made from flour, salt, butter, and an egg. It makes 6 to 8 servings and can be enjoyed for breakfast, lunch, or dinner.
Ingredients:
1½ cups flour
0.5 teaspoon salt
½ cup butter
1 large egg
For the filling:
1 cup bacon, chopped
1½ cups grated Emmental cheese
½ onion
1 tablespoon butter
4 large eggs
1¼ cups cream
½ cup milk
Salt and pepper
3. French Onion Soup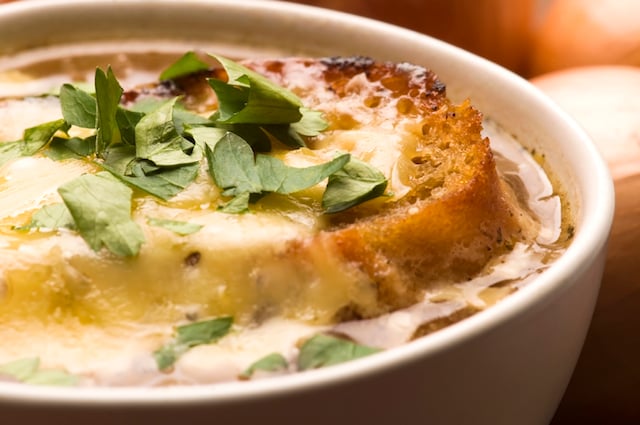 Perhaps the most popular French dish adored by eaters of all ages is French onion soup. No matter in what country you reside, you can make your own via this recipe from The Pioneer Woman. It's comfort food in a bowl and it's all about the rich beef broth, sharp cheese, caramelized onions, and toasted bread. The recipe calls for easy ingredients and the dish will take you 20 minutes to prep. It's ideally served in small bowls or ramekins so you can get a perfect ratio of bread, cheese, and broth with every bite. It serves six.
Ingredients:
1 stick Butter
4 whole large (or 6 medium) yellow onions, halved root to tip, and sliced thin
1 cup (generous) dry white wine
4 cups low sodium chicken broth
4 cups beef broth
2 cloves minced garlic
Worcestershire sauce
Several thick slices of french bread or baguette
5 ounces, weight (to 7 ounces) Gruyere cheese, grated
Check out the full recipe at The Pioneer Woman. 
4. Shrimp Stew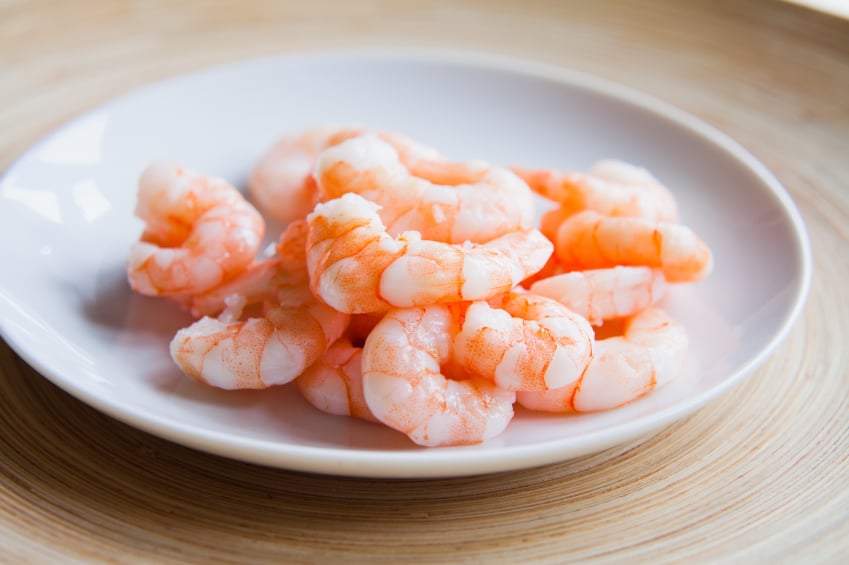 The French like their seafood, and with this recipe from Food & Wine, you can prepare it in a stew the way they like to do. This shrimp stew recipe is the perfect dish to master next time you're inviting over guests you want to impress. It serves 4 and is packed with shrimp cooked in wine, clam juice, tomatoes, and saffron. You should serve your Shrimp Stew with toasted baguettes topped with garlicky French rouille, and luckily for you, this recipe has the instructions for that, too.
Ingredients:
2 garlic cloves, minced
Salt
½ cup mayonnaise
1 teaspoon fresh lemon juice
½ teaspoon paprika
Pinch of cayenne pepper
3 tablespoons extra-virgin olive oil
1 medium fennel bulb, cored and finely chopped
1 onion, finely chopped
4 garlic cloves, minced
3 (1-inch) strips of orange zest
Pinch of ground cloves
½ cup dry white wine
1 cup bottled clam juice
1 cup canned whole tomatoes, chopped
¼ teaspoon saffron threads, crumbled
Freshly ground pepper
1½ pounds jumbo shrimp, peeled and deveined
Toasted baguettes, for serving
Check out the full recipe at Food & Wine. 
5. Buckwheat Crepes with Mushroom Filling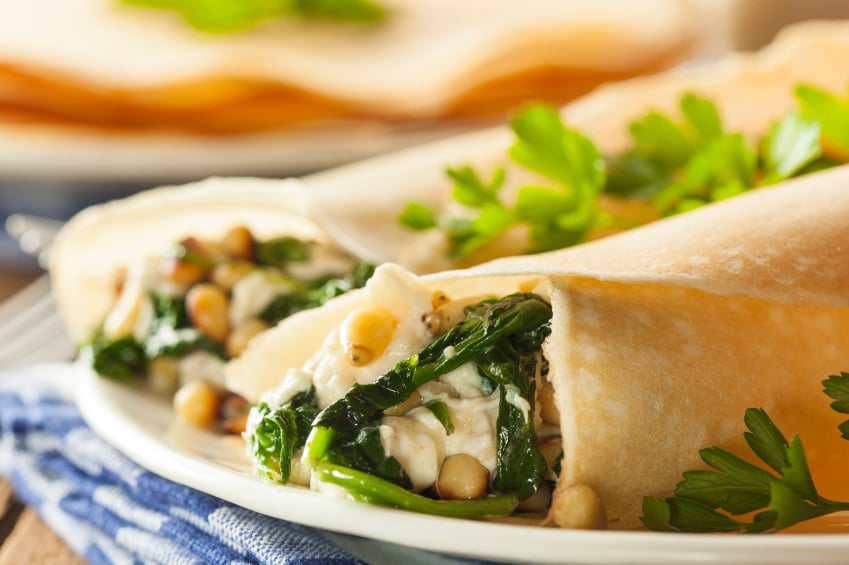 Care for some crepes? The French have mastered those kinds of carbs as well, and they can make savory crepes taste just as good as sweet ones. Savory crepes such as these buckwheat crepes with mushroom filling make the best fancy lunch or dinner, and leftovers can easily be stored in the refrigerator or freezer. Only a handful of ingredients are required to make the crepe base, and the mushroom filling is made from two types of mushrooms, wine, creme fraiche, and thyme. Instead of leaving crepes to overly expensive food trucks, save your money and make your own at home.
Ingredients:
3½ cups whole milk
8 large eggs
¾ stick unsalted butter, melted and cooled, plus about ½ stick, room temperature, for cooking crepes
1 cup buckwheat flour
1 cup all-purpose flour
1 ½ teaspoons coarse salt
Mushroom filling:
¾ stick unsalted butter
½ cup finely chopped shallots (from 2 shallots)
6 sprigs thyme, plus more for garnish
1¼ pounds chanterelle mushrooms, trimmed and coarsely chopped
1 pound cremini mushrooms, trimmed and coarsely chopped
Coarse salt and freshly ground pepper
½ cup dry white wine
1 cup creme fraiche
Check out the full recipe at Martha Stewart. 
6. Chicken with Bacon, Mushrooms, and Onions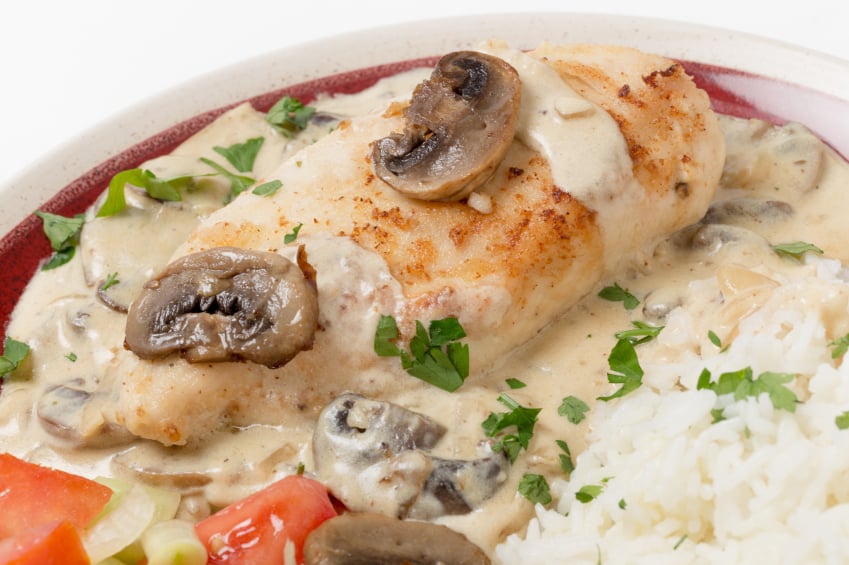 A French chicken recipe is next, and this one from Real Simple is a fun twist on Coq au Vin. The chicken with bacon, mushrooms, and onions will take you only 10 minutes to prepare, and will cook for 1 hour and 15 minutes. Mixed in with the chicken are bacon and vegetables, and the sauce is made from mushrooms, wine, rosemary, and water. Serving 6, this chicken dish is a flavorful deviation from your typical weekday poultry dinners.
Ingredients:
½

pound sliced bacon, diced

1

4- to 6-pound chicken, cut up

½

cup dry white wine

½

pound small white mushrooms

1 

cup frozen small white onions, thawed

6 

garlic cloves, chopped

3 

sprigs fresh rosemary

1 

teaspoon kosher salt

¼

cup water

2 

tablespoons cornstarch
Check out the full recipe at Real Simple. 
7. French Beef Stew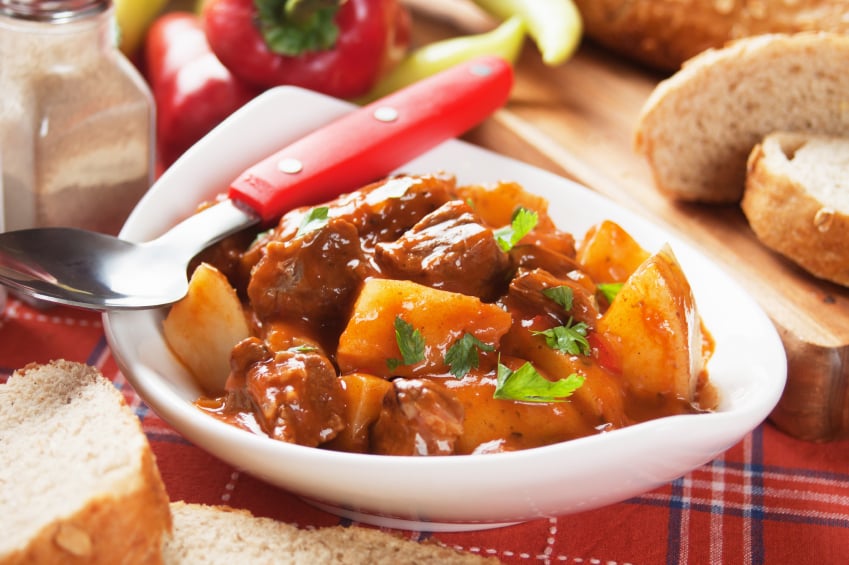 The last recipe is for a French beef stew from Taste of Home. The hearty dinner is delicious no matter what the season, and thanks to the crock-pot, it's largely hands-off. Simply load your potatoes, beef, carrots, onion, and celery into the slow-cooker and cover and cook on low for 9 to 10 hours. Your dinner will be a dish of tender meat and vegetables marinated in a rich French sauce, and you'll prove to French chefs everywhere that you don't need a culinary degree to master French cooking — you just need a crockpot.
Ingredients:
3 medium potatoes, peeled and cubed

2 pounds beef stew meat

4 medium carrots, sliced

2 medium onions, sliced

3 celery ribs, sliced

2 cups tomato juice

1 cup water

1/3 cup quick-cooking tapioca

1 tablespoon sugar

1 tablespoon salt

1 teaspoon dried basil

½ teaspoon pepper
Check out the full recipe at Taste of Home. 
More From Culture Cheat Sheet: