6 Easy Recipes to Make Canned Tuna Taste Amazing
Keeping a well-stocked pantry is the key to pulling off tasty meals with ease, even when you're dead tired. Items like pasta, garlic, tomatoes, and potatoes will get you there as long as you add some sort of protein to pull everything together. Canned tuna is the perfect ingredient to do it. You probably have a few tins of the stuff in your cabinets already, so these six meals are almost always a possibility. We're not talking about boring sandwiches, either. From a Thai-inspired wrap to a savory pasta, these dishes make canned tuna taste delicious.
1. Thai Tuna Wraps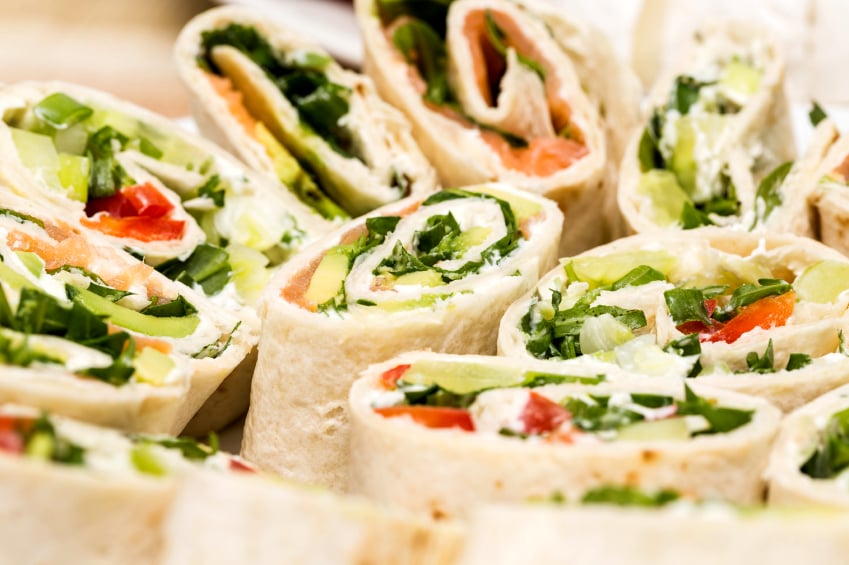 You don't need a passport to take your taste buds on a trip to Thailand. Just make these simple wraps from Pampered Chef. Mix together a tasty mayo with lime and a little bit of soy sauce. Toss in the tuna, some veggies, and a few herbs, pile the mixture onto tortillas with a few other toppings, and then roll. It's a complete meal rolled into one convenient package, so you don't even need to make any side dishes.
Ingredients:
2 tablespoons lime juice
½ cup mayonnaise, divided
1 tablespoon soy sauce
1 tablespoon sugar
3 cups chopped cabbage
1 medium carrot, shredded
3 green onions with tops, thinly sliced
2 tablespoons fresh cilantro, snipped
1 (6-ounce) can water-packed tuna, drained and flaked
1 medium red bell pepper, cut into 24 strips
6 (8-inch) flour tortillas
12 to 18 large, fresh spinach leaves
Directions: Whisk lime juice, 2 tablespoons mayonnaise, soy sauce, and sugar in a small bowl to combine.
Add cabbage, carrot, green onions, cilantro, and tuna to mayonnaise mixture and toss to combine. Spread tortillas with remaining mayonnaise and top each with ½ cup of tuna salad. Add two to three spinach leaves and four pepper strips. Roll tightly, and cut in half on a diagonal. Serve.
2. Tuna Croquettes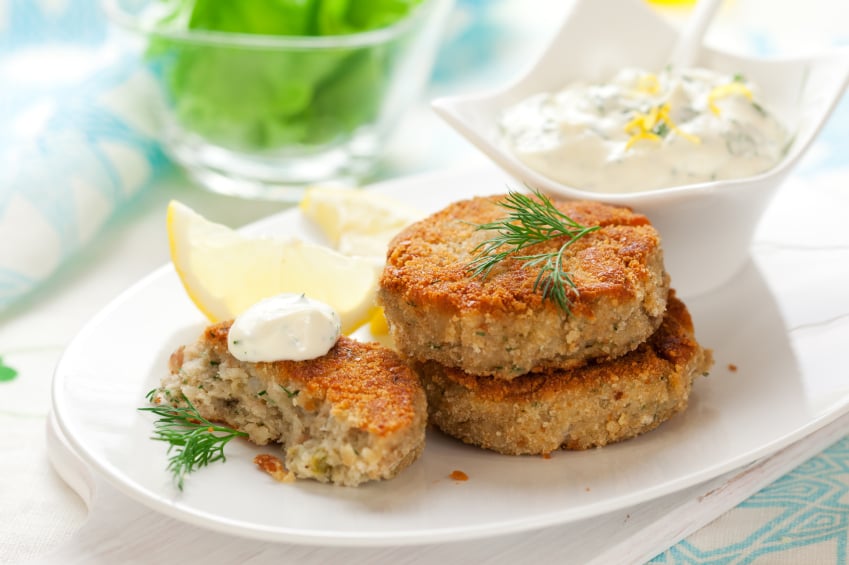 Croquette is pretty much a fancier word for patty, at least in this case. Whatever you call them, Alton Brown's tuna cakes, featured on Food Network, are a simple way to elevate canned fish. This recipe, made with lemon juice, Dijon mustard, and green onions, is basic but great. You can mix in any of your favorite herbs or spices. If you want to add some sturdier vegetables, sauté them in a little bit of oil before adding them to the rest of the tuna mixture.
The croquettes are great with a little bit of tartar sauce and some simple veggies, but you can use them in a bunch of applications. Build a sandwich, top them with fried eggs, or build an entrée salad.
Ingredients:
7 ounces tuna from a can or pouch, drained and shredded by hand
2 green onions, finely chopped
2 teaspoons Dijon mustard
2 large eggs, lightly beaten
1 teaspoon freshly squeezed lemon juice
½ teaspoon kosher salt
¼ cup freshly ground black pepper
¾ cup panko breadcrumbs, divided
Olive oil
Directions: Place tuna, onions, mustard, eggs, lemon juice, salt, pepper, and ¼ cup of breadcrumbs in a medium bowl and stir to combine. Divide into eight rounds and set aside on a parchment-lined half sheet tray. Allow to rest for 15 minutes. Place remaining breadcrumbs in a shallow dish. One at a time, coat each tuna patty in panko, covering on all sides.
Heat enough olive oil to cover the bottom of a 12-inch skillet over medium heat until shimmering. Add croquettes and cook 2 to 3 minutes on each side, or until golden brown. Remove to a cooling rack set over a half sheet pan lined with paper towels. Allow to cool for 2 to 3 minutes. Serve.
3. Toasted Tuna 'n' Bacon Melts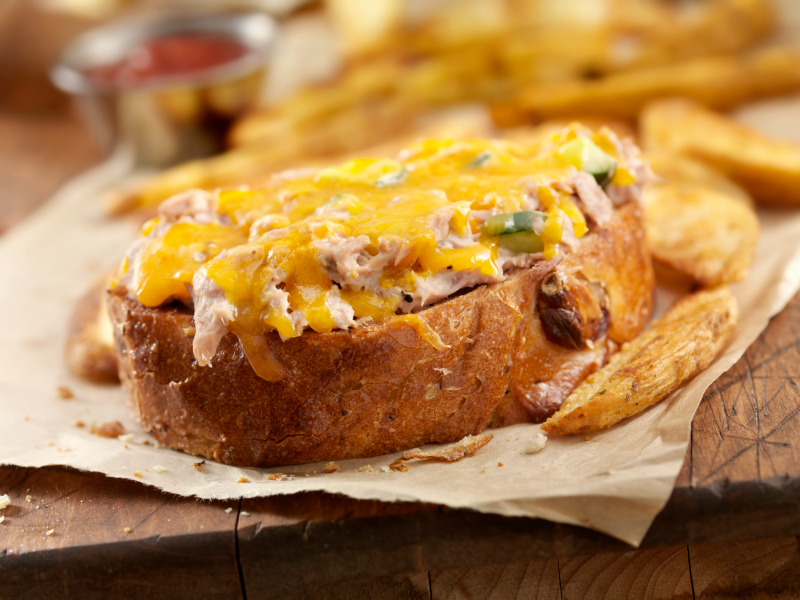 While bacon is a little bit overdone on restaurant menus, it's always a welcome addition to a sandwich. This tuna melt from Hellmann's gets it right by keeping the rest of the sandwich classic with a basic tuna mixture and some gooey cheese. To add even more richness, top the finished dish with a few slices of avocado.
Ingredients:
½ cup mayonnaise
2 (6.5-ounce) cans tuna, drained, and flaked
½ cup finely chopped celery
4 slices bread, toasted
4 slices American, Swiss, or cheddar cheese
4 slices bacon, halved, and cooked
Directions: Preheat oven to 400 degrees Fahrenheit. In a medium bowl, combine mayonnaise, tuna, and celery. Mix until well combined, and then spread onto bread slices. Top with cheese and bacon.
Arrange sandwiches on a cookie sheet and bake until cheese is melted, about 5 minutes. Serve.
4. Tuna Tacos with Jalapeño Escabeche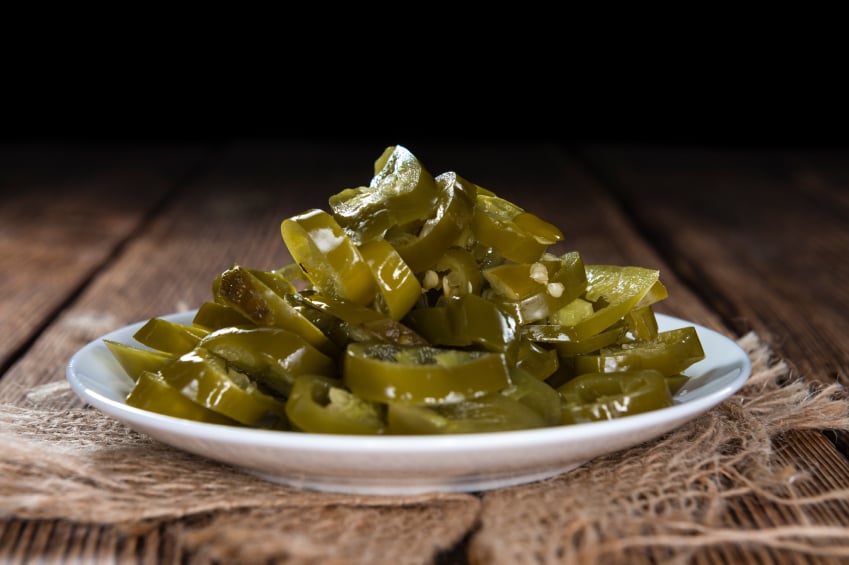 These speedy tacos from Rick Bayless use store-bought pickled jalapeños to make a flavorful marinade for canned tuna. With such a simple recipe, you'll have time to throw together some easy accompaniments. Try a basic pico de gallo made with tomatoes, onions, jalapeño, lime juice, and cilantro. You can also make a fast slaw to serve on the side or on top of the tacos. We like this creamy, tangy recipe from Sunset.
Ingredients:
1 (12-ounce) can pickled jalapeños
2 tablespoons olive oil
1 large white onion, cut into ¼-inch-thick slices
2 (6-ounce) cans tuna packed in oil, drained
¼ cup roughly chopped flat-leaf parsley
Tortillas
Directions: Remove jalapeños and any other vegetables included from the can. Reserve the liquid. Cut the stems from two to tree jalapeños, cut them in half, and scrape out the seeds. Thinly slice the chiles and some of the vegetables. You'll want about ¼ cup of each.
In a large skillet, heat olive oil over medium heat. Once hot, add onion and cook until richly browned, about 10 minutes. Remove from the heat and stir in ¼ cup of the reserved pickling juice. Let cool. Stir onions, sliced chiles, sliced vegetables, and parsley into the tuna. Serve with tortillas to build tacos.
5. Tuna, Artichoke, and Basil Stuffed Potatoes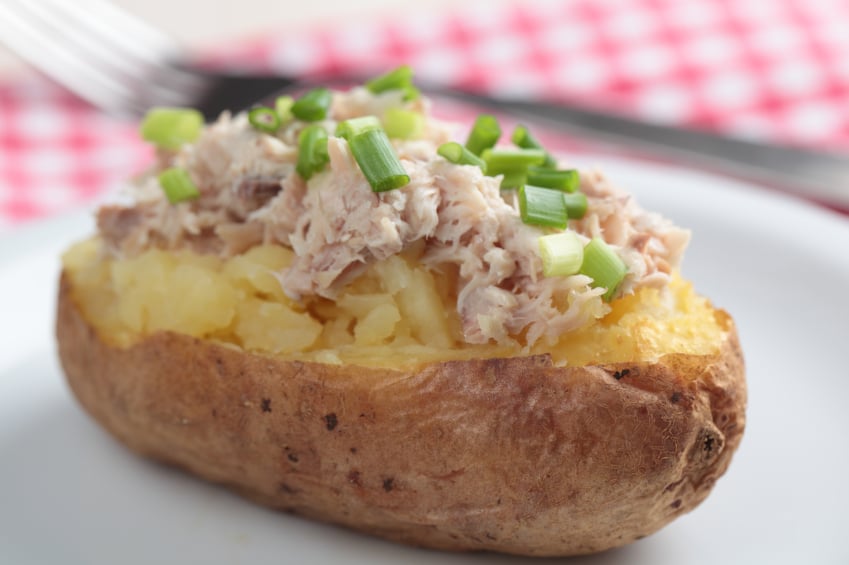 Just about any meat or veggie makes a great filling for baked potatoes. Canned tuna is no exception, so try it with these unexpectedly delicious spuds from Eating Well. This recipe uses the microwave to cook the potatoes in record time. If you'd rather bake them, it's an easy adaptation. Pop them into an oven preheated to 350 degrees Fahrenheit and let them cook until tender, which will take about an hour. Though it's not necessary, we like to rub the skins with olive oil and sprinkle with salt before baking.
Ingredients:
4 medium russet potatoes, scrubbed
2 (5- to 6-ounce) cans chunk light tuna, drained
¾ cup nonfat plain Greek yogurt
½ cup plus 2 tablespoons chopped fresh basil, divided
1 (6-ounce) jar marinated artichoke hearts, drained and chopped
2 scallions, chopped
¼ teaspoon salt
¾ cup shredded provolone cheese
1 plum tomato, finely chopped
Optional ingredients
1 tablespoon capers, rinsed
Directions: Pierce potatoes all over with a fork and microwave on medium heat, turning once or twice, until soft, about 20 minutes.
Meanwhile, combine tuna, yogurt, ½ cup basil, artichoke hearts, scallions, capers, if using, salt, and pepper in a large bowl.
When potatoes are cool enough to handle, carefully cut off the top third of each. Scoop out the insides and add to the tuna mixture. Mash together with a fork.
Evenly divide tuna mixture among potato shells. Top with cheese, and microwave on high until the filling is hot and the cheese has melted, 2 to 4 minutes. Serve topped with tomato and remaining basil.
6. Tuna and Farfalle Puttanesca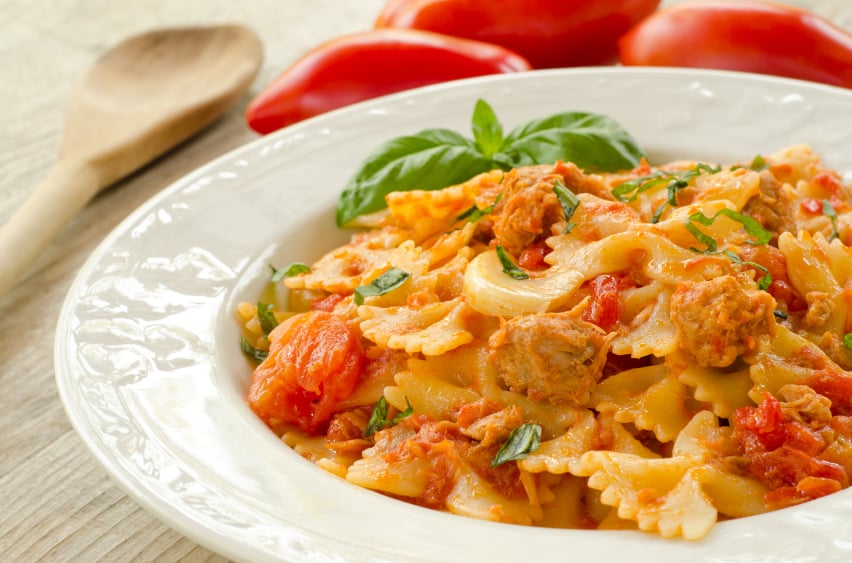 This classic dish has quite an interesting history. The Italian phrase alla puttanesca literally translates to "in the style of a prostitute." The most common legend says this dish was something ladies of the night made between appointments, but this isn't quite right. History.com explained that it came about after a table of late-night customers asked a restaurant owner to throw some garbage together. The slang word for garbage, puttanata, is a derivative of the word that also refers to prostitutes. Regardless of the story, it's a tasty pasta.
Traditional versions of puttanesca don't contain tuna, but the fish is a great way to boost the protein. Give it a try with Martha Stewart Living's easy recipe. Anchovies and red pepper flakes are pretty common additions that aren't included in this recipe, but feel free to add both, along with the garlic and onions.
Ingredients:
3 tablespoons olive oil
2 teaspoons finely chopped garlic
2 medium red onions, cut into ¼-inch-thick slices
1 pound farfalle
10 canned plum tomatoes, seeded and sliced into ¼-inch-thick lengthwise slices, plus 1 cup juice
3 tablespoons capers, rinsed
1 tablespoon finely chopped fresh rosemary
½ cup Kalamata olives, pitted and quartered
Salt and freshly ground black pepper
2 cans of Italian-style, oil-packed tuna or other tuna, drained
2 tablespoons roughly chopped fresh flat-leaf parsley
Directions: Bring a pot of salted water to a boil. Pour oil into a large skillet and set over medium heat. Add garlic and onions. Cook until onions are translucent, about 8 minutes.
Meanwhile, cook pasta until al dente, about 11 minutes. Add tomatoes, juice, capers, rosemary, and olives to onions. Season with salt and pepper. Raise heat to medium high, and cook until tomatoes are heated through, 3 to 4 minutes. Drain pasta and transfer to a large serving bowl. Add sauce, tuna, and parsley. Toss to combine, and serve.