Seriously Easy One-Pan Recipes You Can Make Any Night
One-pan dinners are hard to beat for fast weeknight meals. The downside to this strategy is it often means eating soup for five straight days. We have nothing against a warming bowl of chicken noodle, but it's nice to have something with a little more texture and substance every now and then. These six recipes deliver satisfying suppers while keeping the simplicity of using a single pan. Put down the spoon, grab a knife and fork, and get ready to eat.
1. Sardinian-Style Paella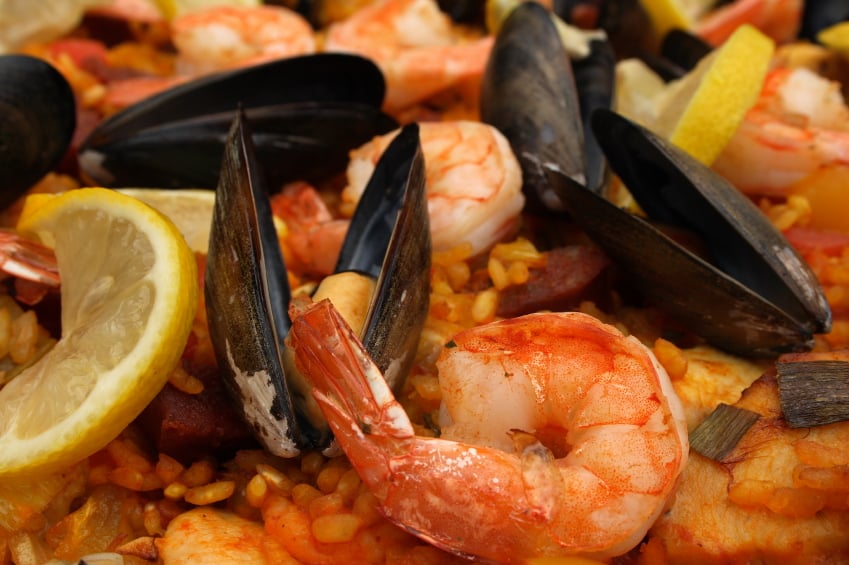 Though a traditional paella might seem easy enough, it's deceptively difficult to pull off. Usually the rice becomes a mushy mess or comes out completely underdone. This clever recipe from Food & Wine takes a simpler approach by using fregola, a type of pasta, instead of the grain. This ingredient swap is a great idea because the pasta is a lot more forgiving.
Don't stress too much about finding the exact seafood this recipe calls for because you can easily substitute different varieties. Try clams, small scallops, and any of your favorite varieties of white, flaky fish.
Ingredients:
Large pinch of saffron threads
6½ cups warm water
3 tablespoons extra-virgin olive oil
1 medium onion, finely chopped
3 large garlic cloves, thinly sliced
1 pound fregola
½ pound cured chorizo, thinly sliced
1 cup canned diced tomatoes, drained
1 cup dry white wine
Salt and freshly ground pepper
2 pounds large shrimp, peeled, and deveined
2 pounds red snapper, cod, or monkfish, cut into 2-inch pieces
1 pound mussels, scrubbed, and debearded
1 pound cockles, scrubbed
2 tablespoons chopped flat-leaf parsley
Directions: In a small bowl, crumble the saffron into ½ cup of the water and let stand for 10 minutes. Meanwhile, heat olive oil in a large, deep sauté pan. Add onion and garlic and cook over high heat, stirring, until lightly browned, about 2 minutes. Add fregola and chorizo. Cook, stirring, until chorizo renders some fat and begins to brown, about 2 minutes. Add tomatoes, wine, saffron liquid, and remaining 6 cups of water to the pan and bring to a boil. Stir in 1½ teaspoons salt and ½ teaspoon pepper. Cover and cook over low heat until fregola is very chewy and soupy, about 10 minutes.
Season shrimp and fish with salt and pepper and add to pan along with mussels and cockles, nestling into the fregola. Bring to a boil, cover, and cook over low heat until fregola is al dente, fish is just cooked, and cockles have opened, about 12 minutes longer.
Remove pan from heat and let stand for 5 minutes. Fregola will absorb some more liquid, but dish should be brothy. Discard any mussels and cockles that haven't opened. Sprinkle with parsley, and serve.
2. Pork Chops with Chard and White Beans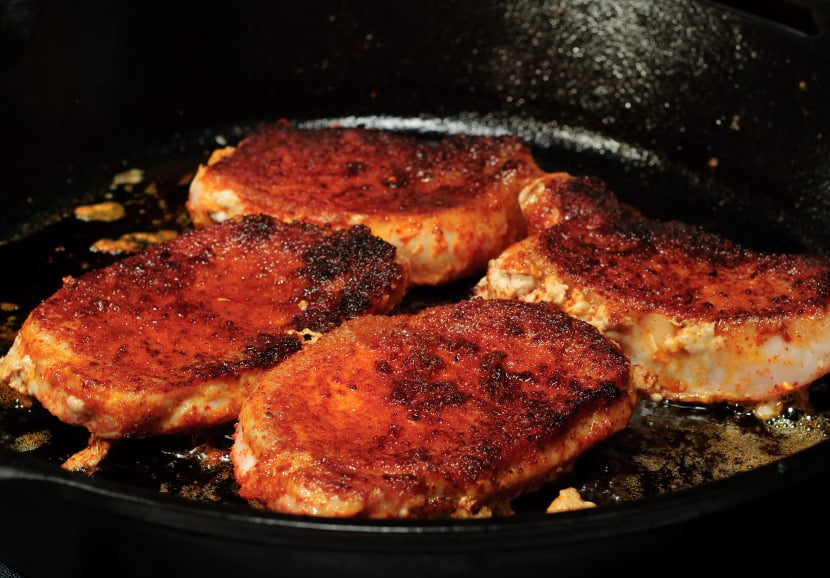 Give pork chops an easy update with this easy, one-pan meal from Real Simple. This dish uses paprika to give the meat an extra boost of flavor, and you can take it one step further if you choose a smoked version of the spice. White beans help give this dish more staying power and great texture. If you can't find chard at your store, try another sturdy green like spinach or escarole.
Ingredients:
2 tablespoons olive oil, divided
4 (¾-inch-thick, 6-ounce) boneless pork chops
1 teaspoon paprika
Kosher salt and black pepper
1 bunch Swiss chard, stems thinly sliced, and leaves torn into bite-size pieces
1 medium onion, chopped
1 (15.5-ounce) can cannellini beans, rinsed, and drained
2 tablespoons red wine vinegar
Directions: Heat 1 tablespoon of the oil in a large skillet over medium heat. Season pork with paprika, ½ teaspoon salt, and ¼ teaspoon pepper. Cook until cooked through, about 3 to 5 minutes per side. Transfer to a platter and tent with foil.
In same skillet, heat remaining oil over medium-high heat. Add chard steams and onion. Cook, tossing occasionally, until softened, 3 to 5 minutes. Add beans, chard leaves, and ¼ teaspoon each of salt and pepper. Cook, tossing frequently, until chard is wilted, 2 to 3 minutes longer. Stir in vinegar and serve chard and beans with pork.
3. Sausage and Kale Sauté with Polenta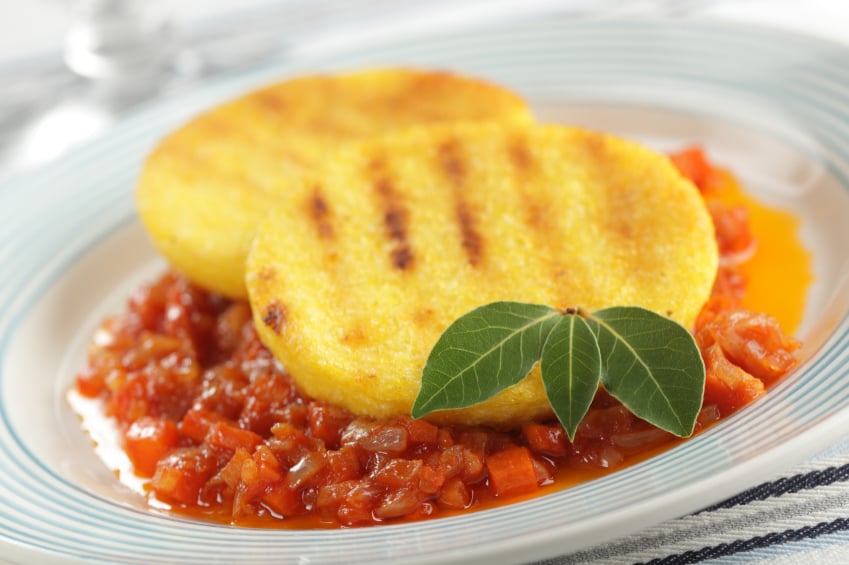 Pre-cooked polenta logs are a great way to save time on cooking dinner, but the flavor is often lacking. Cooking Light's sausage and kale skillet ensures great taste by browning the cooked cornmeal in some rendered sausage drippings. Feel free to use spicy sausage or add a pinch of red pepper flakes if you like a little bit of a kick.
Ingredients:
1 tablespoon olive oil
4 ounces sweet Italian sausage, casings removed
8 ounces prepared polenta cut into 8 (½-inch-thick) slices
6 ounces chopped kale
1 tablespoon water
½ teaspoon freshly ground black pepper
1½ cups low-sodium marinara sauce
2 ounces fresh mozzarella cheese, torn into small pieces
Directions: Preheat broiler to high. Heat olive oil in a skillet over medium-high heat. Add sausage and cook 3 minutes, stirring. Remove sausage from pan and reserve. Add polenta to same pan and cook 5 minutes. Remove polenta, and set aside. Add kale, water, and pepper. Cover and cook for 2 minutes. Stir in sausage and marinara. Nestle polenta, browned-side up, into the mixture. Sprinkle with cheese and broil for 2 minutes. Serve.
4. Pan-Roasted Chicken with Harissa and Chickpeas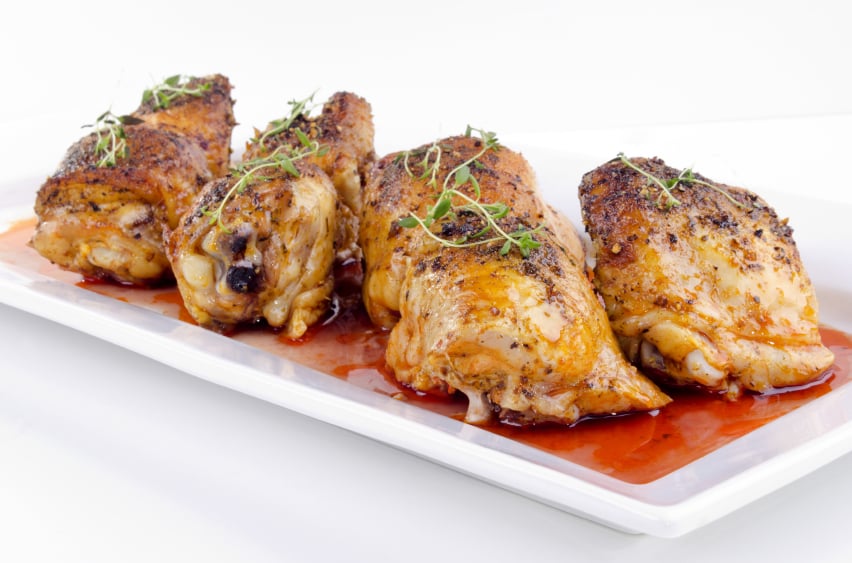 Simply changing from the standard chicken breast to bone-in, skin-on thighs will go a long way toward making your dinner a lot more flavorful without any additional effort. Try this spicy and satisfying skillet meal from Epicurious to taste the difference. With just a handful of ingredients, including harissa, chicken and beans become pretty sophisticated.
You can round out this meal with a simple salad, but make things even easier on yourself by stirring some veggies right into the chickpea mixture. Add some frozen peas or spinach in the last few minutes of cooking.
Ingredients:
1 tablespoon olive oil
8 (6-ounce) bone-in, skin-on chicken thighs
Kosher salt and freshly ground pepper
1 small onion, finely chopped
2 garlic cloves, finely chopped
2 tablespoons tomato paste
2 (15-ounce) cans chickpeas, rinsed, and drained
¼ cup harissa paste
½ cup low-sodium chicken broth
¼ cup chopped fresh flat-leaf parsley
Lemon wedges
Directions: Preheat oven to 425 degrees Fahrenheit. Heat oil in a large ovenproof skillet over medium-high heat. Season chicken on both sides with salt and pepper. Working in two batches, cook chicken thighs until browned, about 5 minutes per side. Transfer to a plate.
Pour off all but 1 tablespoon of drippings from pan and add onion and garlic. Cook, stirring often, until softened, about 3 minutes. Add tomato paste and cook, stirring, until beginning to darken, about 1 minute. Add chickpeas, harissa, and broth. Bring to a simmer.
Nestle chicken, skin-side up, in chickpea mixture. Transfer to oven and roast until chicken is cooked through, 20 to 25 minutes. Top with parsley and serve with lemon wedges.
5. Three-Cheese Skillet Lasagna
No-boil pasta noodles are the secret to this remarkably easy lasagna from Martha Stewart. Start by simmering a garlic and tomato sauce until it thickens, then remove most of it from the skillet. Next, layer in the noodles and a simple ricotta mixture. Top the skillet with two kinds of cheese, then send it on a trip to the oven for about 30 minutes. Though this dish is vegetarian, meat lovers can start out the sauce by browning some beef or Italian sausage.
Ingredients:
43 ounces canned whole peeled plum tomatoes
3 garlic cloves, finely chopped
3 tablespoons extra-virgin olive oil
Salt and pepper
1 large egg yolk
1½ cups part-skim ricotta cheese, at room temperature
1 (12-ounce) box no-boil lasagna noodles
½ pound fresh mozzarella, shredded
¼ cup grated pecorino or Parmesan cheese
Directions: Preheat oven to 400 degrees Fahrenheit. In a food processor, pulse tomatoes until coarsely puréed. In a large deep skillet, bring tomatoes, garlic, and oil to a boil. Season with salt and pepper. Reduce heat to medium and simmer until thickened, about 12 minutes.
Meanwhile, in a medium bowl, mix together egg yolk, ricotta, and ½ teaspoon each of salt and pepper.
Carefully pour all but ¾ cup of sauce into a heatproof bowl. Spread sauce in pan into an even layer. Add a single layer of noodles on top of sauce, breaking to fit. Top with half the ricotta mixture, spreading evenly. Follow with another layer of noodles, then 1½ cups tomato sauce. Add another layer of noodles, then remaining ricotta mixture. Follow with one final noodle layer, then remaining sauce. Top with mozzarella and pecorino.
Bake until lasagna is golden and bubbling, 30 to 35 minutes. Let stand at least 10 minutes before serving.
6. Beef Tenderloin with Roasted Cauliflower-Pomegranate Salad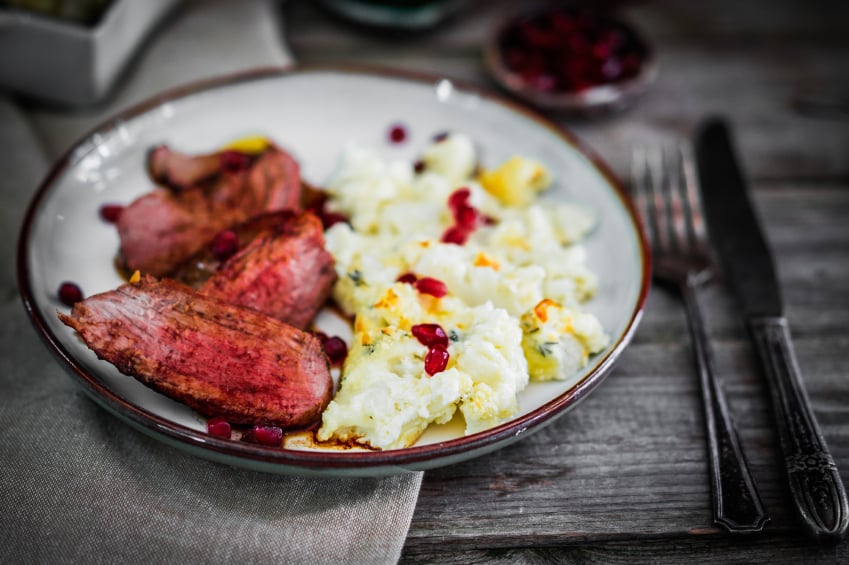 A one-pan beef supper is usually a recipe for dry, overcooked meat. Country Living takes a different approach by using a whole roast and then scattering the veggies around the meat partway through. You'll end up with perfectly rosy beef and nicely browned cauliflower. A final flourish of baby kale, pomegranate seeds, and mustard dressing completes the supper.
Pomegranates are sort of intimidating if you haven't worked with them before. If you'd like to give it a try, you can either cut the fruit in half and use a wooden spoon to beat the seeds out or use a bowl of water to gently remove them with your fingers. The easiest approach, though, is to buy pomegranate arils that have already been removed. Most grocery stores stock them over by the cut fruit.
Ingredients:
1 whole filet of beef
6 tablespoons olive oil, divided
2 teaspoons kosher salt, plus more
1 teaspoon freshly ground pepper, plus more
1 head of cauliflower, cut into florets
5 large shallots, cut into wedges
2 tablespoons fresh lemon juice
2 teaspoons whole-grain Dijon mustard
1 (5-ounce) package baby kale
½ cup pomegranate arils
Directions: Preheat oven to 475 degrees Fahrenheit. Place beef on a large rimmed baking sheet. Rub with 1 tablespoon olive oil and season with salt and pepper. Bake for 12 minutes.
Meanwhile, toss 2 tablespoons oil with cauliflower and shallots. Season with additional salt and pepper. Scatter vegetables around beef in pan and continue to bake, stirring vegetables once, for 18 minutes longer, or until meat is medium-rare.
Remove beef from pan and tent with foil. Let rest for 15 minutes. Whisk remaining 3 tablespoons of olive oil with lemon juice and mustard. Season with salt and pepper. Stir kale into cauliflower, then drizzle with dressing and sprinkle with pomegranate arils. Slice beef and serve with salad.