Everything We Know About the 3 Americans Released by North Korea
Donald Trump just announced that three Americans who were held for months in North Korea have been released. We know that when Americans get arrested in North Korea, they can expect harsh conditions, forced confessions, and long sentences of hard labor. But who are the three hostages? Why did North Korea hold them hostage? What happen next?
Below, get the details on everything we know about the three Americans that North Korea just released. .
1. Their names are Tony Kim, Kim Hak-song, and Kim Dong-chul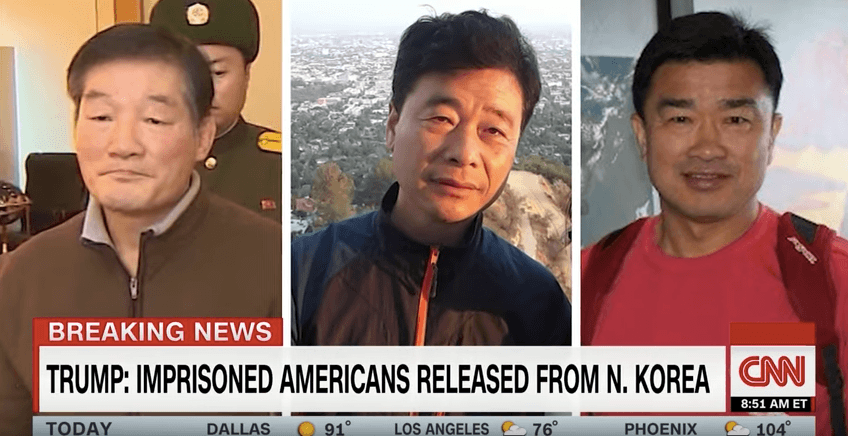 As Vox reports, the names of the three Americans released by North Korea are Tony Kim, Kim Hak-song, and Kim Dong-chul. (Though they all have the surname "Kim," they aren't related.) One was taken hostage during Barack Obama's presidency. And the other two were taken into custody in North Korea after Donald Trump took office.
As The New York Times reports, North Korea accused each man of "hostile acts." We don't know exactly what that means. As Vox reports, the Trump administration seems to place a higher priority than its predecessor on freeing U.S. hostages held abroad. And so far, "it has unquestionably had more success than the Obama administration."
Next: Kim Sang-duk taught this subject at a North Korean university. 
2. Kim Sang-duk, or Tony Kim, spent a month teaching accounting in North Korea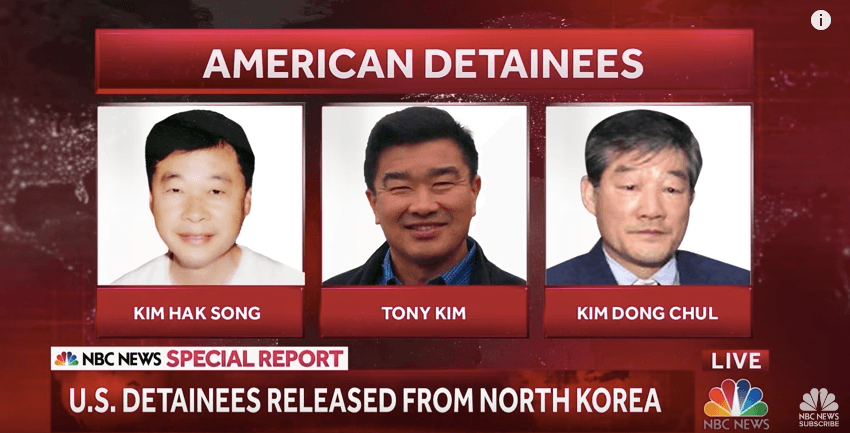 Kim Sang-duk, or Tony Kim, is reportedly 59 years old, according to Vox. He spent a month in 2017 teaching accounting at the Pyongyang University of Science and Technology. But when he boarded a plane to leave North Korea on April 22, 2017, authorities arrested him on unknown charges, according to The Washington Post.
Vox notes that Kim originally came from South Korea. Later, he became a citizen of the United States. He lived in North Korea with his wife. She reportedly still resides in the country. But Sol Kim, Tony's son, told the Post of his father, "We miss him. We want to know how he is doing. We want to see him, and ultimately we want to have him home."
Next: Kim Hak-song also worked at a university. 
3. Kim Hak-song also worked at the university in Pyongyang
Another hostage, Kim Hak-song, also worked at the Pyongyang University of Science and Technology, according to Vox. North Korean authorities arrested him in early May. His arrest took place just two weeks after authorities imprisoned Tony Kim hostage. And as Vox notes, it remains unclear "if their detainments are connected in any way."
Kim originally came from China. He worked as an agricultural consultant and came to the United States in the 1990s. He later earned U.S. citizenship. Then, Kim moved back to China to study agriculture. Later, he moved to Pyongyang. Authorities arrested him after a trip to the university's research farm. And his wife says he taught rice-growing at the university in an effort to help North Koreans grow enough food to feed themselves.
Next: North Koreans accused Kim Dong-chul of spying. 
4. Kim Dong-chul was arrested for spying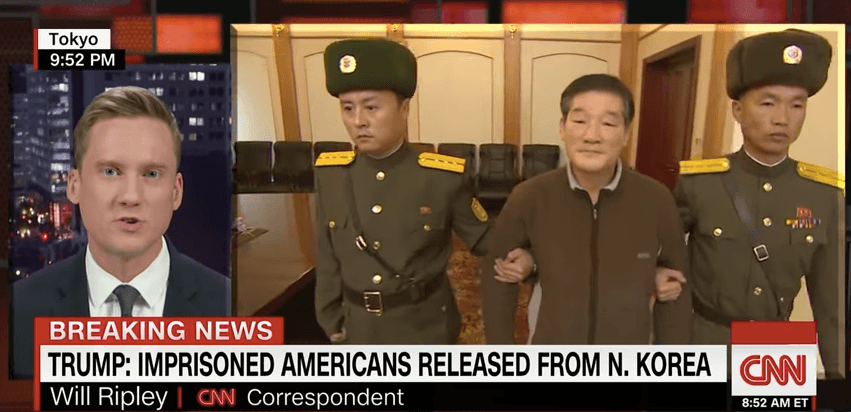 Vox reports that Kim Dong-chul was the longest-imprisoned American of the three recently released by North Korea. He is in his mid-60s. He became a naturalized American citizen and lived in Fairfax, Virginia. North Korea arrested him in October 2015. Authorities sentenced him to 10 years of hard labor for espionage and subversion, according to The New York Times.
Vox notes that Kim lived in a Chinese city near the border with North Korea. Before authorities imprisoned him, he worked as the head of a hotel services company in the economic zone between China and North Korea.
Next: The three hostages lived in these camps. 
5. The hostages were held in labor camps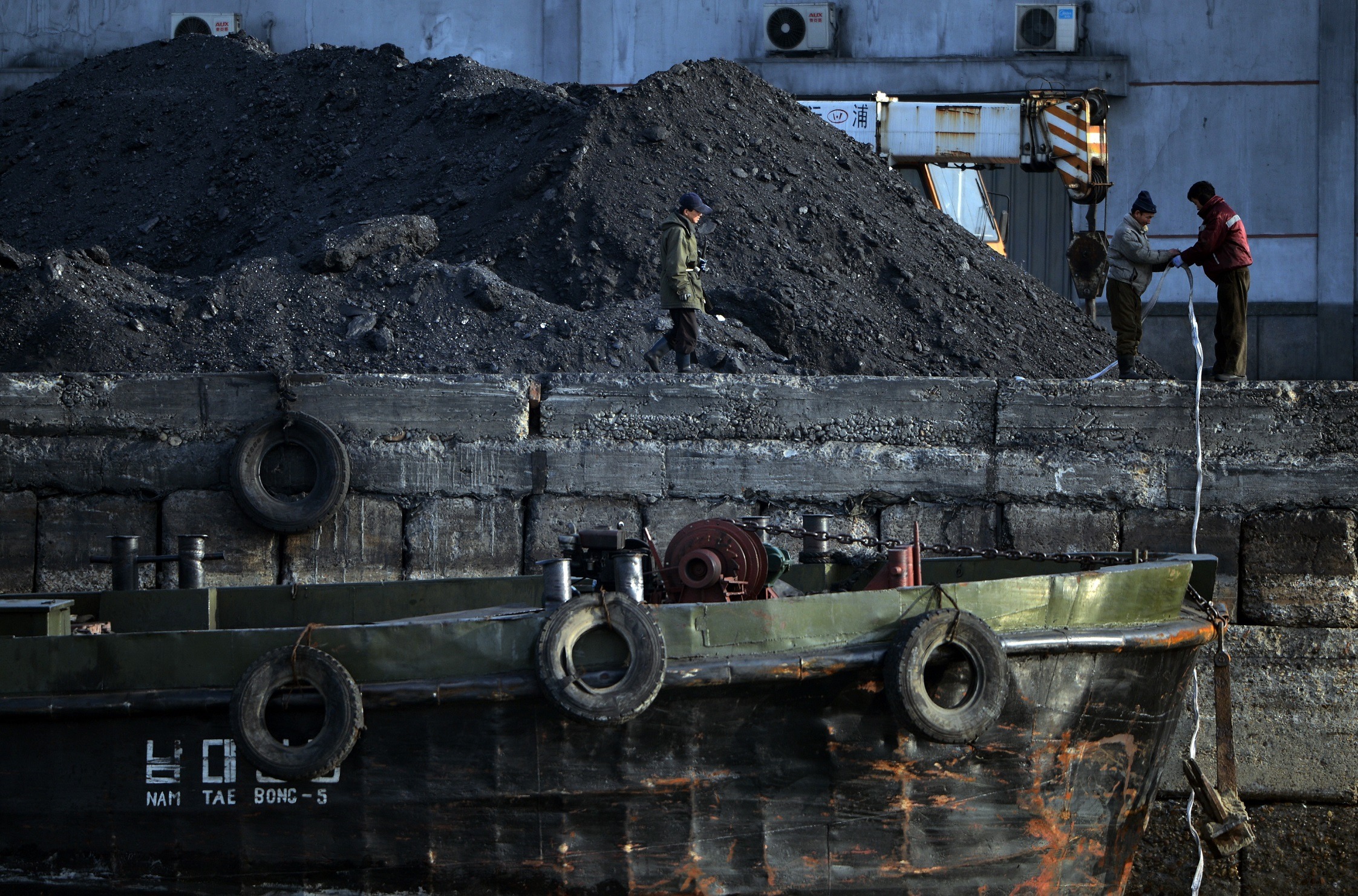 As Vox reports, North Korea had held the three Americans in "brutal labor camps." And the publication notes that a report called North Korea's labor camps "as terrible [as] Nazi camps." The International Bar Association's War Crimes Committee interviewed more than a dozen North Korean defectors to learn about conditions at the prison camps. The details sound very disturbing.
Teenage girls routinely undergo rapes, and try to commit suicide. People die completing forced labor. Newborn babies get killed by guard dogs. As Vox reports, "Atrocities like mass rape and indiscriminate killings are the point of North Korea's prison camps: to degrade and terrify the population into submission to Kim Jong Un's regime."
Next: Experts cite this as the reason why North Korea accused them of crimes. 
6. They were accused of crimes for one obvious reason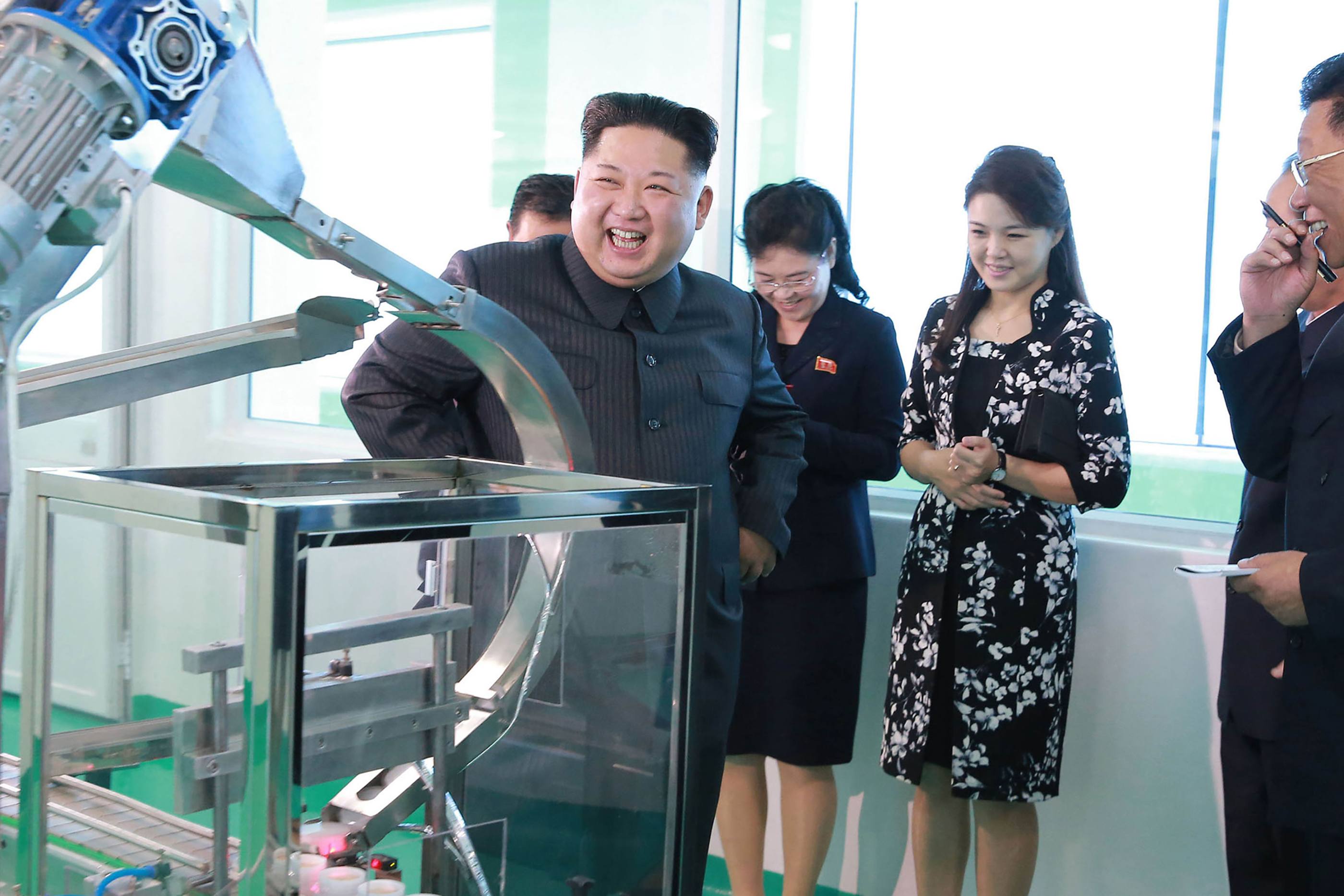 Former New Mexico Governor Bill Richardson has spent decades negotiating over American hostages in North Korea. Richardson talked to Vox about the "trumped-up charges" that North Korea leveled against the three hostages. He characterized the charges as "out of control." He explained, "These were Americans that were either teaching or doing business in North Korea, and they've been accused of hostile acts." And he adds, "But returning the three Americans is an easy give on their part because they know the prisoners are innocent."
Richardson reports that Kim Jong Un's government makes these accusations for one obvious reason. The government sees hostages "as a potential bargaining chip to trade in for the future." Richardson and others hope that during potential talks with Kim Jong Un, Donald Trump makes it clear that the U.S. won't tolerate North Koreans detaining any more Americans.
Next: We don't yet know this about the hostages.
7. It's not yet clear what condition they're in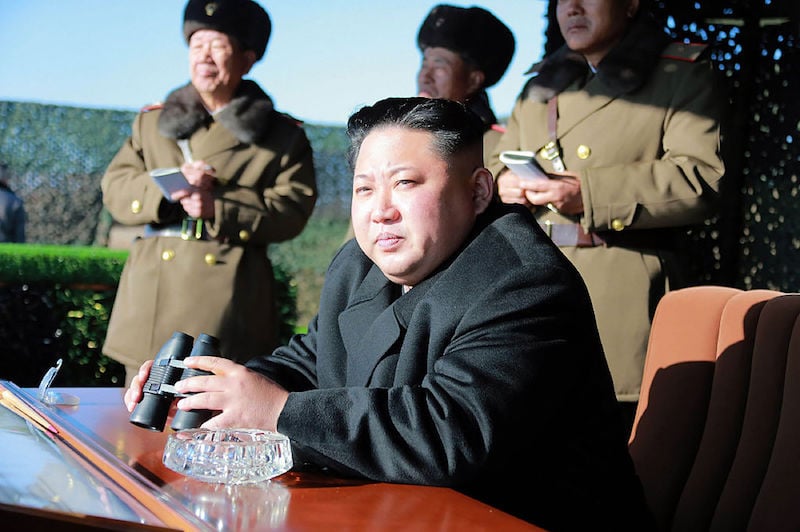 Because North Korea keeps its prisoners at brutal prisons and in harsh conditions, people are naturally worried about the health of the hostages. Donald Trump briefly addressed that concern in his tweet confirming their release. And they moved from prisons to hotels, where they had a better chance of accessing decent meals. But Americans feel particularly concerned at least in part because of what happened to Otto Warmbier.
The 22-year-old American was detained by Kim Jong Un's government for 17 months. Shortly after he returned to the United States, he died under what Vox characterizes as "mysterious circumstances." Vox notes that it's not clear yet what condition Tony Kim, Kim Hak-song, and Kim Dong-chul are in. But Trump's tweet sounded optimistic.
Next: This U.S. official met Kim Jong Un.
8. They were released to Secretary of State Mike Pompeo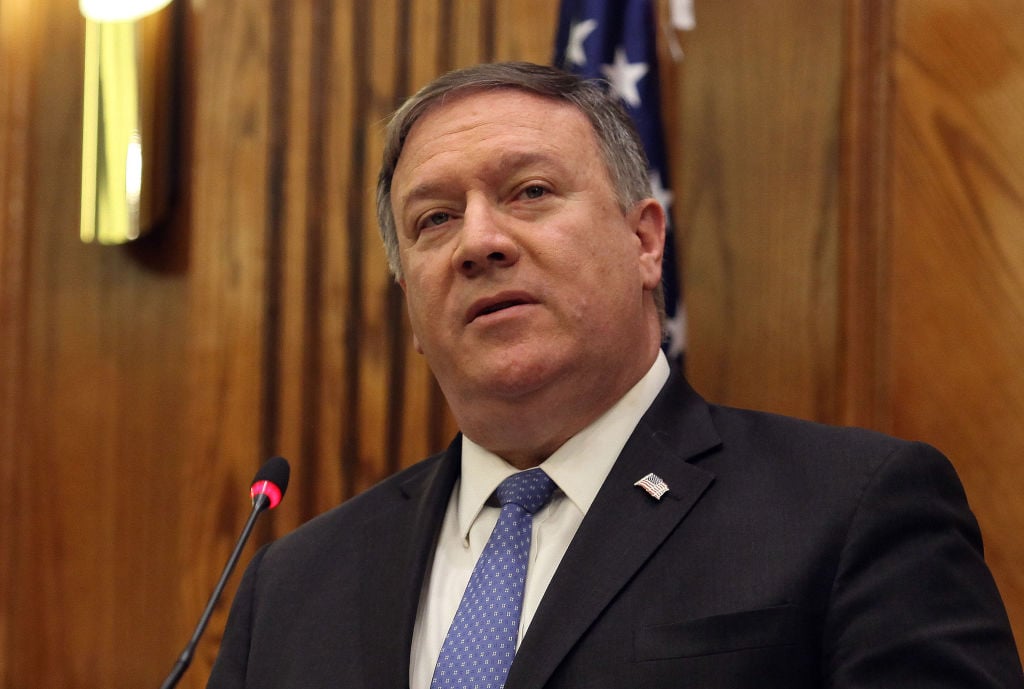 Vox reports that as a diplomatic gesture ahead of upcoming talks between Donald Trump and North Korean leader Kim Jong Un, North Korea decided to release the hostages. The government transferred them to a hotel near Pyongyang. Then, Kim Jong Un took the final step and authorized their official release.
North Korea handed the hostages over to U.S. custody, and they boarded a plane with Secretary of State Mike Pompeo to return to the United States.
Next: Kim Jong Un has this goal. 
9. North Korea wants to lower tensions with the U.S.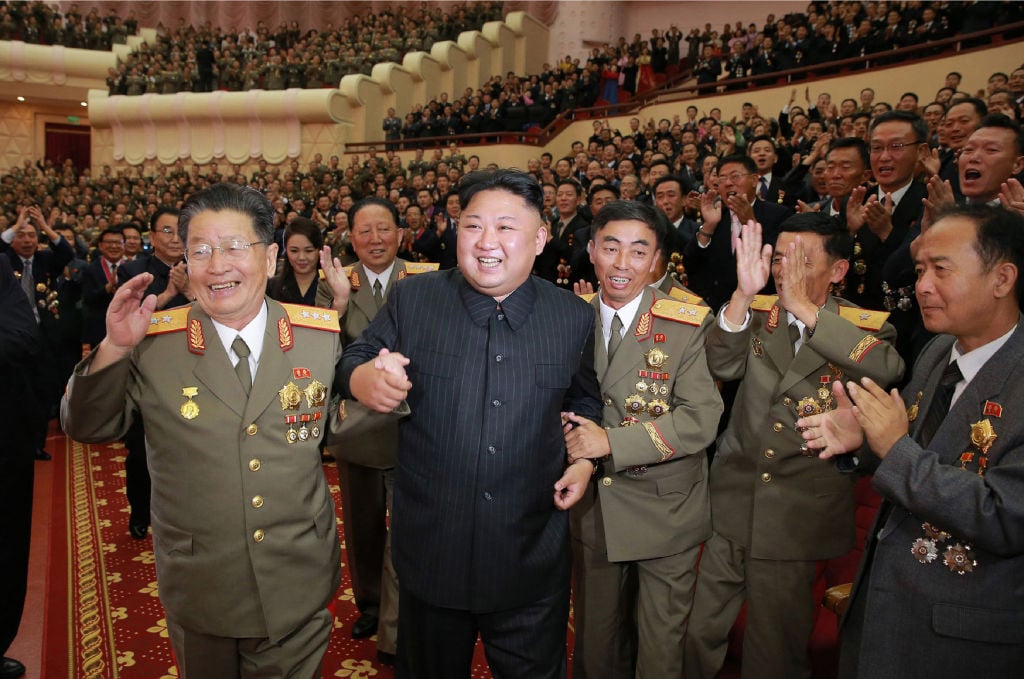 Kim Jong Un's release of the three hostages illustrates how North Korea wants to lower tensions with the United States. And as you might have gathered, the timing is no coincidence. North Korea wants to meet with the United States in what would make a historic summit between the two nations. A source told Vox that the Trump administration may have made it a precondition that North Korea release hostages before the president agrees to a summit.
Vox reports that Joseph DeTrani, a former intelligence official who has negotiated with North Korea, characterizes the government's release of the three hostages as "a good sign that North Korea wants a good meeting between President Donald Trump and Kim Jong Un and, eventually, a peaceful resolution of the nuclear and other issues with North Korea." As Yahoo News notes, no other Americans are believed to be in prison in North Korea.
Next: Donald Trump wants to achieve this historic milestone.
10. Donald Trump wants to make history by meeting with North Korea
CNN reports that the release of the hostage comes as Donald Trump prepares to make history with North Korea. Trump plans to become the first sitting U.S. president to meet face-to-face with a North Korean leader. Secretary of State Mike Pompeo flew to North Korea to meet with Kim Jong Un when the government released the hostages. In fact, Trump characterized the encounter as "a good meeting."
But as CNN notes, some experts worry about the consequences of the president meeting the leader of a country that has imprisoned American citizens on seemingly false charges — and commits human rights abuses against its own citizens.
Read more: This Is the First Thing Donald Trump Changed in the Oval Office After Obama Moved Out
Check out The Cheat Sheet on Facebook!