6 Fall Grilling Recipes You Have to Try
Grilling is one our favorite summer activities, and there's no reason you can't also do your cooking outside in the fall. You can man the grill far into football season and past when the leaves have changed. Cooler temperatures might even make grilling more enjoyable. We're rounding up six of our favorite fall grilling recipes you need to try. Instead of covering your grill until next summer, enjoy what the new season has to offer.
1. Honey-Glazed Chicken, Sweet Potato, and Peach Skewers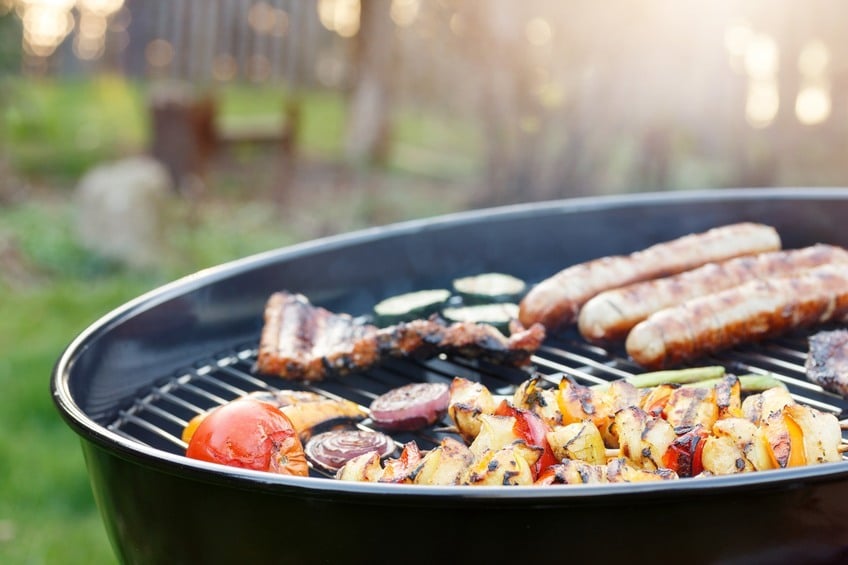 This first recipe from Fine Cooking is going to become a family favorite this fall. Don't sweat it if you don't have peaches because plums will work equally as well. After 5 minutes of cooking, the skewers are dressed with a tart glaze and garnished with spiced pecans. The easy yet impressive fall dish is one you'll want to come back to time and time again.
Ingredients:
1 medium sweet potato, peeled and cut into 16 (1½-inch) pieces
1 cup sherry vinegar
½ cup plus 1 tablespoon honey
2 tablespoons canola oil; more for the grill
Kosher salt and freshly ground black pepper
1 pound boneless, skinless chicken breast halves, cut into 16 pieces
4 small ripe but firm peaches, quartered and pitted
½ small sweet onion, cut into 1½-inch chunks, layers separated
½ cup pecans, coarsely chopped
½ teaspoon ground cumin
½ teaspoon pumpkin pie spice
Directions
: Prepare a medium gas or charcoal grill. Soak eight 12-inch wooden skewers in water.
In a 4-quart saucepan fitted with a steamer basket, bring 1 inch of water to a boil over high heat. Steam the sweet potatoes until nearly cooked but still a bit firm, 10 to 12 minutes. Remove from the heat; cool slightly. Put the vinegar, ½ cup of the honey, 1 tablespoon of the oil, 2 teaspoons salt, and ¾ teaspoon pepper in a 3-quart saucepan. Simmer over medium heat, stirring occasionally, until reduced to ⅔ cup, 13 to 15 minutes. Meanwhile, thread the onion, chicken, sweet potato, and peach onto the soaked skewers.
Reserve half the glaze. Brush the skewers with the remaining half of the glaze. Thoroughly oil the grill grate. Arrange the skewers on one side of the grill grate and grill, covered, until well marked on one side, 4 to 5 minutes.
Meanwhile, toss the pecans in a small bowl with the remaining 1 tablespoon honey and 1 tablespoon oil, the cumin, pumpkin pie spice, ½ teaspoon salt, and a pinch of pepper. Put a large piece of foil on the other side of the grill and scatter the nuts on the foil. Flip the skewers. Grill until the chicken is cooked through and the nuts are bubbling, 3 to 5 minutes more. Transfer the skewers to a serving platter, brush with the reserved glaze, and sprinkle with the pecans.
2. Grilled Fish with Orange-Fennel Salsa
Next up is a grilled fish dish from Epicurious. The fennel stars a citrusy salsa that is made with vinegar, cilantro, soy sauce, ginger, and oranges. It tops a fillet of sea bass or rock fish that will go on the grill for about 6 minutes. This grilled fish with orange-fennel salsa is the perfect healthy meal to transition you from summer to fall.
Ingredients:
5 tablespoons olive oil
3 tablespoons white wine vinegar
2 tablespoons chopped fresh cilantro
2 teaspoons plus 1 tablespoon soy sauce
2 teaspoons minced peeled fresh ginger
2 teaspoons sugar
3 oranges
1 medium fennel bulb, trimmed, cut into matchstick-size strips
½ medium-size red onion, thinly sliced
1 garlic clove, thinly sliced
4 (6- to 8-ounce) rockfish or sea bass fillets
Directions: Whisk 2 tablespoons oil, vinegar, cilantro, 2 teaspoons soy sauce, ginger and sugar in a medium bowl. Cut peel and white pith from oranges; discard. Holding oranges over bowl to catch juices, cut between membranes to release segments into bowl. Add fennel and onion; toss gently. Season with salt and pepper. Chill until ready to use.
Prepare grill for medium-high heat. Mix 3 tablespoons oil, 1 tablespoon soy sauce and garlic in glass pie dish. Turn fish in oil mixture to coat. Sprinkle fish with salt and pepper. Grill until just opaque in center, about 3 minutes per side. Transfer to plates. Spoon salsa over.
3. Grilled Butternut Squash with Shallot Vinaigrette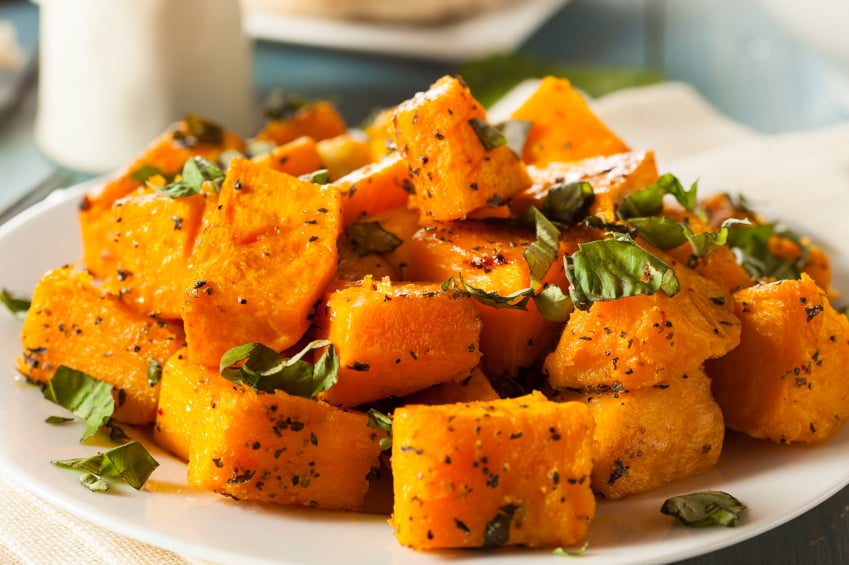 For a delicious fall side dish, make this grilled butternut squash with shallot vinaigrette from Food & Wine. Butternut squash has a sweet orange flesh that becomes even more flavorful when grilled or roasted. Before you're stuck indoors for the rest of the year, take advantage of the mild temperatures and cook your butternut squash on the grill. You'll be glad you did.
Ingredients:
½ cup finely chopped shallots
2 tablespoons white wine vinegar
½ teaspoon kosher salt
½ teaspoon sugar
¼ teaspoon freshly ground black pepper
3 tablespoons extra-virgin olive oil
1 (2- to 3-pound) butternut squash, neck only, peeled and sliced ¼-inch thick
Chopped fresh chives, for serving
Directions: Stir together the shallots, vinegar, salt, sugar and pepper in a small bowl. Slowly whisk in the olive oil until well combined. Set aside for at least 30 minutes for shallots to mellow.
Heat a charcoal or gas grill to medium heat. Grill the sliced squash, flipping when grill marks appear and the squash has softened slightly, 7 to 8 minutes per side. Remove from the heat and arrange in a shallow serving dish. Cover tightly with aluminum foil to keep warm and let steam, covered, for 10 minutes.
Spoon the vinaigrette over the grilled squash, then garnish with the chopped chives. Serve warm.
4. Grilled Brussels Sprouts with Bacon
Next up: Brussels sprouts. If you're looking to convert any sprout haters, bacon is the key to your success. Make this dish from Serious Eats and see what we mean. Once the sprouts are grilled, you can combine them with bacon and shallots for a serious dose of flavor. This grilled recipe ensures you take advantage of the season the right way.
Ingredients:
⅓ pound thick cut bacon, cut into ½-inch dice
1½ pounds Brussels sprouts, trimmed
2 medium shallots, thinly sliced
Kosher salt
Freshly ground black pepper
Directions: Fill a medium saucepan with water and bring to a boil over high heat. Add in 1 tablespoon of salt followed by Brussels sprouts and cook for 5 minutes. Drain and set aside.
Add bacon into a 10-inch skillet over medium-high heat and cook until fat renders and bacon crisps. Remove bacon to a large bowl and remove all bacon fat expect 1 tablespoon. Add shallots into pan and cook until lightly browned. Remove to bowl with bacon.
Place Brussels sprouts in a large bowl and toss with reserved bacon fat and salt and pepper to taste. Place on the grill and cook until lightly charred on each side, about 4 to 5 minutes per side.
Remove Brussels sprouts from grill and add to a bowl with bacon and shallots, toss to combine. Pour out onto a serving dish and serve immediately.
5. Grilled Balsamic Pork Tenderloin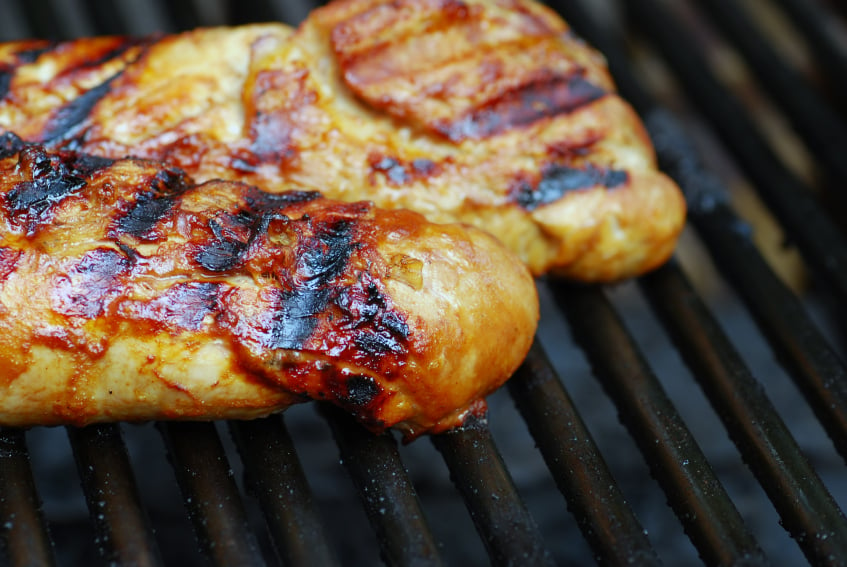 Craving meat? Make this grilled balsamic pork tenderloin from Southern Living. It's an easy recipe that can be prepared the night before, then you can cook it in just 25 minutes. The marinade is made with balsamic vinegar, garlic, and red pepper flakes, so you know this dish will be a winner. Eat this dish outside as you bid summer adieu.
Ingredients:
¼ cup balsamic vinegar
2 garlic cloves, minced
½ teaspoon dried crushed red pepper
1 (2-pound) package pork tenderloins
1 teaspoon salt
1 teaspoon freshly ground black pepper
Rosemary sprigs
Directions: Combine first three ingredients in a shallow dish or large zip-top plastic freezer bag; add pork. Cover or seal, and chill 8 hours. Remove pork from marinade, discarding marinade. Sprinkle evenly with salt and black pepper.
Grill, covered, over medium-high heat (350 degrees to 400 degrees) for 8 to 12 minutes on each side or until a meat thermometer inserted into thickest portion registers 155 degrees Fahrenheit. Remove from grill, and let stand 10 minutes or until thermometer registers 160 degrees Fahrenheit. Slice pork. Garnish with rosemary sprigs and serve.
6. Charred Vegetable Salad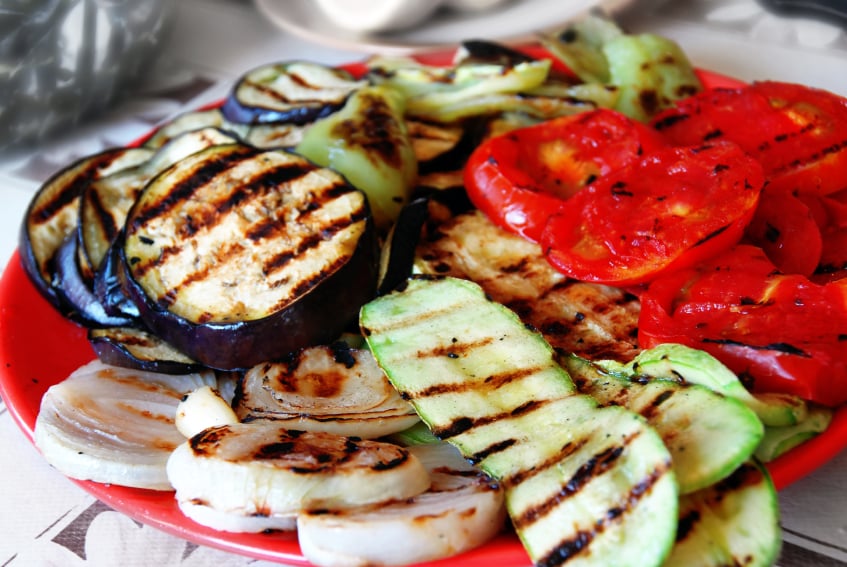 Salads don't always serve as the most exciting lunch or dinner, but when you char your vegetables on the grill, things get a lot more exciting. This charred vegetable salad from Cooking Light is delicious as is, but you can easily swap in other veggies as they come in season. This healthy recipe will feed 8.
Ingredients:
2 red bell peppers, halved and seeded
1½ pounds eggplant, cut into ½-inch-thick slices
1 sweet onion, cut into 8 wedges
1 pint cherry tomatoes
½ teaspoon freshly ground black pepper, divided
3 tablespoons extra-virgin olive oil, divided
¾ teaspoon salt, divided
Nonstick cooking spray
1 tablespoon champagne vinegar
½ teaspoon sugar
2 garlic cloves, minced
1 ounce oil-cured olives (about 12), pitted and halved
¼ cup fresh small basil leaves
1 tablespoon finely chopped fresh chives
Directions: Preheat grill to medium-high heat.
Combine first four ingredients, ¼ teaspoon black pepper, 1 tablespoon oil, and ¼ teaspoon salt. Place bell peppers, skin sides down, and onion on grill rack coated with cooking spray; grill 10 minutes. Turn onion; add eggplant to grill. Remove bell peppers. Place bell peppers in a zip-top bag; seal. Let stand 10 minutes. Grill eggplant and onion 5 minutes; remove onion. Turn eggplant; grill 5 minutes. Remove eggplant. Add tomatoes to a grill basket; grill 5 minutes. Remove bell peppers from bag. Peel and discard skins; slice lengthwise.
Combine ¼ teaspoon salt, vinegar, and sugar. Slowly add 2 tablespoons oil, stirring with a whisk. Combine vegetables, dressing, garlic, and olives. Sprinkle with ¼ teaspoon salt, ¼ teaspoon pepper, basil, and chives.