5 Delicious Fall Pasta Recipes That Your Family Will Love
Fall is a busy time of year, so time is at a minimum. There are meetings to attend, parties to visit, and games to watch, but there should always be time for good food. Luckily, pasta is a dinner favorite that's also one of the quickest meals you can make. Even better, you can easily incorporate seasonal flavors into your noodless and make the dish a little healthier. Check out what we consider to be the best pasta dinners you can make this fall. Not only will they satisfy your weekday night needs, they're also delicious enough to bring to all of those get-togethers you have on your calendar.
1. One-Pot Pumpkin Pasta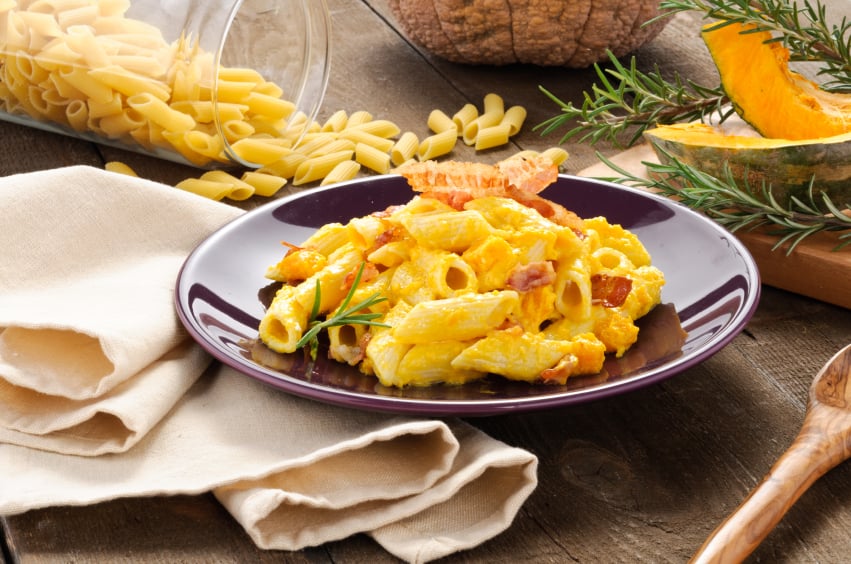 This first recipe for pumpkin pasta from The Kitchn screams fall. It's a one-pot recipe you'll look forward to revisiting every year. The creamy dish is made with dried pasta, pumpkin purée, cream, Parmesan, and garlic. You can serve it with herbs, more cheese, and toasted pumpkin seeds for an added bit of texture. This dinner serves 4 to 6.
Ingredients:
12 ounces dried pasta, such as garganelli, gigli, campanelle, or gemelli
4 ½ cups water
3 to 4 large garlic cloves, pressed or finely chopped
2 tablespoons olive oil
2 teaspoons kosher salt
Pinch red pepper flakes
1 cup pumpkin purée
1 cup heavy cream
½ cup grated Parmesan, plus more for garnish
Kosher salt and freshly ground black pepper, to taste
Freshly grated nutmeg, to garnish
Optional toppings
Toasted pumpkin seeds
Grated Parmesan
Olive oil
Freshly chopped herbs, such as sage or parsley
Directions: Place the dried pasta in 3-quart straight-sided skillet or Dutch oven. Add the water, garlic, olive oil, 2 teaspoons salt, red pepper flakes, and a generous amount of black pepper, bring to a full rolling boil over high heat. Using tongs, stir and turn the pasta frequently to prevent sticking. Cook until al dente, approximately 9 to 10 minutes. Remove skillet from heat.
Add the pumpkin purée, cream, and Parmesan, and toss with tongs until smooth and creamy. Taste and adjust salt and pepper if needed. The sauce will naturally thicken up after a couple of minutes. Top with toasted pumpkin seeds, grated Parmesan, and a swirl of good olive oil.
2. Penne with Butternut Squash and Goat Cheese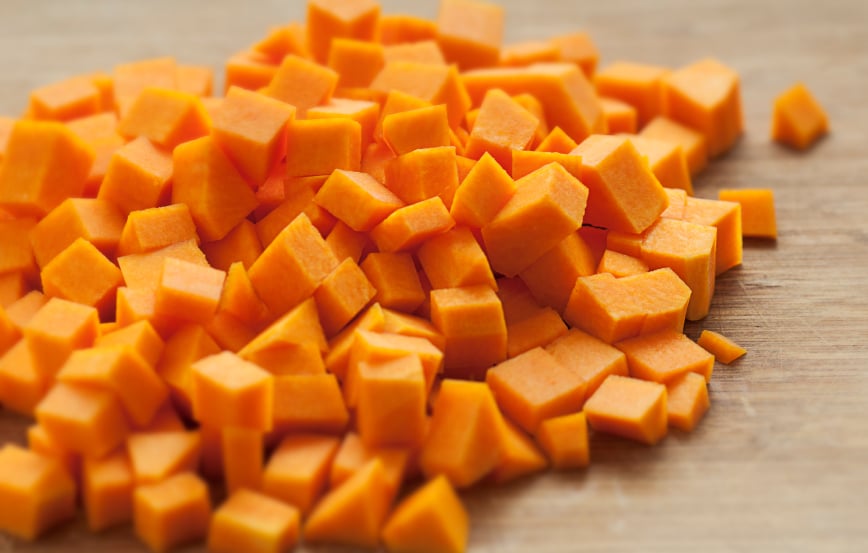 Butternut squash is another seasonal favorite that pairs well with pasta. This recipe from Food Network's Giada De Laurentiis adds goat cheese to the mix for a hit of flavor and a super creamy texture. Sprinkling chopped walnuts over the dish also gives it an additional crunch, and grated Parmesan rounds things out.
Ingredients:
Vegetable oil cooking spray
1 (2-pound) butternut or kabocha squash, peeled, seeded and cut into ¾-inch cubes
1 onion, diced into ½-inch pieces
Olive oil, for drizzling
Kosher salt and freshly ground black pepper
1 pound penne pasta
1 cup (8 ounces) goat cheese, crumbled
1 cup coarsely chopped walnuts, toasted
1 packed cup chopped fresh basil leaves
⅓ cup finely grated Parmesan
Directions: Put an oven rack in the upper third of the oven. Preheat the oven to 425 degrees Fahrenheit. Spray a baking sheet liberally with vegetable oil. Set aside.
Mix the squash and onion together and arrange in a single layer on the prepared baking sheet. Drizzle with olive oil and season with salt and pepper, to taste. Bake for to 40 to 45 minutes until the vegetables are golden and cooked through. Remove from the oven and set aside to cool slightly.
While the squash mixture is cooling, bring a large pot of salted water to a boil over high heat. Add the pasta and cook until tender but still firm to the bite, stirring occasionally, about 8 to 10 minutes. Drain and reserve about 2 cups of the pasta water. Put the pasta, goat cheese and 1 cup of pasta water in a large serving bowl. Toss until the cheese has melted and forms a creamy sauce. Add the squash and onion mixture, the walnuts, and the basil. Toss well and season with salt and pepper, to taste. Garnish with Parmesan and serve.
3. Spaghetti with Brussels Sprouts and Sausage Breadcrumb Topping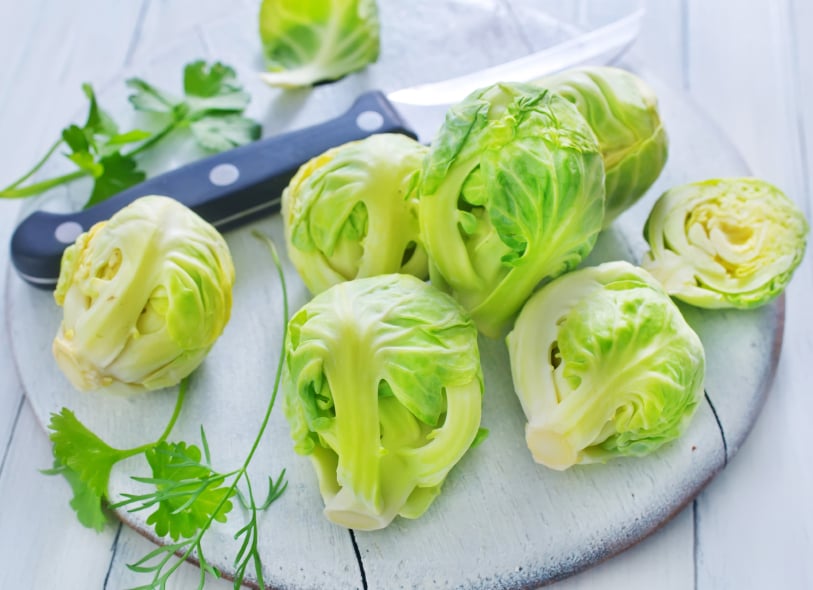 This dinner of spaghetti with Brussels sprouts and sausage breadcrumbs from Food & Wine may sound intimidating, but the sophisticated dish is actually simple to make. You cook your pasta as normal, then cook the sprouts and sausage in a skillet. Next, you'll stir in panko and chives, then toss in the drained pasta along with some olive oil. This dish serves 2, but you might want it all to yourself.
Ingredients:
½ pound spaghetti
¼ cup extra-virgin olive oil, plus more for drizzling
½ pound Brussels sprouts, thinly sliced
½ pound loose pork sausage
1 cup panko breadcrumbs
2 tablespoons snipped chives
Kosher salt
Pepper
Lemon wedges, for serving
Directions: In a pot of salted boiling water, cook the pasta until al dente. Meanwhile, in a large nonstick skillet, heat the ¼ cup of olive oil. Add the Brussels sprouts and sausage and cook over moderately high heat, stirring, until the sausage is browned and cooked through, about 5 minutes. Stir in the panko and cook until crisp, 3 minutes. Stir in the chives and season with salt and pepper. Drain the spaghetti. Top with the Brussels sprout mixture, drizzle with olive oil and serve with lemon wedges.
4. Pasta with Broccoli Rabe and Bacon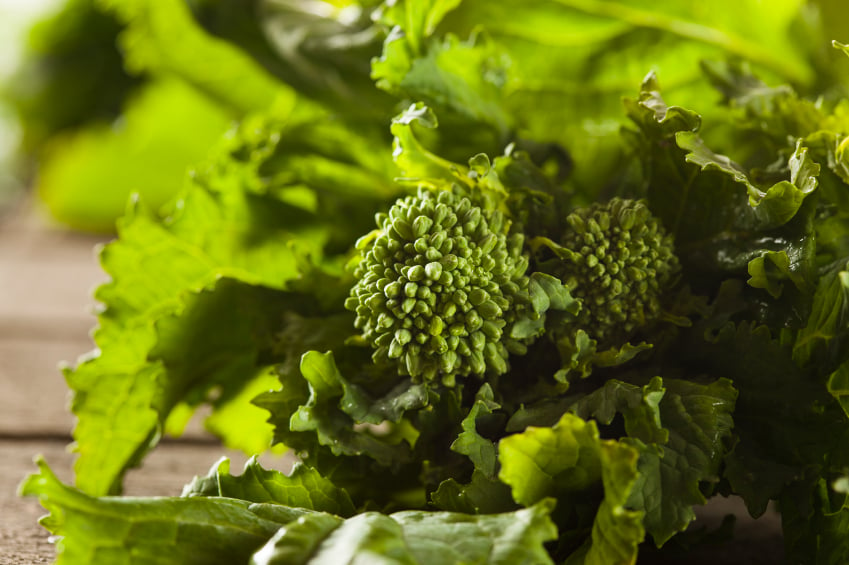 This next pasta from Martha Stewart is seriously delicious thanks to the slightly bitter broccoli rabe and the salty bacon.  It serves 4 and comes together in less than 30 minutes. You'll first cook your pasta and broccoli, then render the bacon and toast the nuts in the same pot. Give everything a quick toss, and it's time to eat.
Ingredients:
Coarse salt and ground pepper
1 pound short pasta, such as fusilli or penne
1 bunch broccoli rabe, trimmed and cut into 2-inch pieces
4 slices bacon, cut crosswise into ¼-inch pieces
⅓ cup walnut halves, roughly chopped
2 garlic cloves, thinly sliced
Grated Parmesan, for serving
Directions: In a large pot of boiling salted water, cook pasta according to package instructions. Add broccoli rabe 2 minutes before pasta is done cooking. Reserve ½ cup pasta water and set aside; drain pasta mixture.
Add bacon to pasta pot and cook over medium-high until some fat renders, 2 minutes. Add walnuts and cook until nuts are toasted and bacon is lightly browned and crisp, 3 minutes. Add garlic and cook until fragrant, about 1 minute. Add pasta mixture; toss to combine, adding enough pasta water to create a thin sauce that coats pasta. To serve, season with salt and pepper and sprinkle with Parmesan.
5. Sweet Potato and Red Pepper Pasta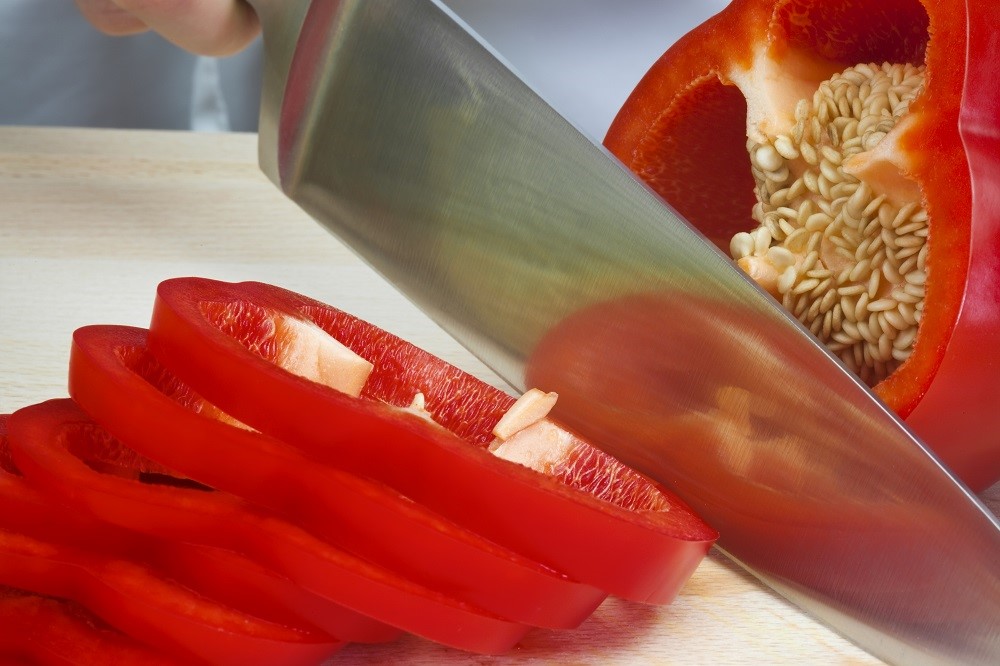 This last recipe from Eating Well will be ready in 30 minutes or less. The sweet potato and red pepper pasta has pops of red and orange color, and the two superfoods taste great tossed with whole-wheat noodles and goat cheese. Best of all, you'll score 11 grams of fiber and 14 grams of protein from one portion of this satisfying meal.
Ingredients:
8 ounces whole-wheat angel hair pasta
2 tablespoons extra-virgin olive oil, divided
4 cloves garlic, minced
3 cups shredded, peeled sweet potato
1 large red bell pepper, thinly sliced
1 cup diced plum tomatoes
½ cup water
2 tablespoons chopped fresh parsley
1 tablespoon chopped fresh tarragon
1 tablespoon white-wine vinegar, or lemon juice
¾ teaspoon salt
½ cup crumbled goat cheese
Directions: Bring a large pot of water to a boil. Cook pasta until just tender, 4 to 5 minutes or according to package directions.
Meanwhile, place 1 tablespoon oil and garlic in a large skillet. Cook over medium heat, stirring occasionally, until the garlic is sizzling and fragrant, 2 to 5 minutes. Add sweet potato, bell pepper, tomatoes and water and cook, stirring occasionally, until the bell pepper is tender-crisp, 5 to 7 minutes. Remove from the heat; cover and keep warm.
Drain the pasta, reserving ½ cup of the cooking water. Return the pasta to the pot. Add the vegetable mixture, the remaining 1 tablespoon oil, parsley, tarragon, vinegar, salt, and cheese; toss to combine. Add the reserved pasta water, 2 tablespoons at a time, to achieve the desired consistency.