5 Fantastic Recipes That Will Make You Like Fennel
If you live in a part of the country where asparagus and peas are still months away or simply refuse to rise before the sun to snatch them at the market, spring cooking can be pretty blah. Unless you stock up on fennel at the grocery store. The licorice-like flavor wakes up everything from pork to greens and offers a huge boost of good-for-you nutrients. One cup of the sliced bulb is just 27 calories and loaded with fiber, vitamin C, and potassium, according to Men's Health. These five recipes will show you how to turn the overlooked vegetable into some delicious meals.
1. Shakshuka with Fennel and Feta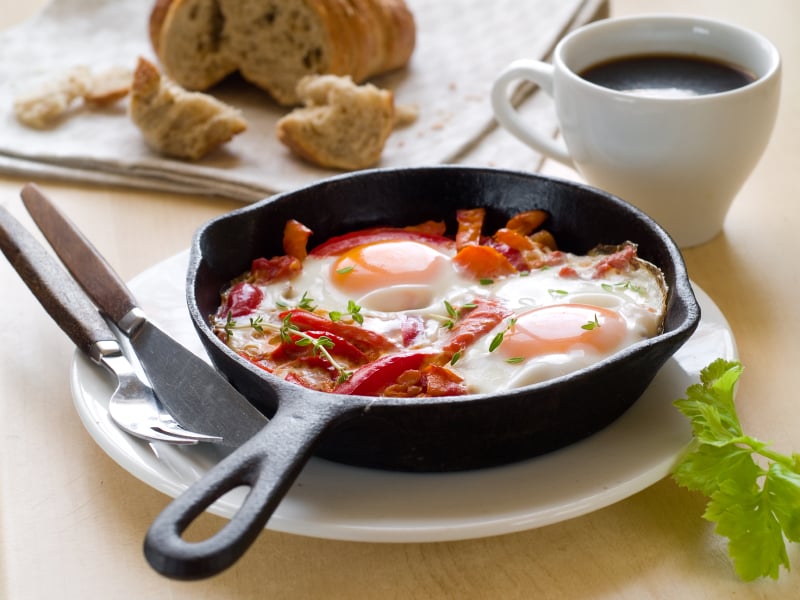 Cooking the same scrambled or over-easy eggs every morning leads to breakfast burnout. Give your favorite morning protein a makeover with this take on a Middle Eastern favorite from Food & Wine. The recipe adds even more flavor by tossing in some fennel and adding a sprinkle of feta cheese.
Plenty of protein and fiber are the obvious reasons to go for this delicious breakfast recipe, but you should also count bone health among its benefits. One 2013 study found stem cells treated with fennel extract were better able to combat the effects of osteoporosis. This is especially good news for those who don't tend to consume much milk or yogurt.
Ingredients:
2 tablespoons extra-virgin olive oil
1 small onion, cut into ½-inch dice
1 small fennel bulb, cored and thinly sliced
2 serrano chiles, seeded and chopped
1 jalapeño, seeded and finely chopped
1 green bell pepper, diced
Kosher salt
2 garlic cloves, minced
1 tablespoon harissa
1 teaspoon sweet Spanish smoked paprika
1 (28-ounce) can whole tomatoes, chopped with liquid
½ cup water
6 large eggs
2 tablespoons chopped parsley
½ cup crumbled feta cheese
Directions: Heat oil in a large skillet over medium-high heat. Add onion and fennel and cook, stirring, until softened, about 3 minutes. Add chiles and bell pepper. Season with salt and cook over medium heat, stirring, until softened, about 8 minutes. Add garlic, harissa, and paprika. Continue to cook, stirring, until fragrant, about 1 minute. Add tomatoes and water. Reduce heat to low and simmer until thickened, about 10 minutes.
Crack eggs into sauce. Cover and cook over low heat until whites are set and yolks are runny, about 5 minutes. Spoon sauce and eggs into bowls and top with parsley and feta. Serve.
2. Warm White Beans with Roasted Fennel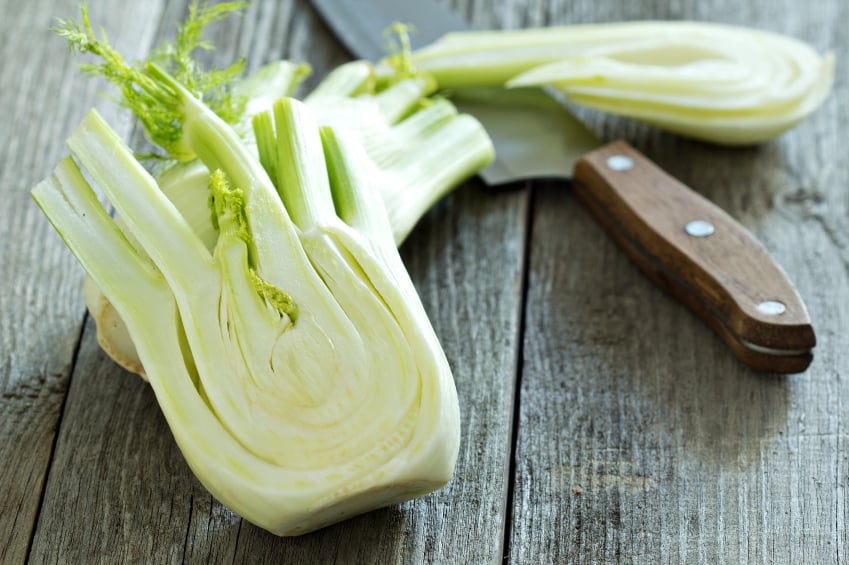 When you're looking for an easy and delicious way to craft a healthy meal, go for this hearty side dish from Cooking Light. It's loaded with fiber thanks to the veggies and beans, and even boasts a good amount of protein. You can serve it alongside any simple main dish or even turn it into a complete meal by stirring in some cooked chicken or tuna.
Nutrition experts urge people to eat more fiber to help combat weight gain, meaning this recipe scores serious points. This nutrient might only be part of the weight-loss story, though. According to a study published in Clinical Nutrition Research, subjects who drank a tea made with fennel experienced a reduction in appetite compared to those who consumed a placebo.
Ingredients:
4 cups thinly sliced fennel
3 tablespoons olive oil, divided
¾ teaspoon freshly ground pepper, divided
½ teaspoon salt, divided
¼ teaspoon ground red pepper
2 garlic cloves, minced
Cooking spray
3 tablespoons grated Parmesan cheese
2 (15.8-ounce) cans Great Northern beans, rinsed and drained
4 cups fresh baby spinach
Directions: Preheat oven to 450 degrees Fahrenheit. Combine fennel, 1 tablespoon oil, ½ teaspoon pepper, ¼ teaspoon salt, red pepper, and garlic in a large bowl to coat. Transfer to a baking sheet coated with cooking spray and bake for 15 minutes, or until fennel begins to brown. Stir, then sprinkle cheese over fennel. Bake 5 minutes longer, or until golden.
Meanwhile, heat a large nonstick skillet over medium heat. Add remaining oil along with beans. Cook until heated through, about 2 minutes. Add fennel mixture, spinach, and remaining salt and pepper. Cook for 2 minutes. Serve at once.
3. Arugula Salad with Fennel and lemon Vinaigrette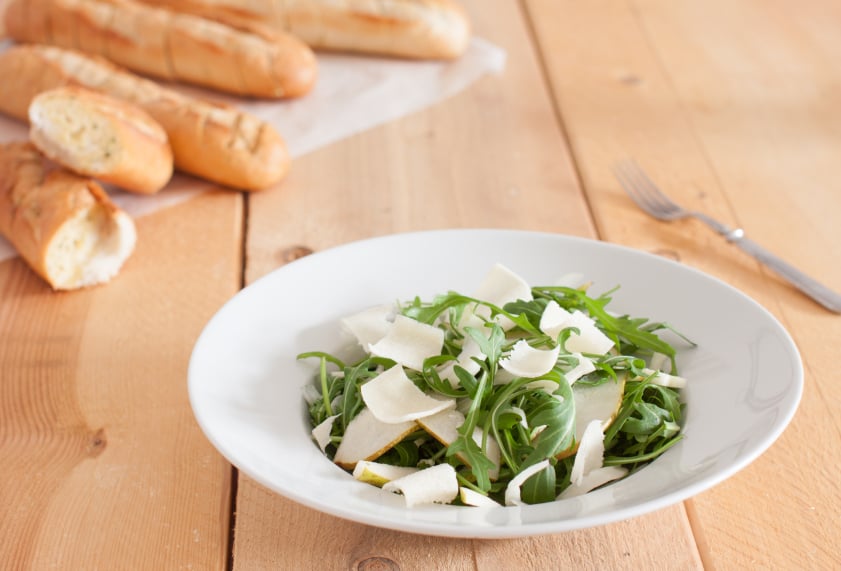 You don't need to go to great lengths to make a basic salad more interesting. The Kitchn proves it with this simple arugula and fennel version tossed with a citrus dressing. For the fastest way to your suppertime side dish, make the dressing in advance. When you're ready to eat, just shave the fennel, add it to a bowl with the greens, then toss with the dressing.
Though most people think of green veggies as the stars of a healthy diet, fennel is a serious contender. One 2014 review highlighted the vegetable for its potential to combat diabetes, cancer, and cognitive decline.
Ingredients:
5 ounces arugula, washed and dried
1 small fennel bulb, shaved on a mandoline or very thinly sliced
2 tablespoons extra-virgin olive oil
1 teaspoon lemon zest
Juice of 1 lemon
¼ teaspoon salt
Freshly ground pepper
Pecorino cheese
Directions: Add oil, lemon zest, lemon juice, salt, and a few grinds of pepper to a small jar with a lid. Cover and shake to combine. Taste and adjust seasoning.
Add arugula and fennel to a large bowl. Pour in half of dressing and toss to combine. If needed, add more dressing. Shave cheese over top and serve at once.
4. Seared Salmon with Sugar Snap-Fennel Slaw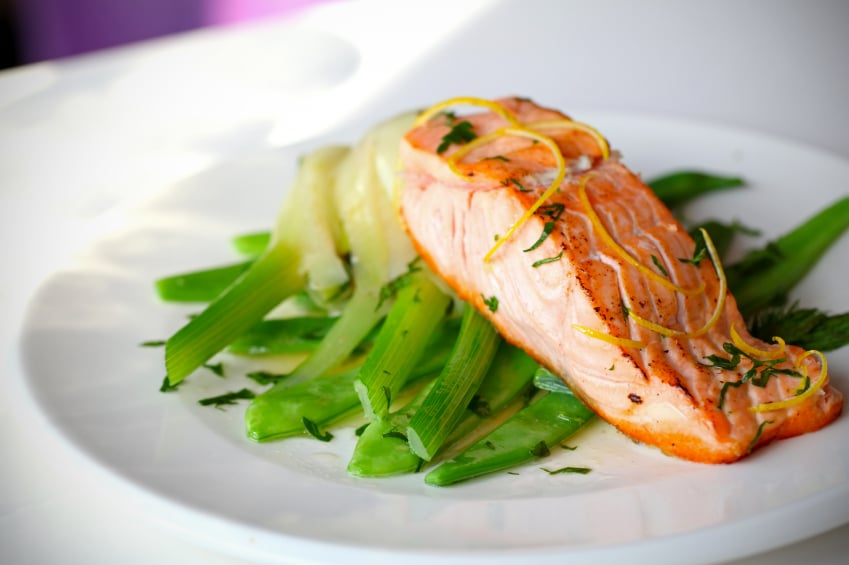 Healthy fish recipes abound on the internet, but a lot of them leave it up to you to find sides and sauces to finish off the meal. We like this salmon and slaw combo from Eating Well because it takes care of every component in just over 30 minutes. If you can't find fresh snap peas at your grocery store, try substituting thinly sliced snow peas, cabbage, or carrots.
Ingredients:
¼ cup lemon juice
3 tablespoons extra-virgin olive oil, divided
2 tablespoons minced shallot
½ teaspoon light brown sugar
¾ teaspoon salt, divided
½ teaspoon freshly ground pepper, divided
1 large fennel bulb with fronds attached
2 cups sugar snap peas, trimmed and sliced into matchsticks
1¼ pounds skinless salmon
2 teaspoons minced fresh chives
Directions: In a large bowl, whisk lemon juice, 2½ tablespoons oil, shallot, brown sugar, ½ teaspoon salt, and ¼ teaspoon pepper to combine. Set aside 4 teaspoons in a small bowl.
Chop 2 tablespoons fennel fronds and add to the large bowl. Reserve remaining fennel fronds. Halve, core, and thinly slice the bulb, then add to the large bowl along with peas. Toss to combine.
Cut salmon into four portions and season with remaining salt and pepper. Heat remaining oil in a large nonstick skillet over medium-high heat. Add salmon and cook for 2 minutes. Gently turn and continue to cook until just opaque in center, about 2 to 4 minutes longer.
Divide slaw among four plates. Top with salmon and drizzle with reserved dressing. Sprinkle chives and fennel fronds over and serve.
5. Fennel-Roasted Pork Tenderloin with Sweet Onions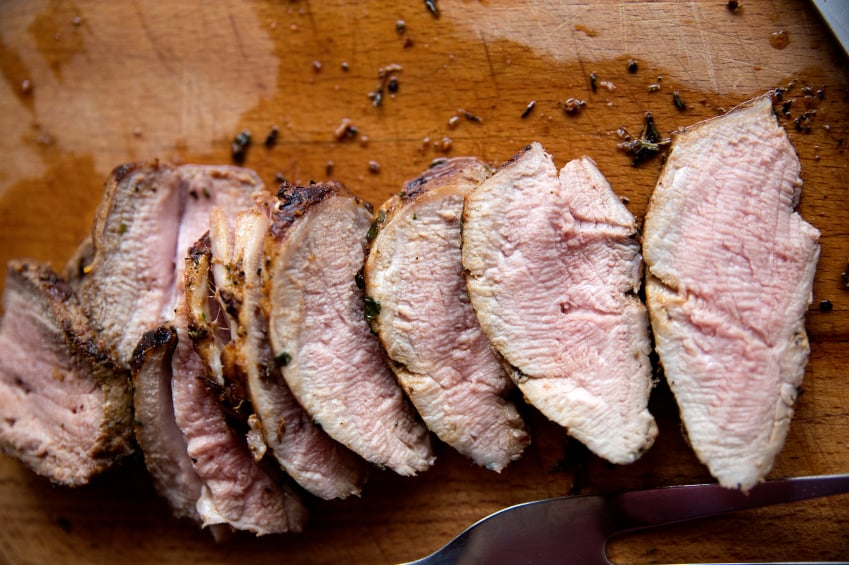 Impressing a date with an elegant meal doesn't have to wreck your diet. When you make this delicious pork dish from Serious Eats, you and your sweetheart will get to enjoy a meal that's both delicious and healthy. With little more than lean protein and veggies, you can even feel good about pouring a little bit of wine.
While there's still some debate on how red meat affects your heart, fennel is a lot less controversial. The seeds may be even more beneficial than the bulb when your ticker's concerned. One 2012 study reported consuming the seeds can help protect you heart by promoting blood vessel dilation.
Ingredients:
2 medium fennel bulbs, cut into sixths
2 medium red onions, cut into sixths
3 tablespoons plus 2 teaspoons olive oil, divided
Kosher salt and freshly ground pepper
2 tablespoons fennel seeds
2 tablespoons fresh thyme leaves
1 (1 – to 1¼-pound) pork tenderloin
1 tablespoon balsamic vinegar
Directions: Arrange oven rack in center of oven and set a 9-by-13-inch baking dish in the center. Preheat oven to 425 degrees Fahrenheit.
Toss fennel and onions with 1 tablespoon oil in a large bowl. Season with salt and pepper. Once oven is hot, remove baking dish, add fennel mixture, then transfer back to oven. Bake, stirring occasionally, until beginning to soften, about 30 minutes.
Meanwhile, drizzle 2 teaspoons oil over pork and season all over with salt and pepper. Rub fennel seeds and thyme over pork, pressing to adhere. Push vegetables to sides of baking dish and transfer pork to the center. Return to oven and bake until an instant-read thermometer inserted into the thickest part of the pork registers 145 degrees Fahrenheit. Remove from oven and let rest for 10 minutes.
In a small bowl, whisk remaining oil with vinegar. Slice pork and serve with fennel mixture. Drizzle with dressing and serve.
Follow Christine on Twitter @christineskopec
More from Culture Cheat Sheet: