The Most Fascinating Things You Never Knew About Ivanka Trump
The Trump family makes headlines constantly. But Ivanka Trump often flies under the radar. You likely know she owns successful businesses and has three children with husband, Jared Kushner. But which facts did you miss?
These are the most fascinating things you never knew about the first daughter. You won't believe Ivanka's surprising network dating back to high school (on page 9).
1. Ivanka has some really unhealthy habits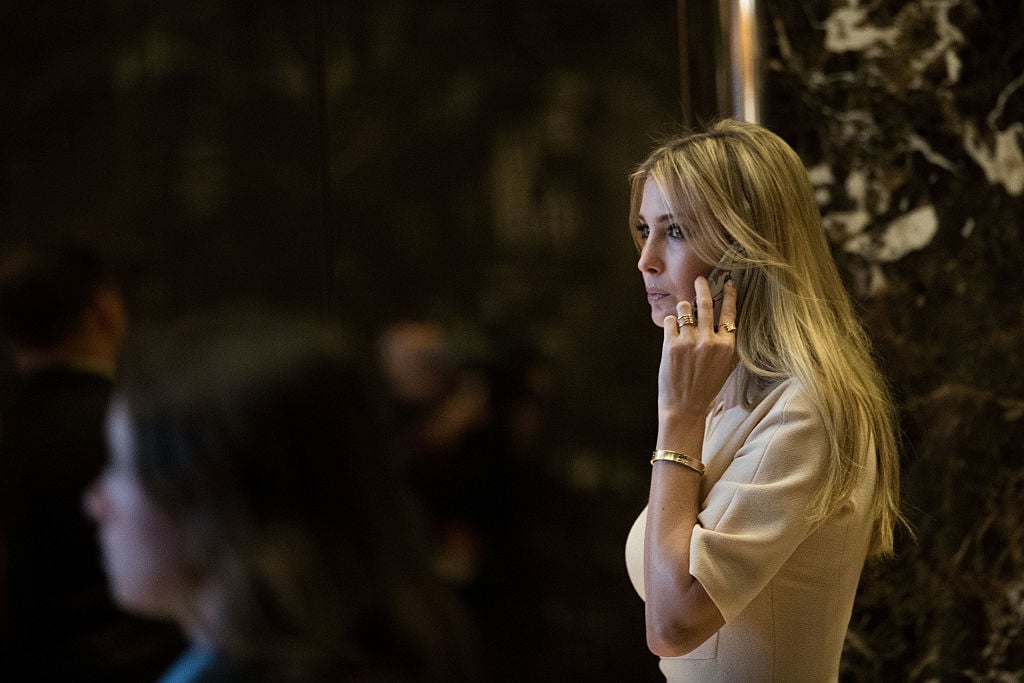 Ivanka wakes up at 5:30 a.m. every morning, according to My Morning Routine. Most nights she's not in bed until 12:30 or 1 a.m. However, studies support people getting at least seven hours of sleep to function optimally.
The first daughter checks her phone first thing each morning (research indicates that checking your phone first thing triggers stress and unhappiness). Ivanka also responds to emails for at least three hours every night as she's "desperately trying to get my inbox to zero before I fall asleep," she said. However, giving in to this time-suck can damage your productivity.
Next: Publishing a book isn't for everyone.
2. Ivanka's book was deemed 'painfully oblivious'
Reviews of Ivanka's 2017 book, Women Who Work: Rewriting the Rules of Success, were unsavory to say the least. Although this aspect of Ivanka's professional life wasn't cited a lot as President Trump rose to political fame, The Daily Beast did report on the "savage" reviews, including The New Yorker saying, "Ivanka Trump Wrote a Painfully Oblivious Book for Basically No One."
Few Women Who Work reviews were kind including Barnes & Noble, Amazon, and The Washington Post. The latter titled its review, "Ivanka Trump's Life of Privilege Undermines the Credibility of Her New Book's Message."
Next: The main thing Ivanka and Donald both enjoy
3. She and her father have "sex" in common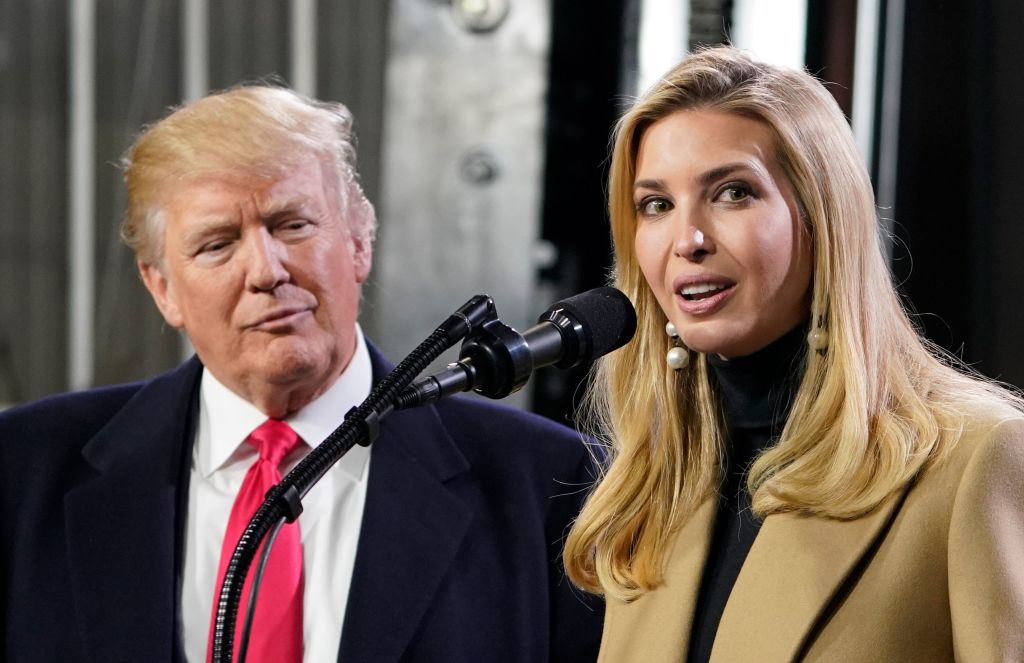 One interview clip, with Wendy Williams, has flown under the radar compared to many of Trump's comments about his daughter.
In a 2013 chat on The Wendy Williams Show, Trump was asked what favorite thing he and Ivanka have in common. Ivanka said they both like real estate and golf. But her dad responded by saying, "Well, I was going to say sex, but I can't relate that to her." Ivanka laughed but didn't refute the claim.
Next: A reputation at stake
4. Ivanka took heat for a racist, lewd comment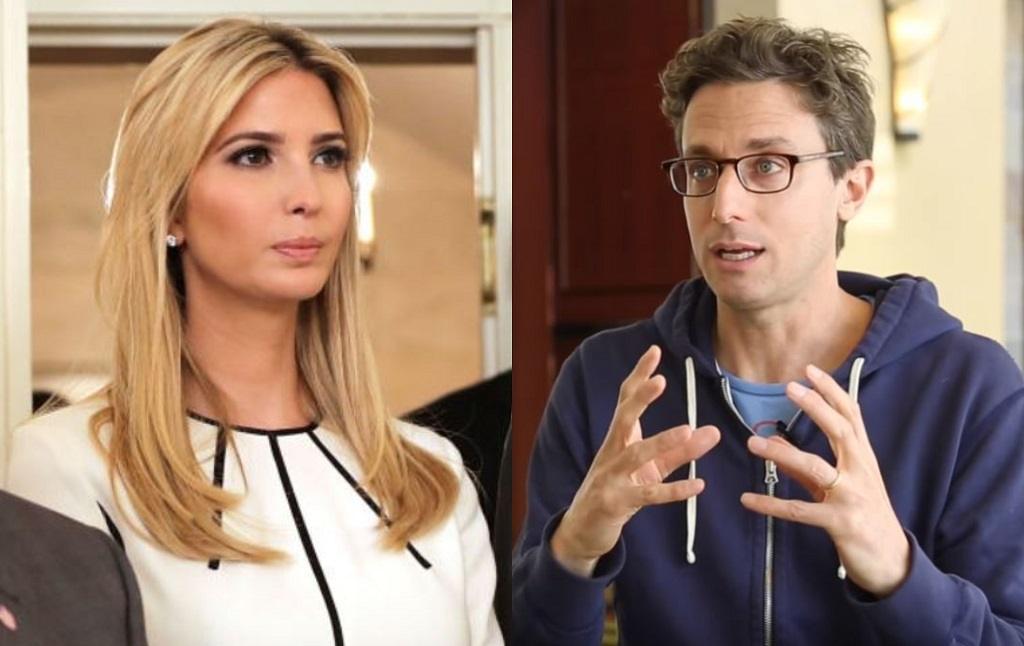 In 2016, BuzzFeed CEO Jonah Peretti responded to Ivanka's statement concerning her father's leaked tape. The first daughter called Trump's comments about women "jarring." So Peretti tweeted, "Surprised Ivanka would be shocked by lewd language. I met her once & she casually said: 'I've never seen a mulatto cock, but I'd like to!'"
Ivanka's allegedly racist, lewd comment flew under the radar amidst her father's scandal.  She responded to the Hollywood Reporter, stating, "This is a complete and total lie."
Next: The party scene featuring Ivanka Trump
5. Ivanka partied with famous friends — until they disappeared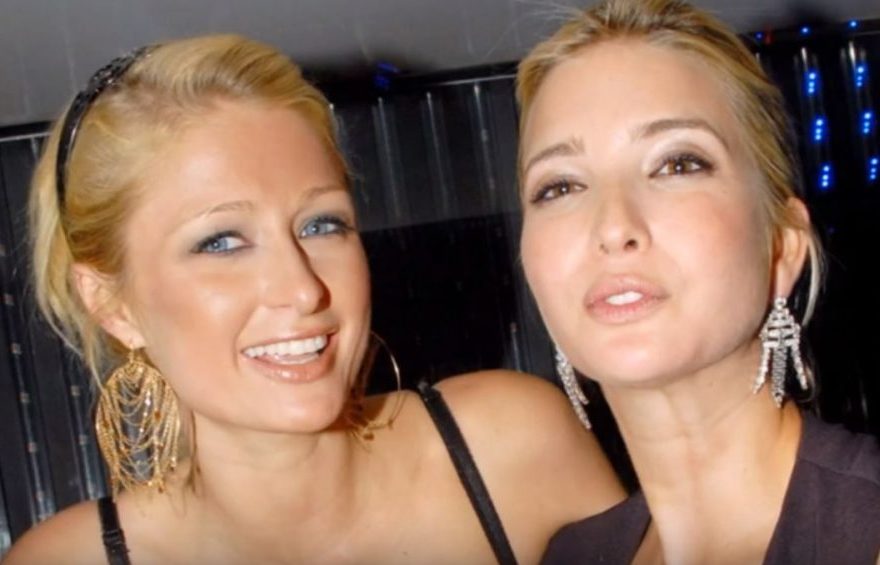 Donald's daughter used to party with NYC heiresses, as well as a slew of celebrities, including Hugh Jackman, Natalie Portman, Taylor Swift, Kim Kardashian, Anna Wintour, and Emmy Rossum. Many attended Ivanka's nuptials.
These days, however, her celeb friends have gone quiet, with most of them supporting the Democratic party through donations, appearances, and social media. The only star left standing? Paris Hilton. The socialite still supports her childhood friend, saying, "I think she is a brilliant woman. She knows exactly what she's doing."
Next: The reason why Ivanka and Jared briefly split
6. Jared and Ivanka broke up over religion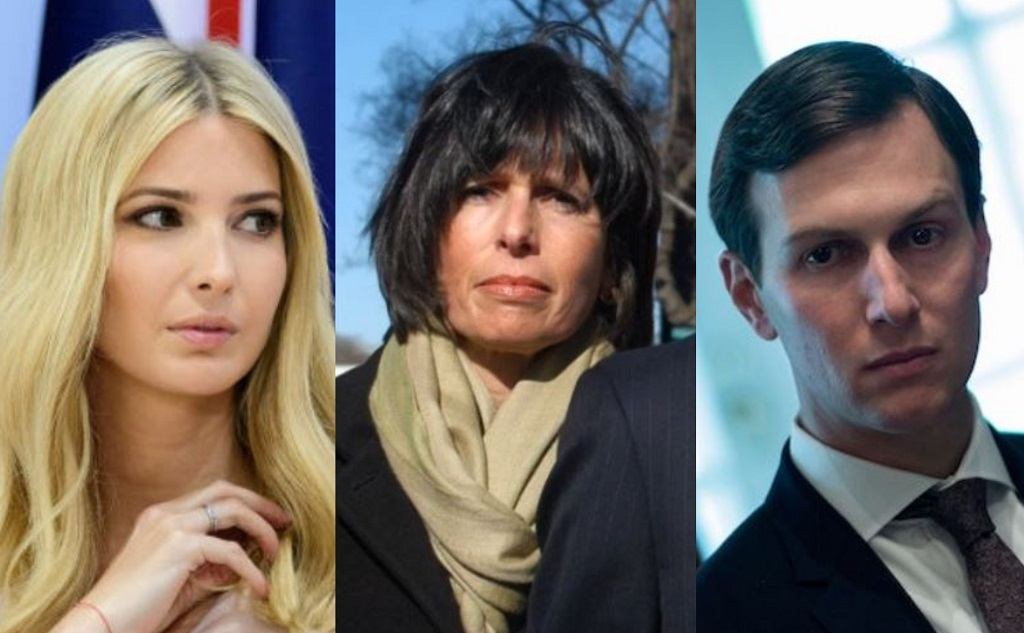 In 2008, Ivanka and Jared briefly broke up. Why? The issue of religion. Ivanka said, "One of the jokes I first started making when Jared and I first started dating is, 'I'm a New Yorker. I'm in real estate. I'm as close to Jewish, with an i-s-h naturally, as anyone can start off.'"
Apparently Jared's mother had a hand in the breakup. Despite parental disapproval, the couple didn't part for long. To resolve the issue, Ivanka converted to Judaism. But she still faced tests from her future father-in-law. Evidently, she passed.
Next: Ivanka has a "frenemy" of sorts.
7. Chelsea Clinton is a (former) good friend
Chelsea Clinton and her husband used to go on double dates with Ivanka and Jared. Although the two first daughters are surprisingly similar, enjoying a close friendship in previous years, Ivanka and Clinton reportedly haven't spoken since the election, according to Cosmopolitan.
During the campaign Ivanka mentioned Chelsea once, obliquely, when she claimed (incorrectly) her father was the sole candidate with a specific maternity-leave policy. Interestingly, The Hill reported in 2015 that Donald and Ivanka "donated a combined total of at least $105,000 to the Clinton Foundation." Ivanka also donated to Hillary Clinton's 2008 presidential campaign.
Next: Plastic surgery rumors just won't stop.
8. Ivanka's changing look doesn't add up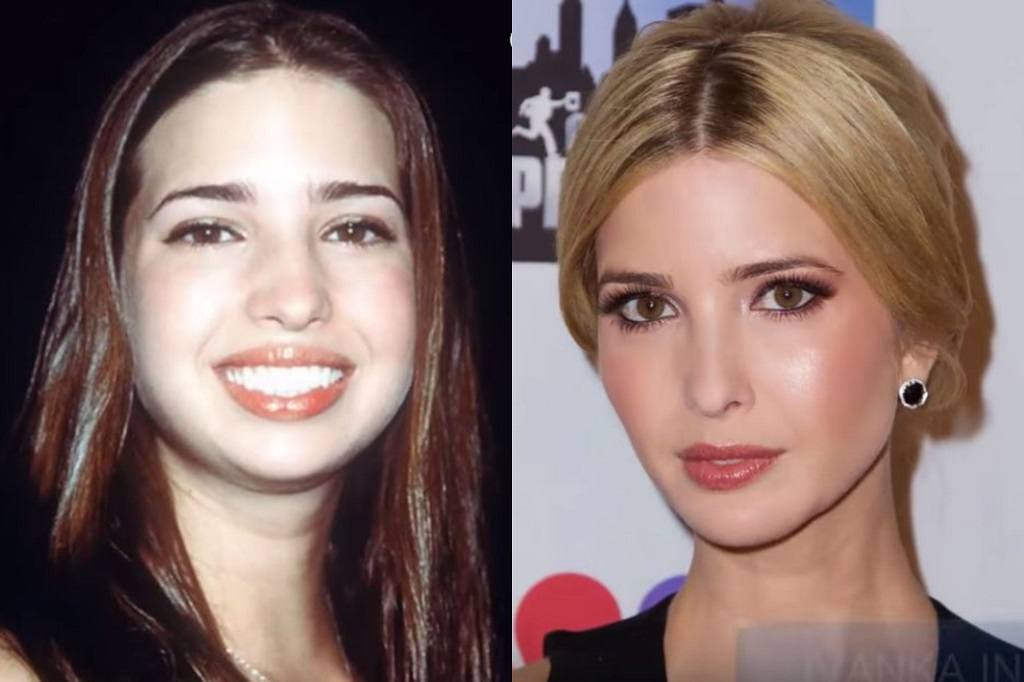 Many outlets suggest Ivanka looks too perfect. The BeautyEditor notes a teenage Ivanka's "model-esque eyebrows" and "cute" nose with a little bump on the bridge. She believes Ivanka's face changes in 2005 when her nose suddenly looks much narrower sans bump.
When Ivanka attended the 2007 Golden Globes, her chest was notably larger, "obviously fake," and "too large for her frame." Villett concluded: "I say a boob job and at least one rhinoplasty for sure. I'm guessing she has started to dabble in Botox, too." Since her father's campaign Ivanka caused many women to emulate her through plastic surgery.
Next: Ivanka's dating history raises some eyebrows.
9. She dated Topher Grace and Lance Armstrong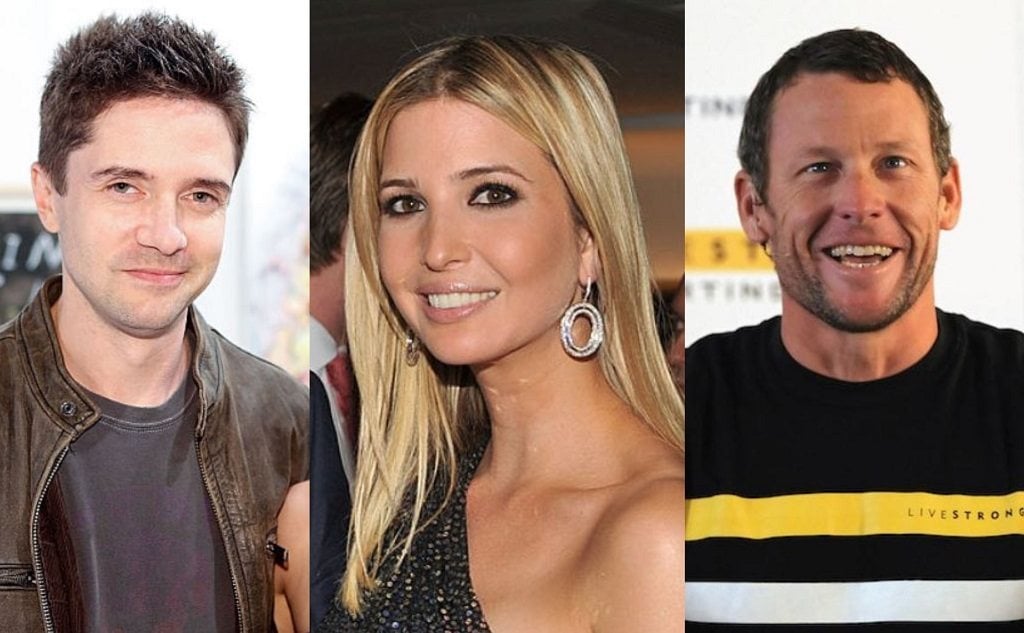 Before she got married, Ivanka dated a peculiar assortment of men. AOL reports she dated actor Topher Grace in 2006. In fact, she celebrated her 25th birthday with him at a Las Vegas nightclub. (Friends Chelsea Handler and Adam Levine also attended.)
She also dated cyclist Lance Armstrong, whom she met at a charity event while she was filming The Apprentice. While in college, Ivanka dated James "Bingo" Gubelmann, who was arrested for cocaine possession 15 years later. Ivanka appeared in his 2003 documentary Born Rich.
Next: Ivanka's surprising network dates back to high school.
10. She attended the same schools as Jacqueline Kennedy Onassis and John F. Kennedy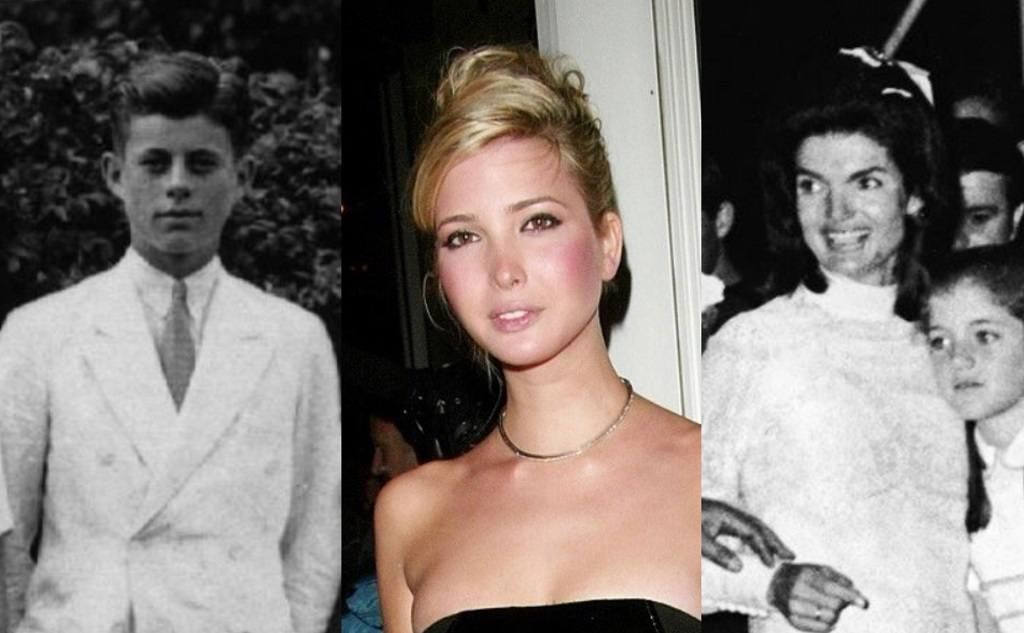 The first daughter went to Manhattan's exclusive all-girls Chapin School (Jacqueline Kennedy Onassis is an alum). Then, Ivanka attended boarding school at Choate Rosemary Hall, the elite Connecticut prep school John F. Kennedy attended.
She studied Latin for several years. And she "was forced to take fencing in high school. They were big on antiquated sports." Later, Ivanka studied at the University of Pennsylvania, her father's alma mater. There, she earned a degree in economics from the Wharton School in 2004.
Next: Ivanka's looks led her to an early career move.
11. Ivanka was a prominent teen model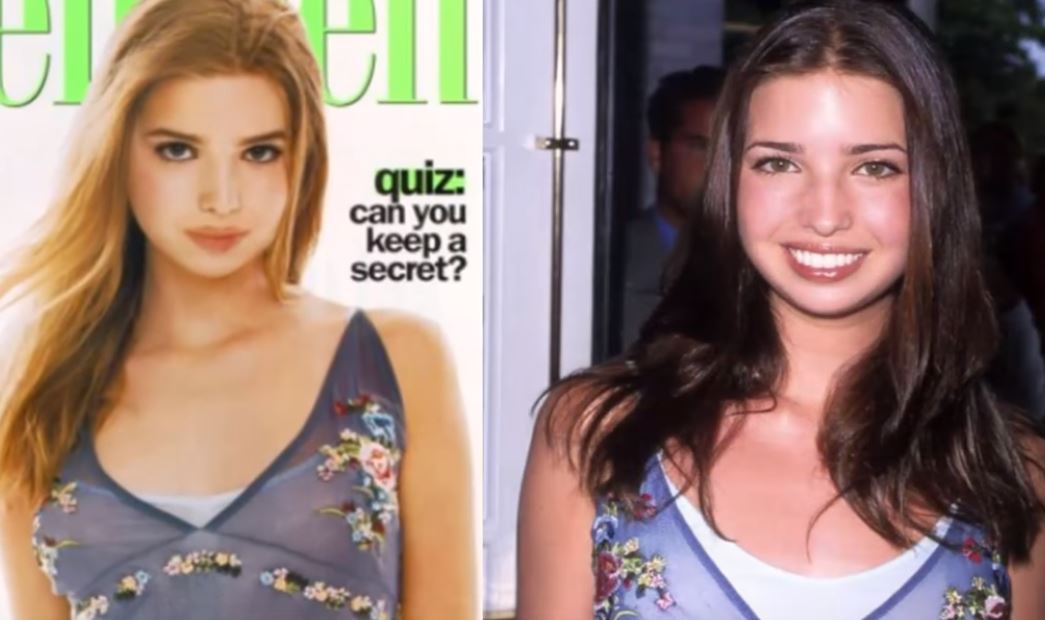 Following in her mother's footsteps (Czech-born Ivana Trump, Donald's first wife) Ivanka modeled as a teen. (She had to get permission from her school first.) Seventeen featured 15-year-old Ivanka on its May 1997 cover. She walked European runways and co-hosted her father's Miss Teen USA pageant.
In 2007, Ivanka told Harper's Bazaar 60-year-old bankers "have nothing on a group of catty 16-year-old female models without parental supervision." However, her modeling career didn't last. As Donald told Vogue, "She was a very successful model, and she just gave it up and went to Wharton."
Another Trump family member — Donald's third wife, Melania — also modeled. But as The Cut notes, "Melania and Ivanka have sought to establish incredibly different brands." Melania's traded on "sex — dangerous sex and not ­traditional matrimonial sex," while "the current version of Ivanka the Brand is based, oddly, on chastity."
Next: Ivanka can't escape business scandals.
12. Shoppers boycotted her controversial fashion line
In 2007, Ivanka launched a jewelry collection. Then she created the Ivanka Trump Collection, her fashion brand. Ivanka later introduced shoes and handbags, too. As it evolved, the Ivanka Trump Collection appealed to a wide market by adopting a slogan, "Women Who Work."
Her collection drawed criticism for its policies relating to working women. When she began hiring employees, Ivanka didn't offer a benefits package. She reportedly seemed reluctant to offer maternity leave. (Her designers only get unpaid maternity leave.)
Eventually, the office featured a play area for children while their parents worked. However, the company still doesn't pay its interns, a big issue in the fashion industry.
Next: Ivanka should avoid Aspen, Colorado for the rest of her life.
13. Ivanka disappeared on vacation and was found with a boy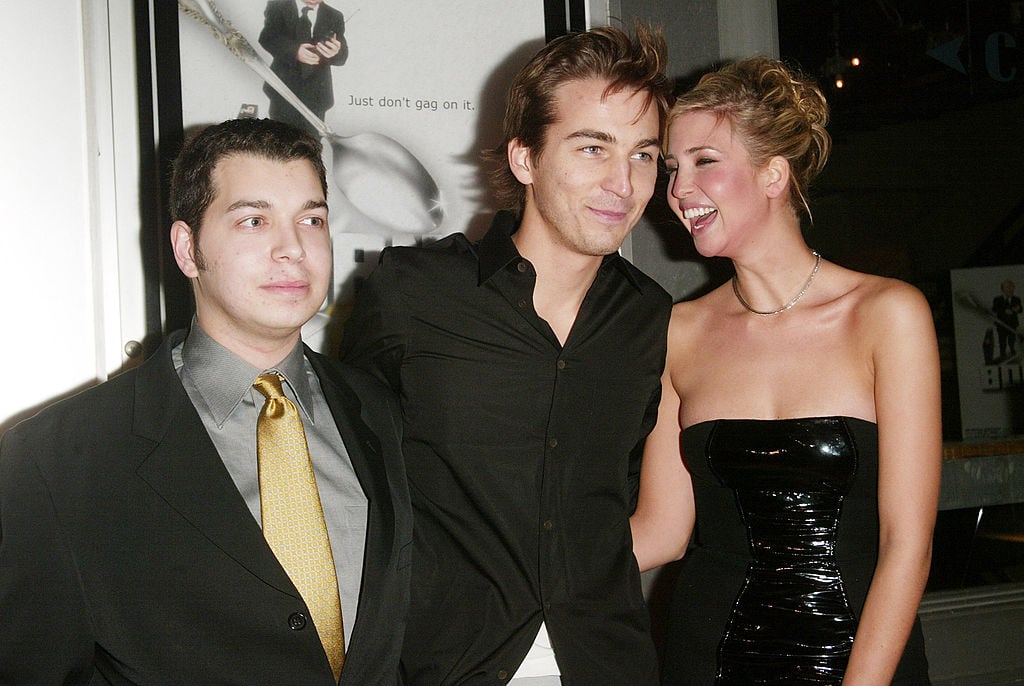 The Trumps get in trouble when they visit Aspen. The Colorado ski town was the site of the famous shouting match between Ivanka's mother, Ivana, and Marla Maples, Donald's lover. But a teenage Ivanka caused drama in Aspen, too.
Ivanka reportedly went missing, and her parents called the police. According to The Cut, a local law enforcement official "said she was eventually found in another hotel room with 'a boy.'" But the drama wasn't over when Ivanka grew up. The Trumps vacationed in Aspen in 2017, annoying fellow resort-goers with a huge entourage.
Next: It was all business for Jared and Ivanka.
14. Ivanka and Jared met in a business meeting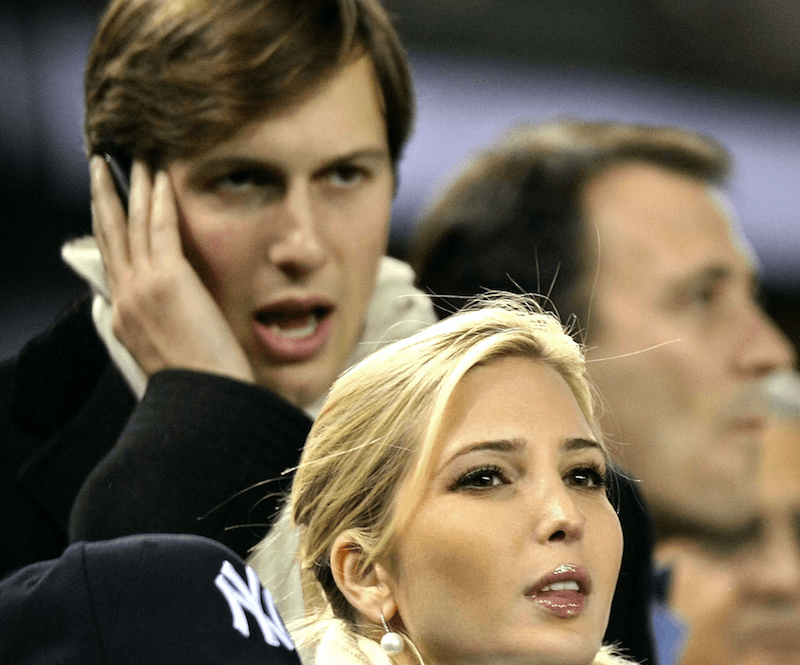 Ivanka Trump met Jared Kushner in 2007. Both raised in real estate families, they lived in the public eye. According to Vogue, Ivanka and Jared met at "a business lunch set up by a commercial real estate broker and another friend who thought they could do deals together."
Ivanka explains, "They very innocently set us up thinking that our only interest in one another would be transactional. Whenever we see them we're like, 'The best deal we ever made!'" Ivanka and Jared married in 2009. She converted to Orthodox Judaism, and they have three children together: Arabella Rose, Joseph Frederick, and Theodore James.
Next: Her legal name isn't "Ivanka."
15. Ivanka is actually her "baby name"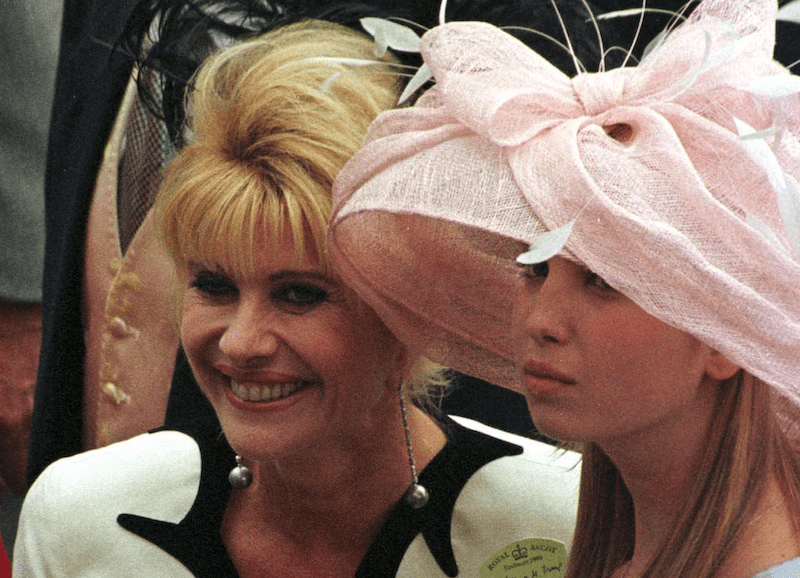 Ivanka's parents named her "Ivana" after her mother, according to Business Insider. But everyone has always referred to her by her childhood name, similar to how men named "Robert" are often called "Bobby." Another example the publication gave: In Gilmore Girls, Lorelai Gilmore names her daughter "Lorelai" but calls her "Rory" to avoid confusion.
Next: Donald proves you can have a favorite child.
16. She is evidence that Donald plays favorites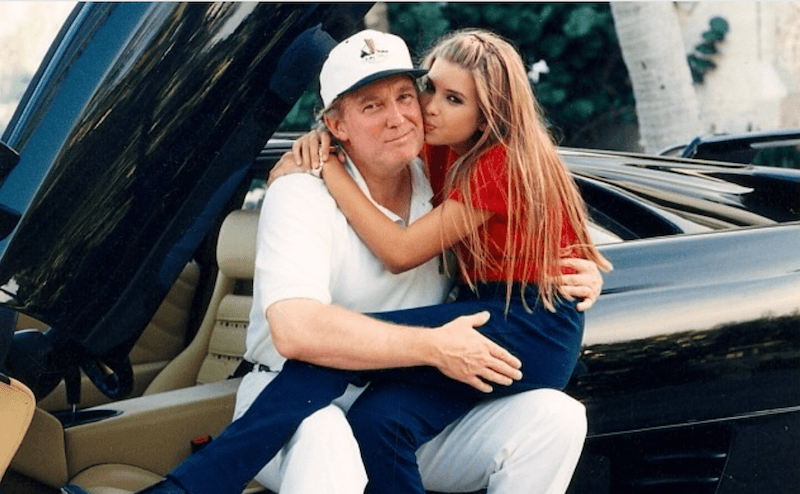 According to The New York Times, Trump family members and friends describe Donald and Ivanka's relationship "as especially close." Ivanka reportedly holds "an exalted position in the family, in their company, and even in the campaign." Ivanka once said, "He trusts me … I don't have a hidden agenda. I'm not looking to hit him to help myself."
The newspaper adds, "Among the Trump children, she is the acknowledged favorite: 'Daddy's little girl,' as her older brother Donald Jr. once described her. When Ms. Trump and her father are not together, she said, they speak as often as five times a day."
Ivanka "has one skill unmatched by almost anyone else, aides say: She can give criticism to a man who refuses it from others and can help change his mind." However, Vanity Fair notes Ivanka never publicly disagrees with him. "In her mind, to disagree with him publicly at all would make Trump Family Discord the headline, something she has been trying to avoid her entire life."
Next: Ivanka and Jared's hidden talent isn't what you think.
17. Ivanka and Jared have a secret talent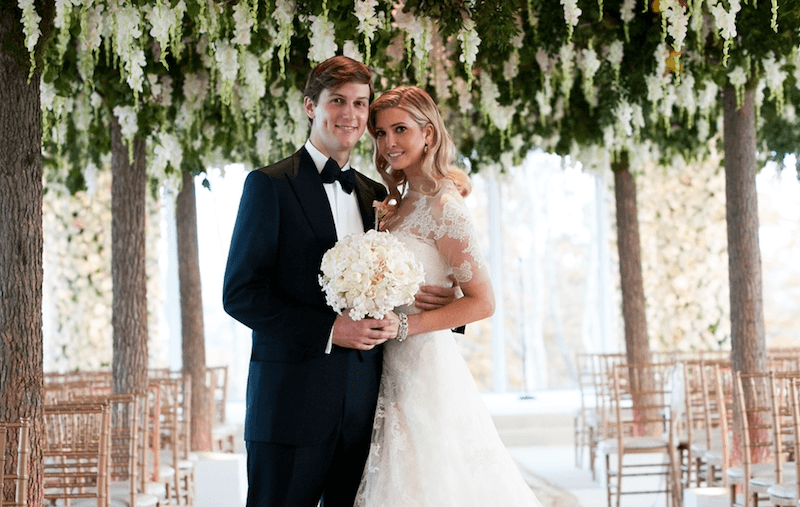 We know Jared Kushner and Ivanka Trump can handle real estate and business ventures. But we did not know they've successfully set up seven couples. Ivanka told Fox News, "People don't realize it's our hidden skill … We love helping the people we care about find happiness."
Bonus points for the couple: None of the love connections have resulted in divorce — yet.
Next: Ivanka had a leg up professionally.
18. Ivanka Trump began working for her father in 2005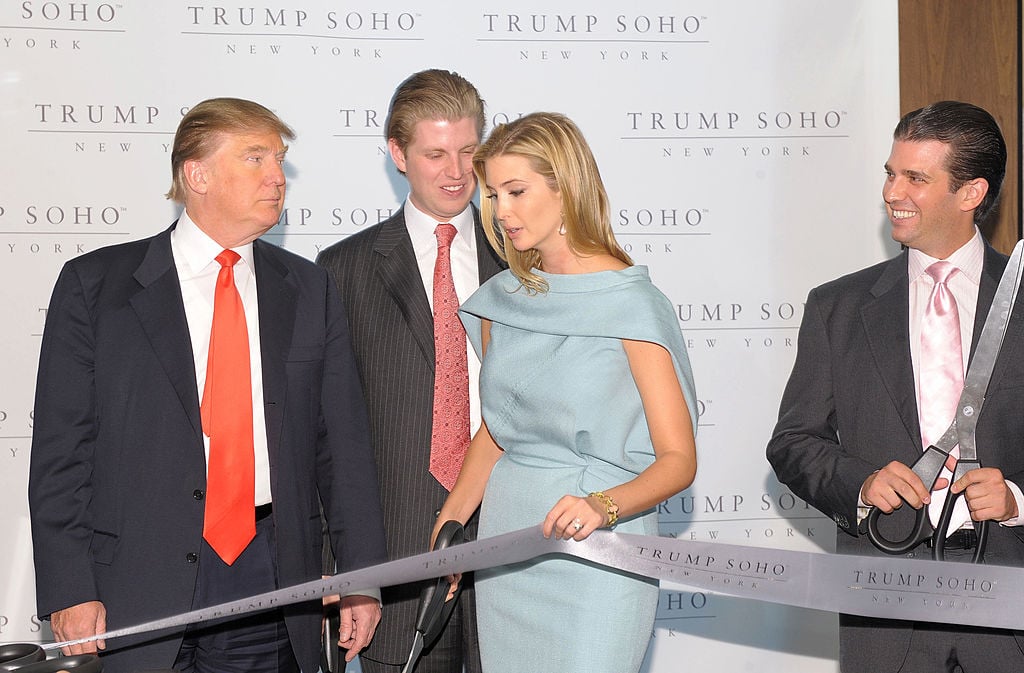 As a child, Ivanka reportedly tagged along with her father to meetings. She often stopped by his office and accompanied him to construction sites. But she didn't officially work for Donald until 2005. After she joined the family business, she began appearing on Donald's show The Apprentice.
The New York Times reports on Donald Trump's trust in Ivanka, "In the Trump family business, he has given her a level of authority none of his wives, or for that matter executives, have ever had."
The newspaper adds, "She handles some of the Trump Organization's biggest deals, including its acquisition of the Doral Resort in Miami and its agreement to convert the Old Post Office building in Washington, D.C., into a luxury hotel."
Next: Ivanka fakes it with one secret accessory.
19. Ivanka often wears colored contacts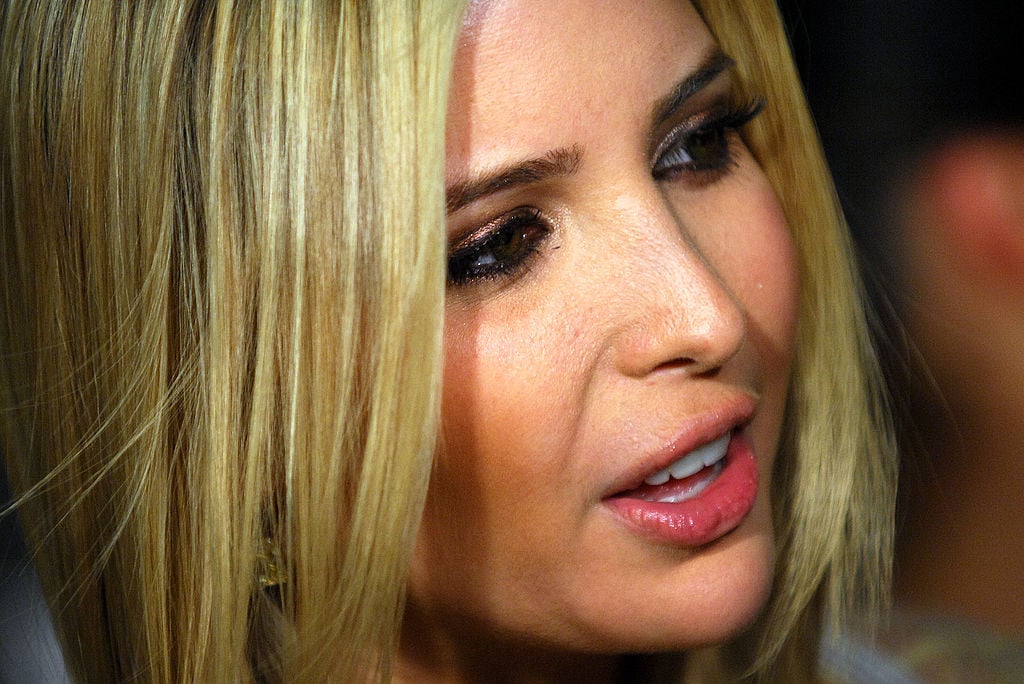 Although Ivanka loves accessories, you may not have noticed one she often wears: colored contacts.
Refinery29 reports Ivanka's eyes change color, "and not in a way that could be passed off as a trick of the light or camera flash. In various appearances, she's swapped her natural brown eyes for what appears to be deep hazel or bright green contacts — sometimes even in the same day."
Next: Ivanka has some not-so-known talents.
20. Ivanka Trump once auditioned for a Broadway show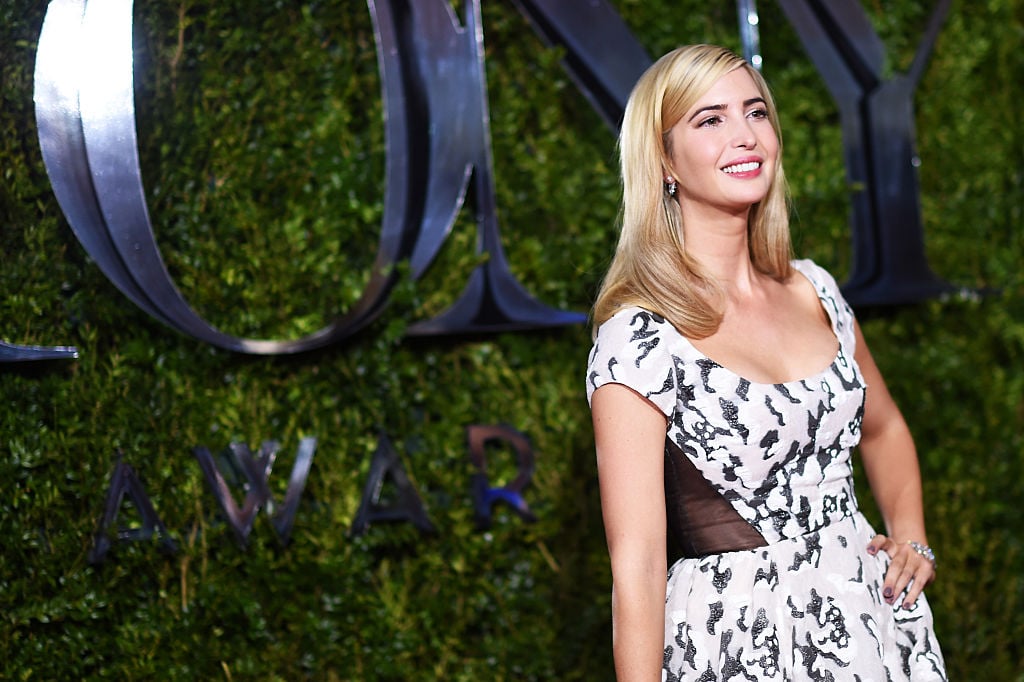 Ivanka told Us Weekly she once "auditioned for the part of Cosette in Les Miserables on Broadway," but adds, "It didn't work out." However, she danced in The Nutcracker at Lincoln Center when she was young.
The Bachelorette also reportedly courted Ivanka. But she explained, "I'm flattered, but that in no way furthers my objective of being a great real estate developer."
Next: She likes some intense workouts.
21. Ivanka loves yoga and SoulCycle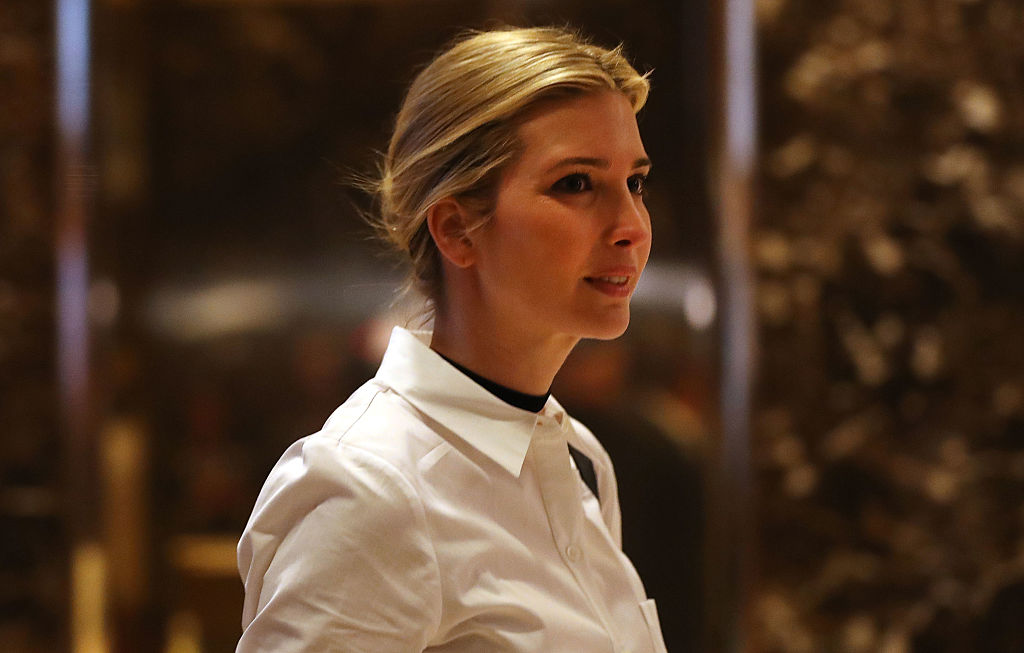 The first daughter enjoys workouts like yoga and SoulCycle. (Interestingly, Chelsea Clinton is a SoulCycle fan, too.)
CNN reported because both Ivanka and Michelle Obama love indoor cycling workouts, the two major studios Washingtonians attend have been "abuzz" with excitement. Both seem to prefer SoulCycle to its competitor, Flywheel, though Ivanka has also attended Flywheel classes.
Next: She once considered a questionable piercing.
22. She was a typical rebellious teenager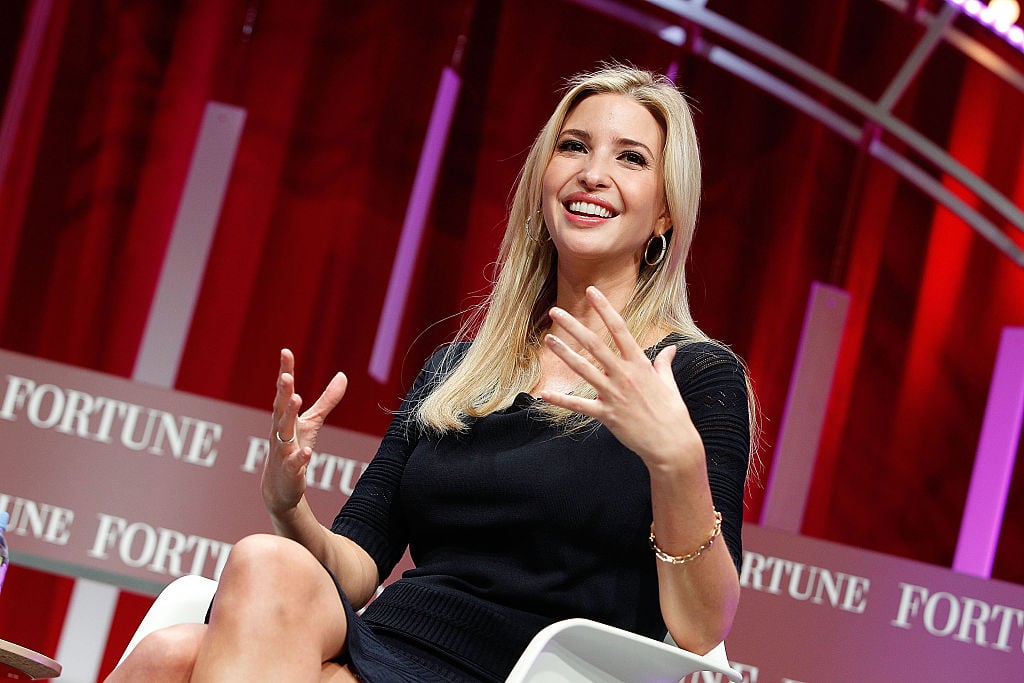 Ivanka acted out like most teenagers. According to Vanity Fair, "She considered getting her navel pierced. Her father called just as she was about to have it done. She elected at that moment not to go through with it — the umbilical attachment proving too strong."
Ivanka wrote in her book, The Trump Card, she had to "preserve and protect the family name and reputation, which, after all, were now my name and reputation, too." That may be why she skipped the piercing. However, according to US Weekly, Ivanka briefly considered skydiving. She explained, "At the time, my mother said, 'Why would you jump out of a perfectly good plane?'"
Next: The surprising region of the world that idolizes Ivanka
23. Chinese people have an odd fascination with Ivanka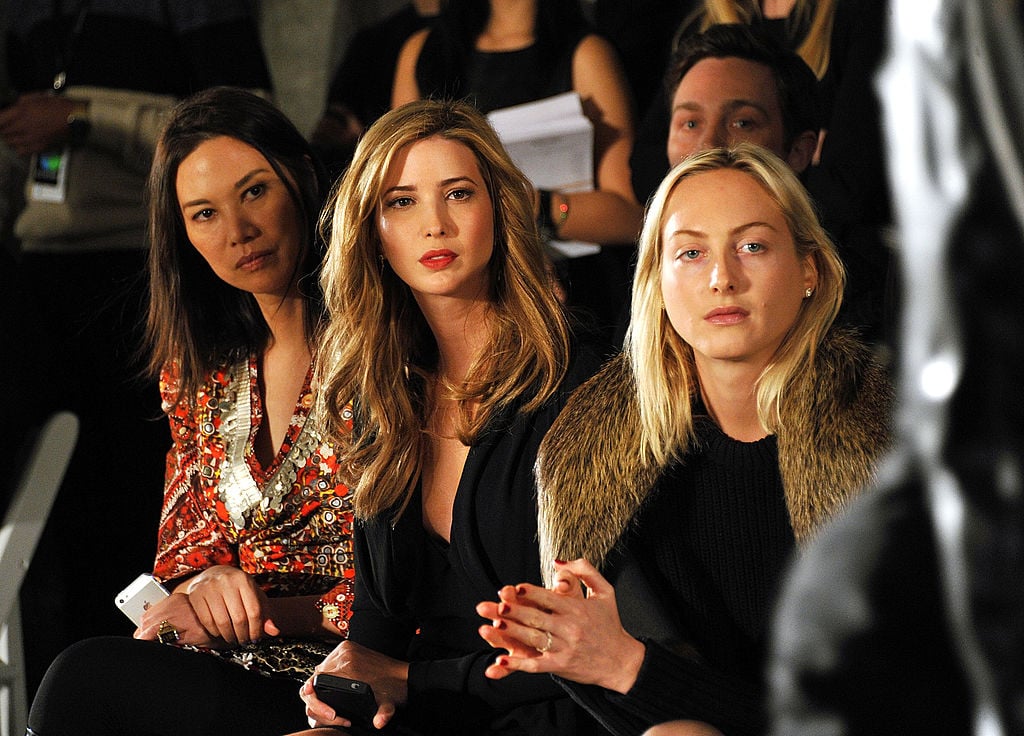 The Chinese consider Ivanka Trump "a genetic, generational, and Caucasian miracle." To many in the region, Ivanka's features look Chinese. As Refinery29 explains, "Ivanka Trump is big — yuge! — in China because she deftly wields the two things that have granted women power since the beginning of time: beauty and money."
Chinese tabloids track her movements, and she intrigues the Chinese because she works despite her wealth and beauty. Following the election, Chinese companies filed hundreds of trademarks using the word "Ivanka" to sell products. Many plastic surgeons promise to make clients look like Ivanka. (A few Americans are undergoing plastic surgery to look more like her, too.)