Fast and Easy Recipes for Your Favorite Comfort Foods
Certain dishes have a way of making us feel at home after just one bite. They're usually hearty meals we associate with family and cooler weather. Unfortunately, many of them are kind of tricky, requiring multiple techniques and a lot of time. Sometimes the need for comfort food comes on a busy Wednesday evening, so traditional recipes for comfort food aren't going to cut it. The good news is we've dug up five recipes for simplified versions of your favorites. These dishes might not be as good as your grandmother's, but they're pretty close.
1. Creamy No-Roux Stovetop Macaroni and Cheese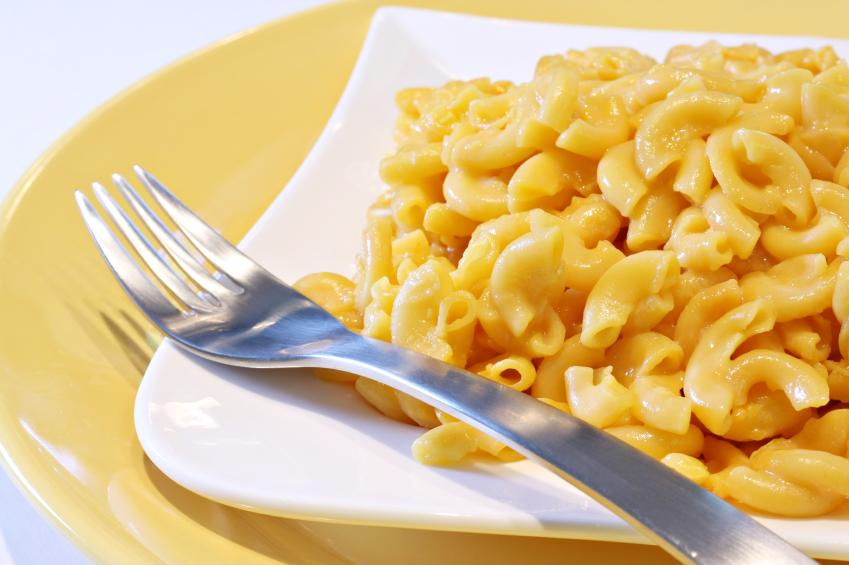 When it comes to making macaroni and cheese, it's either a huge affair that requires plenty of time in the oven or it comes out of a box. You shouldn't have to resort to powdered cheese just because you don't have multiple hours to spend making a creamy casserole. That's where The Kitchn's simple recipe comes in. This version is hardly any more work than packaged macaroni and cheese, but it's so much better.
Instead of making a roux to thicken the sauce, this recipe uses a smart technique of turning the flour into a slurry with a bit of milk. Just whisk it into the rest of the dairy as it heats, let it thicken, then stir in the cheese. Don't skip the mustard powder, because it's the real secret to a flavorful sauce.
Ingredients:
1 pound pasta, any shape
1½ cups whole or 2% milk
2 tablespoons all-purpose flour
2 to 3 cups shredded cheese, such as cheddar, Monterey Jack, or colby
½ teaspoon salt
¼ teaspoon mustard powder
Optional add-ins
Ham
Bacon
Onions
Peas
Mushrooms
Peppers
Broccoli
Cauliflower
Directions: Bring 4 quarts of water to a boil over high heat in a large pot. Add pasta and a tablespoon of salt. Cook until pasta is al dente, about 8 minutes. Drain and set aside.
Heat 1 cup of milk in saucepan over medium heat. Whisk remaining ½ cup milk with flour until completely smooth. When steam begins to rise from saucepan, whisk in milk and flour mixture. Continue whisking until milk thickens to the consistency of heavy cream, 3 to 4 minutes.
Turn heat to low, and add cheese to milk in handfuls. Stir in salt and mustard. Stir until cheese is melted and sauce is creamy. Adjust seasoning, and remove from heat.
In a large serving bowl, combine pasta with half of sauce. Stir to coat. Add second half of sauce, add-ins of your choice, and stir to combine. Serve.
2. Easy Shepherd's Pie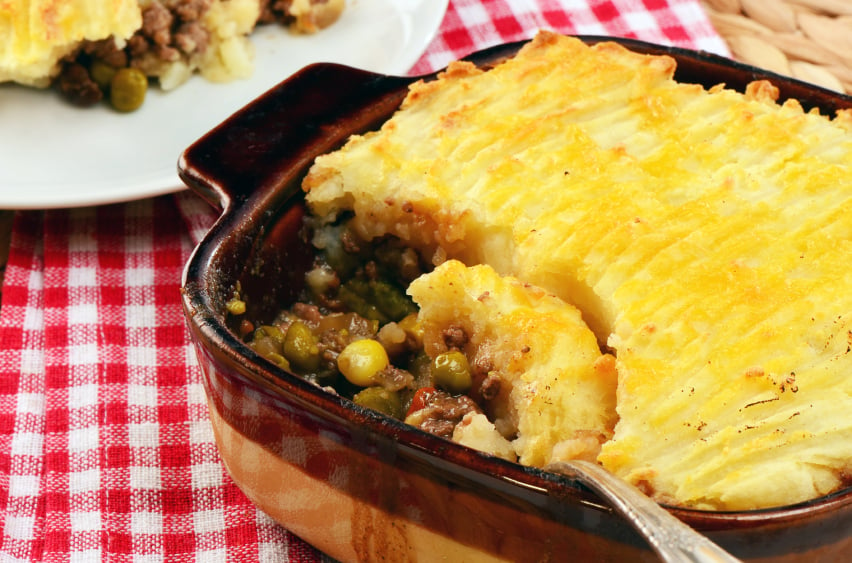 Hardly anyone makes shepherd's pie anymore, and it's not really that surprising when you consider how long it takes. The stew and potatoes both require a lot of attention and pots, before you even get to assembling the casserole. No one should have to do that many dishes, especially during the week. Speed your way toward the hearty comfort food with Real Simple's version. Prepared mashed potatoes are the key to pulling this recipe off. You can find packaged versions, or head to the hot foods section of the grocery store to get some freshly mashed spuds.
This dish is easy enough as is, but you can cut down on your dishes even more if you opt for a cast-iron skillet. Once the filling is cooked, spread it into an even layer, top with the potatoes, and transfer the whole thing to the oven. How's that for easy?
Ingredients:
1 pound ground beef
⅓ cup ketchup
1 teaspoon Worcestershire sauce
8 ounces frozen mixed vegetables, thawed
¼ cup shredded cheddar cheese
1 (16-ounce) package refrigerated or frozen mashed potatoes, thawed
Directions: Preheat oven to 400 degrees Fahrenheit. Place beef in a large skillet, and cook over medium-high heat until completely browned, about 5 minutes.
Spoon off fat and discard. Stir ketchup and Worcestershire into meat. Add vegetables and cook, stirring, for 1 minute. Spoon mixture into a baking dish.
Mix cheese with potatoes in a bowl. Spread over meat and bake until heated through, about 10 minutes. Serve.
3. Skillet Meatloaf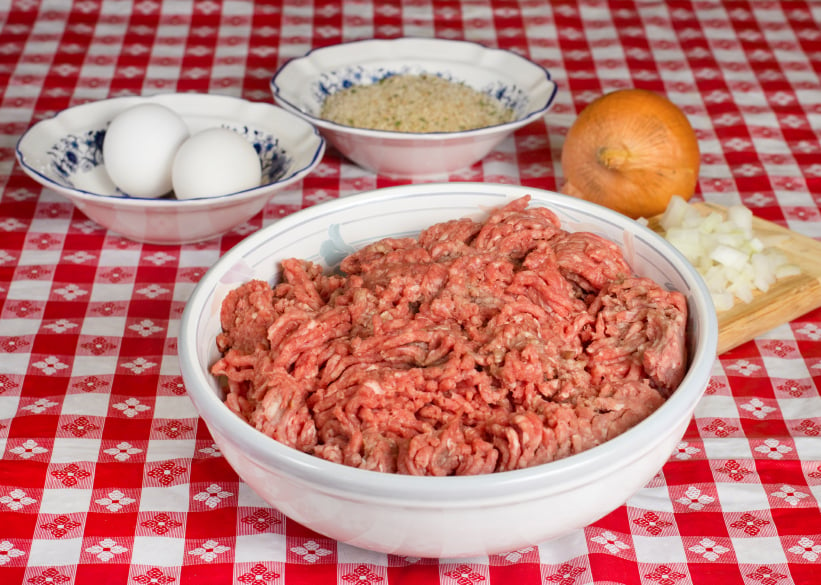 You can't help but feel like a kid again when digging into a plate of meatloaf. Bring nostalgia to your table in record time with Mark Bittman's speedy twist on the traditional dish. As you mix the ingredients together, let a skillet heat in the oven. This will ensure a faster cooking time and also give the meat a nice crust. Though many recipes call for glazes, this version uses plain ketchup which has plenty of sugar to form a tasty coating.
Since this method flattens the meat into a thinner layer, you won't have to wait nearly as long before digging in. Another bonus? It's already the perfect thickness for turning into sandwiches the next day.
Ingredients:
1 tablespoon olive oil
1 cup breadcrumbs
½ cup milk
1 pound ground beef
1 pound ground pork
Salt and pepper
2 ounces Parmesan cheese
1 garlic clove
1 egg
¼ cup ketchup
Directions: Preheat oven to 425 degrees Fahrenheit. Grease a large skillet with olive oil and let preheat in oven.
Meanwhile, combine breadcrumbs, milk, both meats, and a sprinkle each of salt and pepper in a large bowl. Grate cheese into bowl. Peel and mince garlic, then add to bowl along with egg. Gently mix ingredients with hands just to combine.
Carefully transfer mixture to the hot skillet, packing into an even layer. Drizzle ketchup over top. Transfer back to the oven, and bake until loaf is firm to the touch and an instant-read thermometer registers 160 degrees Fahrenheit, about 15 to 20 minutes. Let cool briefly, then slice, and serve.
4. 30-Minute Beef Bourguignon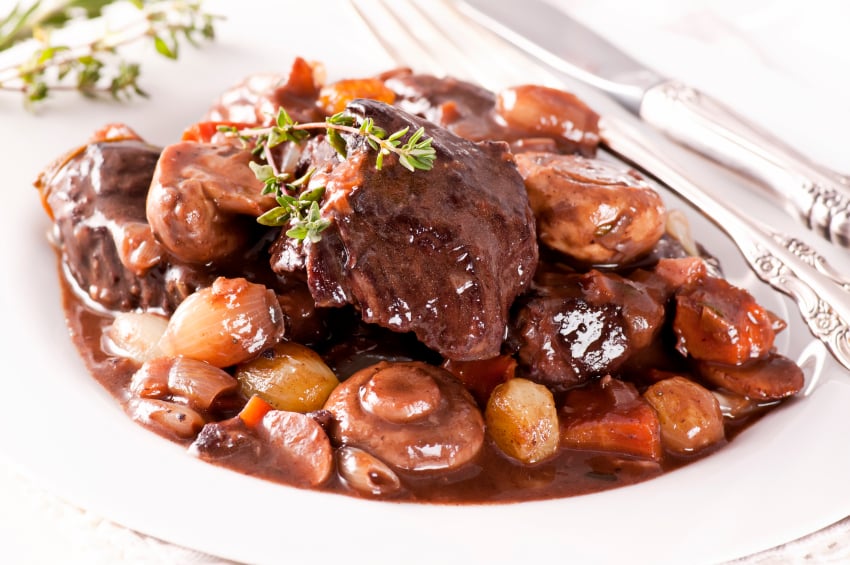 Julia Child's beef bourguignon is probably the most famous rendition of this iconic dish. It's rich, heart-warming, and a ton of work that requires you to separately cook the bacon, beef, and vegetables. The mountain of dishes and six hours of effort just don't seem worth it, even if it is delicious.
You might not be able to make a tender braise in 30 minutes, but you can turn out a dish with just as much flavor when you go for this clever recipe from Blogging Over Thyme, which was adapted from Cooking Light. Steak lovers might actually prefer this version as the beef tenderloin stays medium rare.
Ingredients:
1 cup frozen pearl onions
1 pound beef tenderloin, cut into 2-inch pieces, 1 piece finely chopped
Salt and pepper
1 tablespoon clarified butter or neutral oil
1 bacon slice, finely chopped
1 (10-ounce) package cremini mushrooms, quartered
2 large garlic cloves, minced
1 teaspoon chopped fresh thyme plus additional whole sprigs, divided
Pinch of sugar
1 tablespoon tomato paste
½ cup red wine
1 cup low-sodium beef broth
2 tablespoons water
1 tablespoon all-purpose flour
Directions: Remove beef from refrigerator 20 minutes prior to cooking. Place onions in a small, microwave-safe bowl, and cover with a paper towel. Microwave on high for 3 to 4 minutes, or until heated through. Set aside.
Pat beef dry with paper towels, and season with salt and pepper. Heat a large nonreactive skillet over medium-high heat. Add butter, and swirl to coat. Brown beef, working in batches, until browned on all sides. Remove from pan, and transfer to a bowl.
Add finely chopped beef and bacon to the pan. Cook, stirring, until fat renders and meat browns. Add mushrooms and continue to cook, stirring occasionally, until browned, about 4 to 5 minutes. Add garlic, thyme, sugar, and stir until fragrant, about 1 minute. Add tomato paste, and continue to cook and stir an additional 1 to 2 minutes.
Pour wine into pan, and bring to a boil, scraping bottom of pan with a wooden spoon to release all of the accumulated brown bits. Simmer briskly until reduced by half.
Add onions and broth, bring to a boil, and cook 1 to 2 minutes. Whisk flour and water in a small bowl until completely smooth. Stirring constantly, add flour mixture to pot. Continue to cook and stir until mixture starts to thicken. Season with salt and pepper, then add beef back to the pot. Cook over medium heat until beef is medium rare, about 2 to 3 minutes. Serve garnished with thyme sprigs.
5. Easy Chicken Pot Pie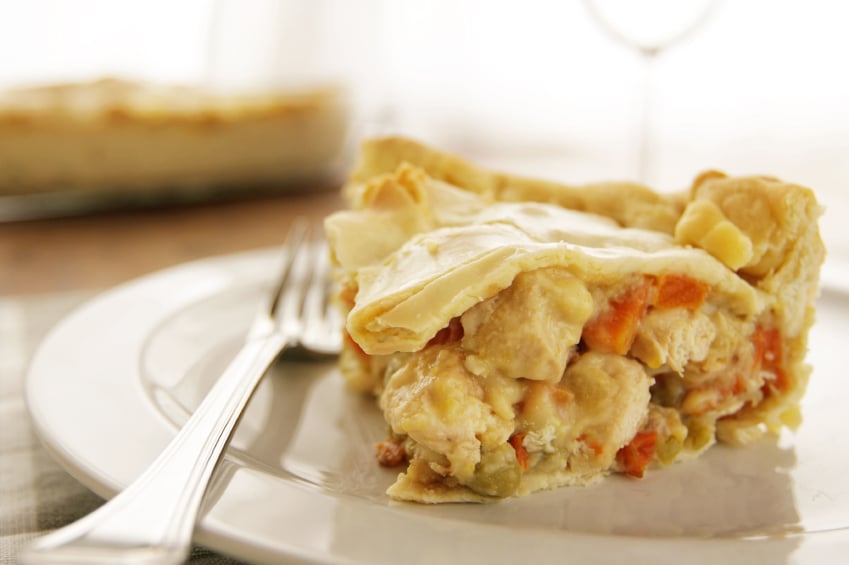 If there's one technique that sends shivers down spines more than all the others, it's crafting pie crust. Temperature and humidity can make or break the final product, and forget about overworking the dough. Then it has to rest and chill before rolling. Chicken pot pie requires all of that, and we haven't even started on the filling yet.
When you're craving the creamy comfort of chicken pot pie, this easy version from Spicy Southern Kitchen is the perfect solution. It uses purchased dough and rotisserie chicken to drastically cut down on prep and fuss. The recipe uses a pretty standard combination of peas, carrots, and potatoes, but feel free to add any of your other favorite veggies. You can even try the technique with leftover pulled pork.
Ingredients:
1 cup peeled and diced potato
¾ cup diced carrot

½ cup unsalted butter

⅔ cup diced onion

1¼ teaspoons salt
½ teaspoon pepper
¼ teaspoon dried thyme
¼ teaspoon poultry seasoning
½ cup all-purpose flour
1½ cups chicken broth
1 cup milk
3 cups shredded chicken
1 cup peas
2 refrigerated pie crusts
1 egg beaten with 1 tablespoon water
Directions: Preheat oven to 425 degrees Fahrenheit. Place potatoes and carrots in a small saucepan, and fill with water just to cover vegetables. Bring to a boil, and cook 5 to 8 minutes, or until vegetables are tender. Drain and set aside.
Melt butter in a large skillet over medium-high heat. Add onions, and cook 2 to 3 minutes, or until translucent. Season with salt, pepper, thyme, and poultry seasoning. Sprinkle flour evenly over top. Cook and stir to incorporate and cook out floury taste, about 1 minute.
Slowly whisk in chicken broth, then milk. Add potatoes and carrots, and let simmer just until thickened. Taste and adjust seasoning. Stir in chicken and peas. Remove from heat.
Line a pie plate with one crust. Add filling, then top with second pie crust. Trim overhang, and pinch top and bottom crust together to seal. Brush top with egg mixture, and cut 4 vents.
Place pie on a baking sheet, and bake 30 minutes, or until crust is golden brown. Remove from oven, let sit several minutes, slice, and serve.