Filling Italian Recipes That Won't Put a Dent in Your Diet
Italian dishes are often labeled as classic comfort food thanks to their generally high calorie, fat, and cheese contents, but the traditional dishes don't always have to put a dent in your diet. Simple substitutions can take your favorite meals from calorie bombs to perfectly healthy lunches or dinners, and these seven recipes we're rounding up today prove it. If you like Italian food but don't want to devastate your diet, check out these food formulas that show you how to swap white for whole-wheat, and high fat for low. You likely won't even be able to taste the difference, but your waistline will still show it.
1. Baked Chicken Parmesan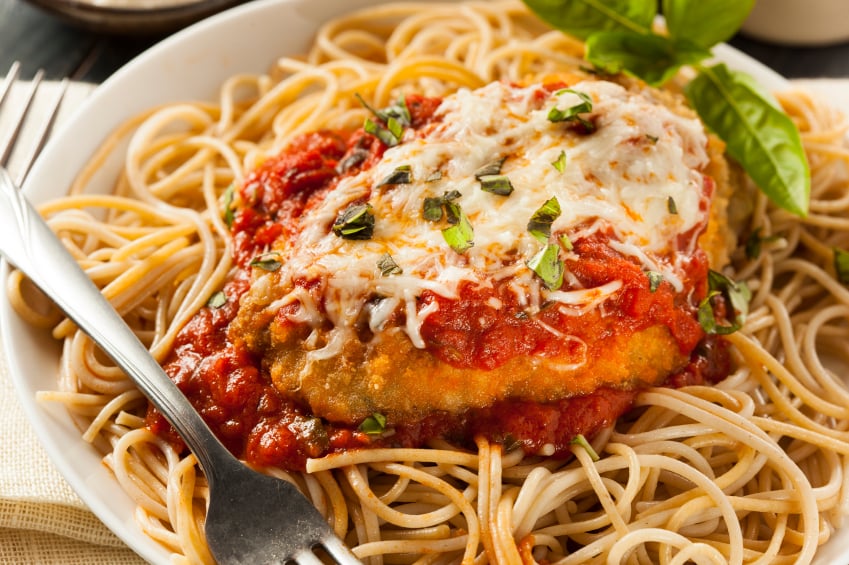 Chicken Parmesan is a classic Italian dish, and when you bake it Skinny Taste's way, it doesn't even have to be a calorie killer. Baking your chicken instead of frying it keeps this Chicken Parmesan light, and the recipe developer also opts for whole-wheat bread crumbs and reduced-fat mozzarella cheese. Serve your poultry over whole-wheat pasta or greens.
Ingredients:
4 chicken breasts, fat trimmed, sliced in half to make 8
¾ cup seasoned breadcrumbs
¼ cup grated Parmesan cheese
2 tablespoons butter, melted
¾ cup reduced fat mozzarella cheese
1 cup marinara
Cooking spray
Directions: Preheat oven to 450 degrees Fahrenheit. Grease a large baking sheet with nonstick cooking spray.
Combine breadcrumbs and parmesan cheese in a bowl. In a separate bowl, melt butter. Brush over chicken, then coat in breadcrumb mixture, pressing to adhere. Transfer chicken to prepared baking sheet and spray lightly with bit more cooking spray. Bake for 20 minutes, flip chicken, then bake for 5 minutes more.
Remove chicken from oven and top each with 1 tablespoon sauce and 1½ tablespoons mozzarella. Return to oven and bake for 5 minutes, or until cheese is melted and bubbling. Serve.
2. Fettuccine Alfredo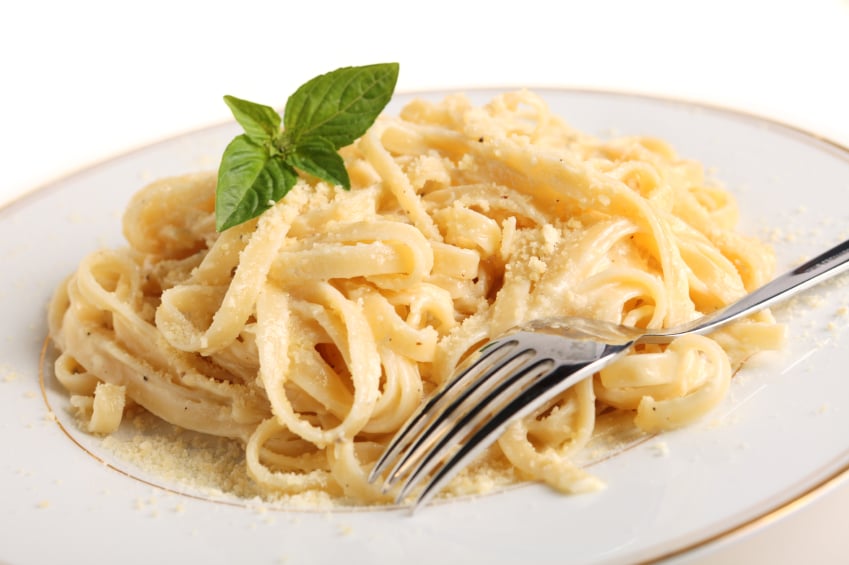 Good news: You can have your fettuccine and eat healthy, too. Follow this food formula from Eating Well and see what we mean. The lightened-up pasta dish is just what you need to feel good about your meals while also feeling like you're indulging.
Ingredients:
¾ cup vegetable broth, or reduced-sodium chicken broth
4 large cloves garlic, peeled
4 ounces whole-wheat fettuccine
1 small zucchini, cut into matchsticks
2 teaspoons cornstarch, mixed with 1 tablespoon water
2 tablespoons reduced-fat sour cream
Pinch of freshly grated nutmeg
⅛ teaspoon freshly ground pepper, or to taste
¾ cup freshly grated Parmesan cheese, divided
1 tablespoon chopped fresh parsley
Directions: Bring a large saucepan of water to a boil. Combine broth and garlic cloves in a small saucepan; bring to a boil over high heat. Cover, reduce heat to a simmer and cook until the garlic cloves are soft, about 15 minutes.
After the garlic has simmered about 10 minutes, cook fettuccine in the boiling water, stirring often, for 8 minutes. Drop in zucchini and cook until the fettuccine is just tender, about 1 minute more.
Meanwhile, transfer the garlic and broth to a blender. Process until the mixture is smooth, about 1 minute. Return the mixture to the pot and bring to a simmer over medium-high heat. Add cornstarch mixture; whisk it until slightly thickened, about 15 seconds. Remove from the heat and whisk in sour cream, nutmeg, and pepper. Return the pot to very low heat to keep the sauce warm.
Drain the pasta and place in a large bowl. Add the sauce and ½ cup Parmesan; toss to coat well. Sprinkle with parsley and serve immediately, passing the remaining ¼ cup Parmesan separately.
3. Tomato Mozzarella Pizza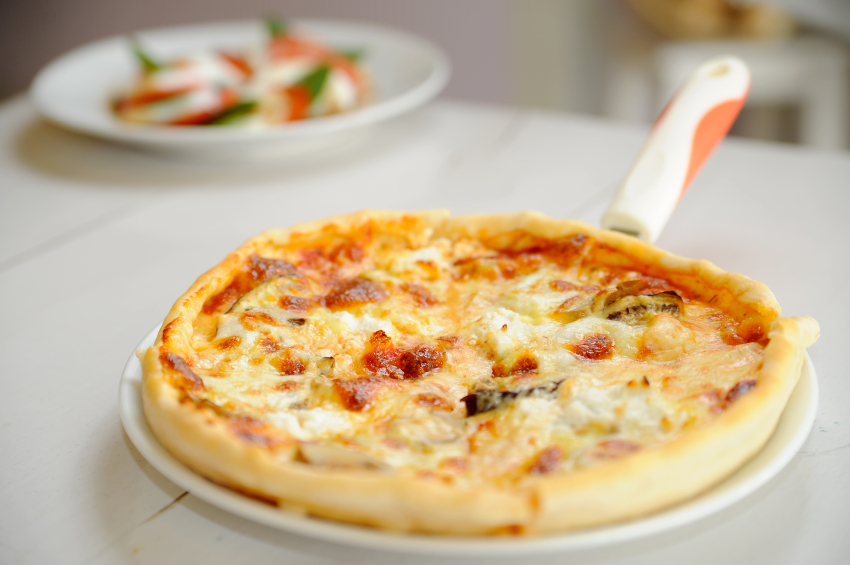 Pizza that's actually good for you? Dreams really do come true, and we have Cooking Light to thank for this one. Its lightened-up version of tomato mozzarella pizza enlists part-skim mozzarella, pancetta, plum tomatoes, and basil, and the pie can be made in 20 minutes or less, thanks to the beauty of refrigerated bread dough. Stay away from high-fat pizza delivery and instead make your own Italian at home.
Ingredients:
1 can refrigerated French bread dough
2 tablespoons yellow cornmeal
Cooking spray
1½ pounds plum tomatoes, thinly sliced
1 garlic clove, minced
1 cup shredded part-skim mozzarella cheese, divided
¼ teaspoon black pepper
2 ounces pancetta
¼ cup thinly sliced fresh basil
Directions: Preheat oven to 450 degrees Fahrenheit. Place dough on a baking sheet sprinkled with cornmeal; press dough into a 12-inch circle. Crimp edges of dough with fingers to form a rim. Lightly spray surface of dough with cooking spray. Bake at 450 degrees Fahrenheit for 8 minutes. Remove from oven.
Arrange tomato slices on paper towels. Cover with additional paper towels; let stand 5 minutes. Sprinkle garlic evenly over surface of dough; sprinkle ½ cup cheese evenly over dough. Arrange tomato slices on top of cheese; sprinkle with pepper. Top with remaining ½ cup cheese. Bake at 450 degrees Fahrenheit for 5 minutes.
Chop pancetta. Cook pancetta in a nonstick skillet over medium heat until crisp; drain. Sprinkle pancetta over pizza; bake an additional 1 minute or until crust is golden. Sprinkle basil over pizza; let stand 2 minutes. Cut into 6 wedges.
4. Skinny Shrimp Scampi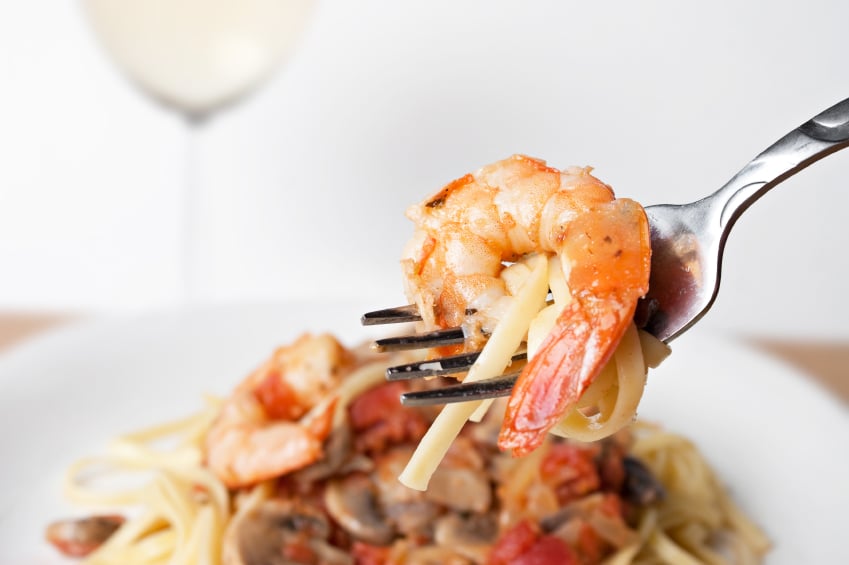 This next recipe from Gimme Some Oven yields a healthy twist on shrimp scampi that only takes 15 minutes to master. The recipe developer behind this skinny shrimp scampi promises that the dish is full of lemon-garlic flavor but is not full of the fat that usually accompanies scampi. If you go light on the butter and heavy on the lemon and garlic, you'll have a tasty dish that extenuates the fresh flavor of the fish and is low in fat and calories.
Ingredients:
12 ounces whole-wheat pasta noodles
1 tablespoons. butter
1 shallot, peeled and thinly sliced
4 cloves garlic, minced
1 pound raw shrimp, peeled with tails removed and patted dry
1 teaspoon crushed red pepper flakes
1 teaspoon salt
1 teaspoon black pepper
¼ cup chicken stock
3 tablespoons white wine
2 tablespoons fresh lemon juice
1 tablespoons lemon zest
Optional toppings
Chopped fresh parsley
Freshly-grated Parmesan cheese
Directions: In a large pot of boiling, salted water, cook pasta until al dente. Drain well.
Melt butter in a large skillet set over medium-high heat. Add shallot and garlic. Cook until fragrant, stirring, about 2 minutes. Add shrimp and season with salt, pepper, and red pepper flakes. Cook shrimp until just cooked through, about 3 to 4 minutes total.
Add chicken stock, wine, lemon juice and lemon zest. Stir to combine and let reduce for about 1 minute. Remove from heat and serve over pasta. Garnish with herbs and Parmesan, if desired.
5. Farro and Tomato Risotto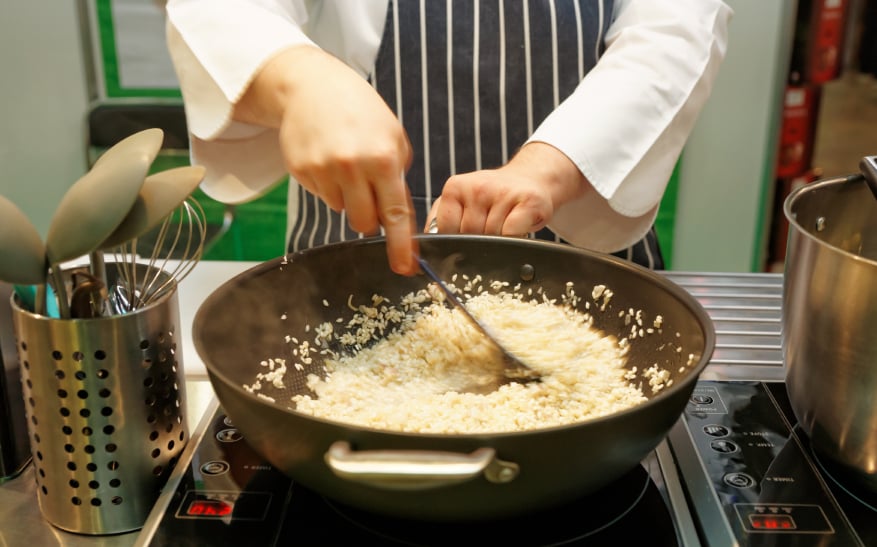 Here's another lightened-up classic from Food & Wine that still stars carbs and cheese. This is a sophisticated spin on a dish that is usually reserved for restaurants, and its key ingredients are fresh Parmesan, basil, tomatoes, and farro. This healthy vegetarian dinner is light on the oil and heavy on the flavor and will prove once again that nutritious can still be delicious.
Ingredients:
¼ cup extra-virgin olive oil

1 small onion, finely chopped

3 garlic cloves, minced

1½ cups farro

¼ cup dry white wine

1 quart of water

1 cup drained canned tomatoes, chopped

¼ cup freshly grated Parmigiano-Reggiano cheese

Salt and freshly ground pepper

2 tablespoons sliced basil leaves
Directions: In a large saucepan, heat 3 tablespoons of the oil. Add the onion and cook over moderately high heat until softened, about 2 minutes. Add the garlic and cook, stirring, until fragrant, about 1 minute. Add the farro and stir until coated with oil, about 1 minute. Add the white wine and simmer until almost evaporated, 2 minutes. Lower the heat to moderate. Add 1 cup of the water and cook, stirring, until absorbed. Repeat with the remaining water, adding 1 cup at a time and stirring constantly until the farro is just tender and suspended in a creamy sauce, 30 minutes total.
Stir the tomatoes into the risotto and bring to a boil over moderate heat. Off the heat, stir in the remaining 1 tablespoon of olive oil and the cheese. Season with salt and pepper. Spoon the risotto into bowls, garnish with the basil, and serve hot.
6. Healthier Meat Lasagna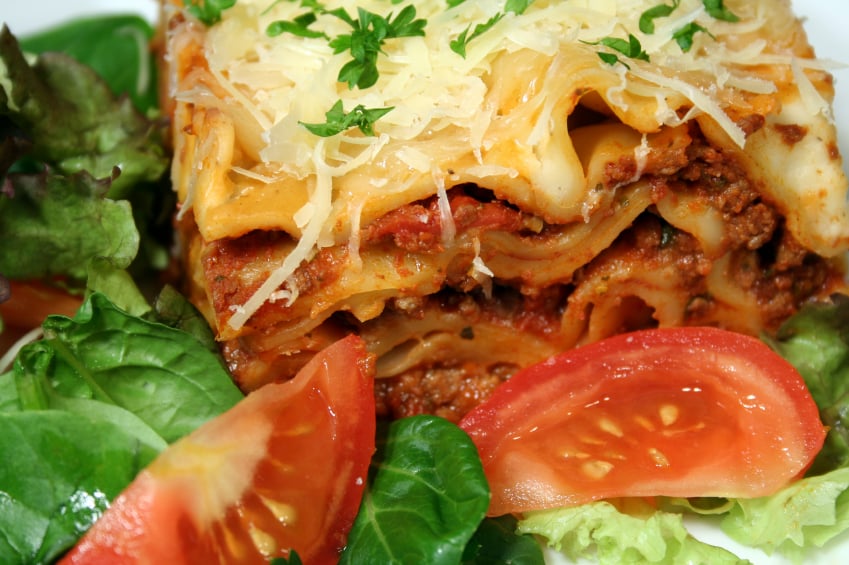 If lasagna is your Italian treat of choice, this recipe from Martha Stewart is for you. Martha's meat lasagna is full of three different types of cheese, but it's still healthier than other twists on the dish thanks to a few simple substitutions that swap in whole-wheat noodles and lean beef. This recipe serves 4 and takes a total of 80 minutes to make.
Ingredients:
6 whole-wheat lasagna noodles, broken in half

1 tablespoon olive oil

1 medium onion, chopped

1 small eggplant, peeled and cut into ½-inch pieces

2 garlic cloves, minced

Coarse salt and ground pepper

½ pound ground sirloin

1 can tomato puree

1 pint cottage cheese

¼ cup plus 2 tablespoons grated Parmesan

¾ cup shredded part-skim mozzarella
Directions: Preheat oven to 375 degrees Fahrenheit. Place noodles in an 8-by-8-inch baking dish, and cover with hot tap water; set aside to soften.
In a 5-quart Dutch oven or heavy pot, heat oil over medium-high heat. Add onion, eggplant, and garlic; season with salt and pepper. Cover and cook, stirring occasionally, until eggplant is very tender, 8 to 10 minutes. Add sirloin, and cook, breaking up meat with a spoon, until no longer pink, 3 to 5 minutes. Add tomato puree, and cook until thickened, 3 to 5 minutes. Season meat sauce with salt and pepper.
Meanwhile, in a medium bowl, combine cottage cheese and ½ cup Parmesan; season with salt and pepper. Remove noodles from baking dish, discarding water.
Spread about ¼ cup meat sauce in bottom of dish, and top with 4 noodle halves. Layer with ⅓ cheese mixture, then ⅓ sauce. Repeat twice with remaining noodles, cheese mixture, and sauce. Sprinkle with mozzarella and remaining 2 tablespoons Parmesan. Bake until lasagna is bubbling and cheese topping is golden, 30 to 35 minutes. Let stand 10 minutes before cutting and serving.
7. Skinny Spaghetti and Meatballs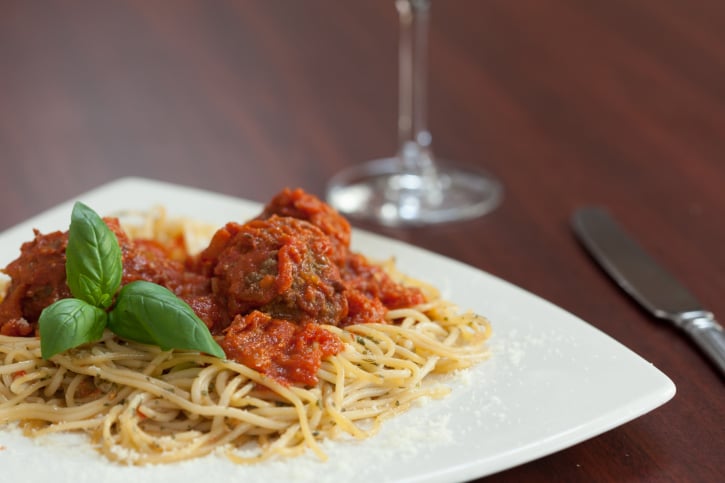 We can't conclude a list on Italian dishes without featuring a skinny spin on the classic spaghetti and meatballs. Have your comfort food and eat healthy, too, via this recipe from Every Day with Rachael Ray. To keep her dish waistline-friendly, Rachael enlists extra-lean ground beef, whole-wheat breadcrumbs, and whole-wheat pasta, making this one dinner you can feel good about eating. If you're going to dive headfirst into a plate of carbs, at least make sure they're whole wheat.
Ingredients:
3 (28-ounce) cans peeled Italian tomatoes, drained

3 tablespoons extra-virgin olive oil

6 cloves garlic, smashed

Salt and pepper

1 small onion, finely chopped

2 eggs, plus 2 egg whites

1 pound extra-lean ground beef

2 slices whole wheat bread, ground into breadcrumbs

½ cup finely grated parmesan cheese, plus more for serving

½ pound whole wheat spaghetti
Directions: In a large bowl, break up the tomatoes with your hands. In a large pot or dutch oven, heat 2 tablespoons olive oil over medium heat. Add the garlic and cook until golden, about 2 minutes. Add the tomatoes, partially cover and bring to a simmer. Lower the heat to medium-low and continue simmering until the tomatoes are tender, 1 hour, covering the pot for the last 15 minutes of cooking. Season with salt and pepper and remove from the heat.
Meanwhile, in a medium skillet, heat the remaining 1 tablespoon olive oil over medium-low heat. Add the onion, ¾ teaspoon salt, and ½ teaspoon pepper and cook, stirring occasionally, until soft and golden, about 10 minutes; let cool.
In a large bowl, whisk together the eggs and egg whites. Stir in the beef, breadcrumbs, ½ cup cheese, and the cooked onion.
Using a 2-inch ice cream scoop, form 16 meatballs, packing well and leveling off against the edge of the bowl; carefully release them into the pot of tomato sauce in a single layer. Cover the pot and simmer over medium-low heat, shaking the pot occasionally, until the meatballs are firm, about 20 minutes.
Meanwhile, in a large pot of boiling, salted water, cook the spaghetti until al dente, about 11 minutes; drain and return to the pot. Toss 2 cups of the sauce with the spaghetti. Divide the spaghetti among 4 shallow bowls. Top each portion with 4 meatballs and some more sauce; sprinkle with more cheese and season with pepper.