Flight Attendants Reveal Their Best-Kept Secret: How to Pack the Ultimate Carry-On
You've been eagerly awaiting your trip: You have your passport in hand and itinerary planned and you've booked the hotel. All that's left? Packing the dreaded suitcase. Whether you're heading out on a week-long getaway or a month-long trek, it feels far easier to throw your hands up in defeat and check a bag than to pack an efficient carry-on.
Until now, that is. Who better to consult than the experts on packing for a flight, the people who do it daily? These flight attendants for major airlines have revealed their tips and tricks for preparing the ultimate carry-on. Say goodbye to the bag carousel and hello to smooth sailing (or, well, flying).
Pay mind to your toiletries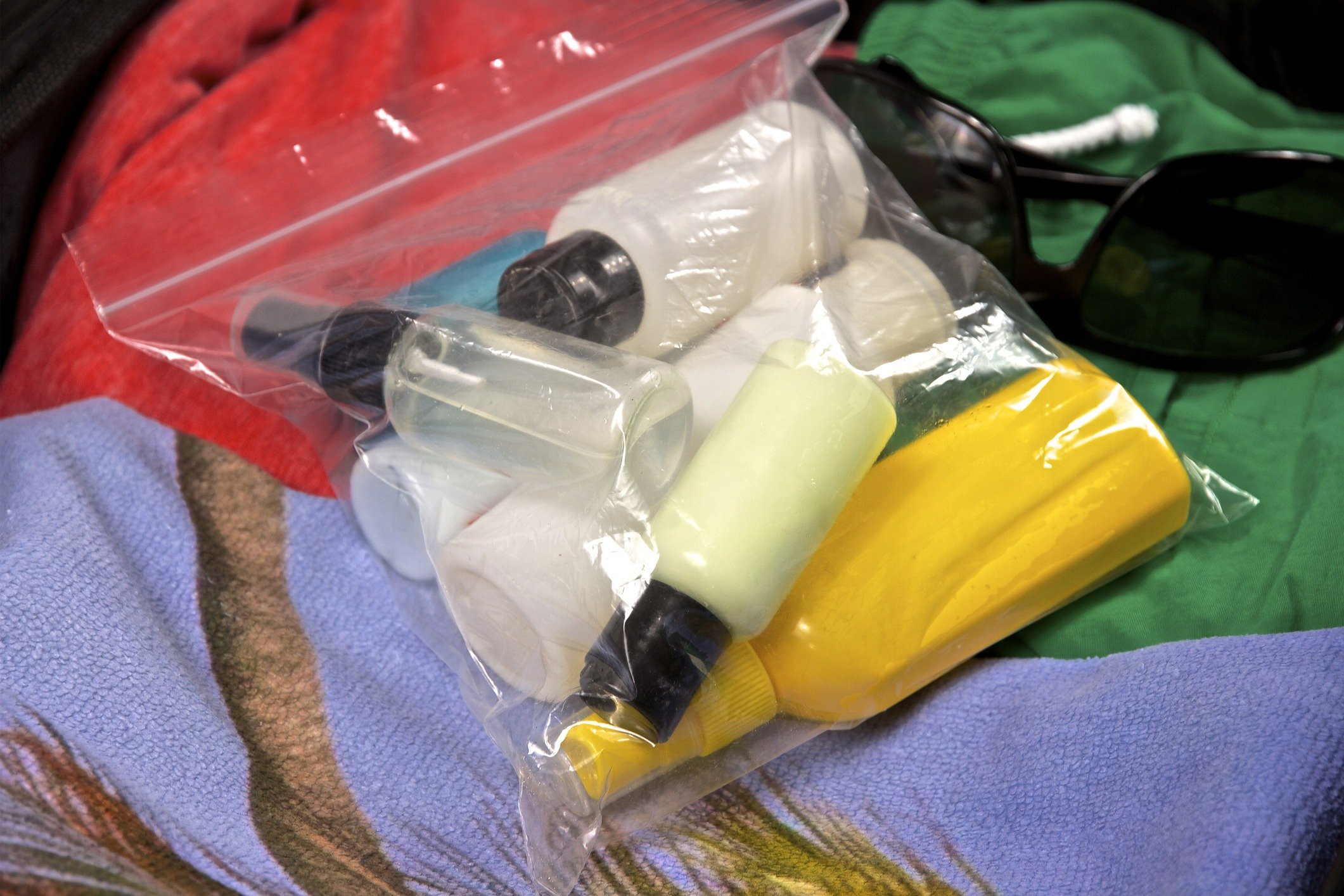 A flight attendant for an unnamed regional airline recommended playing "packing Tetris" and starting with some of the most bothersome things you own: Your toiletries.
"I keep toiletry bags on the left side of my suitcase (the bottom when it's standing up) but at the top so that I can take them out right when I get to the hotel. No matter how much you protect liquids, every once in a while the cabin pressure gets weird and the tops pop off. Packing this way ensures that nothing gets wet that I don't want to get wet. Heavy things also go on the left to keep my bag from getting top-heavy."
Next: It's not just what you pack, but you put it in.
The type of suitcase makes all the difference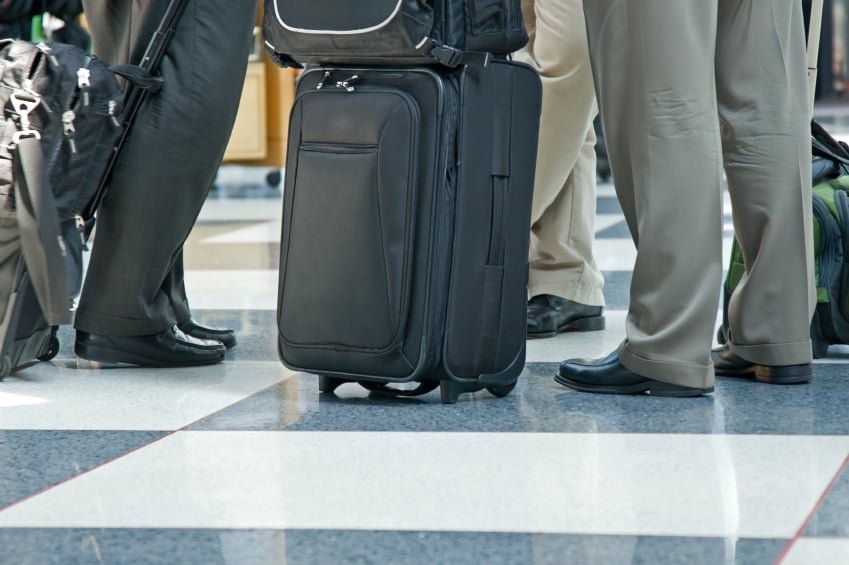 It defeats the purpose of 'traveling light' if the suitcase itself bogs you down. Picking a light, rolling suitcase is the best way to go. Two FA-approved travel bags are Briggs and Riley brand 21-inch suitcases. While expensive, they have lifetime warranties and are well worth it for the frequent flier.
"Flight attendants hate to see folding garment bags — they don't fit in overhead compartments and closet space is very limited. So if you aren't flying first class and you are carrying one of these, expect it to get checked into baggage and for your suits to be delivered wrinkled."
Next: The one item you should pack, no matter what.
Always bring a swimsuit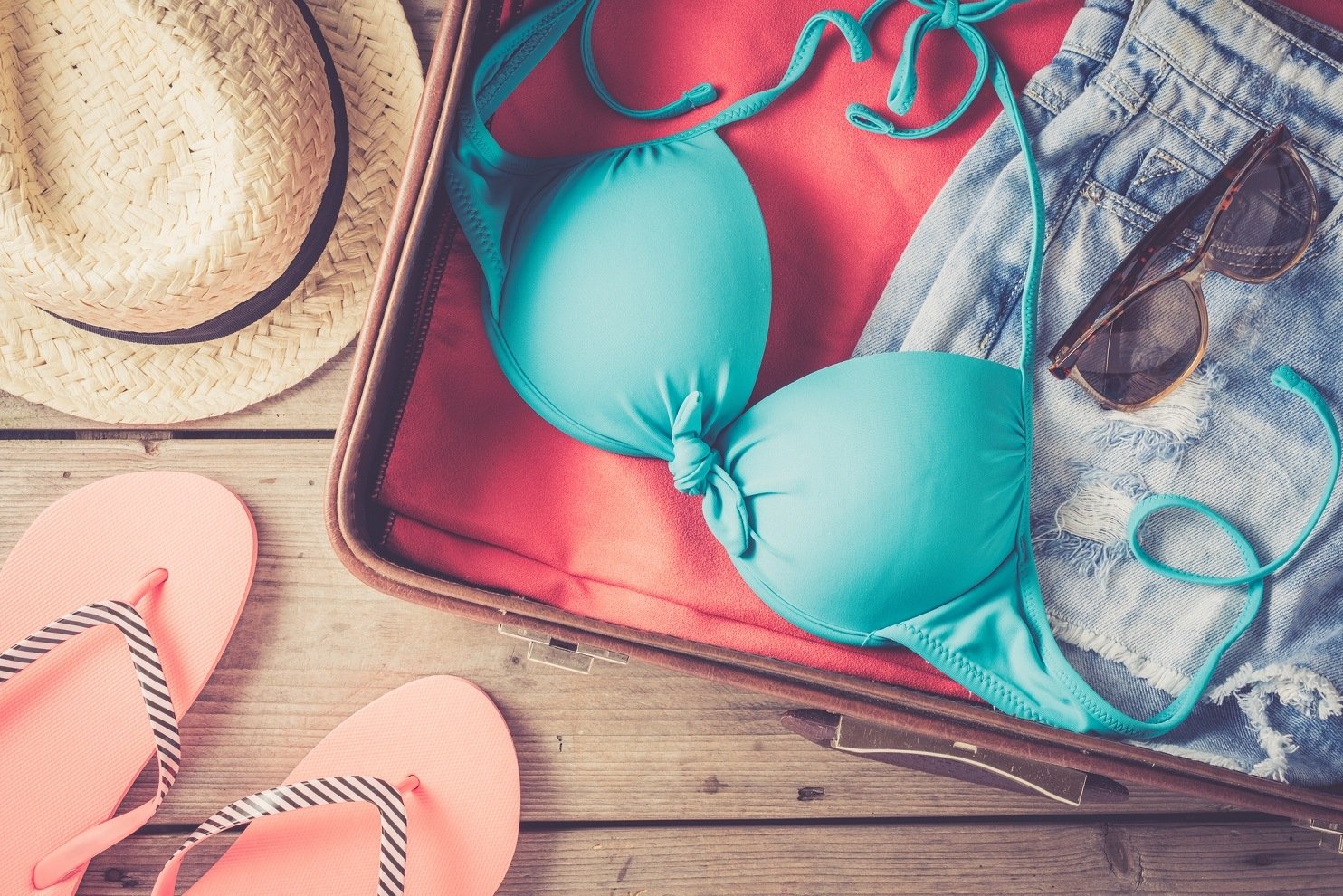 Whether you're heading on a ski trip or your first Euro-adventure, you never know what amenities the hostel, hotel, or city you're in may have. A swimsuit is small, fits in with your undergarments, and is a pain to try and find at the last minute.
"Also, always bring flip flops … and a large pashmina-type scarf (drape over your shoulders if it is chilly, or use it as a blanket or rolled-up pillow on the plane)."
Next: Simplicity is key.
Embrace the basics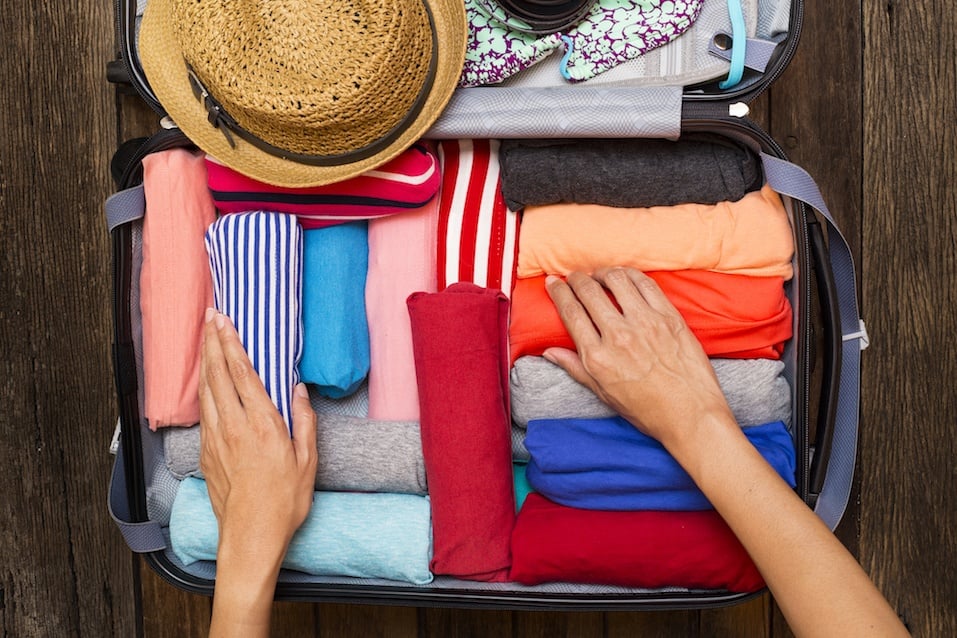 There's nothing wrong with being basic when it saves space. Packing a different outfit for each day or event isn't just impractical — it'll cost you. "We always think we can do more," a JetBlue flight attendant said, "In general, I stick to all basic colors and clothing items I know that I can re-wear without showing their reuse."
Next: An ID is key.
ID your bag (and all of your things, for that matter)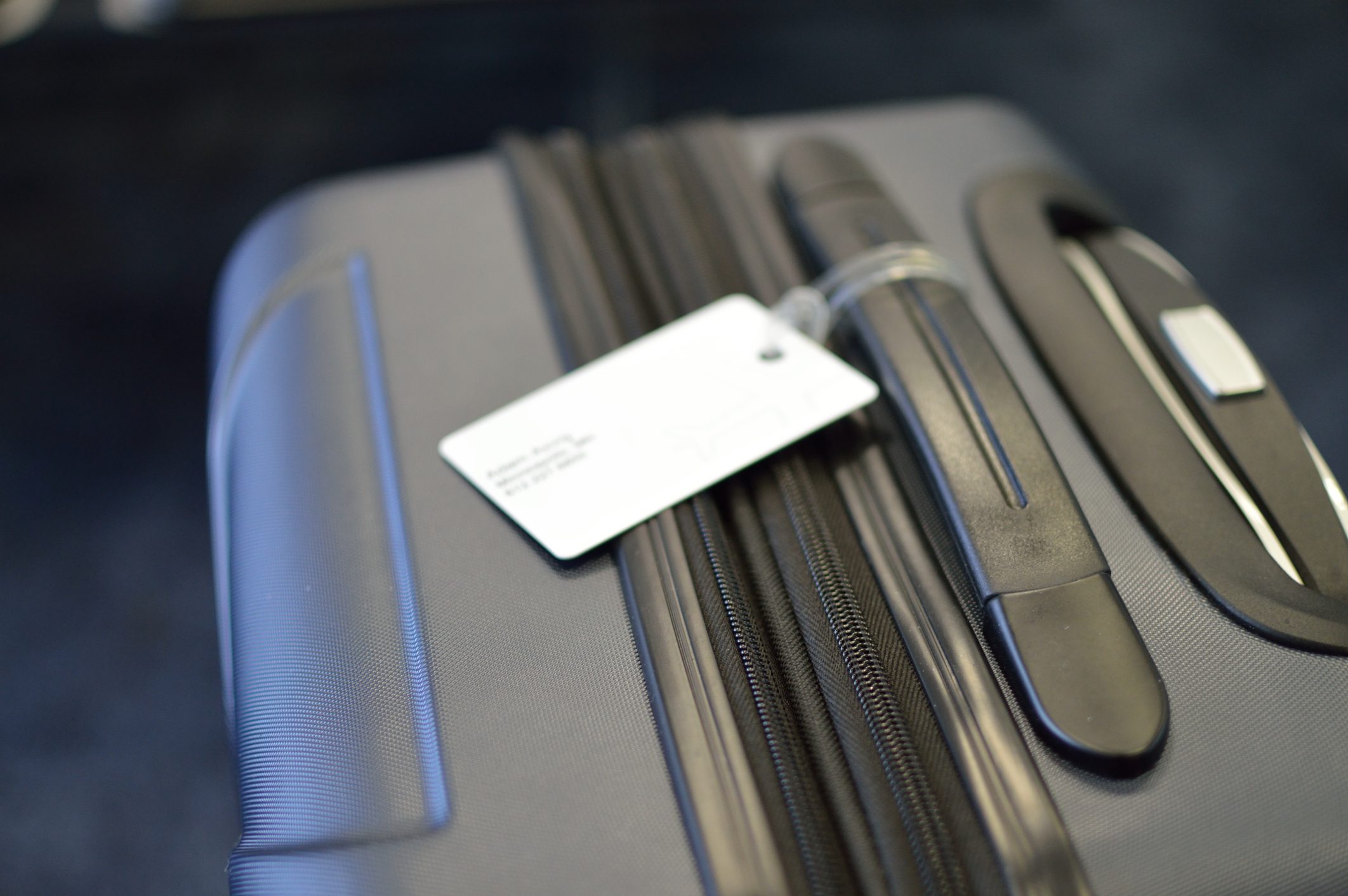 Just because you don't plan to let your bag out of your sight doesn't mean it won't get lost. Put an ID tag on for good measure, or better yet, create your own unique way to spot your bag quickly. "So many bags look alike, especially black ones, so I use a seasonal ribbon system," the regional flight attendant said, "And, sure, you can buy really neat luggage tags, but everyone has them!"
On certain small planes, you have to leave larger carry-on bags with A La Carte. While it doesn't happen often, distinguish your bag from the rest to lower the risk someone walks off with your suitcase.
Next: Smartphones are a smart move.
Pack electronics smartly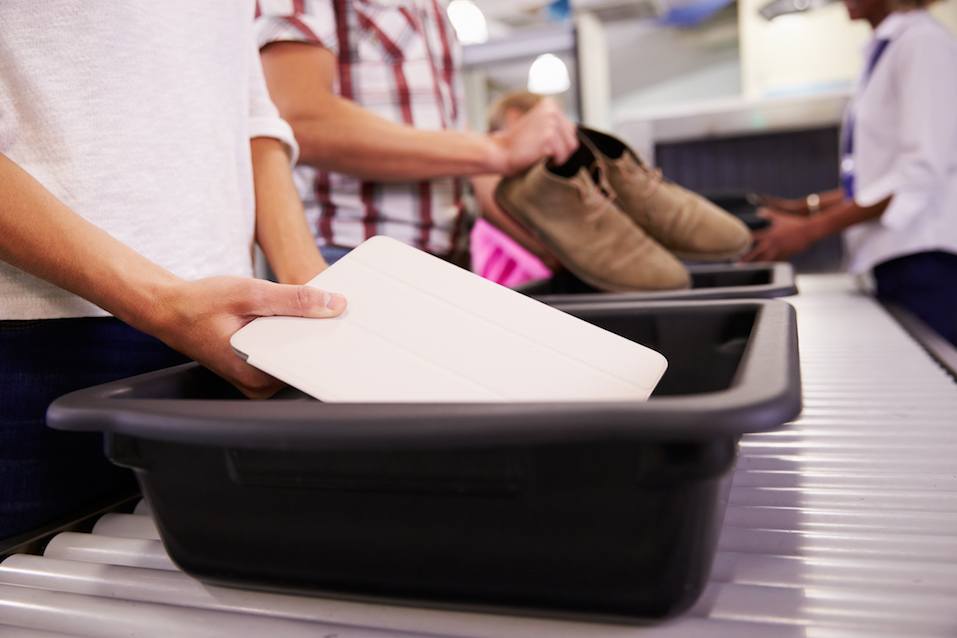 We often think of our laptops, tablets, nooks, and kindles as "necessities" for the flight or trip, but that's often not the case. The beauty of a smartphone is that they take incredible pictures and can double as your camera. Unless you need to work while away, leave the laptop at home and just bring your tablet. Better yet, leave the electronics at home and just go experience the trip.
"If I am traveling for fun and not work, I just bring my phone, which also doubles as my reading device and my camera. Also, definitely get the plug extender with USB charge port so you only need cords and aren't lugging around extra plugs," a flight attendant told Condé Nast Traveler.
Next: This trick will help you maximize your space.
Layer up!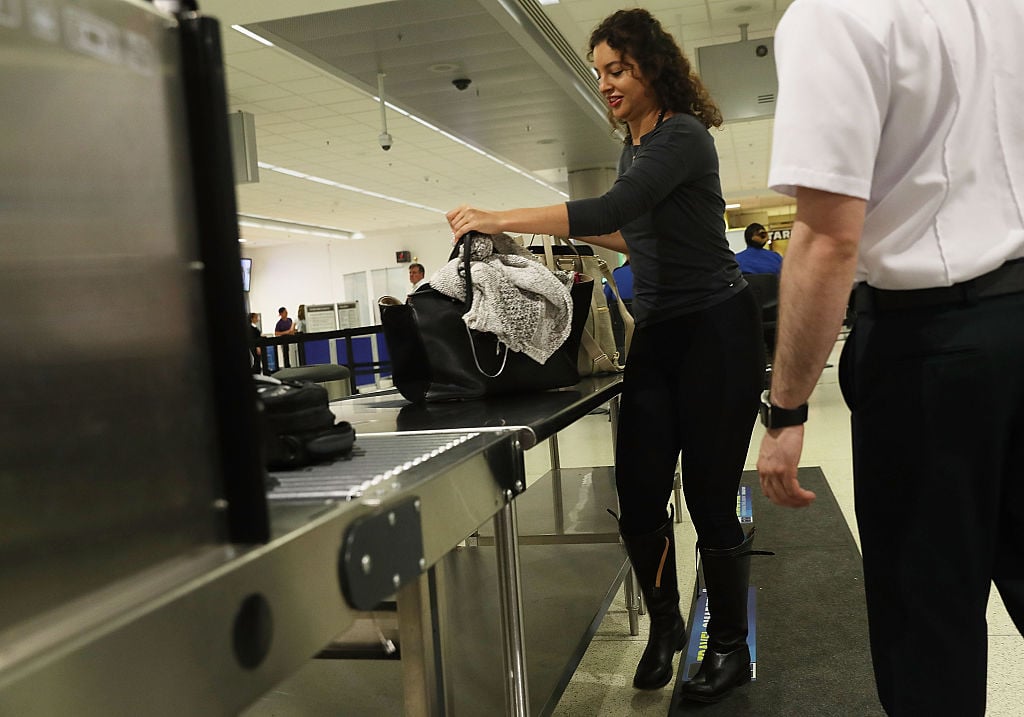 If it won't fit in your bag and you can't make the trip without it, then wear it. "If all else fails, layer up. Wear your clunkiest, heaviest shoes, which take up a lot of suitcase space, and then pile on the layers," a flight attendant told Thrillist.
Planes generally fall on the colder-size, so the layers will serve a dual purpose. Plus, your extra coats can double as a blanket or pillow during take-off.
Next: The loop-hole to the "one personal item" rule.
Work around the "one carry-on, one personal item" rule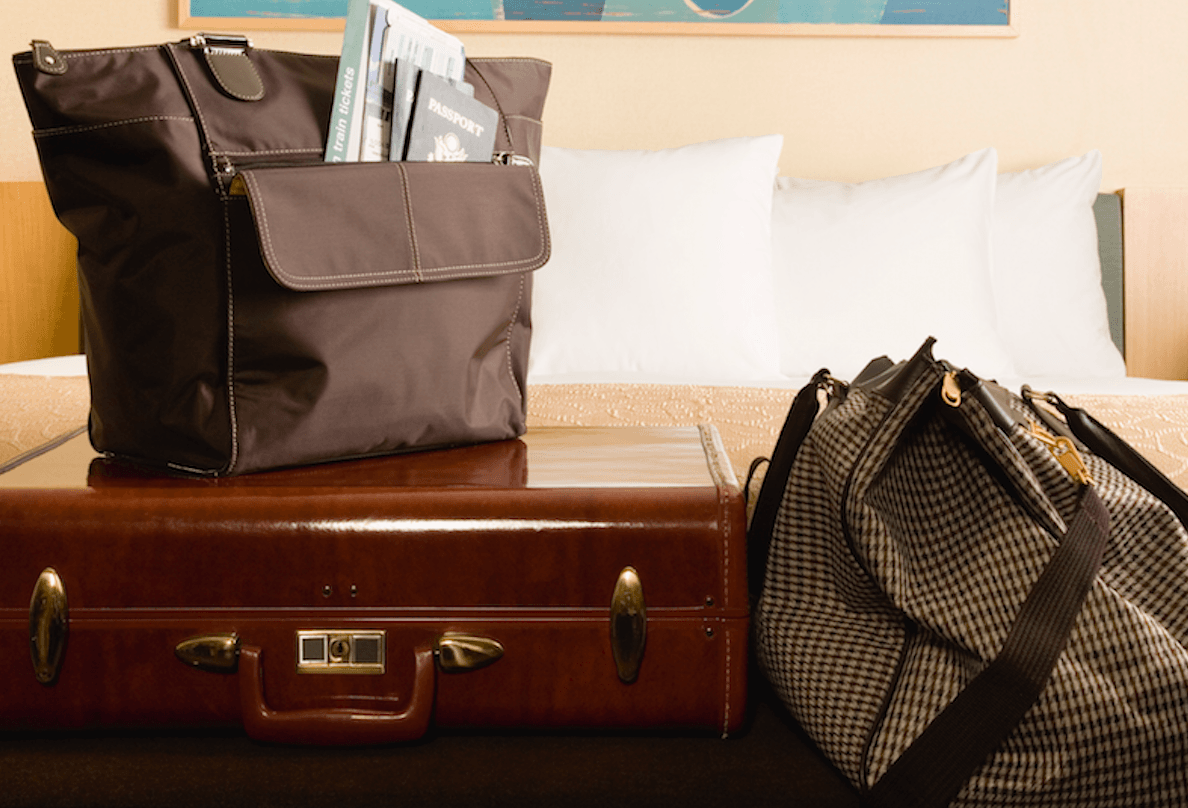 TSA maybe have a bag requirement, but there are ways around it: For example, use your big bags to hide your smaller ones. "Bring your roller bag, a tote, and a purse (hiding the purse in the tote). I always do this, and it's a great way to bring everything on that you need," a flight attendant told Condé Nast.
You'll likely want a day bag as well as a small clutch or waist bag for your trip, so be sure to include those (laid flat, of course) in your carry-on.
Next: The easy fix for your toiletries.

Utilize travel-sized items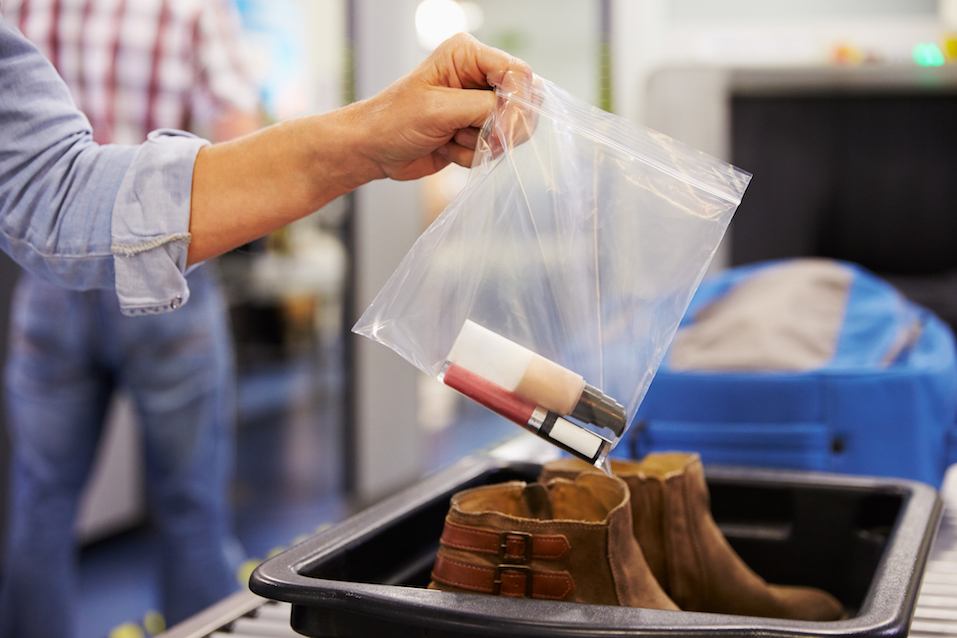 Hit your local drug store and pick up your favorite products in travel-sized options or invest in reusable travel bottles. It may seem like an extraneous detail, but nothing is worse than realizing you're splitting tiny two-in-one hotel shampoo and conditioner with three others.
"I recently converted to Bocco Squeezable Travel Bottles," a flight attendant told Afar, "I've tried everything and these are the best … you can fill them quickly and easily … They also have a twist label on top so that you can ID what's inside — and change it if you fill it with something else later."
Next: Let's play packing Tetris.
Pack in cubes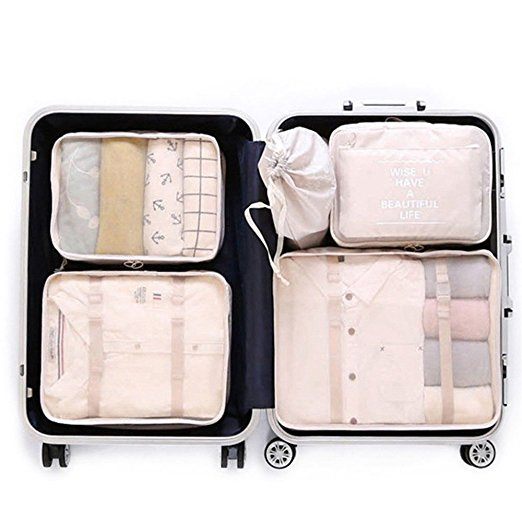 A Virgina America flight attendant utilizes packing cubes, or zippered compartments meant to keep your possessions compact and organized. They stack in your suitcase "like puzzle pieces," and fit well with the aforementioned "packing Tetris" method we recommended.
Another flight attendant, this time from JetBlue, recommends compression bags. They suck the extra air out, leaving your clothing tight and compact, and give you plenty more room for all those extra outfits you secretly think you "need."
Next: How to efficiently store your bulkiest items.
Consider the shoes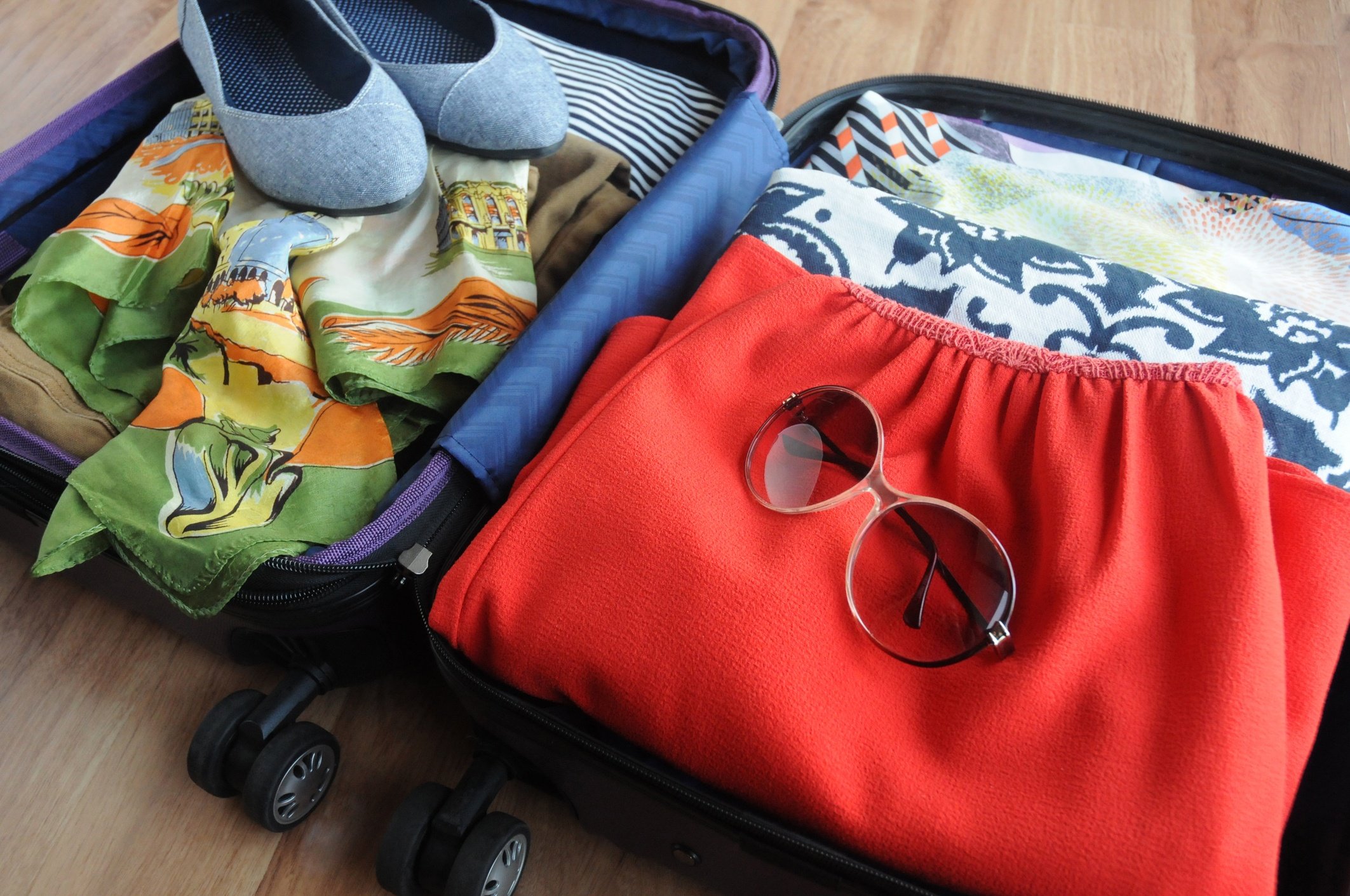 They're arguably one of the most important (and most difficult) items you'll need on your trip. An American Airlines flight attendant recommended packing around your shoes and starting with them first. "Limit the amount of shoes you bring," they recommended, "These take up the most space in your suitcase."
A good rule of thumb: Bring a pair of flip-flops or flats, depending on the weather, a pair of dress shoes, and wear your clunkiest boots or walking shoes on the flight.
Next: It's pretty unheard of, but it's effective …
In fact, some people only pack one pair…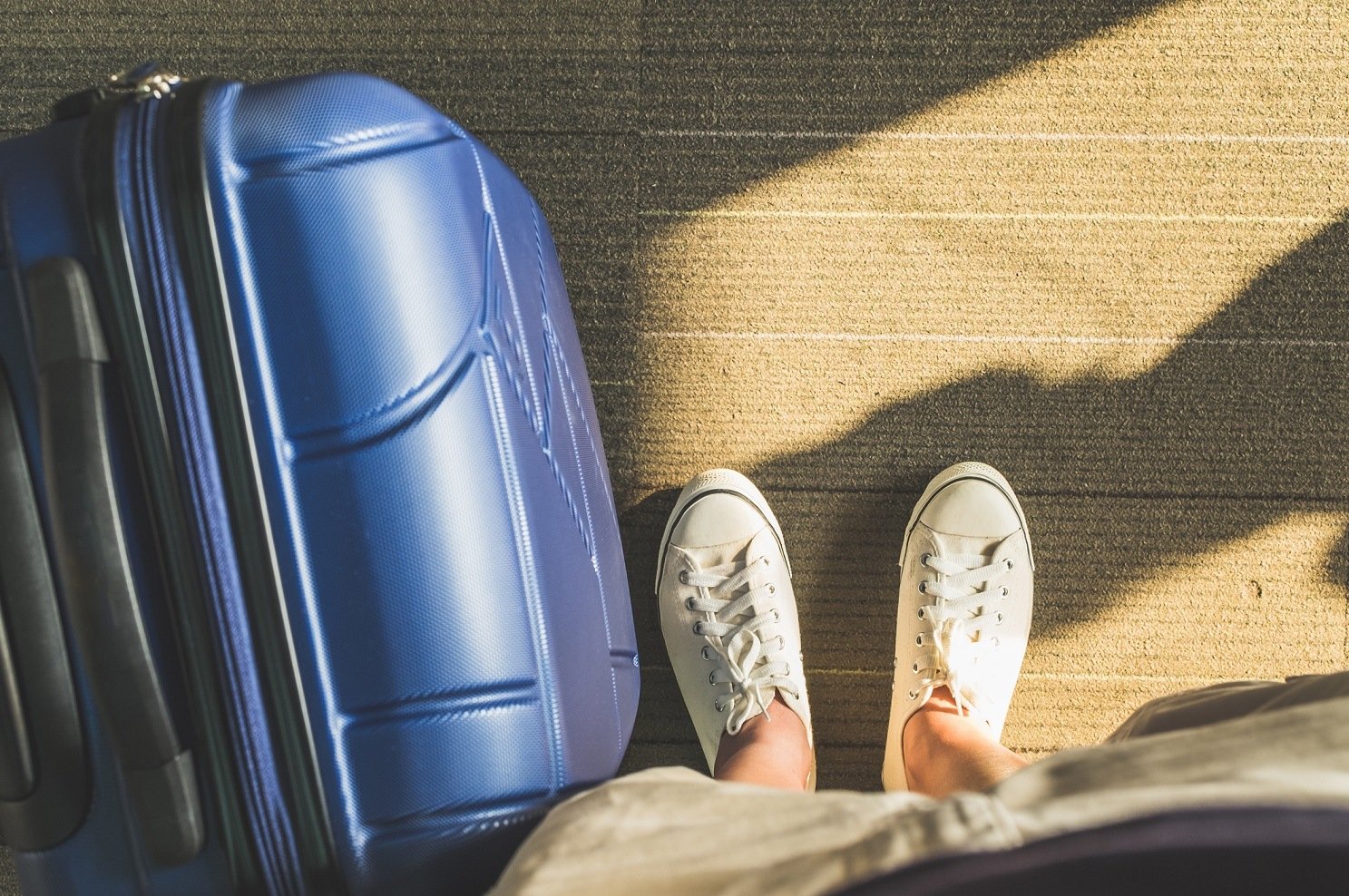 Sometimes you need to brace for the unthinkable. A few flight attendants told HuffPost which shoes they opt for if they're only bringing one pair: something stylish, comfortable, and versatile.
"A pair of Adidas typically goes with everything," Kelsie Franklin, a Delta flight attendant said, while Ebony Christina of Fly Girl's Guide chose, "… a pair of white low-top Converse."
Next: Don't forget the fuel.
Snack right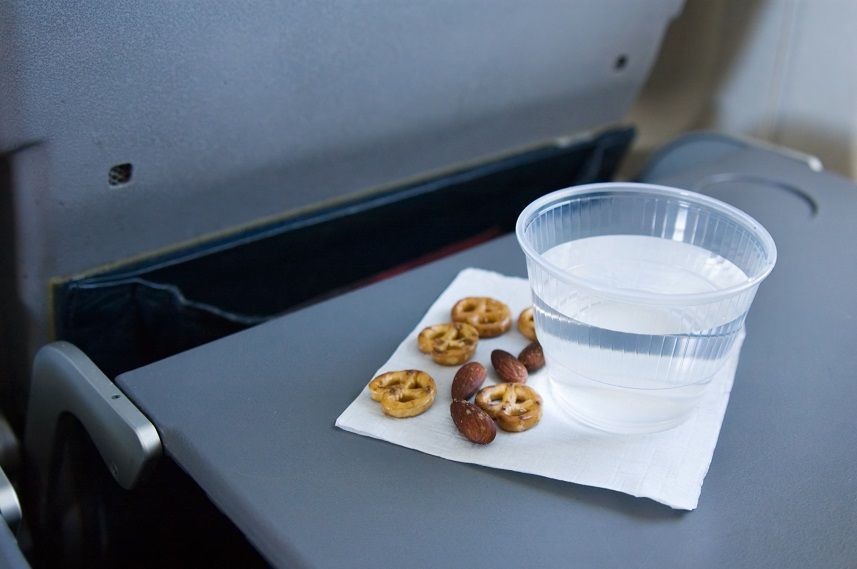 While you'll have to get your drinks in the airport or on the plane, it's easy to bring quick and convenient snacks in a carry-on to avoid airport prices (or if you're just sick of those airplane pretzels). Flight attendants recommend choosing items that will keep well for a few hours, like cut up veggies, fruit, or cheese.
Katie Taylor, a Delta flight attendant, said she packs "crackers, veggies, granola bars, trail mix, and cheese for snacks during the day."
Next: Time for the trip back.
Remember to repack efficiently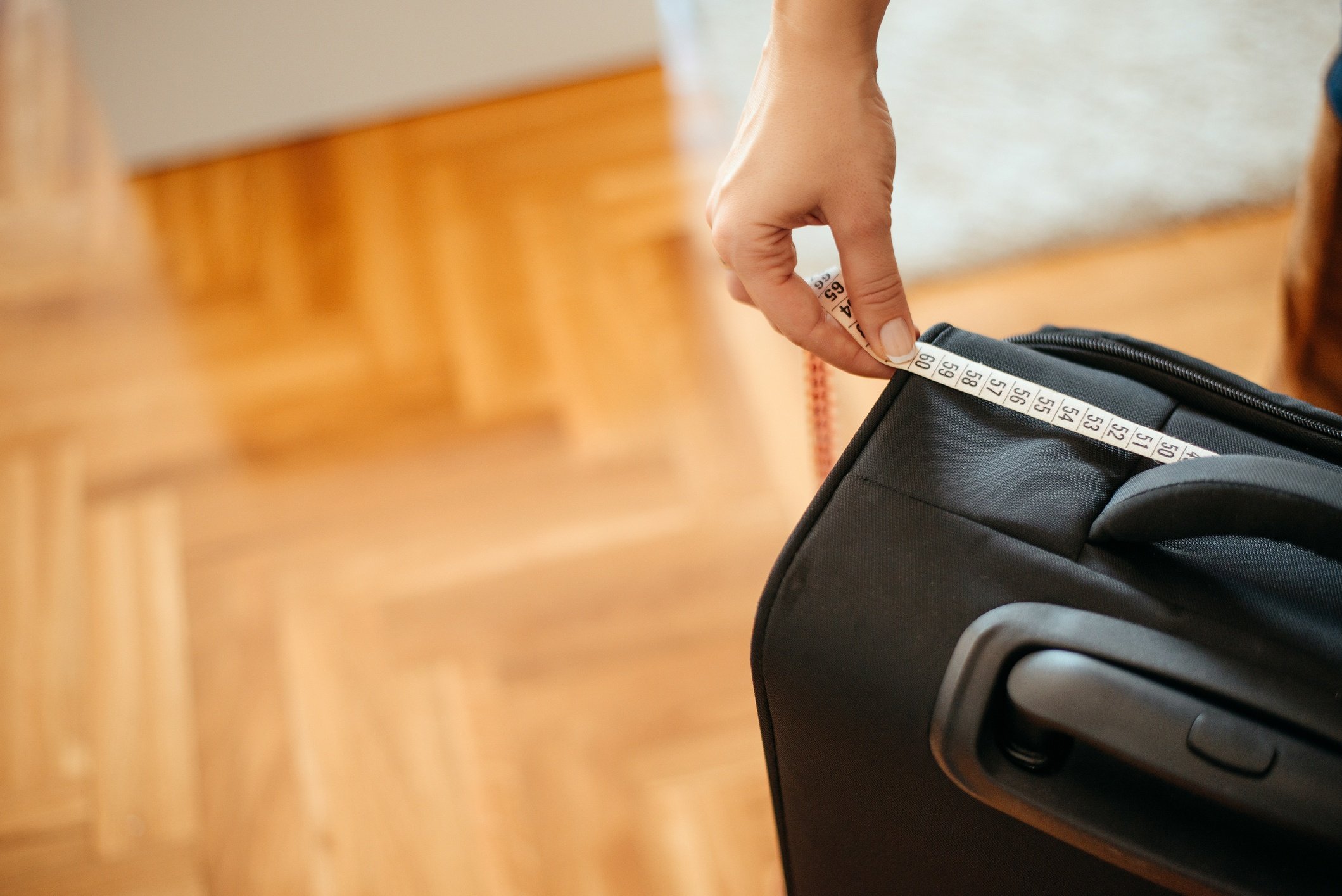 We know we aren't the only ones who are guilty of packing up at the end of the trip in a hurry (and a mess). Establish a packing routine to stick to so that you can fit everything on the way back as well.
"When I get to my hotel room — it doesn't matter if it's midnight or two in the afternoon — I follow this process … I take out my toiletry bags and my phone chargers … and anything I'll need for the next day. I try to handle things only once and try to be efficient because even if I do have extra time, I don't want to spend it in confusion — if I stay orderly, I can spend my free time on what I want to spend it on," a regional flight attendant told her daughter.
Next: One final word of advice.
Always remember to leave a little room…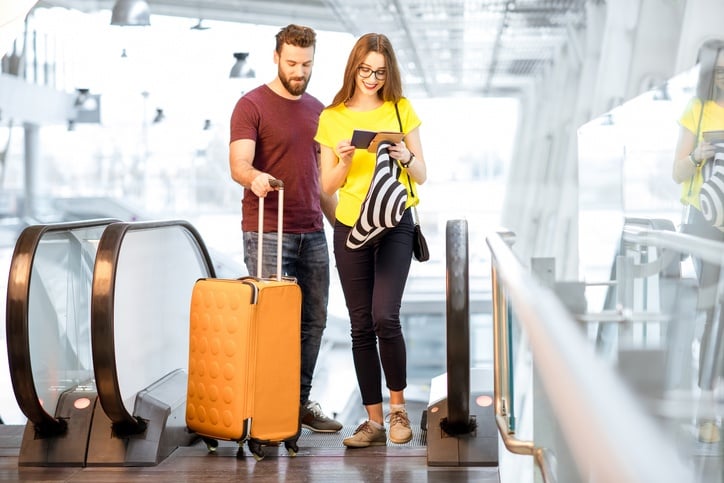 For the souvenirs! Nothing is worse than having to cram your new token of your trip among your dirty clothes. And nobody likes a gift that's been broken after being shoved into your suitcase helter-skelter (we've been burned before). Leave a space or bring an empty container in your carry-on dedicated to the trinkets you'll buy to commemorate your trip — you'll be glad you did!
Follow The Cheat Sheet on Facebook!