7 Satisfying Vegetarian Recipes for Your Thanksgiving Spread
When it comes to Thanksgiving season, turkey tends to be a show stealer — but it's high time this holiday's delectable meatless options got some credit of their own. These savory entrées and satisfying side dishes incorporate versatile proteins such as beans and lentils, as well as an array of vegetables, fruits, cheeses, and other savory flavors for a tantalizing and indulgent holiday dinner.
Omnivores and vegetarians alike will delight in these 7 wonderful Thanksgiving dishes.
1. Baked Polenta with Wild Mushrooms
Food and Wine's recipe combines thick, savory polenta with soft fontina and Parmesan cheeses. These ingredients are accented with the addition of lightly seasoned mushrooms for a perfectly comforting holiday entrée. This simple, steamy, and sensational dish will warm you and your guests from your heads to your toes. Recipe yields 4 servings.
Ingredients:
4½ cups water
1½ teaspoons salt
1½ cups coarse or medium cornmeal
3 tablespoons olive oil
¾ teaspoon dried sage
7 tablespoons grated Parmesan
2 tablespoons butter
1½ pounds mushrooms, sliced thin
¼ teaspoon fresh-ground black pepper
1½ cups fontina
Directions: Heat the oven to 350 degrees Fahrenheit. In a medium saucepan, bring the water and 1 teaspoon of the salt to a boil. Add the cornmeal in a slow stream, whisking. Whisk in 1 tablespoon of the oil and ¼ teaspoon of the sage. Reduce the heat and simmer, stirring frequently with a wooden spoon, until very thick, about 20 minutes. Stir in 3 tablespoons of the Parmesan.
Meanwhile, butter a 9-by-13 baking dish. In a large frying pan, melt 1 tablespoon of the butter with 1 tablespoon of the oil over moderately high heat. Add half the mushrooms, ¼ teaspoon each of the salt and sage, and ⅛ teaspoon of the pepper. Cook, stirring frequently, until the mushrooms are golden, about 5 minutes. Remove. Repeat with the remaining mushrooms, 1 tablespoon each butter and oil, ¼ teaspoon each salt and sage, and ⅛ teaspoon pepper.
Pour half the polenta into the baking dish and spread in an even layer. Top with half the mushrooms, followed by half of the fontina and 2 tablespoons of the Parmesan. Repeat with the remaining polenta, mushrooms, fontina, and Parmesan. Bake until the cheese is bubbling, about 15 minutes.
2. Glazed Lentil Walnut Apple Loaf
Hearty lentils are at the heart of this delightful entrée from Oh She Glows. The vegan-friendly dish is supplemented with the diverse textures and tastes of ingredients such as onion, celery, carrot, and apple. These fruits and vegetables offer a complex twist on a traditional loaf-style dish, also lending a healthy component to your Thanksgiving dinner spread. The loaf is topped off with a tangy and lightly-sweetened ketchup glaze. Recipe yields 1 large loaf or 4 miniature loaves — all in all, about 8 servings.
Ingredients:
1 cup uncooked green lentils
1 cup walnuts, finely chopped and toasted
3 tablespoons ground flax + ½ cup water
3 garlic cloves, minced
1½ cups diced sweet onion
1 cup diced celery
1 cup grated carrot
⅓ cup peeled and grated sweet apple
⅓ cup raisins
½ cup oat flour
¾ cup breadcrumbs
2 teaspoons fresh thyme (or ¾ teaspoon dried thyme)
Salt and pepper, to taste
Red pepper flakes, to taste
Balsamic Apple Glaze:
¼ cup ketchup
1 tablespoon pure maple syrup
2 tablespoons apple butter
2 tablespoons balsamic vinegar
Directions: Preheat oven to 325 degrees Fahrenheit. Rinse and strain lentils. Place lentils into pot along with 3 cups of water or vegetable broth. Bring to a boil and season with salt. Reduce heat to medium/low and simmer, uncovered, for at least 40 to 45 minutes. Stir frequently & add touch of water if needed. Mash lentils slightly with a spoon when ready.
Toast walnuts at 325 degrees Fahrenheit for about 8 to 10 minutes. Set aside. Increase oven temp to 350 degrees Fahrenheit.
Whisk ground flax with water in a small bowl and set aside. Heat a teaspoon of olive oil in a skillet over medium heat. Sauté the garlic and onion for about 5 minutes. Season with salt. Add in the diced celery, shredded carrot and apple, and raisins. Sauté for about 5 minutes more. Remove from heat.
In a large mixing bowl, mix all ingredients together. Adjust seasonings to taste.
Grease a loaf pan and line with parchment paper. Press mixture firmly into pan. Whisk glaze ingredients and then spread half on top of loaf. Reserve the rest for a dipping sauce.
Bake at 350 degrees Fahrenheit for 40 to 50 minutes, uncovered. Edges will be lightly brown. Cool in pan for at least 10 minutes before transferring to a cooling rack.
3. Butternut Squash, Sage, and Goat Cheese Lasagna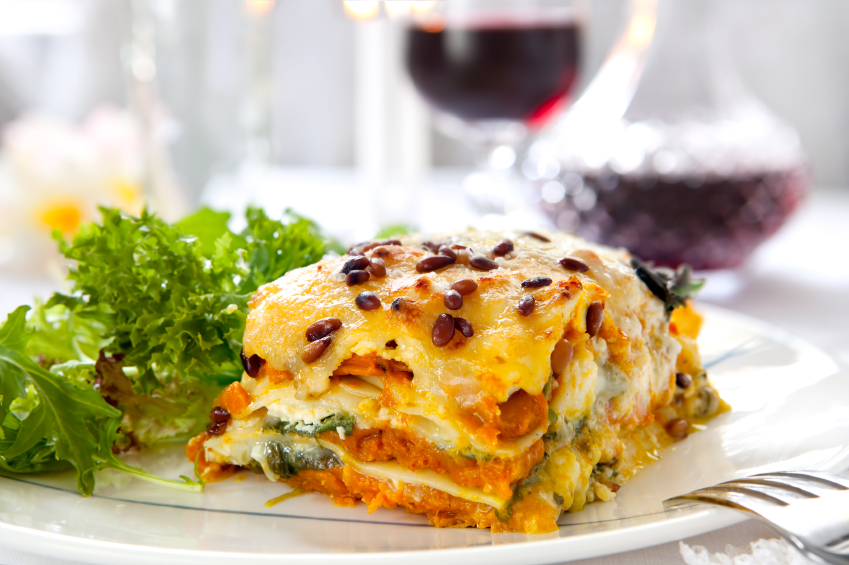 Sweet butternut squash and tantalizingly gooey cheeses are draped over soft lasagna noodles in Yes to Yolks's autumnal dish, serving up just the kind of warmth your guests will be craving during the holidays. The pasta bake's creamy squash purée mixes in with goat cheese and ricotta for a mouthwateringly indulgent addition to the Thanksgiving spread. Recipe yields 6-8 servings.
Ingredients:
For the butternut squash purée:
1 large onion, peeled and diced
4 garlic cloves, peeled and left whole
1 medium butternut squash, peeled, seeded, and cubed
1 tablespoon olive oil
Pinch of crushed red pepper flakes (or to taste)
Salt and pepper, to taste
For the cheese layers:
8 ounces crumbled goat cheese
1 (15-ounce) container ricotta cheese
1 (10-ounce) package of frozen spinach, defrosted, and squeezed dry
½ cup Pecorino Romano cheese, freshly grated
½ cup Parmesan cheese, freshly grated
Fresh sage, chopped
For assembly:
Marinara sauce, homemade or storebought
No-boil lasagna noodles
4 cups low-moisture mozzarella cheese, freshly grated
1 cup Parmesan cheese, freshly grated
Sage leaves
Directions: Preheat oven to 450 degrees Fahrenheit. In large bowl, toss onions, garlic cloves, and squash with oil, red pepper flakes, salt, and pepper. Spread out in an even layer on a baking sheet and roast for 20-30 minutes or until the squash is tender and onions are browned, stirring halfway through. Allow the vegetables to cool slightly and then puree the mixture in a food processor until smooth. Reduce oven temperature to 375 degrees Fahrenheit.
Meanwhile, mix together the goat cheese, ricotta cheese, defrosted spinach, Parmesan cheese, and Pecorino cheese. Grate in a little nutmeg and season to taste with salt and pepper.
Butter a 9-by-13-inch baking dish and pour a thin layer of marinara sauce on the bottom. Top with a layer of the noodles, followed by the squash puree, then the cheese mixture, and then more marinara sauce. Top the sauce with mozzarella and more parmesan. Top the cheeses with the noodles and repeat the layers 2-3 more times. Make sure to reserve some grated cheeses for the top of the lasagna.
Cover the baking dish with aluminum foil, place on a baking sheet, and bake for 30 minutes. Uncover and bake for 15 minutes longer or until cheese is golden brown and bubbly. Let stand 10 minutes for easier serving.
4. Moroccan Sweet Potato Shepherd's Pie
In a dramatic departure from the Thanksgiving entrées you're used to, this shepherd's pie draws from traditional English fare — along with an exotic Moroccan spice blend of cumin, cinnamon, chili powder, and ginger. Chickpeas offer the dish a hearty and nutrient-rich base (omnivorous eaters have the option to add beef or lamb). Our Four Forks's recipe takes 1 hour and 10 minutes to make and yields 4-6 servings.
Ingredients:
For the filling:
3 cups cooked chickpeas
1 tablespoon olive oil
1 white onion, chopped
1 red onion, chopped
2 cloves garlic, chopped
1 tablespoon grated fresh ginger root
1 teaspoon salt
1 teaspoon cumin
1 teaspoon cinnamon
1 teaspoon chili powder
1 teaspoon honey (optional)
2 cups chopped plum tomatoes
½ cup vegetable stock, plus salt to taste
½ cup currants or raisins
½ bunch cilantro, stems removed, chopped
For the mash:
1 pound sweet potatoes, peeled and cut into chucks
1 tablespoon olive oil
1 teaspoon cumin
1 teaspoon garlic powder
1 teaspoon salt
2 tablespoons non-dairy milk
Directions: For the filling: Add olive oil to a large skillet along with the onions, garlic, ginger, spices and salt and cook for 8-10 minutes until the onion is softened.
Add honey, tomatoes, and stock to pan. Bring to a boil and simmer until the sauce is thickened, about 10 minutes more. Add chickpeas, currants, and chopped cilantro, stir and remove from heat. Season with salt and pepper to taste.
For the mash: Boil the potatoes in salted water for 15 minutes or until tender. Drain well and add the olive oil, cumin, garlic powder, salt and milk. With a hand blender (or potato masher), blend until they reach a creamy consistency.
To assemble: Preheat oven to 350 degrees Fahrenheit. Fill a 9-by-13-inch casserole dish with the filling and spread the mash on top. Bake for 40 minutes until the topping is beginning to brown. Garnish with extra chopped cilantro, if desired.
5. Gluten-Free Cornbread Stuffing with Chestnuts, Leeks, and Chanterelles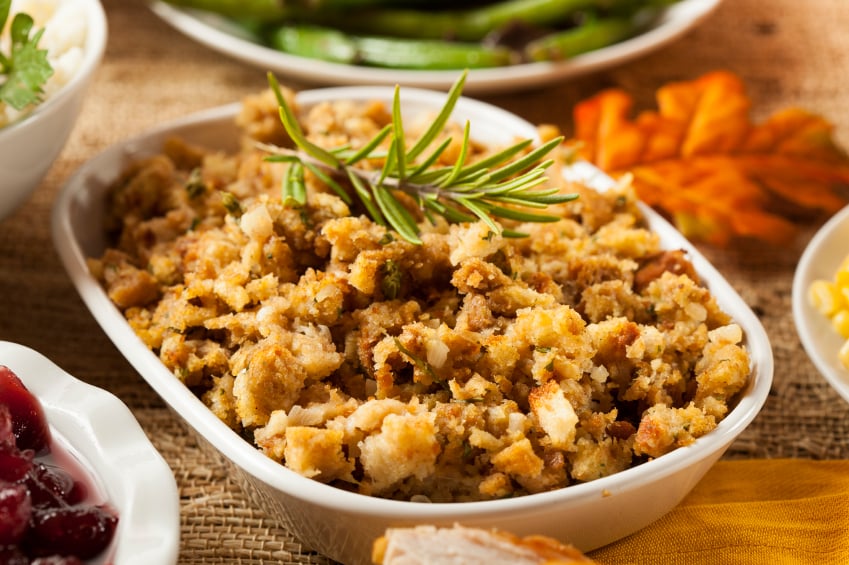 Make this year's stuffing special with Bojon Gourmet's cornbread-based version, accented with tasty greens, mushrooms, chestnuts, plus the bold inclusion of thyme and truffle salt. You'll begin by creating a simple mushroom "stock," later adding in veggies and sautéed mushrooms. This mixture is then combined with crisply toasted cornbread, culminating in an irresistibly-textured stuffing (no sogginess here!). Recipe serves 6 people as a main dish, 10 people as a side.
Ingredients:
½ ounce dried porcini mushrooms
2 cups boiling water
6 cups buttermilk cornbread in ½-inch cubes (recipe here, or use one of your choosing)
6 tablespoons olive oil, divided use
3 to 4 cups sliced chanterelles
2 medium leeks, sliced
1 large shallot, peeled and diced
1 small fennel bulb, trimmed, halved lengthwise, and sliced thinly crosswise
2 celery ribs, trimmed and sliced on the diagonal
1 teaspoon fresh thyme leaves
½ teaspoon truffle salt or sea salt
½ cup dry white wine
¼ cup parsley, washed and chopped, plus extra for garnish
1½ cups whole, cooked, peeled chestnuts, sliced
Directions: Make the porcini "stock": Place the dried porcini in a heat-proof bowl or measuring cup, and add 2 cups of boiling water. Let stand while you get on with the recipe, 20 minutes or longer.
Toast the cornbread: Position a rack in the center of the oven and preheat to 300 degrees Fahrenheit. Spread the cubed cornbread on a rimmed baking sheet lined with parchment paper for easy clean-up. Bake until dried out and lightly toasted, 20 to 30 minutes. Remove and let cool, then place in a very large bowl and set aside. Increase the oven temperature to 375 degrees Fahrenheit.
Cook the mushrooms: Rinse the chanterelles briefly under running water, drain well, and use a paper towel or two to wipe off any clinging dirt. Slice the stems fairly thinly, and cut the crowns into 1-inch pieces.
Coat a 10-inch oven-proof (such as cast-iron) skillet with 1 tablespoon olive oil and heat over a high flame until the oil shimmers. Add half the mushrooms in a single layer, and saute on high, shuffling the pan frequently, until the pan is dry and the mushrooms are glazed and tender, 5 to 10 minutes. Tip the mushrooms into the bowl on top of the cornbread. Repeat with the remaining mushrooms.
Cook the vegetables: Soak the sliced leeks in a bowl of cool water, separating the rings and letting any sandy dirt sink to the bottom of the bowl. To the now-empty skillet, add 2 tablespoons olive oil and warm over a medium flame until it shimmers. Lift the leeks out of their bowl, shake off any excess water, and add them to the hot pan along with the shallot, fennel, celery, thyme, and salt.
Cook, stirring frequently, until the vegetables are wilted and crisp-tender, about 10 minutes. Add the wine, and continue cooking until the pan is dry. Add the leek mixture to the bowl with the cornbread and mushrooms. Reserve the skillet — no need to wash.
Assemble the stuffing: Scoop the soaked porcini out of their soaking liquid, reserving the liquid and squeezing the porcini dry. Chop the porcini finely and add to the stuffing mixture. Add the parsley and stir the stuffing gently to combine. Gently strain the porcini "stock" through a fine-mesh sieve, leaving behind any sandy dirt that may be hanging out at the bottom. Pour the porcini "stock" over the stuffing, and toss gently to moisten evenly. Scoop the stuffing back into the skillet. Drizzle with the remaining 2 tablespoons of olive oil.
Bake the stuffing at 375 degrees Fahrenheit until heated through and golden and crisp on the top, 20 to 30 minutes. Serve the stuffing warm.
6. Kale and Wild Rice Casserole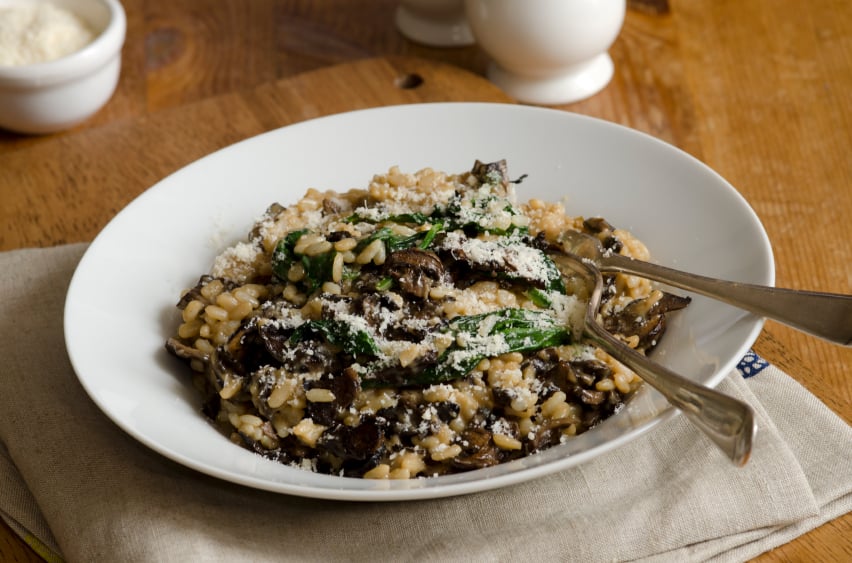 Leafy green kale is the healthy eater's best friend, so it's only fitting that this veggie show up in a few of our favorite Thanksgiving dishes. Your family and friends will go crazy for Half Baked Harvest's Kale and Wild Rice Casserole, a wonderfully filling side dish catering to eaters of all palettes. Nutmeg and thyme lend the dish its dominating character, while kale, garlic, coconut milk, and Gruyère work to balance the casserole out with their lighter qualities. Recipe takes 50 minutes to complete and serves 6-8 people as a side.
Ingredients:
2 large bunches of Kale, leaves torn
1 pound cremini mushrooms, sliced
2 tablespoons olive oil
1 tablespoon butter
2 cloves garlic, minced or grated
2 tablespoons fresh thyme, chopped
¼ teaspoon nutmeg
¼ teaspoon salt
½ teaspoon pepper
4 tablespoons flour
1 cup milk
1 cup vegetable broth
¼ cup heavy cream or canned coconut milk
4 cups cooked wild rice
1½ cups Gruyère cheese, shredded
2 tablespoons olive oil
2 large sweet onions, sliced into thin rings
¼ teaspoon each salt and pepper, plus some to taste
Directions: Grease a 2- to 3-quart casserole dish. Set aside.
Heat a very large skillet over medium-high heat. Add all of the torn kale to the skillet and add 1 cup of water. Cover the skillet and cook for 10 to 15 minutes, stirring occasionally until the kale is wilted. Once the kale is wilted and all of the water has been absorbed, remove the kale from the skillet and set aside.
Return the skillet to medium heat and add 2 tablespoons olive oil. When the skillet is hot, sprinkle in the mushrooms in a single layer. Don't stir them! Let them sizzle until they have caramelized on the bottom, about 2 minutes. When the bottoms are caramelized, toss them once and season with salt and pepper, to taste. Continue to cook without stirring for about 5 minutes. Now add the butter to the skillet and cook until the butter begins to brown. Once the butter is browned, reduce the heat and add the garlic, thyme and nutmeg and cook for about 10 seconds. Now add the kale back to the skillet with the mushrooms, garlic, and spices, and toss well.
Sprinkle the flour over the kale and mushrooms and cook for 1 minute. Add the milk and chicken broth, bring to a boil and cook 2 to 3 minutes or until there is a thick sauce. Add the cream and stir to combine. Remove from the heat and stir in the cooked wild rice. Pour the mixture into the prepared casserole dish.
Preheat the oven to 375 degrees Fahrenheit. Now wipe the skillet and add the olive oil, cook over medium-high heat. Add the onions and ¼ teaspoon each salt and pepper. Cook, stirring constantly, until the onions begin to soften, about 5 minutes. Continue to cook until the onions are golden brown, about 20 minutes.
Sprinkle half the cheese over the casserole and then add the onions and the remaining cheese. Bake the casserole for 20 to 25 minutes or until the cheese is melted and the onions are crispy.
7. Spinach and Artichoke Stuffed Portobellos
Meaty portobello mushrooms offer a satisfying texture and a mild taste, making them an especially popular and versatile vegetable ingredient. Stuff these large mushroom caps with a creamy garlic, artichoke, and cream cheese filling, plus a bit of Italian seasoning, for an exciting and festive blend of flavors. Prevention RD notes that the caps are large and satisfying enough to serve as a light entrée, making them an ideal addition to any bountiful holiday spread. Recipe yields 4 large stuffed mushrooms.
Ingredients:
Olive oil spray
4 large portabello mushrooms, wiped clean and stems removed
Kosher salt and freshly ground black pepper, to taste
4 ounces reduced-fat cream cheese, at room temperature
3 tablespoons low-fat canola- or olive oil-based mayonnaise
3 cloves garlic, minced, divided
1½ teaspoons dried Italian seasoning
10 ounces frozen chopped spinach, thawed and squeezed dry
1 small jar of marinated artichoke hearts, drained and coarsely chopped
1 tablespoon extra-virgin olive oil
⅓ cup coarse Panko breadcrumbs
¼ cup Parmesan or Parmigiano-Reggiano cheese, finely grated
Directions: Preheat the oven to 450 degrees Fahrenheit.
Scrape the gills from the inside of the mushroom caps. Set the mushroom caps on a baking pan, gill side up, and spray with olive oil; season with salt and pepper, to taste. Bake for 10 minutes.
Meanwhile, mix the filling. Combine the cream cheese, mayonnaise, garlic, ½ teaspoon of the Italian seasoning, and the spinach in a medium bowl. Stir together until evenly blended. Gently stir in the artichokes. Spoon the filling mixture over the roasted mushroom caps.
In another small bowl, combine 1 tablespoon of olive oil with the breadcrumbs, cheese, and remaining 1 teaspoon of Italian seasoning. Stir with a fork to blend. Sprinkle the breadcrumb mixture over the top of the filling mixture on each mushroom. Bake for 10 more minutes or until golden and warmed through. Serve immediately.