These Are the Random Foods You Can't Buy in North Korea
Many Americans try to imagine what life is like in North Korea. But if you've always lived in the United States, you may have a tough time envisioning life in the reclusive — and restrictive — country. Everything down to what the country's citizens eat is determined in some way by the North Korean government. And as you might imagine, you regularly eat lots of foods that people can't even buy in North Korea.
According to the Los Angeles Times, people in North Korea, especially those without a lot of cash, "eat what they can get." North Koreans buy food both through markets officially sanctioned by the state's central distribution system, as well as illegal "grasshopper markets." As Quartz notes, food insecurity is a major problem in North Korea. So the snacks and street food sold in these markets, typically made of repurposed corn meal, soy, and rice, play a role in keeping the poorest North Koreans alive.
Below, check out some of the foods that are common in the United States — or elsewhere in the world — but tough to come by in a North Korean grocery store.
1. Chicken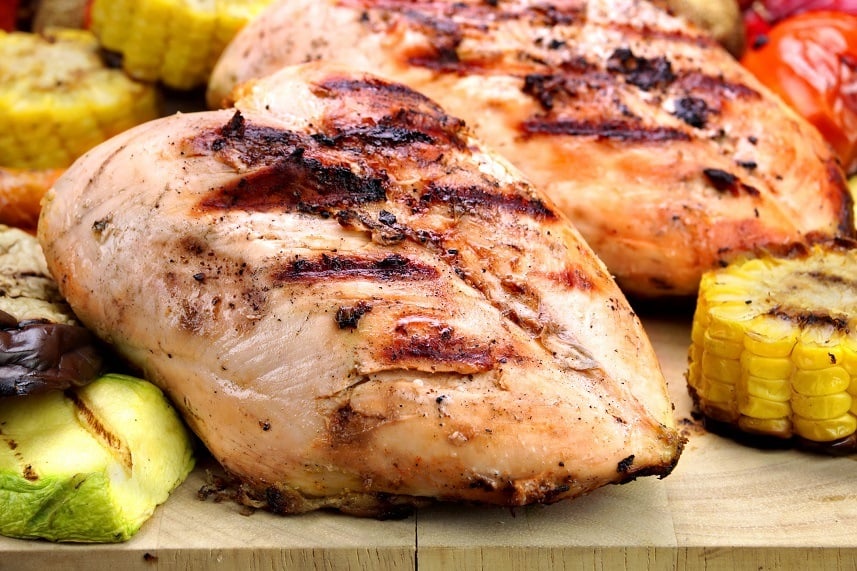 Reuters learned from North Korean defectors that they ate privately grown vegetables, locally made snacks, and rice — or, if they were poor — corn. Younger and wealthier defectors also reported eating meat. But they characterized the staple as "seasonal." In fact, they say that North Korea's electric power has proven too "erratic" to dependably power refrigerators.
Reuters characterizes pork as the most common meat. However, defectors also talked about eating dog meat, rabbit, and badger. Chicken doesn't seem to be on the menu. The exception? Some restaurants in Pyongyang, where, if you have the money to pay for it, you can order fried chicken. But by one account, many North Koreans prefer dog meat to chicken, anyway. Because most North Koreans feed their chickens with grass, they say that chicken "isn't very nutritious."
Next: North Koreans can't buy this food because it requires refrigeration.
2. Chestnuts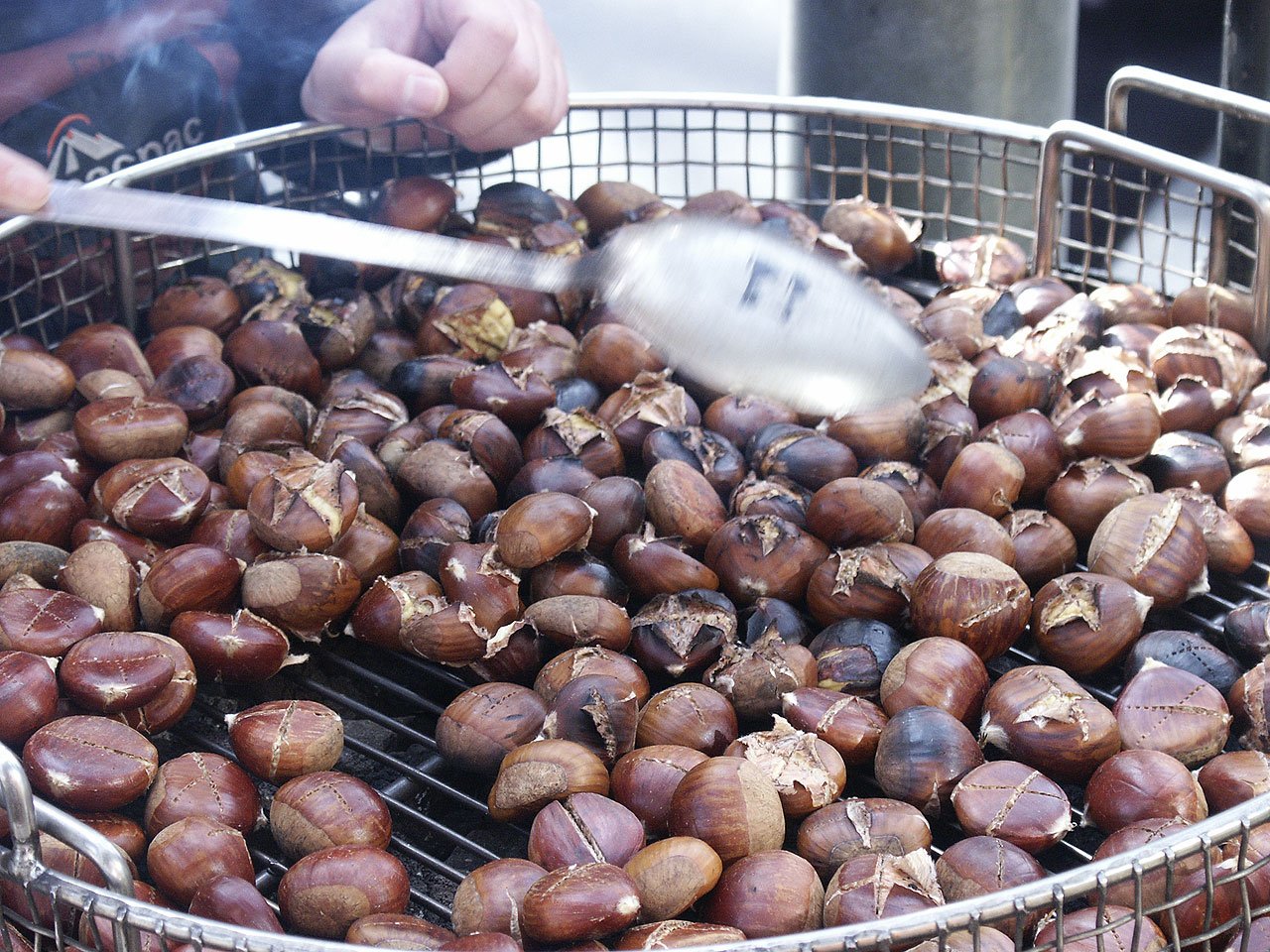 According to a report by South Korean news site Daily NK, some North Koreans do make boiled chicken soup. But to prepare the dish, they need chestnuts, jujube, and ginseng. In North Korea, you'll probably have a tough time finding chestnuts at the market. That's because they need to be stored in the refrigerator. Plus, even if you managed to find chestnuts, you'd also have a tough time buying ginseng. So we'd guess that most people don't make chicken soup very often.
Next: This entire food group can be tough to come by in North Korea.
3. Vegetables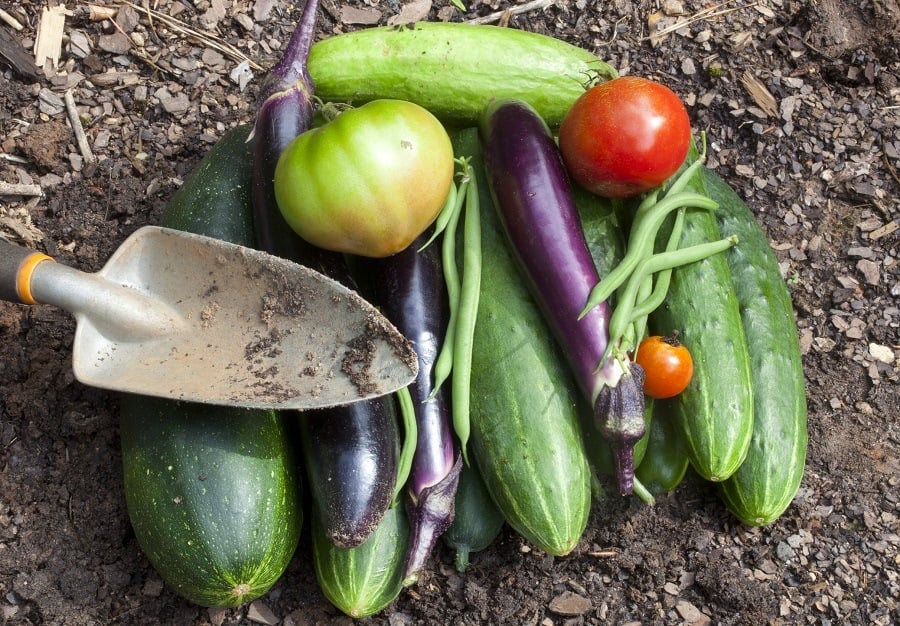 Don't get us wrong: People in North Korea do eat vegetables. But produce typically doesn't come from the official markets sanctioned by the government. Instead, families grow their own vegetables, or buy them from somebody who does grow them. Rural families are allowed to cultivate small plots of land. But they often don't have seeds. So, as The Huffington Post reports, activists smuggle vegetable seeds into North Korea in an effort to improve food security.
The North Korean government itself has tried to incentivize farmers to grow more vegetables and other staples. The Los Angeles Times reports that thanks to recent reforms, farmers can now keep 30% of the rice they grow, while giving 70% to the state. And they can keep 10% of the vegetables they grow. How generous!
Next: Most people in North Korea don't get enough of this, and therefore come up short on protein and fat.
4. Meat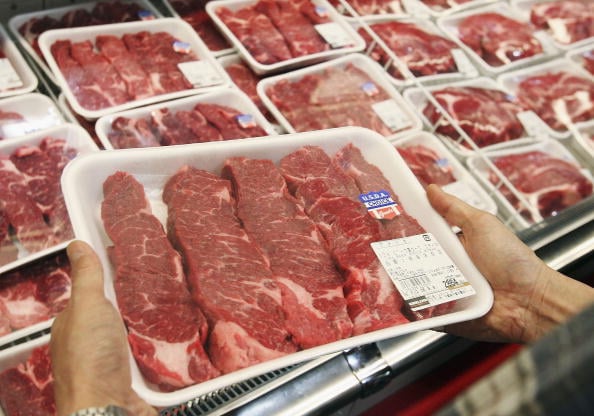 Some North Koreans do have access to meat. But those foods are difficult to get your hands on if you don't have a lot of money. That helps to explain North Korea's ongoing problems with undernourishment, since protein should form an important part of a healthy diet. As the Los Angeles Times explains, a protein-rich meal of any kind is still beyond the means of the average North Korean.
The problem with the typical North Korean diet, as Reuters reports, comes down to its lack of diversity. North Koreans without the money to buy expensive foods typically eat a monotonous diet that consists mainly of rice or maize, kimchi, and bean paste.
Next: You can't buy this American food in North Korea.
5. Barbecue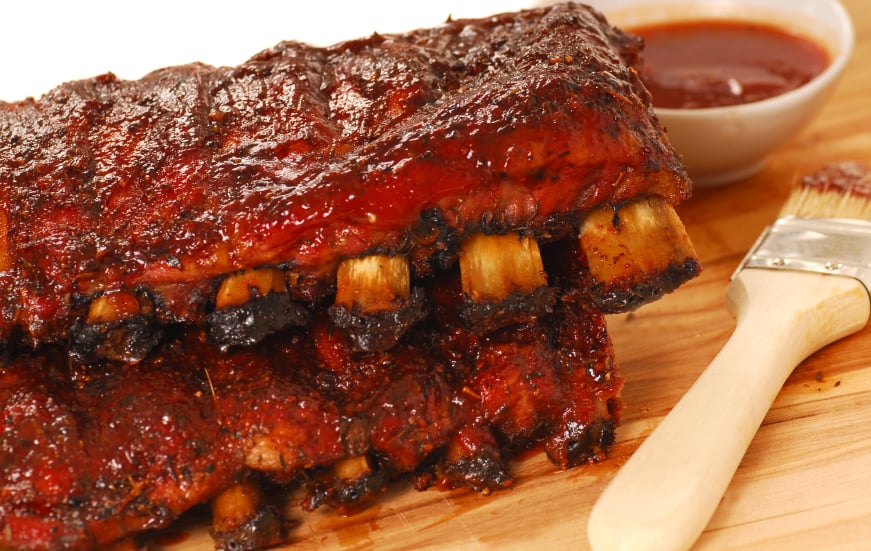 Mashable reports that another American food you don't typically find in North Korea is barbecue. The publication highlights a video in which North Korean refugees "try American barbecue staples like pulled pork, brisket and burnt ends for the very first time." Mashable also characterizes meat as "a scarce and expensive luxury in the country." Just two pounds of meat reportedly costs the equivalent of 22 pounds of rice. And rice costs a lot more than alternatives such as corn.
Next: You can't buy a pizza with this controversial topping.
6. Anchovy pizza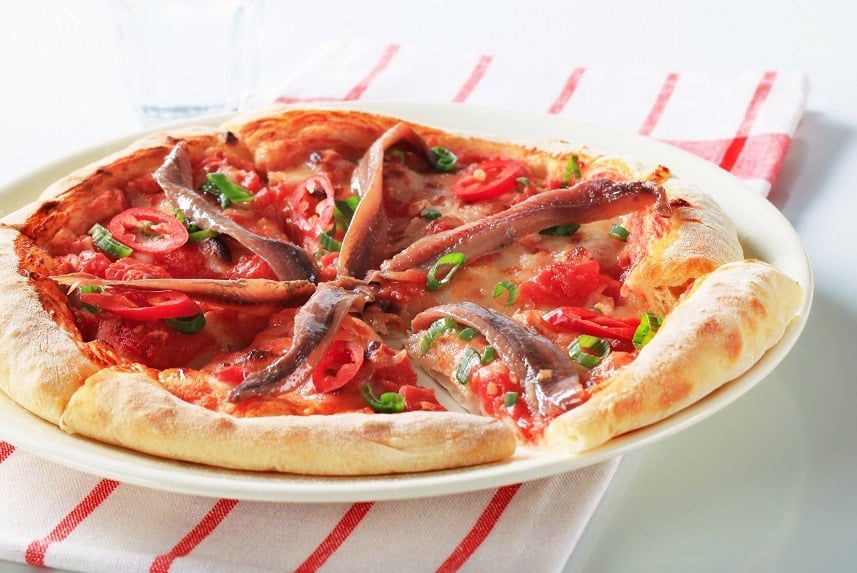 North Koreans with enough money to spend can easily buy pizza. News broke in 2009 that North Korea had just gained its first pizzeria. At the time, Jong Il authorized the opening of the country's very first Italian restaurant. But The Guardian reports that Ermanno Furlanis, an Italian chef who worked directly for Kim Jong Il at that Italian restaurant, wrote that the former North Korean leader had one very specific rule about pizza toppings.
Furlanis wrote that he was ordered to never place anchovies on pizza. We won't even try to defend that rule. But we will admit that anchovies do number among the most hated pizza toppings.
Next: North Koreans can't purchase this delicious treat.
7. Choco pies
When South Korean activists used balloons to send snacks to their neighbors in North Korea, they filled those balloons with Choco pies. As Modern Farmer characterizes the South Korean product as "a layer of marshmallow cream sandwiched between two soft, chocolate-covered cakes, and a delicious symbol of capitalism."
But the regime feared that the snacks might inspire pro-capitalist feelings among North Koreans. And it likely doesn't help that the South Korean Choco pie seems inspired by the very-American Moon Pie. So North Korea banned the snacks as a symbol of capitalism. Interestingly enough, The Huffington Post reports that at least a few grocery stores in Pyongyang, you can buy Oreos.
Next: Vendors at markets in North Korea can't legally sell this beverage.
8. Wine and liquor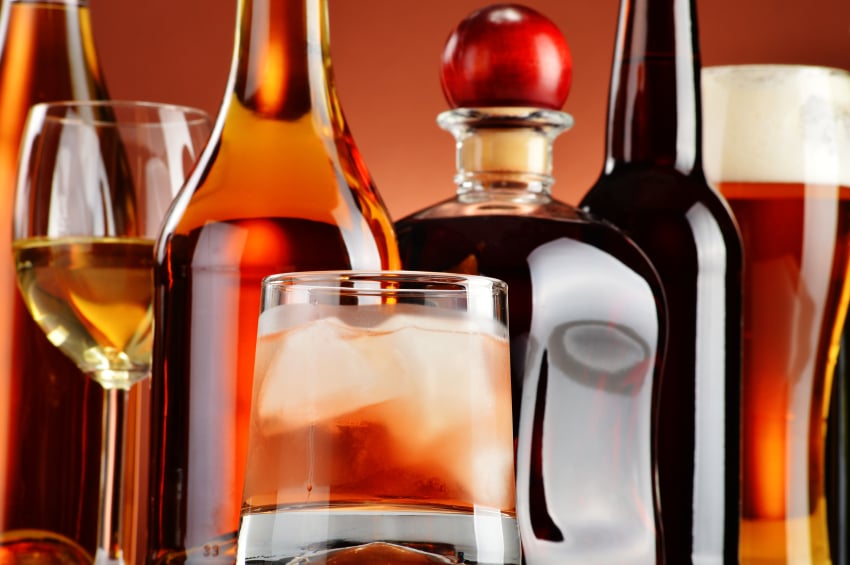 The Guardian reports that in North Korea, vendors at open markets can't legally sell alcohol. Nonetheless, some do sell alcoholic beverages secretly. Similarly, CNN reports that thanks to sanctions by Singapore, importing wine and liquor to North Korea is forbidden. However, that doesn't mean that the wealthiest North Koreans can't buy those items. Additionally, liquors made from potatoes, corn, berries, and acorns are produced in North Korea. Home breweries and distilleries are banned in North Korea, but many people do make alcohol at home.
Next: The company behind this American beverage doesn't do business in North Korea.
9. Coca-Cola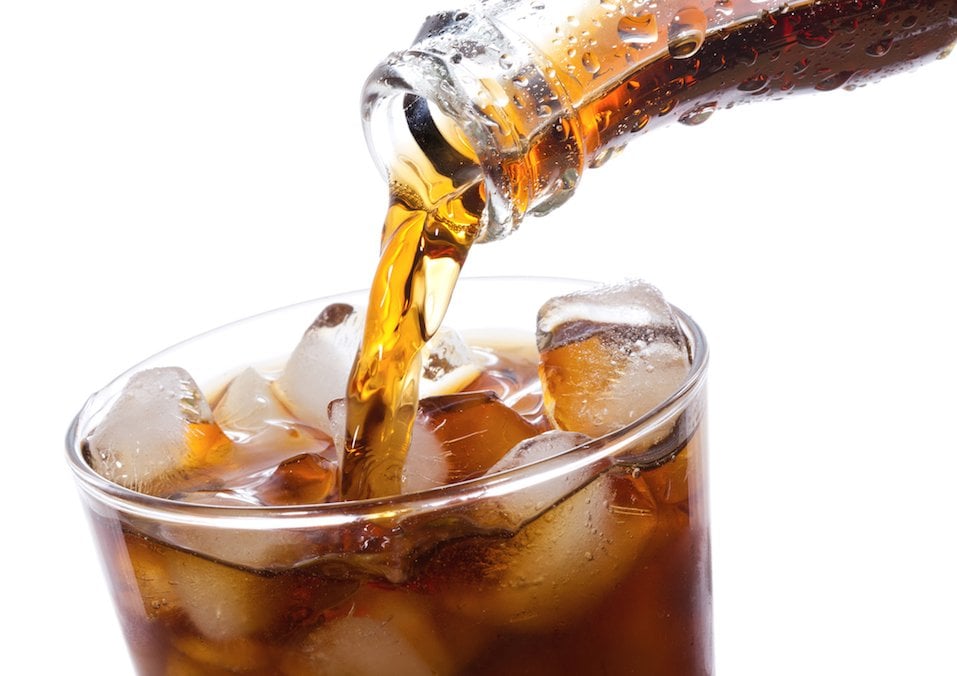 Thanks to United Nations sanctions, Coca-Cola doesn't sell its products in North Korea. In fact, U.S. News reports that there are only two countries in the world where Coca-Cola doesn't operate. North Korea is one of them, and Cuba is the other. But, U.S. News explains, "even the North is developing quite a taste for cola — though the iconic red-and-white labeled bottles the cola comes in likely are not exactly the Real Thing."
Pyongyang's elite can also buy Coke bottled in China. Its price makes it accessible even to North Korea's growing middle class. But "the cola served at restaurants and lining the shelves in stores where more typical North Koreans shop are likely to be local imitations."
Next: You shouldn't expect to find this soft drink, either.
10. Pepsi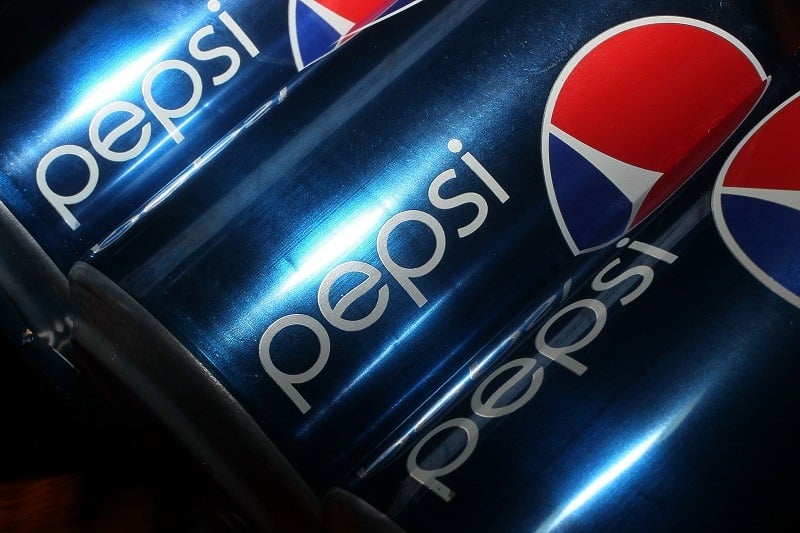 If you prefer Pepsi to Coca-Cola and were hoping that North Koreans share your opinion, you'll be disappointed. Just as with Coca-Cola, U.S. News reports that you aren't likely to find Pepsi — or at least not authentic Pepsi — in North Korea. The publication explains that "Pepsi sightings are rarer" than sightings of Coca-Cola, or beverages passed off as Coca-Cola.
Next: You can't order this fast food staple.
11. A Big Mac from McDonald's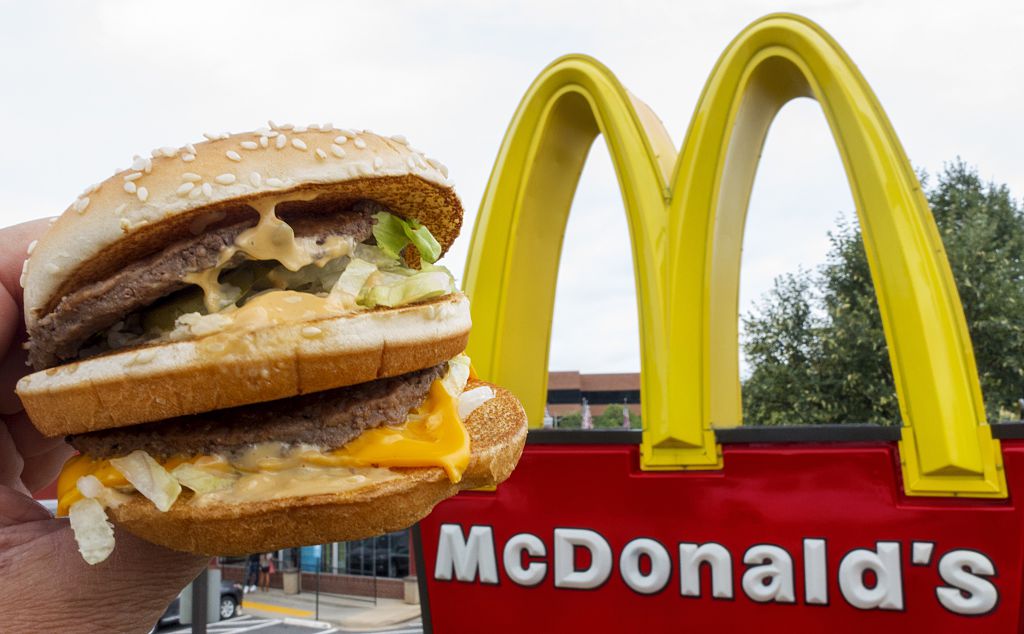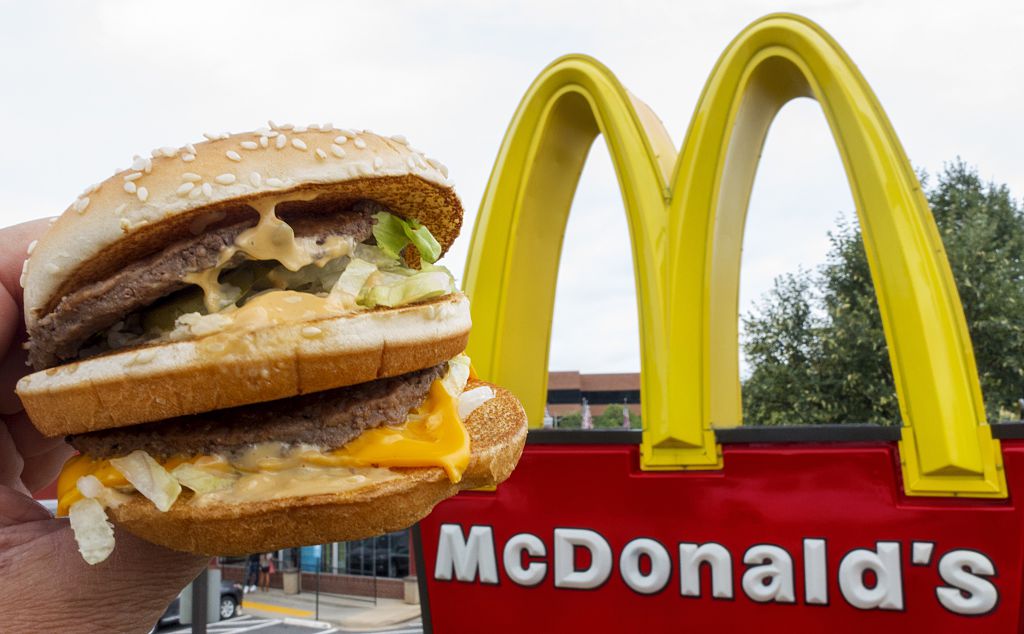 Similarly, McDonald's doesn't operate in North Korea. So citizens can't order a Big Mac, a side of fries, or even the regional dishes that McDonald's serves in South Korea. However, The Telegraph reports that North Korea's elite defies sanctions by importing McDonald's via the national airline. North Korea has no McDonald's stores. But China has 850. So wealthy North Korean residents have had McDonald's hamburgers delivered to their homes from China through North Korea's Air Koryo.
People with cash to spend can buy burgers at numerous restaurants in North Korea's capital. And, interestingly enough, Kim Jong Il claimed to have invented the hamburger, called "Gogigyeopbbang" and described as "double bread with meat."
Next: Officials illegally import this fast food favorite from China. 
12. Fried chicken from KFC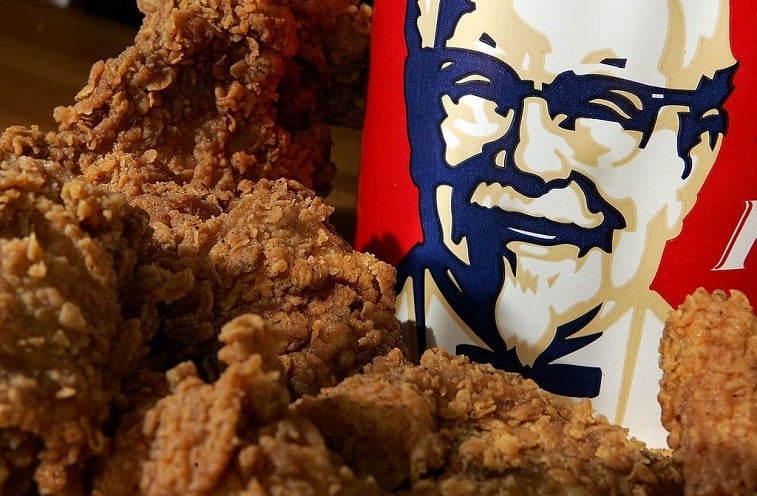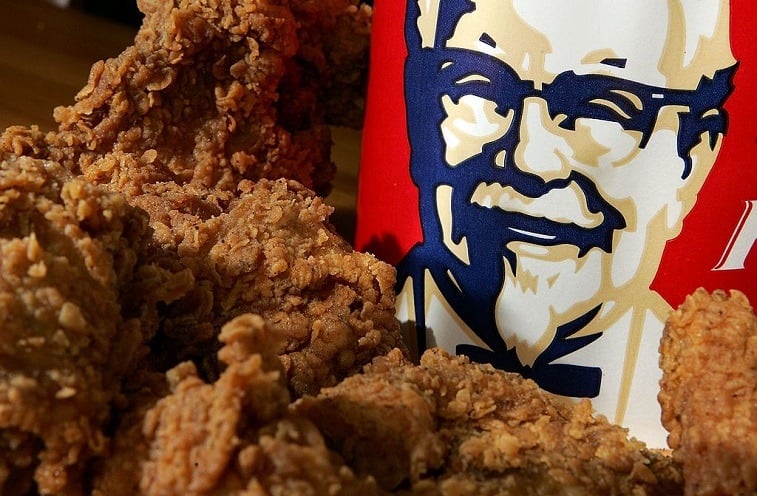 KFC is another American chain that doesn't do business in South Korea. But as Vice reports, you can buy food from "KHC, a stall in North Korea next to a rifle range and bowling alley." The stall sells potato chips, surprisingly enough. But it's unclear why the proprietors decided to riff on the name of the American fried chicken chain. As Vice notes, "no one in North Korea knows what KFC is, so why bother ripping it off? The crisps taste like Salt 'n' Shake crisps, but without the salt."
Rumor has it that officials in Kim Jong Un's regime visited the United States, where they tried KFC. They reportedly wanted to have KFC in North Korea. But Yum Brands, which owns KFC, Pizza Hut, and Taco Bell, supposedly had no interest in doing business in North Korea.
Next: This ubiquitous coffee shop doesn't do business in North Korea.
13. A Frappuccino from Starbucks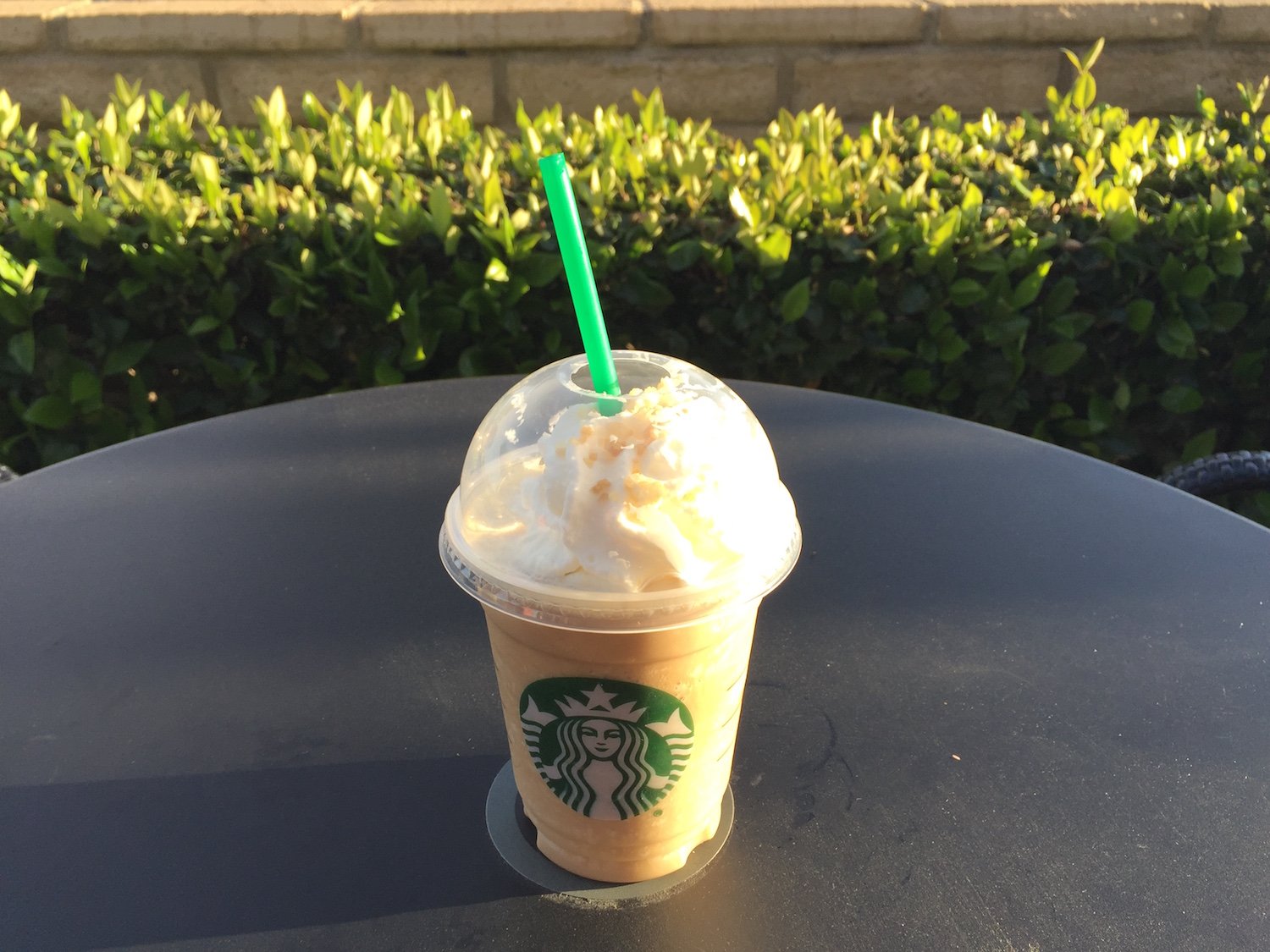 No pumpkin spice lattes or Frappuccinos, either. While you won't find a Starbucks anywhere in North Korea, the country does have a growing number of high-end coffee shops. These establishments boast what news.com.au characterizes as "an upscale ambience and a variety of coffees that would almost put the ubiquitous American chain to shame." You can order drinks such as a caramel macchiato or a strawberry smoothie at these coffee shops. One barista told journalists that she worked at Starbucks in Beijing. But she wasn't impressed. "I think it's for people who don't really understand good coffee."
Next: Most North Koreans probably don't eat this food often, if at all.
14. Seafood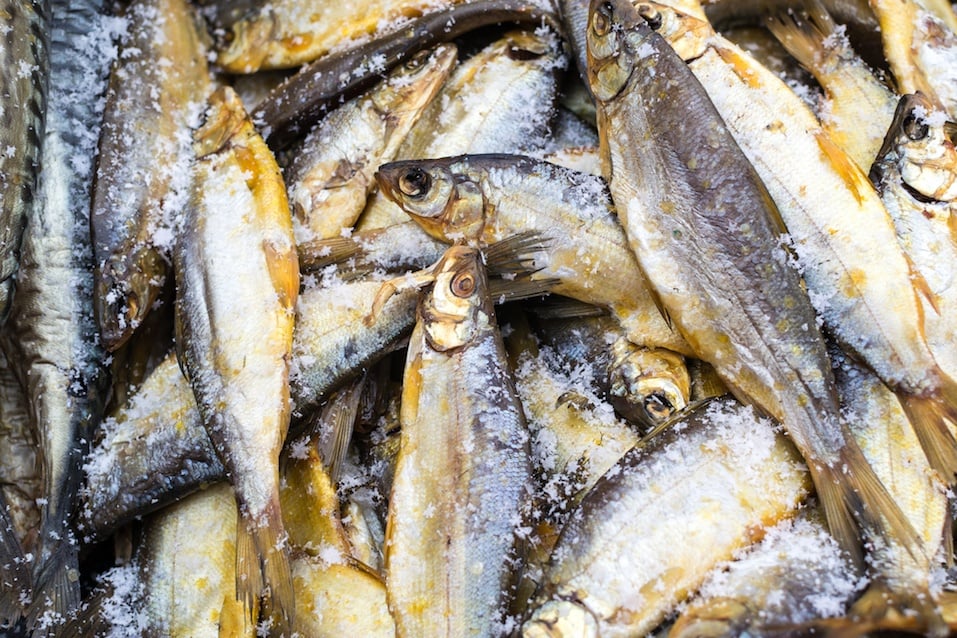 If we had to take a guess, we'd say that the average North Korean doesn't eat much seafood. That's because Pyongyang makes a lot of money by exporting North Korean seafood to China. ($190 million in 2016, according to the South China Morning Post.) However, China banned imports of North Korean seafood. Yet North Koreans still work to process seafood that ends up in American stores and homes, according to The Chicago Tribune. In fact, the salmon you buy at Walmart or ALDI likely supports the North Korean regime. (And not the North Korean workers, who have been characterized as modern day slaves and only earn about 46 cents per hour.)
Next: They don't eat this European food, either.
15. Cheese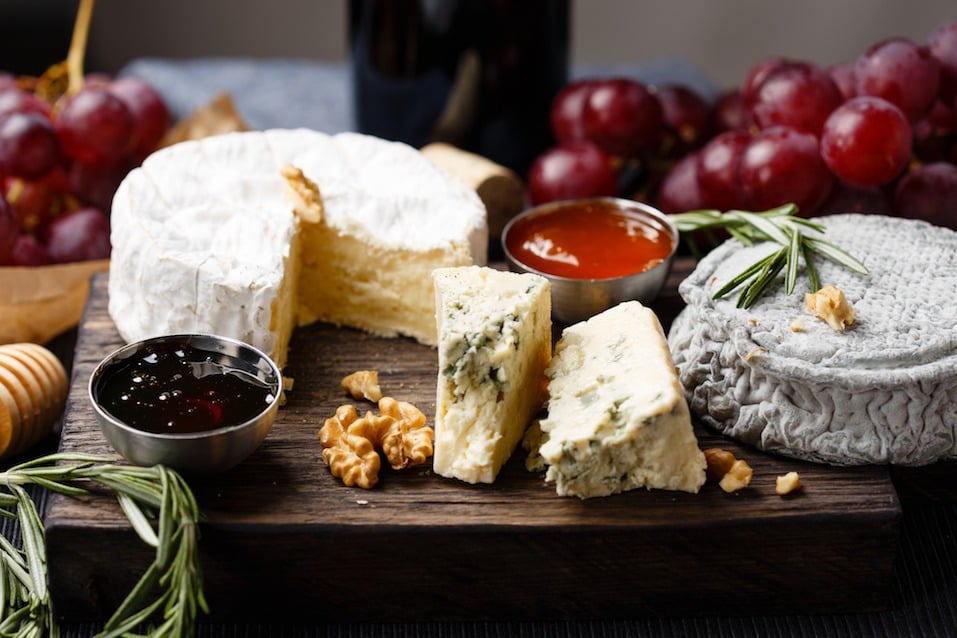 The average North Korean doesn't seem to eat much cheese, either. But cheese is likely accessible to wealthy residents of North Korea — and to Pyongyang's elite. However, Metro reports that Kim Jong Un is fond of Emmental cheese, which he has imported from Switzerland. As Newsweek notes, rumor has it that the leader had to retreat temporarily from public life after eating too much of the cheese.
Read more: 18 Foods Banned Around the World
Check out The Cheat Sheet on Facebook!