Forget the Takeout! Pizzeria Recipes You Can Make at Home
Nothing beats a piping hot slice of pizza when you're hungry. While delivery is the easiest way to fix your pizza craving fast, the cost of weekly orders can really add up. Rather than becoming best friends with the delivery guy, teach yourself how to make pizzeria recipes at home. You'll save money and wow your friends with your pie-making skills. Before you know it, you may be the one taking orders over the phone.
Whether you're a devotee of New York-style pizza or have a secret craving for Papa John's, here are seven pizzeria recipes you need to try.
1. Classic Pizza Margherita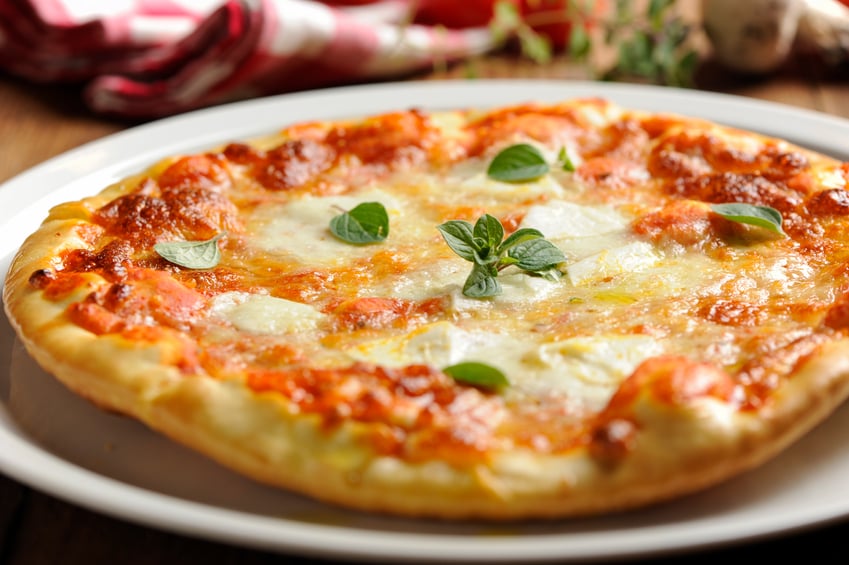 We'll start with the basics. This classic Italian-style pie is similar to what you'll find at Neapolitan pizzerias. The crust is very thin, and it's not overloaded with cheese and toppings. While you probably won't be able to cook this in a traditional wood-fired oven, you'll still get pretty tasty results in your home kitchen. This recipe is from The Splendid Table.
Ingredients:
For the dough:
Generous ¼ teaspoon dry yeast
½ cup warm water (about 100 degrees Fahrenheit)
1 teaspoon all-purpose unbleached flour
1 to 1¼ cups organic, stone ground all-purpose unbleached flour
½ teaspoon salt
Additional flour
For the topping:
1 tablespoon extra-virgin olive oil
½ medium onion, minced
1 sprig parsley, chopped
1 large clove garlic, minced
¼ teaspoon dry oregano
1½ cups canned whole peeled tomatoes
1/3 cup packed fresh basil leaves, torn
3 ounces fresh mozzarella (in liquid), thinly sliced
2 to 3 tablespoons extra-virgin olive oil
Freshly ground black pepper and salt
Directions: To make the crust, blend the yeast, water, and 1 teaspoon of flour in a medium mixing bowl or food processor. You should see foam form on the surface after about 8 minutes of blending. If foam doesn't form, the yeast is too old. Blend in the remaining flour and salt, until a smooth, soft, and slightly sticky dough forms. If using a food processor, process for no more than 30 seconds, then knead for 5 minutes by hand. If using a mixer, blend for about 5 minutes. If mixing by hand, stir to combine, then knead for 5 minutes.
Oil a large bowl. Transfer the dough to the bowl and cover with plastic wrap. Set aside in a cool place until the dough doubles in size. It should take about 90 minutes. Dough can be held, covered, for about 8 hours.
About 20 minutes before you're ready to make the pizza, punch down the dough. Knead for 1 or 2 minutes, then shape into a ball and cover.
To prepare the pizza sauce, heat 1 tablespoon of oil in a 10-inch skillet over medium-high heat. Sauté the onion and parsley until golden in color. Stir in the garlic and oregano and cook for a few seconds. Add the tomatoes to the pan, crushing as you do so. (Don't substitute canned crushed tomatoes.) Boil sauce for 5 minutes, stirring, until thickened.
Preheat oven to 500 degrees Fahrenheit. Set rack as low in the oven as possible. Lightly oil a 14- to 16-inch pizza pan. Roll out the dough into a very thin 16-inch round. (Crust should be no more than 1/16-inch thick.)
Transfer crust to prepared pan, rolling the edges to form a rim. Let rest for 10 minutes. Spread sauce over crust. Sprinkle with basil, mozzarella, and the oil. Top with a few turns of black pepper and some salt.
Bake in oven for 10 minutes. Using a spatula and a heavy-duty oven mitt, slide the pizza off the pan and directly onto the oven rack. Bake for 2 minutes. Slide pizza back onto the pan and remove from oven. Slice and serve.
2. White Clam Pizza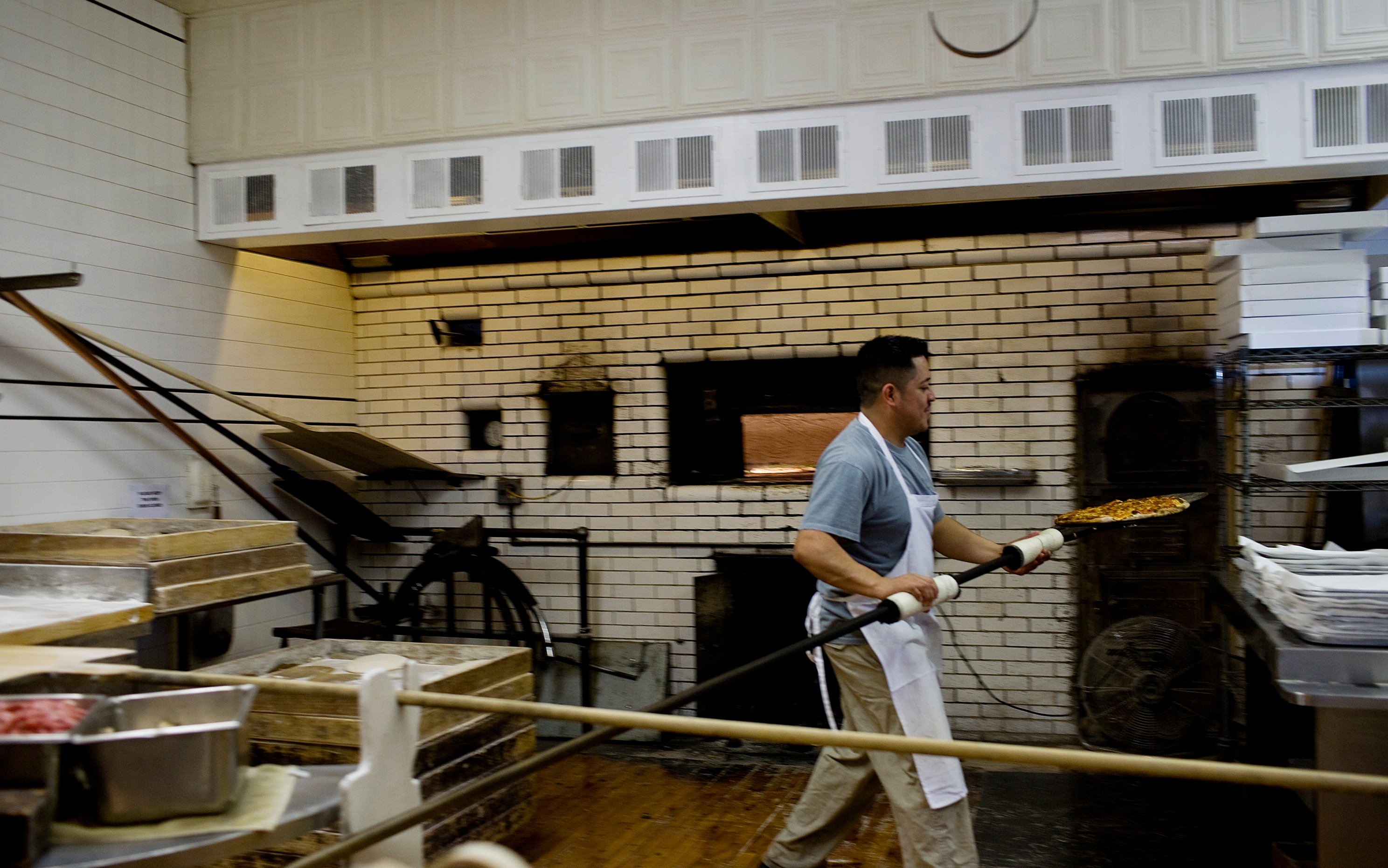 In New Haven, Connecticut, you'll find a unique style of pizza, called "apizza." Invented at Frank Pepe's, the crust is thin and charred but still chewy, while the pie is light on cheese (mozzarella is a topping you have to ask for) and traditionally cooked in a coal-fired oven. The white clam pizza is Frank Pepe's signature pie, and while it may sound weird at first, it makes sense when you remember that New Haven is on Long Island Sound. Men's Journal shared this recipe for a white clam pie. The slow-rising pizza dough recipe is from Saveur.
Ingredients:
For the pizza:
36 littleneck clams
½ cup grated Pecorino Romano
1 tablespoon dried oregano
1 teaspoon freshly ground black pepper
2 cloves garlic, minced
¼ cup extra-virgin olive oil
Naples-style pizza dough (see below)
For the pizza dough:
2 tablespoons sugar (7/8 ounce)
1 tablespoon olive oil, plus more (½ ounce)
½ teaspoon active dry yeast
5½ cups "00" flour, preferably Caputo Pizzeria Flour (1 pound, 12 ounces)
2 tablespoons kosher salt (¾ ounce)
Directions: To make the dough, combine sugar, oil, yeast, and 2 cups cold water in bowl of a stand mixer fitted with a dough hook; let sit until foamy, 8 to 10 minutes. Mix flour and salt in a bowl. With motor running, slowly add flour mixture; mix until a smooth dough forms, 8 to 10 minutes. Transfer dough to a greased baking sheet; cover with plastic wrap. Let sit at room temperature 1 hour.
Divide dough into 4 balls; transfer to a greased 9-by-13-inch dish; brush tops with oil. Cover with plastic wrap; refrigerate 48 hours.
Rest the dough on the counter until it comes to room temperature, about 1 hour. Move an oven rack to the lowest position. Preheat the oven to 500 degrees Fahrenheit for 30 minutes.
Bring 4 cups water to a boil in a large pot over high heat. Place the clams in the boiling water for about 1 minute. The clams will begin to open. Transfer the open clams to a colander and run cold water over them to cool them quickly. Slide a knife in the crack and open them. Any clams that do not open wide enough to slide a knife into should be discarded. Put the clam meat on paper towels and discard the shells. Pat the clam meat dry.
Shape the dough and place it on the pizza pan or screen. Place the clams on the pizza crust, leaving a 1-inch border. Sprinkle with the Romano, oregano, pepper, and garlic. Drizzle the olive oil over the toppings.
Bake the pizza for about 15 minutes, until the crust is deep brown and the toppings are bubbling. Check underneath with a metal spatula to ensure the bottom crust is deep brown too. Let the pizza rest for 5 minutes. Cut it into 8 wedges and serve.
3. Chicago-Style Deep Dish Pizza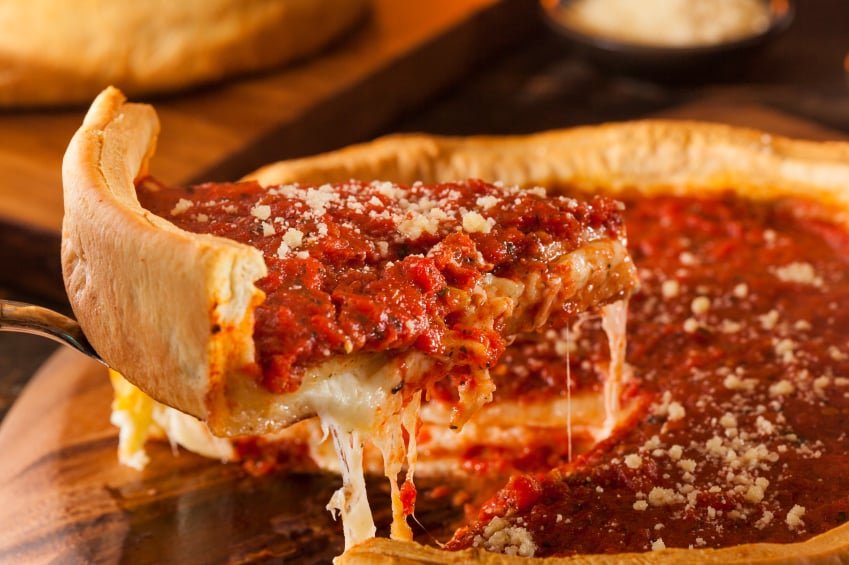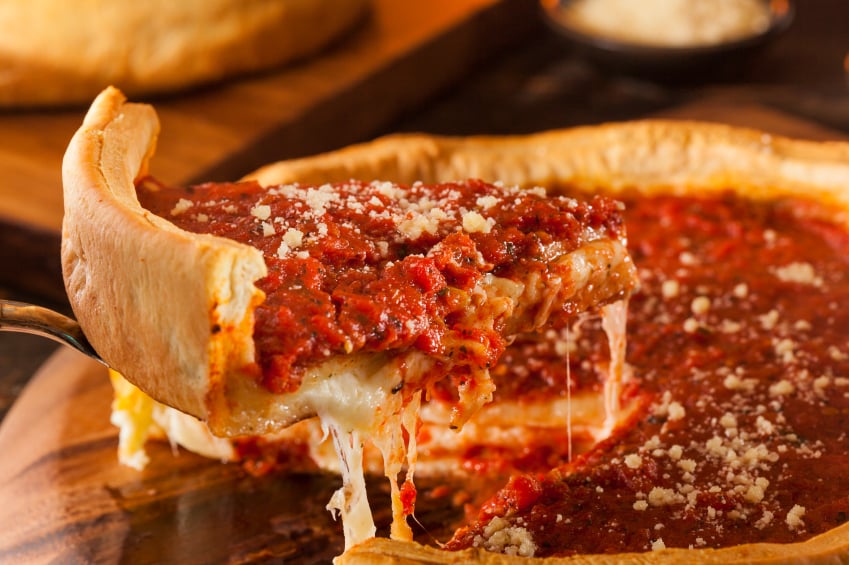 Love it or hate it, Chicago-style deep dish has earned a place in the pantheon of American pizza. This pizza is characterized by its high-sided, buttery crust that's topped with a thick layer of cheese, meat and other toppings, and finally tomato sauce. The final results more closely resembles a pie or casserole than a more traditional pizza. To make your own version of this dish, try this pizzeria recipe from King Arthur Flour. You'll need a 14-inch deep dish pizza pan to make this pie, though you could substitute two smaller cake pans in a pinch.
Ingredients:
For the crust:
4 cups unbleached all-purpose flour
3 tablespoons yellow cornmeal
1¾ teaspoons salt
2¾ teaspoons instant yeast
2 tablespoons olive oil
4 tablespoons butter, melted
2 tablespoons vegetable oil or salad oil
1 cup plus 2 tablespoons lukewarm water
For the filling:
¾ pound mozzarella cheese, sliced
1 pound Italian sweet or hot sausage, cooked and sliced; or about 3 cups of the sautéed vegetables of your choice
1 (28-ounce) can plum tomatoes, lightly crushed; or 28-ounce can diced or chopped tomatoes
2 to 4 garlic cloves, peeled and minced (optional)
1 tablespoon sugar (optional)
1 to 2 teaspoons pizza seasoning or mixed dried Italian herbs (oregano, basil, rosemary), to taste
1 cup freshly grated Parmesan or Asiago cheese
2 tablespoons olive oil, to drizzle on top
Directions: To make the crust, mix the dough ingredients, and knead — by hand, mixer, or bread machine — to make a smooth crust. This will take about 7 minutes at medium-low speed in a stand mixer.
Place the dough in a lightly oiled bowl or 8-cup measure, cover, and let rise till very puffy, about 60 minutes.
While the dough is rising, ready a 14-inch deep-dish pizza pan. Grease it with non-stick vegetable oil spray, then pour in 3 to 4 tablespoons olive oil, tilting it to cover the bottom of the pan, and partway up the sides.
Stretch the dough to make as large a circle as you can. Do this on a lightly oiled baking mat, or simply stretch the dough in your hands. Lay the dough in the pan, and stretch it towards the edges till it starts to shrink back. Cover, and let it rest for 15 minutes. Preheat the oven to 425 degrees Fahrenheit while the dough rests.
Stretch the dough to cover the bottom of the pan, then gently push it up the sides of the pan. The olive oil may ooze over the edge of the crust. Let the crust rest for 15 minutes or so, as your oven reaches the desired temperature.
Bake the crust for 10 minutes, until it's set and barely beginning to brown. While it bakes, prepare the filling. Drain the tomatoes thoroughly. Combine them with the pizza seasoning or herbs, and the garlic and sugar (if you're using them). Add salt to taste.
Cover the bottom of the crust with the sliced mozzarella, fanning it into the crust. Add the sausage (or sautéed vegetables), then the tomato mixture. Sprinkle with the grated Parmesan, and drizzle with the olive oil.
Bake the pizza for about 25 minutes, or until the filling is bubbly and the topping is golden brown. Remove it from the oven, and carefully lift it out of the pan onto a rack (a giant spatula will make this easier). Allow the pizza to cool for at least 15 minutes before cutting and serving, longer if you want a less oozy pizza. Yields about 12 servings.
4. New York Style Pizza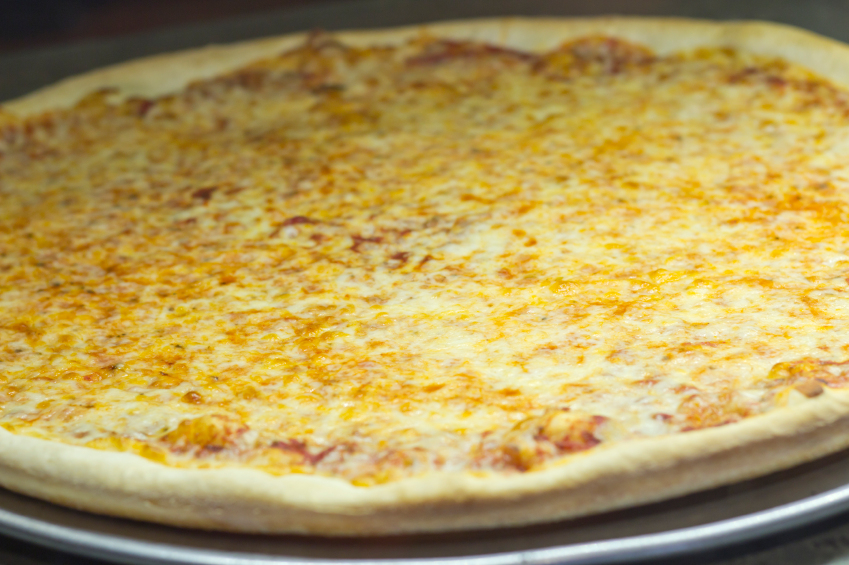 You don't have to head to the Big Apple to enjoy a big, floppy slice of New York-style pizza. The experts at Serious Eats created this recipe so that you can enjoy the on-the-go favorite of harried Manhattanites in the comfort of your own home. The right dough is key – it needs to be strong enough to support the pizza toppings but still pliable enough to fold. Don't use fresh mozzarella either. Instead, use the kind that's wrapped in plastic, since it melts better. This pizzeria recipe makes three pies.

Ingredients:
For the pizza:
22½ ounces (about 4½ cups) bread flour, plus more for dusting
1½ tablespoons sugar
0.35 ounces kosher salt (about 3 teaspoons)
2 teaspoons instant yeast
3 tablespoons extra-virgin olive oil
15 ounces lukewarm water
1 batch pizza sauce (recipe follows)
1 pound grated full-fat dry mozzarella cheese (about 4 cups), placed in freezer for at least 15 minutes
For the pizza sauce:
1 (28-ounce) can whole peeled tomatoes
1 tablespoon extra-virgin olive oil
1 tablespoon unsalted butter
2 medium cloves garlic, grated on microplane grater (about 2 teaspoons)
1 teaspoon dried oregano
Pinch red pepper flakes
Kosher salt
2 (6-inch) sprigs fresh basil with leaves attached
1 medium yellow onion, peeled and split in half
1 teaspoon sugar
Directions: To make the sauce, process tomatoes and their juice through food mill, pulse in food processor until pureed, or puree with hand blender. Puree should not be completely smooth, but should have no chunks larger than 1/16 of an inch. Set tomatoes aside.
Combine butter and oil in medium saucepan and heat over medium-low heat until butter is melted. Add garlic, oregano, pepper flakes, and large pinch salt and cook, stirring frequently, until fragrant but not browned, about 3 minutes. Add tomatoes, basil sprigs, onion halves, and sugar. Bring to a simmer, reduce heat to lowest setting (bubbles should barely break the surface), and cook, stirring occasionally, until reduced by ½, about 1 hour. Discard onions and basil stems. Season to taste with salt. Allow to cool and store in covered container in the refrigerator for up to 2 weeks.
To make the pizza, combine flour, sugar, salt, and yeast in bowl of food processor. Pulse 3 to 4 times until incorporated. Add olive oil and water. Run food processor until mixture forms ball that rides around the bowl above the blade, about 15 seconds. Continue processing 15 seconds longer.
Transfer dough ball to lightly floured surface and knead once or twice by hand until smooth ball is formed. (You should be able stretch a piece of the dough so thin you can see through it.) Divide dough into three even parts and place each in a covered quart-sized deli container or in a zipper-lock freezer bag. Place in refrigerator and allow to rise at least one day, and up to 5.
At least two hours before baking, remove dough from refrigerator and shape into balls by gathering dough towards bottom and pinching shut. Flour well and place each one in a separate medium mixing bowl. Cover tightly with plastic wrap and allow to rise at warm room temperature until roughly doubled in volume.
About 1 hour before baking, adjust oven rack with pizza stone to middle position and preheat oven to 500 degrees Fahrenheit. Turn single dough ball out onto lightly flour surface. Gently press out dough into rough 8-inch circle, leaving outer 1-inch higher than the rest. Gently stretch dough by draping over knuckles into a 12 to 14-inch circle about ¼-inch thick. Transfer to pizza peel.
Spread approximately 2/3 cup of sauce evenly over surface of crust, leaving a ½ to 1-inch border along edge. Evenly spread 1/3 of cheese over sauce. Slide pizza onto baking stone and bake until cheese is melted with some browned spots and crust is golden brown and puffed, 12 to 15 minutes total. Transfer to cutting board, slice, and serve immediately. Repeat with remaining two dough balls, remaining sauce, and remaining cheese.
5. BBQ Pizza Copycat Recipe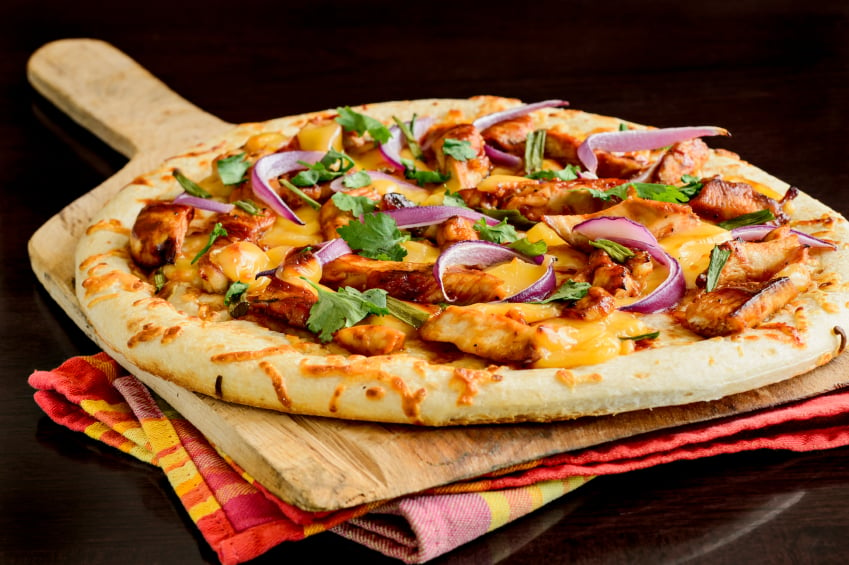 The non-traditional toppings – like artichoke hearts, goat cheese, pear, peanut sauce, or broccoli — common on California-style pizza have their fans. One of the most popular items on the menu at California Pizza Kitchen is the BBQ chicken pizza, a pie topped with barbecue sauce, gouda, onions, and cilantro. You can make your own version at home using this copycat recipe from Relish.
Ingredients:
For the crust:
1/3 cup plus 1 tablespoon warm water (at 105 to 115 degrees Fahrenheit)
¾ teaspoon yeast
1 teaspoon sugar
1 cup bread flour
½ teaspoon salt
½ tablespoon olive oil
For the topping:
1 boneless, skinless chicken breast half, cut into bite-sized pieces
½ cup barbecue sauce
1½ teaspoons olive oil
1 cup shredded Mozzarella
½ cup grated Gouda cheese (preferably smoked)
½ cup sliced red onion
2 teaspoons finely chopped fresh cilantro
Directions: To make the crust, combine the water, yeast, and sugar in a large bowl or the bowl of a stand mixer. Let sit for 5 minutes, until the yeast begins to foam. Add the flour, salt, and olive oil. Mix until dough starts to form, then knead for 10 minutes. Grease a bowl with oil. Add the dough and turn to coat with the oil. Cover and set aside to rise for 2 hours. Transfer to refrigerator overnight.
About 1 to 2 hours before you plan to make the pizza, remove dough from refrigerator and let come to room temperature.
To make the pizza toppings, combine the chicken and ¼ cup barbecue sauce in a bowl. Cover and let marinate for 2 hours.
Place pizza stone in oven. Preheat oven to 450 degrees Fahrenheit for 30 minutes.
Sauté chicken over medium heat for 7 to 8 minutes until cooked through and no longer pink. Set aside.
Sprinkle cornmeal on work surface and roll out pizza dough into 10-inch diameter circle. Spread remaining ¼ cup barbecue sauce on dough. Sprinkle half mozzarella cheese and gouda over the sauce. Top with cooked chicken, red onion, and remaining mozzarella. Transfer pizza to oven and bake for 10 to 12 minutes, or until golden brown. Top with cilantro, then serve.
6. Spinach Alfredo Pizza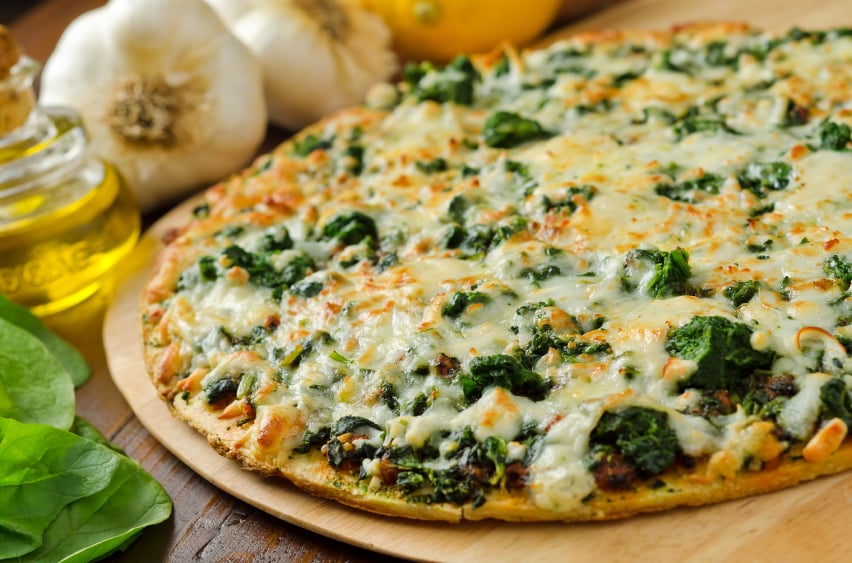 Papa John's is one of the most successful pizza chains in America, serving up its signature garlic dipping sauce and large pies to college kids and hungry families across the country. You can take a stab at creating your own version of Papa John's spinach alfredo pizza with this recipe for Sasha's Cookbook.
Ingredients:
For the crust:
2 cups all-purpose flour
¾ cup warm water
2 tablespoons active yeast
1 teaspoon sugar
¼ teaspoon salt
¼ cup olive oil
For the spinach alfredo topping
2 cups spinach, chopped
1 can evaporated milk
2 tablespoons heavy cream
1 cup Parmesan cheese, grated
¼ cup all-purpose flour
2 tablespoons butter
1 tablespoon garlic, minced
Pepper, to taste
1 teaspoon oil (for spinach)
Mozzarella cheese, grated
Directions: In a large bowl, combine the yeast, sugar, and warm water. Let sit for several minutes, until foamy. Add the salt and olive oil and mix well.
Place the flour in a bowl. Add the liquid to the flour and mix well until everything comes together. Knead for a few minutes until a dough forms. Oil a bowl, then add the dough to the bowl and cover. Set aside in a warm place for about 1 hour, until dough rises.
To prepare the sauce, melt butter in a medium pot. Add garlic and sauté until golden in color. Add the flour and cook, stirring continuously, until golden brown. Add the evaporated milk and bring to boil. Cook for 3 to 5 minutes. Turn off the heat and stir in the parmesan.
Chop the baby spinach. Heat oil in a separate pan. Sauté spinach for 2 minutes, until just wilted. Combine the cooked spinach with the sauce and set aside.
To make the pizza, preheat the oven to 475 degrees Fahrenheit. Dust work surface with some flour. Uncover the dough and knead it, then form into a large round. (Adjust diameter based on how thick you like your pizza crust.)
Transfer the dough to a pizza stone or baking sheet. Spread the spinach alfredo sauce over the crust, leave a ½ to 1-inch border around the edge. Sprinkle some mozzarella cheese over the top. Bake for 20 to 30 minutes, then serve.
7. Pizza Hut Pan Pizza Copycat Recipe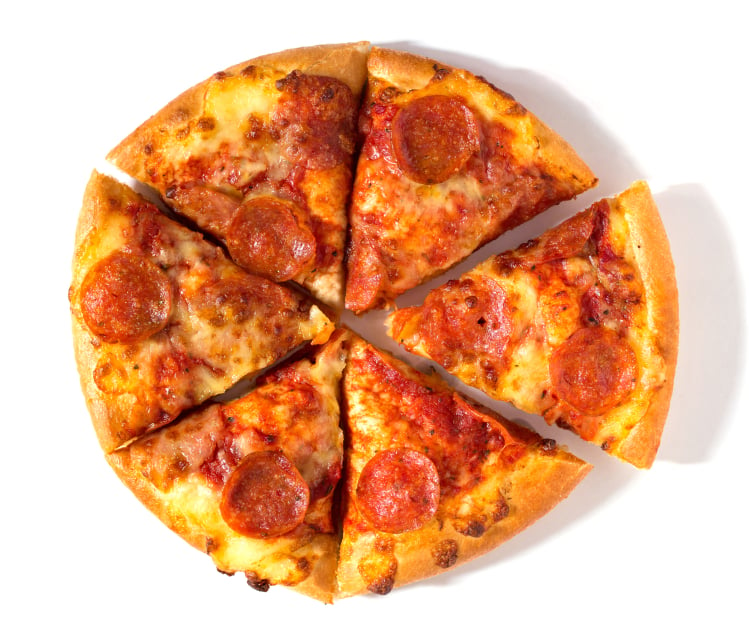 You can create your own personal pan pizza at home with this copycat Pizza Hut recipe from CD Kitchen. The crust and sauce are just like the real deal. This recipe makes three 9-inch pizzas, which are baked in cake pans.
Ingredients:
For the dough:
1 1/3 cup warm water (105 degrees Fahrenheit)
¼ cup non-fat dry milk
½ teaspoon salt
4 cups flour
1 tablespoon sugar
1 package dry yeast
2 tablespoons vegetable oil (for dough)
9 ounces vegetable oil (3 ounces per pan)
Butter-flavored cooking spray
For the sauce:
1 (8-ounce) can tomato sauce
1 teaspoon dry oregano
½ teaspoon marjoram
½ teaspoon dry basil
½ teaspoon garlic salt
For the pizza:
13½ ounces shredded mozzarella cheese
Pepperoni, sausage, and other toppings of your choice
Directions: Combine yeast, sugar, salt, and dry milk in a 2-quart bowl. Add water and stir to mix well. Let sit for two minutes. Add oil. Stir again. Add flour and stir until dough forms.
Turn dough out on to a flat, lightly floured work surface. Knead for 10 minutes. Divide into three balls of equal size.
Pour 3 ounces of oil into each of three 9-inch cake pans, coating each evenly. Roll out each dough ball to form a circle about 9 inches in diameter. Transfer to prepared pans.
Coat the outer edge of dough with cooking spray. Cover each pan with a plate and place in warm area. Allow to rise for 60 to 90 minutes.
To make the sauce, combine all the ingredients in a medium bowl. Let sit for 1 hour.
Preheat oven to 475 degrees Fahrenheit. Spoon 1/3 cup sauce on each pan of pizza dough and spread to within 1 inch of edge. Top each pizza with 1½ ounces shredded mozzarella cheese, then add the toppings of your choice. Top with another 3 ounces of shredded cheese
Cook in oven until cheese bubbles and outer edge of the crust has browned. Serve.
Follow Megan on Twitter @MeganE_CS