10 Freezer-Friendly Breakfast Recipes for Busy Parents
Is breakfast the most important meal of the day? There's definitely some strong evidence in its favor. (Even if the adage is up for debate among night owls, serial snoozers, and anybody else who isn't excited to drag themselves out of bed in the morning.) But we'd argue a great breakfast can make even the most uninspiring morning better. That's especially true if you take the opportunity to eat healthy foods for breakfast instead of reaching for sugary eats that will just set you up for a mid-morning crash.
Getting a good meal on the table at the start of the day is tough if you're busy. And that goes double if you're a busy parent. Getting everybody dressed and ready doesn't always leave a lot of time for chopping fruit, preparing eggs, or stirring oatmeal. So, you should make things easier on yourself. Instead of trying to throw breakfast together in the moment, set aside some time over the weekend to make a batch of easy make-ahead breakfasts for your whole family. Something you can throw in the freezer, and have ready to go during the week.
Fortunately, we've collected some great, freezer-friendly breakfast recipes. Each one is easy to make in a spare hour or two over the weekend. Most of them can be kept in the refrigerator for the week ahead, or you can stash them in the freezer to have breakfast figured out further into the future. Whether you want to keep these breakfast recipes tucked away for two days or two weeks, they'll emerge ready to please.
1. Black Bean Rancheros
Angela Liddon shares this recipe on Food52, saying it's a great savory breakfast option. This recipe comes together in less than 30 minutes, but if you want to make it ahead, you can easily freeze the rancheros for up to a month. Just assemble each one as a wrap, roll in a layer each of parchment paper and foil, then place in a freezer bag. To thaw them out, just remove the rancheros from the bag and place them in an oven preheated to 400 degrees Fahrenheit for 20 to 25 minutes.
Ingredients:
1 tablespoon extra-virgin olive oil
1 small onion, diced
1 red bell pepper, sliced into thin strips
1 medium jalapeño, seeded and minced
½ cup frozen or fresh corn
1 (14-ounce) can black beans, drained and rinsed
½ cup salsa
1 teaspoon ground cumin
1 teaspoon garlic powder, to taste
½ to ¾ teaspoon fine sea salt, to taste
1 cup fresh cilantro, roughly chopped, plus more for garnish
6 medium corn or flour tortillas
1 large avocado, pitted and sliced
Fresh lime juice for serving
Directions: In a large skillet or wok, heat the oil over medium heat. Add the onion and sauté, stirring frequently, until the onion is translucent. Add the bell pepper, corn, and jalapeño if using, and cook for 5 minutes more, or until the peppers soften.
Stir in the beans, salsa, cumin, garlic powder, and salt. Lightly mash some of the beans with a fork, if desired, to give them a refried bean texture. Cook for 3 to 5 minutes more, until heated through and the vegetables are tender. Stir in the cilantro.
Warm the tortillas if you're serving the rancheros and not freezing them. If you're freezing them, divide the bean mixture among the tortillas. Add sliced avocado, salsa, and cilantro. Squeeze lime juice on top of each tortilla. Assemble each ranchero in a wrap. Then wrap it in a layer of parchment paper and foil. Place them in a freezer bag. To thaw them, remove the foil-wrapped rancheros from the bag and place it in an oven heated to 400 degrees Fahrenheit. Warm for 20 to 25 minutes, flipping halfway through, until warmed through.
2. Freezer-Friendly Breakfast Sandwiches
Emma Christensen reports for The Kitchn these freezer-friendly breakfast sandwiches will definitely make your mornings better. You can customize these sandwiches to your taste (or your children's taste). You can pick the cheese you want, and opt to add meat or to make them vegetarian. To prepare them for freezing, just wrap the sandwiches in aluminum foil, then put them in a container or a freezer bag. When you want to reheat them, unwrap a frozen sandwich, and put it on a microwave-safe plate lined with a paper towel. Heat at full power for a 1 to 1½ minutes.
Ingredients:
10 large eggs
1 cup whole milk
1 teaspoon kosher salt
6 slices baconor other meat of choice
6 slices of cheese
6 English muffins
Directions: Preheat the oven to 375 degrees Fahrenheit. Place one rack in the lower third of the oven, and another rack in the upper third of the oven.
To make the eggs, whisk the eggs together with the milk and salt in a large mixing bowl. Spray a 9-by-13-inch baking pan with cooking spray. Pour the eggs into the pan. Place on the lower rack in the oven and bake until the eggs are puffed around the edges and have golden spots, about 25 to 30 minutes. Cool completely.
To make the bacon, line a baking sheet with foil. Arrange the bacon in a single layer, with no pieces overlapping. Turn up the edges of the foil to catch the grease. Place the bacon on the upper rack of the oven. Back until crispy, 15 to 20 minutes. When it's finished, transfer the bacon to a plate lined with paper towels to drain it. When they've cooled, break each piece in half.
Slice six pieces of cheese. When the eggs and bacon are both finished, place the English muffins cut side up on a baking sheet. Toast in the oven for a few minutes, until the edges appear toasted. You can brush the muffins with butter before toasting if desired.
Next, cut out the egg rounds. Use a spatula to lift the eggs out of the pan and onto a cutting board. Use a large biscuit cutter or drinking glass to cut 6 rounds out of the eggs.
Assemble the sandwiches. Arrange the bottom halves of the English muffins in a row. Top each with an egg round, a slice of cheese, and 2 pieces of bacon. Add the muffin tops. Wrap each sandwich in a square of aluminum foil. Then put all the sandwiches in a freezer bag or container. Freeze for up to a month.
To reheat, unwrap a frozen sandwich and place on a microwave-safe plate lined with a paper towel. Heat at full power for 1 to 1½ minutes, until the cheese is melted and the egg is warmed through. You can toast the muffin top separately if desired.
3. Frozen Single-Serve Oatmeal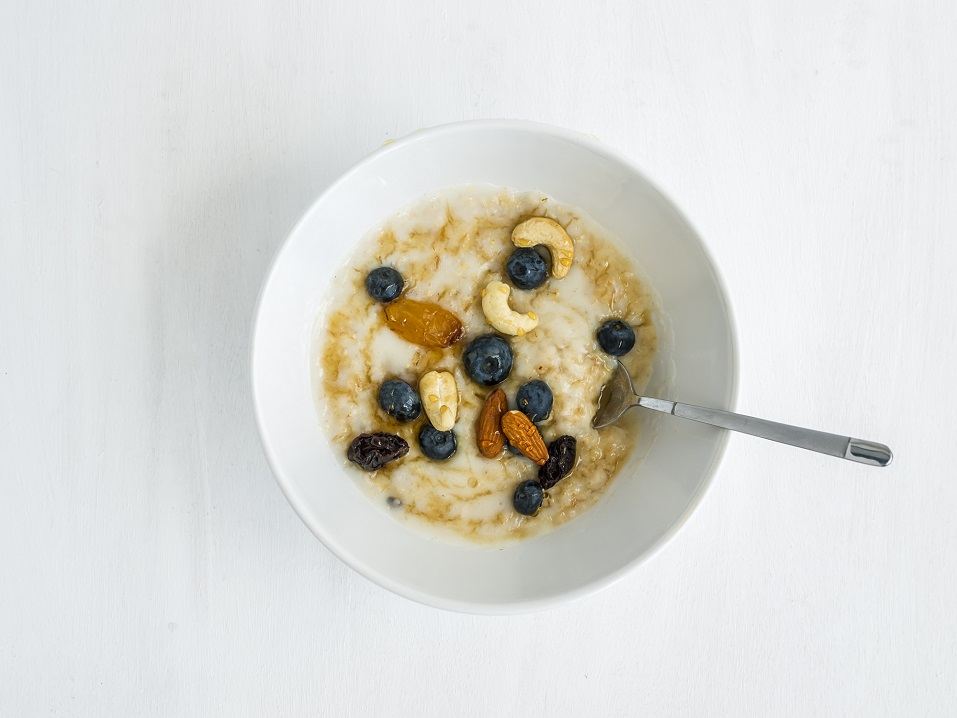 Anjali Prasertong reports for The Kitchn that frozen, single-serve oatmeal is a great option whether you have kids, a long commute, or a demanding job. "These handy little pucks of cooked oatmeal have all the mix-ins frozen right into them, so they are easy to heat up quickly or grab on your way out the door and warm up at work or school," she writes. To freeze them, just wrap in freezer-safe packaging. All they need is a quick zap in the microwave to reheat.
Ingredients:
2 cups old-fashioned rolled oats
3½ cups water
⅛ teaspoon salt
Honey, brown sugar, agave, or another sweetener
½ cup dried cherries
⅓ cup almonds, roughly chopped
2 tablespoons shelled pumpkin seeds
Directions: Lightly grease a muffin pan and set aside. Prepare oatmeal by bringing oats, water, and salt to a boil in a saucepan. Cook, stirring, until oats are tender, about 3 to 5  minutes. Mix in sweetener, divide among muffin cups, then sprinkle toppings over each.
Place the muffin pan in the freezer until the oatmeal is fully frozen, at least 3 hours. Remove and allow the oatmeal to thaw slightly. Then pop the oatmeal out of the pan with an offset spatula or a thin butter knife. If you need to, you can dip the bottom of the pan in warm water. Wrap the oatmeal in freezer-safe packaging and freeze.
To eat, remove the desired amount of oatmeal and warm in a bowl in the microwave for 1 to 2 minutes.
4. Oats and Quinoa Breakfast Bars
Food52 user CravingSomethingHealthy explains these breakfast bars are "like a meal in a bar: full of grains and fruit, plus protein from quinoa and nuts." They're great for kids (and grownups) who like peanut butter. Plus, they incorporate grains, seeds, and fruit for a variety of nutritious flavors. And you can either refrigerate extra bars or pop them in the freezer.
Ingredients:
2 

tablespoons canola oil

¾ cup quinoa, rinsed

2 

cups old fashioned oats

1 

cup roasted, salted cashews, chopped

⅓ cup roasted sunflower seeds

1 

cup dried fruit, chopped

½ cup dark chocolate chips (optional)

1½ 

cups Multigrain Cheerios or similar cereal

1 

cup sugar

⅓ cup water

1 

teaspoon vanilla

¼ cup half-and-half

¼

cup peanut butter
Directions: Line a 9-by-13-inch baking pan with foil so that the foil hangs over the sides. Spray with cooking spray and set aside.
Heat the oil in a large sauté pan. Add the quinoa and oats. Toss to coat with the oil and toast lightly. Remove from the heat and let cool. Put the oat mixture in a large mixing bowl. Add cashews, sunflower seeds, fruit, chocolate chips, and Cheerios. Stir well to combine.
Pour sugar and water into a medium saucepan. Stir lightly to combine and then bring to a boil. Cook over medium-high heat without stirring until the sugar turns a light golden color, approximately 6 minutes. Reduce the heat to medium-low and continue to boil until the sugar is a dark amber color, another one to three minutes. Stir only as needed.
Immediately remove from heat. Then whisk the half and half, vanilla, and peanut butter into the sugar. The mixture will bubble vigorously. The recipe author advises working quickly because the caramel will begin to thicken.
Pour the caramel over the oat mixture and stir well to combine. Then transfer the granola mixture into the prepared pan and press. Pack well into a flat layer. Be sure to press the mixture tightly or else the bars will break apart.
Refrigerate for at least 3 hours. Remove the bar from the pan by lifting the foil. Then cut into 16 bars. Wrap the bars in wax paper or parchment paper. You can either refrigerate or freeze the bars.
5. Quinoa Pancakes
Everybody loves pancakes, but they aren't always the most healthy (or freezer-friendly) breakfast food. Thankfully, that's easy to fix with this recipe from The New York Times. Martha Rose Shulman writes adding quinoa to a regular pancake recipe "results in a thick, moist pancake that's hefty but not heavy." You can serve these quinoa pancakes with butter and maple syrup right away, or you can freeze them for a later date.
Ingredients:
1

 

cup whole-wheat flour

½

 

cup unbleached all-purpose flour

2

 

teaspoons baking powder

1

 

teaspoon baking soda

1

 

tablespoon sugar

⅛

 

teaspoon salt

2

 

large eggs

1½

 

cups buttermilk

1

 

teaspoon vanilla extract

3

 

tablespoons canola oil

1

 

cup cooked quinoa

1½

 

cups fresh or frozen blueberries or other fruit
Directions: Sift together the flours, baking powder, baking soda, sugar, and salt.
In another bowl, whisk the eggs. Add the buttermilk and whisk the mixture together. Whisk in the vanilla extract and the oil. Add the flour mixture to the wet ingredients and whisk together. But don't over-beat. A few lumps are fine. Fold in the quinoa.
Heat a griddle over medium-high heat. If necessary, brush it with butter or oil. Drop 3 to 4 tablespoons of batter onto the hot griddle. Place 6 to 8 blueberries on each pancake. Cook until bubbles begin to break through, about 2 to 3 minutes. Turn, and cook on the other side for 1 minute or until browned. Remove from the heat, and continue making pancakes until the batter is used up.
Serve hot with butter and maple syrup. These pancakes freeze well. Alternately, they can be made a day ahead, refrigerated, and reheated.
6. Rye and Cornmeal Muffins with Caraway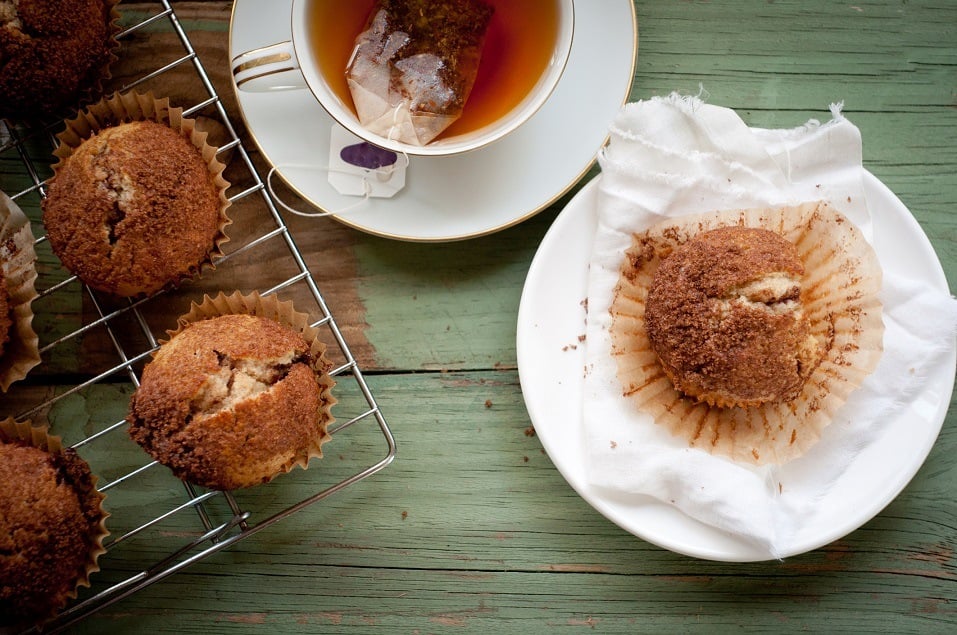 If you want a savory breakfast instead of something too sweet, try Shulman's rye and cornmeal muffins, also featured on The New York Times. Shulman notes the recipe's "flavors are reminiscent of black bread and pumpernickel." This dish is a great way to get your kids to eat some whole grains instead of relying on white flour, and they also happen to keep really well in the freezer.
Ingredients:
1

 

cup rye flour

1

 

cup whole-wheat flour

2

 

teaspoons baking powder

1

 

teaspoon baking soda

¾

 

teaspoon salt

⅓

 

cup cornmeal

2

 

teaspoons caraway seeds

2

 

eggs

¼

 

cup canola oil

2

 

tablespoons blackstrap molasses

1½

 

cups buttermilk
Directions: Preheat the oven to 375 degrees Fahrenheit, with the rack positioned in the upper third of the oven. Oil or butter muffin tins.
Sift together the rye and whole-wheat pastry flours, baking powder, baking soda, and salt. Stir in the cornmeal and caraway seeds.
In a separate bowl, beat together the eggs, oil, blackstrap molasses, and buttermilk. Using a whisk or spatula, stir in the dry ingredients. Mix until well-combined. Don't beat the mixture; a few lumps are fine. Just make sure that there's no flour at the bottom of the bowl.
Spoon the mixture into the cups of the muffin tin. Fill each to just below the top. Place in the oven and bake 25 minutes until lightly brown and well risen. The muffins will keep for a few months in the freezer.
7. Savory Carrot and Zucchini Pancakes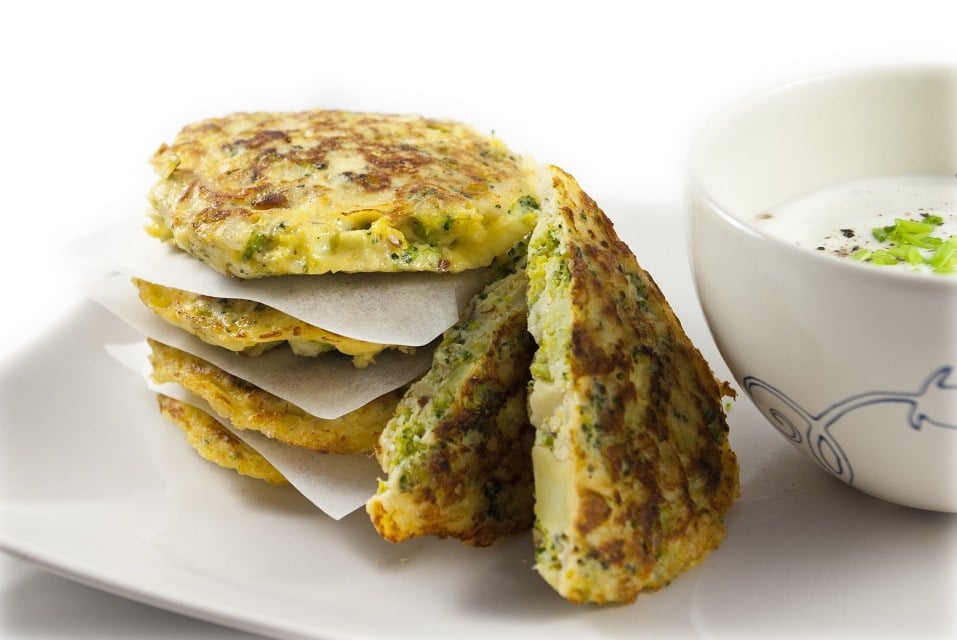 Looking for more ways to get your kids to eat their vegetables? Try these savory carrot and zucchini pancakes, which The Kitchn's Sarah Rae Smith reports, "can be just the thing to liven up your kitchen, clean out your pantry and fridge, and pack some extra nutrients into those little ones." You can add just about any vegetable you need to use up, too. When freezing, separate each with parchment paper. That way, they're easy to take out and stick in the toaster or the microwave when you want to heat them up.
Ingredients:
1 large zucchini
8 medium carrots, peeled
1 bunch green onions
3 cloves garlic
½ bunch fresh parsley
1 recipe pancake batter, such as Lofty Buttermilk Pancakes
Directions: Grate the zucchini and carrots using the large holes on a box grater. Thinly slice the onions, mince the garlic, and roughly chop the parsley.
Prepare a recipe of your favorite homemade or store-bought pancake mix, but use ¼ cup less liquid than the recipe calls for. Fold the vegetables into the prepared pancake batter.
Warm a skillet over medium-high heat, and brush it with olive oil. Use a ⅓-cup measuring cup to scoop the batter onto the heated skillet. Cook for 3 to 4 minutes, until the outer edges have set. Then flip. Cook an additional 2 to 3 minutes and remove from heat.
Sprinkle the pancakes with salt and allow to cool slightly before serving. If freezing, slip squares of parchment paper between them. Reheat and serve with butter, sour cream, or a savory jam or chutney.
8. Spiced Pear Muffins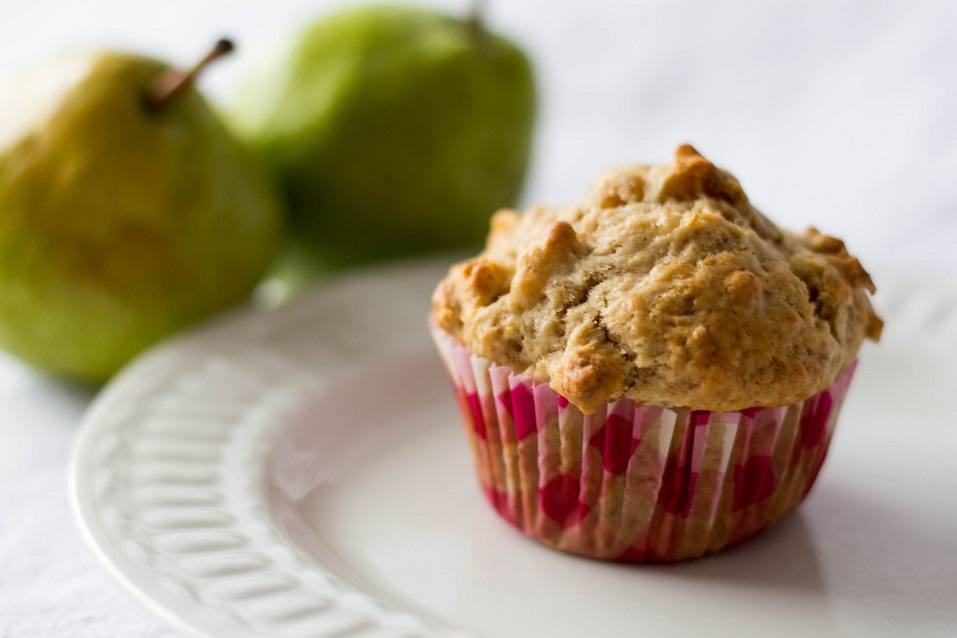 Emma Christensen reports for The Kitchn that these spiced pear muffins "are solidly in the middle of the muffin spectrum, neither so sweet that they could pass for cupcakes nor so healthy that they stop tasting like a treat." That sounds like a pretty great breakfast recipe to us. You can use pears or another firm fruit like apples. And you can freeze these muffins for up to three months. Christensen recommends reheating frozen muffins in an oven or toaster oven set to 300 degree Fahrenheit, or even popping them into the microwave for a few minutes.
Ingredients:
½ cup packed brown sugar
¼ cup granulated sugar
4 ounces unsalted butter, softened
2 large eggs
1 teaspoon vanilla extract
1 cup all-purpose flour
1 cup whole-wheat flour
2 teaspoons baking powder
2 teaspoons ground cinnamon
½ teaspoon ground ginger
¼ teaspoon ground nutmeg
½ teaspoon salt
½ cup milk
2 to 2½ cups pears, unpeeled and diced small
¼ cup chopped candied ginger, ½ cup chopped nuts, or ½ cup mini chocolate chips
Cinnamon and sugar, for sprinkling on top
Directions: Preheat oven to 425 degrees Fahrenheit. Spray the wells of a standard muffin tin with nonstick spray, or place muffin liners in all of the wells.
In a mixer on high speed, cream together the sugars and softened butter until fluffy, about 1 minute. Mix in the eggs one at a time, until fully incorporated, about 1 minute each. Mix in the vanilla extract.
In a separate bowl, whisk together the flour, baking powder, spices, and salt. Set the mixer to low speed and mix a third of the flour mixture into the butter-sugar mixture, followed by a third of the milk. Continue alternating between the flour and milk, mixing just until the flour is incorporated. It's alright for some flour to remain on the sides of the bowl.
Scrape the sides of the bowl with a spatula. Stir gently to incorporate the last of the flour. Add the diced pears and any optional ingredients all at once. Then fold them into the batter. Divide the batter between the muffin cups. The batter should fill the cups and mound slightly on top. Sprinkle the tops with cinnamon and sugar.
Place the muffin tin in the oven. Immediately turn the heat down to 400 degrees Fahrenheit. Bake for 20 to 25 minutes. Rotate the pan once in the middle of baking. The muffins are done when the tops look cracked and toasted. A toothpick inserted in the middle of one of the muffins should come out clean.
Let the muffins cool until you can handle them. Then transfer to a  wire rack to finish cooling. They can be kept frozen for up to three months. Reheat frozen muffins in an oven or a toaster oven set to 300 degrees Fahrenheit. Or warm them for a few minutes in the microwave.
9. Spinach-Feta Breakfast Wraps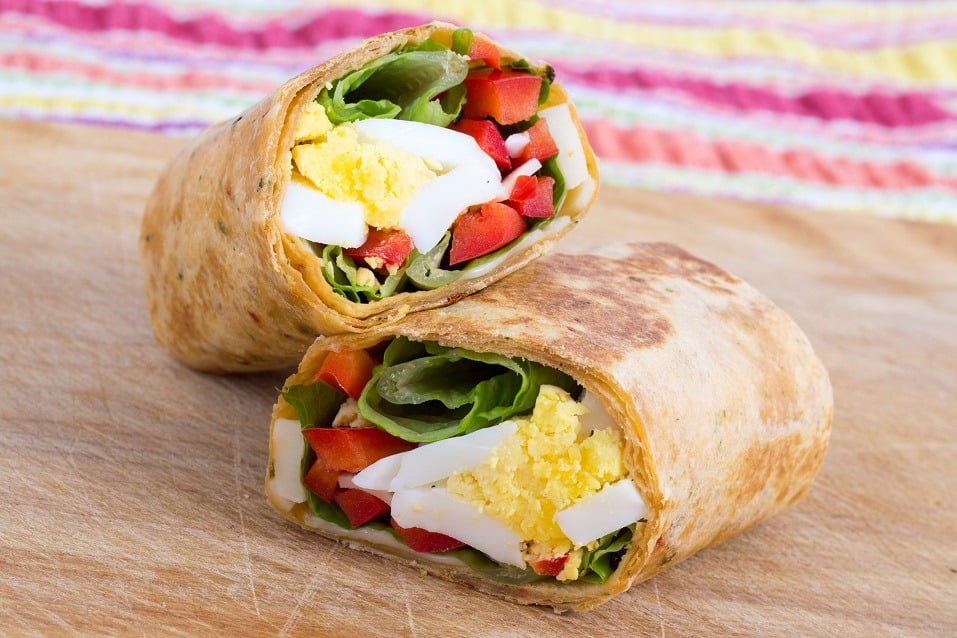 You might not think a homemade breakfast wrap would freeze well, but Sarah E. Crowder's recipe from The Kitchn will prove you wrong. Crowder writes you can fill these wraps with any ingredients you want, though this is her attempt to recreate a Starbucks dish. To freeze the assembled wraps, place them in a gallon sized zip-top bag. If you're planning to freeze them for more than a week, wrap them in aluminum foil to prevent freezer burn. To reheat them, just microwave on high for 2 minutes.
Ingredients:
10 large eggs
½ pound baby spinach
4 large whole-wheat tortillas
½ pint cherry or grape tomatoes, halved
4 ounces feta cheese, crumbled
Butter or olive oil
Salt
Pepper
Directions: In a large bowl, whisk the eggs until the whites and yolks are completely combined. Place a large skillet over medium heat. Add enough butter or olive oil to coat the bottom. When the butter is melted or the oil is hot, pour in the eggs and stir occasionally until the eggs are cooked. Add a pinch of salt and a generous amount of black pepper. Then transfer to a large plate to cool to room temperature.
Rinse or wipe down the skillet. Put it back over medium heat, and add more butter or oil. Add the spinach and cook, stirring often, until the spinach is just wilted. Spread the cooked spinach onto another large plate to cool it to room temperature.
Arrange a tortilla on your work surface. Add one-quarter of each of the eggs, spinach, tomatoes, and feta down the middle of the tortilla. Wrap tightly. Repeat with the remaining three tortillas. Place the wraps in a gallon zip-top bag, then freeze until ready to eat. If you're freezing them for more than a week, wrap the burritos in aluminum foil to prevent freezer burn. When you want to reheat them, just microwave on high for 2 minutes.
10. Strawberry Oat Crumble Bars
Angela Liddon writes for Food52 that these delicious strawberry oat crumble bars are vegan, gluten-free, and lunchbox-friendly. Quite the combination! The recipe uses chia seed jam, a novel and easy recipe you can change up endlessly based on what you like to eat in the morning. These bars freeze well for 4 to 5 weeks. That makes them a great breakfast to have on hand for when you really need to get everybody out the door.
Ingredients:
1 

cup hulled sunflower seeds

3 

cups gluten-free rolled oats

¼

teaspoon plus ⅛ teaspoon fine sea salt

½

cup virgin coconut oil

¼ cup pure maple syrup

3 

tablespoons brown rice syrup

1 

tablespoon sunflower seed butter

1¼

cups Strawberry-Vanilla Chia Seed Jam or store-bought jam
Directions: If you want to roast the sunflower seeds, preheat the oven to 325 degrees Fahrenheit. Spread the seeds in an even layer over a large, rimmed baking sheet. Roast for 9 to 12 minutes, until lightly golden in some spots. Remove from the oven and set aside.
Increase the oven temperature to 350 degrees Fahrenheit. Line a 9-inch-square pan (or an 8-inch pan for a slightly thicker bar) with parchment paper. Leave some overhang so that the bars are easy to lift out later.
In a food processor, combine the sunflower seeds, oats, and salt. Process until the mixture resembles a coarse flour.
In a small pot, melt the coconut oil over low heat. Remove from the heat, then whisk in the maple syrup, brown rice syrup, and sunflower seed butter until combined. Pour the wet mixture on top of the oat mixture in the food processor. Process for 10 to 15 seconds until the mixture comes together. The dough should feel heavy and oily, and shouldn't have dry patches. If you see dry patches, process the mixture for five seconds more. If it's still too dry, add water a teaspoon at a time and process again until it comes together.
Set aside 1¼ cups of the oat mixture for the topping. Crumble the remaining oat mixture over the base of the prepared pan in an even layer. Beginning at the center, push down with your fingers to spread and pack down the curst. Press the dough down tightly. Even out the edges with your fingertips. Prick the crust with a fork about 9 times to allow steam to escape.
Par-bake the crust for 10 minutes. Remove from the oven and let cool for 5 minutes. If the crust puffed up while baking, gently press it to release the air. Spread the jam in an even layer over the crust. Crumble the reserved oat mixture evenly over the jam.
Bake uncovered for 14 to 18 minutes more until the topping is lightly firm to the touch. The topping won't turn golden in color, and will remain the same shade. Let the bars cool in the pan on a cooling rack for 45 to 60 minutes, and transfer the pan to freezer for 30 minutes. Lift the slab out and slice it into squares or bars. You can store the bars in the refrigerator for a few days, or wrap them and store them in the freezer for 4 to 5 weeks.