Surf-and-Turf Recipes You Can Make at Home
Tired of having to choose between meat and seafood? There's no need to settle for making just one of your favorite foods when you can prepare a meal that incorporates both. A surf-and-turf dish includes a portion of seafood, like shrimp or lobster, in addition to a serving of meat, like pork of beef. Wise Geek explains that the term "surf-and-turf" became popular along both U.S. coasts in the late 1960s and was used as a way for restaurants to advertise their wide range of offerings. A surf-and-turf entrée is just as popular today as it was then and is a great go-to for those craving a meal that's elegant, hearty, and delicious.
If you've got a serious craving for both seafood and meat, we recommend making one of these six surf-and-turf recipes immediately. You won't be disappointed.
1. Grilled Surf-and-Turf with Spicy Garlic-Shallot Butter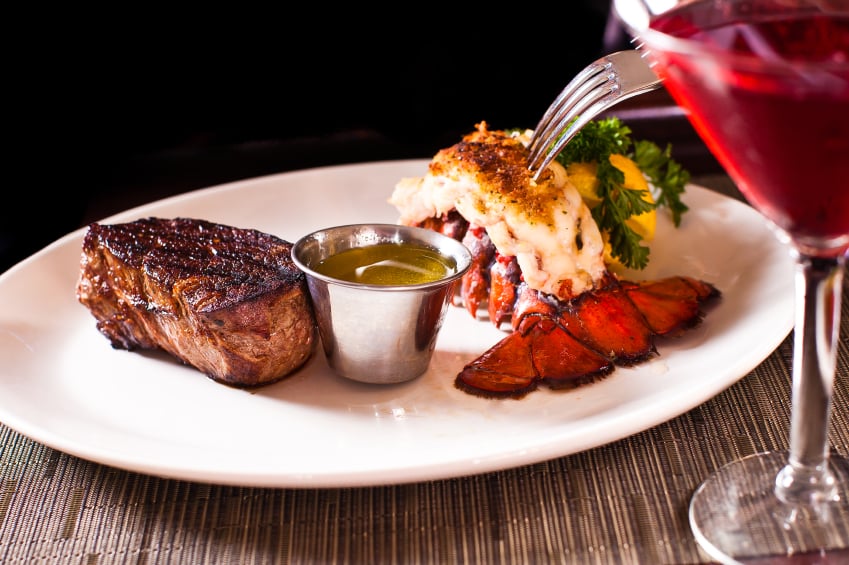 Looking for a way to wow your guests at your next cookout? For an entrée that's certain to appease all appetites, prepare Bon Appétit's recipe via Epicurious for grilled surf-and-turf with spicy garlic-shallot butter. Not only does the spicy garlic butter give the dish spectacular flavor, but it also ensures the lobster tails stay nice and moist while they're cooking on the grill. It serves 6.
Ingredients:
½ cup (1 stick) butter, room temperature
¼ cup olive oil
2 large shallots, quartered
4 large garlic cloves, halved
1 teaspoon salt
1 teaspoon cayenne pepper
½ teaspoon ground black pepper
6 (8- to 10-ounce) New York strip steaks (each about ¾-inch thick)
3 (10-ounce) uncooked lobster tails, thawed if frozen, cut lengthwise in half
Directions: Combine first 7 ingredients in processor and blend until almost smooth. Spread 1 heaping teaspoon seasoned butter over each side of each steak and over each lobster half. Let stand at room temperature 1 hour. Transfer remaining seasoned butter to small saucepan.
Prepare barbecue. Set pan with butter at edge of barbecue until butter is melted and warmed through. Grill steaks until cooked to desired doneness, about 4 minutes per side. Grill lobster, shell side down, 5 minutes. Turn over and grill until meat is just opaque in center, about 3 minutes. Transfer steaks and lobster to plates. Serve with warm seasoned butter.
2. Mini Surf-and-Turf Burgers
Coastal Living puts a fun spin on the classic meat and seafood combo with these mini surf-and-turf burgers. Prepare your mini burgers and crab cakes, stack the patties on a piece of toasted bread, skewer with toothpicks, and serve with a combination of cocktail and tartar sauce. Serve as a party appetizer or main dinner dish.
Ingredients:
¼ cup cocktail sauce
¼ cup tartar sauce
3 large pieces of white bread, toasted and cut into 2-inch squares
Directions: Combine cocktail and tartar sauces in a small bowl. Prepare mini burgers, cover, and keep warm. Prepare mini crab cakes, cover, and keep warm.
Place mini burgers on toasted bread squares. Stack mini crab cakes on top; skewer with decorative toothpick. Serve with cocktail sauce mixture.
3. Surf-and-Turf Cajun Pasta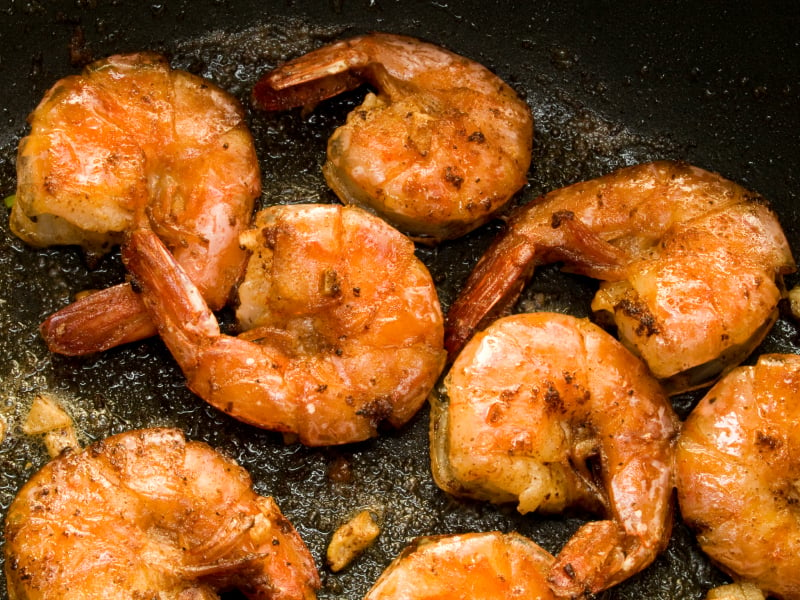 Make an already hearty dish even more filling using The Pioneer Woman's recipe. Perfectly seasoned steak and jumbo shrimp are placed atop pasta, creating a delicious dinner that is not for the faint of appetite. It serves 4.
Ingredients:
4 (6-ounce) beef filet steaks, 1½-inches thick
Cajun seasoning
2 tablespoons butter
3 tablespoons olive oil
1 pound jumbo shrimp, deveined and shells removed
1 whole small red onion, halved and sliced
1 whole green bell pepper, seeded, halved, and sliced
1 whole red bell pepper, seeded, halved, and sliced
3 cloves garlic, minced
½ cup white wine
1½ cups low-sodium chicken broth
¾ cups heavy cream
½ cup Parmesan cheese, grated
2 whole tomatoes, diced
Minced parsley, to taste
1 pound fettuccine, rigatoni, or other noodle
Directions: Cook pasta according to package directions. Drain when pasta is still al dente; do not overcook. Preheat oven to 425 degrees Fahrenheit.
Season steaks generously with Cajun spice. Melt 1 tablespoon butter and 2 tablespoons olive oil in a large skillet over medium-high heat. Sear the steaks until dark golden brown on both sides. Remove to an oven-safe plate or dish. Place in the oven and continue cooking until medium rare, about 12 minutes.
Add additional 1 tablespoon butter and another tablespoon olive oil to the skillet and allow to melt/get hot. Season shrimp liberally with Cajun spice and throw into the skillet. Cook until opaque and deep golden brown. Remove to a plate and set aside.
Throw in onion and bell pepper, then cook for a couple of minutes until golden brown and color but still somewhat crisp. Add garlic and cook around for 30 to 45 seconds. Remove veggies to a plate and set aside.
With the pan over high heat, pour in the wine and chicken broth. Cook on high for 3 to 5 minutes, scraping the bottom of the pan to deglaze. Reduce heat to medium-low and pour in cream, stirring/whisking constantly. Cook sauce over medium-low heat for a few minutes, until cream starts to thicken the mixture. Add Parmesan and stir to melt. Taste and adjust seasonings as needed.
Finally, add vegetables to the sauce, making sure to include all the juices that have drained onto the plate. Stir and cook for 1 to 2 minutes, until mixture is bubbly and hot. Add drained fettuccine, minced parsley, and toss to combine. Splash in more chicken broth if it needs more liquid.
Mound pasta on plates and nest a warm steak in the middle. Arrange shrimp around the edge of the plate. Sprinkle with a little more minced parsley and serve!
4. Grilled Surf-and-Turf Kabobs
Betty Crocker's surf-and-turf kabobs are perfect for summertime grilling. Beef and shrimp are coated in a tangy teriyaki marinade, placed on skewers, and grilled until the shrimp are pink. Whether you're looking for a special appetizer or a fun dinner dish, this recipe is a great go-to! It serves 12.
Ingredients:
¾ pound boneless beef sirloin steak (¾-inch thick), trimmed of fat
12 uncooked deveined peeled medium or large shrimp, thawed if frozen, tail shells removed
½ cup teriyaki marinade and sauce (from 10-ounce bottle)
¼ teaspoon coarsely ground pepper
12 bamboo skewers (4 to 6 inch)
Directions: Cut beef into 24 (¾-inch) pieces. In medium bowl, mix beef, shrimp, and teriyaki sauce. Sprinkle with pepper. Cover; refrigerate 30 minutes, stirring frequently. Meanwhile, soak skewers in water at least 30 minutes before using to prevent burning.
Spray grill rack with cooking spray. Heat gas or charcoal grill. On each skewer, thread 1 beef piece, 1 shrimp, and another beef piece, leaving space between each piece; reserve marinade. Place kabobs on grill. Cover grill; cook over medium heat 5 to 6 minutes, turning once and brushing with marinade once or twice, until shrimp are pink. Discard any remaining marinade.
5. Asian-Style Surf-and-Turf
Infuse your surf-and-turf with sweet Asian flavors using William Rice's recipe, which can be found in the Steak Lover's Cookbook and via Food.com. Consisting of filet mignon, shrimp, and a tangy sauce, this irresistible dish is great for gatherings and any time you want to treat yourself to an over-the-top weeknight dinner. It serves 4.
Ingredients:
4 filet mignon, about 4 ounces each
2½ tablespoons vegetable oil
⅓ cup minced scallion, plus ¼ cup minced scallion
1 tablespoon peeled and minced fresh ginger, plus
2 teaspoons peeled and minced fresh ginger
1 tablespoon minced garlic, plus
2 teaspoons minced garlic
1 tablespoon cornstarch
2 tablespoons rice wine or 2 tablespoons water
¾ cup low-sodium chicken broth or ¾ cup low sodium vegetable broth
¼ cup oyster sauce
1 tablespoon soy sauce, plus
2 teaspoons soy sauce
½ tablespoon sesame oil
6 ounces medium shrimp, peeled and chopped
1 teaspoon szechuan peppercorns, ground
Directions: Pat the meat dry then coat on both sides with 2 tablespoons of oil and set aside. Combine the ¼ cup scallions, 1 tablespoon ginger, and 1 tablespoon garlic in a small bowl; in another small bowl, combine the cornstarch and rice wine; in a 2-cup measure, combine the broth, oyster sauce, 1 tablespoon soy sauce, and the sesame oil; place all the bowls near the stove.
Combine the chopped shrimp, Szechuan pepper, ⅓ cup scallions, 2 teaspoon ginger, 2 teaspoons garlic, and 2 teaspoons soy sauce in a small bowl; mix it well and set aside. Broil the steaks until seared and nicely browned on one side, about 4 minutes; turn and broil 3 minutes more; spread the shrimp topping evenly over each filet then continue to broil the meat until the topping is opaque and has begun to brown, about 1 minute. Transfer the steaks to a warm platter or 4 warm plates.
While the steaks are cooking, heat a wok or skillet and add the remaining ½ tablespoon of vegetable oil and the scallion-ginger-garlic mixture to the wok; stir until the scallions soften, about 30 seconds, then add the liquids in the measuring cup; bring to a boil. Stir the cornstarch mixture and stir it into the wok; when the sauce thickens, about 1 minute, spoon 2 tablespoons of the mixture onto each steak and pass the remainder of the sauce at the table.
6. Pork 'n' Shrimp Surf 'n' Turf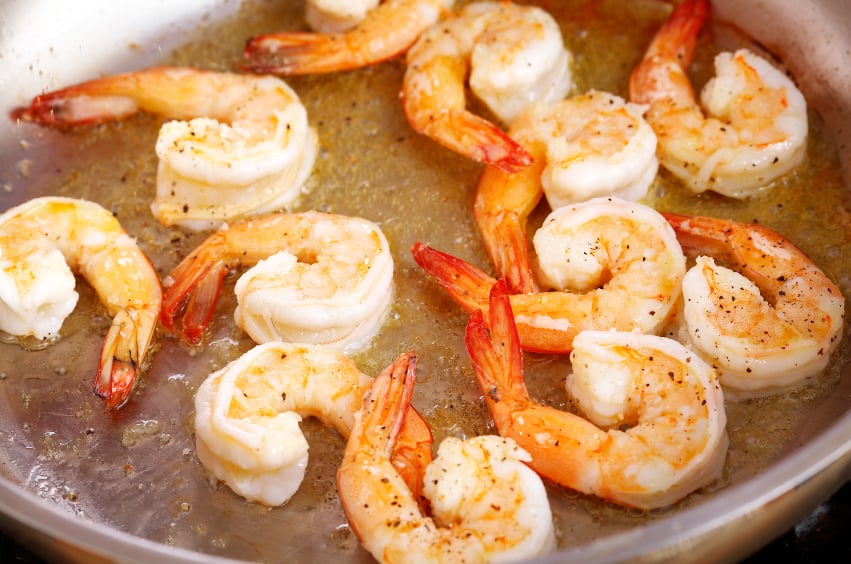 If you prefer pork over steak, you'll enjoy The Chew's version of the meat and seafood classic. Pork is sautéed with butter and sage, followed by brandy, Dijon mustard, chili flakes, ginger, chicken stock, and soy sauce. Continue cooking until the sauce has reduced slightly, and then in a separate pan, sauté the shrimp in white wine, butter, lemon zest and juice, and parsley. Finally, sauté your veggies, and then assemble the dish by placing the pork on one side of the plate, a piece of shrimp on the other size, and the veggies in the middle.
Ingredients:
Pork Medallions
2 pounds pork tenderloin (cut into 1½-inch medallions)
2 tablespoons extra-virgin olive oil
2 tablespoons butter
2 sprigs sage
¼ cup brandy
2 teaspoons Dijon mustard
1 pinch chili flakes
2 teaspoons fresh ginger (finely chopped)
¼ cup chicken stock
2 tablespoons soy sauce
2 tablespoons chopped parsley
salt and freshly ground black pepper to taste
Shrimp
1 pound jumbo shrimp (peeled and deveined, tails on)
2 tablespoons extra-virgin olive oil
2 tablespoons finely chopped garlic
½ cup white wine
4 tablespoons butter
1 lemon (zest and juice)
2 tablespoons finely chopped parsley
Salt and freshly ground black pepper to taste
Vegetable Bundle
1 pound green beans (ends trimmed)
Extra-virgin olive oil
1 summer squash (cut into 1 inch-rounds)
1 tablespoon garlic
Salt and freshly ground black pepper to taste
Directions: For the pork medallions, preheat a large sauté pan over medium-high heat. Add a drizzle of olive oil. Season the pork medallions with salt and pepper and add to the sauté pan. Sear for 3 to 4 minutes per side, until golden brown outside and 165 degrees Fahrenheit inside. While cooking, add the butter and sage. Melt the butter and baste the pork with it.
Standing away from the pan, add the brandy and cook until the smell of the alcohol has subsided. Add the Dijon mustard, chili flakes, ginger, chicken stock, and soy sauce. Cook until the sauce has reduced slightly. Season to taste with salt and pepper. Add chopped parsley to finish.
For the shrimp, preheat a large sauté pan over medium-high heat. Add a drizzle of olive oil. Season the shrimp with salt and pepper and add to the sauté pan. After 2 minutes, add the garlic and sauté until fragrant. Add the white wine and cook for 2 minutes. Add the butter, lemon zest and juice, and parsley. Swirl to incorporate the butter. Cook the shrimp for about 4 to 5 minutes total, until they are pink and are curled.
For the vegetable bundle, using a 1-inch cookie-cutter, cut out the center of each ring of squash. Bring a medium pot of water to a boil. Add the squash and let cook for 4 minutes. Remove squash and set aside to cool. Meanwhile, preheat a medium sauté pan over medium heat. Add the olive oil. Next, add the green beans and garlic. Season with salt and pepper. Cook until tender, about 6 minutes. Set aside to cool slightly.
To assemble, place the green beans inside the squash rings to make a bundle. To serve, place the pork medallion on once side of the plate, drizzled with some pan sauce. Place a piece of shrimp on the other side of the plate, with a drizzle of pan sauce. Place the vegetable bundle in between the two proteins.
More from Culture Cheat Sheet: