Game Day Grub: 7 Satisfying Casserole Recipes
Few things in life are as wonderful as kicking back to watch your favorite NFL teams on Sundays, but the experience loses a little of its luster when you find yourself eating mediocre takeout. That's where our Game Day Grub series comes in. Each week, we'll bring you seven recipes for some of your favorite football foods. It's going to be a delicious season.
There's a reason why moms everywhere love casseroles: They're super easy. You get maximum flavor for a minimum amount of effort, and they feed an army. This makes them perfect for days spent watching football. You can assemble everything a day in advance, then just pop the dish into the oven the day of. They're also among the easiest foods to transport, perfect for tailgating. Try these seven casseroles to score serious culinary points from your friends and family.
1. Easy Chicken Enchilada Casserole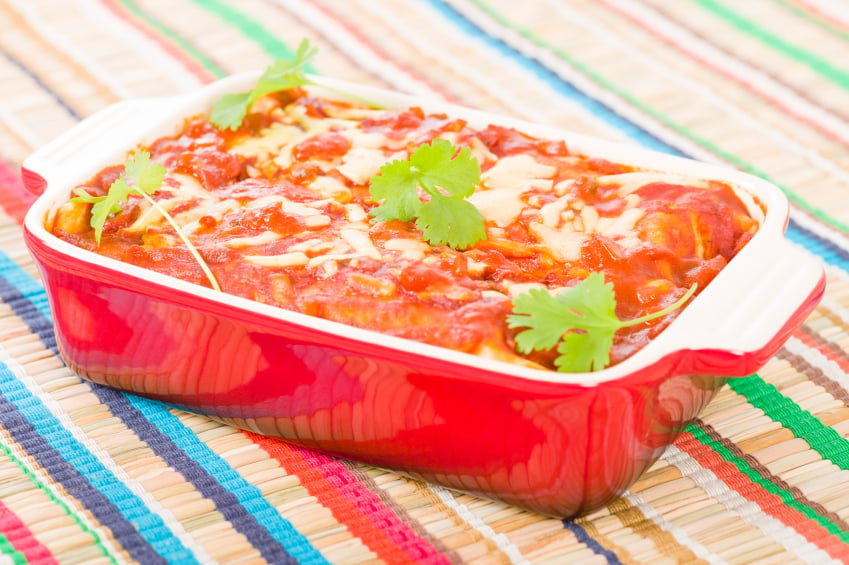 Anyone who's ever made enchiladas from scratch knows it's an all-day process. The sauce itself is a labor of love, which involves toasting dried chiles, soaking them, cooking aromatics, blending everything together, straining, simmering, then waiting for the flavors to meld. That's before you even get to cooking the meat or filling tortillas.
For a faster way to the flavors of the Mexican favorite, try this easy chicken casserole from Jo Cooks. It uses jarred enchilada sauce to simmer chicken breasts. Then, all you have to do is shred the meat and layer it with tortillas, the sauce, and some cheese. No one will suspect how easy it was when they get a taste.
Ingredients:
1 (14-ounce) jar enchilada sauce
2 to 3 cups shredded Monterey Jack cheese
6 (6-inch) corn tortillas
2 chicken breasts, each cut into 3 pieces
Directions: Place chicken in a small pot and pour enchilada sauce over the top. Set over medium heat, cover, and cook until chicken is just cooked through, about 20 minutes, stirring occasionally to prevent sticking.
Remove chicken from pot and shred using two forks. Preheat oven to 375 degrees Fahrenheit.
Spread ¼ cup enchilada sauce over bottom of a 9-by-13-inch baking dish. Arrange two tortillas over the sauce, then top with one-third of the chicken and one-third of the remaining sauce. Sprinkle one-third of the cheese over the sauce. Repeat layers until you've used all the remaining ingredients.
Transfer casserole to the oven and bake 20 to 30 minutes, until bubbling and cheese has melted. Serve.
2. Meatball Casserole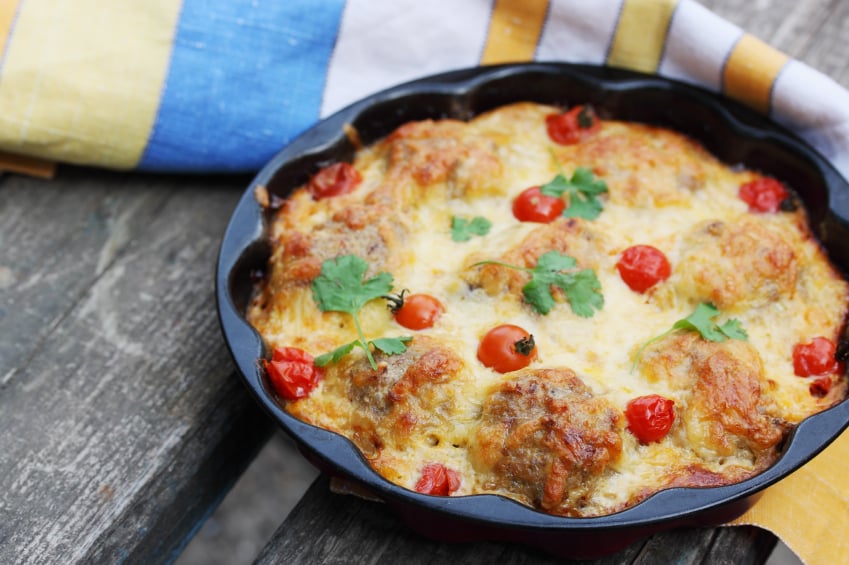 Like a bunless meatball sub, Martha Stewart Living's saucy casserole will please anyone who loves Italian food. Since you use the same skillet to brown the meatballs, cook the sauce, and melt the cheese in the oven, you'll keep dishes to a minimum. Serve this recipe with some garlic bread to round out the meal.
Ingredients:
1 pound ground pork
1 pound (85% lean) ground beef
1 cup fresh breadcrumbs
½ cup finely grated pecorino cheese
1½ teaspoons salt
2 large eggs
1 garlic clove, minced
¼ cup chopped flat-leaf parsley
2 tablespoons extra-virgin olive oil
½ small onion, finely chopped
Pinch of red pepper flakes
1 (28-ounce) can whole tomatoes, puréed
4 fresh basil leaves
8 ounces fresh mozzarella, sliced
Directions: Using hands, gently mix pork, beef, breadcrumbs, pecorino, salt, eggs, garlic, and parsley in a large bowl. Form into 2-inch balls.
Heat oil in a large ovenproof skillet over medium-high heat. Add meatballs and cook, turning, until browned all over, about 10 minutes. Use a slotted spoon to transfer to a plate.
Reduce heat to medium and add onion and pepper flakes. Cook, stirring occasionally, until onion is tender, about 4 minutes. Add tomatoes and basil. Simmer, stirring frequently, until sauce is slightly thickened, about 8 minutes. Return meatballs and any accumulated juices to the pan. Simmer, turning once, until cooked through, about 20 minutes.
Preheat broiler. Arrange mozzarella on top of meatballs and broil until melted, 2 to 3 minutes. Serve.
3. Caramelized Onion, Spinach, and Gruyère Cheese Strata with Sautéed Cherry Tomatoes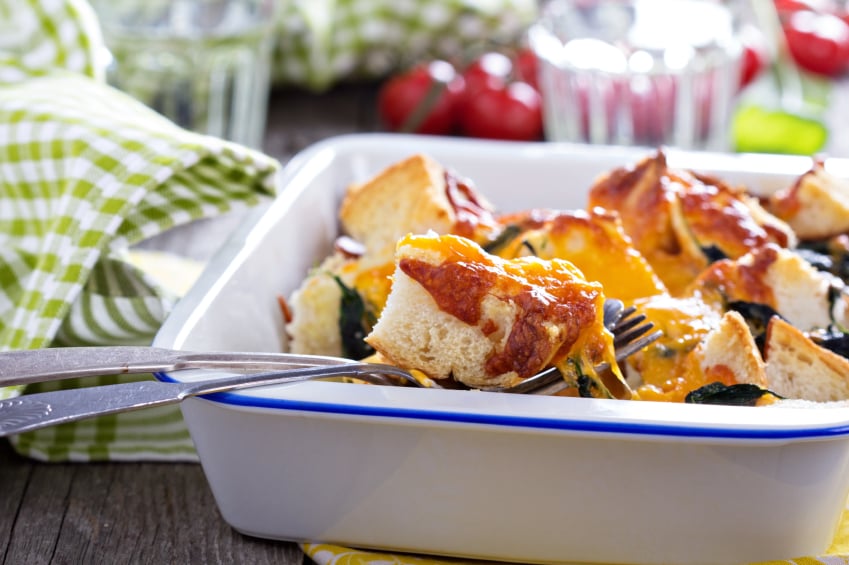 Bring a taste of brunch to your next football gathering with Bobby Flay's cheesy spinach strata, featured on Cooking Channel. This one is especially smart to assemble the day before so the bread has a chance to soak up the egg mixture. You may have to bake it a bit longer straight out of the fridge, so keep an eye on it to make sure the top doesn't get too dark before the interior is done. If it's looking a little too done around the edges, just cover the top with foil.
Though the cherry tomatoes are a great addition, they're completely optional. You can also play around with different meats, cheeses, and veggies in the strata itself. Bacon and cheddar are always a good combo.
Ingredients:
6 cups cubed day-old French bread
2 tablespoons unsalted butter, plus more
1 tablespoon canola oil
2 large Spanish onions, halved, and thinly sliced
1 teaspoon sugar
Kosher salt and freshly ground black pepper
1 (10-ounce) box frozen chopped spinach, thawed, and squeezed dry
10 large eggs
2 cups grated Gruyère cheese
3 cups whole milk
1 cup heavy cream
2 teaspoons Dijon mustard
1 tablespoon finely chopped fresh thyme
⅛ teaspoon freshly grated nutmeg
Sautéed cherry tomatoes
3 tablespoon canola oil
2 pints cherry tomatoes, quartered
Kosher salt and freshly ground black pepper
3 tablespoons finely sliced fresh chives, plus more
Directions: Preheat oven to 325 degrees Fahrenheit. Set bread on a baking sheet and toast until lightly golden on both sides, about 10 minutes. Let cool.
Combine 2 tablespoons butter and 1 tablespoon oil in a large sauté pan over medium heat. Once shimmering, add onions and toss to coat. Add sugar and season with salt and pepper. Cook, stirring occasionally, until golden and caramelized, about 30 minutes. Remove from heat and let cool.
In a large bowl, combine bread cubes, onions, and spinach. In another large bowl, whisk eggs, 1½ cups cheese, milk, heavy cream, mustard, 1 teaspoon salt, ½ teaspoon pepper, thyme, and nutmeg to combine.
Increase oven temperature to 350 degrees Fahrenheit. Butter a 9-by-13-inch baking dish. Add bread mixture, then pour egg mixture over top, pressing to submerge bread. Transfer to oven and bake until mixture is puffed and golden on top with no uncooked custard remaining when you shake the pan, about 1 hour. Sprinkle with remaining cheese during last 10 minutes of baking. Let cool 5 minutes.
Heat remaining oil in a large sauté pan over high heat until shimmering. Add tomatoes, season with salt and pepper, and cook until softened. Add chives and remove from heat. Serve strata topped with tomatoes and additional chives.
4. Baked Macaroni and Cheese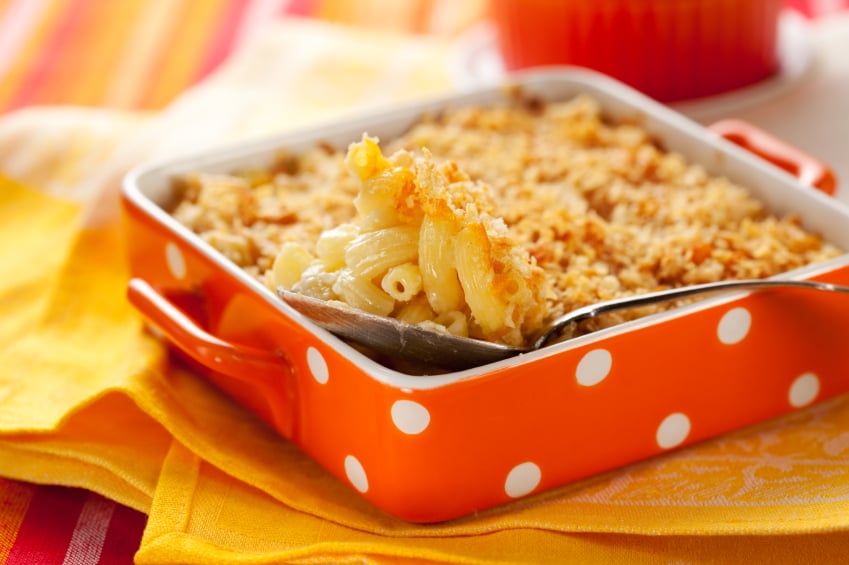 Boxed mac and cheese doesn't cut it when you're cooking for friends. Never fear, because making a homemade batch is a lot easier than you think. You don't even need specialty ingredients, just some quality cheese, milk, and pasta. See for yourself with Alton Brown's recipe, which he shared with Food Network. The addition of an egg might seem unusual, but it helps set the casserole so it holds together a bit better when you scoop out portions. For even more cheesy goodness, add a little bit of Parmesan to the breadcrumb topping.
Ingredients:
½ pound elbow macaroni
3 tablespoons unsalted butter
3 tablespoons flour
1 tablespoon powdered mustard
3 cups milk
½ cup finely diced yellow onion
1 bay leaf
½ teaspoon paprika
1 large egg
12 ounces sharp cheddar cheese, shredded
1 teaspoon kosher salt
Freshly ground black pepper
Topping
3 tablespoons unsalted butter
1 cup panko breadcrumbs
Directions: Preheat oven to 350 degrees Fahrenheit. Meanwhile, cook pasta to al dente in a large pot of boiling, salted water.
In a separate pot, melt butter. Whisk in flour and mustard. Cook, continuing to whisk, for about 5 minutes. Whisk in milk, onion, bay leaf, and paprika. Simmer for 10 minutes, then remove bay leaf. Temper in the egg by whisking a bit of the sauce into the egg in a separate bowl, then adding the egg and sauce mixture to the rest of the sauce. Stir in three-quarters of the cheese and season with salt and pepper. Fold macaroni into sauce, and transfer to a 2-quart casserole dish. Top with remaining cheese.
Melt 3 tablespoons butter in a sauté pan over medium heat and add breadcrumbs, toss to coat. Top macaroni with buttered breadcrumbs, transfer to oven, and bake for 30 minutes. Remove from oven and let rest for 5 minutes before serving.
5. Cornbread Sloppy Joe Casserole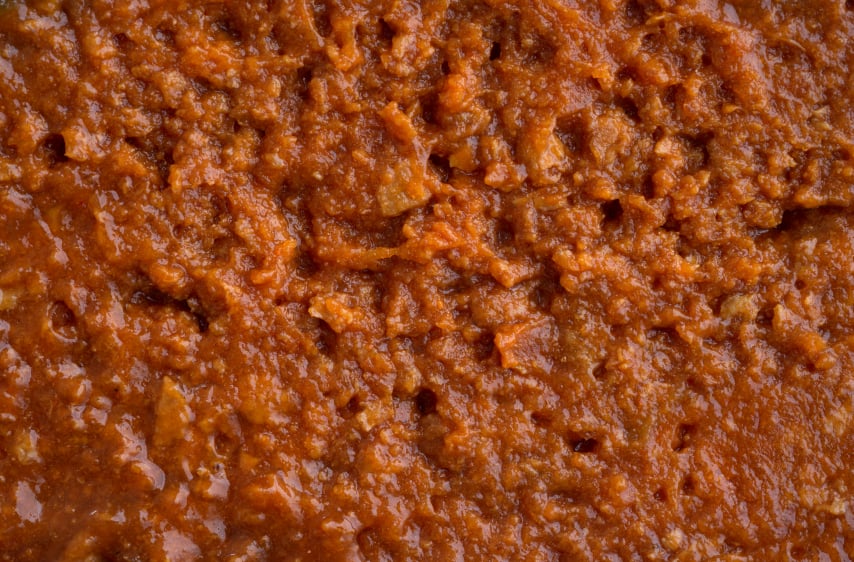 Sloppy Joes are a delicious but incredibly messy meal. The name pretty much says it all. Try Six Sisters' Stuff's cornbread-topped sloppy Joe bake to turn the dish into a fork-friendly food. It's easier to eat, and maybe even tastier than the classic. To keep things really simple, this dish uses a boxed cornbread mix. You can even dress it up by mixing some sliced scallions or corn kernels into the batter.
Ingredients:
1 pound ground beef
1 medium red onion, diced
1 red bell pepper, diced
3 tablespoons brown sugar
1 tablespoon barbecue seasoning
1 tablespoon Worcestershire sauce
1 (14-ounce) can tomato sauce
1 (8.5-ounce) box cornbread mix
⅓ cup milk
1 tablespoon vegetable oil
1 egg
½ cup shredded cheddar cheese
Directions: Preheat oven to 350 degrees Fahrenheit. Cook beef in a large skillet over medium-high heat until browned. Add onions and peppers, and continue to cook. Meanwhile, in a medium bowl, mix brown sugar, vinegar, barbecue seasoning, Worcestershire, and tomato sauce to combine. Once vegetables are tender, pour sauce into skillet, reduce heat to medium, and simmer for 5 minutes, or until mixture thickens slightly.
Stir together cornbread mix, egg, oil, and milk until combined. A few lumps should remain.
Transfer beef mixture to an 8-by-8-inch baking dish. Pour cornbread batter over the top, spreading into an even layer. Bake 25 to 30 minutes, or until a toothpick inserted into the center of the cornbread comes out with a few moist crumbs attached. Immediately sprinkle cheese over the top and let melt. Serve.
6. Turkey Gumbo Casserole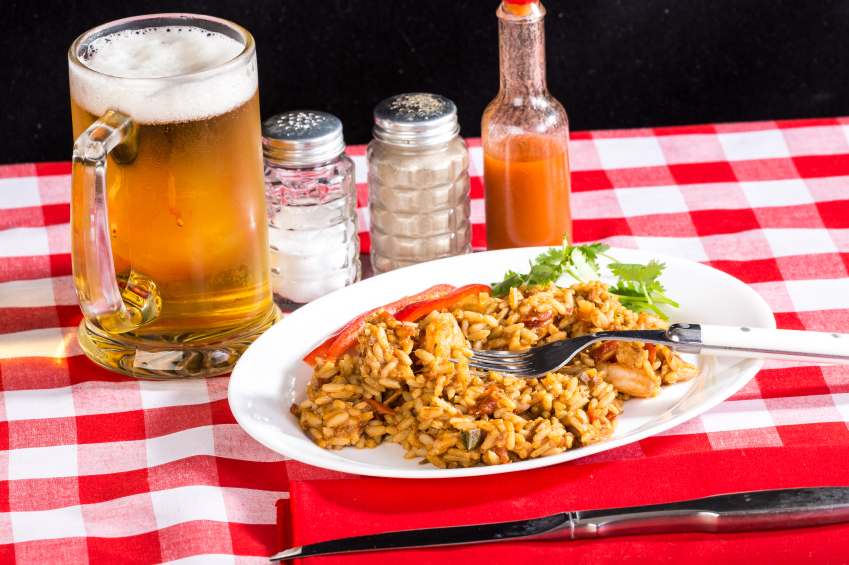 Traditional gumbo involves a nerve-wracking method of cooking roux until it's the color of bricks. Walk away for an instant, and you'll end up with a burnt mess and have to start all over. If you ask us, that's way too much stress for a day devoted to hanging out. Get a similar feel with an easier method by making Taste of the South's gumbo-inspired casserole. It may not be authentic, but it definitely tastes great.
Ingredients:
¼ cup olive oil
1 pound tasso ham, diced
2 cups chopped yellow onion
1 cup chopped celery
½ cup chopped red bell pepper
½ cup chopped green bell pepper
2 cups rice
1 quart turkey or chicken broth
2 (14.5-ounce) cans fire-roasted diced tomatoes
2 cups chopped cooked turkey or chicken
2 cups fresh or frozen sliced okra
2 tablespoons hot sauce
1½ tablespoons Worcestershire sauce
2 teaspoons Creole seasoning
1½ teaspoons garlic powder
Garnishes
Sliced green onion
Chopped fresh parsley
Directions: Preheat oven to 350 degrees Fahrenheit. Spray a 4-quart baking dish with nonstick cooking spray and set aside.
In a large Dutch oven or other heavy pot, heat olive oil over medium-high heat. Add ham, onion, celery, and bell peppers to the pot. Cook, stirring frequently, until vegetables are tender, about 10 minutes. Add rice, and stir to coat. Cook about 2 minutes longer, then add broth and tomatoes. Bring mixture to a boil, reduce heat to medium low, cover, and cook until rice is tender, about 20 minutes.
Remove pot from heat, then add turkey, okra, hot sauce, Worcestershire sauce, Creole seasoning, and garlic powder. Stir until well combined, then transfer into prepared baking dish. Cover top with aluminum foil, transfer to oven, and bake for about 30 minutes. Serve garnished with green onion and parsley.
7. Buffalo Chicken and Potato Casserole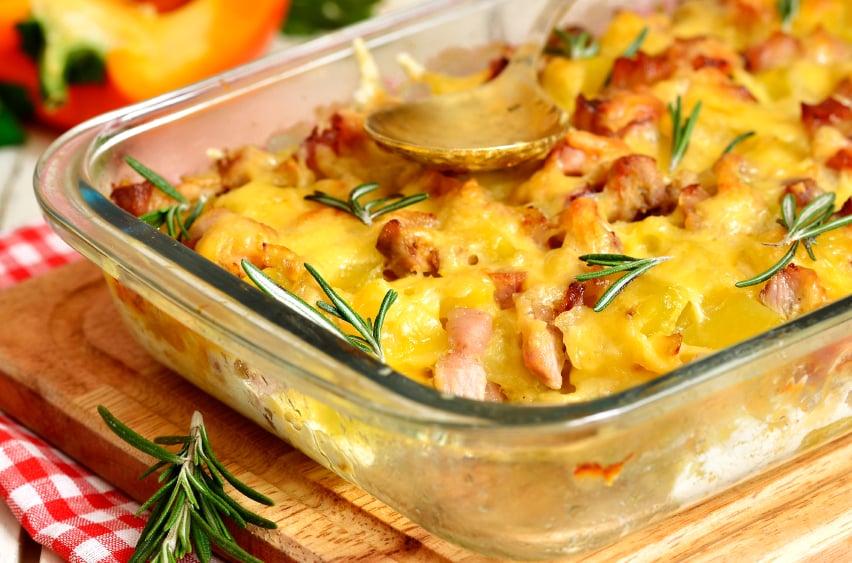 Like many iconic foods, the origin of chicken wings as we know them varies depending on who you ask. Smithsonian highlighted two different accounts, though the wings most of us recognize were created in 1964 at the Anchor Bar. Since then, the dish has inspired everything from pizza to chip dip. Try it in casserole form with this delicious recipe from The Girl Who Ate Everything. There's even a little bit of bacon for some smoky flavor. Make this dish, and your Sunday is guaranteed to be delicious.
Ingredients:
2 pounds boneless, skinless chicken breasts, cut into ½-inch cubes
8 medium potatoes, cut into ½-inch cubes
⅓ cup olive oil
1½ teaspoons salt
1 teaspoon freshly ground pepper
1 tablespoon paprika
2 teaspoons garlic powder
6 tablespoons hot sauce
2 cups shredded cheddar cheese
1 cup cooked, crumbled bacon
1 cup sliced green onions
To serve
Blue cheese or ranch dressing
Hot sauce
Directions: Preheat oven to 500 degrees Fahrenheit. Combine olive oil, hot sauce, salt, pepper, garlic powder, and paprika in a large bowl. Add potatoes and toss until evenly coated with the sauce. Transfer to a 9-by-13-inch baking dish that's been greased with cooking spray, leaving excess sauce in bowl. Transfer potatoes to oven and roast 20 to 25 minutes, stirring halfway through, until cooked and crisped on the outside.
Meanwhile, add diced chicken to the remaining hot sauce mixture in the bowl and toss to coat. Let marinate while potatoes cook.
Remove potatoes from oven and reduce temperature to 400 degrees Fahrenheit. Top potatoes with chicken and return to the oven for about 20 minutes, or until chicken is just cooked through.
In a large bowl, combine cheddar, bacon, and green onions. Sprinkle mixture over the chicken and potatoes, and return to the oven. Bake 5 to 10 minutes or until top is bubbling. Serve casserole with blue cheese or ranch dressing and additional hot sauce.
More from Culture Cheat Sheet:
Want more great content like this? Sign up here to receive the best of Cheat Sheet delivered daily. No spam; just tailored content straight to your inbox.