'Stay Here' Short-Term Rental Home Decor Tips Genevieve Gorder Swears By
Genevieve Gorder wants your short-term rental to not only be a beautiful space, but also a thriving business. To do so, there are some important things to consider — starting with the home decor. When re-decorating or renovating an Airbnb or other short-term rental property, it's important to consider a few variables that add wow factor to your property. Fortunately, Genevieve Gorder gives all the short-term rental home decor tips on her new Netflix series, Stay Here.
Need help decorating your short-term rental? We share Genevieve Gorder's short-term rental home decor tips that will make your property stand out amongst competitors, ahead.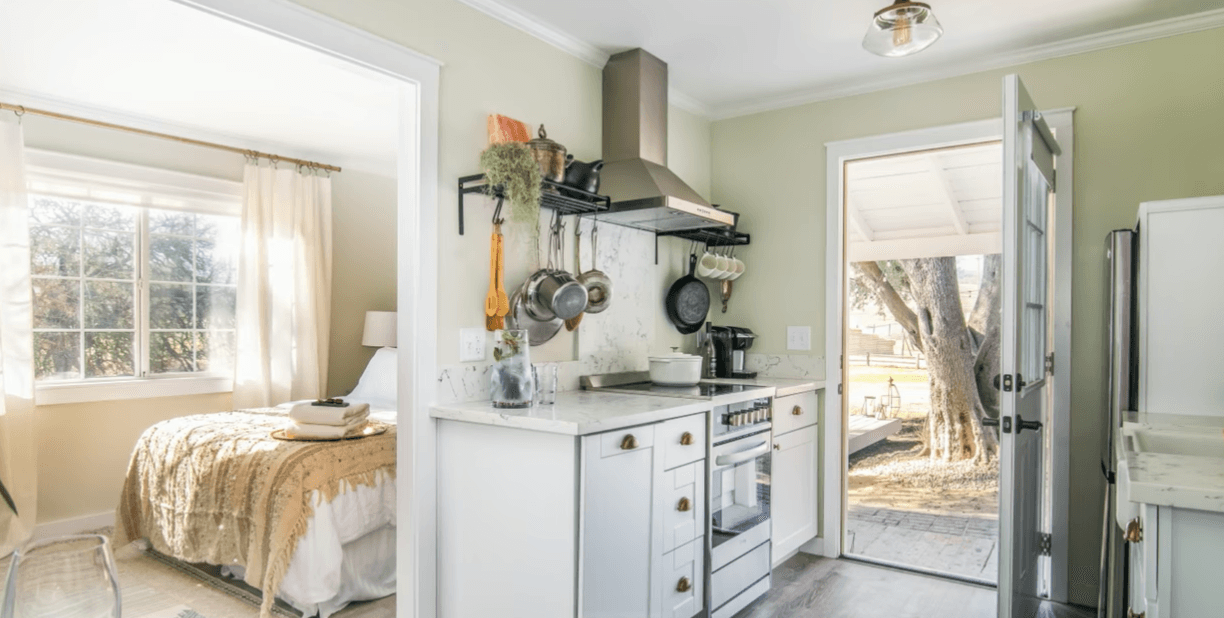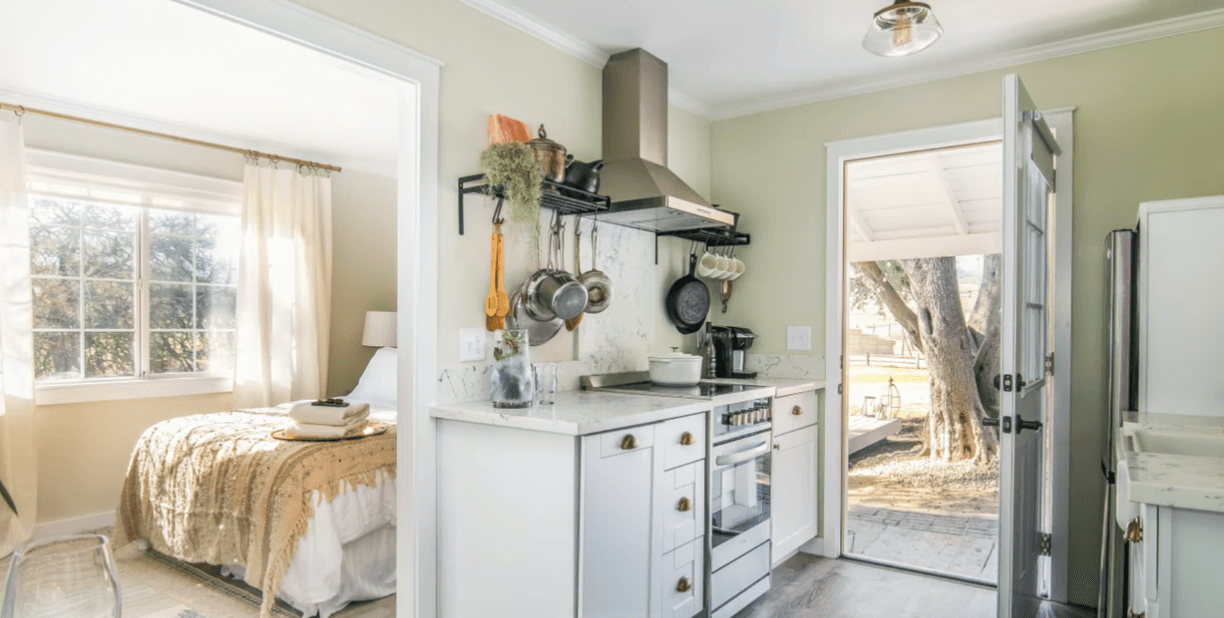 Consider a 'social media moment'
Social media is huge when it comes to travel, and you want your space to be captured and shared as much as possible. For that to happen, you'll want to consider a so-called "social media moment." That could be anything from hanging chairs on the deck of your Malibu beach house rental or painting a mural in your Austin backyard.
Build a brand
Branding your space can not only make your short-term rental beautiful, but it can also help your business, too. Guests love cohesive spaces that allow them to stay, share, and experience their visit. From your website to your social media to your home decor, everything about your short-term rental should feel like a cohesive brand.
Design your recommendations list
Recommendations are ultra important when hosting guests. At hotels, the concierge typically provides these, but at an Airbnb or other short-term rentals, they should also be considered. Since hosts aren't always there to answer questions and give recommendations, it's important to provide a thought-out list. To up the ante, consider adding a recommendations list that is cohesive with the decor.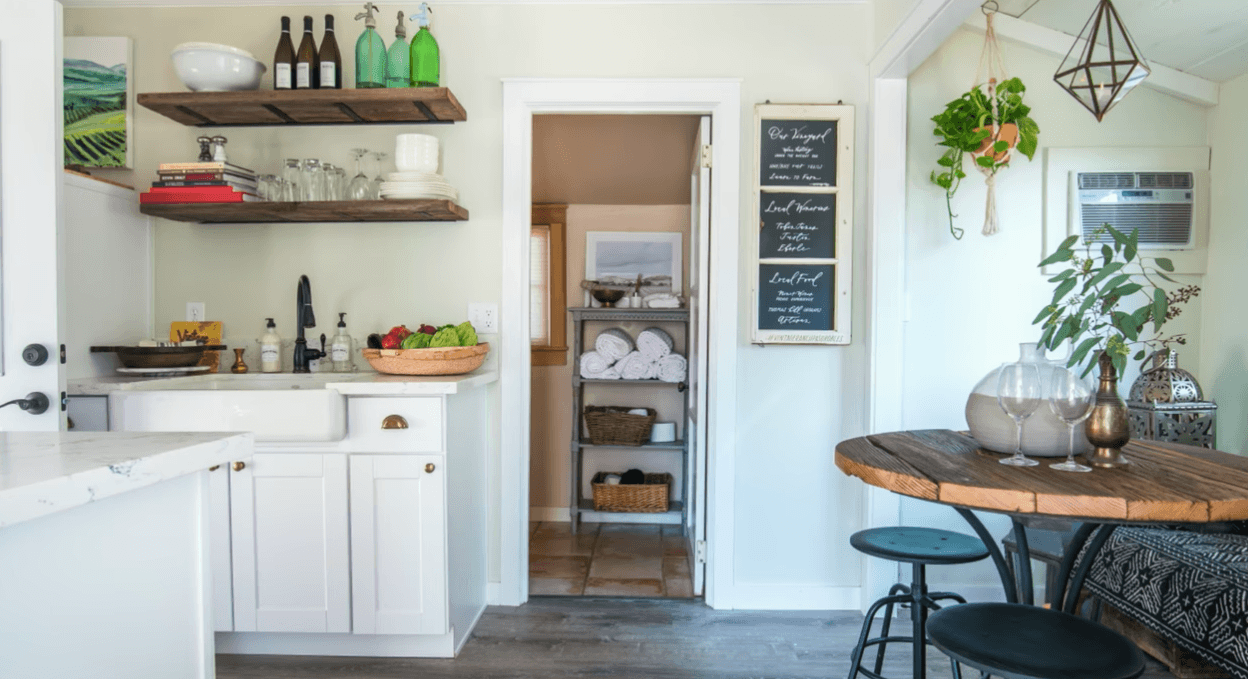 White slipcovers are a must
We know what you're thinking: "White slipcovers for a short-term rental? Are you crazy?" That's what we thought, but Genevieve Gorder makes a great point. Using white slipcovers in your short-term rentals not only helps preserve the furniture, but they're also easy to clean, too. To get rid of any scuffs, marks, and stains, all you have to do is bleach them!
Luxury linens are not a question
Even though you can't see them, linens are some of the most important things you can add to a short-term rental. Not only do you want ones that will last you through many guests, but you also want ones that feel luxurious and hotel-worthy, too.
Dark paint hides imperfections
If your short-term rental has some wear and tear, one easy fix it to paint the exterior a dark color. On Stay Here, Genevieve Gorder paints "The Beach House on Malibu Road" a dark peppercorn color to help hide some of its age and imperfections. Doing so gave the house an instant, modern facelift.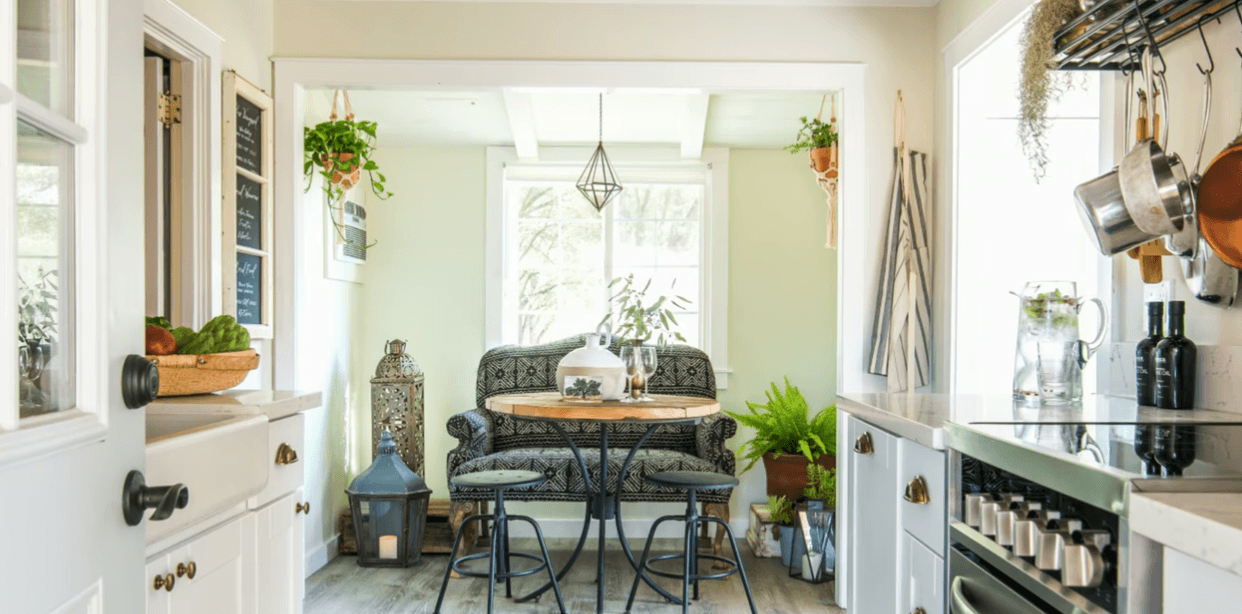 Shop local
Since most guests rent short-term rentals to experience the location, it's important to bring pieces of the area into the home. Shopping local for vintage items and other home goods can help round out a guest's entire experience and represent the area better.
Place amenities in an obvious spot
Another tip Genevieve Gorder swears by? Making sure guests know where the amenities are. Since short-term rentals are less cookie-cutter (compared to hotels), it's important to place things like towels and toiletries in an obvious spot, like on the bed or next to the sink. And, adding a floral sprig or chocolates on top of folded towels ups the ante, too.
Spice things up with wallpaper
If you're dealing with a small space and minimal furniture, consider adding wallpaper to the focal wall of the room. Doing so gives the space some extra oomph without making the room feel crowded.
Put yourself in guests' shoes
Think about what you would expect as a guest. Short-term rentals aren't just a spare room in your house. They are like small hotels that require well-thought design and home decor.
Tell a story
When decorating a short-term rental, one of the most important things to consider is the story and location. Guests staying in your space want an experience, and your rental property should reflect that. Use the amenities, recommendations, and home decor to tell a story — not just of your space but of the location, too.
Check out The Cheat Sheet on Facebook!