Get a Taste of Summer Vacation With 20-Minute Crab Cakes
Inviting some pals over to hang out can quickly turn stressful when you realize they're going to expect some food. Before you reach for your phone to order delivery, take a few deep breaths. Homemade eats don't have to be difficult. With original recipes from our Everyday Appetizers series, you can pull off showstopping starters without losing your cool. 
Nothing says summer like heading out of town for a beach trip packed with plenty of delicious seafood. Favorites range from lobster rolls to clam chowder, but nearly everyone loves a great crab cake. Since these joyous trips don't come all that often, we decided to bring the beach to your kitchen with these quick crab cakes. Sand-filled shoes are purely optional.
About this recipe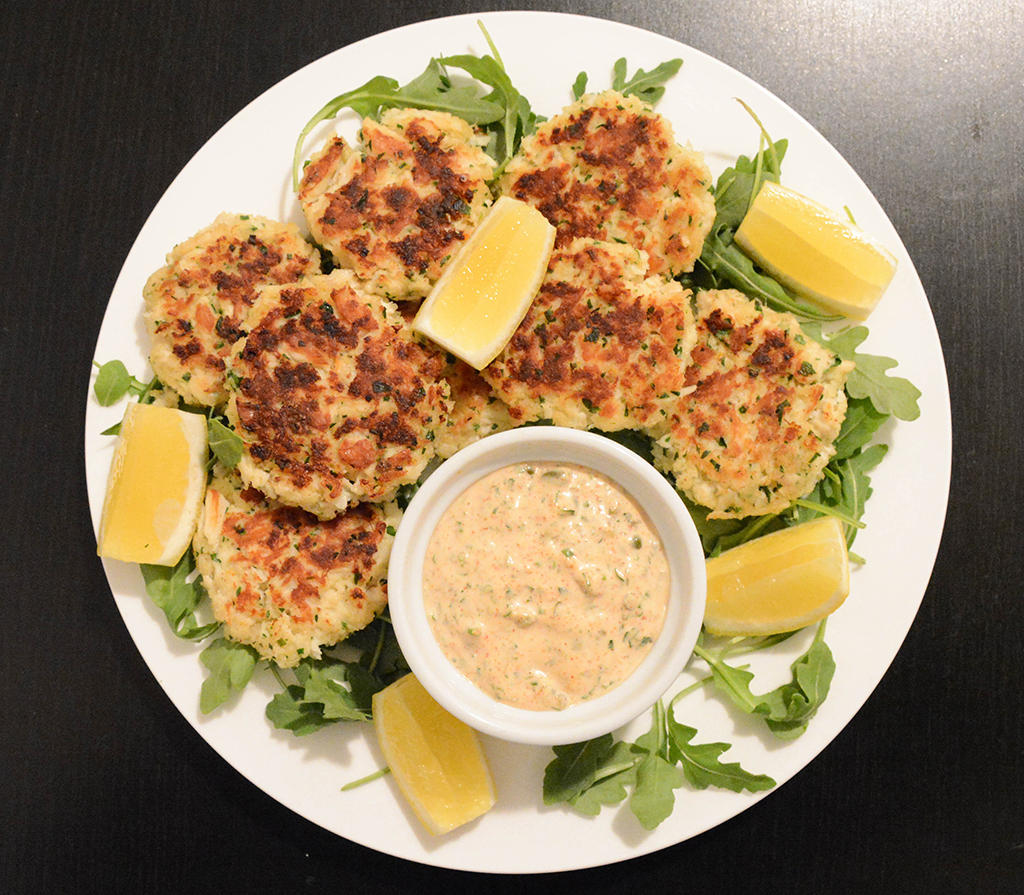 The perfect crab cake boasts loads of shellfish and very little else, which is easier said than done. Crab doesn't exactly hold together on its own, so a lot of recipes call for tons of eggs and breadcrumbs to form cohesive patties. Once you go down that path, though, the flavor really starts to suffer. We worked around the problem by making our cakes pretty small. This allowed us to cut back on that flavorless filler without losing the integrity of the patties. And bonus: They also cook faster.
Before you get started on the seafood, whisk together a quick sauce. We're calling this a rémoulade, but full disclosure, it's more of a knockoff. Traditional versions contain a laundry list of ingredients, so we opted for a simpler route by using bold ingredients like cayenne, grainy mustard, capers, and herbs. Some of the sauce ingredients also appear in the crab cakes, which keeps your shopping list to a minimum. Just stir everything together, then pop it into the fridge.
Once your rémoulade is ready to go, build the sauce for your crab cakes. It's as easy as whisking together some mayo, egg, and a handful of flavor-enhancers. Being as gentle as possible, fold in the crab, followed by the breadcrumbs. When everything is just combined, portion the mixture into 12 small patties using your hands.
This probably goes without saying, but the quality of the crab you buy really matters in such a simple recipe. While claw meat is the least expensive option, it's usually shredded to a pulp. If you invest in lump crabmeat, you'll be rewarded with a far better texture and a sweeter seafood flavor. Your friends deserve good crab cakes, so buy good crab.
Since the small size helps hold these crab cakes together, we're eliminating an extra chilling step most recipes include. This means it's time to get cooking. You'll want to use either a well-seasoned cast-iron skillet or a nonstick pan for this to ensure the patties don't fall apart when you flip them. Just sizzle them for about 3 minutes per side, then it's time to eat with your sauce and a squeeze of lemon. Presenting on a bed of arugula is really just showing off, but you might as well go for it.
Crab Cakes with Easy Rémoulade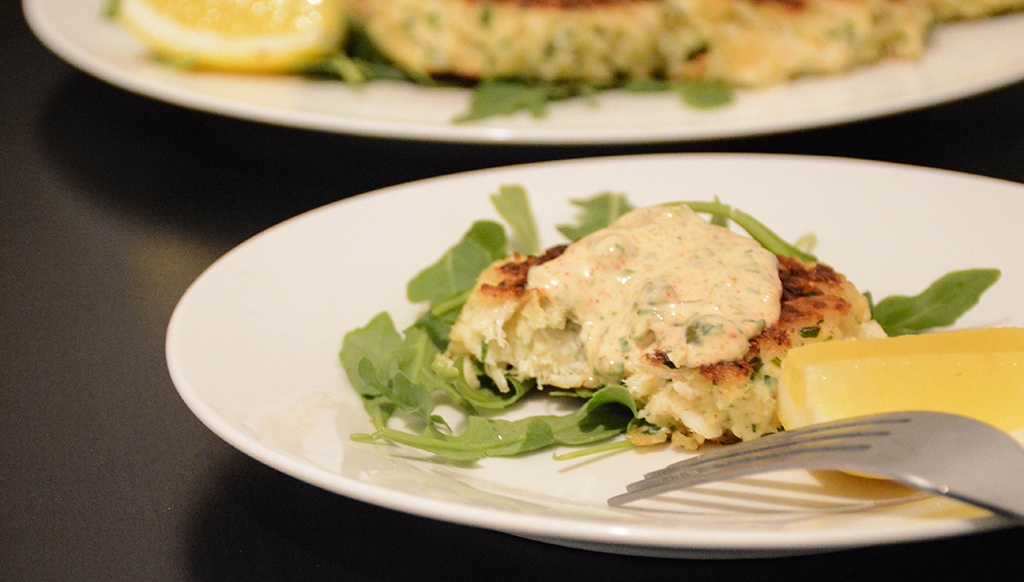 You could probably fit all 12 crab cakes into the pan at once, but they'll brown better and be easier to maneuver if you work in two batches. This recipe makes enough for 4 to 6.
Ingredients:
3 tablespoons coarsely chopped capers
½ teaspoon cayenne pepper
⅔ cup mayonnaise, divided
3 teaspoons lemon juice, divided
1½ tablespoons grainy Dijon mustard, divided
3 tablespoons chopped fresh parsley, divided
3 tablespoons minced fresh chives, divided
1 egg, lightly beaten
¾ teaspoon kosher salt
1 pound lump crabmeat
¾ cup panko breadcrumbs
3 tablespoons canola or vegetable oil, divided
Lemon wedges
Arugula
Directions: In a small bowl, combine capers and cayenne with ⅓ cup mayonnaise, 1 teaspoon lemon juice, 1 tablespoon mustard, 1 tablespoon parsley, and 1 tablespoon chives. Mix until well combined. Refrigerate until ready to use.
In a medium bowl, combine remaining mayonnaise, mustard, lemon juice, parsley, and chives. Whisk in egg and salt until fully incorporated. Gently fold in crab. Add breadcrumbs and fold just to combine. Form mixture into 12 even patties, each about ½-inch thick.
Heat 1½ tablespoons oil in a large nonstick skillet set over medium-high heat. Add six crab cakes and cook until golden on both sides, about 3 minutes per side. Remove to a plate and repeat with remaining oil and crab cakes. Serve over arugula with rémoulade and lemon wedges on the side.
Follow Christine on Twitter @christineskopec
More from Culture Cheat Sheet: