Getting Married at Your Favorite Fast Food Joint Is Actually a Thing
Ever since you were a kid, you've probably dreamed about your picture perfect wedding. For some, it's fairy tale dresses and tiered white cakes. Others, however, want nothing more than to pop into their favorite fast food joint to make it official. And surprisingly enough, there have been plenty of couples who've said "I do" with fast food-inspired ceremonies.
If you're a lover of all things drive-thru, say no more. Your go-to fast food chain may just be ready and waiting to host you and your loved ones on your big day.
1. Taco Bell's wedding chapel in Las Vegas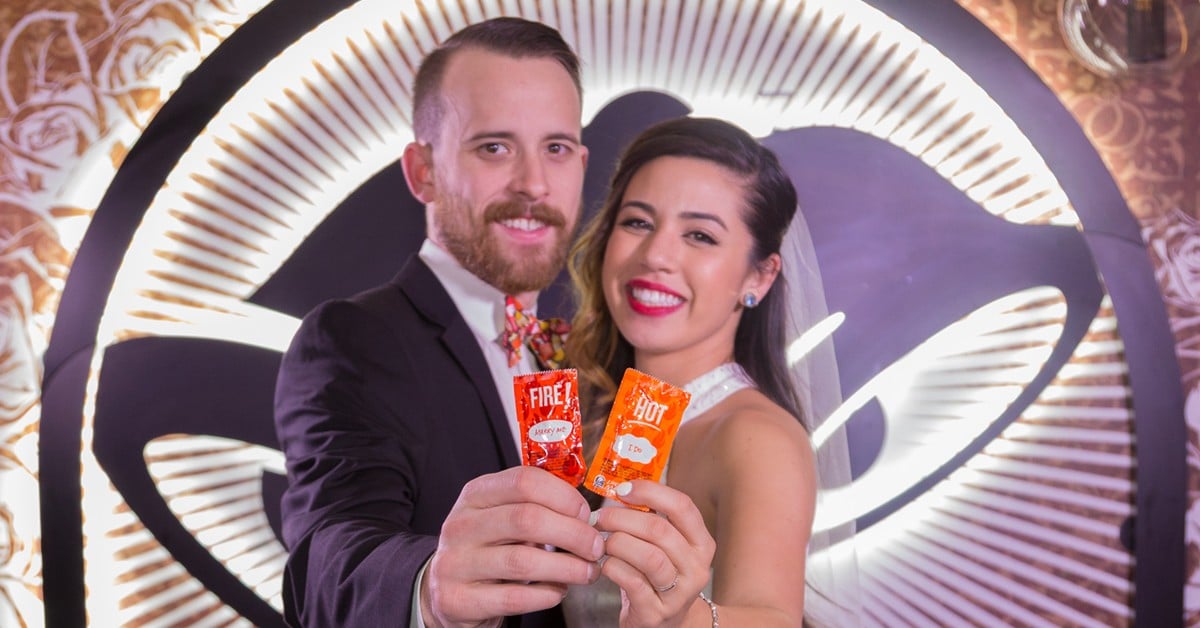 What better place to get hitched than a venue that actually has a chapel inside? Can't you just hear those taco wedding bells now? Then a Taco Bell wedding may be for you. And oddly enough, you'd be far from the first to walk down the hot-sauce-packet-lined aisle.
Not only does the Las Vegas Taco Bell Cantina have its very own wedding chapel, but the location is serving up ceremonies right on the menu with its wedding package, which can all be yours for just $600.
Next: Let's see what you get if you order a wedding from Taco Bell.
Wedding swag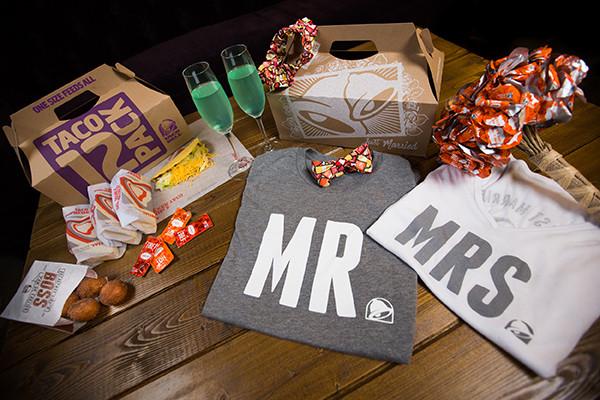 What's a theme wedding without a little swag to go along with it? Lucky for all the Taco Bell-loving folks out there, a wedding at the fast food chain will get you just that. With the wedding package comes custom merchandise, such as a sauce packet garter and bow tie, "Just Married" T-shirts, champagne flutes, a cake, and a taco 12-pack.
Next: The mouth-watering wedding ceremony will certainly leave an impression on your guests.
On-site wedding chapel and reception area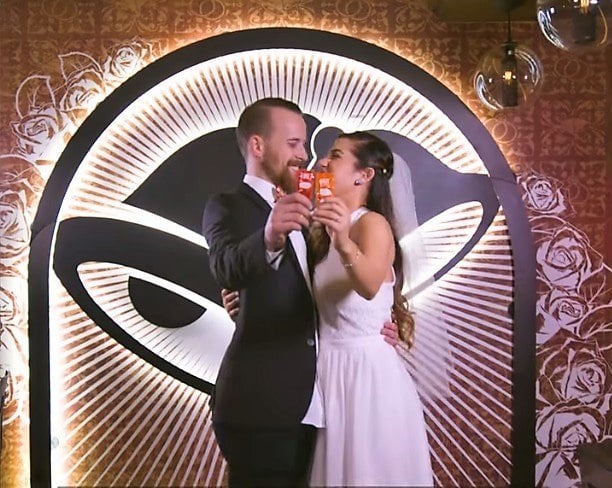 Vegas is known for their in-and-out wedding venues, so it's no surprise that Taco Bell seized the opportunity to get one of their own. Taco Bell weddings include a half-hour ceremony with an ordained officiant held in the restaurant's second floor chapel. And, of course, there's also a private reception area that holds up to 15 guests.
Next: Every bride needs her bouquet. 
Sauce packet bouquet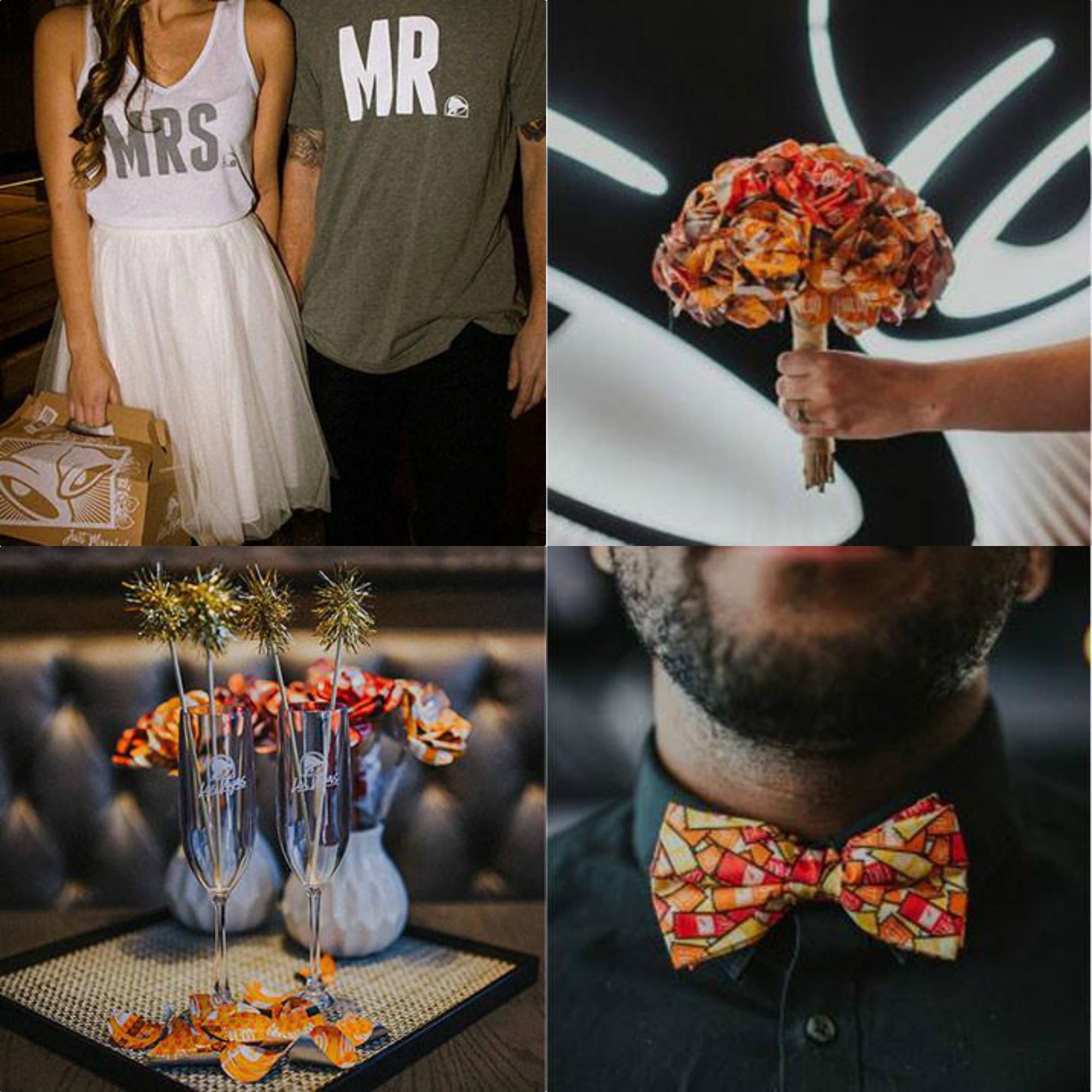 This one really kills us. Flowers? Who needs 'em? It's all about the hot sauce! Tie the knot at Taco Bell, and you'll snag yourself your very own sauce packet bouquet. The site does mention that the bouquet is available for borrowing only, but we doubt a bride and groom would have any trouble scoring some extra sauce packets on their special day.
Next: Pizza-lovers rejoice!
2. Domino's wedding registry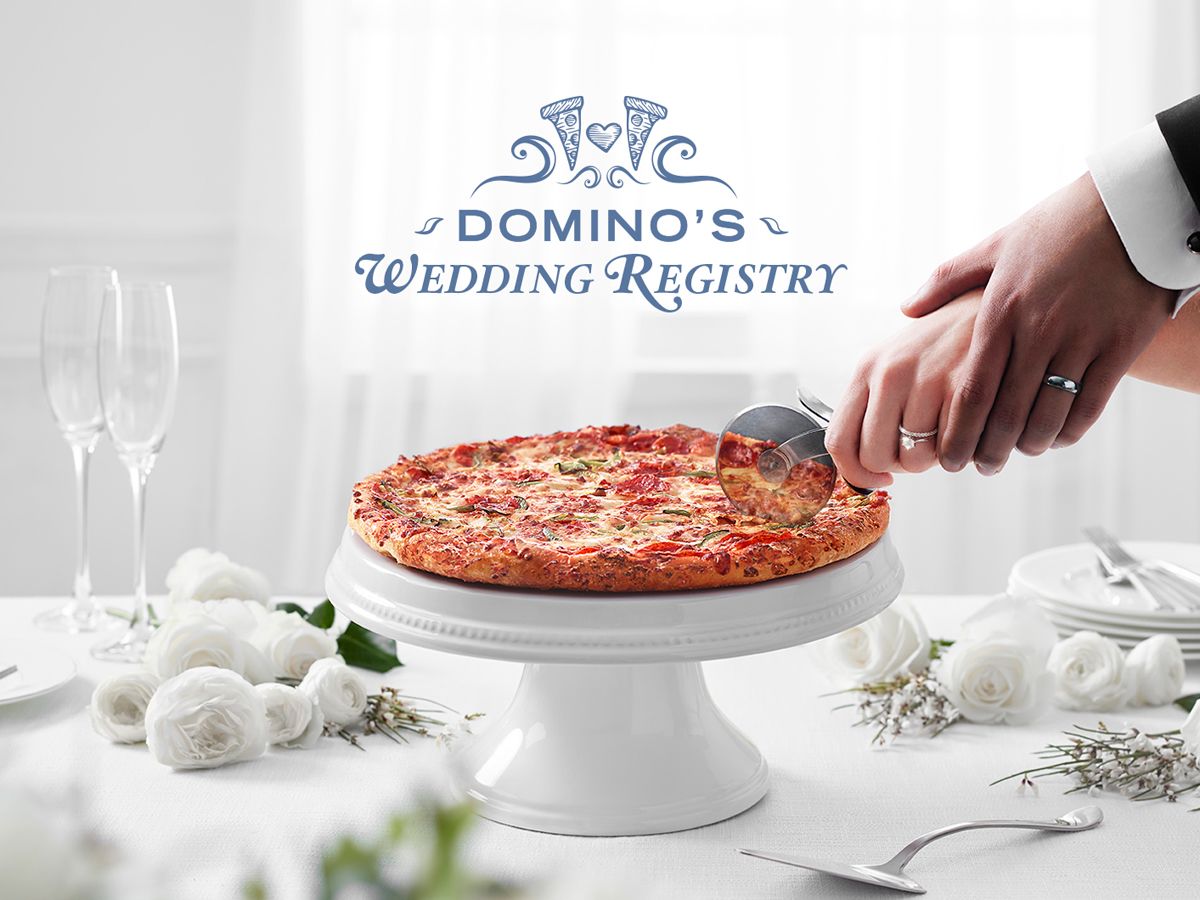 Not exactly feeling the standard wedding registry go-to's? Then it may be time to swap Crate & Barrel for something a bit more original, like say, Domino's. That's right, you can forgo fine china for pizza, if that's your thing. Soon-to-be-spouses can now register at Domino's. While all gifts come in the form of gift cards, it's still pretty hilarious that a Domino's wedding registry exists in the first place.
Next: Many couples have wed at this well-known burger chain.
3. White Castle's Valentine's Day weddings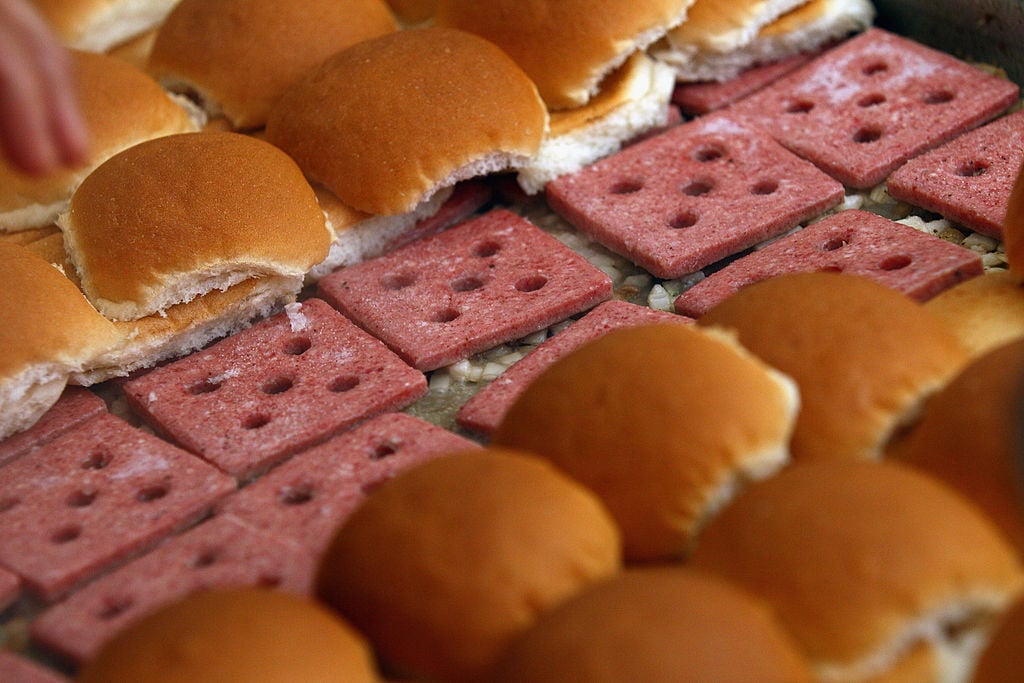 Here's a wedding venue fit for a king and queen. Well, a king and queen of fast food, anyway. And apparently, there's no shortage of burger-loving royalty out there because White Castle has hosted several weddings over the past few years.
The busiest day for love at locations across the country is none other than Valentine's Day, a holiday that's become quite well-known for White Castle weddings. In fact, the restaurant has hosted so many weddings at various locations that the company runs a royal wedding contest.
Next: One couple went all out with decor from another famous burger joint.
4. Burger King themed nuptials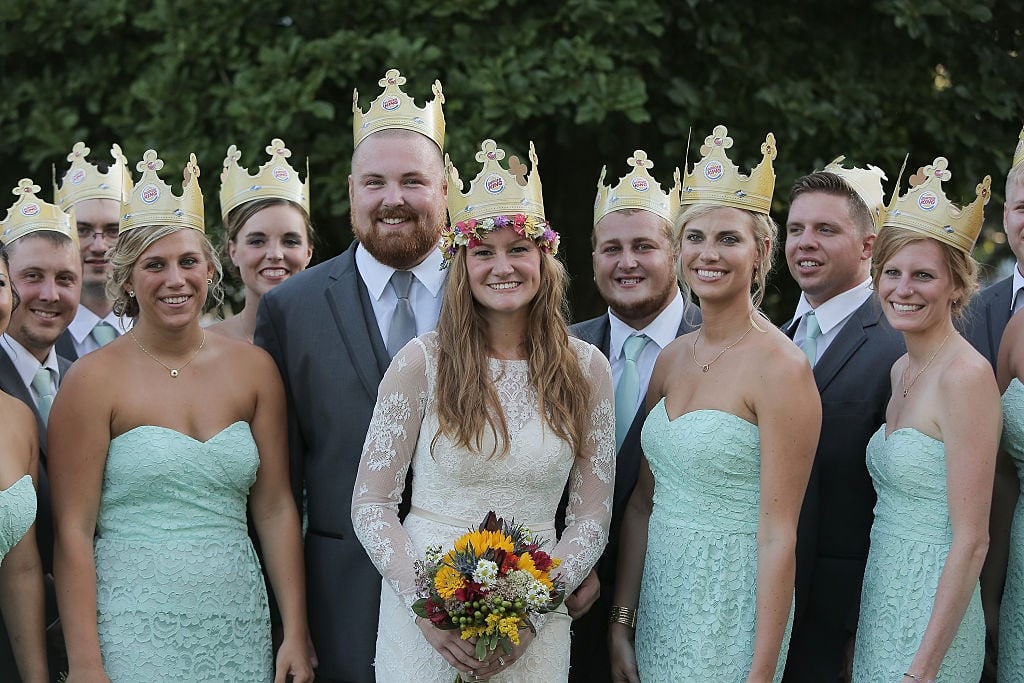 If any couple has ever had a good enough reason to throw a fast food themed wedding, it's this one. Joel Burger and Ashley King's union officially marked the start of the "Burger-King dynasty." While the ceremony didn't actually take place inside of a Burger King, the pair wanted to make sure there was plenty BK-inspired decor.
"The couple, as well as their wedding party, wore the chain's signature paper crown hats, and the groomsmen donned BK t-shirts beneath their suits," People reported. "Even the cocktails carried on the theme, with Burger King koozies and mason jars." And the best part is, it was all paid for by the chain.
Next: Of course, BK's No. 1 competitor needed a piece of the wedding pie, too.
5. Wedding packages by McDonald's in Hong Kong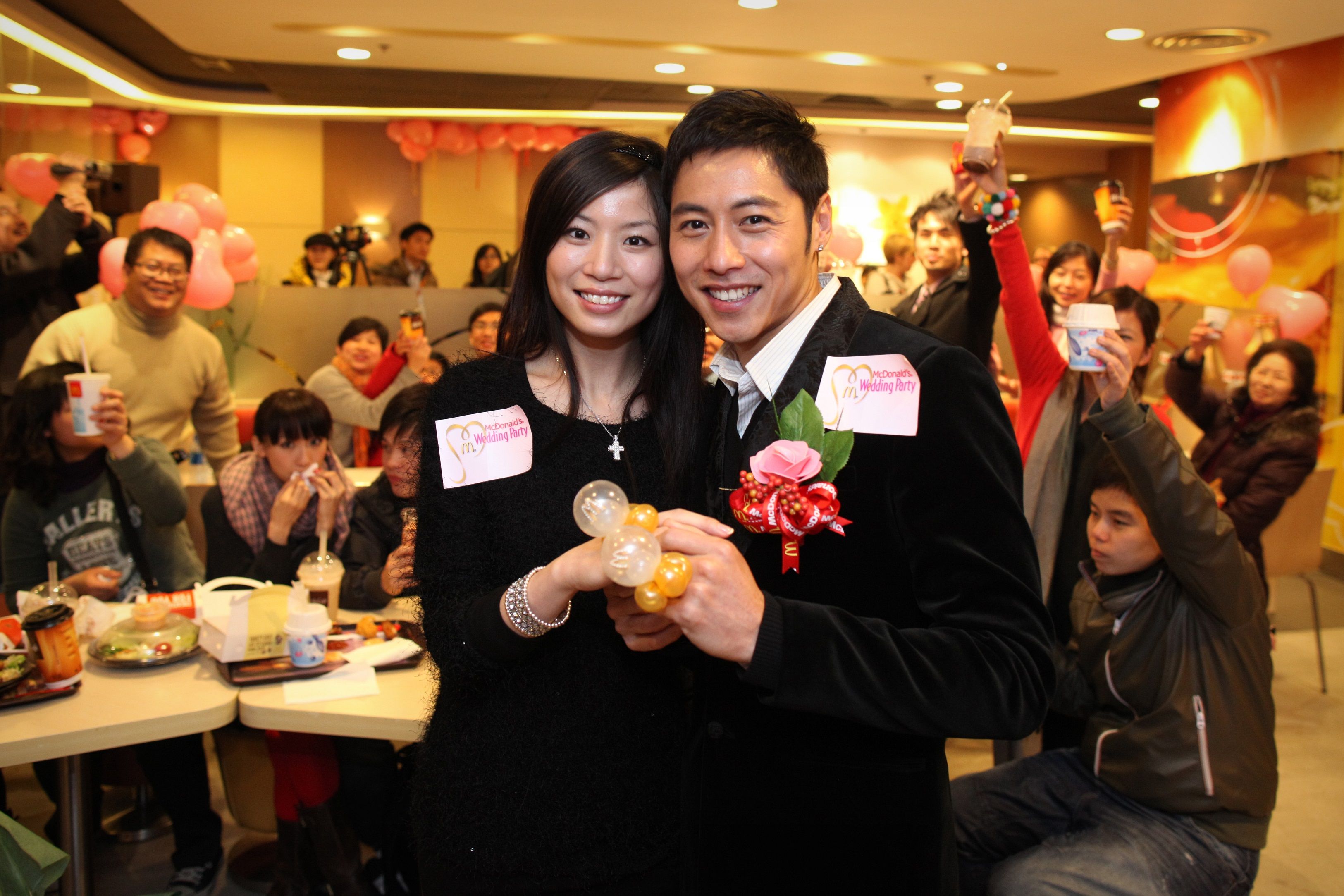 Although McDonald's weddings haven't hit the mass market yet here in the states, the trend has already swept Hong Kong, China. Yes, the golden arches wants to host your dream fast food wedding.
Packages range from about $385 for the Happiness Party to about $1,280 for the Love Forever Party. Each package includes venue rental for two hours between 6 p.m. and 10 p.m., basic audio equipment, and a party MC. Some packages include invitations, gifts for your guests, and a Chinese wedding gift.
Next: Fried chicken fit for a wedding
6. KFC wedding cuisine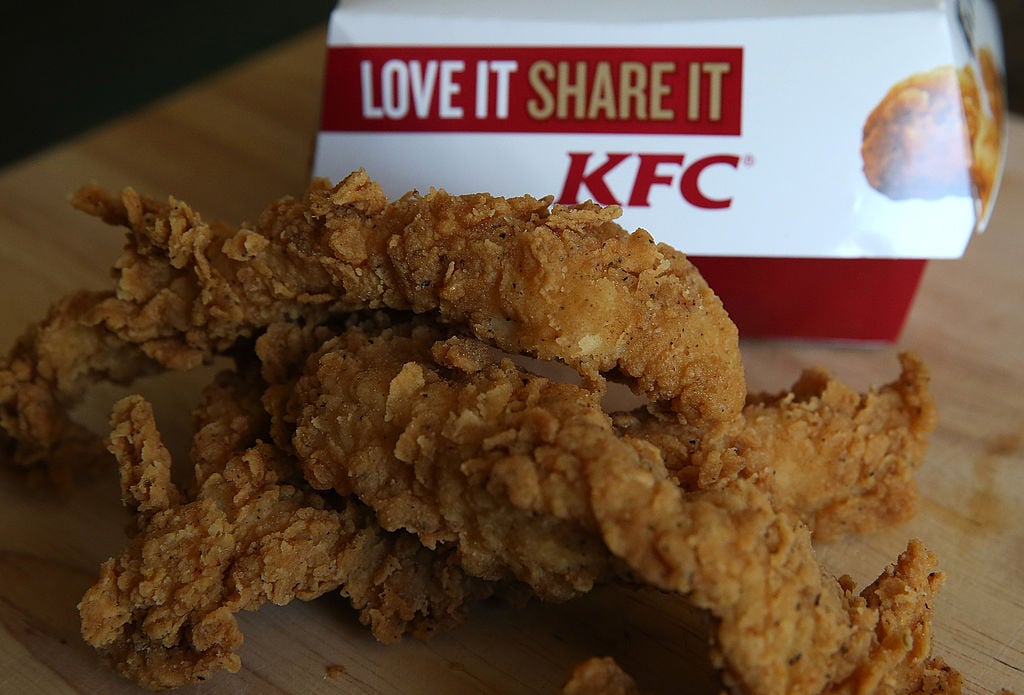 What's the secret to a happy marriage? For one couple, it's the 11 secret herbs and spices featured in KFC's signature recipe.
Throughout their dating relationship, Joanne and Jonathon Choo have enjoyed KFC meals together. So much so, that Joanne collected 20 unique buckets over 11 years. Proud of her collection, Joanne featured KFC buckets in not only her engagement and wedding photos, but her baby shower photos, as well.
According to the Daily Mail, the fried chicken chain catered her wedding and baby shower, to boot. And get this — at one time, the restaurant even sold fried chicken corsages, which chicken-loving brides and grooms could sport if they so wished.
Next: Calling all coffee addicts. 
7. Starbucks weddings
https://www.instagram.com/p/BL8oYG1gXTD
While getting all hopped up before getting hitched may not be everyone's cup of tea, it seems to be somewhat of a popular trend. Search #starbuckswedding on Instagram, and you'll see there's no shortage of caffeine-loving couples out there. And some of these couples just can't resist adding a little humor to their coffee-inspired ceremonies.
For instance, one wife recited to her husband, "I promise to love you a latte," while her husband returned the sentiment and said, "I want to macchiato an honest woman out of you." We'll let you decide whether the vows were a bit too syrupy.
Next: Starbucks isn't the only coffee shop serving up weddings. 
8. Dunkin' Donuts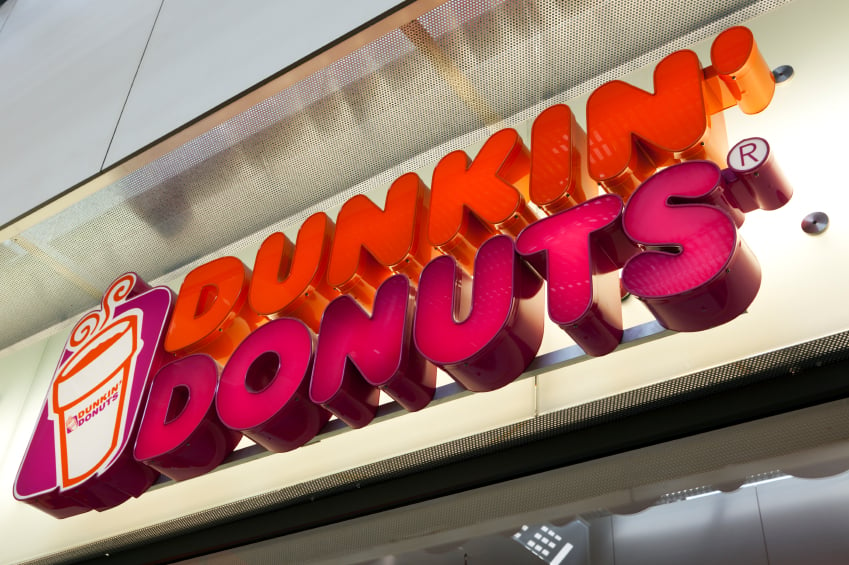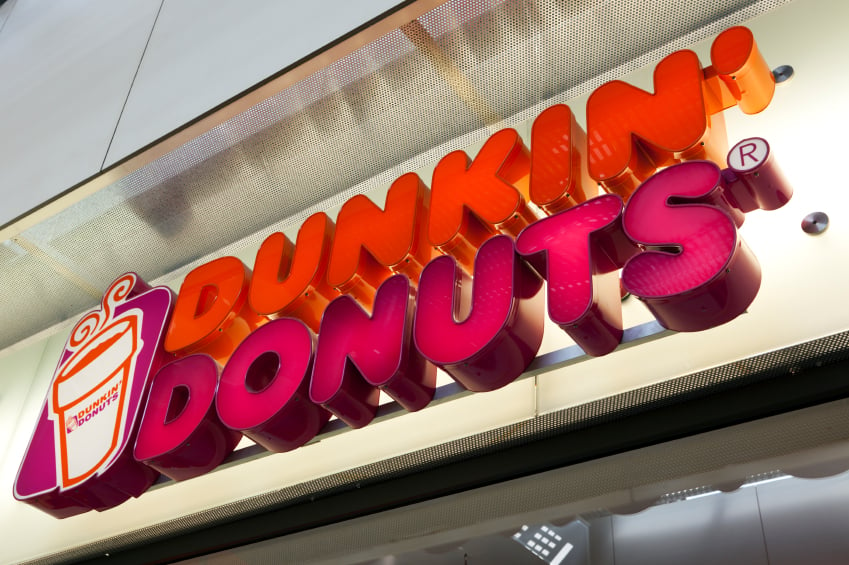 Everyone loves DD coffee, right? That's because it's some of the best there is, especially in the mind of east coasters. Case in point, Cliff Ranson and Elizabeth Fischer loved the doughnut chain so much, they decided to get married at a New Jersey location amidst coffee machines and a wall of doughnut trays. The two eventually had a bigger ceremony featuring — you guessed it — a Dunkin' Donuts doughnut tower, which apparently is a thing.
And they're not the only ones to say "I do" in a doughnut shop. In 2005, Jeff Dewald and Margaret Neary got married at a Dunkin' Donuts in Philadelphia, thanks to a contest-winning essay they submitted.
Next: A DD competitor claims the next spot.
9. Krispy Kreme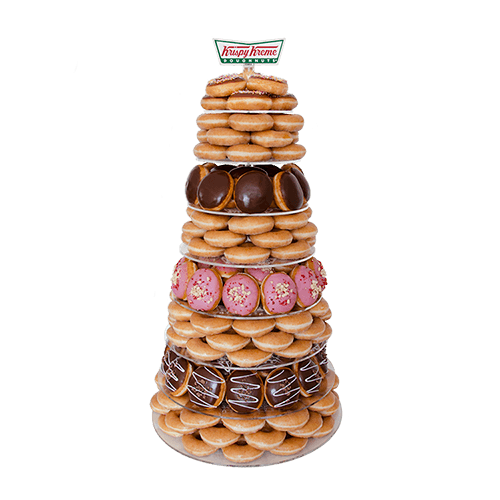 Traditional wedding cakes are sometimes unoriginal and, quite frankly, not all that tasty. But for couples who've gotten on the doughnuts-for-dessert bandwagon, boring guests with standard wedding cake fare isn't a concern. In fact, the trend has become so huge in the U.K. that the doughnut chain's website has a page dedicated to nothing but wedding day treats. Brides and grooms can have their pick of wedding favors, doughnut towers, and boxes of fancified sweets.
Next: This chain is a beloved staple in the south.
10. Waffle House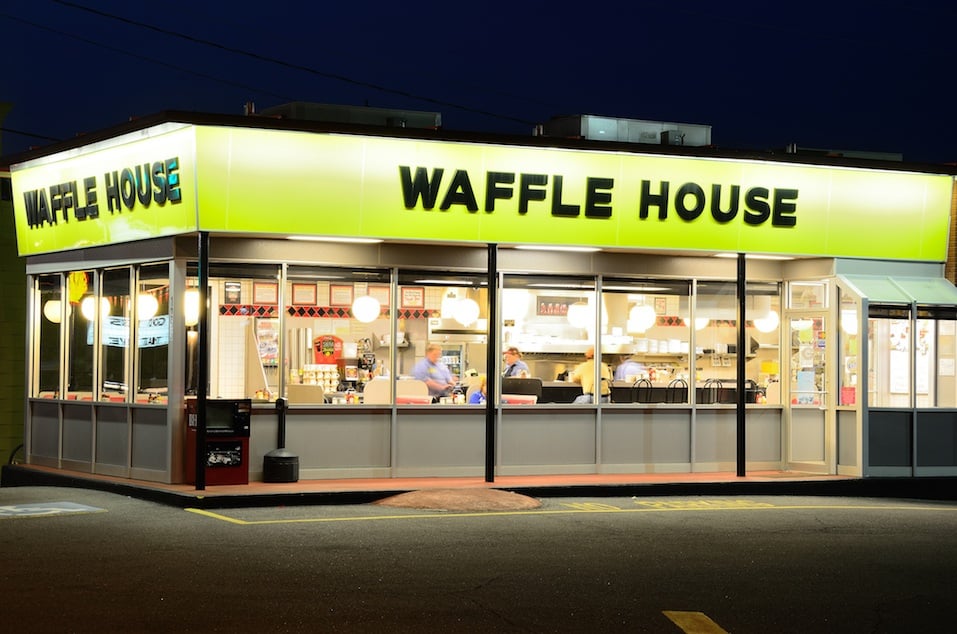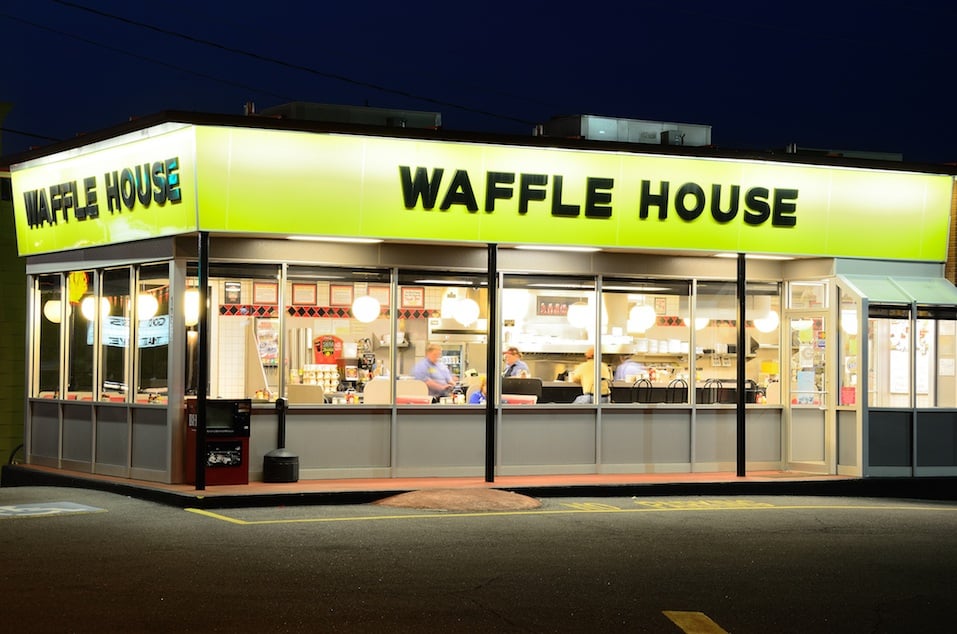 There's just something about a Waffle House that reminds you of your glory days. While chowing down on a late-night breakfast post-party was some people's go-to during their college years, Waffle House holds a different kind of memory for some, like Summer Buckles and Ken Foote. The couple said their vows just outside a location in Gainesville, Florida back in 2014.
According to The Gainesville Sun, "The bride said Waffle House had no real significance for her or Foote, but she had the big wedding the first time and he went to the courthouse, so they were looking for something in between." And, for this pair, that "something in between" was a wedding at their local Waffle House.
Next: Drive-thru wedding? Yes.
11. Sonic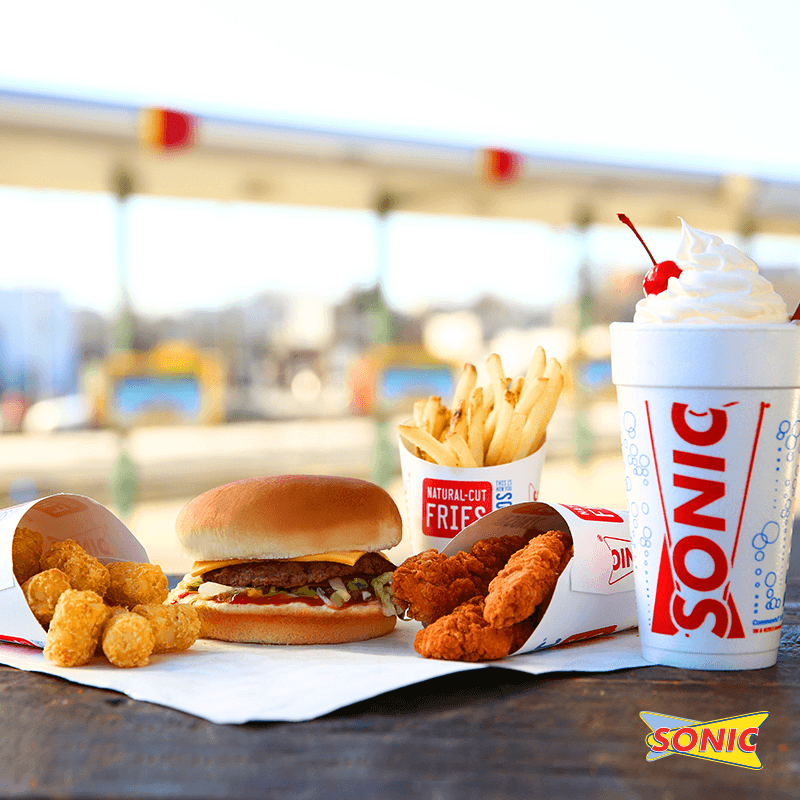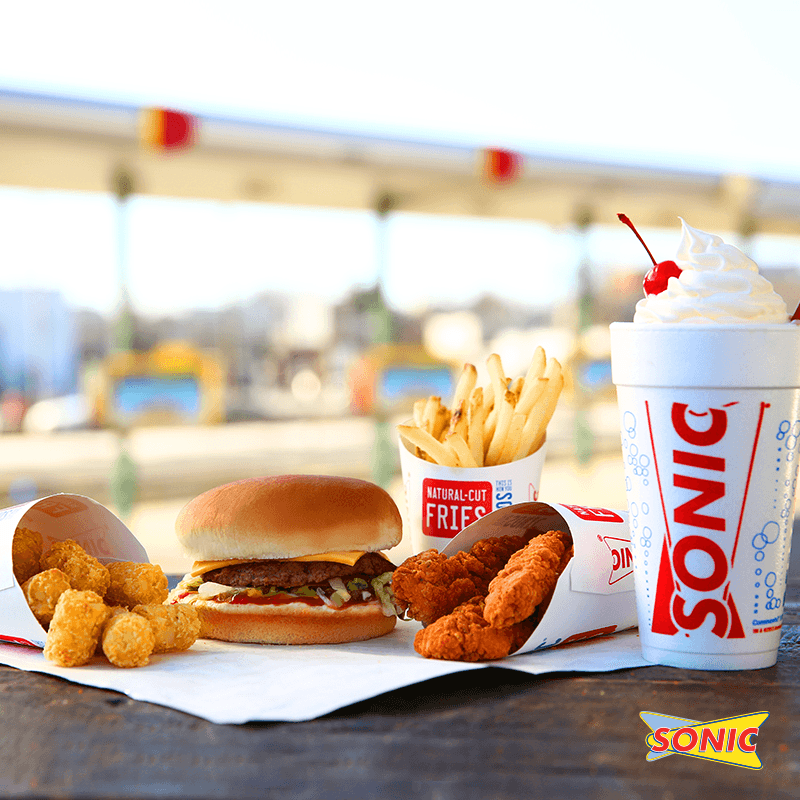 The Sonic location in Hamilton, Ohio, served as more than just a car-hop drive-in during an early June wedding in 2016. So, why Sonic? Chelsea Wood and Ronnie Thompson met at Sonic ten years before choosing the location for their wedding.
According to Journal-News, "The scene for the nuptials was different to say the least — a ring bearer wearing rolling skates and instead of walking down the aisle, the bride was escorted by her father down a sidewalk by the drive-thru." It was certainly a unique ceremony for these two lovebirds.
Next: The Hut snags the last spot on our list.
12. Pizza Hut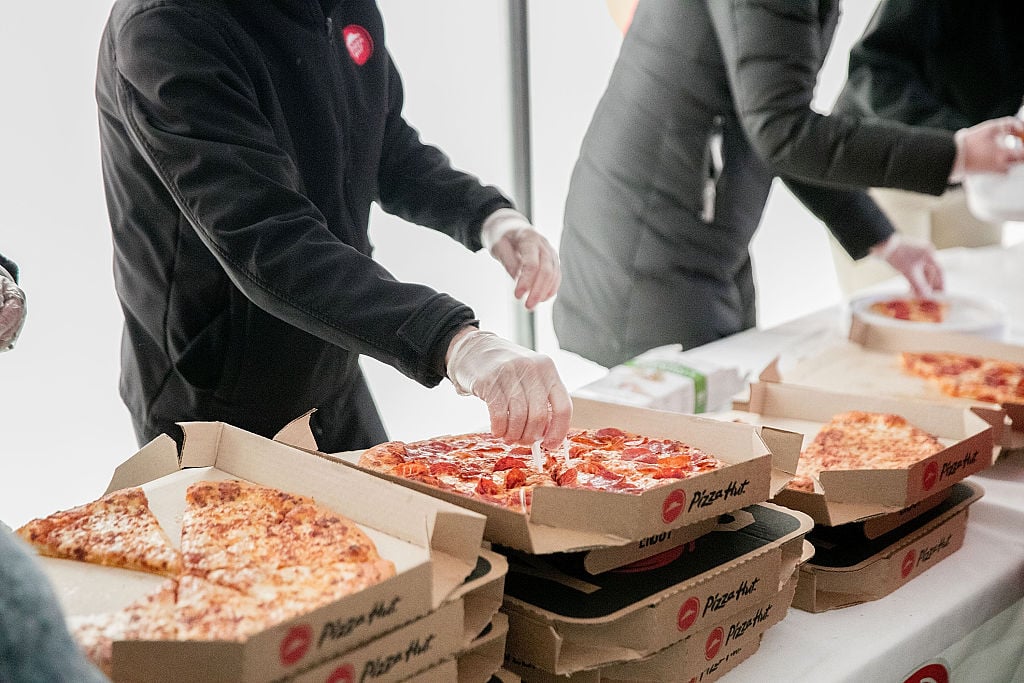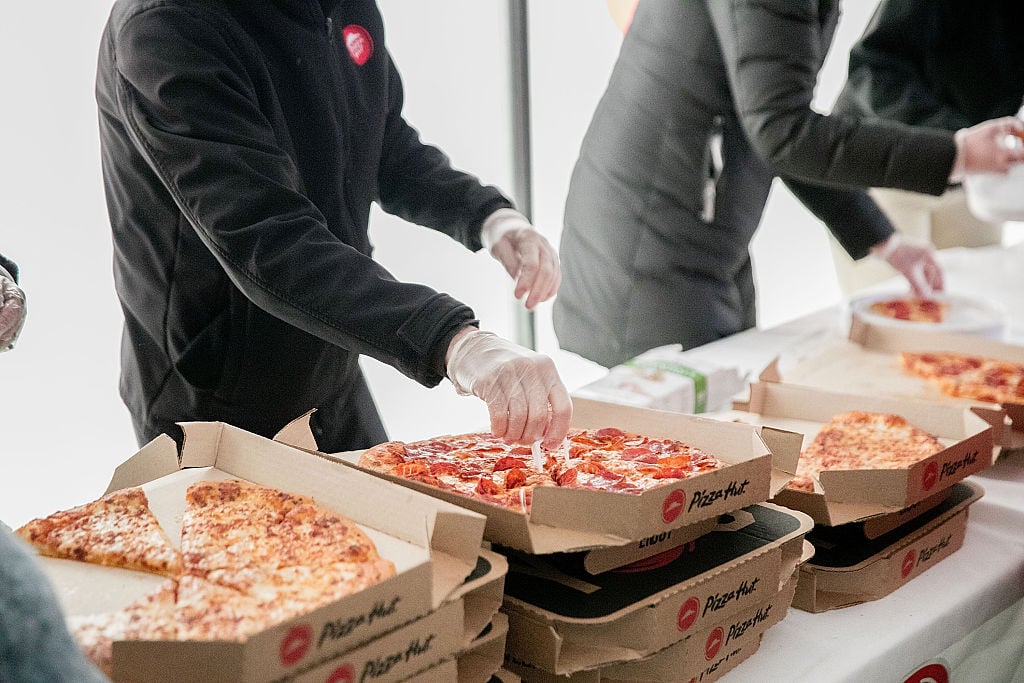 For one couple, Pizza Hut was more than just a well-known chain. It was the restaurant of choice for their very first date. So, when it came time to pick a wedding reception venue, Julie Hansford and Paul Young opted for the Salisbury location in the U.K.. The couple treated their guests to a pizza-shaped wedding cake with a pepperoni heart on top.
And oh, one last thing before we let you go — there was a time when Pizza Hut had a $10,000 Engagement Party Package on its menu. Just chew on that for a minute.
Read more: Taylor Swift and 15 Other Celebrities Who Eat at Fast Food and Chain Restaurants 
Check out The Cheat Sheet on Facebook!