7 Ginger Beer Cocktails You've Probably Never Tried
The Moscow Mule burst onto the scene a few years ago and has shown remarkable staying power. In fact, Liquor.com reported it as one of 2015's most popular cocktails. The copper mug might have something to do with the drink's status, but ginger beer deserves some of the credit as well. The sweet and slightly spicy taste is one of a kind and completely delicious.
Aside from occasionally switching to a Dark and Stormy, most of us only get a taste of the delicious soft drink when combined with vodka and lime. It seems silly when you consider ginger pairs perfectly with loads of ingredients. Fortunately, there are plenty of other drinks featuring ginger beer already out there. Mix up one of these seven cocktails to see what you've been missing.
1. Nor'Easter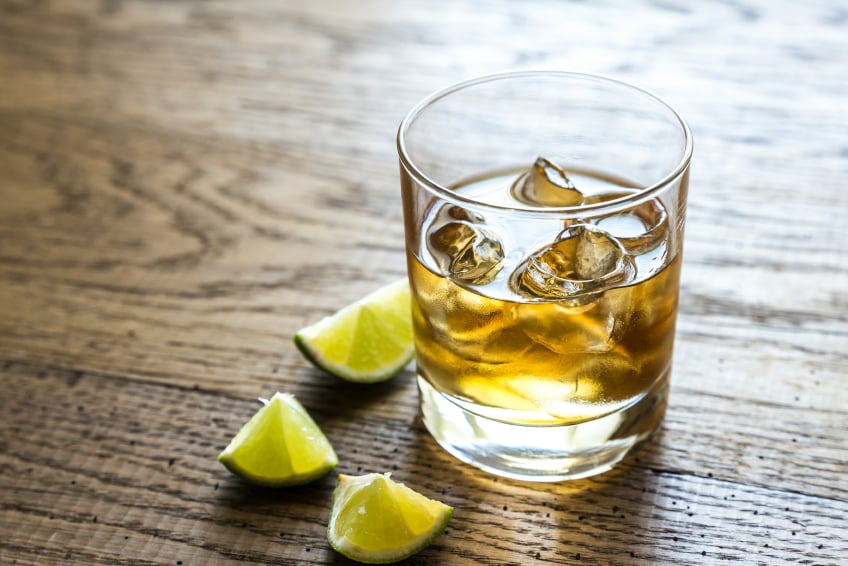 Bourbon boasts a slightly sweet, smoky taste that can stand up to nearly anything you throw its way, even bold ginger beer. Try the combination with restaurateur Sean Josephs' Nor'easter, featured on The New York Times. Since the hard stuff and the soda both have so much flavor, all you need is a bit of maple syrup and lime juice to complete this cocktail.
Ingredients:
1 ounce maple syrup
1 ounce lime juice, more to taste
4 ounces bourbon
2 ounces cold ginger beer
Lime slice
Directions: Combine syrup, lime juice, and bourbon in a small pitcher or cocktail shaker. Let mixture chill until very cold. Pour over ice in a rock glass, then add ginger beer. Add additional lime juice, if desired. Garnish with lime slice and serve.
2. Apple-Ginger Rum Fizz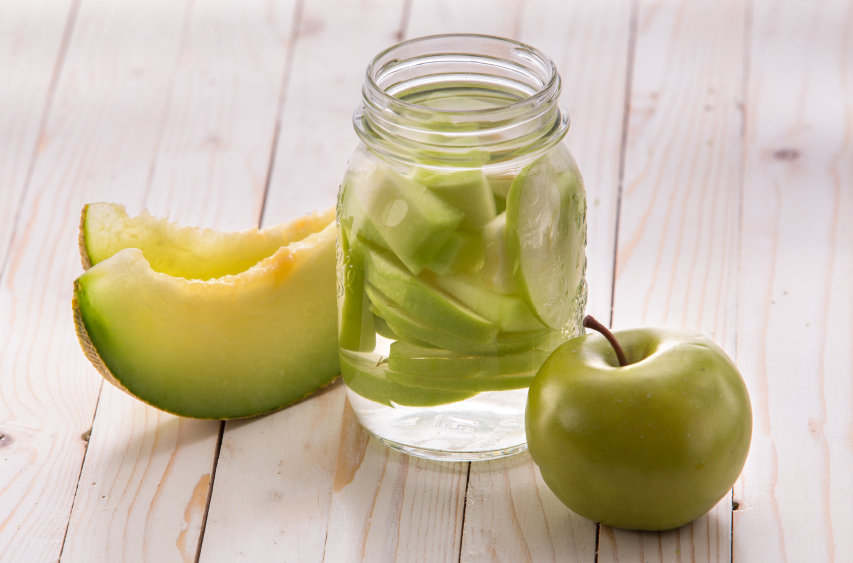 Apple, lemon, and ginger show up together again and again in recipes, frequently in the form of dessert. The flavors translate wonderfully to the cocktail world, so try this sparkling rum drink from Clinton Kelly, which he shared on The Chew. White rum is the perfect spirit to use here because it's pretty clean on the palate, leaving you with a really refreshing beverage.
Ingredients:
¼ apple, roughly chopped, plus wedge
1 teaspoon freshly squeezed lemon juice
2 ounces white rum
4 ounces ginger beer
Ice
Directions: Add apple pieces and lemon juice to a cocktail shaker. Using a muddler or the end of a wooden spoon, muddle apple. Add a handful of ice and the rum. Shake until thoroughly combined.
Pour cocktail into a Collins glass filled with ice. Top with ginger beer, garnish with an apple wedge, and serve.
3. Gingersnap Cocktail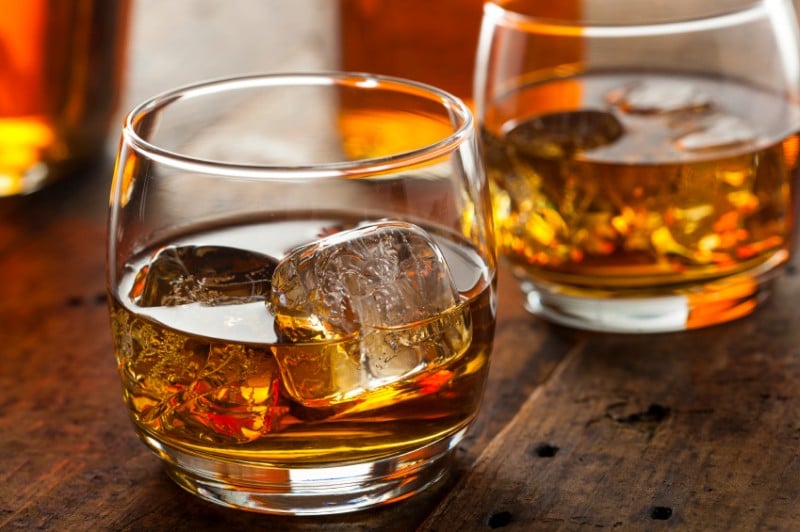 If you're the type of person who'd rather end a meal with a drink than dessert, this sophisticated after-dinner libation from The Bitten Word, which was inspired by a Momofuku Ko cocktail, is a great choice. It's a simple combination of amaretto liqueur, ginger beer, and bitters that boasts tons of complexity. Don't be shy with the bitters, because you really need them to tame what would otherwise be an extremely sweet drink.
Ingredients:
1 ounce amaretto
2 ounces ginger beer
¼ teaspoon bitters, such as Angostura
Directions: Add all ingredients to a lowball glass filled with ice. Serve.
4. Long Faced Dove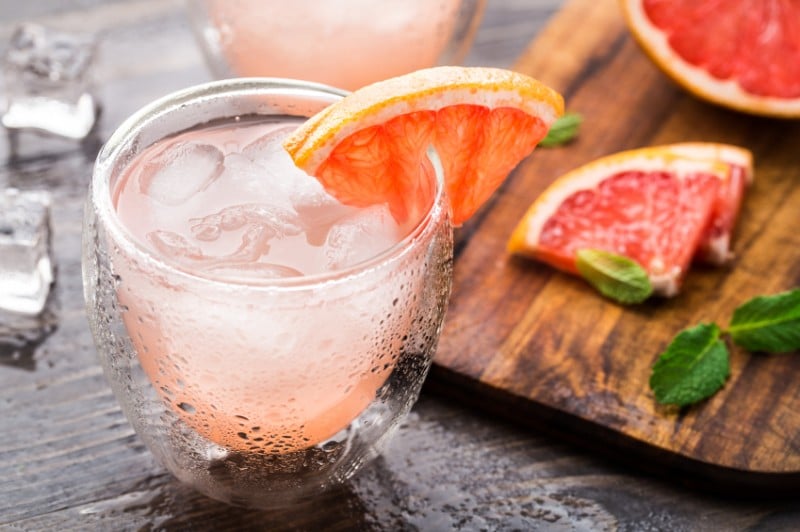 This grapefruit- and tequila-based cocktail from mixologist Paul McGee, featured on Serious Eats, is one for those who prefer drinks with some pucker. Lime juice adds even more tart flavor while a bit of simple syrup and ginger beer give it just enough sweetness. Serve this cocktail at your next taco party. No one will miss the margaritas.
Ingredients:
9 ounces silver tequila
3 ounces Campari
4½ ounces fresh pink grapefruit juice
4½ ounces fresh lime juice
2 ounces simple syrup
3 ounces ginger beer
6 lime wheels
Directions: In a pitcher, mix tequila, Campari, juices, and simple syrup. Add 2 cups ice and stir for 15 seconds. Pour in ginger beer and stir gently to combine.
Divide mixture among six glasses. Garnish each with a lime wheel and serve.
5. Ginger-Pear White Sangria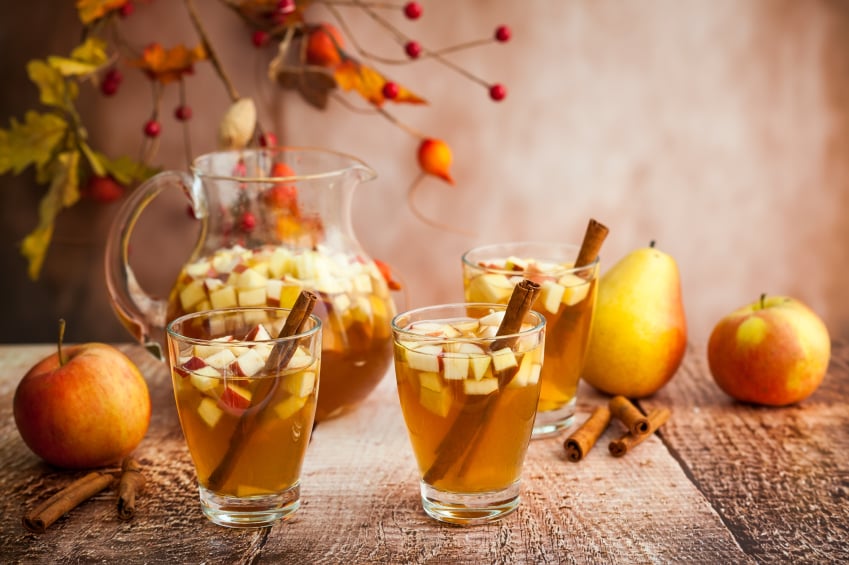 Any time you're considering having a party, you should immediately start thinking about batch cocktails. They're a lot less fussy than playing bartender all night, and you can easily scale them up to serve a crowd. Try this tasty sangria from Kitchen Treaty for your next bash. It's a crowd-pleasing combination of white wine, brandy, white rum, juicy pears, spices, and ginger beer that's just a little more special than your basic sangria.
Ingredients:
2 to 3 pears, cored and cut into thin wedges
1 (1-inch) piece of ginger, thinly sliced
1 lemon
9 whole cloves
1 (750-milliliter) bottle dry white wine
½ cup white rum
¼ cup brandy
3 (12-ounce) bottles chilled ginger beer
For rims
2 tablespoons granulated sugar
¼ teaspoon ground ginger
Directions: Cut three large slices out of the center of the lemon and stick three cloves in each. Store lemon ends, covered, in the refrigerator until it's time to rim the glasses. Add studded lemon slices to a pitcher with the ginger and the pears. Add wine, rum, and brandy. Cover and refrigerate for 4 to 8 hours.
When ready to serve, mix sugar and ground ginger on a small plate. Working one glass at a time, use reserved lemon ends to wet the rim. Turn class upside-down and dip into ginger-sugar. Repeat with remaining glasses.
Strain sangria through a sieve into another pitcher. Add lemon slices and pear slices back to the sangria and discard ginger and any accumulated sediment. Serve sangria in rimmed glasses with a few pear slices. Top each serving with ginger beer and serve.
6. Rum Punch with Ginger Beer and Pineapple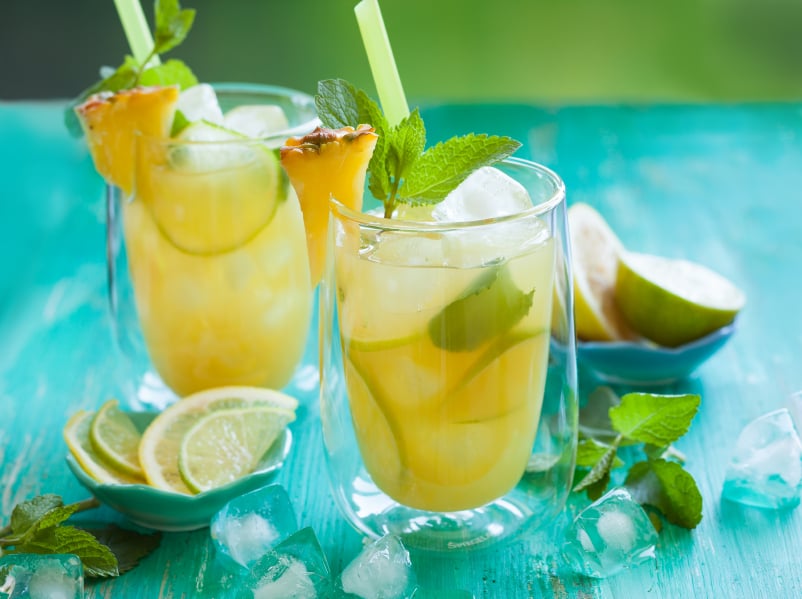 Even folks who love winter are bound to start missing warm weather at some point. The next time you wish you could go on a tropical retreat, mix up Cookin' Canuck's island-inspired punch. Just stir everything together, pour over ice, and sip away. It might not be the same as a vacation, but it's not bad for 10 minutes of effort.
Ingredients:
½ cup fresh lime juice
1 cup ginger beer
1½ cups dark rum
2 cups pineapple juice
Ice
Directions: Combine ginger beer, rum, and juices in a pitcher. Stir to combine. If making in advance, omit ginger beer and store mixture in the fridge. Add ginger beer just before serving. Serve punch over ice.
7. El Diablo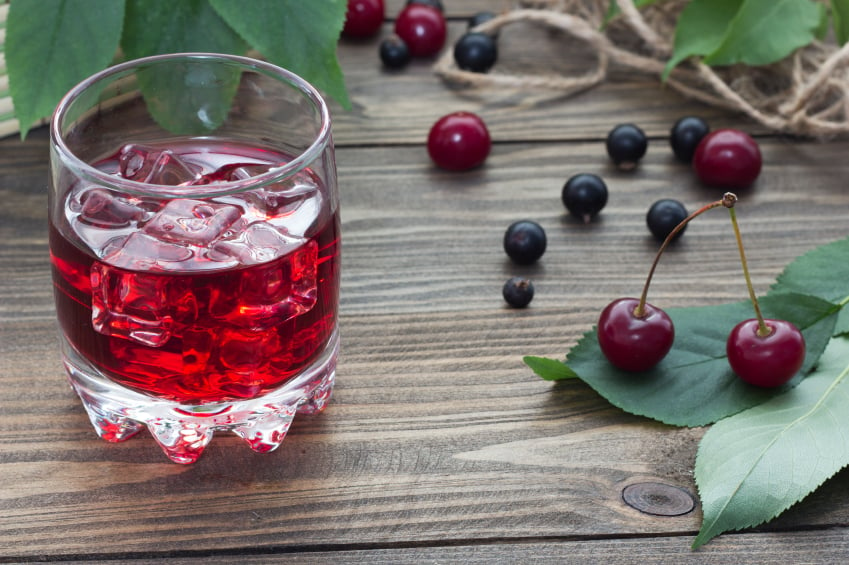 This pink-hued cocktail from Saveur is perfect for people who like cocktails with just a touch of fruity sweetness. The secret is crème de cassis, a black currant liqueur that's both sweet and tart. It pairs wonderfully with ginger beer's zesty kick.
Ingredients:
1½ ounces tequila
½ ounce crème de cassis
½ ounce lime juice
3 ounces ginger beer
Lime wedge
Directions: Combine tequila, crème de cassis, and lime juice in a ice-filled shaker. Shake until chilled, then strain into an ice-filled rocks glass. Top with ginger beer. Squeeze a lime wedge over drink, drop into glass, and serve.
More from Culture Cheat Sheet: