Guy Fieri Swears By These Favorite Restaurants
Love him or hate him, there's no denying that Guy Fieri has influence. The controversial chef has inspired both fan clubs and feuds, and when his signature red convertible rolls into town, it's a big moment for local restaurateurs. A visit from the self-proclaimed "mayor of Flavortown" can turn a sleepy dive into a bustling tourist mecca. The phenomenon even has a name: the "Guy Fieri effect."
Over the course of Diners, Drive-Ins and Dives 26-season run, Fieri has visited more than 800 restaurants. And at each one, he's pronounced the food "dynamite," "lights-out delicious," " righteous," or "bomb-dot-com tasty." Does Fieri love each of these restaurants and the meals they serve equally? We doubt it. But the ever-positive TV personality is loath to play favorites. Nonetheless, Fieri will occasionally mention a particularly memorable restaurant in an interview or TV segment.
Here are eight restaurants Guy Fieri has singled out for extra praise. One spot made such an impression that Fieri became friends with the chef and even spoke at his funeral.
1. Morimoto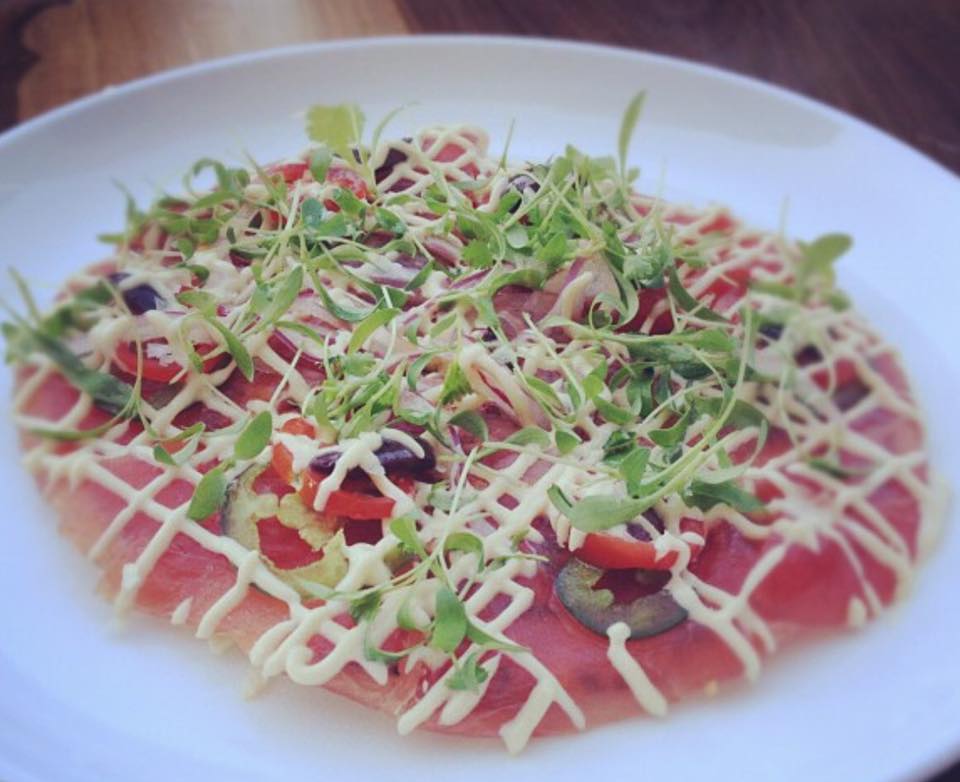 You're far more likely to see a burger joint or pizza place on Triple D than a sushi spot (though a few Japanese restaurants have made the cut). So it might surprise regular viewers to hear what food Fieri craves when her returns home from a season of filming.
"Thinking of sushi from Morimoto in Napa makes my mouth water," he told The Daily Meal. Fans of Iron Chef America will recognize the name. Chef Masaharu Morimoto, a regular on the cooking competition show, owns the restaurant.
2. Rino's Place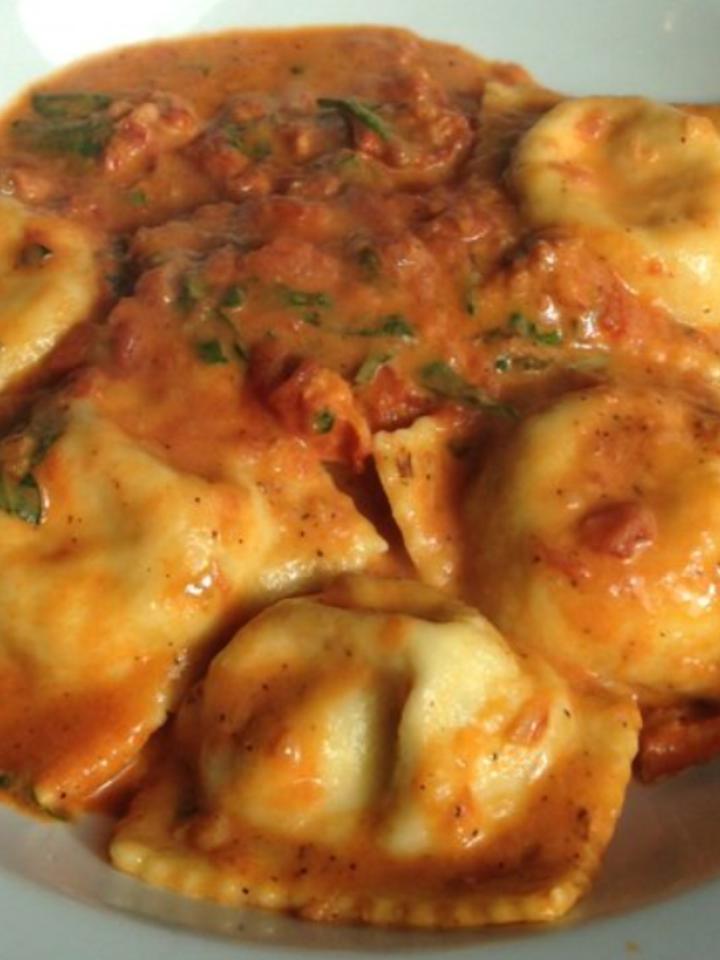 Fieri and the rest of the Triple D crew have paid several visits to Boston over the years, and one of his favorite spots in the city is Rino's Place. "No matter what, I'm not leaving without some lobster ravioli" from the famous Italian restaurant, he told Boston Common.
Fieri isn't the only one who raves about this shoebox-sized restaurant in East Boston. Local critics agree that the food, including a house-made boar sausage and the grilled octopus, is top-notch. The only problem is that the Diners, Drive-Ins and Dives fame has made it even harder for locals to get a table.
3. Bayway Diner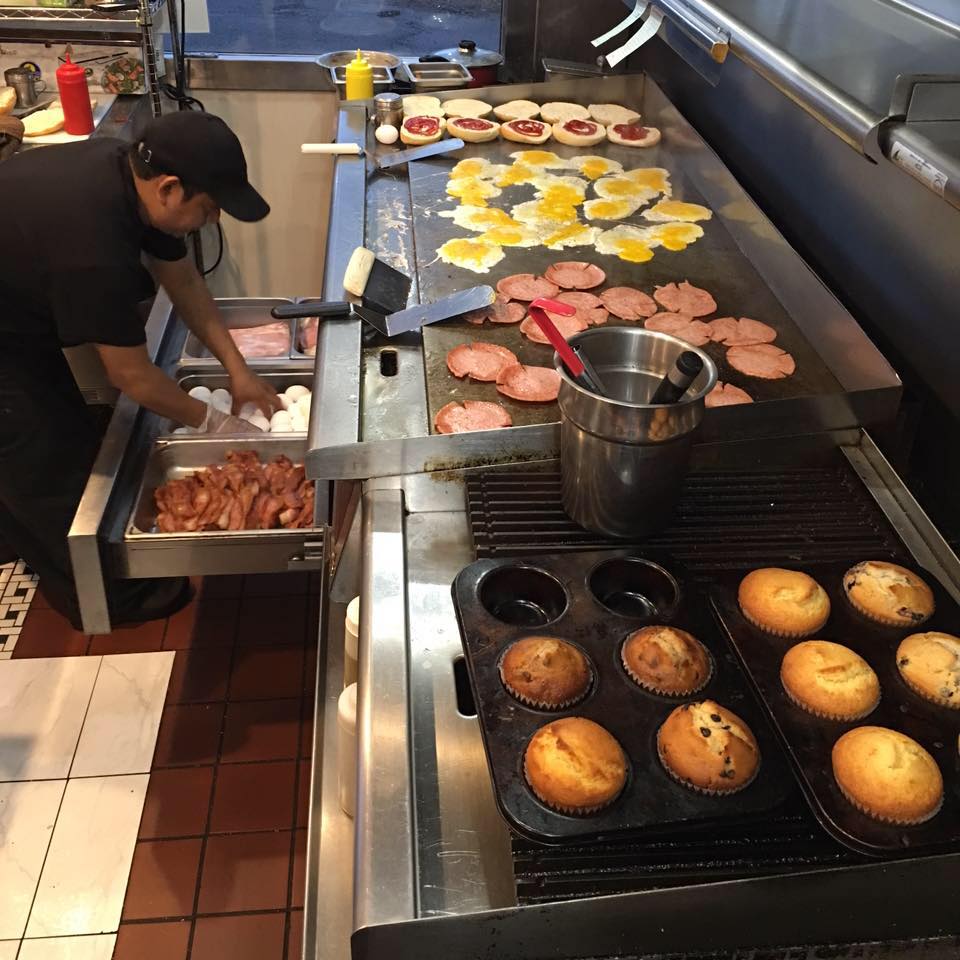 Bayway Diner was the first place where Fieri filmed Diners, Drive-Ins and Dives, and he still has a soft spot for this small New Jersey joint. The eight-stool restaurant is one of his favorites, he told The Street back in 2008. While the cramped space might turn off some diners, he argues that it's a big part of the restaurant's appeal. "You pack everybody in there; they cook right in front of you," he said.
4. In-N-Out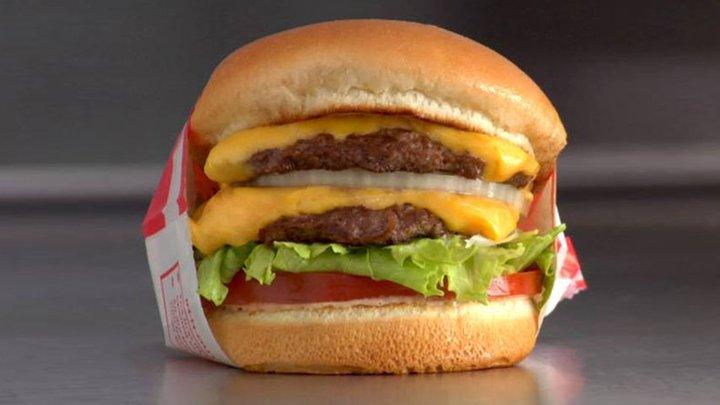 There are two kinds of people in the world. People who love In-N-Out, and people who haven't yet tried one of the fast-food chain's signature burgers. Guy Fieri is definitely in the former group. As a born-and-raised Californian, he's a big fan of the cult favorite burger joint. He even prefers it over the much-hyped Shake Shack.
When asked to choose between the two burger restaurants, he told First We Feast, "I love [Shake Shack founder] Danny Meyer, but In-N-Out. Danny's the machine, Shake Shack's phenomenal, but there's something about growing up around In-N-Out."
5. Dari-Ette Drive-In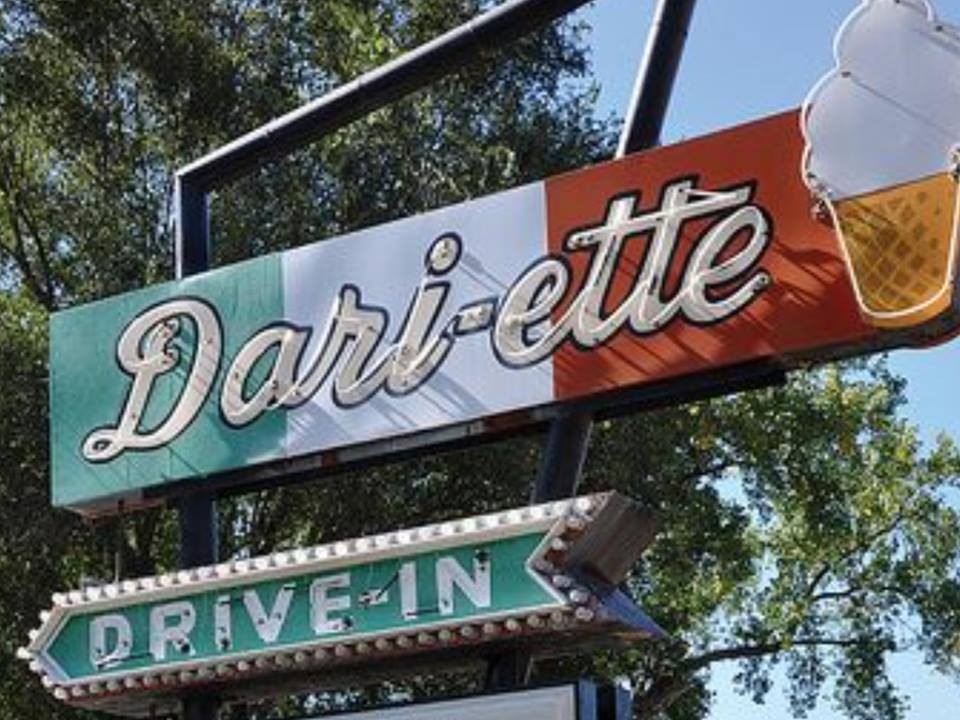 The Dari-Ette Drive-In in Saint Paul, Minnesota was one of the first places Fieri visited on Diners, Drive-Ins and Dives, way back in Season 1, Episode 12. The vintage, family-owned spot's Italiano sandwich made it onto this Food Network list of Fieri's favorites. Owner Anna Fida has kept in touch with Fieri over the years, she told MinnPost, exchanging messages and business tips. Her restaurant (which her grandparents opened back in 1951) has also been featured in two Triple D books.
6. Duarte's Tavern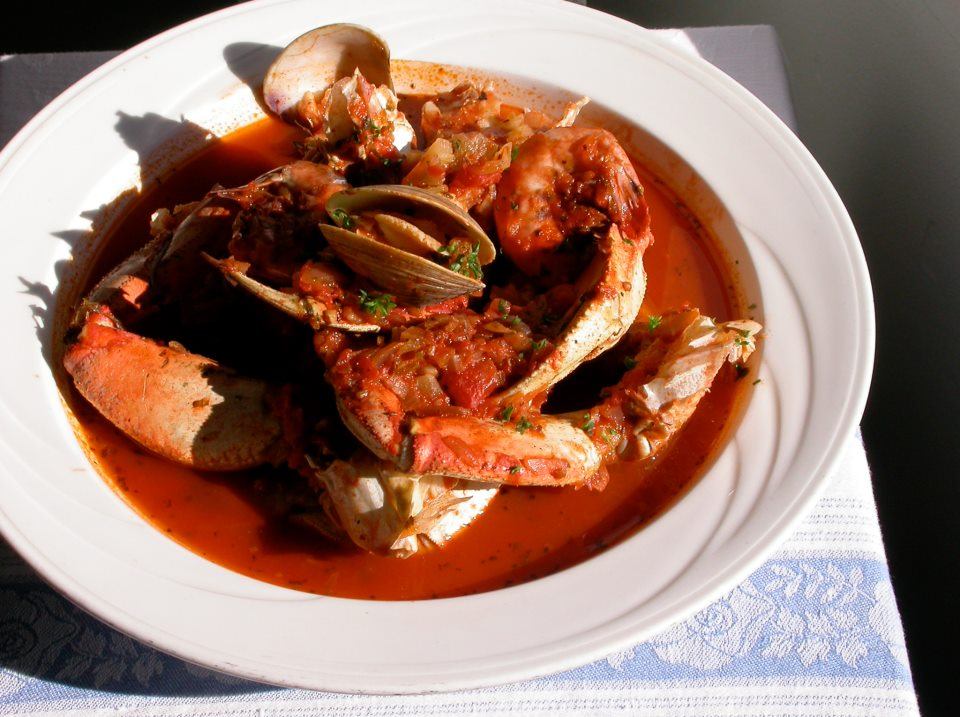 Fieri gave Duarte's Tavern in Pescadero, California an enthusiastic shout-out on a second-season episode of The Best Thing I Ever Ate. This old-school Bay Area spot serves a dish that, in Fieri's opinion, goes beyond irresistible: Crab cioppino. The mix of Dungeness crab, clams, and fish with in a light tomato sauce is a "marriage of flavors," Fieri said. "When it can K-O the Triple D guy, you know this is a winner. This is a winner, winner, Dungeness crab dinner."
7. Uncle Lou's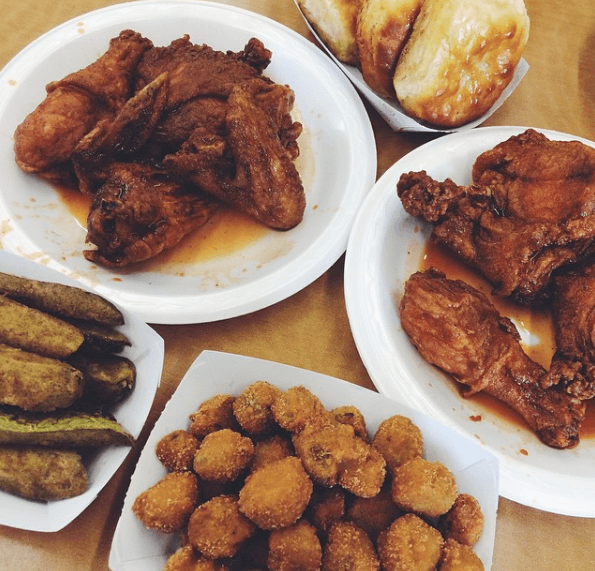 At Uncle Lou's in Memphis, Tennessee, you can get "crazy" fried chicken that's "uncle-licious," according to Fieri. He praised this strip-mall spot on an episode of The Best Thing I Ever Ate. At this restaurant, cooks coat sweet-and-spicy breasts and thighs in a seasoned breading, dunk them in a mix of red wine vinegar, hot sauce, and honey, and then top them with a special "corruption" seasoning. Hundreds of other diners agree that Uncle Lou's chicken is something else. In fact, the restaurant has a near-perfect score on Yelp, with reviewers promising that "the hype is well deserved."
8. Hodad's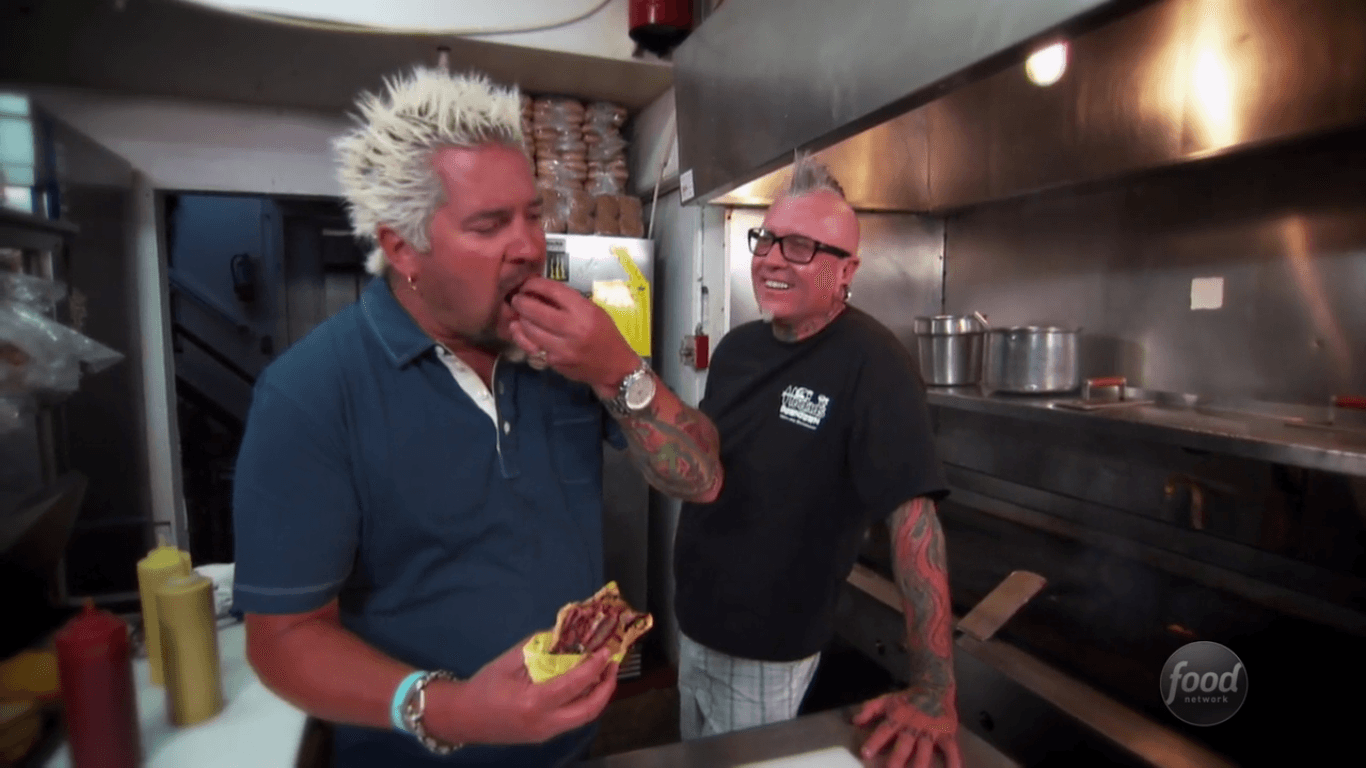 Some say this hole-in-the-wall restaurant in San Diego's Ocean Beach neighborhood serves one of the best burgers in the country. Fieri definitely thinks so. First, he featured the place on a second-season episode of Diners, Drive-Ins, and Dives. Later, he returned to shoot a segment of The Best Thing I Ever Ate, where he waxed poetic about the bacon burger. It made yet another appearance in Season 17 of Triple D.
And the love is mutual. The restaurant's "Guido Burger" – a combo of a beef patty, pastrami, Swiss cheese, and onions – was inspired by the chef. Then-owner Mike Hardin even had a Guy Fieri tattoo on his leg. And when Hardin passed away in 2015, Fieri spoke at his funeral.