Guy Fieri Says He Doesn't Promote Unhealthy Food, but These Episodes Prove Him Wrong
For a guy who hosts a show called Diners, Drive-Ins and Dives, Guy Fieri is a pretty controversial figure. He's become famous for his frosted tips, his affinity for fried foods, and his cringe-inducing catchphrases. One thing that most Food Network fans wouldn't characterize as synonymous with Fieri? A healthy diet. In fact, most people would agree that Diners, Drive-Ins and Dives focuses pretty specifically on unhealthy foods. But Fieri doesn't see it that way.
Thrillist's Matt Patches asked Fieri, "How do you reckon with the promotion of healthy eating and your personal brand, known for a certain type of comfort food?" Fieri responded, "You're stereotyping it," advising, "You just have to keep things in moderation." He added that his show "gets misbranded all the time." He explained:
If you really look at Triple D, and if you really go and investigate the shows, and the style, and how I do the shows, I'm a huge, epic food fan. I'm a huge scratch fan. Scratch-made is super critical to me … If the key ingredient in their pimento cheese sandwich is pimento cheese, then they better be making it. Does that solve the caloric-intake, carb-bomb situation? It doesn't, but in the same respects, if you're gonna eat it, eat something really good. Don't waste your time on a frozen pizza.
Don't quite buy Fieri's claim that he's promoting good food, not unhealthy food? Neither do we. Read on to check out some of the most unhealthy foods that Fieri has chowed down on for Diners, Drive-Ins and Dives.
1. Fried cheese pizza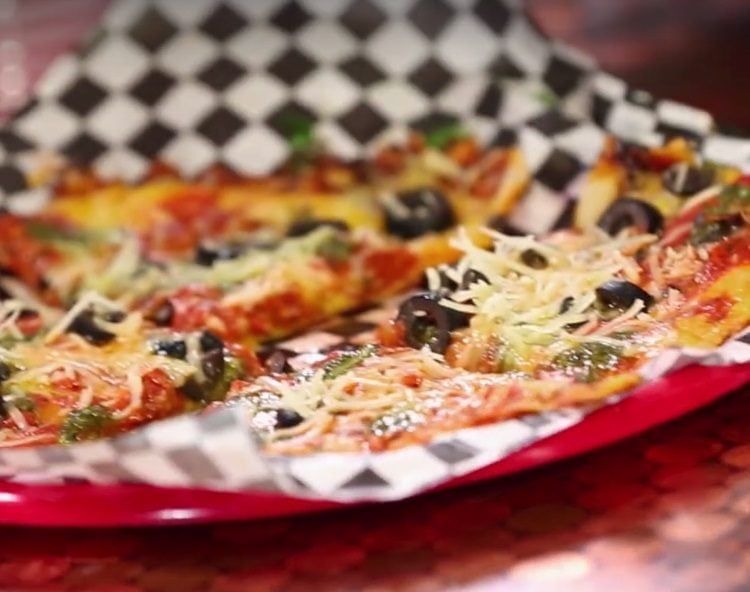 Almost nobody considers pizza a health food. But it only gets worse if, instead of pizza dough, you use crispy, fried cheese as pizza crust. That's exactly what they do at Junkyard Extreme Burgers and Brats in Junction City, Oregon. At that establishment — the only restaurant in town, as The Food Network reports — Guy Fieri tried a fried cheese pizza that had crispy cheese in the place of crust. 
2. Mozzarella sticks — with a twist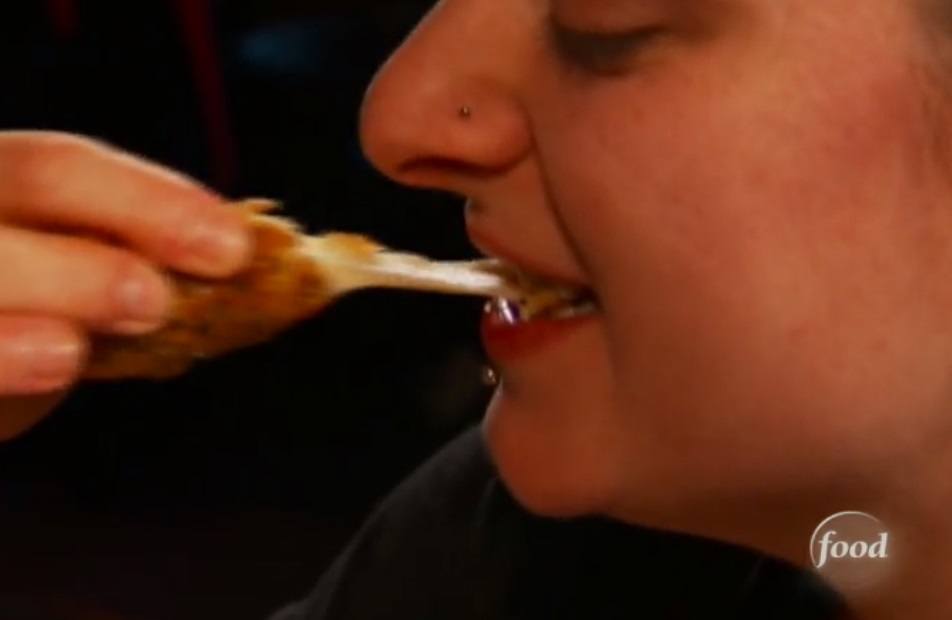 Mozzarella sticks usually include a lot of cheese, but they don't typically give you a major hit of carbs, too. That's not the case at The Highlander in Atlanta, Georgia. There, Guy Fieri tried mozzarella sticks with an extra dose of carbs. The cheese gets wrapped in fresh pasta before the concoction gets egg-washed, covered in seasoned breadcrumbs, and fried. 
3. Atomic Fireballs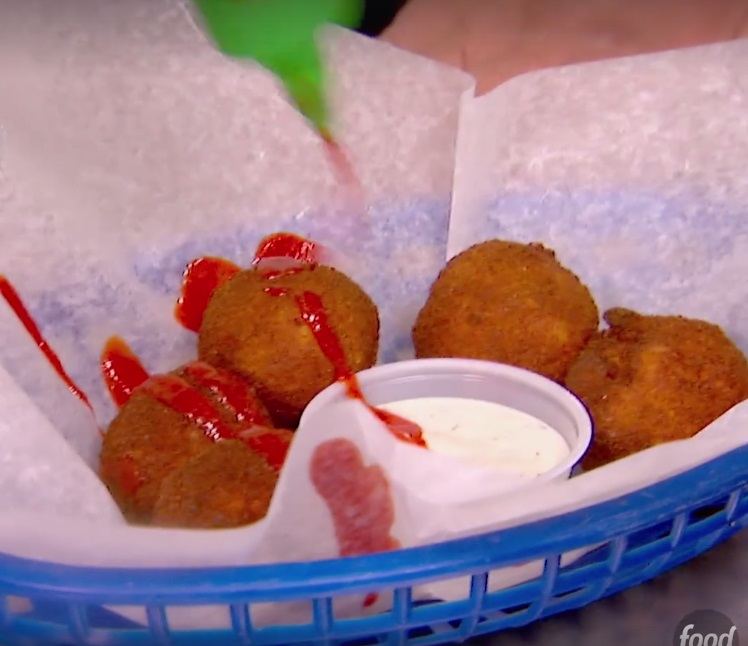 At Queens Comfort in Astoria, New York, Guy Fieri sampled the Atomic Fireballs. This appetizer consists of spheres of macaroni and cheese that get deep-fried and drizzled with Sriracha. According to The Food Network, diners love snacking on these spicy macaroni and cheese balls. But Thrillist got the details on how they're made, and it's not pretty if you're trying to stick to a diet. 
4. Giant cinnamon rolls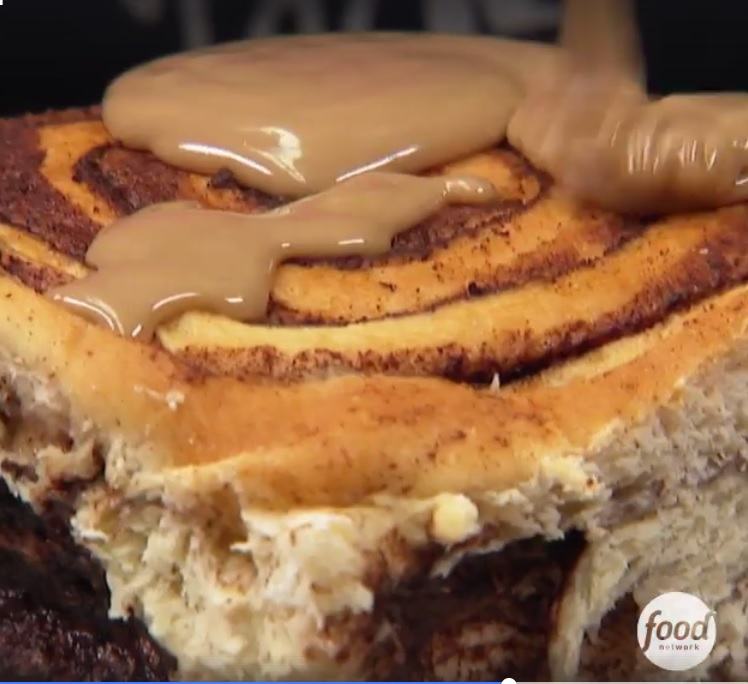 The Food Network reports that Fieri particularly appreciated the heaping helpings of comfort foods at Mountain Shadows Restaurant in Colorado Springs, Colorado. A particular favorite? The giant cinnamon rolls. This sweet treat consists of buttery dough slathered in a decadent glaze that Guy Fieri called "maple madness." Whatever happened to "moderation?"
5. Maple bacon donut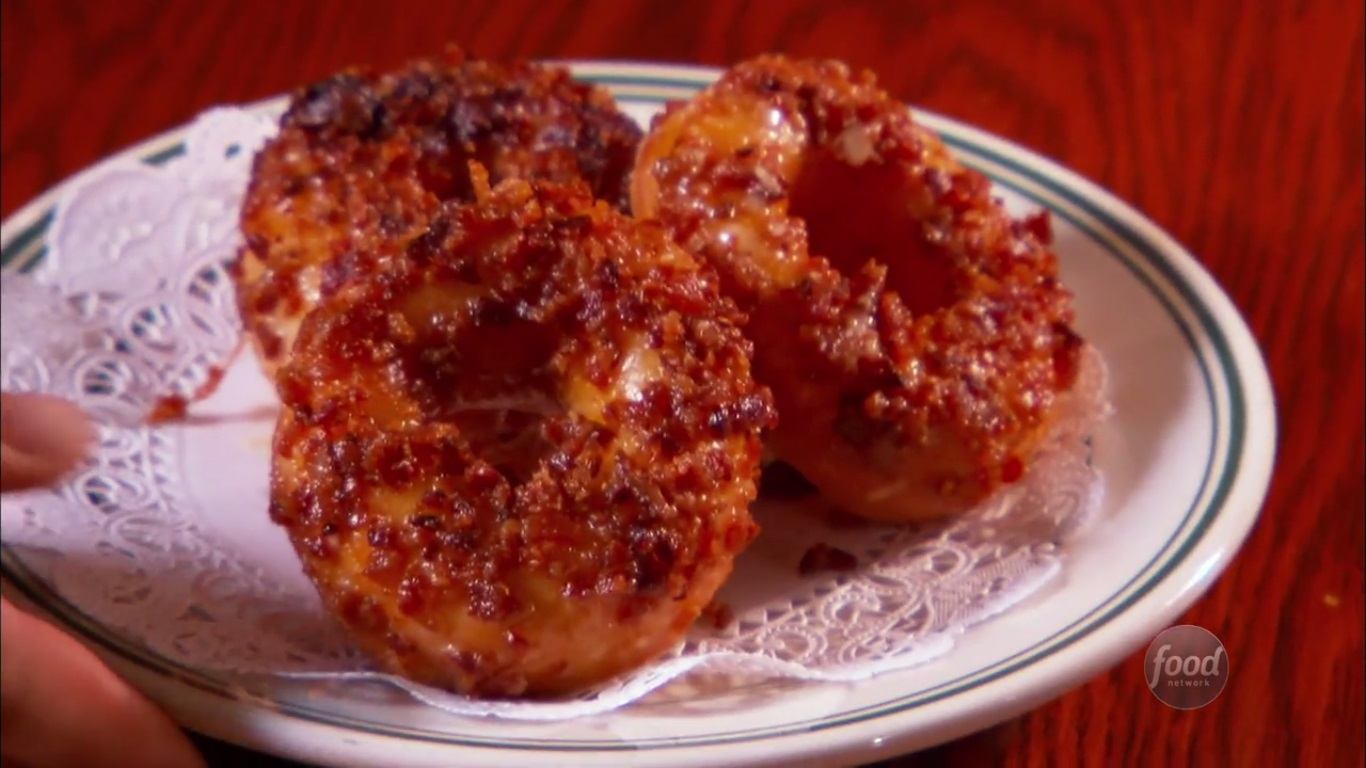 Another sweet treat that we wouldn't really consider a healthy choice, despite Fieri's enthusiasm? The maple bacon donut at Nickel Diner in Los Angeles. As The Food Network explains, this donut gets coated in a glaze made with maple syrup. Then, the creation gets topped with crispy bacon. It may sound delicious, but we can guarantee that you shouldn't indulge in this dessert very often. 
6. The Hulk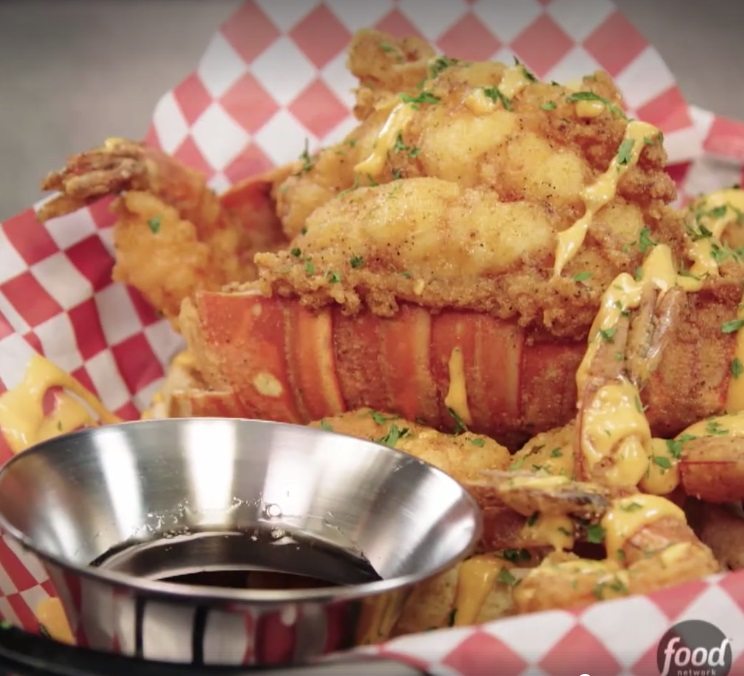 It may look delicious. However, "The Hulk" definitely won't win any awards as a health food. Served up at The Seafood Lady in Louisville, Kentucky, the dish consists of a homemade waffle topped with lobster and shrimp. But this isn't just any lobster and shrimp. Both are deep-fried, which lands the dish right in Guy Fieri's wheelhouse (and on Diners, Drive-Ins and Dives). 
7. Crunchy shrimp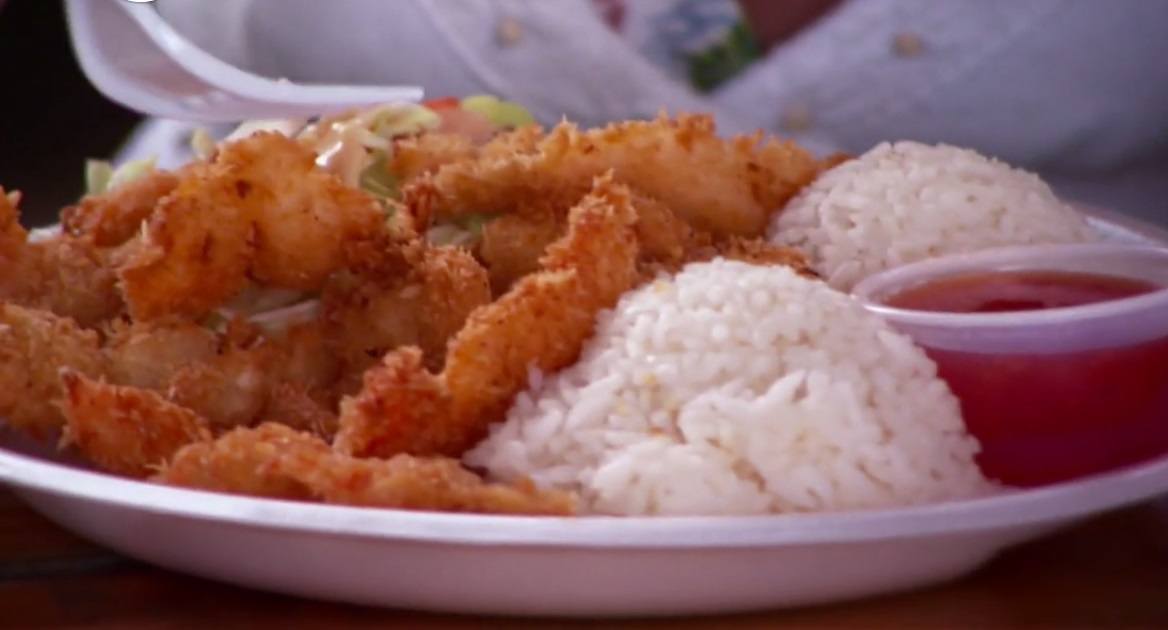 Another seafood dish that may taste great, but won't do any favors to your waistline? The crunchy shrimp that Guy Fieri tried at Big Wave Shrimp Truck in Hawaii. The Food Network explains that these fresh-caught shrimp get butterflied, dipped in tempura batter, coated in panko, and then pan-fried. "Hearty" portions keep patrons happy — as do the calorie-adding rice and sweet-and-spicy dipping sauce. 
8. Garlic and herb chicken gizzards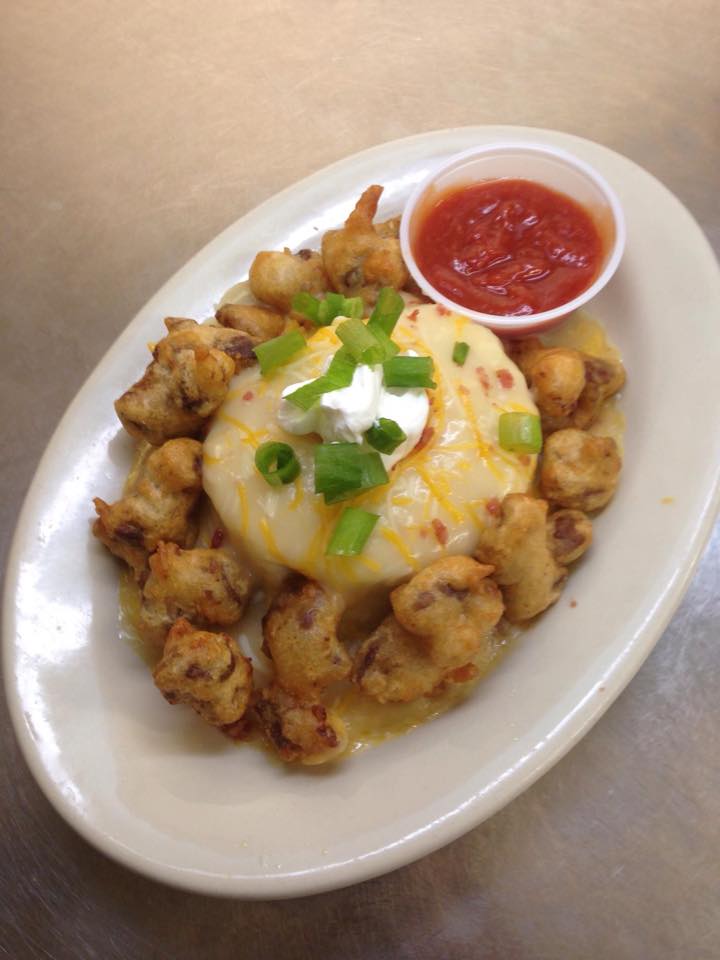 Chicken gizzards are high in cholesterol, but that doesn't seem to faze Guy Fieri. On Diners, Drive-Ins and Dives, Fieri sampled the garlic and herb chicken gizzards at Joe's Gizzard City. The Food Network reports that this Potterville, Michigan, restaurant uses a pressure cooker to make the gizzards tender. Then, the cooks deep-fry them and flavor them with garlic and herbs. 
9. Mac Attack burger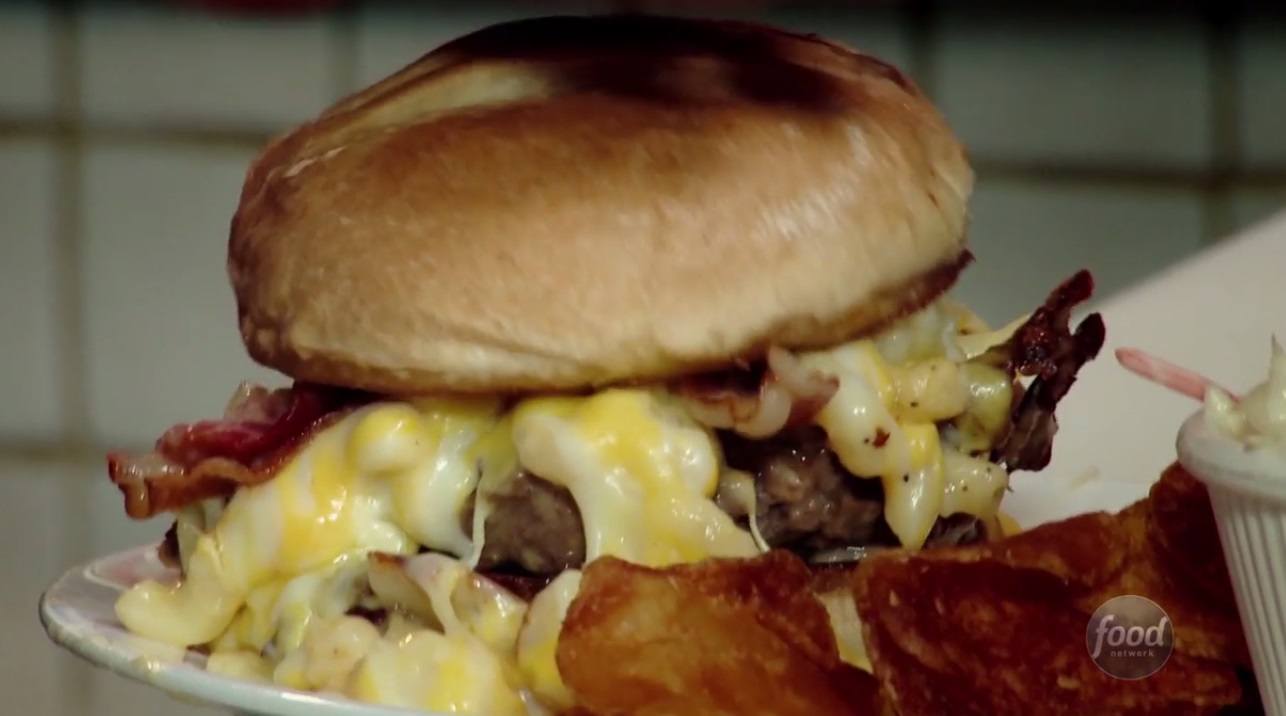 Can't decide between a burger or a serving of macaroni and cheese? Guy Fieri discovered that at Boston Burger Co. in Somerville, Massachusetts, you don't have to choose. The all-beef patty in the restaurant's Mac Attack burger gets topped with a huge helping of homemade four-cheese macaroni and cheese. (The chef uses cheddar, American, pecorino Romano, and Parmesan.) Then, the whole thing gets topped with bacon. 
10. BBQ lasagna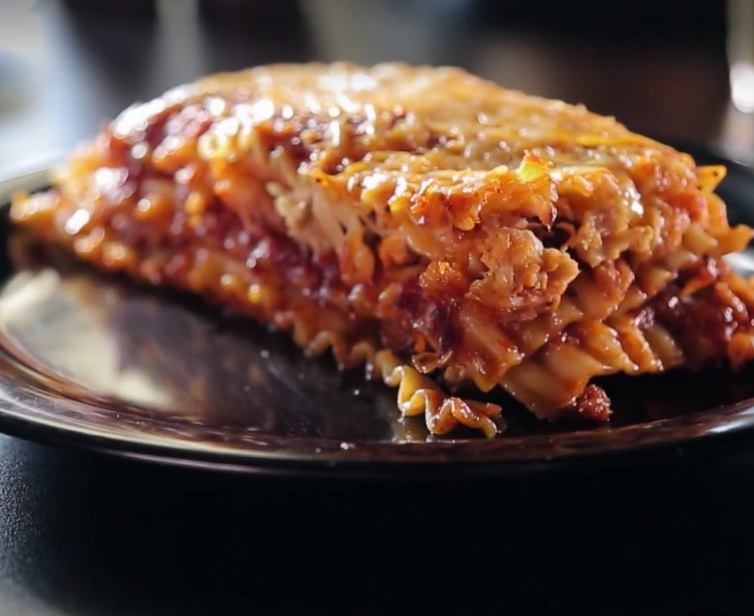 Lasagna isn't a health food, no matter how you slice it. But add in two different kinds of meat and copious amounts of cheese, and you've got a particularly indulgent dish on your hands. At HoBo's BBQ in Temecula, California, Guy Fieri sampled the BBQ lasagna, which included pulled pork, chicken, cheese, and barbecue sauce layered in pasta sheets. 
11. Stuffed meatballs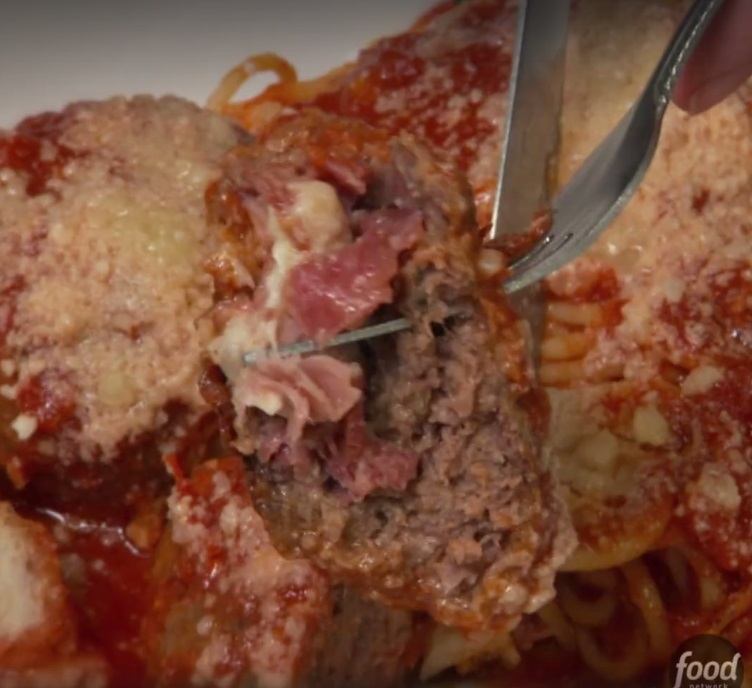 Have you ever looked at a plate of meatballs and thought, "What this really needs is more meat?" Then you may want to thank Guy Fieri for introducing you to the stuffed meatballs at Rigoletto Italian Bakery & Cafe in Virginia Beach, Virginia. The Food Network explains that the stuffed meatballs get filled with cold cuts and cheese — not exactly what a nutritionist would recommend!
12. The Whole Tuckin' Farm burger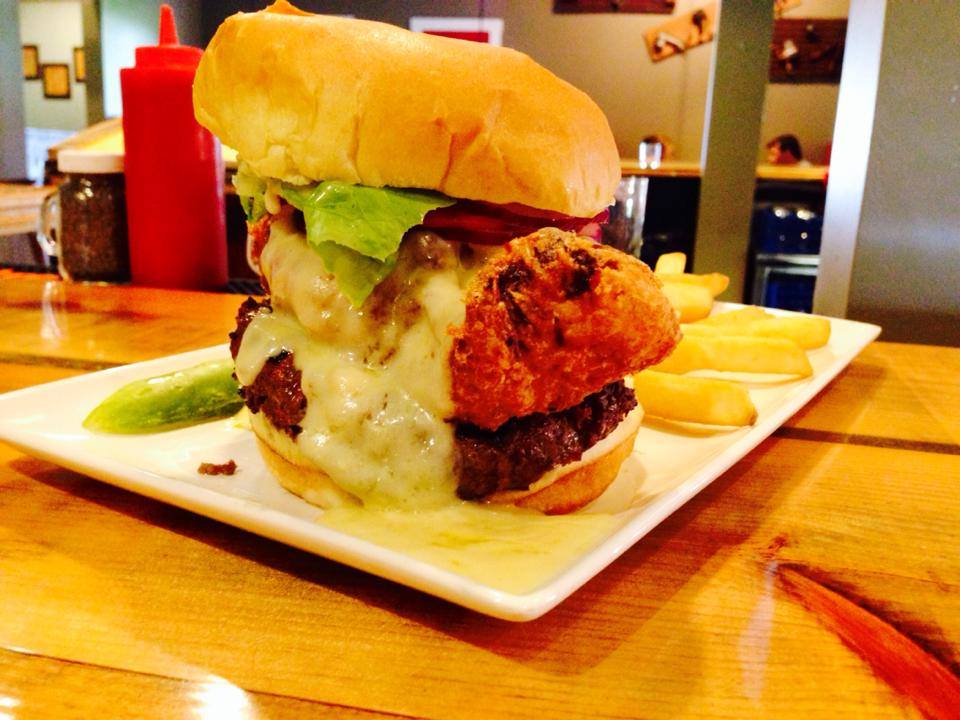 Another outrageously unhealthy dish that's appeared on Diners, Drive-Ins and Dives? The Whole Tuckin' Farm burger from Tuckaway Tavern in Raymond, New Hampshire. As The Food Network explains, the establishment operates both as a restaurant and also as a butcher shop. So it's no surprise that this burger features not only an angus beef patty, but also fried chicken and applewood bacon. Add some white cheddar and some homemade Tuck sauce and the burger is complete. 
13. The Guy's Big Bite Burger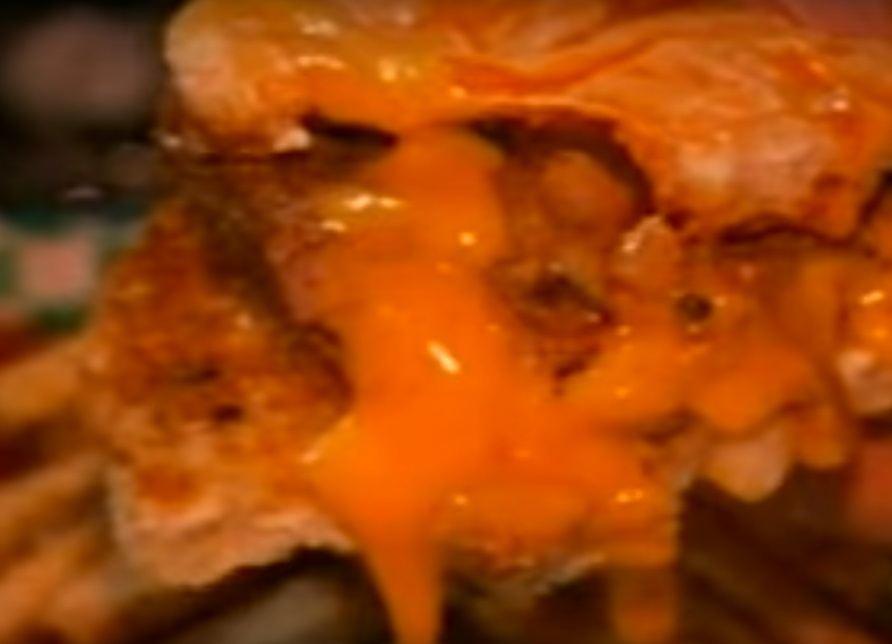 At The Nook in Saint Paul, Minnesota, Guy Fieri discovered a burger that, almost literally, has his name written all over it. This burger gets stuffed with Jack cheese — which sounds rich enough, but the dish isn't anywhere close to done. Bacon, roast beef, and cheddar are the finishing touches. Nobody — not even Guy Fieri — can possibly think that this qualifies as health food!
14. Bacon-wrapped Love meatloaf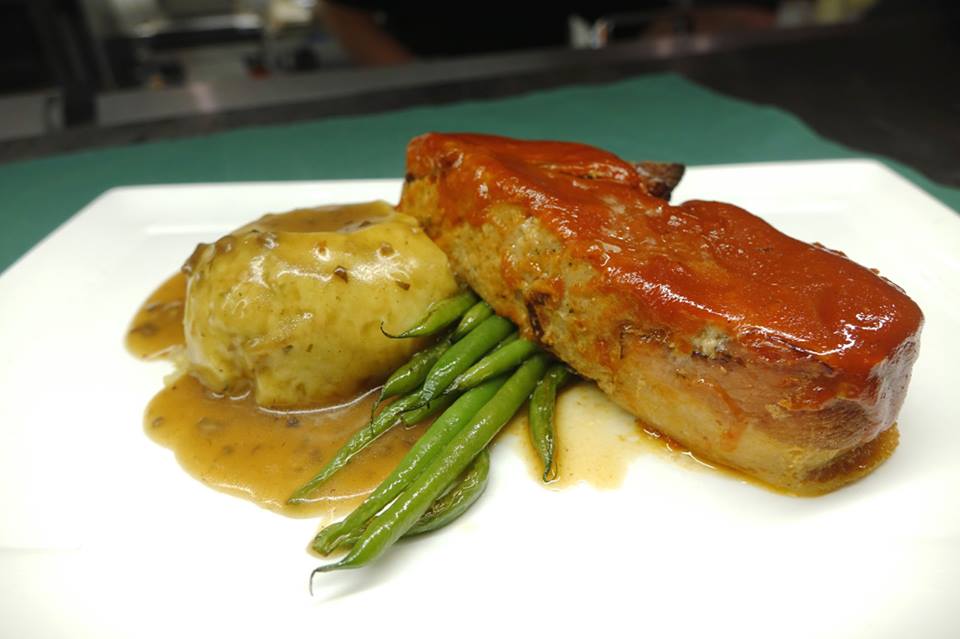 At the Green Turtle Inn in Islamorada, Florida, Guy Fieri got his hands on what may be the least healthy version of meatloaf we've ever seen. According to The Food Network, this Florida restaurant's bacon-wrapped meatloaf uses a mix of ground beef and pork, and gets stuffed with mushrooms. So is all that bacon really necessary? We don't know for sure, but Fieri seems to think so. 
15. Deep-fried chicken cordon bleu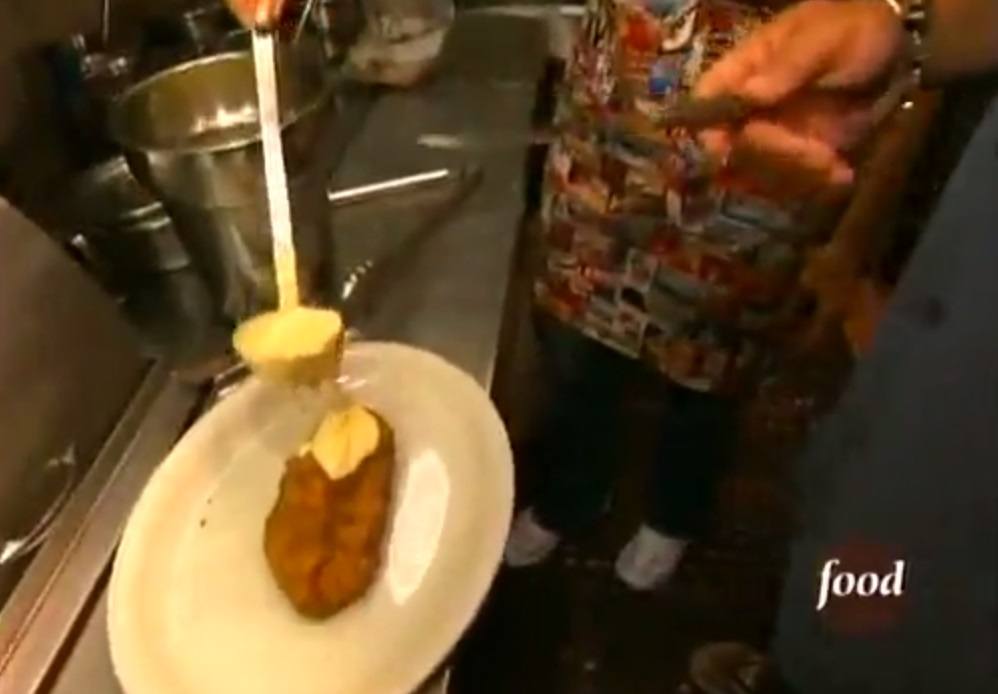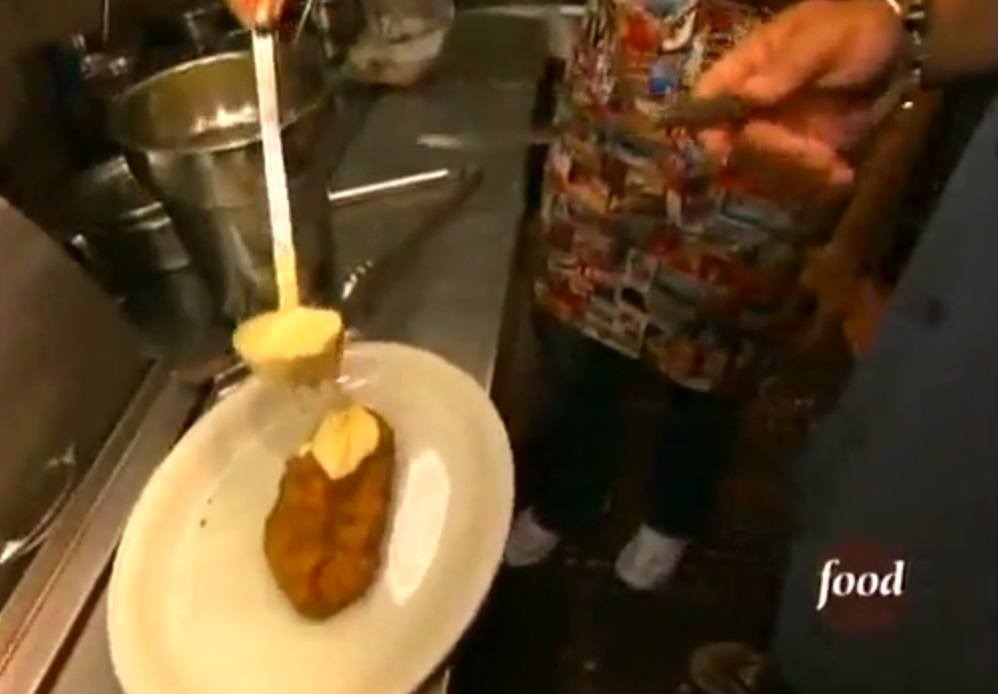 Chicken cordon bleu has never been a particularly healthy dish. But at the Ramona Cafe in Ramona, California, Guy Fieri tried another dish that includes more than what we'd expect from a serving of this classic. The deep-fried chicken cordon bleu contains Gruyère cheese and sliced ham stuffed inside a chicken breast that then gets dredged, deep-fried, and smothered in homemade hollandaise sauce. 
16. Suribachi burger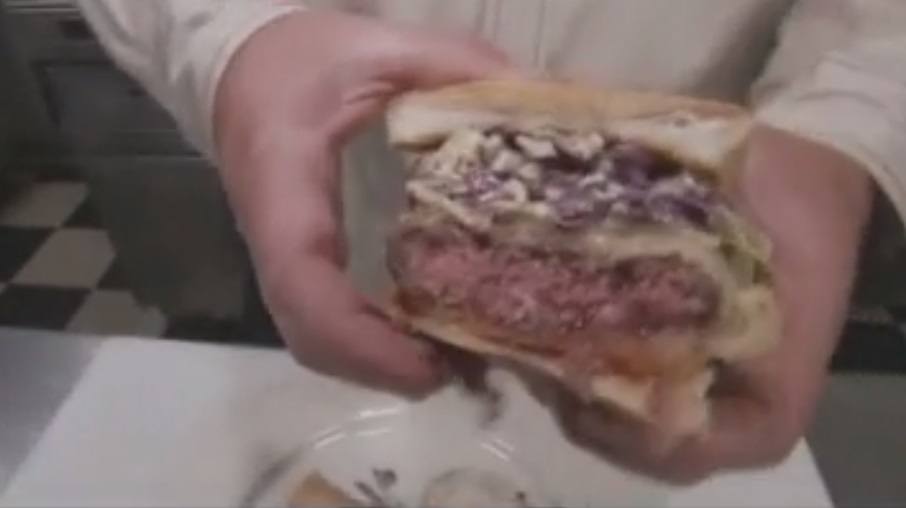 Another dish that deploys some strategic deep-frying to up the ante (and the calorie count)? The Suribachi burger at Swagger in Kansas City, Missouri. The restaurant, which has closed since it appeared on Diners, Drive-Ins and Dives, would take a classic burger, dip it in tempura batter, and then fry it. Then, they topped the whole thing with "Asian" mustard, Sriracha chili sauce, pepper jack cheese, and wasabi coleslaw.
Read more: Here's the One Food That People Hate the Most in Your State