Halloween Wasn't the Only Time Donald Trump Jr. Was Horribly Wrong
On Halloween, Donald Trump Jr. sent out a tweet that used his daughter Chloe (dressed as a policewoman) to spread a message that promptly backfired. The tweet read, "I'm going to take half of Chloe's candy tonight & give it to some kid who sat at home," Trump Jr. tweeted. "It's never to early to teach her about socialism." As The Washington Post pointed out, not only did the tweet go over like a lead balloon, he stole it from someone else. Alex Jones's conspiracy-theory website first posted a video featuring a video of kids turning over their candy in the name of "socialism." A lot of people had a lot to say about the tweet and the concept.
Trump Jr. has put both feet in his mouth repeatedly, over his lifetime in the public eye. Here's just a few of the times speaking in public has gone horribly wrong for the president's son.
1. He sent the worst Halloween tweet ever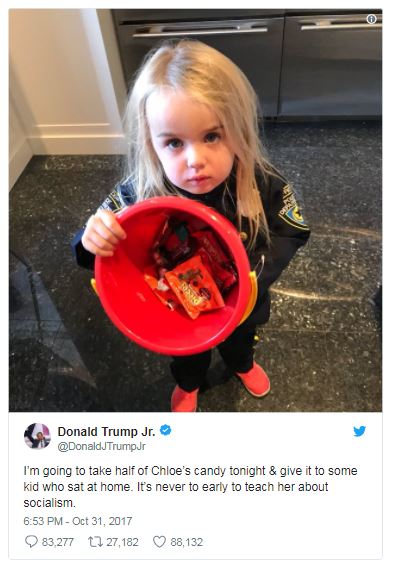 The tweet immediately received fierce blowback. Some suggested Trump Jr. that his daughter might not want to serve as a poster child for the lesson that sharing is bad. Second, Trump Jr. didn't even get the lesson right.
As The Atlantic noted, Halloween provides a much better metaphor for inheritance — something the Trumps know a little about. Your parents buy you clothes, you walk around with them as they introduce you to their friends and benefactors, you say the magic words, and boom — benefits. Mocking kids who "sat home" also shows a startling lack of empathy. 
2. He advocates against sharing, period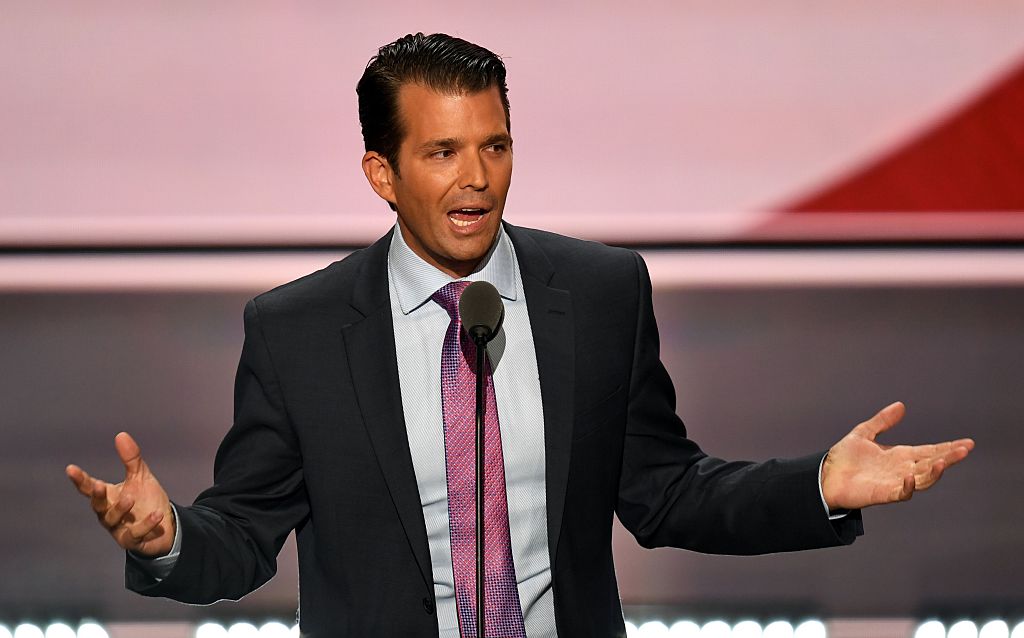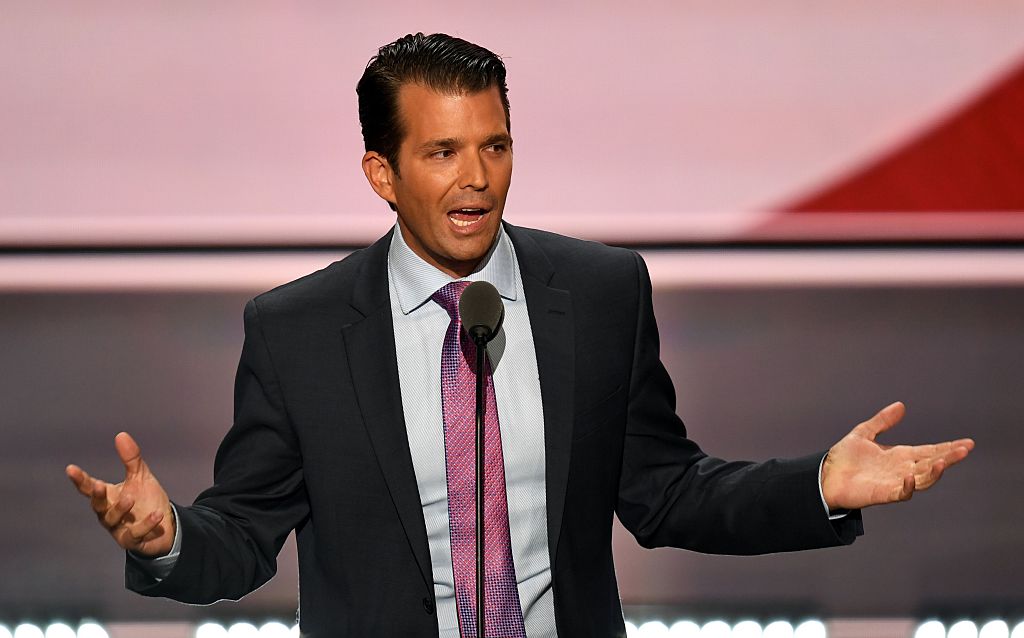 What kid doesn't want to trick-or-treat? Many of them are sick who rely on candy donations to children's hospitals, or places like Ronald McDonald House Charities who provide candy for kids receiving treatment at home. Others can't participate because their neighborhoods aren't safe enough for them to do so.
Finally, Trump Jr.'s tweet suggests he believes a common American myth: That wealth goes to those who deserve it. As Slate breaks down for us, the idea that the rich and poor "deserve" what they get directly drives the conservative distaste for fair taxation — or what those of us with competent parents call "sharing."
That's not the first time Trump Jr. made a disturbing candy reference. 
3. Donnie Jr. compared Syrian refugees to Skittles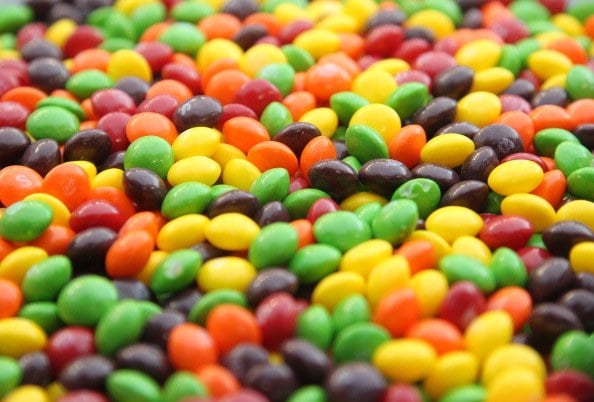 Last year, Trump Jr. tweeted a photo of a bowl of Skittles, comparing it to Syrian refugees. He said that the bowl is sprinkled with a few bad candies "that would kill you," according to The New York Times.
"This image says it all. Let's end the politically correct agenda that doesn't put America first," the post said. Even Wrigley, the owner of Skittles took issue with the tweet.
"Skittles are candy. Refugees are people. We don't feel it's an appropriate analogy. We will respectfully refrain from further commentary as anything we say could be misinterpreted as marketing," the company said in a statement. Much like his dad, Trump Jr. routinely gets in trouble with his tweets.
4. He's also totally here for conspiracy theories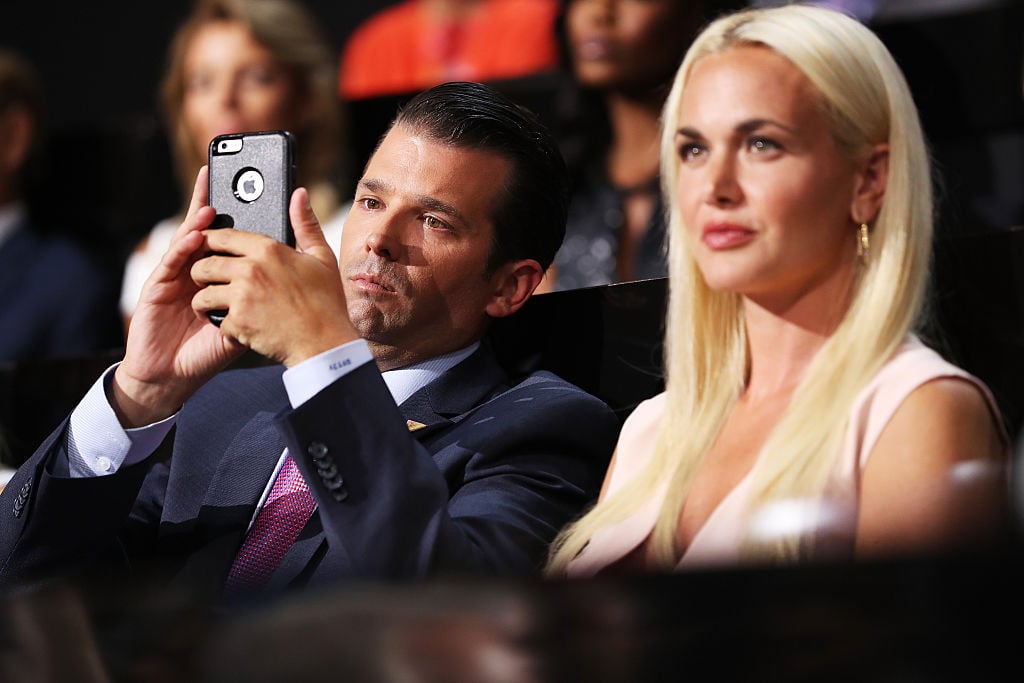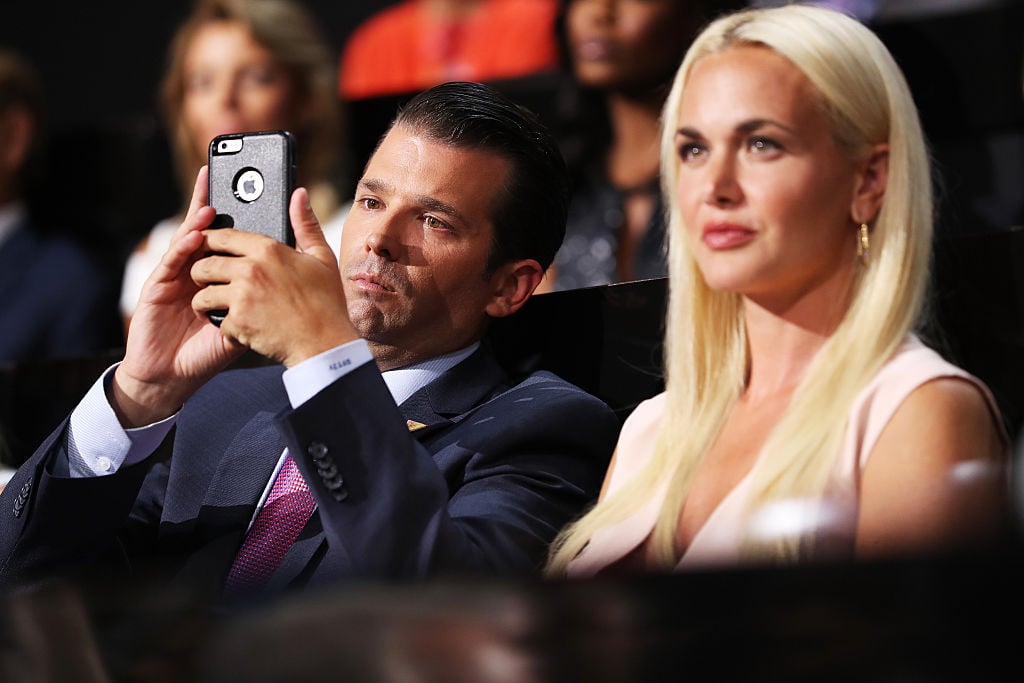 A brief look at Trump Jr.'s Twitter history shows he loves using the platform pretty much the same way his dad does. He suggested Jerry Sandusky go to a women's prison "where he would enjoy himself a lot less." In other tweets, he proclaimed himself a "boob guy," called Maxine Waters a stripper, and maintains a thread about "why he's fat."
The first son also spends a lot of time spreading conspiracy theories. He claimed CNN reporter Andrew Kaczynski tried to blackmail a 15-year-old Trump supporter. Kaczynski didn't, and the Trump supporter he referenced is a middle-aged man. He has expressed equally off-base opinions in interviews, too. 
5. Trump Jr. is 'totally for' gay marriage but for an odd reason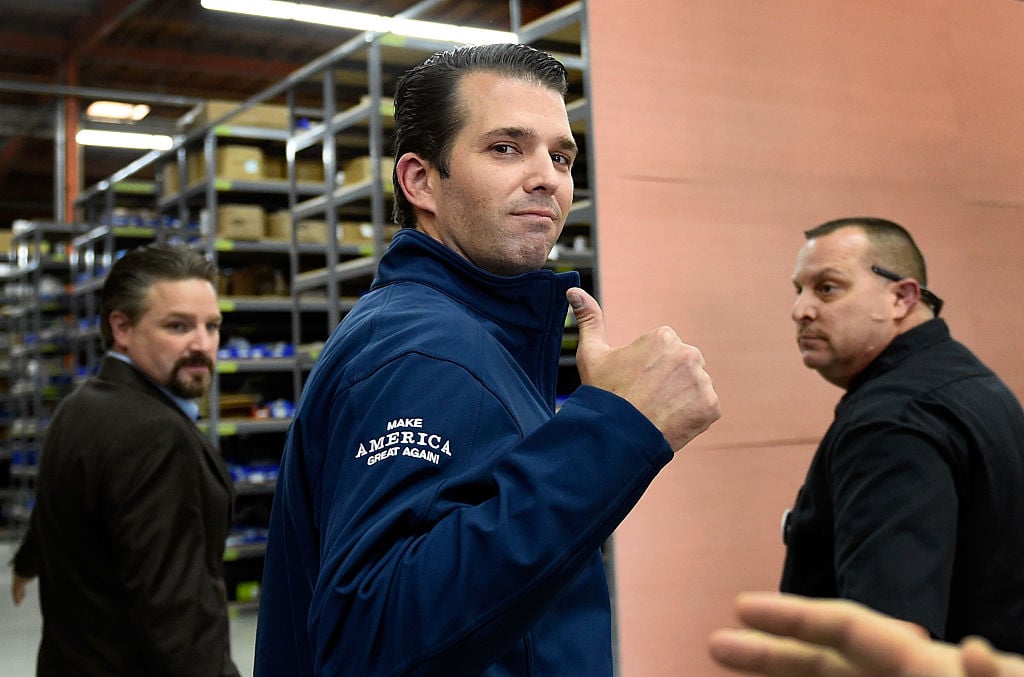 In a 2012 interview on Sirius XM, Trump Jr. said he was "totally for" gay marriage because "it just meant more women for me." In that same interview, he expressed rather liberal beliefs on abortion, too. "I don't even understand how it's a political issue," he said. "I wish the Republicans would drop it as part of their platform."
He called himself a "closet redneck," as well. ""I shoot competitively, I'm an avid fly fisherman, big-time hunter, bow hunter, rifle hunter, so I do all of that. The "closet redneck" came under fire for his shooting activities not once, but twice. 
6. The Trump boys' hunting can have unfortunate timing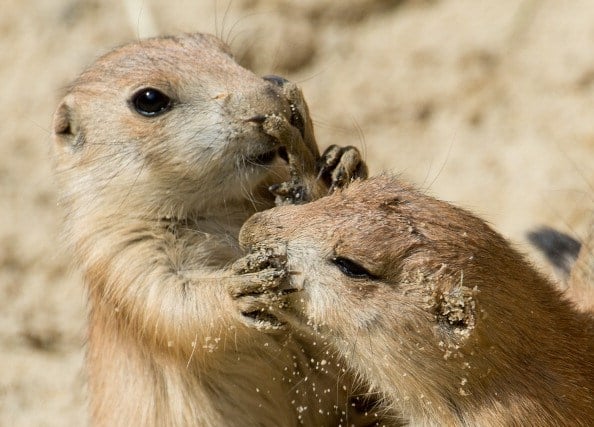 In 2012, both Eric and Donald Jr. Trump fielded criticism for a big-game hunting trip in Zimbabwe. Even though the duo obtained proper licenses and went with a tour group, big game hunting can be a touchy subject in the U.S.
Trump Jr. is an avid hunter and wilderness sports enthusiast, but could stand to exercise a little sensitivity. During Earth Day weekend, he took a hunting trip toMontana with Republican candidate for the U.S. House Greg Gianforte. They spent it shooting endangered prairie dogs. "What can be more fun than to spend an afternoon shooting the little rodents?" Gianforte asked.
According to Esquire, "For prairie dogs, March through June is peak breeding season, which means pregnant, adult females will also be at risk. People do not hunt these animals for food or any legitimate wildlife management purposes," said Lindsey Sterling Krank, director of the Humane Society's Prairie Dog Coalition. While not exactly illegal, it takes a heartless person to spend a day dedicated to the planet hunting defenseless, almost-endangered animals for fun.
Of course, the worst offense involves — what else? — the infamous Russian meeting. 
7. Trump's son 'loves' incriminating emails about Clinton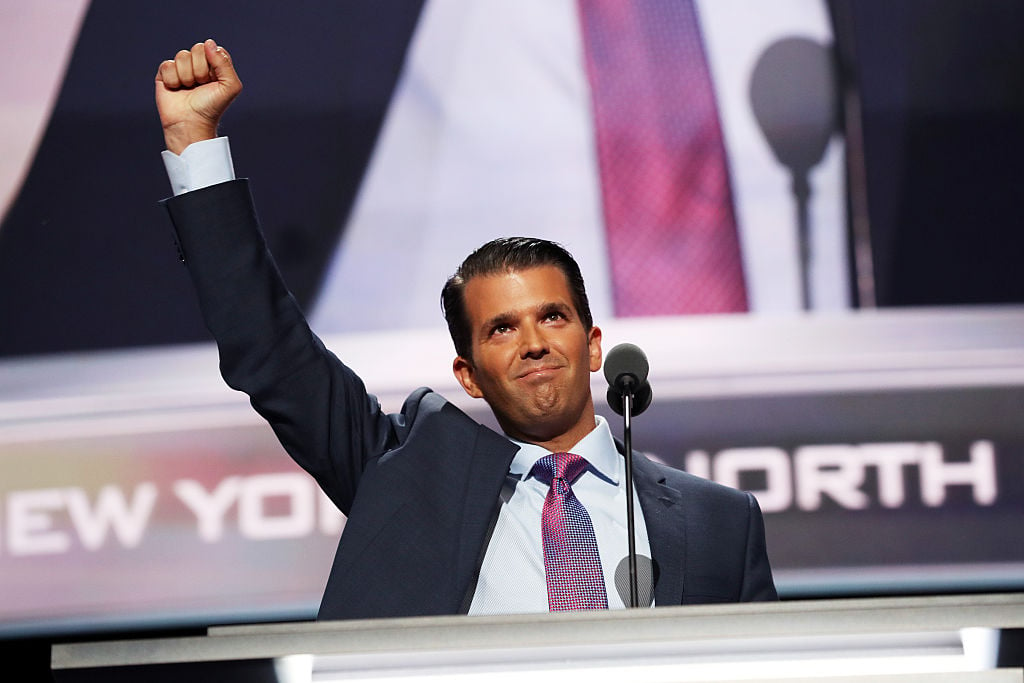 According to The New York Times, the June 3, 2016, email sent to Trump Jr. basically incriminates itself. One of Donald Trump's former Russian business partners was contacted by a senior Russian government official and offered the Trump campaign "dirt" on Hillary Clinton.
The documents "would incriminate Hillary and her dealings with Russia and would be very useful to your father," read the email. "This is obviously very high level and sensitive information but is part of Russia and its government's support for Mr. Trump."
Trump Jr. replied almost immediately. "If it's what you say I love it especially later in the summer." Four days later, after a flurry of emails, the intermediary proposed a meeting in New York with Kremlin-connected Russian lawyer, Natalia Veselnitskaya. Rather than commenting on the matter, you can guess what Trump Jr. did. 
8. Releasing them himself as a 'defense'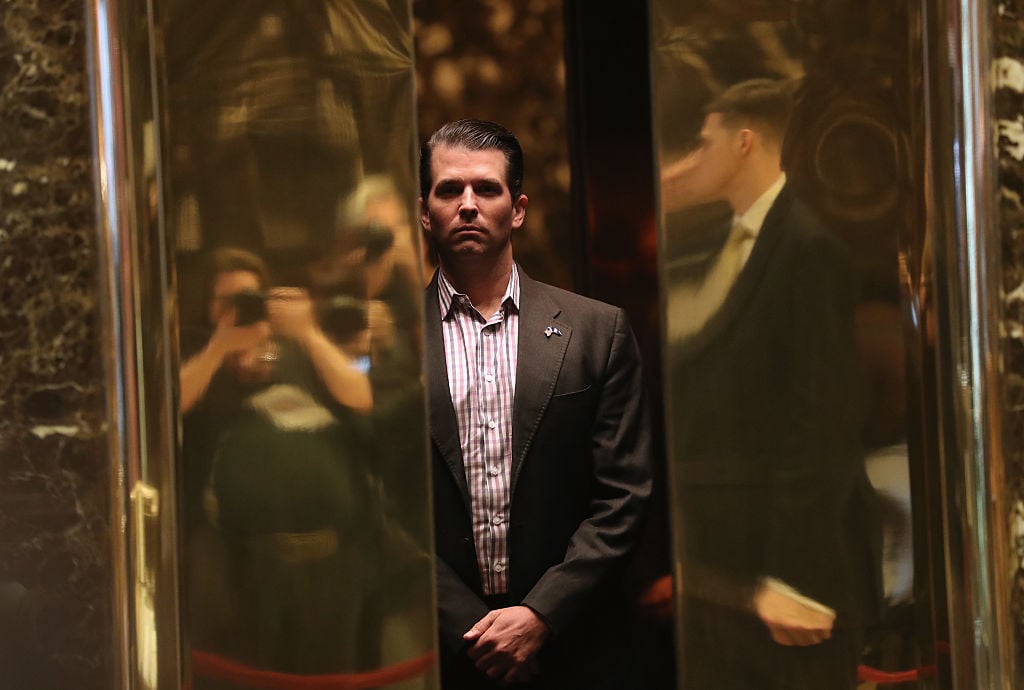 After The New York Times obtained a copy of his emails and alerted Trump Jr. that they intended to publish them, he didn't respond to requests for comment. Instead, he posted images of them on Twitter. He later told Fox News' Sean Hannity, "in retrospect, I probably would have done things a little differently."
The content of the emails presents a legally damning circumstance. According to Vox however, the fact that the emails had no useful information in them doesn't matter.
"The emails are, simply put, damning as a legal matter," explained Ryan Goodman. The former Defense Department special counsel said the very idea of involving Russia presents a problem. "The text of the emails provide very clear evidence of participation in a scheme to involve the Russian government in federal election interference, in a form that is prohibited by federal criminal law."
Whether he's breaking the law or demonstrating his tone-deafness, the apple does not fall far from the Trump tree.
Follow The Cheat Sheet on Facebook!