Healthier Seafood Recipes That Will Actually Fill You Up
Meat lovers might want to step away from the steak and chops to work a little more fish into their diets. Medical professionals have urged Americans to swap some of the red meat for plant-based proteins as well as fish for years. Everyday Health says upping your fish intake can increase brain development, reduce the risk of developing Alzheimer's disease, and protect your heart, so adding some more seafood recipes to the mix is a good idea. And looking out for your ticker is especially smart. The Centers for Disease Control and Prevention (CDC) reports heart disease remains the leading cause of death in the U.S.
While most people are on-board when it comes to the health benefits of fish, many dishes lack the type of heft their appetites demand. If a pile of greens with a minuscule piece of sautéed fish on top leaves you feeling hungrier than before you ate, consider going with some more substantial preparations. These seven recipes are both filling and flavorful. You'll be a seafood devotee in no time.
1. Salmon and Eggplant Curry
Salmon often gets top marks for being a great source of protein, vitamins, and omega-3s. For people who don't love fish, the pronounced flavor can be a little bit off-putting. Ease your way into the world of seafood with Eating Well's aromatic dish. The curry paste, coconut milk, and fresh basil provide a flavorful base that lets the salmon taste just peek through. Because this stew is filled with eggplant and snap peas, all you need is some rice to make a complete meal.
This is one dish that's perfect for any number of garnishes, so feel free to go a little wild. Scallions, cilantro, extra lime juice, peanuts, sliced chiles, and mint are all excellent choices. If you're still wary of salmon, you can opt for a milder fish like snapper or cod.
Ingredients:
1 tablespoon canola oil
1 tablespoon plus 1 teaspoon Thai yellow curry paste
2 garlic cloves, minced
1 (1-pound) eggplant, cut into ½-inch cubes
1 (14-ounce) can coconut milk
1 tablespoon plus 1 teaspoon fish sauce
1 tablespoon light brown sugar
1 pound skinless salmon fillet, cut into 1-inch pieces
2 cups sugar snap peas, trimmed
½ cup chopped fresh basil
3 tablespoons lime juice
Directions: Heat oil in a large skillet over medium heat. Add curry paste and garlic. Cook, stirring, until fragrant, about 1 minute. Add eggplant and cook, stirring, until eggplant is coated, about 2 minutes.
Add coconut milk, fish sauce, and brown sugar to pan. Bring mixture to a boil, then stir in salmon and snow peas. Reduce heat to a simmer, cover and cook, stirring occasionally, until salmon is cooked and peas are tender-crisp, about 5 minutes. Remove from heat. Stir in basil and lime juice. Serve.
2. Pan-Roasted Swordfish Steaks With Mixed-Peppercorn Butter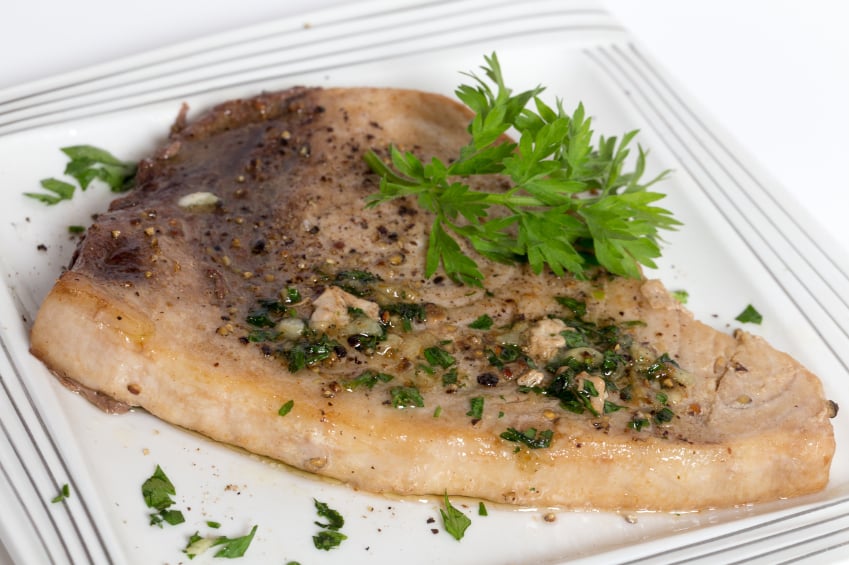 Consider swordfish steak the pork chop of the sea. The hearty texture holds up well to many of the same preparations you would use for meat. If you're new to swordfish, this boldly flavored dish from Epicurious is a great introduction. Sear the fish in a hot skillet, flip, and let it finish cooking. Use the same pan to melt a simple compound butter, then spoon it over the steaks for a meal that's anything but delicate.
Ingredients:
¼ cup unsalted butter, room temperature
2 teaspoons chopped fresh parsley
1 garlic clove, minced
½ teaspoon ground mixed peppercorns, plus more
½ teaspoon lemon zest
1 tablespoon olive oil
4 (1-inch-thick, 6-ounce) swordfish steaks
Directions: Preheat oven to 400 degrees Fahrenheit. Mash butter with parsley, garlic, ½ teaspoon peppercorns, and lemon peel in a small bowl. Season with salt, to taste.
Heat oil in a large ovenproof skillet over medium-high heat. Season fish with salt and ground peppercorns. Add to skillet, and cook until browned, about 3 minutes. Flip fish, and transfer pan to oven. Roast until just cooked through, about 10 minutes. Transfer fish to plates. Add butter to skillet and cook over medium-high heat, scraping browned bits, until melted and bubbling. Pour sauce over fish, and serve.
3. Pan-Seared Tuna Steaks With Warm Tomato, Basil, and Olive Salad
If your only experience with this popular fish is straight from a can, you'll be completely surprised by how much milder the flavor is when it's served medium rare. Fine Cooking's recipe tops the tuna with a bold tomato and olive salad that's as delicious as it is easy. And because it looks so impressive, it's an excellent choice for entertaining or date night.
While this dish is great as is, it's easy to swap in different ingredients depending on what's in season or what you have on hand. You can use cucumber or orange segments in place of the tomatoes for two completely different takes on the salsa. If you don't care for olives, it's easy to substitute just about anything. Avocado is a particularly nice choice.
Ingredients:
4 (5-ounce) skinless tuna steaks
Kosher salt and freshly ground black pepper
2 tablespoons extra-virgin olive oil
1 medium shallot, finely chopped
2 cups mixed yellow and red grape tomatoes, halved
⅓ cup sliced pitted green olives
2 tablespoons finely chopped fresh basil
½ tablespoon fresh lemon juice
Directions: Season tuna with salt and pepper. Heat oil in a 12-inch skillet over medium-high heat. Cook tuna in a single layer, turning once, until cooked to desired doneness, 3 to 4 minutes for medium rare. Transfer to a plate.
Reduce heat to medium, and add shallot to skillet. Cook, stirring, until golden, about 1 minute. Add tomatoes, olives, and basil. Season with salt and pepper, to taste. Cook until warmed and tomatoes are softened, 2 minutes longer. Remove from heat, and stir in lemon juice. Serve tuna with tomato salad.
4. Smoky Paella With Shrimp and Squid
Though many versions of paella feature sausage and chicken, this all-seafood recipe from Food & Wine is every bit as tasty. Bold flavors like smoked paprika, saffron, and garlic mean you don't have to use a ton of ingredients or techniques to get a stellar dish. It's also a one-pan recipe, which makes cleanup a cinch.
Both squid and shrimp cook incredibly fast, so don't be tempted to go over the allotted time. You want them to just finish cooking through, otherwise they'll become tough. As soon as the seafood firms a bit, you're good to go.
Ingredients:
¼ cup extra-virgin olive oil
1 pound large shrimp, peeled and deveined
Salt and freshly ground pepper
1 cup Arborio or Valencia rice
1 tablespoon tomato paste
1 teaspoon hot smoked paprika
1 large garlic clove, minced
1 small pinch saffron, crumbled
2 cups clam broth
2 cups water
½ pound baby squid, cut into ¼-inch rings
Directions: In a large, deep skillet, heat oil until shimmering. Season shrimp with salt and pepper, and add to skillet. Cook until lightly browned on one side, 2 minutes. Transfer to a plate
Add rice to skillet. Cook, stirring, until opaque, about 2 minutes. Stir in tomato paste, paprika, garlic, and saffron. Cook, stirring, until rice is sizzling, about 1 minute. Add broth and water, and bring to a boil over high heat. Boil until rice is still crunchy, and about half of broth is absorbed, 10 minutes. Lower heat, and simmer until rice is just about cooked, and liquid is reduced, but still soupy, about 8 minutes. Stir in squid, then lay shrimp on top, cooked side facing up. Cover, and simmer until squid and shrimp are cooked and rice is tender, about 2 minutes.
5. Double Stacked Crab Cake Sandwiches With Avocado and Bacon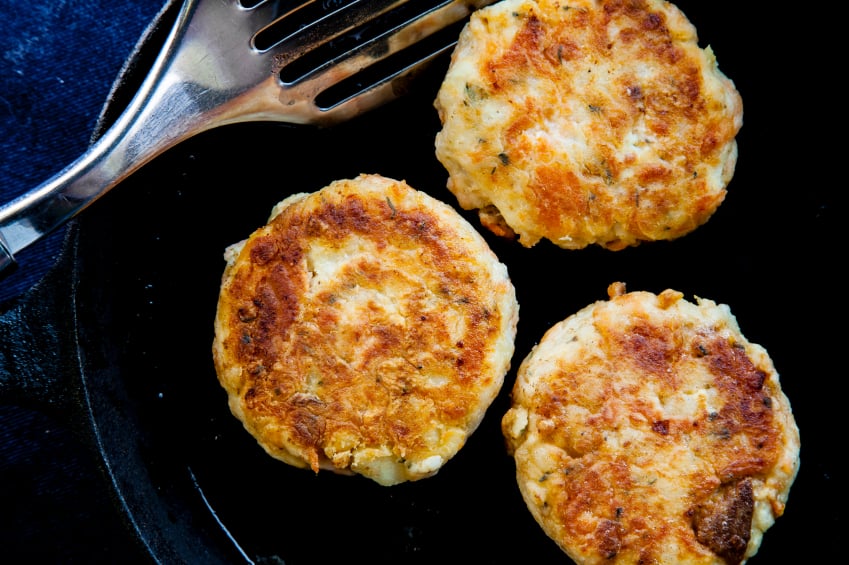 Crab cakes usually come with nothing more than a few lettuce leaves and a lemon wedge on the side. Not exactly a supper that will fill you up. Turn the tasty patties into a hearty meal with Serious Eats' towering sandwich with avocado and bacon. English muffins make fun buns, but you can use any type of bread you have on hand.
Ingredients:
1 small russet potato, peeled, and cut into ½-inch cubes
½ pound fresh lump crab meat
4 scallions, finely chopped
3 tablespoons mayonnaise
½ cup panko breadcrumbs
Pinch red pepper flakes
Kosher salt and freshly ground black pepper
1 egg, beaten
¼ cup olive oil
4 English muffins, toasted
8 bacon strips
1 avocado, sliced
Directions: Preheat oven to 175 degrees Fahrenheit. Cover potato with water in a small pot, and bring to a boil. Reduce to a simmer, and cook until tender, about 10 minutes. Drain, and transfer to a large bowl. Mash with a potato masher. Add crab, scallions, mayonnaise, breadcrumbs, pepper flakes, and egg. Season with salt and pepper.
Cook bacon in a large skillet over medium heat until crisp, about 10 minutes. Meanwhile, divide crab mixture into eight patties. Transfer bacon to a paper towel-lined plate. Discard bacon fat.
Wipe skillet clean, add olive oil, and return to medium-high heat. Once shimmering, add half of crab cakes. Press lightly with a spatula to flatten. Cook until browned, about 4 minutes, then flip. Cook until second side is browned, about 3 minutes longer. Remove to a plate. Keep cakes warm in oven while you cook second batch.
Divide half of avocado on muffin bottoms. Top with one crab cake and one slice of bacon. Repeat layers, then close with muffin tops. Serve.
6. Oven-Roasted Trout With Potatoes
One of the biggest barriers to eating seafood is not knowing how to cook it. Instead of trying to master some complicated method that requires basting, go for this trout and potato recipe from Williams-Sonoma, adapted from Savoring Tuscany. It's an easy oven technique that only requires you to layer the potatoes and seasonings, bake, top with the fish, then send the dish on one final trip to the oven. Even if you're a novice, this recipe will make you look like a pro.
Ingredients:
2 fresh rosemary sprigs
2 garlic cloves, minced
Salt and freshly ground white pepper
1½ pounds new potatoes, peeled, and thinly sliced
4 tablespoons unsalted butter, cut into small pieces
4 (¾-pound) trout, cleaned, and filleted
Directions: Preheat oven to 375 degrees Fahrenheit. Set aside one rosemary sprig and finely chop leaves from the other. Combine chopped rosemary with garlic in a small bowl, and season with salt and white pepper, to taste.
Oil a large baking dish, and arrange half of potato slices, overlapping, in rows. Sprinkle with one-third of garlic mixture, then drizzle with 1½ tablespoons olive oil. Dot with 1 tablespoon butter. Repeat layer, and cover dish. Bake 20 minutes, uncover, then bake until potatoes are almost tender, 20 minutes longer.
Remove dish from oven, and arrange fish on top of potatoes. Drizzle with remaining 1 tablespoon olive oil, and top with remaining garlic mixture. Lay reserved rosemary sprig over top. Bake until fillets are cooked, about 10 minutes. Remove from oven, and let cool 10 minutes. Serve.
7. Baked Cod and Chorizo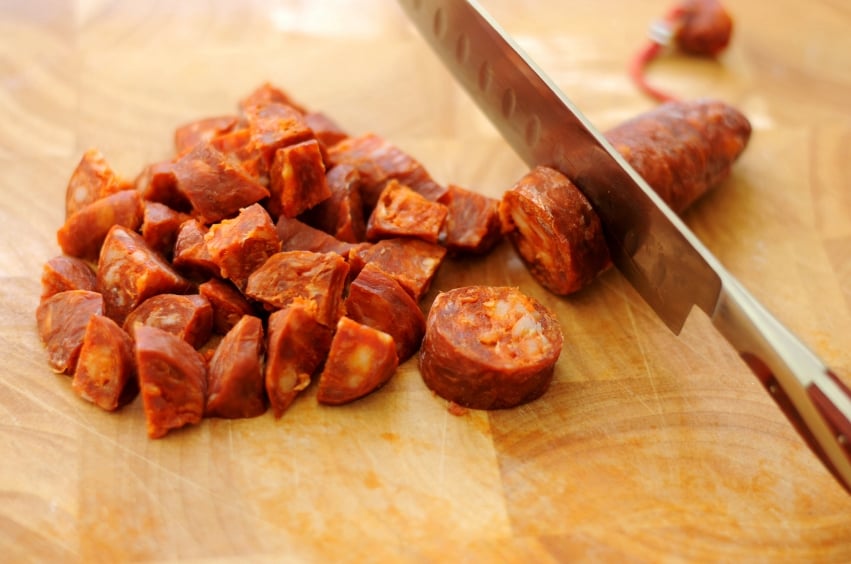 Many types of seafood are mild enough that they can benefit from the flavor of a little meat. Real Simple's baked cod and chorizo uses a hint of sausage to give this fish dish tons of flavor. It can also be on your table in under 30 minutes, so this is a perfect recipe for weeknights.
If you can't find Spanish chorizo, try swapping in some diced bacon. You can also switch out the cod, because nearly any flaky white fish will work perfectly in this recipe. Just be aware that you might have to add the fillets a bit later into the cooking process if you end up going with something really thin.
Ingredients:
2 tablespoons olive oil
4 ounces Spanish chorizo, thinly sliced
1 pound Yukon gold potatoes, sliced ¼-inch thick
2 leeks, white and pale green parts only, sliced into half moons
¼ teaspoon crumbled saffron
Kosher salt and black pepper
1 (1½-pound) piece of cod fillet
¼ cup roughly chopped fresh parsley
Directions: Preheat oven to 400 degrees Fahrenheit. Heat 1 tablespoon olive oil in a large ovenproof skillet over medium-high heat. Add sausage. Cook, tossing occasionally, until browned and crisp, 2 to 3 minutes.
Add potatoes. Cook, stirring occasionally, for 10 minutes. Add leeks, saffron, ½ cup water, ¾ teaspoon salt, and ⅛ teaspoon pepper. Bring to a boil.
Season cod with salt and pepper. Place on top of potatoes, and drizzle with remaining olive oil. Transfer skillet to oven. Bake until cod is opaque, 15 to 20 minutes. Sprinkle with parsley. Serve.