Healthier Ways to Make Classic Southern Comfort Foods
Whether or not you're from the South, there's nothing like indulging in a big plate of fried chicken or baked mac n' cheese. While these foods may figuratively warm your heart, they may be more dramatically harming your heart. According to a study published in Circulation, an American Heart Association journal, people who regularly consume "Southern-style" cooking raise their risk of heart disease, including heart attack and heart-related death. The researchers of this study found that people who mostly ate a Southern-style diet had a 56% higher risk of heart disease than those who ate it less often.
Some of the main culprits? Fried foods, processed meats, high-fat foods, and sugary beverages — basically all the delicious staples of Southern comfort food. However, the lead researcher of this study doesn't advise cutting these foods out of your diet all at once, since this simply isn't realistic for long-term success. Rather, he advises slowly scaling back and introducing healthier alternatives. For a few ways to make your Southern favorites a bit more favorable for your heart, try these seven healthy recipes.
1. Fried Chicken
This staple dish in a Southern diet has the most potential to satisfy your stomach while hurting your heart. But don't fret, it is possible to lighten up this delicious classic. Try this recipe from Paleo Foods, which uses almond flour and coconut oil for a healthier take on fried chicken.
Ingredients:
1 cup coconut oil
2 large eggs
1 cup almond flour
1 teaspoon paprika
1 teaspoon garlic powder
½ teaspoon salt
½ teaspoon black pepper
½ teaspoon dried thyme
1 teaspoon chipotle powder (optional)
2 pounds chicken-thighs, drums, breasts
Directions: Heat oil in large frying pan to 350 degrees Fahrenheit and preheat oven to 400 degrees. Set a wire rack over a large baking sheet.
Whisk eggs in medium sized bowl. Combine all dry ingredients in large bowl and mix to combine. Set bowl with eggs and bowl with dry ingredients next to each other to create an assembly line.
Dip chicken in whisked eggs to coat, then dredge in flour. Add to hot skillet. Allow both sides to brown, about 2 minutes each side, then transfer to prepared rack. Transfer to oven and bake for 10 to 15 minutes. Let cool briefly, then serve.
2. Lightly Sweetened Tea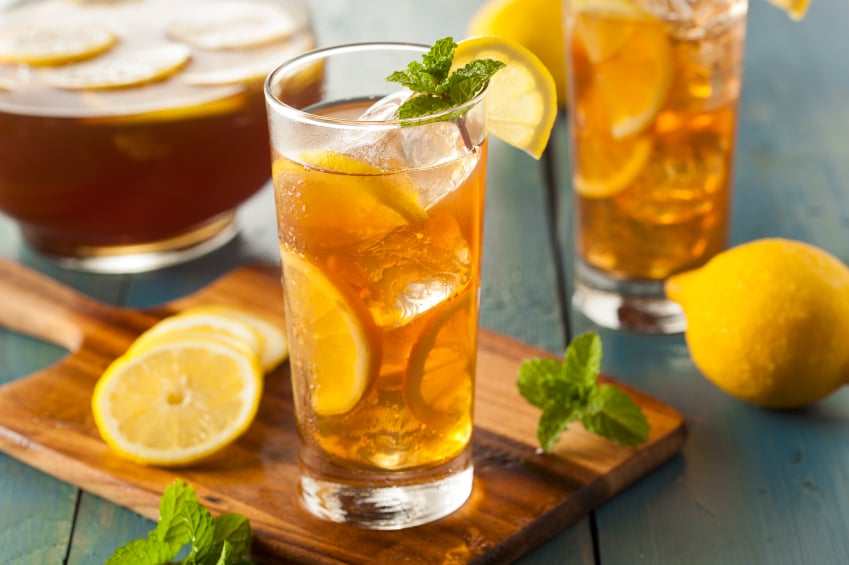 This classic southern tea is loaded with a dangerous amount of sugar and calories. Even though it's called "sweet tea" you don't have to go overboard with the sweeteners to get the same refreshing beverage. Try this recipe from Southern Living for a guilt-free tea, which will only cost you 68 calories a glass.
Ingredients:
4 cups water
7 green tea bags
½ cup honey
4 cups cold water
1 navel orange, cut into wedges
1 lime, cut into wedges
Directions: Bring 4 cups water to a boil in a medium saucepan; add tea bags. Boil 1 minute; remove from heat. Cover and steep 10 minutes. Remove and discard tea bags. Stir in honey. Pour into a 2-quart pitcher; stir in 4 cups cold water and orange and lime wedges. Serve over ice.
3. Shrimp and Grits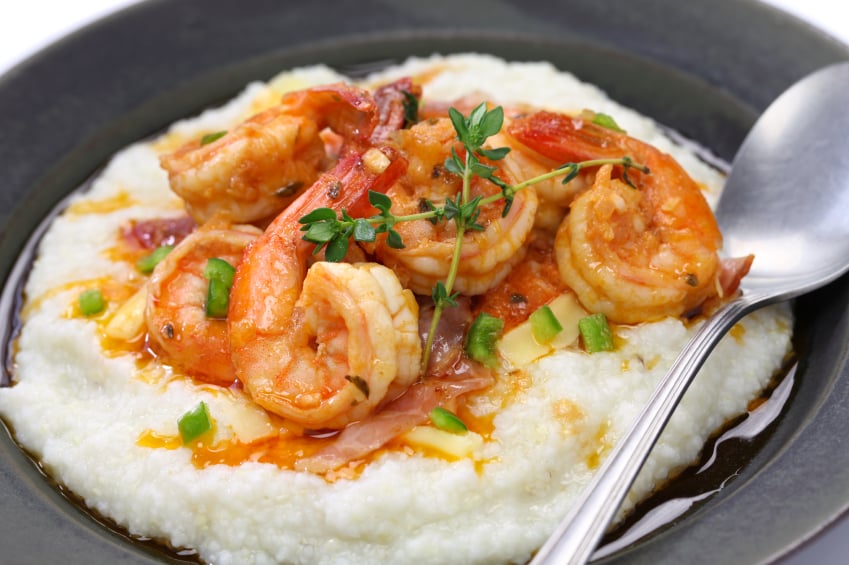 Shrimp and grits is a tasty Southern food must-eat, but the classic dish can be a major diet-crusher. Try this calorie-cut version from Southern Living to get your grit-fix for less than 250 calories.
Ingredients:
Parmesan Grits
½ teaspoon salt
1 cup uncooked quick-cooking grits
½ cup freshly grated Parmesan cheese
½ teaspoon freshly ground pepper
1 pound unpeeled, medium-size raw shrimp
¼ teaspoon freshly ground pepper
⅛ teaspoon salt
Vegetable cooking spray
1 tablespoon olive oil
1 tablespoon all-purpose flour
1¼ cups low-sodium fat-free chicken broth
½ cup chopped green onions
2 garlic cloves, minced
1 tablespoon fresh lemon juice
¼ teaspoon salt
¼ teaspoon hot sauce
2 cups firmly packed fresh baby spinach
Directions: To prepare the parmesan grits, bring ½ teaspoon salt and 4 cups water to a boil in a medium saucepan; gradually whisk in grits. Cook over medium heat, stirring occasionally, 8 minutes or until thickened. Whisk in cheese and pepper. Keep warm. For the shrimp sauce, peel shrimp; devein, if desired. Sprinkle shrimp with pepper and ⅛ teaspoon salt.
Cook in a large nonstick skillet coated with cooking spray over medium-high heat 1 to 2 minutes on each side or just until shrimp turn pink. Remove from skillet. Reduce heat to medium. Add oil; heat 30 seconds. Whisk in flour; cook 30 seconds to 1 minute. Whisk in broth and next 5 ingredients; cook 2 to 3 minutes or until thickened. Stir in shrimp and spinach; cook 1 minute or until spinach is slightly wilted. Serve immediately over grits.
4. Herbed Potato Salad
This updated Southern side uses yogurt and light mayo to reduce the fat. But thanks to a tasty herb mixture, the recipe from Southern Living maintains all the flavor of the traditional dish.
Ingredients:
2 pounds red potatoes, cubed
1 (14-ounce) can fat-free chicken broth
1 garlic clove, minced
½ cup nonfat plain yogurt
1 tablespoon chopped fresh dill
1 tablespoon chopped fresh oregano
2 tablespoons light mayonnaise
2 tablespoons olive oil
2 tablespoons white wine vinegar
1 teaspoon salt
Garnishes: fresh dill sprig, chopped toasted pecans
Directions: Bring first 3 ingredients and 2 cups water to a boil in a large saucepan over medium-high heat, and cook 20 minutes or until tender. Drain and let cool 30 minutes. Whisk together yogurt and next 6 ingredients in a large bowl until combined. Gently fold potatoes into yogurt mixture. Cover and chill 1 to 12 hours. Garnish, if desired.
5. Mac N' Cheese with Collard Greens
What could be more delicious and comforting than a nice bowl of baked mac n' cheese? Well luckily for your heart health, this recipe from Eating Well includes dark leafy collard greens for a healthy (but still Southern) update on this bowl of cheesy satisfaction.
Ingredients:
8 ounces whole-wheat elbow noodles (about 2 cups)
4 cups chopped collard greens
1¾ cups low-fat milk, divided
3 tablespoons all-purpose flour
½ teaspoon salt
¼ teaspoon pepper
1 cup shredded extra-sharp cheddar cheese
2 ounces reduced-fat cream cheese
2 teaspoons white-wine vinegar
¼ cup panko breadcrumbs, preferably whole-wheat
1 tablespoon extra-virgin olive oil
½ teaspoon paprika
Directions: Bring a large pot of water to a boil. Add pasta and collards and cook according to the pasta package directions. Drain. Meanwhile, heat 1½ cups milk in a large broiler-safe skillet over medium-high heat until just simmering. Whisk the remaining ¼ cup milk, flour, salt and pepper in a small bowl until combined. Add the flour mixture to the simmering milk; reduce heat to medium-low and cook, whisking constantly, until thickened, 1 to 2 minutes.
Remove from heat and whisk in cheddar, cream cheese, and vinegar until the cheese is melted. Stir the pasta and collards into the sauce. Position rack in upper third of oven; preheat broiler to high. Combine breadcrumbs, oil and paprika in a small bowl. Sprinkle over the pasta. Broil until golden brown, 1 to 3 minutes.
6. Collard Green and Black Eyed Pea Soup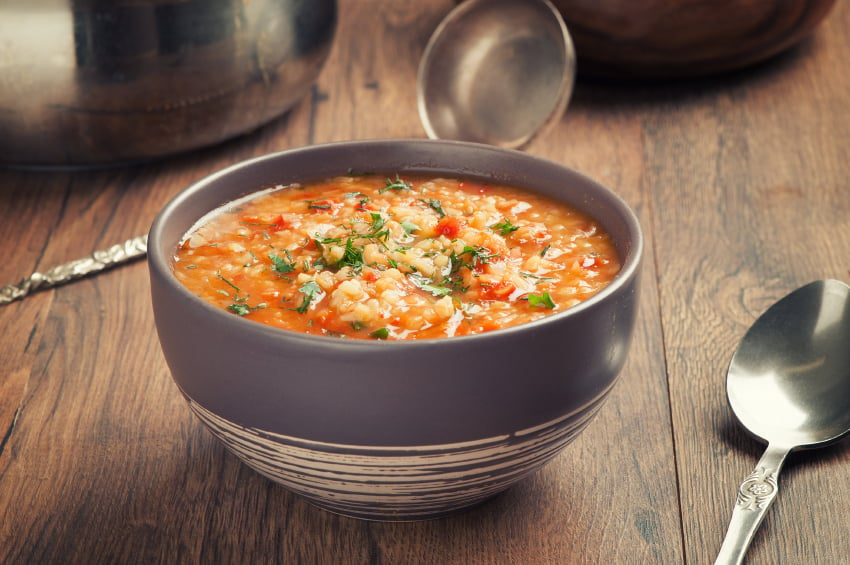 For yet another use of antioxidant rich collard greens, try this soup with all the comforts of Southern flavors. In addition to collards, this nutritious soup recipe from Eating Well includes fiber-loaded black-eyed peas and just a bit of bacon to bring out a smoky flavor. You can also swap out the collards for kale or spinach and skip the bacon for an even healthier option.
Ingredients:
1 tablespoon extra-virgin olive oil
1 large onion, diced
1 large carrot, sliced
1 stalk celery, sliced
5 cloves garlic, (4 sliced and 1 whole), divided
1 sprig fresh thyme
¼ teaspoon crushed red pepper, or to taste
4 cups reduced-sodium chicken broth
1 (15-ounce) can diced tomatoes
5 cups chopped collard greens, or kale leaves (about 1 bunch), tough stems removed
1 (15-ounce) can black-eyed peas, rinsed
6 (½-inch-thick) slices baguette, preferably whole-grain, cut on the diagonal
6 tablespoons shredded Gruyère or Swiss cheese
2 slices cooked bacon, finely chopped
Directions: Heat oil in a Dutch oven over medium heat. Add onion, carrot, and celery and cook, stirring, until just tender, 5 to 7 minutes. Add sliced garlic, thyme, and crushed red pepper and cook, stirring, until fragrant, about 15 seconds. Increase heat to high and add broth, tomatoes and their juice. Bring to a boil, scraping up any browned bits. Stir in collard greens (or kale), reduce heat to maintain a simmer and cook, stirring occasionally, until the greens are tender, 5 to 10 minutes.
Discard the thyme sprig. Stir in black-eyed peas; remove from the heat and cover. Position rack in upper third of oven; preheat broiler. Place baguette slices on a baking sheet and broil until lightly toasted, 2 to 4 minutes. Rub each bread slice with the remaining garlic clove. Turn the slices over and top with cheese. Broil until the cheese is melted, 1 to 3 minutes. Serve the soup topped with the cheese toasts and bacon.
7. Guilt-Free Banana Pudding
To satisfy your Southern sweet-tooth, try Southern Living's recipe for a healthier banana pudding. You'll still be able to indulge in the delicious banana, vanilla wafers, and meringue combo, but with way less fat and calories than the original version.
Ingredients:
⅓ cup all-purpose flour
Dash of salt
2½ cups 1% low-fat milk
1 (14-ounce) can fat-free sweetened condensed milk
2 egg yolks, lightly beaten
2 teaspoons vanilla extract
3 cups sliced ripe bananas
48 reduced-fat vanilla wafers
4 egg whites
¼ cup sugar
Directions: Preheat oven to 325 degrees Fahrenheit. Combine flour and salt in a medium saucepan. Gradually stir in 1% milk, sweetened condensed milk, and yolks, and cook over medium heat, stirring constantly, 8 to 10 minutes or until thickened. Remove from heat; stir in vanilla. Layer 3 banana slices, 3½ tablespoons pudding, and 3 vanilla wafers in each of 8 (1-cup) ramekins or ovenproof glass dishes.
Top each with 6 banana slices, 3½ tablespoons pudding, and 3 vanilla wafers. Beat egg whites at high speed with an electric mixer until foamy. Add sugar, 1 tablespoon at a time, beating until stiff peaks form and sugar dissolves (2 to 4 minutes). Spread about ½ cup meringue over each pudding. Bake at 325 degrees for 15 to 20 minutes or until golden. Let cool 30 minutes.