Healthy Breakfast Recipes That Have Less Than 300 Calories
You've heard it before and you'll hear it again: Breakfast is important. Some evidence suggests those who skip breakfast are more likely to snack on foods that are high in fat and sugar, leading to weight gain. It seems so simple: just eat breakfast. Yet, somehow it feels nearly impossible most mornings. For some, it's a lack of time or the need for sleep. Others may just be sick of standard grab and go breakfast fare. Even if you wake up early and make a conscious effort to eat breakfast there are only so many mornings you can get excited about toast slathered with peanut butter or yogurt and granola.
When you need some breakfast inspiration or something to get you out of bed in the morning, these healthy breakfast recipes may just save the day. They're full of healthy fats, protein, and complex carbohydrates that will keep you going until lunch and they all weigh in at 300 calories or less.
1. Scrambled Egg Burritos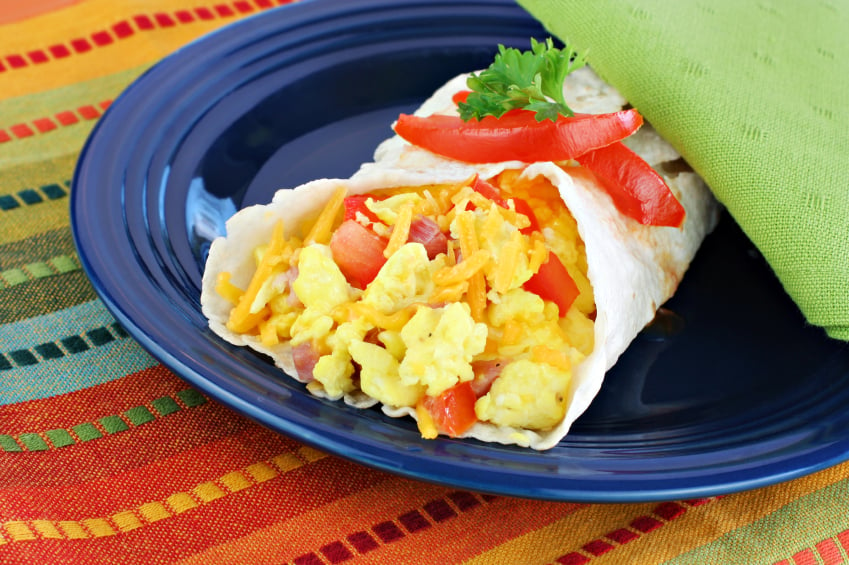 Add a little taste of the southwest to your morning with a kick of spicy salsa and cheddar cheese. This recipe from Health is so good, you may find yourself leaving the house with a tinfoil wrapped breakfast burrito in hand more often than not. Even with all the satisfying flavors, each burrito only weighs in at 259 calories while providing you with 15 grams of protein. This recipe makes two servings, so you can share a little breakfast love with your roommate, partner, or co-worker.
Ingredients:
2 large eggs
1 tablespoon 1% low-fat milk
1 teaspoon chopped fresh cilantro
1/8 teaspoon kosher salt
Dash of coarsely ground black pepper
Cooking spray
1/2 teaspoon butter
4 tablespoons reduced-fat shredded cheddar cheese, divided
2 (8-inch) fat-free flour tortillas, heated
4 tablespoons chopped seeded tomato, divided
2 tablespoons bottled chunky salsa, divided
Directions: Whisk the first 5 ingredients in a medium bowl. Coat a medium nonstick skillet with cooking spray, and melt butter over medium heat. Add the egg mixture, and stir with a heatproof rubber spatula to scramble.
Sprinkle 2 tablespoons cheese down the center of one tortilla; top with half of the scrambled egg, 2 tablespoons tomato, and 1 tablespoon chunky salsa. Roll up burrito-style and repeat with remaining ingredients.
2. Waffles with Blueberry Maple Syrup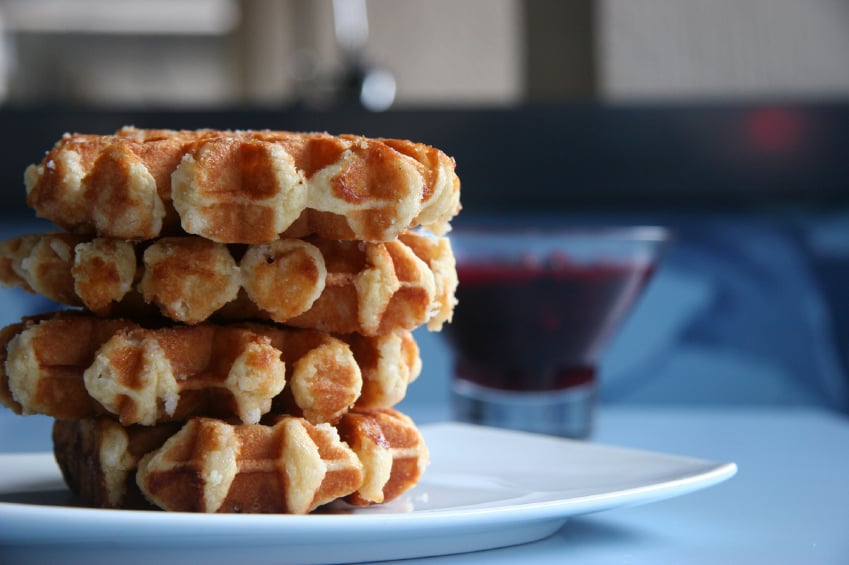 If you wake up craving something sweet to ease you into your day, look no further. Frozen waffles have a bad rap, but this recipe, courtesy of Fitness, which calls for whole grain waffles, whole pecans, and blueberries, is a serious upgrade from your standard Eggo. At under 300 calories, these waffles have just the right balance of sweet and savory.
Ingredients:
⅓ cup frozen blueberries
2 teaspoons maple syrup
2 whole-grain waffles
1 tablespoon pecans
Directions: Microwave blueberries and syrup together for 2 to 3 minutes or until the berries are thawed. Toast waffles and top with warm blueberry syrup. Sprinkle with unsalted pecans.
3. Chia Yogurt Power Bowl
If you love yogurt and granola, but are ready to change it up a bit, Fit Foodie Finds' power bowl may be just what your morning needs. When chia seeds are submerged in liquid they swell up, keeping you satiated until lunchtime. There are a hefty 16 grams of protein for only 198 calories per serving. The best news? This recipe makes enough for 4 single serving breakfast portions so you can make one batch for the week and store in the fridge so all you have to do is scoop out a serving and throw on the toppings.
Ingredients:
2 cups of 0% fat Greek yogurt
½ cup of kefir in any flavor
1 tablespoon honey
¼ cup chia seeds
Optional toppings
Puffed cereal
Sliced bananas
Blackberries
Walnuts
Honey
Directions: Stir Greek yogurt, kefir, honey, and chia seeds to combine in a large food storage container. Let sit in the refrigerator for at least 30 minutes. Build a parfait with chia pudding and your choice of toppings. Store leftover pudding in the fridge.
4. Avocado Toast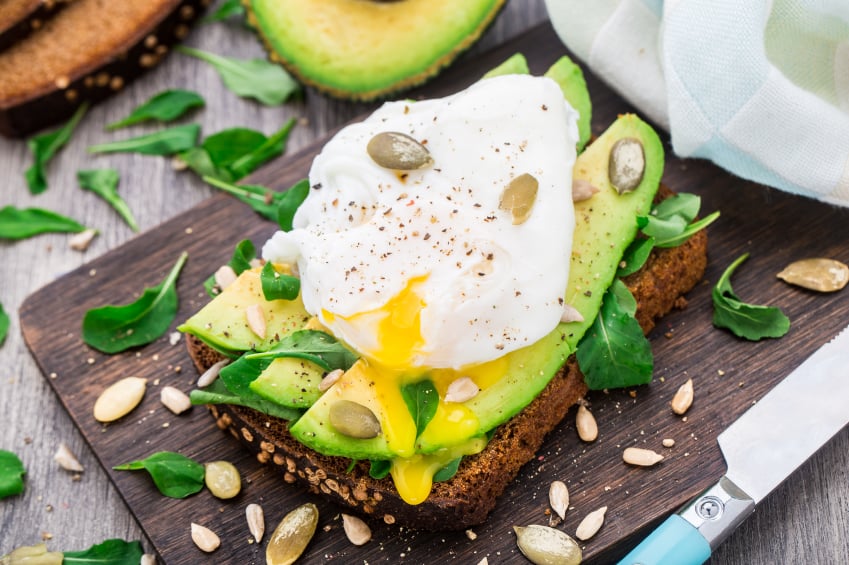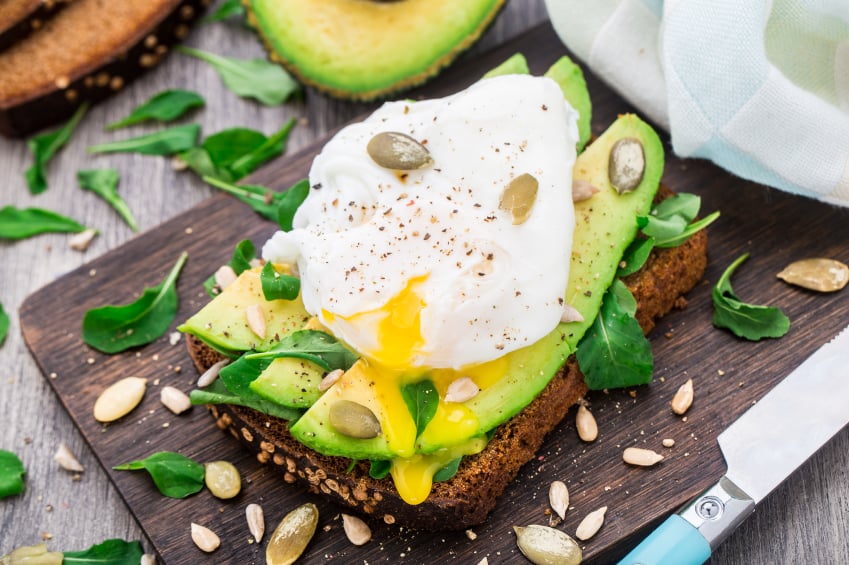 There are very few things that compare to a breakfast that combines avocado and egg. Something about the combination of healthy fats and protein seem to make the morning a little brighter. This breakfast, courtesy of Thrillist, contains plenty of good stuff at only 257 calories.
Ingredients:
1 slice toasted rye bread
¼ avocado
1 egg
Olive oil
Salt and pepper to taste
Directions: Toast of piece of bread (we recommend rye) and take a 1/4 of an avocado and smash it all over the toast. Add salt, pepper, and a drizzle of olive oil. Next, cook one egg, sunny-side up and throw it on top of your avocado toast.
5. Oatmeal with Apples, Hazelnuts, and Flaxseed
Take your morning oatmeal to the next level with Cooking Light's hearty oat-based recipe. At 258 calories, this healthy breakfast option offers plenty of fiber, heart-healthy fats, and calcium. The recipe makes 6 servings of each, so spend your Sunday afternoon in the kitchen and reap the benefits all week long.
Ingredients:
1/4 cup hazelnuts
3 cups skim milk
1 1/2 cups regular oats
1 1/2 cups diced Granny Smith apple (about 1 medium)
1/3 cup ground flaxseed
1/2 teaspoon ground cinnamon
1/4 teaspoon salt
1/2 teaspoon vanilla extract
3 tablespoons brown sugar
3 tablespoons slivered almonds
Directions: Preheat the oven to 350 degrees. Place the hazelnuts on a baking sheet and bake at 350 degrees for 15 minutes, stirring once. Turn nuts out onto a towel. Roll up towel; rub off skins. Finely chop nuts, and set aside.
Combine the milk and next 5 ingredients (through salt) in a medium saucepan. Bring to a boil over medium heat. Stir in vanilla. Cover, reduce heat, and simmer 5 minutes or until thick. Sprinkle with hazelnuts, brown sugar, and almonds.