Healthy Breakfast Recipes to Fight Weight Gain After Having Kids
Some people may love the dad bod, but not every guy is thrilled about his slightly flabby belly or emerging love handles. Whether you're looking to get back the six-pack abs of your youth or just want to slim down a bit for health reasons, eating a healthier diet, beginning with breakfast, can help you get the body you want.
Starting your day with a healthy meal can help you lose weight and keep it off, according to Mayo Clinic. Not only will eating breakfast in the morning make it less likely you'll reach for a doughnut or other mid-morning snack when your stomach rumbles, it also gives your body the energy you need to be more active, which can in turn help you stay slim.
"It's like putting logs on a wood-burning stove. You need that initial input of fuel to get your metabolism going for the day," Milton Stokes, RD, and the author of Flat Belly Diet! For Men, told Men's Fitness.
But before you pour yourself a bowl of cereal, keep this in mind: What you eat for breakfast may matter as much or more than when you eat it. Getting some protein in your morning meal appears to help with weight loss, according to a study conducted at the University of Missouri, Columbia, but that muscle-building nutrient isn't the only ingredient you need for a healthy breakfast. If you're trying to transform your dad bod, here are six breakfast recipes made with healthy ingredients that may help you lose weight.
1. Eggs Florentine with Sun-Dried Tomato Pesto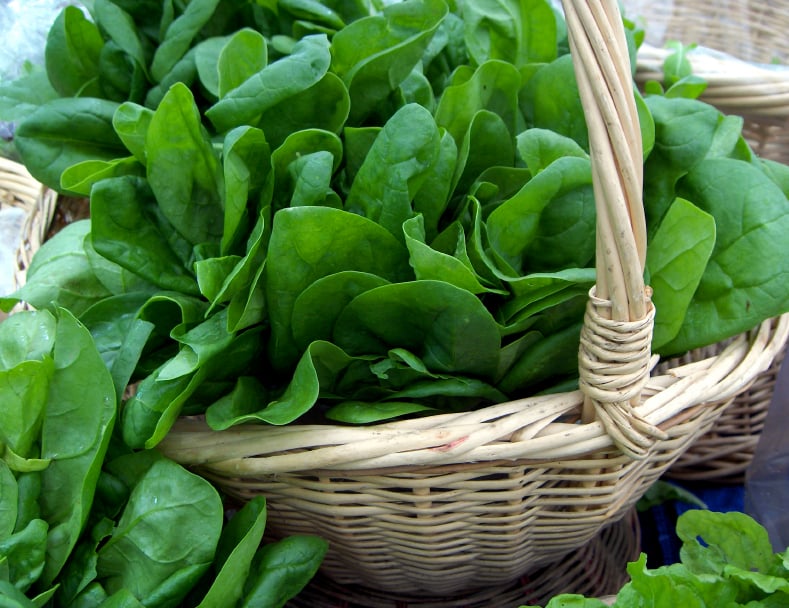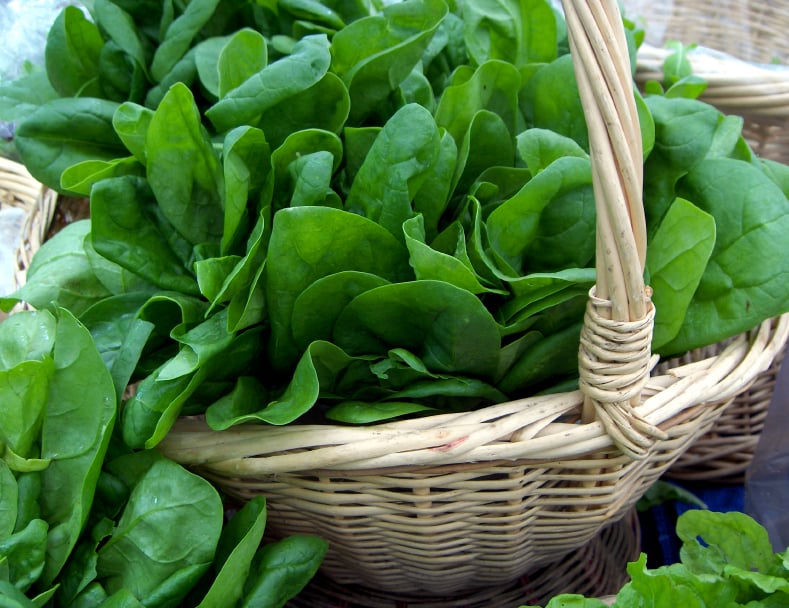 A brunch classic gets a healthier upgrade in this recipe for eggs Florentine from Prevention. Filling, high-protein Greek yogurt is used to make the sauce, rather than heavy cream or half-and-half. Plus, spinach contains thylakoids that may help curb cravings and promote weight loss, a study by researchers at Lund University found.
Ingredients:
1 teaspoon olive oil
1 (9-ounce) package pre-washed spinach
⅓ cup fat-free Greek-style yogurt
¼ cup sun-dried tomato pesto
1 teaspoon vinegar
Pinch of salt
4 large eggs
2 whole grain English muffins, split and toasted
Freshly ground black pepper
Directions: Heat the oil in a large nonstick skillet over medium-high heat. Add the spinach and cook (in batches, if necessary) until wilted.
Combine the yogurt and pesto. Stir ¼ cup into the spinach and remove from the heat. Cover to keep warm.
Meanwhile, heat a medium saucepan containing 1 inch of water to a boil over high heat. Add the vinegar and salt and reduce the heat to low. Break an egg into a custard cup and gently tip the egg into the water. Repeat with the remaining 3 eggs. Cover and simmer, shaking the pan 2 or 3 times, for 3 to 5 minutes for a soft-cooked yolk or until the whites are completely set and the yolks begin to thicken.
Place an English muffin half on each of 4 warm plates. Spoon ¼ of the spinach onto each muffin. Remove the eggs with a slotted spoon, and drain over paper towels (still in the spoon), before placing on the spinach.
Stir 1 tablespoon of the poaching liquid into the yogurt mixture to make it smoother. Spoon evenly over each egg and grind some pepper over the top.
2. Yogurt Parfait Breakfast Popsicles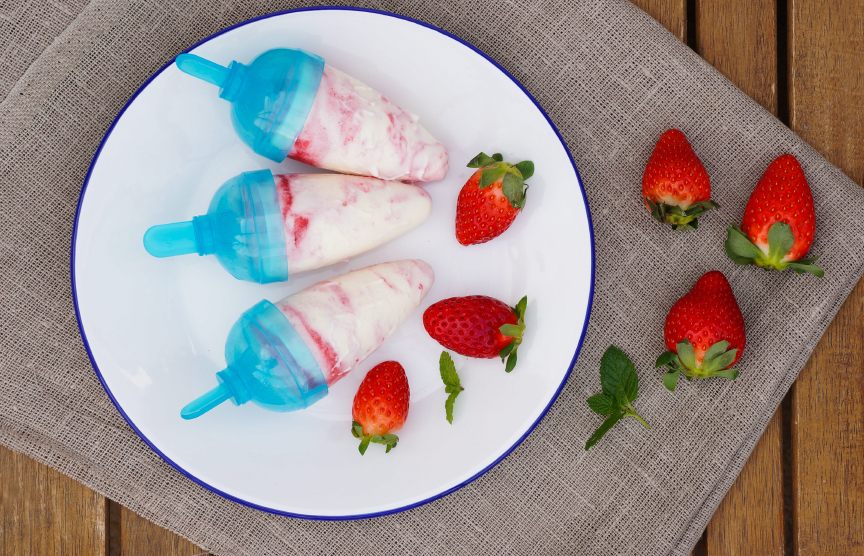 Eating a high-protein breakfast may help you lose weight, study by researchers at Tel Aviv University found, but the type of protein you get is important. Whey protein, which is found in dairy products like milk and yogurt, seems to be better for weight loss than the protein found in eggs and tuna. For a protein-rich breakfast on the go, try this breakfast popsicle recipe from The Kitchn, made with Greek yogurt, fresh berries, and granola.
Ingredients:
1½ pints strawberries, hulled and roughly chopped (around 3 cups chopped)
¼ cup sugar or honey
1 cup Greek yogurt
¼ to ½ cup milk
2 to 3 tablespoons honey
¾ cups granola
Directions: Combine the strawberries and sugar or honey in a small saucepan and stir gently to combine. Let the berries macerate on the counter for at least 10 minutes, until the sugar is dissolved and syrupy.
Place the pan over medium-high heat and bring to a rapid simmer. Cook for 8 to 10 minutes, stirring often, until the strawberries have a thick, jam-like consistency. Remove from heat and let cool to room temperature. You should have about 1 cup of fruit. (At this point, the strawberries can be refrigerated for up to a week.)
When ready to assemble the popsicles, whisk together the yogurt, ¼ cup of the milk, and 2 tablespoons of honey. The yogurt should be thick, but pourable (roughly the consistency of regular yogurt). If needed, whisk in a little more milk. Taste and add more honey if desired.
Scoop out ¼ cup of the yogurt mixture and stir it into the granola. This will help the granola freeze into the popsicles.
Arrange 6 popsicle molds (½ cup capacity) on your work surface. Pour a generous spoonful of yogurt into the bottom of each mold. Add a scoop of granola and then a spoonful or two of strawberries. Continue layering yogurt, granola, and strawberries until the molds are filled. Tap the molds lightly against the counter or use a popsicle stick to work out any air bubbles between the layers.
Insert popsicle sticks into each mold and place the popsicles in the freezer. Freeze until solid, at least 6 hours.
To unmold, run the popsicle molds under hot running water for a few seconds and gently easy the popsicles out of the molds. Popsicles will keep in the freezer for several weeks.
3. Sausage, Pepper, and Cheddar Omelet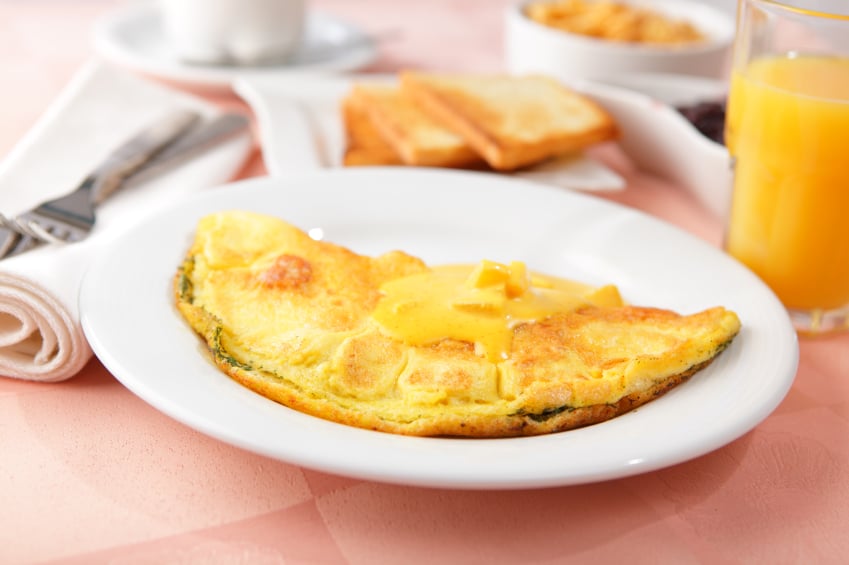 Skipping the bagel in favor of two eggs for breakfast can help you lose weight, according to the results of a 2008 study published in the International Journal of Obesity. This quick, two-egg omelet for one is easy enough to make even on busy weekday mornings and is filled with flavorful Italian sausage, red bell pepper, and cheddar cheese. Recipe from Real Simple.
Ingredients:
1 tablespoon olive oil
2 ounces Italian sausage links, casings removed
¼ red bell pepper, chopped
1 teaspoon unsalted butter
2 large eggs, beaten
¼ cup grated extra-sharp Cheddar (about 1 ounce)
Kosher salt and black pepper
Directions: Heat the oil in a large skillet over medium-high heat.
Add the sausage, breaking it up with a spoon, and bell pepper and cook until the sausage is browned and cooked through and the peppers are tender, 5 to 6 minutes.
Melt the butter in a nonstick skillet over medium heat. Add the eggs and cook, stirring and tilting the pan, until just set, about 3 minutes.
Sprinkle the sausage mixture and the Cheddar on one side of the eggs; fold the other side over the filling and add a pinch of salt and pepper. Serve.
4. Blueberries and Cream Oatmeal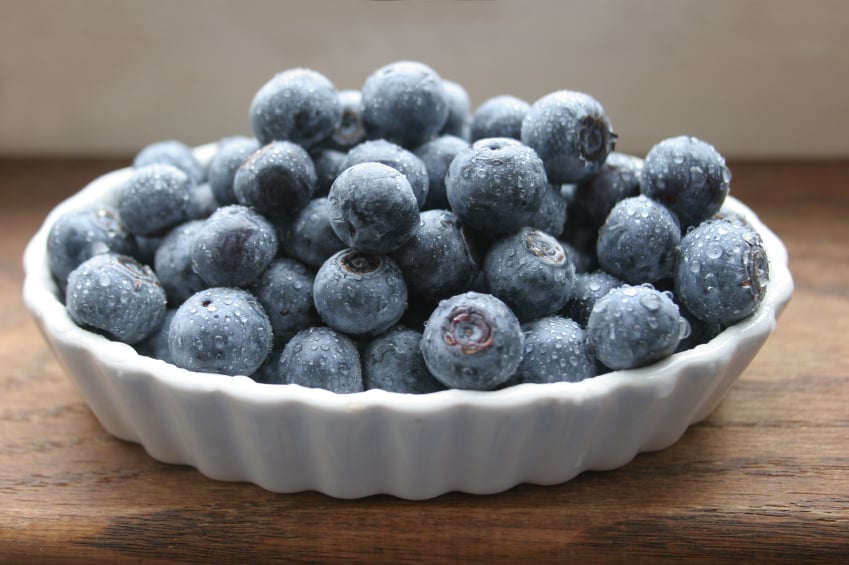 People who ate oatmeal for breakfast reported feeling more full and had less desire to snack between meals than those who poured themselves a bowl of ready-to-eat cereal in the morning, a study published in the Journal of the American College of Nutrition found. And blueberries might help get rid of belly fat, per the results of a 2009 study on rats. This recipe for oatmeal from Kitchen Treaty combines both the bulge-fighting foods in one tasty package. Makes 2 large servings.
Ingredients:
1 cup rolled oats
1½ cups water
1 cup whole milk
2 tablespoons chia seeds
2 tablespoons pure maple syrup
1¼ cups fresh blueberries
Pinch salt
2 teaspoons vanilla extract
Optional toppings: additional maple syrup and almonds or pepitas
Directions: Combine the oats, water, milk, chia seeds, maple syrup, and 1 cup of blueberries in a medium saucepan. Stir to combine, then turn heat to medium. Cook, stirring occasionally, until the mixture boils, about 5 minutes. Reduce heat and summer for 5 more minutes, until the oats thicken and most of the berries have burst. Remove from heat and stir in the vanilla.
Ladle oatmeal into bowls. Top with remaining berries and any other desired toppings, then drizzle with a little milk. Serve.
5. Berry, Avocado, and Spinach Smoothie
Eating plenty of fruits and vegetables was associated with weight loss, according to the results of a 120,000-person study published in the New England Journal of Medicine. This breakfast smoothie recipe from Nadia Lim features both fruits and veggies, with super-foods like spinach, avocado, and berries providing the fuel you need to start your day.
Ingredients:
2 cups frozen mixed berries
1½ to 2 cups spinach or kale leaves, chopped
1 firm ripe avocado, peeled and pit removed
1½ cups water
1½ to 2 teaspoons honey or apple syrup (optional)
Directions: Add the frozen berries, greens, avocado, and water to a blender. Blend until smooth. Sweeten to taste with honey or apple syrup, then serve.
6. Chocolate Lentil Pancakes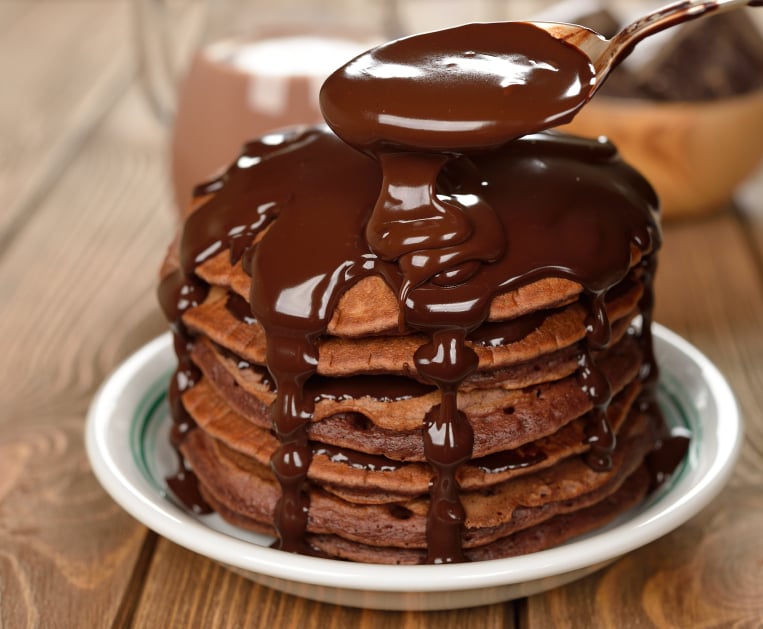 Eating one serving of beans, peas, chickpeas, or lentils per day might promote moderate weight loss, a recent study published in the American Journal of Clinical Nutrition found. You can get your dose of these healthy foods, which can also reduce bad cholesterol, in unexpected ways, like from this chocolate pancake recipe from Runnin Srilankan. Rather than wheat flour, these pancakes are made with red lentils, then flavored with cocoa, brown sugar, and cinnamon for a healthy twist on an indulgent breakfast. The recipe makes 6 to 8 pancakes.
Ingredients:
For the pancakes
2½ cups cooked red lentils
3 eggs
¼ teaspoon cinnamon
2 teaspoons baking powder
¼ to ½ teaspoon salt
3 tablespoons brown sugar
¾ cup almond milk
¾ cup cocoa
3 to 4 tablespoons butter
For the syrup
½ cup dark or semi-sweet chocolate
2 tablespoons coconut oil
Directions: To cook the lentils, boil them in about 5 cups of water for 30 minutes.
Combine the cooked lentils, eggs, cinnamon, baking powder, salt, brown sugar, almond milk, and cocoa in a blender and pulse until a batter forms.
Melt 3 to 4 tablespoons of butter on a griddle or large skillet over low heat. Pour batter into pan to form pancakes (you should have enough batter for 6 to 8 cakes). Cook for 5 to 6 minutes. Flip and cook for 5 to 6 minutes more.
To make the chocolate syrup, combine the coconut oil and chocolate in a small saucepan over medium heat. Warm, stirring vigorously, until chocolate is melted. Serve sauce over pancakes.
Follow Megan on Twitter @MeganE_CS