7 Healthy Butternut Squash Recipes to Make Tonight
Aside from squash's flavor and versatility, it's also full of vitamins, potassium, and fiber, so it'll help keep you full all day long. It's also completely versatile, so you can use it in just about any meal. Whether you like soup, salad, pizza, or a more hearty dish, there's a butternut squash recipe for you, and today we're highlighting seven of them.
1. Apple-Butternut Squash Soup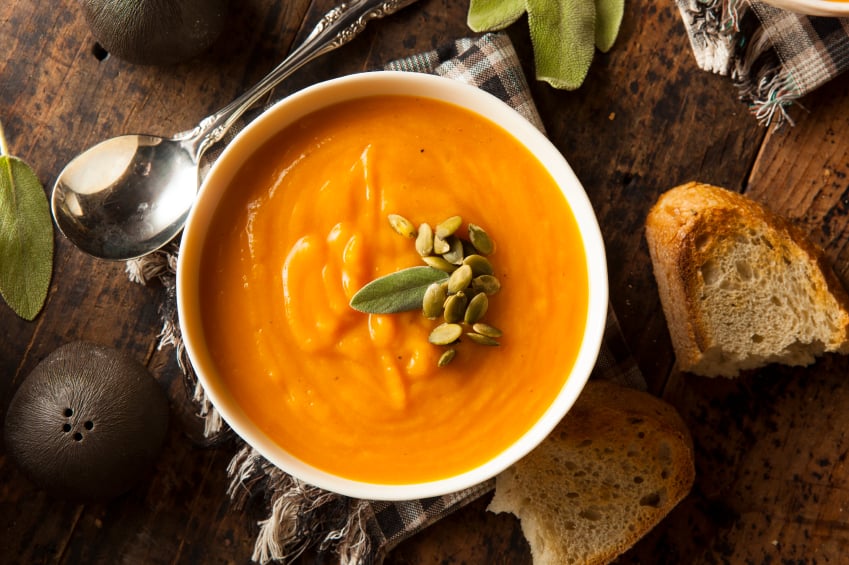 This first soup recipe from Martha Stewart will warm you from the inside out. The soup can be made ahead of time and refrigerated for up to 3 days. Martha's no-nonsense recipe is easy to follow and can be pulled out on a busy week day or slow weekend night.
Ingredients:
1 tablespoon unsalted butter
1 medium onion, diced
1 butternut squash, peeled, seeded, and chopped
4 red or golden apples, peeled, cored, and chopped, plus 1 apple, finely diced and tossed in lemon juice, for garnish
2 teaspoons coarse salt
1 ½ teaspoons ground cumin
½ teaspoon ground coriander
½ teaspoon ground ginger
¼ teaspoon cayenne pepper
¼ teaspoon freshly ground black pepper
2 cups homemade or store-bought low-sodium chicken or vegetable stock
2 ½ cups water, plus more if needed
1 jalapeño chile, thinly sliced, for garnish
Sour cream, for garnish
Get the recipe directions at Martha Stewart. 
2. Roasted Butternut Squash Salad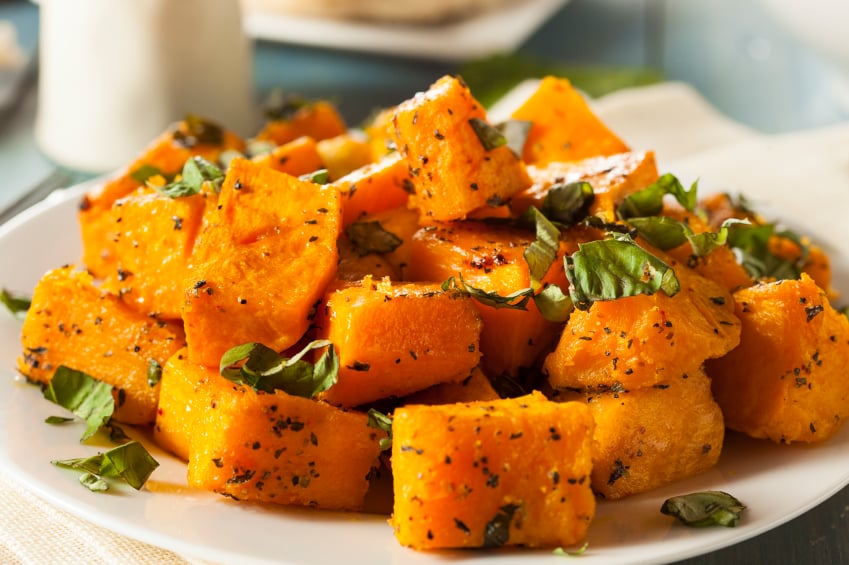 You can't go wrong with butternut squash salad, and this recipe from Minimalist Baker is especially perfect for a light meal or side dish. The sweet and crunchy combination of pecans, cranberries, and butternut squash is irresistible, and when served atop a bed of greens, the salad is healthy, satiating, and satisfying. The fiber from the nuts and squash will help keep you full, and you'll be surprised to find how well this meatless meal fills you up.
Ingredients:
1 medium-sized butternut squash, peeled and cubed
3-4 tablespoons olive oil, divided
Sea salt + Black pepper
¼ cup raw pecans
2 tablespoons brown sugar
2 cups baby spinach or arugula, chopped
¼ cup dried cranberries
1 tablespoon balsamic vinegar
Get the recipe directions at Minimalist Baker. 
3. Butternut Squash Risotto with Pancetta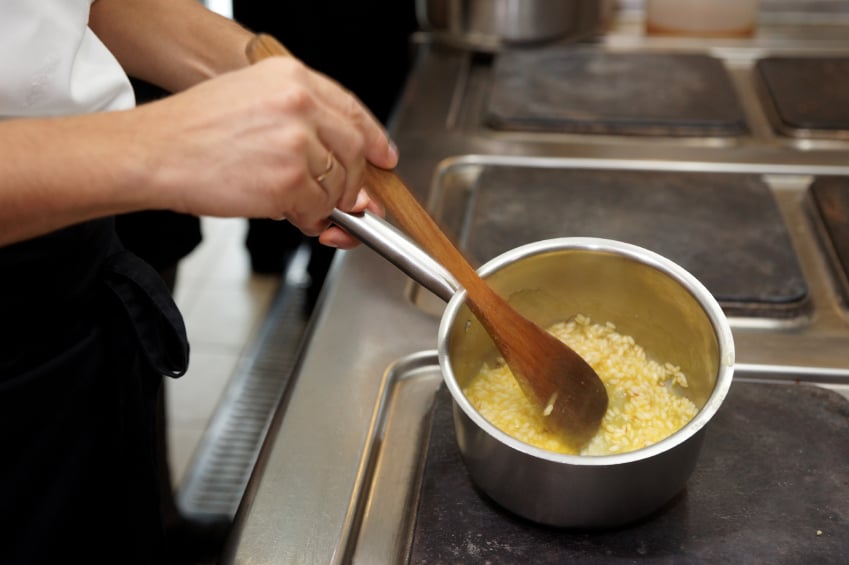 For a more indulgent dish, try this butternut squash risotto from Food & Wine. Crispy pancetta studs this dish, which is made with arborio rice, squash, chicken stock, wine, and Parmesan cheese. Many home cooks are intimidated by the idea of homemade risotto, but this sophisticated dish is simpler than it sounds, and thanks to the enlist of butternut squash, you can even pass it off as (relatively) healthy. Try making it in your kitchen and prepare to surprise yourself.
Ingredients:
¼ pound thinly sliced pancetta, cut into ¼-inch strips
3 tablespoons extra-virgin olive oil
One 1 ½-pound butternut squash—peeled, halved, seeded and cut into 1 ½-by-¼-inch sticks
8 sage leaves
Kosher salt and freshly ground pepper
5 ½ cups chicken stock or low-sodium broth
4 tablespoons unsalted butter
1 medium onion, finely diced
2 ½ cups arborio rice
1 cup dry white wine
¾ cup freshly grated Parmesan cheese, plus more for serving
Get the recipe directions at Food & Wine. 
4. Kale and Butternut Squash Quiche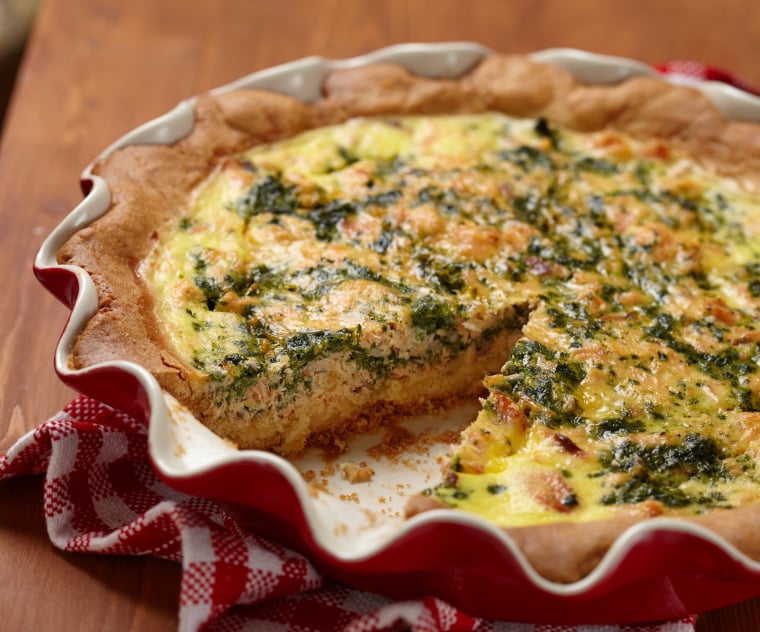 For a healthy dish you can enjoy for breakfast, lunch, or dinner, here's a recipe for a Kale and Butternut Squash Quiche from Amy's Healthy Baking. It's a foregone conclusion that if you eat kale and squash for breakfast, you'll be on track for the rest of the day. And luckily this quiche is not only nutritious, it's also delicious. Packed with protein and fiber from the vegetables and eggs, eating this quiche will keep you full throughout the day, and the recipe also enlists mozzarella, basil, and pepper, providing the dish with fresh flavor.
Ingredients:
2 cups cubed butternut squash
2 cups lightly packed kale leaves, finely shredded
¼ cup shredded mozzarella
1¾ cups egg whites
1 teaspoon dried basil
½ teaspoon cayenne pepper
Get the recipe directions at Amy's Healthy Baking. 
 5. Butternut Squash Crust Pizza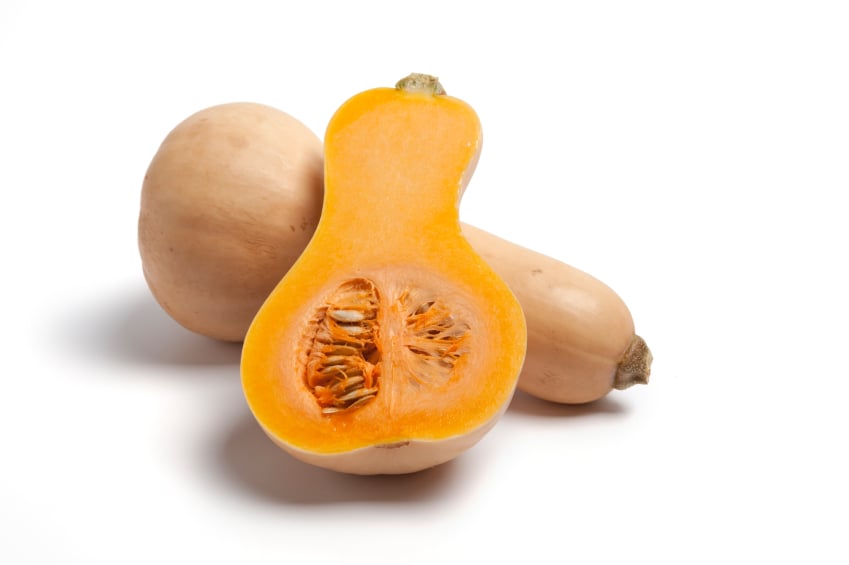 If you're still not convinced of butternut squash's amazing versatility, check out this recipe from Wholehearted Eats that bakes the squash into a pizza crust. Butternut Squash Crust Pizza is a healthy alternative to the traditional pie that typically sends you into a carb coma, and it's even gluten-free, meaning anyone and everyone can enjoy a slice. The recipe developer behind this food formula tops her pizza with a green sauce, olives, tomatoes, and arugula, and the pie is just as easy on the eyes as it will be on your stomach.
Ingredients:
3 cups mashed butternut squash
1 cup almond flour 
¾ cup garbanzo flour
¼ teaspoon sea salt
1/8 teaspoon black pepper
2 tablespoons plus 1 tablespoon ground flax
1 teaspoon dried oregano
Toppings:
Green pizza sauce
A handful of pitted Kalamata olives
1 cup cherry tomatoes 
A couple of handfuls arugula, herbs, or baby beet greens
Green Pizza Sauce:
¼ cup cashews
½ cup packed basil
1 cup packed spinach
½ lemon, juiced
Sea alt and pepper to taste
8 tablespoons olive oil
6. Chicken and Butternut Squash Quinoa Stew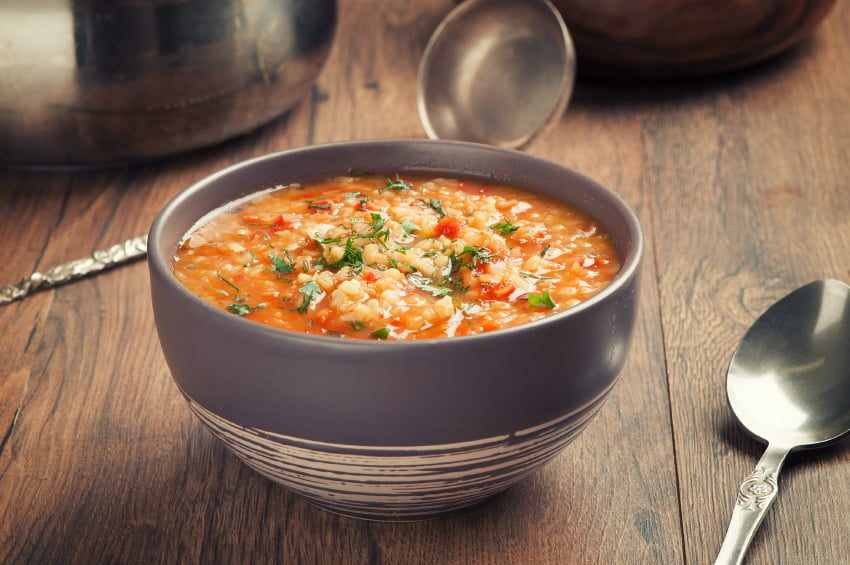 For a hearty dish, cook up this Chicken and Butternut Squash Quinoa Stew from Mel's Kitchen Café. The supper serves 6 and can be prepared in a large 4-quart pot. Thanks to the protein from the chicken and the fiber from the butternut squash and quinoa, this stew is a healthy homerun. Prepare it on a cool night and enjoy the heated leftovers for days.
Ingredients:
1 tablespoon extra-virgin olive oil
1 medium yellow onion, finely chopped
1 ½ teaspoon dried oregano
4 cloves garlic, finely minced
4 cups low-sodium chicken broth
1 ½ pounds boneless, skinless chicken thighs or chicken breasts
1 can petite or regular diced tomatoes
3 cups chopped butternut squash
2/3 cup uncooked quinoa
½ teaspoon salt
½ teaspoon black pepper
1-2 cups chopped fresh spinach
Get the recipe directions at Mel's Kitchen Cafe. 
7. Roasted Butternut Squash and Bacon Pasta
Butternut squash and bacon are a match made in foodie heaven, with the smokiness of bacon pairing perfectly with the sweetness of squash. See for yourself when you prepare this Roasted Butternut Squash and Bacon Pasta, a recipe from Cooking Light. The pasta casserole can be made the day of or prepared for meals in advance, and its star ingredients are butternut squash, bacon, penne, and cheese.  This recipe serves 5.
Ingredients:
¾ teaspoon salt, divided
½ teaspoon dried rosemary
¼ teaspoon freshly ground black pepper
3 cups cubed peeled butternut squash
Cooking spray
6 sweet hickory-smoked bacon slices (raw)
1 cup thinly sliced shallots
8 ounces uncooked mini penne
¼ cup all-purpose flour
2 cups 2% reduced-fat milk
¾ cup shredded sharp provolone cheese
⅓ cup grated fresh Parmesan cheese
Get the recipe directions at Cooking Light. 
 More from Culture Cheat Sheet: