Healthy Lunches That Will Keep You Full for Longer
Everyone knows fiber-filled foods are an essential part of a healthy diet, but some have trouble incorporating fiber into their meals. Not all high-fiber foods are the most exciting or glamorous. Those on the standard meat-and-potatoes American diet can easily miss out on this nutrient. It's too bad, because getting enough fiber may lower the risk of heart disease, diabetes, and hypertension, according to the Academy of Nutrition and Dietetics.
That's why we're highlighting seven homemade, healthy lunches you can cook up to help you meet your fiber quota for the day. Add these food formulas to your recipe arsenal and rest easy knowing you're meeting your fiber goals. Oh yeah — and they taste delicious, too.
1. Sweet Potato and Black Bean Chili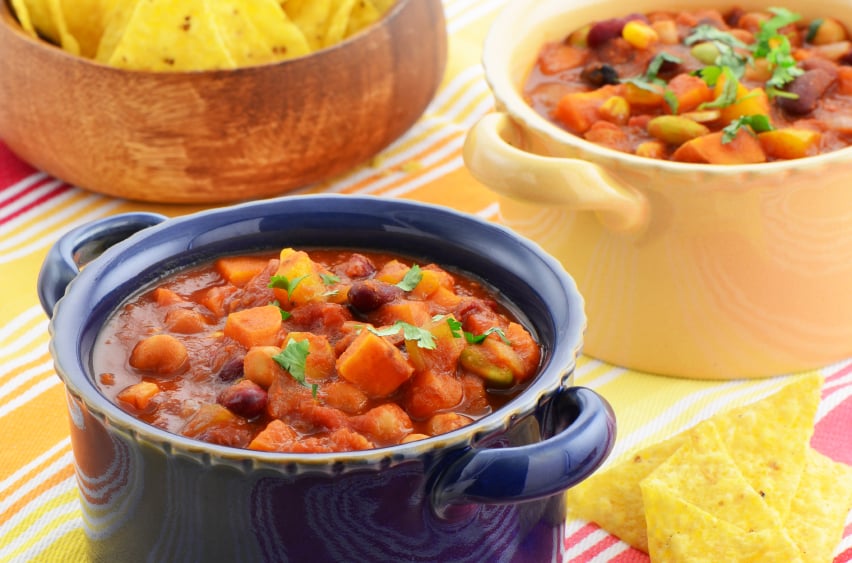 Just because a lunch is high in fiber doesn't mean it can't be delicious, and this recipe for sweet potato and black bean chili from Eating Well proves it. The food formula serves 2, and it incorporates sweet potatoes, black beans, diced tomatoes, seasonings, and lime juice into a hearty stew that will fill you up without filling you out. The advantage of high-fiber meals is they make you feel full fast, and that keeps you from overeating or later indulging in unhealthy fare during dinnertime.
Ingredients:
2 teaspoons extra-virgin olive oil
1 small onion, finely diced
1 small sweet potato, peeled and diced
2 cloves garlic, minced
1 tablespoon chili powder
2 teaspoons ground cumin
¼ teaspoon ground chipotle chili
⅛ teaspoon salt, or to taste
1⅓ cups water
1 (15-ounce) can black beans, rinsed
1 cup canned diced tomatoes
2 teaspoons lime juice
2 tablespoons chopped fresh cilantro
Head to Eating Well for the full recipe. 
2. Broccoli Raab, White Bean, and Fontina Pasta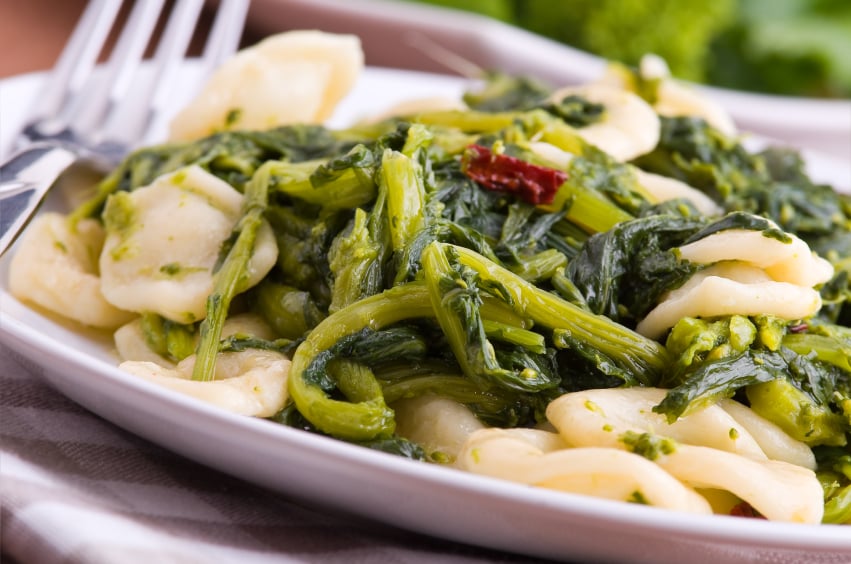 This next recipe from Everyday Health proves you can hit your daily fiber quota and eat pasta, too. According to the recipe developer behind this food formula, broccoli raab, white bean, and fontina pasta yields a whopping 13 grams of fiber per serving, and it's vegetarian-friendly and packed full of veggies. The dish comes together in 30 minutes or less, and gets a pop of color and nutrients from the seasonal broccoli raab.
Ingredients:
8 ounces pasta (whole-wheat works well)
1 bunch broccoli raab, trimmed and cut into 1-inch pieces
1½ cups vegetable or reduced-sodium chicken broth
1 tablespoon all-purpose flour
2 tablespoons extra-virgin olive oil
4 cloves garlic, minced
19 ounces cannellini beans, rinsed
2 tablespoons red wine vinegar
¼ teaspoon salt
¼ teaspoon black ground pepper
½ cup fontina cheese, shredded
⅔ cup toasted breadcrumbs
Head to Everyday Health for the full recipe. 
3. Brussels Sprouts Pizza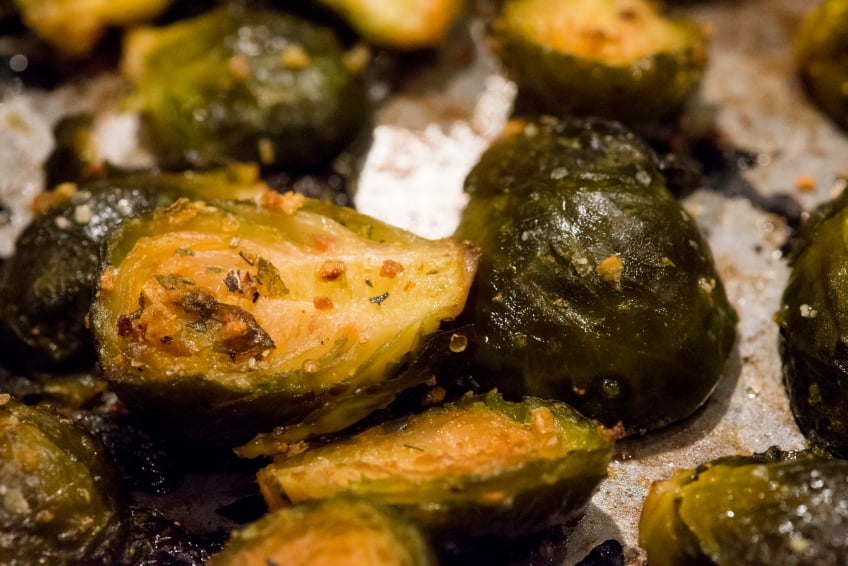 A great way to hit your fiber quota but indulge, too, is by cooking up this Brussels sprouts pizza from Bon Appétit. The green sprouts are packed with fiber and many other vitamins, and when they come studded on thick cheesy bread, you won't be able to resist them. Instead of eating a meaty pizza during your lunch hour, enjoy your favorite food the healthy way by having some fiber with your carbs and cheese.
Ingredients:
2

tablespoons

olive oil, plus more for brushing and drizzling

1

large yellow onion, thinly sliced

Kosher salt, freshly ground pepper

½ 

pound

 B

russels sprouts, trimmed, leaves removed

2

garlic cloves, finely chopped

1

teaspoon

crushed red pepper flakes

All-purpose flour 

1

prepared fresh pizza dough

½ 

cup

grated Parmesan
Head to Bon Appétit for the full recipe. 
4. Grilled Flank Steak Salad With Roasted Corn Vinaigrette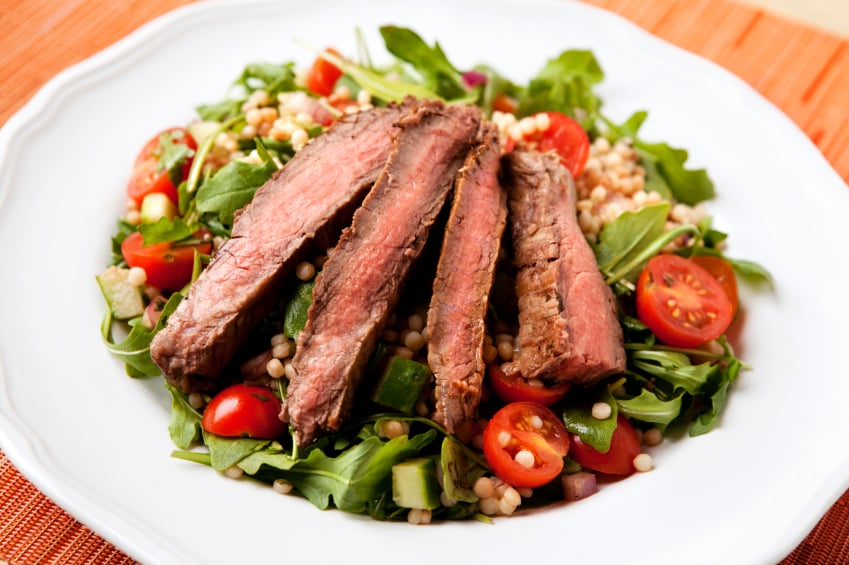 Your lunch dishes don't have to be vegetarian to be filled with fiber. This grilled flank steak salad from Mayo Clinic packs a fiber punch with 10 grams of fiber per serving, along with 20 grams of protein. The salad's star ingredients are its rich flank steak, fresh corn, and black beans. With this dish of greens, you're even making yourself a homemade vinaigrette. Suddenly, salads don't sound so bad.
Ingredients:
3 cups fresh corn kernels or frozen, thawed corn kernels
½ cup vegetable stock or broth
2 tablespoons fresh lime juice
2 tablespoons chopped red bell pepper
2 tablespoons extra-virgin olive oil
1 teaspoon salt
½ teaspoon freshly ground black pepper
¼ cup chopped fresh cilantro
1 tablespoon ground cumin
2 teaspoons dried oregano
¼ teaspoon red pepper flakes
¾ pound flank steak
1 large head romaine lettuce, trimmed and torn into bite-size pieces
4 cups cherry tomatoes, halved
¾ cup thinly sliced red onion
1½ cups cooked black beans
Head to Mayo Clinic for the full recipe. 
5. Greek Chicken Pasta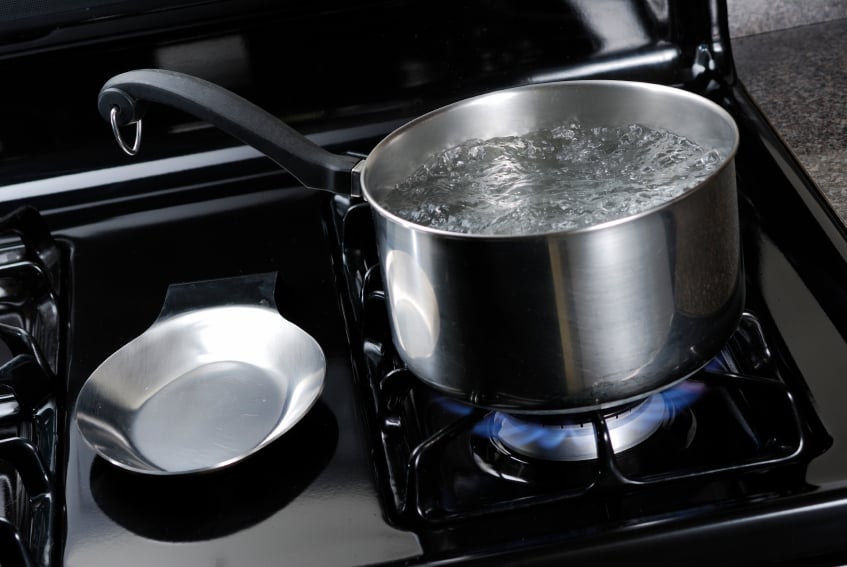 We're back to the carb game, but this time we're throwing in some chicken. Try out this Greek chicken pasta featured on Allrecipes, and see if this dish can help you get down with fiber. Greek chicken pasta proves dinner doesn't have to be dull and tasteless to be considered good for you, as the unique flavors and colors all packed into this dish make it fun and satisfying to eat.
Ingredients:
1 package linguine pasta
½ cup chopped red onion
1 tablespoon olive oil
2 cloves garlic, crushed
1 pound skinless, boneless chicken breast meat, cut into bite-size pieces
1 (14-ounce) can marinated artichoke hearts, drained and chopped
1 large tomato, chopped
½ cup crumbled feta cheese
3 tablespoons chopped fresh parsley
2 tablespoons lemon juice
2 teaspoons dried oregano
Salt and pepper, to taste
2 lemons, wedged, for garnish
Head to Allrecipes for the full recipe.