6 Healthy Recipes for Your Favorite Fall Foods
Fall is most definitely sweater weather, which often means people stop making any attempt to eat healthy. This doesn't have to be the case, especially when you consider some of our favorite fall foods are loaded with nutrition. We're talking apples, squash, beets, and more. The good news is these foods are also really tasty. See just what we mean by making these healthy recipes for fall.
1. Fall Vegetable Curry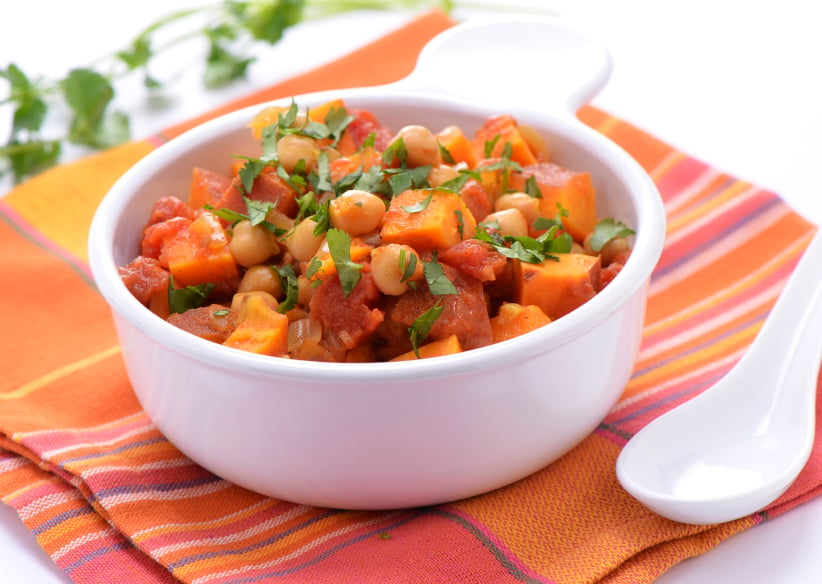 We're kicking things off with fall vegetable curry from Cooking Light. It's a meal that will warm you from the inside out but still won't weigh you down. One serving of the curry is 230 calories, with nearly 4 grams of fiber and 10 grams of protein. The curry stars sweet potatoes, cauliflower, and chickpeas, along with flavorful herbs and spices. Top with Greek yogurt and you have a satiating meal that's surprisingly light.
Ingredients:
1½ teaspoons olive oil
1 cup diced peeled sweet potato
1 cup small cauliflower florets
¼ cup thinly sliced yellow onion
2 teaspoons Madras curry powder
½ cup organic vegetable broth (such as Swanson)
¼ teaspoon salt
1 (15-ounce) can chickpeas (garbanzo beans), rinsed and drained
1 (14.5-ounce) can no-salt-added diced tomatoes, undrained
2 tablespoons chopped fresh cilantro
½ cup plain 2% reduced-fat Greek yogurt
Directions
: Heat olive oil in a large nonstick skillet over medium-high heat. Add sweet potato to pan; sauté 3 minutes. Decrease heat to medium. Add cauliflower, onion, and curry powder; cook 1 minute, stirring mixture constantly. Add broth and next 3 ingredients; bring to a boil. Cover, reduce heat, and simmer 10 minutes or until vegetables are tender, stirring occasionally. Sprinkle with cilantro; serve with yogurt.
2. Sausage and Broccoli Rabe Frittata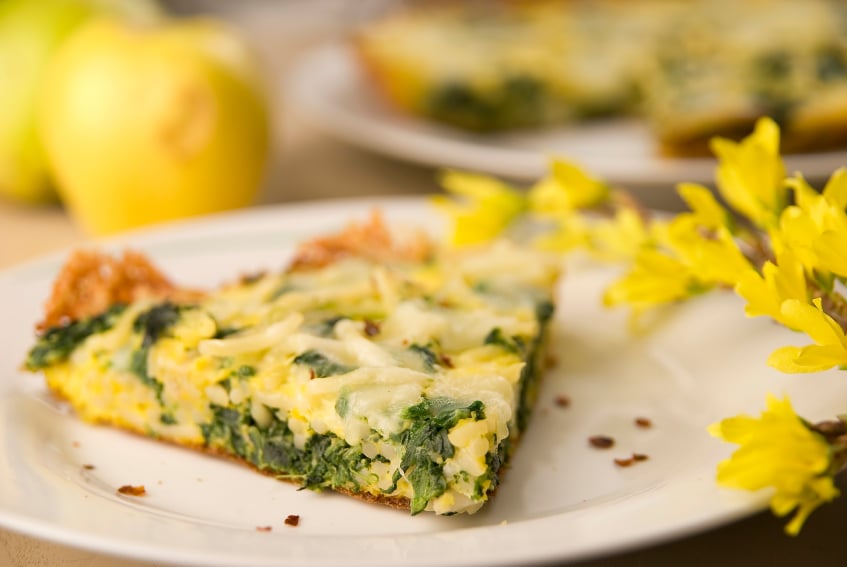 Next is a sausage and broccoli rabe frittata from Bon Appétit. It's a fall-flavored dish that you can enjoy for breakfast, lunch, or dinner. It's easy to make and packed with meat, veggies, and most importantly, cheese. You can prepare the frittata and eat it immediately or save for easy breakfasts and lunches during the week. This dish is also super fast, making it great for busy weeknights.
Ingredients:
2

large eggs

½

cup

whole milk

¾

cup

grated cheddar, divided

Kosher salt and coarsely ground black pepper

2

tablespoons

vegetable oil

½

medium onion, chopped

½

pounds

fresh Spanish chorizo or hot Italian sausage links, casings removed

1

bunch

broccoli rabe, coarsely chopped
Directions: Preheat broiler. Whisk eggs and milk in a medium bowl. Mix in ½ cup cheddar; season with salt and pepper and set aside.
Heat oil in a large skillet, preferably cast-iron, over medium heat. Add onion and chorizo and cook, stirring occasionally, until onion is softened and chorizo is brown, 6 to 8 minutes. Add broccoli rabe; season with salt and pepper and cook, stirring occasionally, until tender, 8 to 10 minutes longer.
Reduce heat to low and pour reserved egg mixture over vegetables. Cook, shaking pan occasionally, until edges are just set, 10 to 12 minutes. Top frittata with remaining ¼ cup cheddar; broil until top is golden brown and center is set, about 4 minutes longer. Cut frittata into wedges and serve warm or room temperature.
3. Roasted Acorn Squash with Mushroom, Peppers, and Goat Cheese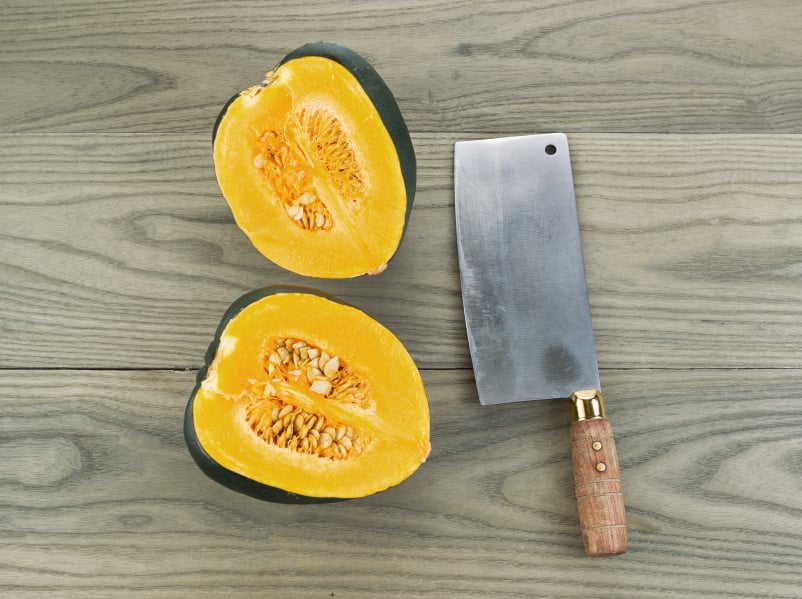 If you want a fall side dish destined to impress, this roasted acorn squash from Food Network is the ticket. First, prep and bake the squash, then remove the seeds and fill with mushrooms, peppers, and goat cheese. This dish takes a bit of time, the results are worth the wait.
Ingredients:
2 acorn squash
2 tablespoons olive oil
1½ teaspoons kosher salt
1 teaspoon freshly cracked black pepper
Filling
2 tablespoons butter
2 cups cabbage (core removed before slicing)
1 cup ¼-inch-sliced sweet onion
1 red bell pepper, seeded and sliced in ¼-inch julienne
1 yellow bell pepper, seeded and sliced in ¼-inch julienne
Kosher salt and freshly ground pepper
2 cups cremini mushrooms, cleaned and quartered
2 cloves garlic, minced
4 ounces crumbled goat cheese
2 tablespoons chopped fresh Italian parsley, for garnish, optional
Directions: Preheat the oven to 375 degrees Fahrenheit. Trim the tops and bottoms off the squash. Cut in half horizontally so the cut-ends will keep the pieces flat. Clean the inside of the squash. Separate the seeds from the membranes and rinse well. Dry the seeds with a paper towel and set aside.
Place the squash cut-side up on a baking sheet, drizzle with the olive oil and sprinkle with 1 teaspoon of the salt and the pepper.
Place the seeds on a separate baking sheet or foil. Roast the squash 30 minutes. Roast the seeds at the same time, checking and moving them around after 10 minutes and again after 20 minutes. Depending on the size of the seeds, they may be done after 20 minutes, or up to 30 minutes. Sprinkle the seeds with the remaining salt, and set aside with the squash.
Set a large sauté pan over high heat and add the butter. When melted, add the cabbage, onions, peppers, sprinkle with salt and pepper and gently toss to combine. Allow the cabbage to wilt down, about 5 minutes. Add the mushrooms and cook, 3 to 4 minutes. Add the garlic and toss to combine. Saute 2 to 4 minutes longer, and adjust the seasoning with salt and pepper.
Preheat the broiler to low. Fill the roasted acorn squash halves with the filling. Sprinkle the crumbled goat cheese over the top, then top with the roasted squash seeds. Broil just until the cheese is warm. Garnish with a small amount of Italian parsley, if using, and serve.
4. Kale and Apple Soup
Usher in soup season with this kale and apple soup from The Kitchn. It's easy to guess what the star ingredients are, but you'll be surprised to taste how well the flavors complement each other, especially when crème fraîche and pancetta are involved. You can even prepare it for vegetarians by nixing the pancetta and enlisting vegetable stock. This kale and apple soup feeds 6 to 8 and perfectly straddles the healthy and indulgent line.
Ingredients:
1 large bunch kale (about 10 ounces)
¼ cup cubed pancetta or sliced bacon (about 2 ounces)
4 cups warmed chicken or vegetable stock, divided
2 tablespoons olive oil
½ whole yellow onion, chopped
¼ teaspoon salt
1 medium apple, cored and chopped
¼ cup crème fraîche, mascarpone cheese, or plain yogurt
Freshly ground black pepper
Directions: Wash the kale and remove the bottom inch of stem. Chop roughly into 1-inch pieces.
In a large skillet over medium heat, sauté the pancetta for 1 minute or until just barely showing color. Add the kale and stir to coat with rendered fat. Add another drizzle of oil if you notice sticking. Cook, stirring, until the kale begins to wilt, about 5 minutes. Add 2 cups chicken stock, lower heat to medium-low and cook, stirring occasionally, for about 10 minutes.
Transfer the mixture to a blender; or blend with an immersion blender. Puree, starting on the lowest speed, until smooth. Purée the second batch if necessary. Pour into a large bowl and set aside.
In the same skillet over medium heat, heat the olive oil and cook the onions with the salt until the onions just barely show color, stirring for about 3 minutes. Add the chopped apples and cook, stirring occasionally, for 5 minutes, or until the apples soften and onions are translucent. Stir in the remaining broth.
Transfer the mixture to the blender, splitting into two batches if necessary. Purée until smooth. Alternatively, blend with a stick blender.
Combine the puréed apple and onion mixture with the kale mixture, and whisk to combine. If soup seems too thick, add more stock or water until it reaches the desired consistency. Transfer back to same pot to reheat briefly. Serve garnished with a dollop of crème fraîche, mascarpone cheese, or plain yogurt and a few grinds of black pepper.
5. Beet Salad with Goat Cheese, Green Apple, and Honey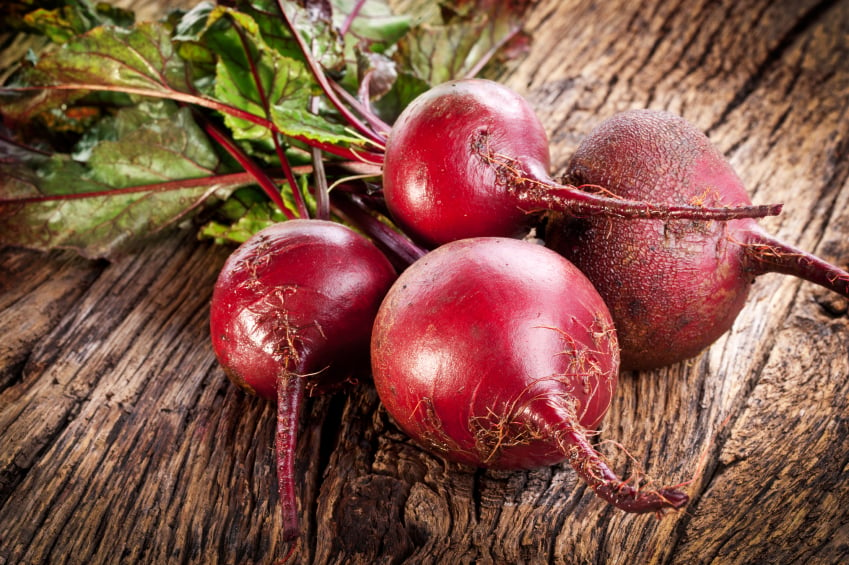 For a light option, try this beet salad with goat cheese, green apple, and honey from Martha Stewart. The tart green apples pair well with the tangy goat cheese and sweet beets, and a dressing of honey, olive oil, and lemon juice finishes everything off. If you always feel hungry after eating salads, try this hearty take on the dish.
1½ pounds red beets, tops removed and scrubbed
8 ounces baby Chioggia beets, tops removed and scrubbed
Coarse salt and freshly ground pepper
2 tablespoons grapeseed or safflower oil
3 tablespoons pure honey
5 tablespoons extra-virgin olive oil
1 lemon plus 3 tablespoons fresh lemon juice, divided
1 green apple
4 ounces fresh goat cheese, coarsely crumbled (about ¾ cup)
2 cups sprouts or microgreens, for garnish
Directions: Preheat oven to 350 degrees Fahrenheit. Place red beets in a baking dish just large enough to hold them in a single layer and add enough water to come three-quarters of the way up sides of beets. Sprinkle with 1 tablespoon salt and drizzle with grapeseed oil. Cover with foil and bake until tender and easily pierced with a knife, about 1 hour. Transfer beets to a cutting board. When just cool enough to handle, remove skins, cut into ¼-inch slices, and transfer to a bowl.
Meanwhile, place baby beets in small saucepan and cover with 2 inches cold water. Add 1 teaspoon salt and bring to a boil. Reduce heat and simmer until tender and easily pierced with a knife, about 25 minutes. Drain beets; when just cool enough to handle, remove skins; cut into halves or wedges, depending on size; and transfer to another bowl.
Whisk together honey, olive oil, and 3 tablespoons lemon juice; add 1 teaspoon salt and season with pepper. Reserve ¼ cup dressing; divide remaining dressing between bowls of warm beets; toss beets to coat.
Halve lemon and squeeze juice into a bowl of cold water; drop lemon halves in it. Peel apple, cut into small pieces, and submerge in lemon water. When ready to serve, drain apple and blot dry. Arrange beets on a serving platter and drizzle with reserved dressing. Top with apple, goat cheese, and sprouts and serve immediately.
6. Poached Pears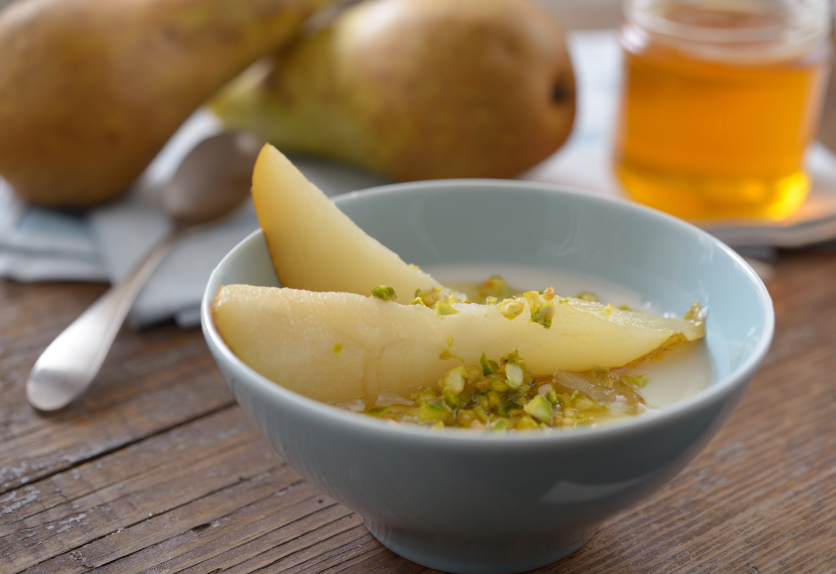 This last recipe from Cooking Light can serve as a snack, side dish, or dessert. Pears are delicious enough on their own, but when you add a little wine, sugar, star anise, and cinnamon to the mix, they really shine. Combine your ingredients, then simmer the pears for about 25 minutes. Serve the fruit with ice cream, yogurt, or as a stand-alone treat.
Ingredients:
2 cups sweet white wine
1 cup water
¼ cup sugar
⅛ teaspoon salt
1 star anise
1 (3-inch) cinnamon stick
3 large firm pears, peeled, cored, and halved lengthwise
4 tablespoons plain 2% reduced-fat Greek yogurt
Directions: Combine wine, water, sugar, salt, star anise, and cinnamon stick in a medium saucepan; bring to a simmer. Add pears; cover and simmer 25 minutes or until tender. Serve one pear half with ¼ cup cooking liquid and 2 teaspoons yogurt.