6 Healthy Recipes to Make for Christmas Dinner
It isn't easy sticking to a healthy diet over the holidays, but it helps if you can contribute to the meal with healthy, easy-to-prepare dishes. Not only will you enjoy the break from the carb-heavy, fat-packed traditional holiday dishes, but your friends and family will thank you for providing them with a lighter option on the dinner table.
Whether you're hosting an entire Christmas dinner or need an easy side dish to bring to a family meal, use a recipe that is not only easy to prepare and healthy, but also delicious. These recipes are made with less oil and butter and fewer heavy, calorie packed ingredients so you can enjoy a little break from the slew of hearty, holiday dishes.
1. Cauliflower Salad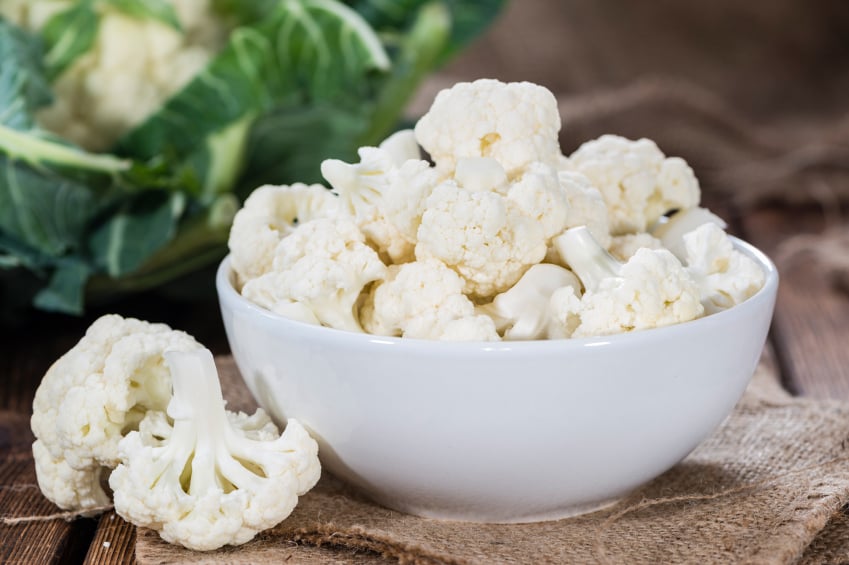 This dish is a great one to bring to a holiday party because it can be made a day in advance and serves 10 people. This veggie heavy dish from Cooking Light is a great way to get your quota of vegetables before you dive into meat and potatoes.
Ingredients:
1½ pounds cauliflower, trimmed and cut into florets
¾ cup chopped bottled roasted red bell peppers
½ cup thinly sliced red onion
½ cup coarsely chopped fresh flat-leaf parsley
½ cup coarsely chopped green olives
¼ teaspoon crushed red pepper
1 large celery rib, sliced crosswise
2 tablespoons extra-virgin olive oil
1 tablespoon fresh lemon juice
1 tablespoon white wine vinegar
½ teaspoon black pepper
⅛ teaspoon sea salt
1½ ounces provolone piccante, cut into small pieces
Celery leaves (optional)
Directions: Set a steamer basket in a large saucepan; fill pan with water up to but not touching the bottom of basket. Bring water to a boil over high heat. Add the cauliflower florets; cover and steam 5 minutes or just until tender. If you don't have a steamer basket, simply boil and then drain the cauliflower.
Transfer cauliflower to a large bowl. Add bell peppers, red onion, parsley, chopped olives, crushed red pepper, and celery; toss gently to combine. Combine oil, juice, vinegar, black pepper, and salt, stirring with a whisk. Pour dressing over vegetables; toss gently. Sprinkle with cheese; toss gently to combine. Cover and let stand at room temperature 30 minutes to 1 hour. Sprinkle with celery leaves, if desired.
2. Baked Apples with Prunes, Cinnamon, and Ginger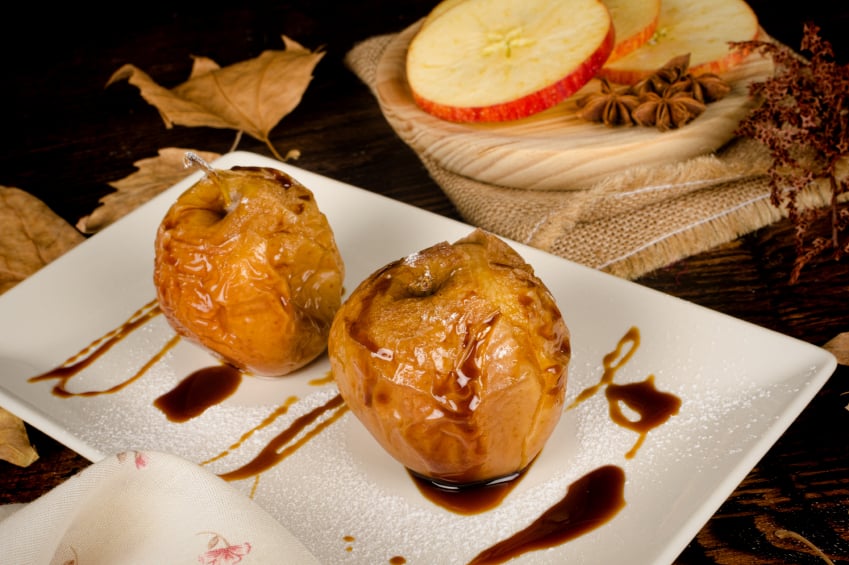 What was the about an apple a day keeps the doctor away? Get your fill of apples with this sweet, guilt-free dessert. These baked apples are stuffed with prunes, cinnamon, and ginger, offering a low-fat, fruit-based dessert option. This recipe from BBC Good Food is easy to transport to a holiday party and includes less than 300 calories per apple. The recipe serves 4, but can be easily doubled.
Ingredients:
4 cooking apple, cored but left whole
2 stem ginger balls, finely chopped
½ teaspoon ground cinnamon
4 prune, chopped
50 grams light muscovado sugar
1 tbsp butter
4 big scoops good quality vanilla ice cream, to serve
Directions: Heat oven to 400 degrees Fahrenheit. Using a sharp knife, score a line around the equator of each apple. Put them into a baking dish with a small splash of water in the bottom. In a bowl, combine the ginger, cinnamon, prunes and sugar. Stuff the mixture into the apples so that they are well packed. Top each with a knob of butter and bake for 35-40 mins, or until cooked through. To test, pierce with a sharp knife – it should slide straight through. The apples can be cooked up to a day ahead, then warmed through in the oven or microwave before eating. Remove from the oven and baste the apples with the liquid left in the dish. Serve hot or warm with the ice cream.
3. Green Beans with Dried Cranberries and Hazelnuts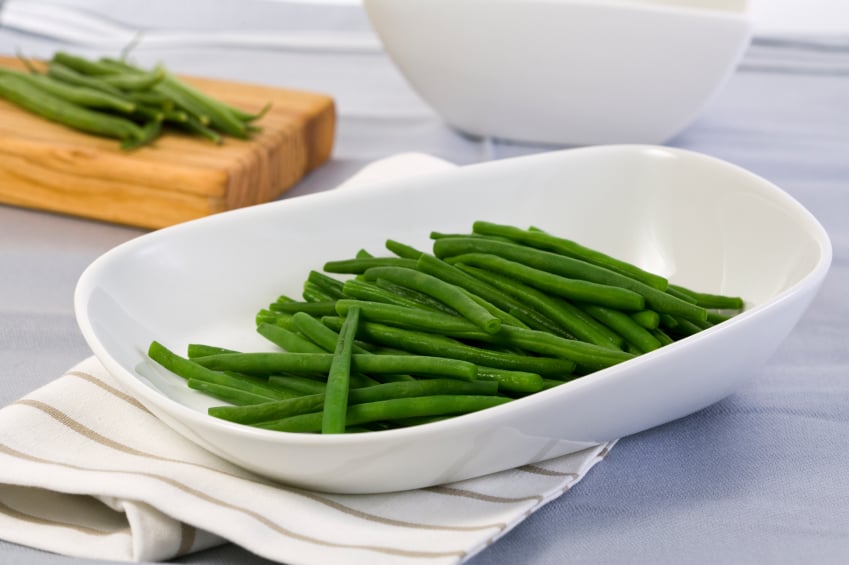 This may be one of the easiest, yet gourmet-looking dishes you can make. If you can't find hazelnuts, try pecans and if you don't have hazelnut oil a good olive oil will do the trick. This recipe from Cooking Light serves 8 people and takes about 30 minutes to prepare.
Ingredients:
⅔ cup hazelnuts
12 cups water
1½ pounds green beans, trimmed
3 tablespoons hazelnut oil
⅓ cup thinly sliced shallots
⅔ cup dried cranberries
½ teaspoon salt
½ teaspoon black pepper
Directions: Preheat oven to 350 degrees Fahrenheit. Spread hazelnuts in a single layer on a baking sheet. Bake at 350 degrees for 15 minutes or until the skins begin to split, turning once. Transfer toasted nuts to a colander or dish, and rub briskly with a towel to remove the skins. Coarsely chop nuts. Bring 12 cups water to a boil in a large saucepan.
Add beans; cook 4 minutes or until crisp-tender. Drain and plunge into ice water; drain. Pat beans dry. Heat a large skillet over medium heat. Add oil to pan; swirl to coat. Add shallots; cook 5 minutes or until lightly browned. Add beans; cook 3 minutes or until thoroughly heated, stirring occasionally. Add cranberries and hazelnuts; cook 1 minute. Sprinkle with salt and pepper.
4. Maple-Roasted Sweet Potatoes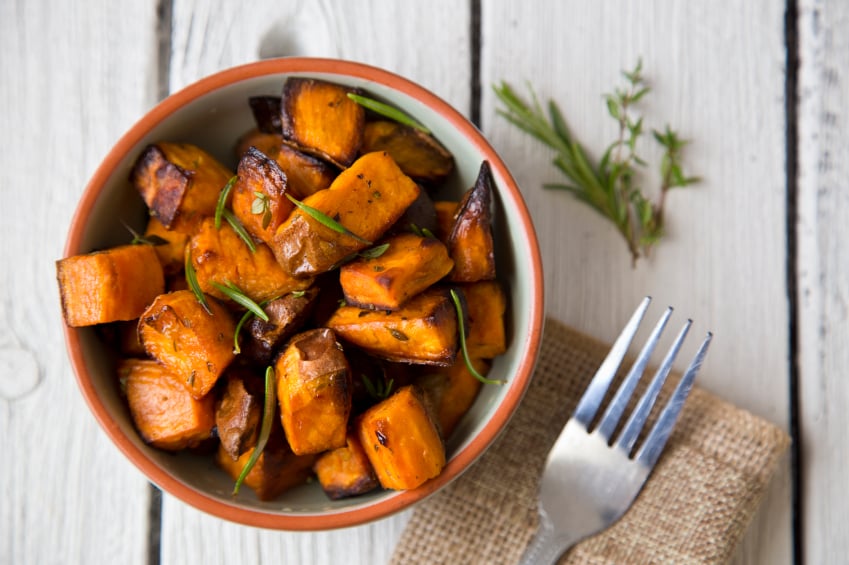 This recipe is perfect for lovers of the traditional sweet potato casserole. One serving has less than 100 calories and gives your taste buds a jolt of sweetness from the maple syrup glaze. This recipe from Eating Well serves 12 and takes over an hour with baking time included.
Ingredients:
2½ pounds sweet potatoes, peeled and cut into 1½-inch pieces (about 8 cups)
⅓ cup pure maple syrup
2 tablespoons butter, melted
1 tablespoon lemon juice
½ teaspoon salt
Freshly ground pepper, to taste
Directions: Preheat oven to 400 degrees Fahrenheit. Arrange sweet potatoes in an even layer in a 9-by-13-inch glass baking dish. Combine maple syrup, butter, lemon juice, salt and pepper in small bowl. Pour the mixture over the sweet potatoes; toss to coat. Cover and bake the sweet potatoes for 15 minutes. Uncover, stir and cook, stirring every 15 minutes, until tender and starting to brown, 45 to 50 minutes more.
5. Mushroom-Stuffed Pork Tenderloin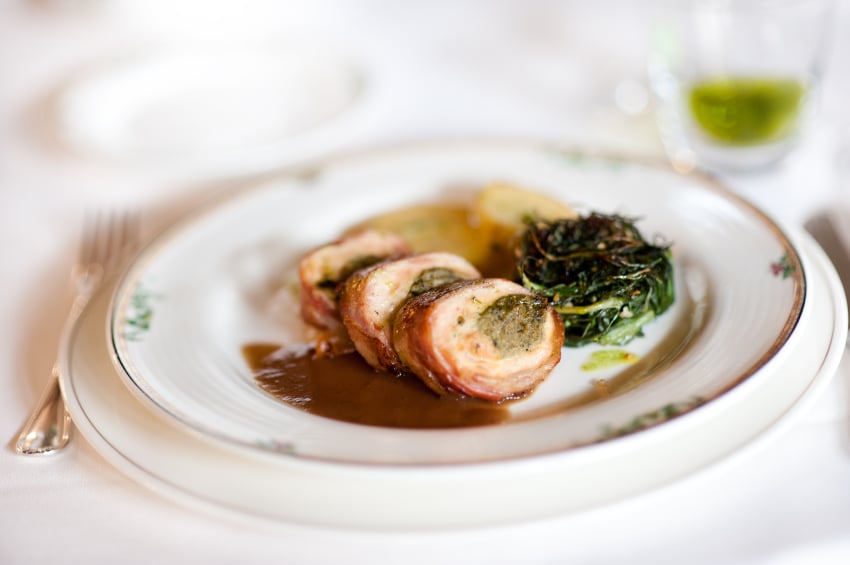 If you're in charge of the entrée or are having guests over to your home, nothing beats a juicy pork tenderloin. This recipe from Food Network provides a delicious, protein heavy entrée that is still healthy and full of flavor. To reduce fat and sodium skip the bacon. The mushrooms pack a punch of healthy, lean protein so you don't have to guiltily reach for a second helping.
Ingredients:
5 tablespoons extra-virgin olive oil, plus more for brushing
4 slices bacon, chopped
8 ounces cremini mushrooms, thinly sliced
Kosher salt and freshly ground pepper
1 clove garlic, finely chopped
1 tablespoon breadcrumbs
½ cup chopped fresh parsley
2 (1- to 1¼-pound) pork tenderloins, trimmed
½ teaspoon grated lemon zest
Directions: Heat 2 tablespoons olive oil in a large skillet over medium heat. Add the bacon and cook until crisp, about 8 minutes. Add the mushrooms, ½ teaspoon salt, and pepper to taste; cook until the mushrooms are soft, about 4 minutes. Add the garlic and cook 1 minute. Remove from the heat and stir in the breadcrumbs and all but 2 tablespoons parsley. Let cool.
Soak 10 to 12 toothpicks in water to prevent them from burning. Rinse the pork and pat dry. Butterfly the pork: Make a 1-inch-deep incision down the length of each tenderloin; do not cut all the way through. Open the meat like a book so the tenderloins lie flat. Cover the pork with plastic wrap; pound with the flat side of a meat mallet until about ½-inch thick, starting from the middle and working outward. Spread the mushroom mixture over the 2 tenderloins. Starting with a long side, tightly roll up each tenderloin. Secure the seams with the toothpicks.
Preheat a grill to medium high; brush the grates with olive oil. Brush the pork rolls with olive oil and season with salt and pepper. Grill, turning, until a thermometer inserted into the center of the pork registers 140 degrees Farenheit, 25 to 30 minutes. Transfer to a cutting board to rest, about 10 minutes. Mix the remaining 3 tablespoons olive oil and 2 tablespoons parsley, the lemon zest, and salt and pepper to taste in a bowl. Remove the toothpicks and slice the pork rolls. Top with parsley oil.
6. Banana-Walnut Torte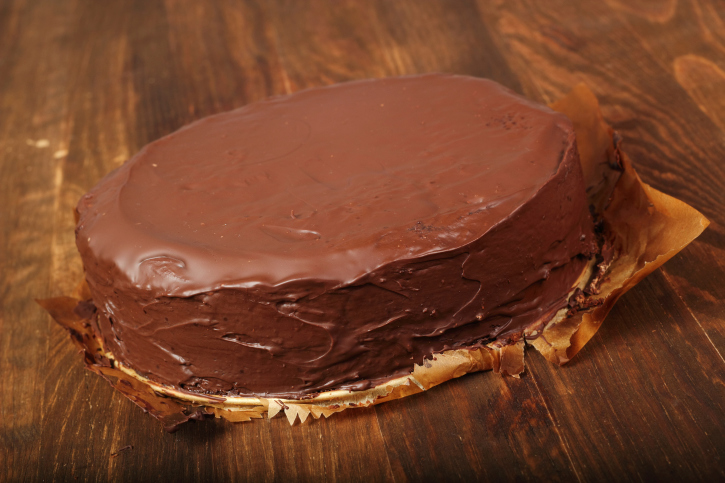 Chocolate and banana lovers with obsess over this not-so-sinful dessert. This recipe from Prevention uses yogurt, egg whites, and plenty of banana to keep this chocolate lovers dream healthy and light. Take this healthy treat to the next level by skipping the half and half and using milk instead. Serves 12.
Ingredients:
2 cups walnut halves or pieces, toasted
12 ounces low-fat banana or vanilla yogurt
1 cup mashed bananas
½ cup graham cracker crumbs
1 teaspoon grated lemon zest
¼ teaspoon cinnamon
4 large egg whites
¼ teaspoon cream of tartar
¾ cup dark chocolate chips
3 tablespoons half-and-half
Directions: Heat oven to 350 degrees Fahrenheit. Lightly coat bottom of 9-inch round cake pan with cooking spray. Line pan bottom with parchment, then lightly coat paper and sides of pan with cooking spray. Chop ⅓ cup of the walnuts and set aside for garnish. Pulse remaining nuts in food processor or blender until finely ground. Stir together yogurt, bananas, crumbs, lemon zest, cinnamon, and ground walnuts in large bowl. Set aside.
Beat egg whites in bowl with electric mixer on medium speed until foamy. Add cream of tartar and continue beating on high until stiff peaks form, about 2 minutes. Stir small amount of whites into yogurt mixture with rubber spatula. Fold in remaining egg whites just until incorporated. Pour mixture into prepared pan, smoothing top. Bake until top is firm to touch and wooden pick inserted in center comes out clean, 30 to 35 minutes. Cool in pan on rack 20 minutes. Run knife around sides of pan and invert torte onto rack. Remove parchment and chill 1 hour.
Combine chocolate and half-and-half in small microwavable bowl.  Microwave on high 30 seconds and stir. Repeat until chips are melted. Cool 2 minutes. Place cake on rack over baking sheet to catch drips. Brush loose crumbs from cake. Cover sides and top with chocolate mixture using cake spatula. To garnish, press reserved walnuts on sides of torte. Chill until chocolate is set, about 30 minutes. Slide torte onto serving plate.