Healthy Stuffed Avocado Recipes That Are Filled With Flavor
If you're only using avocados to make guacamole, you're missing out on an equally delicious — and more filling — way to enjoy the superfood. When stuffed, avocados become a satisfying meal that work equally well for breakfast, lunch, and dinner. Not only are avocados a great replacement for bland sandwiches and your standard supper fare, but they're also packed with noteworthy health benefits. WebMD notes that avocados contain nearly 20 vitamins and minerals in every serving. Among those is potassium, which helps control blood pressure, and folate, a vitamin that's crucial for cell repair.
Avocados are also low in sugar, filled with fiber, and high in cholesterol-lowering monounsaturated fat. Ready to start working avocados into your daily diet? Prepare these five stuffed recipes, which contain everything from seafood to eggs to bacon. Prepare to experience avocados on a whole new level!
1. Tomato Salad Stuffed Avocados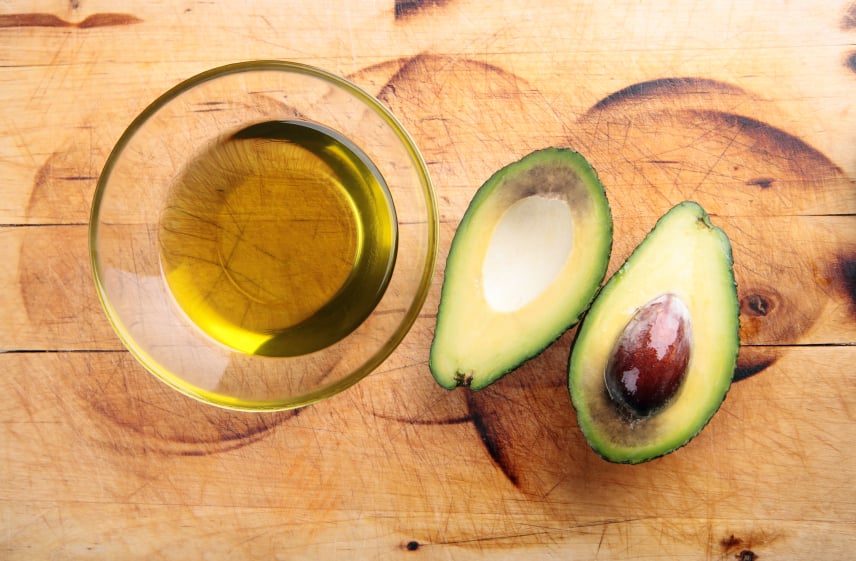 Taste of Home's recipe is unbelievably easy to make, but the finished product will look and taste as though you spent all day preparing it. Tomatoes, feta, onion, seasonings, olive oil, and vinegar create a fabulous filling, which is then stuffed into avocados that have been halved, pitted, and peeled. Use this as a fun appetizer, a replacement for a standard side salad, or for a delicious lunch.
Ingredients:
2 small tomatoes, chopped
⅔ cup crumbled feta cheese
⅓ cup chopped red onion
2 tablespoons minced fresh parsley
2 tablespoons olive oil
1 tablespoon red wine vinegar
1 teaspoon minced fresh oregano or ¼ teaspoon dried oregano
⅛ teaspoon salt
⅛ teaspoon pepper
2 medium ripe avocados, halved, pitted, and peeled
Directions: Cmbine the first nine ingredients in a bowl. Spoon into avocado halves. Serve immediately.
2. Baked, Stuffed Avocados with Quinoa, Tomatoes and Feta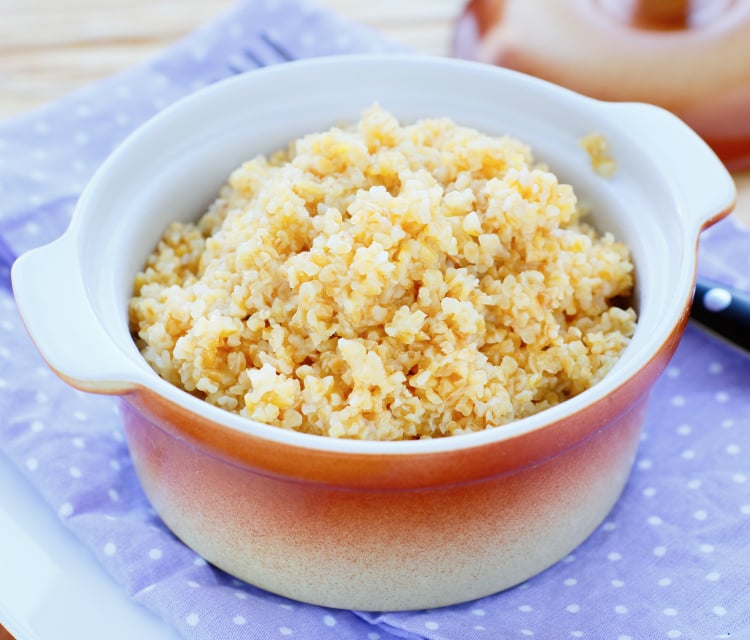 Stuffing your avocados with tomato, feta, and quinoa creates a meal that is both healthy and filling. And, the recipe ensures that none of your avocado goes to waste; once you scoop the flesh out of the avocado, combine it with the cooked quinoa and tomato for a filling that has a nice, creamy texture. After adding the filling to the hollow avocado shells, layer crumbled feta on top, and bake until the cheese is melted. P&G Everyday's recipe yields 2 servings.
Ingredients:
2 ripe avocados
2 cups cooked quinoa
1 medium-sized tomato, diced
1 cup crumbled feta cheese
Salt and pepper, to taste
Directions: Preheat oven to 375 degrees Fahrenheit. Slice avocados lengthwise and remove the pit. An easy way to do this is by gently tapping it with a large kitchen knife. When the knife is wedged in, carefully twist and pull away from the avocado. Using a smaller kitchen knife, make criss-crosses in the avocado flesh, making sure not to break through the skin. Using a spoon, gently scoop out the avocado flesh and place in medium-sized bowl.
Add cooked quinoa and diced tomato to the avocado pieces and carefilly mix together while preserving the chunks of flesh. If you prefer a creamier consistency, use more pressure when mixing to mash the avocado chunks. Place hollow avocado shells in a baking dish, filling each with the mixture. Generously layer crumbled feta cheese over top and place in oven for 10 to 12 minutes or until cheese is sufficiently melted. Add salt and pepper to taste, then serve immediately.
3. Seafood Stuffed Avocados
Seafood lovers will delight in AllRecipes.com's stuffed avocados, which contain crabmeat and shrimp, in addition to mayo, cucumber, parsley, and paprika. Not only will this elegant dish please your palate, but it's also quite easy to make. Mix the crab, shrimp, cucumber, mayo, and parsley, and chill until you're ready to serve. Prepare the avocado, spoon the seafood mixture into the hollowed centers, and top with paprika. It only yields 2 servings, so make sure to double or triple it if you're planning to feed a crowd.
Ingredients:
½ cup flaked cooked crabmeat
½ cup cooked small shrimp
2 tablespoons peeled and diced cucumber
1 tablespoon mayonnaise
1 teaspoon chopped fresh parsley
1 pinch salt
1 pinch ground black pepper
1 pinch paprika
1 avocado
Directions: Mix the crab, shrimp, cucumber, mayonnaise, and parsley in a bowl. Season with salt, and pepper. Cover, and chill until serving. Slice the avocados lengthwise, and remove the pit. Scoop out the avocado flesh, but leave about ½ inch on the peel. Spoon the seafood mixture into the centers of the avocado halves. Sprinkle with paprika.
4. Shrimp and Cucumber Stuffed Avocados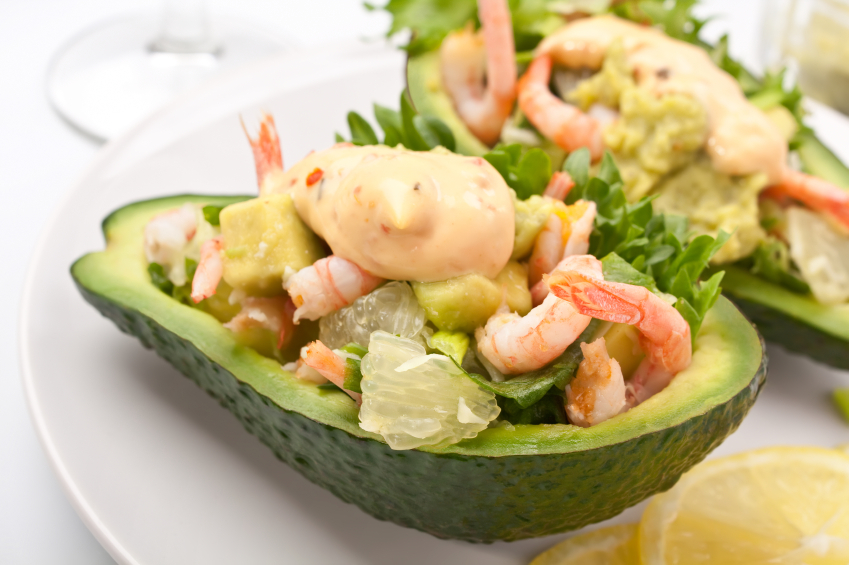 Whole Food's Market's recipe is perfect for days when you're craving something healthy and easy. A salad consisting of pre-cooked baby shrimp, mint, cilantro, feta, cucumber, and tomato is coated in a light citrus dressing and then packed into avocados, creating a delicious and nutritious lunch or dinner dish. It serves 4.
Ingredients:
Citrus Dressing
¼ cup freshly squeezed orange juice
¼ cup freshly squeezed lime juice
1 teaspoon grated lime zest
½ teaspoon fresh ground black pepper
½ teaspoon sea salt
1 teaspoon sugar
Salad
1 cup frozen precooked baby shrimp (about 6 ounces)
3 tablespoons chopped mint, more for garnish
¼ cup chopped cilantro, more for garnish
2 ounces queso fresco or mild feta, crumbled, more for garnish
½ cup diced English cucumber, (peeled and seeded)
½ cup seeded and diced tomato
2 avocados, ripe yet firm
4 cups shredded romaine
Directions: Prepare the dressing by whisking together orange juice, lime juice, zest, pepper, salt, and sugar in a small bowl. Set aside. To make the salad, thaw shrimp, draining off excess liquid. Combine shrimp with mint, cilantro, cheese, cucumber, and tomatoes in a medium bowl. Split avocados and discard pits.
With a table knife, score flesh of avocado; avoid splitting the shell. Scoop out avocado and add to shrimp salad. Pour half of the dressing over the salad, gently tossing to coat. Toss romaine with remaining dressing in a separate bowl. To serve, divide lettuce among plates. Set avocado shells on greens and fill with shrimp salad. Garnish with additional cheese, mint and cilantro leaves and serve.
5. Broiled Egg Stuffed Avocado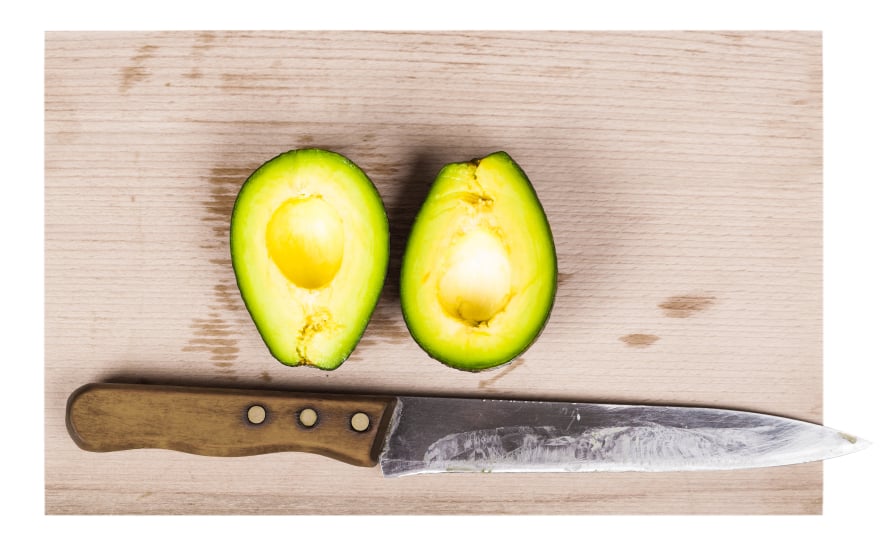 Nutrients and fantastic flavors abound in broiled egg stuffed avocados. To Make California Avocado Commission's recipe, cook the avocado, scoop out some of the flesh, crack an egg into each half, and top with seasonings and cheese. Bake until the top is golden, and enjoy. Breakfast doesn't get any better than this!
Ingredients:
2 large ripe California avocados
4 medium to large eggs
¼ cup shredded cheese
¼ cup grated seasoned Parmesan
Sea salt and cracked black pepper, to taste
Directions: Preheat broiler. Slice avocados open, leaving in shell, remove pit, and make slices/scores all over the avocado so it cooks evenly. Scoop out some of the flesh. Crack an egg into each avocado half, letting excess egg white run off.
Season with salt and pepper, then add grated seasoned Parmesan, and a sprinkle of shredded cheese. Place on a baking sheet. Place in the broiler and cook until the top is golden.