Hearty and Protein-Packed Quinoa Breakfast Recipes
Oatmeal is a fibrous and filling way to start your morning, but it can get monotonous to consume the spongy quick oats day after day. Fortunately, there are a number of alternatives to oatmeal that are just as good for you and will similarly satiate you. Quinoa, in particular, is a popular choice. The morning meals on this list are packed with fiber, flavor, and nutrients. They'll give you reason enough to get out of bed in the morning.
1. Spiced Breakfast Quinoa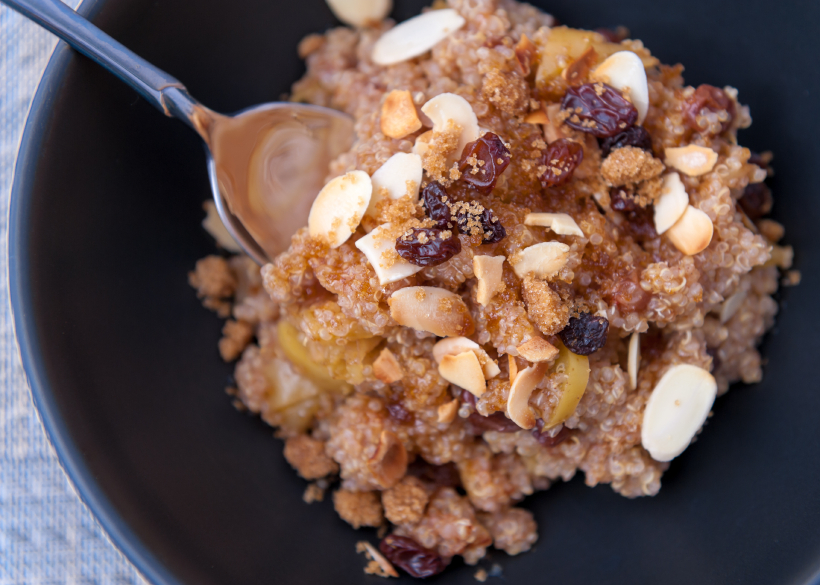 First up is a breakfast from Eating Well that is infused with chai-inspired spices to warm you from head to toe. Spiced Breakfast Quinoa is a creamy, hot breakfast alternative to oatmeal as it is made with both water and milk, along with a blend of spices. One large egg white is also enlisted in the morning meal to give it even more staying power and volume.
Ingredients:
½ cup quinoa
1 cup low-fat milk
1 cup water
½ teaspoon ground cinnamon
⅛ teaspoon ground nutmeg
⅛ teaspoon ground ginger
Pinch of salt
2 tablespoons honey
½ teaspoon vanilla extract
1 large egg white
2 tablespoons currants or raisins
See recipe directions at Eating Well. 
2. Cinnamon Quinoa Breakfast Bowl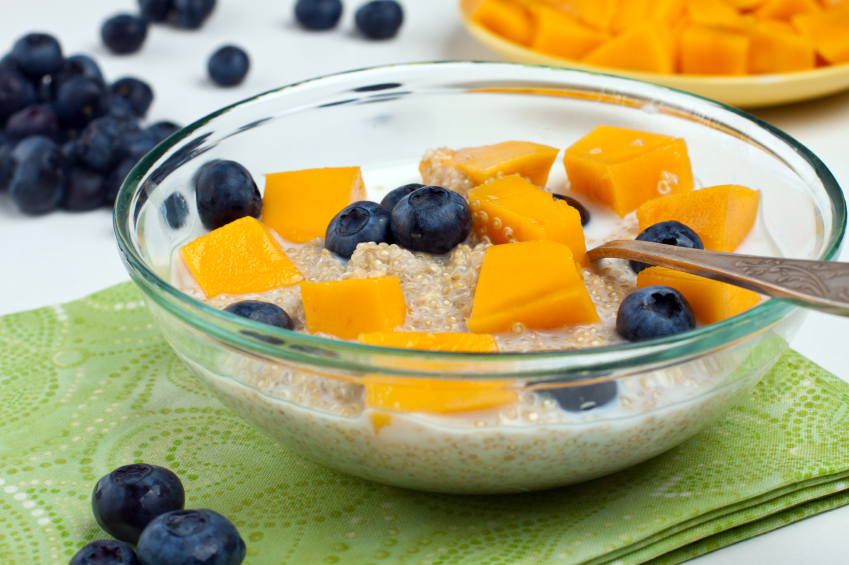 Here's a Quinoa Breakfast Bowl from Love & Lemons. This recipe uses almond milk rather than dairy, and you don't need to worry about any dietary restrictions because quinoa is naturally gluten-free. The core of the Quinoa Breakfast Bowl requires just five ingredients, but your topping choices are endless. This morning meal can come together in 25 minutes or less, and the quinoa can be cooked ahead of time.
Ingredients:
½ cup uncooked quinoa
1 cup almond milk
1-2 cinnamon sticks
pinch of salt
piece of a vanilla bean, optional
See recipe directions at Love & Lemons. 
3. Quinoa Pancakes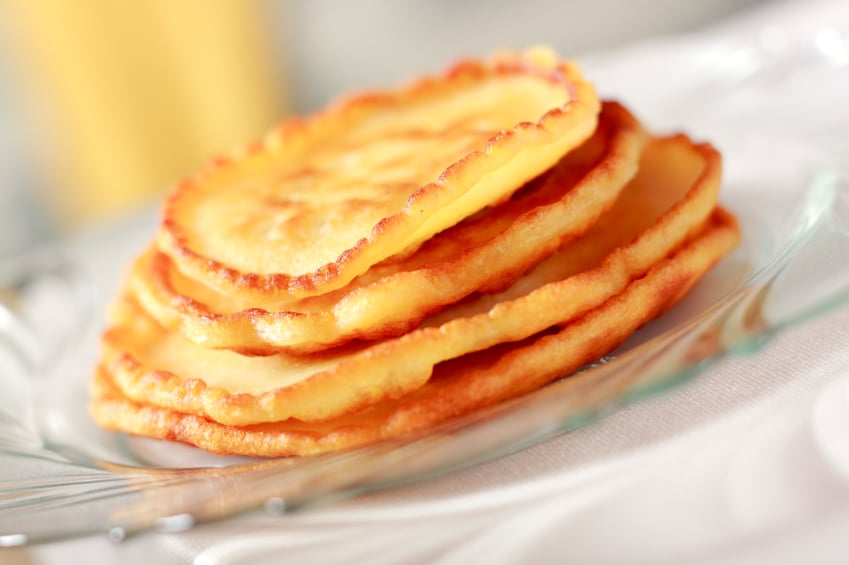 If you'd rather have hotcakes for breakfast, this pancake recipe from Kim's Cravings is for you. Whether you have leftover quinoa already prepared or you whip up some in the morning, these pancakes can be made in a flash, and better yet, they're good for you. This recipe, which yields enough pancakes for one person, will take you 15 minutes to get the hotcakes on the table, and then it's time to indulge in your healthy morning treat.
Ingredients:
¾ cup cooked quinoa
¼ teaspoon baking powder
¼ teaspoon cinnamon
pinch of sea salt
1 packet stevia
¼ teaspoon vanilla
2 eggs
See recipe directions at Kim's Cravings. 
4. Honey Almond Quinoa Granola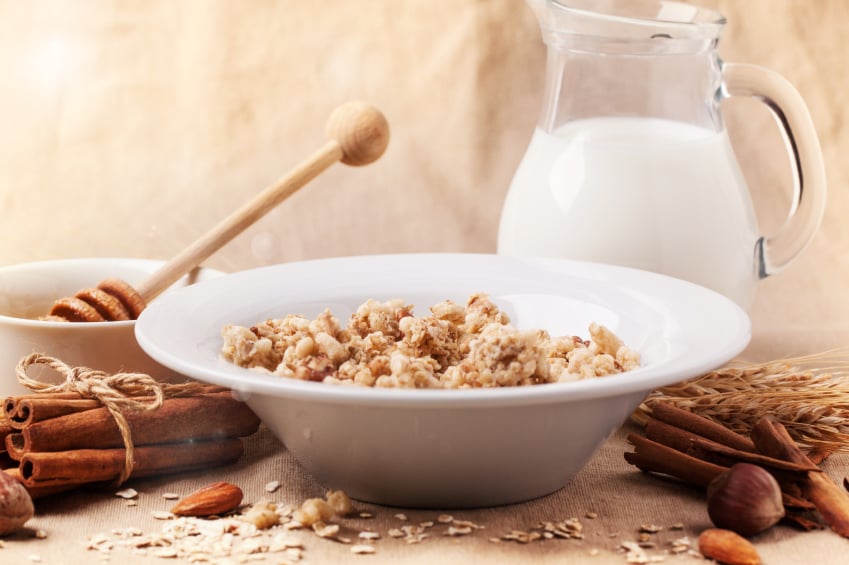 Our No. 4 spot is a recipe for granola that stars quinoa, the complete protein full of fiber, iron, and magnesium. This Honey Almond Quinoa Granola from Kitchen Treaty can elevate the taste and nutrition profile of any typical breakfast, including yogurt, oats, a smoothie, or plain cereal. Top your morning meal with this hearty granola and don't expect to be hungry again until lunch.
Ingredients:
¾ cup honey
½ cup solid coconut oil
1 teaspoon ground cinnamon
Pinch salt
1 teaspoon pure vanilla extract
3 cups rolled oats
½ cup raw quinoa, rinsed well in cold water
2 cups roughly chopped raw almonds
½ cup sweetened flaked coconut
1 egg white, beaten
1-2 cups dried fruits such as chopped dried cherries, raisins, or dried blueberries
See recipe directions at Kitchen Treaty. 
5. Chia, Quinoa, & Banana Breakfast Bars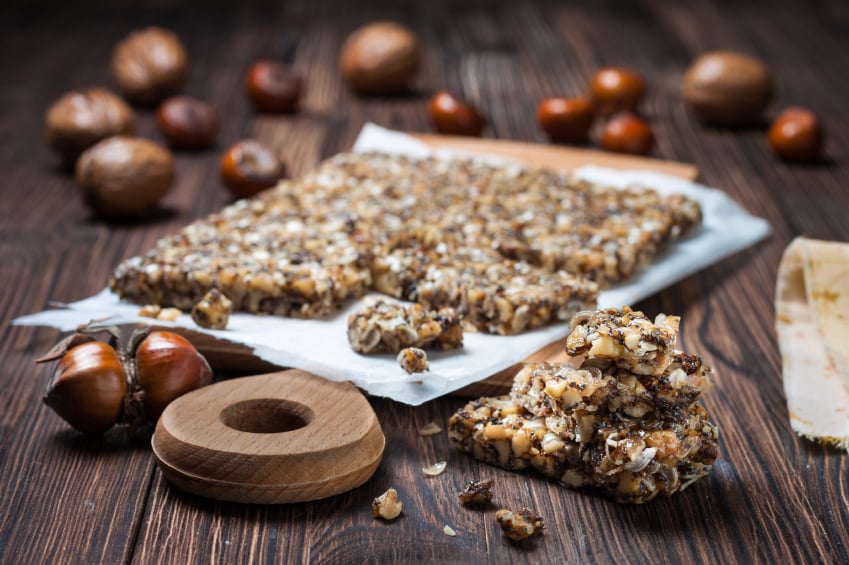 For a portable breakfast, prepare a batch of these bars from Ambitious Kitchen. The gluten-free treats are a nutrition powerhouse and full of fiber, potassium, omega-3s, and various micronutrients thanks to the stacked ingredients list. Store-bought bars have nothing on this breakfast. Make them on a Sunday and enjoy the healthy, hearty bars all week.
Ingredients:
1 cup gluten free rolled oats
½ cup uncooked pre-rinsed quinoa
2 tablespoons chia seeds
¼ teaspoon salt
1 teaspoon cinnamon
2 ripe bananas, mashed
½ teaspoon vanilla extract
¼ cup roughly chopped almonds
¼ cup chopped pecans
⅓ cup dried fruit (raisins or cranberries work well)
¼ cup natural creamy almond butter
2 tablespoons honey or pure maple syrup
See recipe directions at Ambitious Kitchen. 
6. Southwest Quinoa Breakfast Bowl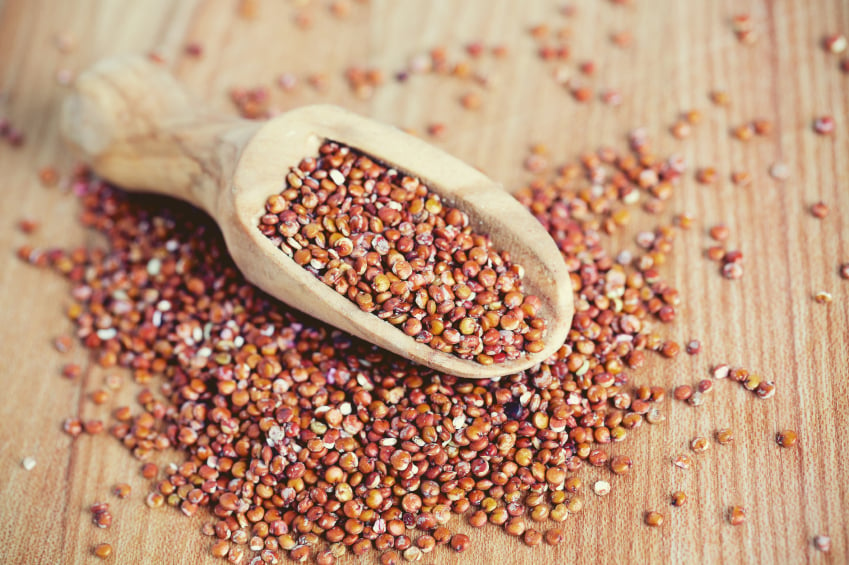 This recipe from The Kitchn yields the perfect breakfast for those who prefer their morning meals savory instead of sweet. Get your veggies first thing in the morning via this breakfast bowl involving quinoa, black beans, tomatoes, corn, cilantro, and eggs. If you prepare your quinoa ahead of time and store it in the fridge, this seemingly sophisticated breakfast takes only minutes to make. Top the breakfast bowl with a soft-boiled egg and kick off your morning the right way.
Ingredients:
Dressing:
¼ cup lemon juice
1 small shallot, finely minced
¼ cup extra virgin olive oil
1 teaspoon honey
¼ teaspoon kosher salt
Freshly ground black pepper, to taste
Quinoa bowls:
1 tablespoon extra virgin olive oil
¾ cup red quinoa
1 small white onion, diced
2 garlic cloves, minced
1 teaspoon ground cumin
1 teaspoon ground coriander
½ teaspoon paprika
½ teaspoon kosher salt
¾ cup drained and rinsed canned black beans
¾ cup halved grape or cherry tomatoes
¾ cup frozen corn, thawed
2 tablespoons fresh cilantro leaves, roughly chopped, plus more to top
1 medium ripe avocado, sliced, for garnish
4 to 6 large eggs, to top (optional)
See recipe directions at The Kitchn. 
7. Coconut Milk Breakfast Quinoa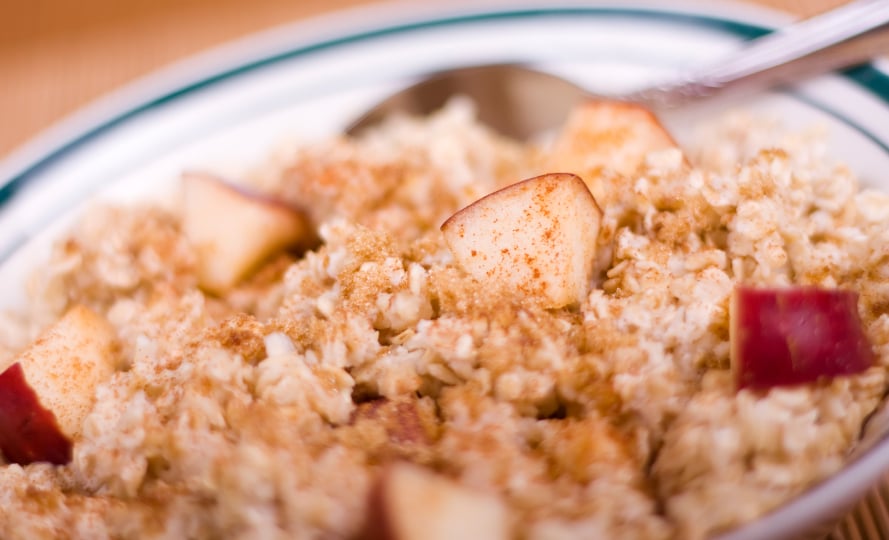 Our last recipe comes from How Sweet Eats, and it yields a satiating and soul-warming breakfast with a coconut kick. This breakfast bowl takes your quinoa up a notch with the addition of canned coconut milk, cinnamon, and vanilla extract. The easy morning meal feels fancy in the best way possible, yet it couldn't be easier to make. Top the quinoa with your garnishes of choice and bid farewell to boring breakfasts.
Ingredients:
½ cup dry quinoa, rinsed
¾ cup canned light coconut milk, plus more for drizzling
2 teaspoons vanilla extract
½ teaspoon cinnamon, plus more for sprinkling
pinch of salt
1 banana, chopped
⅓ cup toasted pecans, chopped
See recipe directions at How Sweet Eats. 
More from Culture Cheat Sheet: