Here's How Joanna Gaines Celebrated Her 40th Birthday on Instagram
Joanna Gaines has a lot going on these days. She recently launched a cookbook, Magnolia Table, and has a fifth baby on the way. The Fixer Upper star also turned 40 on April 19, 2018, which is a big milestone in everyone's life. Here's how Joanna Gaines celebrated her special birthday on Instagram and Twitter. Make sure you don't miss where she had a party on page 5 and what Chip gave her on page 7.
1. Her Instagram post
On April 19, 2018, Joanna Gaines took to Instagram to post a pic in honor of her birthday. And fans also got to peek at her growing baby bump. She posted this lovely photo with the caption, "This is 40. And I like it…" She added the hashtags "#pregnantandforty and #anddoughnuts." Gaines is the host of HGTV's Behind the Design and she has been pretty private about her pregnancy, so it's nice that she chose to celebrate her birthday milestone with a photo that includes her bump.
Next: Family first
2. Another one of her Instagram posts
Gaines also posted a pic of her with her family on Instagram to celebrate her birthday. The group is standing under a sign that reads "family," and they all look very friendly. In the photo, Joanna is with her mom and her two sisters.
Next: Magnolia Market chimed in.
3. Magnolia Market's Instagram post
Magnolia Market, Chip and Joanna Gaines's company, posted wonderful wishes for Joanna — and a great photo of her — on Instagram. The company wrote, "Happy, happy 40th birthday, @joannagaines! We are inspired daily by your creativity, leadership, and drive—we are lucky to have you at the helm! Be sure to head over to her account today to wish her a very happy birthday."
The company also celebrated Gaines's birthday with a discount for shoppers. It offered 20 percent off 40 different items at the store. Shoppers used the promo code "FORTY."
Next: Today had something to say.
4. Today's tweet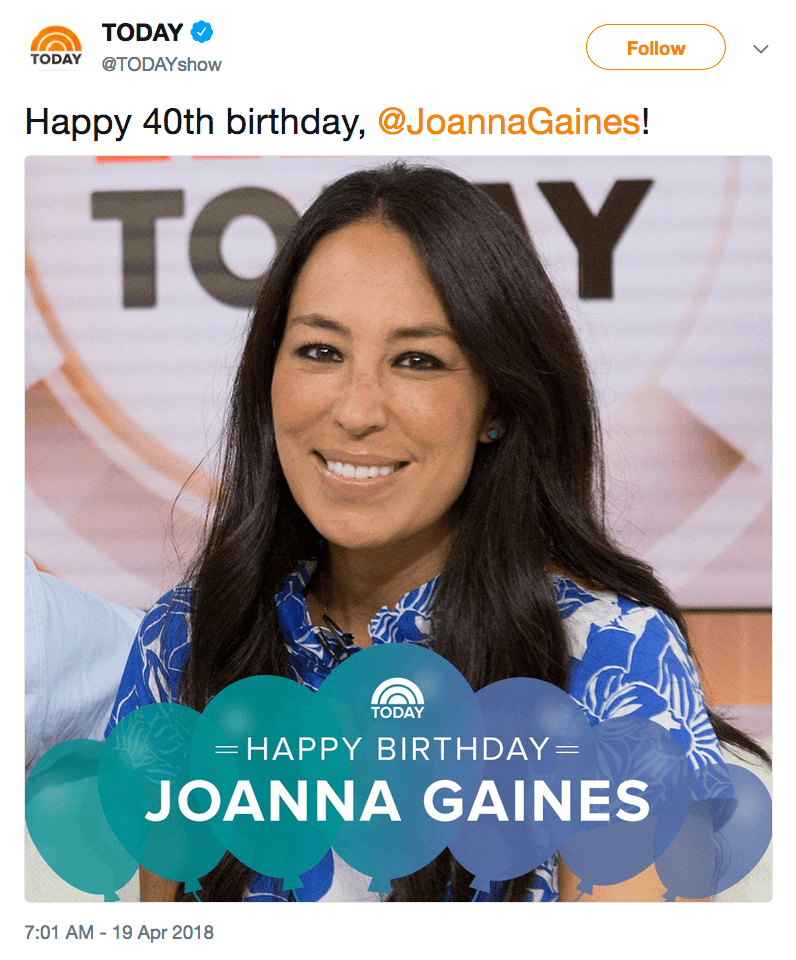 The talk show Today used Twitter to wish Gaines a happy birthday. The show's wish was simple — it posted "Happy Birthday Joanna Gaines" with a pretty picture of the birthday gal.
Next: The big surprise
5. Gaines' surprise party
Friends threw Gaines a surprise party. At Magnolia Table, of course. Yummy food choices included Magnolia Table favorites, such as the Pancake Breakfast, which includes buttermilk pancakes, bacon, tater tots, and eggs, and the Gaines Brother Burger, which is served with bacon onion jam. It's safe to say no one went hungry at Joanna Gaines's birthday party.
Next: More about the party
6. The party decorations
It's only fitting that a party for Joanna Gaines should have some special design touches. Each pace setting featured two pink macaroons guests could take home — assuming they didn't gobble them up there. Three naked layer cakes also sat on Fixer Upper-approved cake stands, so there was no shortage of dessert at the party.
Next: Chip weighs in.
7. Chip's unusual gift
Chip Gaines wished his wife a happy birthday on Twitter and pledged to donate a dollar to St. Jude Children's Research Hospital for every new Twitter follow his wife gets.
"This is sooo superficial & DUMB, but.. I'd really like to see @joannagaines hit 1M followers on her bday. Kindof a #Twitterverse gift to her..", tweeted Chip. "One more thing, for every new follower she gets today. I'll donate 1$ to @StJude," he continued. "GO!"
Next: Chip's gift paid off.
8. Looks like Chip's birthday idea for Joanna was a good one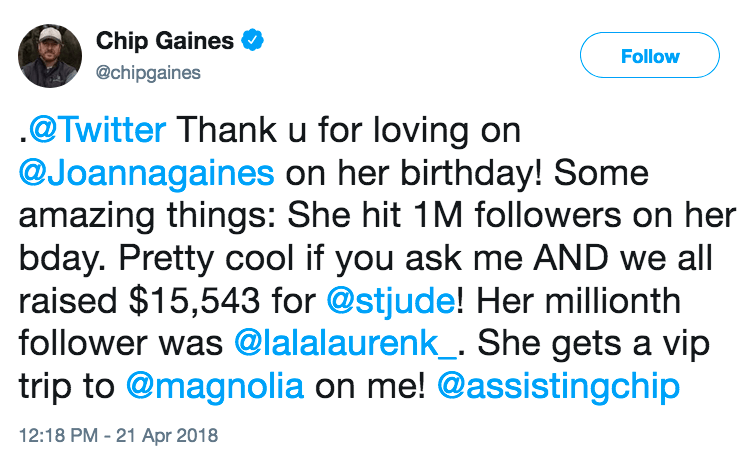 On April 21, Chip Gaines took to Twitter again to let fans know that Joanna made it to 1 million followers on the social media platform. "Thank u for loving on @Joannagaines on her birthday! Some amazing things: She hit 1M followers on her bday. Pretty cool if you ask me AND we all raised $15,543 for @stjude! Her millionth follower was @lalalaurenk_. She gets a vip trip to @magnolia on me!," he tweeted.
Next: Another Chip tweet for Joanna
9. Chip wishes Joanna a happy birthday
Besides the gift Chip Gaines gave his wife, he offered her some heartfelt birthday wishes on Twitter, too. Early on the morning of her special day, he tweeted, "Happy birthday sweet girl," with the hashtag "#40neverLookedSoGood." Many, many fans echoed his sentiment.
Read more: Joanna Gaines Says This Is the Real Reason She Was Bullied in School
Check out The Cheat Sheet on Facebook!