Here's What Employees Say You Should Buy at Trader Joe's
The easiest way to figure out what you should buy in any store is simple: Ask the employees. No matter where you're shopping, employees are the people who have the scoop on just about every product. They see the products that keep selling out because they're awesome, and they also see the duds put on clearance because no one wants them. Plus, since employees are constantly sampling the merchandise, they even get the inside track on secretly amazing products that even the customers haven't discovered yet!
Employees at Trader Joe's are no different. And it doesn't hurt that the store is one of the most beloved grocery stores in America and that the employees are some of the nicest you'll encounter.
With their Hawaiian shirts and friendly smiles, it's easy to see why Trader Joe's employees were so eager to share their favorite buys in the store.
1. Uncured Bacon Jam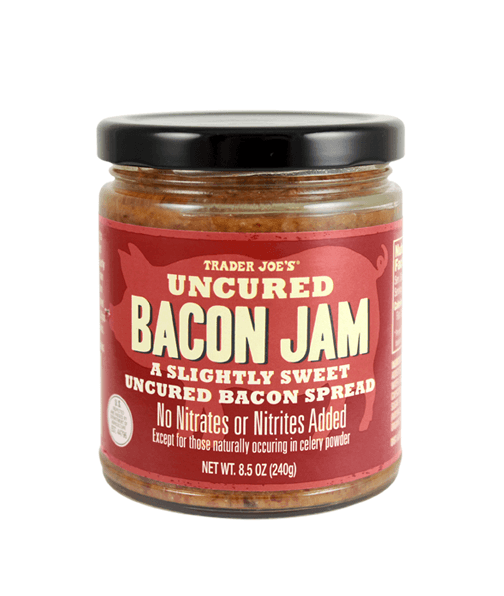 Tracy from Southern California swears by this curious treat. Rather than wonder what you can pair with bacon jam, start to think of all the possibilities for what you can eat it with instead . Peanut butter and bacon jam sandwiches? Um … YES, PLEASE.
Next: This item is one of the store's all-time best sellers.

2. Mandarin Orange Chicken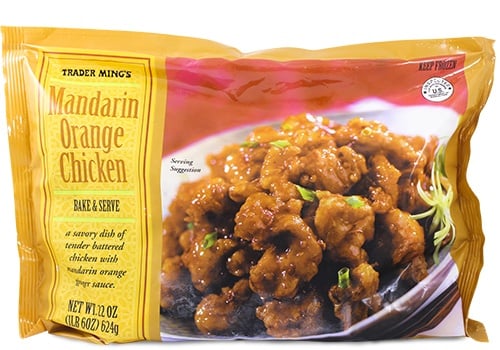 Why order Chinese takeout, which is pricey and loaded with MSG, when you can make your own at home? This Mandarin Orange Chicken from the freezer section is simple to make in the oven, and it also happens to be one of the best selling items in the grocery store.
Hurry to your local TJ's and stock up before it sells out (again). Employees and customers just can't get enough.
Next: This sweet spread is another award-winning purchase.

3. Speculoos Cookie Butter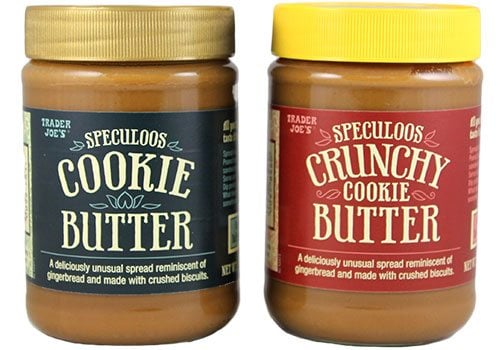 Go no further than Instagram and you'll see that this sweet spread is both a customer and employee favorite. Spread it on apples or crackers, use it as a dip for pretzels, or just skip the pretense and attack the jar with a giant spoon. You know you want to.
Next: A better alternative to rice? Employees say yes.

4. Frozen Organic Riced Cauliflower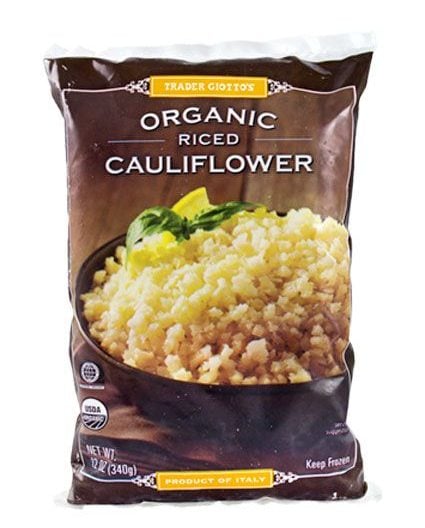 Big rice executives better watch out because cauliflower is about to take over the market. Health-conscious, calorie counting shoppers have slowly started to figure out that riced cauliflower tastes a lot like rice yet has close to zero calories and won't cause their blood sugar to spike. Of course, you can make his healthy swap at home with a food processor. But it's a lot easier to buy the bagged version from Trader Joe's.
Mark from Southern California recommends sautéing it with garlic, olive oil, soy sauce, and a little Sriracha for a tasty treat.
Next: Take this convenient beverage on the go.

5. Cold Brew Coffee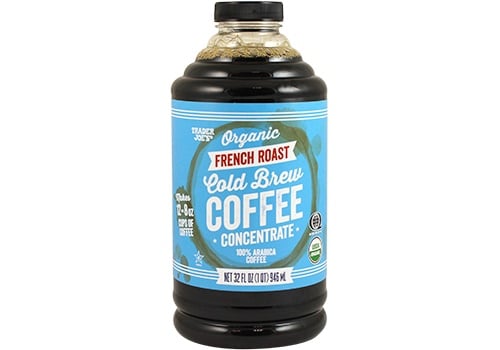 It doesn't get much easier than popping a can of cold brew coffee. And stocking up at Trader Joe's is much more economical than hitting the Starbucks drive thru every day. One cashier in New York City recommends bringing them on trips, especially the French Vanilla flavor.
Next: The name turns off most customers, but one employee claims that's a big mistake.

6. Five Seed Bars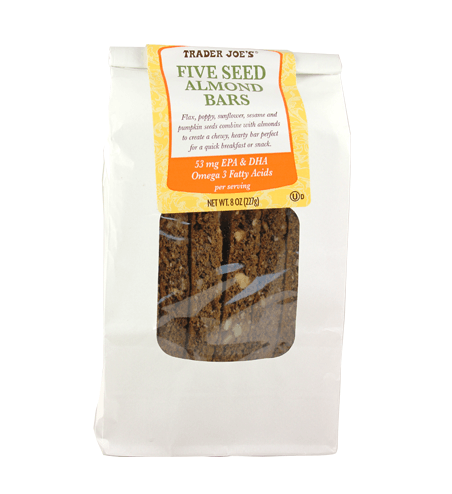 One employee thinks customers shy away from these cereal aisle snacks because they sound like glorified bird food. But that's simply not the case. He compares the taste to Nature Valley bars but fresher, and he swears that store employees can't get enough.
Next: A breakfast treat that's healthy and delicious.

7. Just the Clusters Vanilla Almond Granola Cereal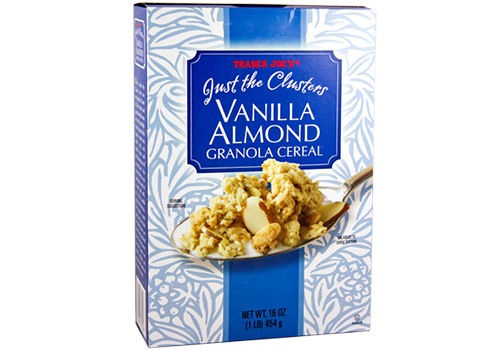 Two Chelsea employees recommend this delicious breakfast treat, which they say tastes best with almond milk instead of traditional dairy. This cereal is also popular to mix with plain or vanilla yogurt for a satisfying crunch.
Next: A name brand knock-off that tastes just as good — if not better — than the original.

8. Scandinavian Swimmers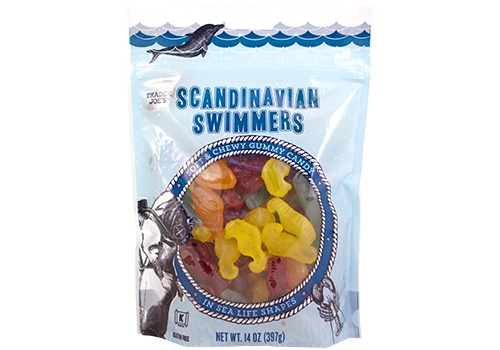 Cheaper than name brand Swedish fish but just as delicious, these gummy snacks are an employee favorite. One TJ worker admits that the crew opens up a bag every shift.
Next: Get a taste of the tropics without leaving home when you sample this employee favorite.

9. Island Salsa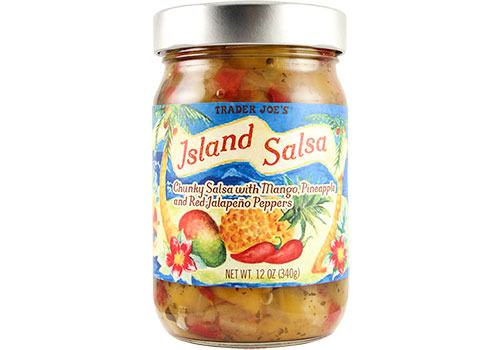 It's like a tropical vacation in a jar! This colorful salsa includes chunks of mango, pineapple, and red jalapeno peppers for a little kick. Alex in Philadelphia mixes it with the Steamed Quinoa and a can of black beans. Thens he portions the mixture out for quick, healthy lunches all week.
Next: Make meal prep easier with these convenient buys.

10. Simmer Sauces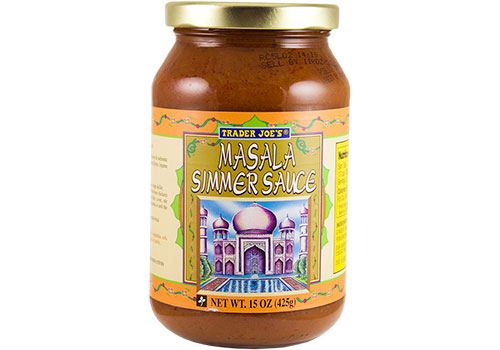 Ever stare at a raw chicken breast and wonder what the heck to do with it? These simmer sauces are the answer. Simply combine them with your protein and add a vegetable for a taste that Danielle in Pittsburgh claims is better than takeout.
Next: Healthy, quick, and easy — this employee favorite will save time.

11. Steamed Lentils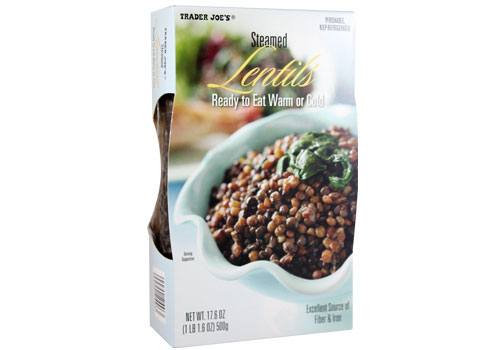 Heat and eat options are so much more convenient for busy people, but a lot of them aren't necessarily good for you. This quick yet healthful find from Trader Joe's is an exception to that rule. Serve these lentils hot or cold, and enjoy them straight from the package.
Next: Vegetarian or not, this entree is seriously tasty.

12. Vegetable Masala Burger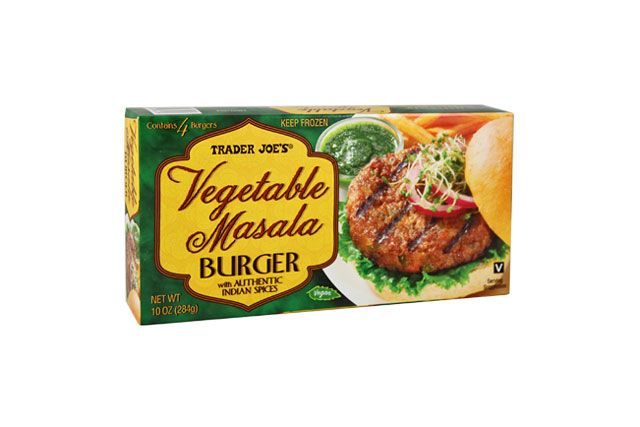 Meatless burgers are truly hit or miss when it comes to taste, but Michelle in Houston swears by the Vegetable Masala Burger and the Quinoa Cowboy Veggie Burger. Whether you're a strict vegetarian or you're just looking to participate in a few meat-free days for better health, these options will make it so you don't even miss the real thing.
Next: Microwaveable lunch options never tasted so good.

13. Super Burrito!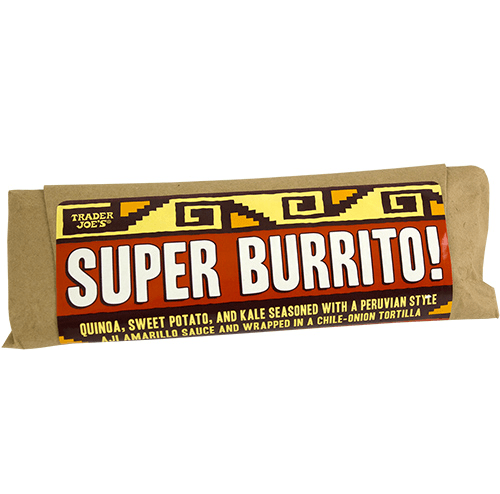 Will from New York City lost a few pounds by reaching for these tasty burritos at lunch time. A far cry from Taco Bell, these vegan burritos are stuffed with good-for-you ingredients like quinoa, sweet potato, kale, and a Peruvian style sauce. They're convenient, they taste delicious, and they're good for you. What could be better?
Next: You can get a little fancy without spending a fortune.

14. Lemon Curd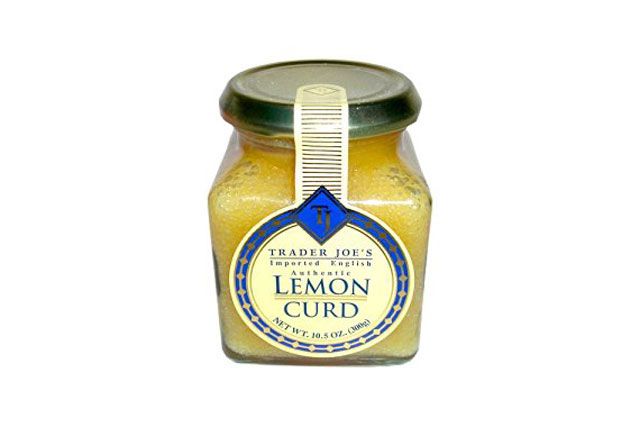 It sounds slightly weird (maybe because it rhymes with turd?), but this spread makes an easy and elegant topping for crackers and pretzels, according to Jaime in New York City. She recommends mixing it with mascarpone to really bring out the flavor.
Next: Dinner party? You'll want to have plenty of this like-homemade spread in your kitchen.

15. Salmon Duet Cream Cheese Spread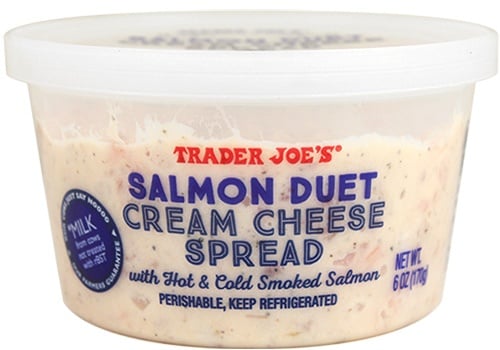 Scoop this out of the container, heat it up, and pretend you made it yourself — your dinner guests will never know the difference. This tasty dip goes perfectly with bread or crackers because it's fancy without being fussy. Brett from New York City pairs it with capers and water crackers for snack time or dinner.
Next: Skip the restaurant scene and prepare this Italian classic at home.

16. Gnocchi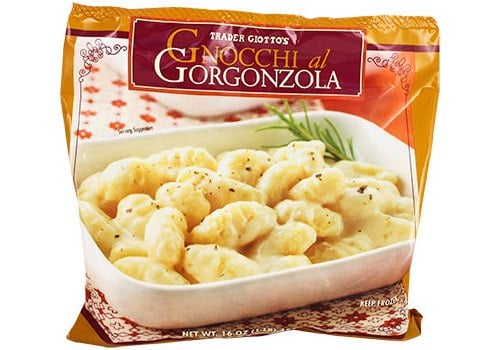 Shawna from St. Louis swears by this freezer aisle find, which she claims isn't available anywhere besides Trader Joe's. Make Italian night a little easier on your yourself … because who has time to make gnocchi from scratch?
The sweet potato gnocchi with butter and sage also gets rave reviews.
Next: A bagged salad that you'll actually want to eat.

17. Cruciferous Crunch Collection
Not all bagged salad tastes the same: This combo of kale, shaved Brussels sprouts, and green and red cabbage is better than most. Rosa in Westchester recommends serving it as a regular salad with a bit of lemon and sea salt or using it to top your pulled chicken BBQ sandwich.
Next: A German delicacy to put on your sausage sandwich

18. Sauerkraut with Pickled Persian Cucumbers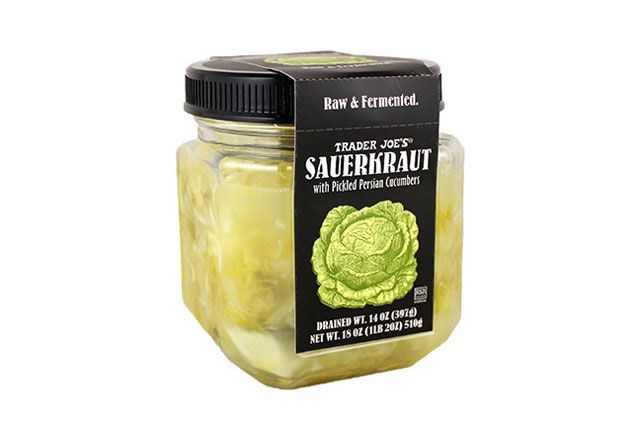 This is the perfect accompaniment for your hot dog or sausage sandwich, according to Dwayne in Westchester. This raw and fermented find can also be used to add tons of flavor when you're prepping a pork shoulder in your slow cooker.
Next: It's better than takeout — and cheaper, too.

19. Chicken Tikka Masala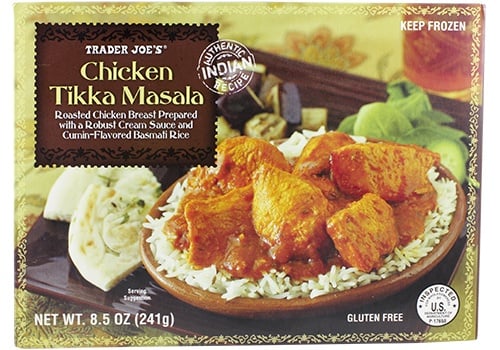 Searching for food that tastes like takeout but costs way less? Look no further than the frozen Indian food selection at TJ's. Rich in New York City loves these frozen meals, which are quick and easy to make.
Next: Make a picnic lunch without ever leaving your living room.

20. Wine Country Chicken Salad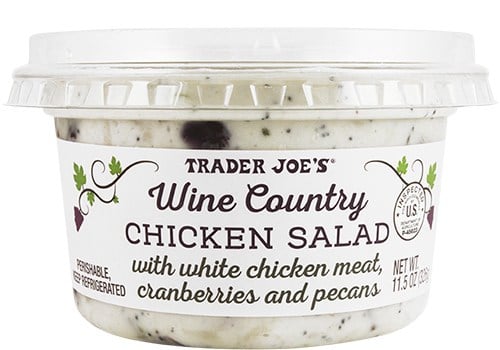 One New York employee recommends this rich, slightly sweet spread as a regular indulgence. The mix of white meat chicken, cranberries and pecans goes perfectly with some crackers (and a bottle of Two Buck Chuck, of course).
Check out The Cheat Sheet on Facebook!