Here's Where Things Stand on Ohio's Marijuana Legalization Effort
Hot on the heels of a fresh Gallup poll, revealing that a striking 58% of Americans now support marijuana legalization, we're rapidly approaching the next big vote on cannabis decriminalization in the United States. A quick look at Gallup's chart shows just how rapidly the tide has been changing: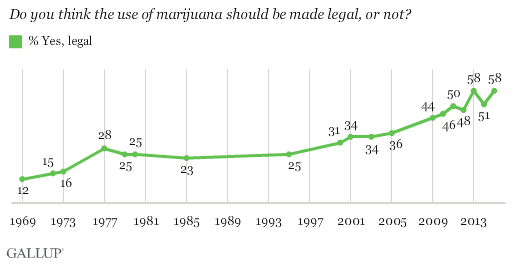 "The higher level of support comes as many states and localities are changing, or considering changing, their laws on marijuana," a Gallup briefing reads. "So far, four states and the District of Columbia have made recreational use of marijuana legal, and Ohio voters are set to decide a ballot initiative that would do the same this coming Election Day."
Oregon, Washington, and Colorado have their legal markets set and in place, and are reaping the benefits while the rest of the country has been sitting by, curiously watching. But Ohio is the state everyone should be watching very carefully, as the state is set to vote on November 3. And the most recent polls still don't give us a clear indication as to which way voters will swing.
A survey from the University of Akron found that 53% of voters support Issue 3, while 43% plan to vote against it "because it will encourage citizens, including children, to use marijuana and other drugs."
So, with a solid advantage, it looks as though Ohio will become the next state to legalize marijuana. We've previously written about Ohio's proposed law, and expressed concern that it will essentially hand over the entire industry — once it becomes legalized — to a handful of business groups, effectively creating a monopoly. Those worries persist, but it comes down to a question of whether voters are willing to roll with the proposed law, and look at changing it later, or continuing to prohibit cannabis use and possession by consenting adults.
By looking at the Gallup and University of Akron surveys, we can see that nationwide support for legalization is greater than support within Ohio itself. There are many potential reasons for that, including the concerns over the monopoly that could be established by Issue 3. But there are also concerns that establishing a functioning market would be much more difficult than originally thought, should Issue 3 become law.
According to cannabis industry data firm New Frontier, forecasts by ResponsibleOhio — the pro-legalization group in the state — are far too optimistic.
"New Frontier estimates that Issue 3 on the November ballot will likely pass. However, even if Ohio voters choose to legalize cannabis, the state would still face significant hurdles establishing a regulated market," said Giadha De Carcer, Founder and CEO of New Frontier in a press release. "All other states that have legalized adult use to date had previously passed marijuana laws at least 10 years prior to legalization. Ohio's lack of experience will create a steep learning curve for the state."
New Frontier also points out that Issue 2, which voters are also weighing in on, and which "would prohibit constitutional amendments from being used to grant the type of monopoly specifically created in Issue 3 for 10 marijuana producers", presents another tricky situation.
"The conflict between Issue 2 and Issue 3 are just one example of the complicated path to legalization in Ohio," de Carcer added.
"Polls indicate that a majority of voters support both Issue 2 and Issue 3. If both Issues pass, the debate over marijuana legalization could be mired in the courts for month if not years," says John Kagia, New Frontier's Director of Industry Analytics.
Those are some definite worries for Ohio legalization supporters, and with November 3 rapidly approaching, it's hard to tell if that will sway 'yes' voters to swing the other way. As we saw in the University of Akron survey, it seems that a good number of people who plan on voting 'no' plan to do so because of concerns about drug use, and expanded use by teens or kids, rather than the potential legal clash that could delay implementation.
And as for the concerns about teenage use rates going up, we're actually seeing the opposite effect in legal states so far. So, those worries may not add up to much.
As of right now, shortly before voters decide on Ohio's Issue 3, it looks as though Ohio will indeed legalize marijuana. The big questions is what will happen in the aftermath. Will Ohio legalization advocates have to slug it out in courtrooms over the next several years? Or will entrepreneurs be able to enter the market, create jobs, and generate big revenues for the state?
Legalization, at this point, looks like a given. After that? It's anyone's guess.
Follow Sam on Twitter @SliceOfGinger
More from Money & Career Cheat Sheet: