High-Protein Desserts That Won't Ruin Your Diet
Do you want to indulge in nightly desserts but stay trim and fit, too? We have a solution for you: high-protein and healthy desserts. It's the only way to have the best of both worlds, because no one should have to abstain from sweet treats all the time, but you still don't want to negate all of your hard work in the gym. Luckily, there are a number of recipes that aren't as indulgent as ice cream and chocolate cake but will still help you appease your sweet tooth. We're rounding up seven recipes we found around the web that are not only low in calories and fat, but are also high in protein, and dare we say, good for you. Give one of these a try and see if you can get down with the novel concept of healthy dessert.
1. Banana Soft Serve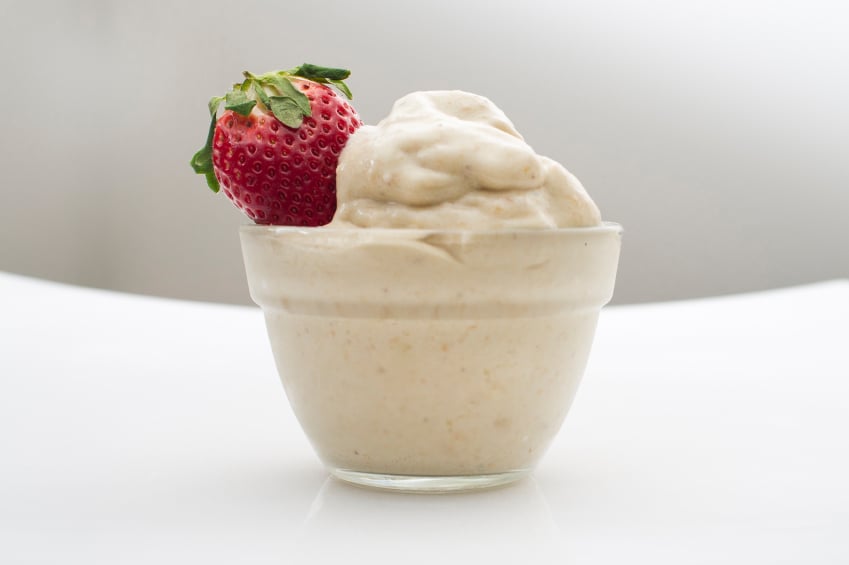 If you want to eat healthy but have your ice cream, too, banana soft serve is the ticket. It requires just one ingredient and that would be bananas. Blend your bananas in a high-speed food processor for three minutes or more, and then prepare yourself for the creamy faux ice cream goodness you're about to enjoy. You can either serve your soft serve on its own, with various toppings, or take a page from Modern Granola's book and cover it with a homemade vanilla sauce.
Ingredients:
Banana Soft Serve
1½ cup frozen sliced bananas
Vanilla Sauce
2 teaspoons maple syrup
⅛ teaspoon vanilla extract
A pinch of cinnamon
A few grains of sea salt
See the recipe directions at Modern Granola. 
2. Chia Protein Pudding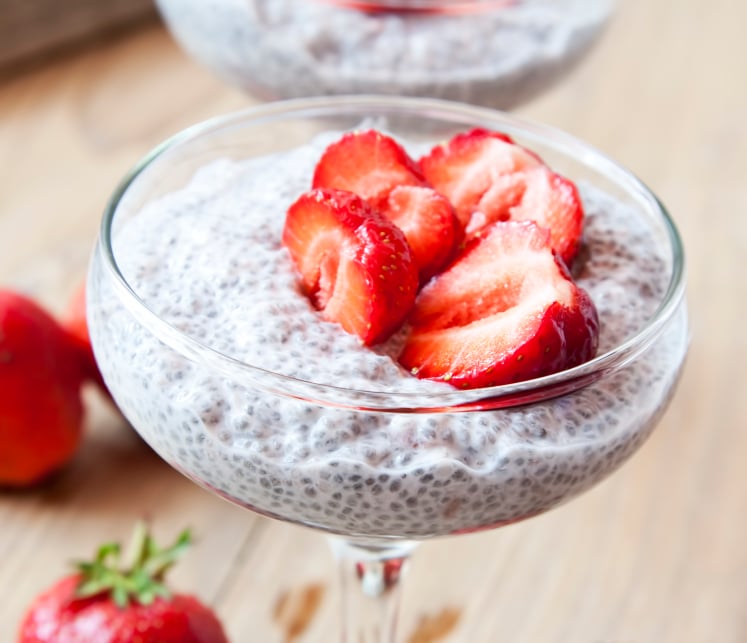 Here's another high-protein dessert you can eat with a spoon. Enter: chia protein pudding from Run Eat Repeat. This recipe requires only four ingredients, and it's gluten-free. Simply blend your banana, protein powder, chia seeds, and milk, and you're good to go. You'll have a high protein sweet treat on your hands in no time, and this is one that definitely doesn't come with a side of guilt.
Ingredients:
1 ripe banana
2 tablespoons chia seeds
2 tablespoons protein powder
¾ cup almond milk
See the recipe directions at Run Eat Repeat. 
3. Chocolate Chip Cookie Dough Protein Bites
Next up are cookie dough bite look-alikes that you can eat without fear of salmonella. This recipe comes from Boys Ahoy, and it yields dough balls that are made from nuts, oats, and protein powder. It's up to you whether you use almonds or cashews in your cookie dough protein bites – just don't forget the chocolate chips. Now you can get your cookie dough (and protein) fix without derailing your diet.
Ingredients:
⅔ cup raw cashews or almonds
⅓ cup oats
1 scoop vanilla protein powder
1 tablespoon maple syrup or agave nectar
1 teaspoon vanilla extract
¼ cup milk chocolate chips
See the recipe directions at Boys Ahoy. 
4. Almond Fudge Protein Bars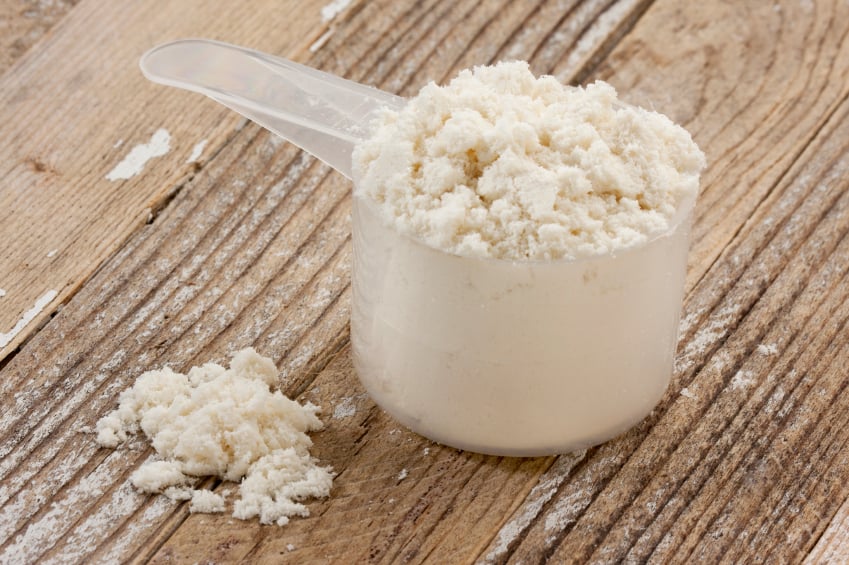 Or, you can serve up your protein in the form of fudge. Try these no-bake almond fudge protein bars from Running With Spoons and prepare for your mind to be blown. Most fudge is full of butter, condensed milk, and additives, but this treat is made only with wholesome ingredients like oats, rice cereal, almond butter, and honey. Add in ⅓ cup of protein powder for a little kick of power. This recipe yields 12 bars.
Ingredients:
1 cup oats, ground into a flour
½ cup quick oats
⅓ cup vanilla protein powder
½ cup crispy rice cereal
½ cup almond butter (or peanut butter)
⅓ cup honey
1 teaspoon. vanilla extract
Optional: 2 to 3 tablespoons chocolate chips for melting
See the recipe directions at Running With Spoons. 
5. High Protein Oatmeal Cookies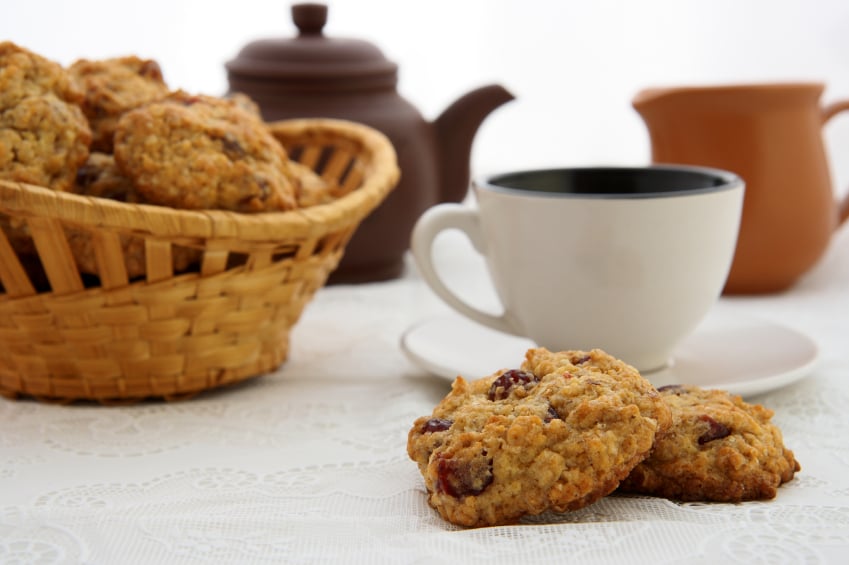 Care for a cookie? Fix your craving with one of these high protein oatmeal cookies from The Healthy Foodie. They're the best of both worlds – you can have your cookie and stick to your nutrition goals, too. These cookies come with a side of protein thanks to the three scoops of protein powder on their ingredients list, and they're also made with oats, whole-wheat flour, and applesauce, making them delicious and nutritious. Enjoy your oatmeal cookies with raisins, cranberries, chocolate chips, or nuts, and enjoy the sweet treat that yields about 140 calories.
Ingredients:
1 cup whole-wheat flour
2 cups old-fashioned rolled oats
3 scoops vanilla protein powder
¾ teaspoon baking soda
¾ teaspoon baking powder
½ teaspoon salt
1 tablespoon cinnamon
½ teaspoon nutmeg
1 cup unsweetened apple sauce
¾ cup egg whites
1 teaspoon pure vanilla extract
½ cup raisins
½ cup dried cranberries
½ cup chopped walnuts
See the recipe directions at The Healthy Foodie. 
6. Black Bean Chocolate Protein Truffles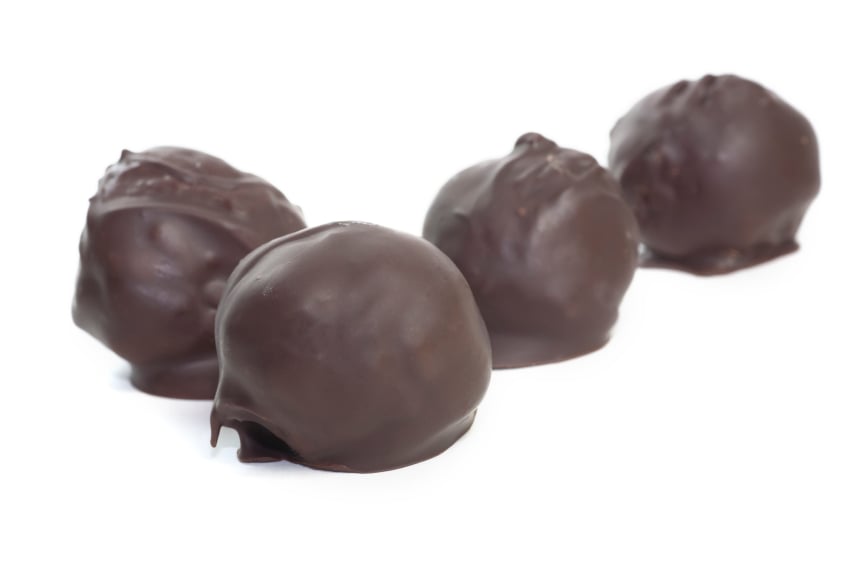 Our next dessert from Ambitious Kitchen is one whose ingredients list you should keep to yourself. It contains one secret ingredient, black beans, but we promise you can't even taste them. The black beans will get blended with coconut oil, maple syrup, cocoa powder, and protein powder to yield delicious chocolate-covered truffles, and after they harden in the fridge for one half hour, you'll only be able to taste the fudge. Don't knock these truffles before you try them, because we're warning you, they taste a little too good for comfort.
Ingredients:
1 (15-ounce) can low-sodium or no salt added organic black beans, rinsed and drained, and patted dry
1 scoop chocolate protein powder of choice
1½ tablespoons coconut oil, plus 1 teaspoon for chocolate coating
2 tablespoons pure maple syrup
5 tablespoons good-quality unsweetened cocoa powder
3.5 ounces good quality chocolate, chopped
Toppings, if desired: sprinkles, flaked coconut, and/or chopped nuts
See the recipe directions at Ambitious Kitchen. 
7. High Protein Cinnamon Cake Bars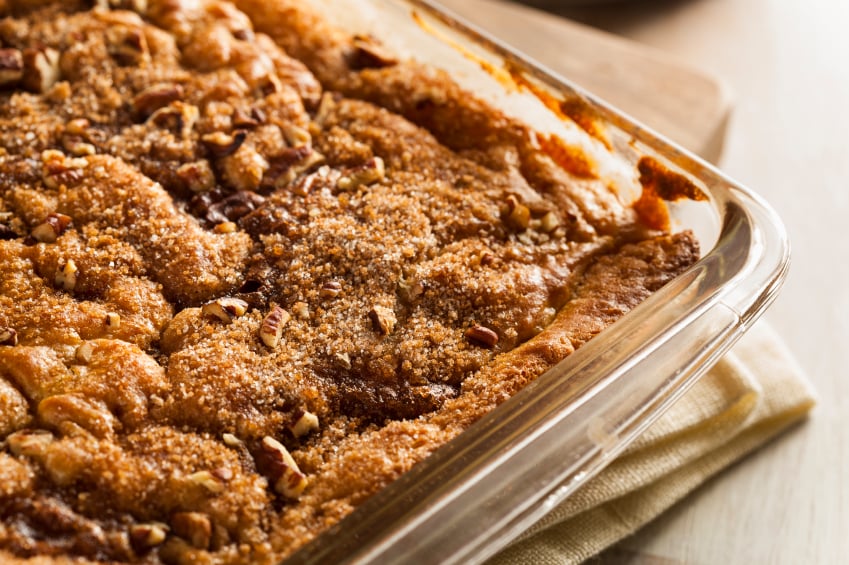 Last but not least: high protein cinnamon cake bars from Running to the Kitchen. Rest assured you might just be running to the kitchen to make more of these. The cake bars are reminiscent of coffee cake and they take only 35 minutes to make. Their ingredients list is clean, starring oat flour, buckwheat flour, Greek yogurt, and applesauce, and they are even made with no oil or butter. Healthy baking just got a little more fun, as did getting in your daily protein.
Ingredients:
1 cup oat flour
½ cup buckwheat flour
2 scoops vanilla whey protein powder
1 tablespoon baking powder
½ teaspoon salt
¼ cup turbinado sugar
½ teaspoon cinnamon
1 egg
1 cup almond milk
⅓ cup unsweetened applesauce
¼ cup plain greek yogurt
½ teaspoon vanilla extract
2 tablespoons sugar plus 1 teaspoon cinnamon, set aside
See the recipe directions at Running to the Kitchen. 
More from Culture Cheat Sheet: