8 Holiday Pretzel Recipes That Parents Can Make With Kids
Infuse some crisp, crunchy fun into parent-child cooking time with these playful and tasty pretzel recipes that kids, and kids at heart, will devour and adore. We tapped Pretzel masterminds at Snack Factory Pretzel Crisps for sweet and salty (and yes, there will be chocolate!) recipes that create easy-to-make edible treats (that also work great as handmade gifts). Be prepared to get your crunch on.
1. Chocolate peanut butter pretzel crisps bites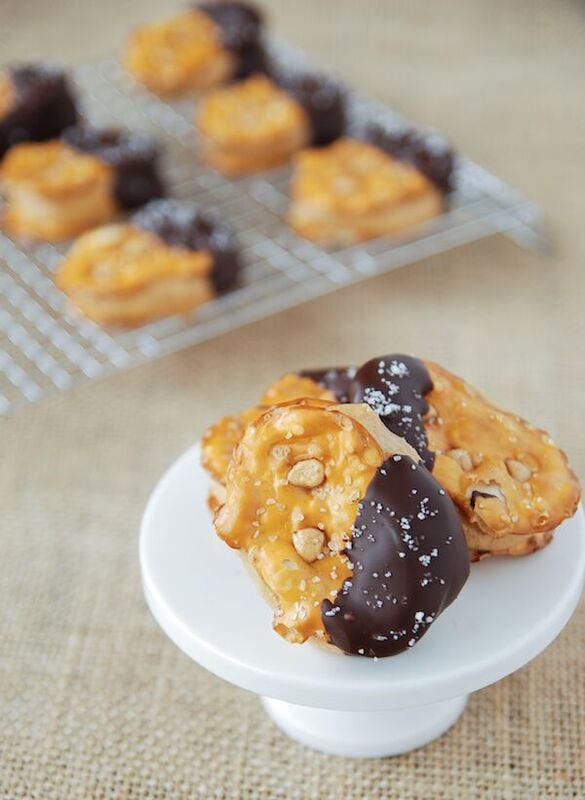 Recipe Courtesy of Jessica Segarra, TheNoviceChefBlog.com
Ingredients:
48 original pretzel crisps

1 cup creamy peanut butter

2 tablespoons butter, softened

1/2 cup brown sugar

1 1/2 cups powdered sugar

10 ounce semi-sweet chocolate, chopped

Fluer de Sal, to taste
Directions: In a stand mixer, combine peanut butter, butter, brown sugar, and powdered sugar till well combined. Roll peanut butter mixture in 1 inch balls and smash in-between two pretzels. In a medium bowl, microwave semi-sweet chocolate in 15 second increments, until melted.
Line countertops with wax paper and dip half of pretzel sandwiches in melted chocolate and set on wax paper. Sprinkle with fluer de sal and let chocolate harden. Serve immediately or store in an airtight container for up to 3 days.
2. Chocolate peanut butter pretzel crisps fudge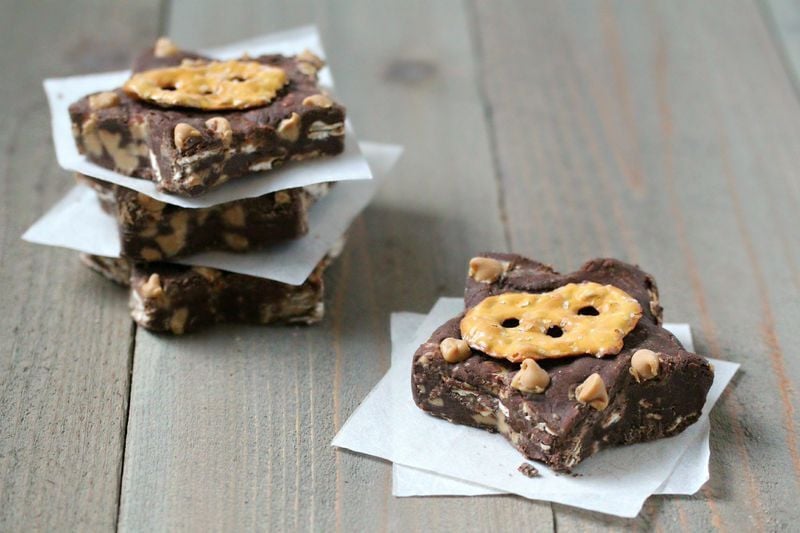 Recipe Courtesy of Nikki Dinki
Ingredients:
2 1/2 cups original Pretzel Crisps, broken into pieces

6-8 original pretzel crisps, whole to top

1 (14 Ounce) can sweetened condensed milk

1 (12 Ounce) bag semi-sweet chocolate chips

1 teaspoon vanilla

1 (10 Ounce) bag peanut butter chips (reserve 2tbs for top)

1/2 teaspoon salt
Directions: Combine sweetened condensed milk and chocolate chips in a pan over medium low heat and stir until chips are completely melted. Add vanilla and stir to combine. Let cool slightly then add Pretzel Crisps pieces, stirring to combine.
Add peanut butter chips and stir until combined thoroughly. Pour into a 8.5-by-11 inch pan and pat down to make fudge even. Arrange whole Pretzel Crisps and extra peanut butter chips on top. Let harden at room temperature or in the fridge. Cut and enjoy! 
3. Dirt dessert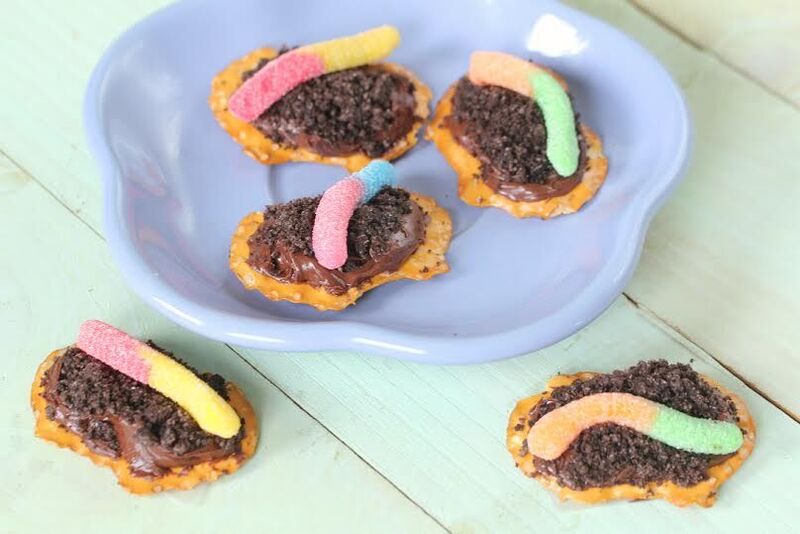 Ingredients:
Original Pretzel Crisps
Chocolate spread
Oreo cookies
Gummy worms
Directions: Cover Pretzel Crisps with chocolate spread. Top with crumbled Oreo cookies and a gummy worm.
4. Pretzel Crisps wreaths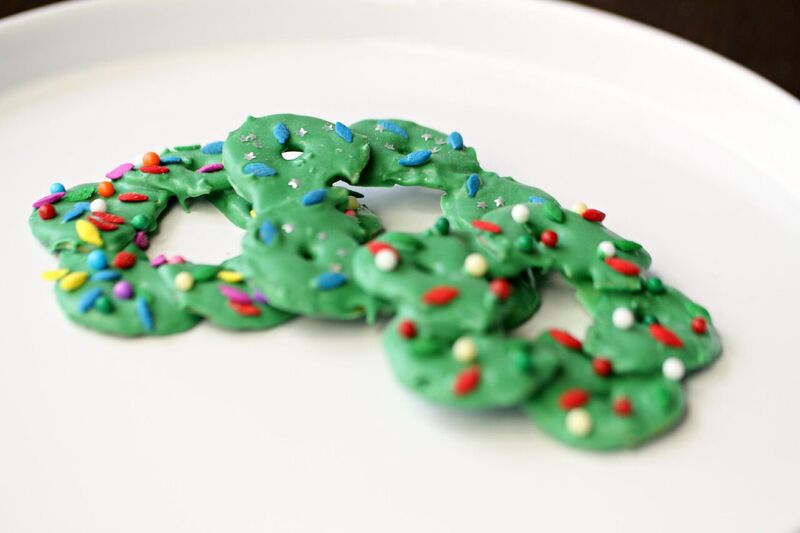 Ingredients:
Original Pretzel Crisps

Green candy melts

White chocolate melts

Food coloring
Directions: Break Pretzel Crisps in half and dip into green candy melts or white chocolate and food coloring. Layer them into a circle as you dip them, then cover in sprinkles. Sprinkles can match your holiday color!
5. Chocolate Santa hat Pretzel Crisps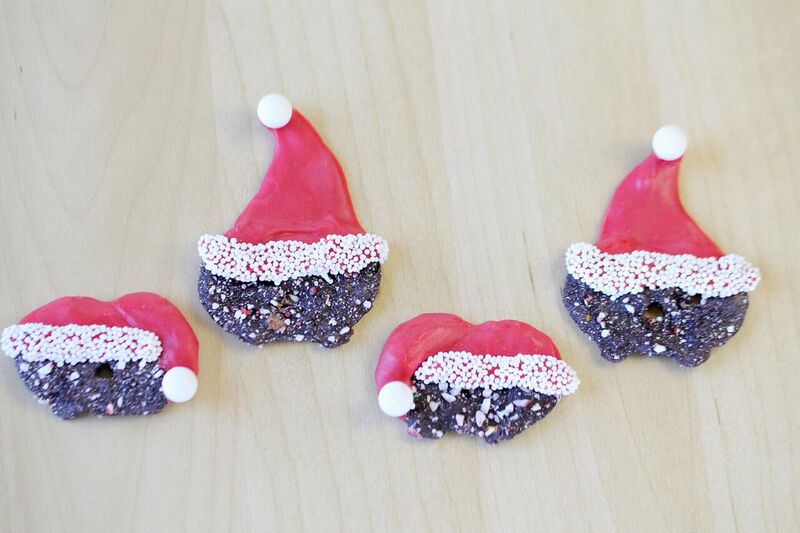 Ingredients:
Dark chocolate & Peppermint Pretzel Crisps

Red candy melts

White candy

Sprinkles

Sanding sugar
Directions: Dip Pretzel Crisps in red candy melts. For pointed hats, drizzle a triangle extending off of the top of the Pretzel Crisps. Once hardened, drizzle a line across bottom and shake white sprinkles or sanding sugar on top. Shake off excess. Use any white candy and glue to tip off hat with more candy melt.
6. Chocolate rice cereal treats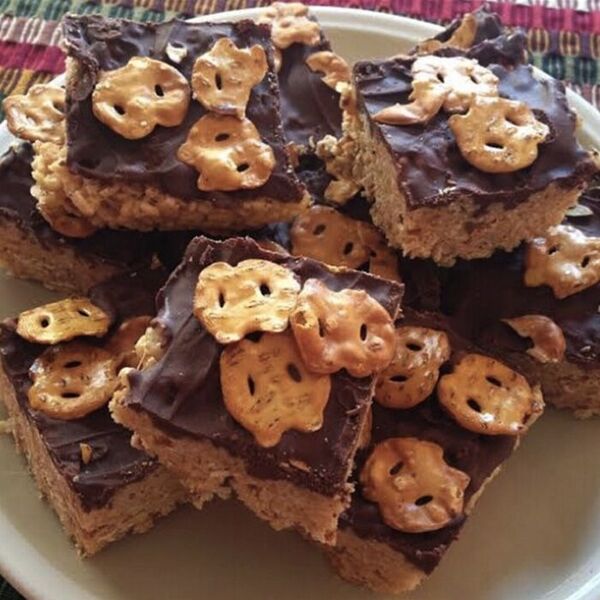 Ingredients:
Original Pretzel Crisps minis
1 cup corn syrup
1 cup sugar
1 cup peanut butter
6 cups any rice cereal
6oz or 1 cup semi-sweet chocolate morsels
Directions: Combine corn syrup and sugar in a large saucepan and cook over medium heat, stirring frequently, until sugar dissolves and mixture begins to boil. Remove from heat and stir in peanut butter, mixing well. Add rice cereal and stir until well coated.
Press mixture into 13 x 9 x 2-inch pan coated with cooking spray and set aside. Melt chocolate morsels in a saucepan over low heat, stirring constantly and then spread evenly over cereal mixture. Let stand until almost firm and then press Original Pretzel Crisps Minis into the chocolate on top. Cut into squares once cool.
7. Dark Chocolate and Peppermint Pretzel Crisps Brownie Trifle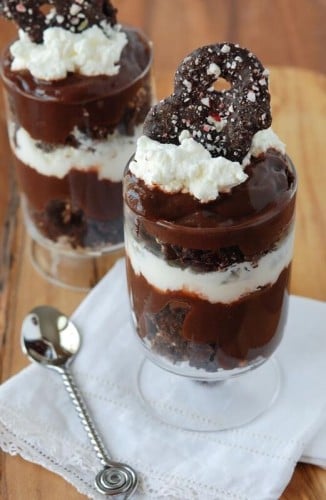 Recipe courtesy of Recipe Farm
Ingredients:
1 box fudge brownie mix

1 – 4 ounce bag Dark Chocolate & Peppermint Pretzel Crisps

3 cups whole milk

2 packages (3.9 oz.) chocolate instant pudding

1 tub (11 oz.) whipped topping, divided

Crushed peppermint, for garnish
Directions: Heat oven to 350 degrees (325 degrees for dark or nonstick pan). Grease pan with butter or nonstick spray. In a medium bowl, mix brownies as directed for fudge brownies, using water, oil and eggs. Bake as directed. Cool completely, about 1 hour. Once brownies are cooled, cut into 1-inch cubes and set aside.
Then in a medium bowl, beat milk and pudding mixes with whisk for 2 minutes, or until thickened. Stir in 1 cup whipped topping. Place ½ of brownie cubes in 2-qt. bowl. Top with a layer of Dark Chocolate & Peppermint Pretzel Crisps, followed by half of the pudding mixture and another layer of whipped topping. Repeat all layers. Sprinkle the top with crushed peppermint and one whole Pretzel Crisps. Refrigerate until ready to serve. 
8. Pepperminty Pretzel Crisps parfaits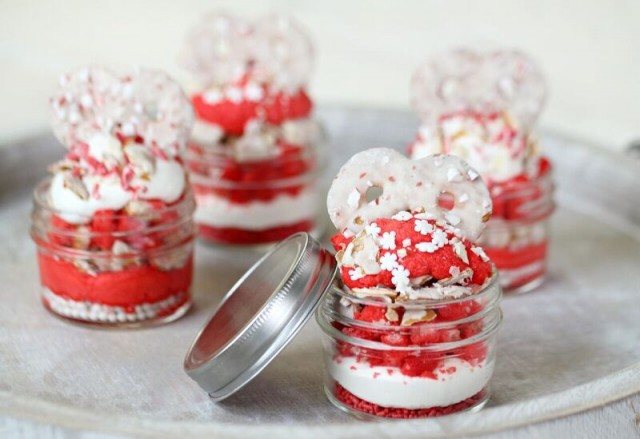 Ingredients:
White Chocolate Peppermint Pretzel Crisps

Decorative sprinkles

Whipped cream

Cubes of cake
Directions: In a mini jar, layer decorative sprinkles, homemade whip cream, broken pieces of white chocolate Peppermint Pretzel Crisps, and cubes of cake. Optional: Use food coloring to dye your whip cream and cake for your favorite holiday color for a more festive look.
Follow Perri on Twitter @66PerriStreet.
More from Culture Cheat Sheet: