10 Home-Cooked Dinners for 2 Perfect for Valentine's Day
Cooking at home benefits both your wallet and your waistline. But sometimes you're only cooking for two, and you don't want leftovers. Such is the case when you're cooking at home for Valentine's Day. Gourmet meals rarely taste better the next day. And on special occasions, you want to plate your meals, and be done with them.
Luckily, there are many recipes you can follow for date night that won't leave you with leftovers. These food formulas feed two and thus don't require as many ingredients. Pick your favorites from the list, and get ready in the kitchen. There's nothing more romantic than a home-cooked meal, and now you won't need to pull out the Tupperware.
1. One Skillet Spaghetti for Two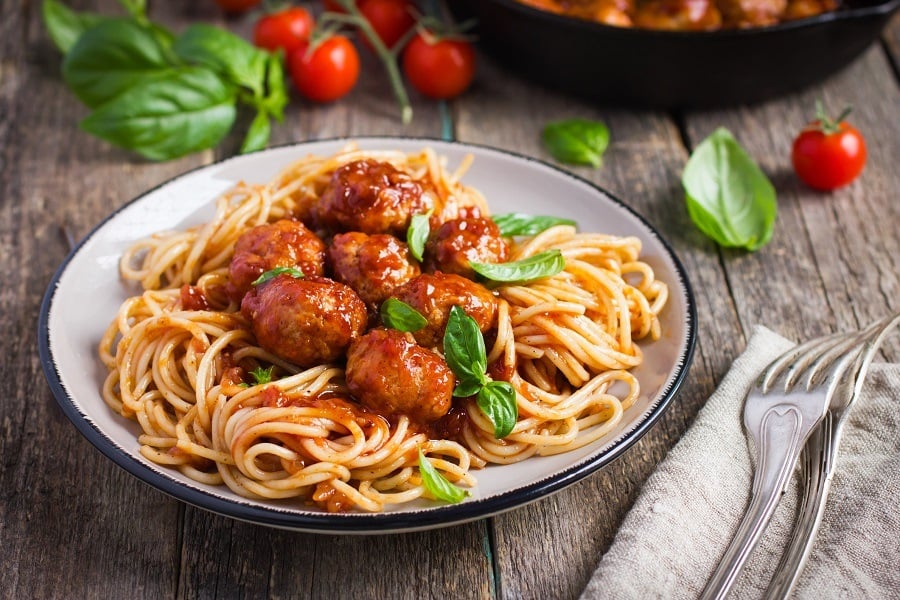 Re-create Lady and the Tramp with this recipe from Taste of Home. You'll need just one skillet to make the spaghetti dish that serves two. The way to someone's heart is through his or her stomach, and spaghetti is the secret. It's also one of the easiest dinners you can make and almost impossible to mess up. This traditional spaghetti dish is ready in only 35 minutes. It's the perfect centerpiece to a romantic Italian dinner date.
Ingredients:
½ pound lean ground beef (90% lean)

1 small onion, chopped

1 can (14 ½ ounces) diced tomatoes, undrained

⅓ cup chopped green pepper

4 to 6 tablespoons water

½ teaspoon salt

½ teaspoon chili powder

3 ounces uncooked spaghetti, broken

⅓ cup shredded cheddar cheese
Directions: In a large skillet, cook beef and onion over medium heat until meat is no longer pink; drain. Stir in the tomatoes, green pepper, 4 tablespoons water, salt, chili powder, and spaghetti.
Bring to a boil. Reduce heat; cover and simmer for 30 minutes or until spaghetti is tender, stirring frequently and adding remaining water if necessary.
Sprinkle with cheese; cover and heat until cheese is melted, about 5 minutes.
2. Seafood Stew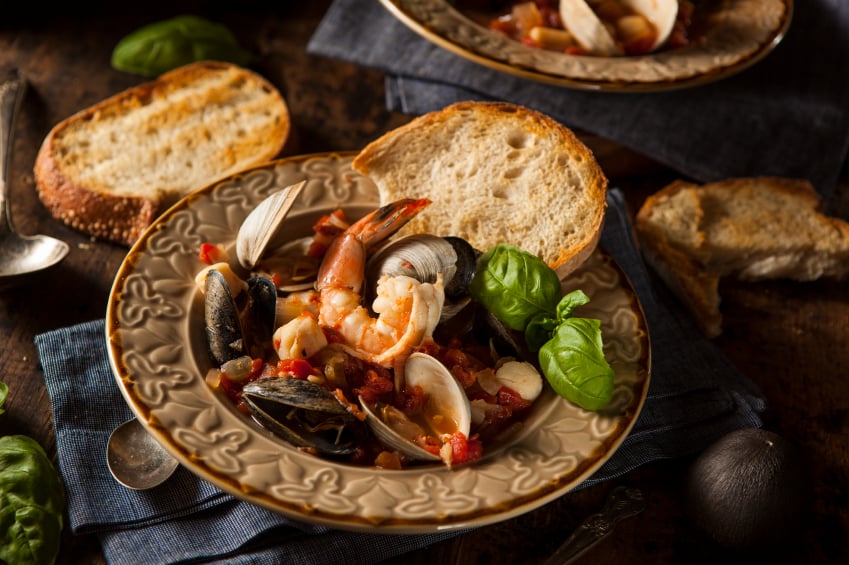 Next up is the ever-popular comfort food: stew. This time, the stew is all about the seafood. The recipe for seafood stew is featured on Epicurious. Its star players are snapper, shrimp, scallops, squid, mussels, and clams. It's time to get messy in the kitchen, and your labor of love will be worth it. You're destined to impress your dinner date when you pull out hearty homemade stew. The employment of fresh seafood takes things over the top. Don't forget the crusty bread to serve with it.
Ingredients:
1 medium fennel bulb, halved
6 tablespoons olive oil, divided
2 celery stalks, chopped
1 small leek, white and pale green parts only, sliced
3 garlic cloves, crushed
1 bay leaf
Kosher salt, freshly ground pepper
1 pound head-on, shell-on prawns or large shrimp
Pinch of saffron (optional)
¼ cup dry white wine
1 (28-ounce can) whole peeled tomatoes
1 teaspoon fennel seeds
1 small snapper fillet, halved crosswise
6 medium sea scallops, side muscle removed
¼ pound squid, mix of tentacles and bodies
½ pound cockles or littleneck clams, scrubbed
½ pound mussels, scrubbed, debearded
Small sprigs tarragon (for serving)
½ crusty baguette, sliced, toasted
Unsalted butter, room temperature (for serving)
Directions: Thinly slice half of fennel bulb; set aside. Coarsely chop other half. Heat 2 tablespoons oil in a medium heavy pot over medium-low. Add chopped fennel, celery, leek, garlic, and bay leaf. Season with salt and pepper and cook, stirring occasionally, until vegetables are soft but have not taken on any color, 10 to 12 minutes.
Meanwhile, remove shells and heads from all but 2 prawns.
Once vegetables are soft, increase heat to medium and add prawn heads and shells and saffron. Cook, stirring occasionally, until shells are bright pink, about 4 minutes. Add wine, and bring to a boil. Reduce heat and simmer, stirring occasionally, until reduced by half, about 3 minutes. Add half of tomatoes and 4 cups water. Bring to a strong simmer, then reduce heat and simmer, uncovered, until reduced by about a third and flavors have melded, 60 to 70 minutes.
Remove from heat and puree mixture with an immersion blender until smooth. Strain broth through a fine mesh sieve into a large measuring glass or bowl.
Wipe out pot and heat 2 tablespoons oil over medium. Add fennel seeds, reserved sliced fennel, and remaining tomatoes, crushing them with your hands. Season with salt and pepper and cook, stirring occasionally, until fennel is softened and seeds are toasted, about 5 minutes. Add broth and bring to a simmer.
Meanwhile, heat remaining 2 tablespoons oil in a small skillet over medium-high. Season snapper and scallops with salt and pepper. Cook snapper, skin side down, pressing gently with the back of a spatula to ensure contact with pan, until skin is brown and crisp, about 4 minutes. Turn fish and cook until cooked through, about 1 minute more. Transfer to a plate.
Cook scallops in same skillet until golden brown and just cooked through, about 3 minutes per side; transfer to plate with snapper. Slice squid bodies into ¼-inch-thick rings. Add cockles and mussels to pot with broth. Cook until they just start to open, then reduce heat to medium-low and add squid and all prawns, making sure they're submerged in the liquid. Simmer until cockles and mussels are opened and prawns and squid are just cooked through, about 3 minutes.
Divide seafood stew between bowls, placing a head-on prawn on top of each; nestle snapper and scallops into broth and scatter tarragon sprigs over. Serve with bread and butter alongside for dipping into broth.
3. Bistro Roast Chicken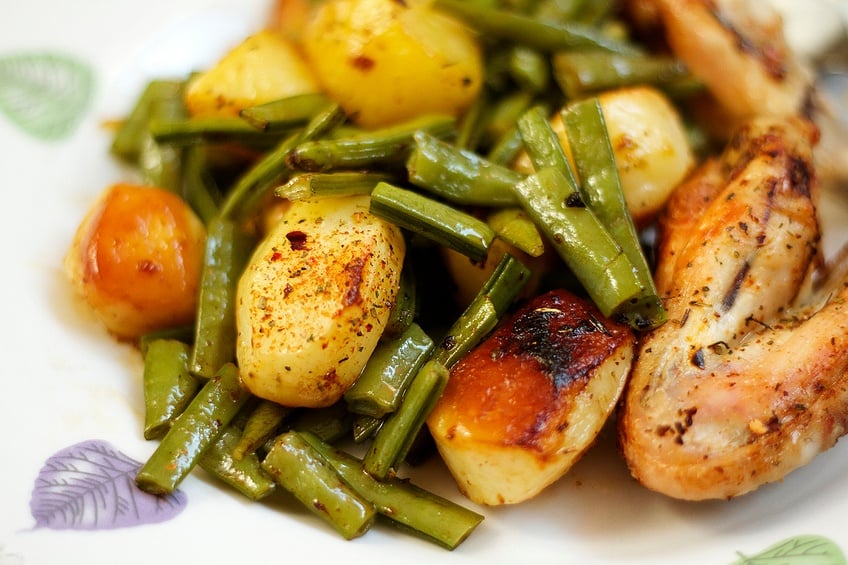 You can't go wrong when it comes to roasted chicken, and this recipe from Cooking Light teaches you how to do it right. It's all about quality chicken and an herb mixture you'll make by combining basil, thyme, rosemary, olive oil, salt, and pepper. That mixture will dress the chicken before it goes into the oven, and whole garlic heads will roast alongside your poultry. The roasted heads of garlic are then served with the chicken dish, and you can squeeze the pulp to use it as a condiment for your perfectly cooked meat.
Ingredients:
2 chicken leg quarters (about 1 ½ pounds)
1 tablespoon chopped fresh or 1 teaspoon dried basil
1 tablespoon chopped fresh or 1 teaspoon dried thyme
1 tablespoon chopped fresh or 1 teaspoon dried rosemary, crushed
2 teaspoons olive oil
½ teaspoon salt
¼ teaspoon black pepper
2 whole garlic heads
Directions: Preheat oven to 375 degrees Fahrenheit.
Rinse chicken with cold water; pat dry. Trim excess fat. Loosen skin from thigh and leg by inserting fingers, gently pushing between skin and meat. Combine basil and next 5 ingredients. Rub herb mixture under loosened skin. Place chicken on a broiler pan. Insert meat thermometer into meaty part of thigh, making sure not to touch bone.
Remove white papery skin from garlic heads. Wrap each head separately in foil; place on broiler pan with chicken. Bake at 375 degrees Fahrenheit for 45 minutes. Increase oven temperature to 450 degrees Fahrenheit. Bake 30 minutes or until thermometer registers 180 degrees Fahrenheit. Cover chicken loosely with foil; let stand 10 minutes. Discard skin.
4. Scallops with Brussels Sprouts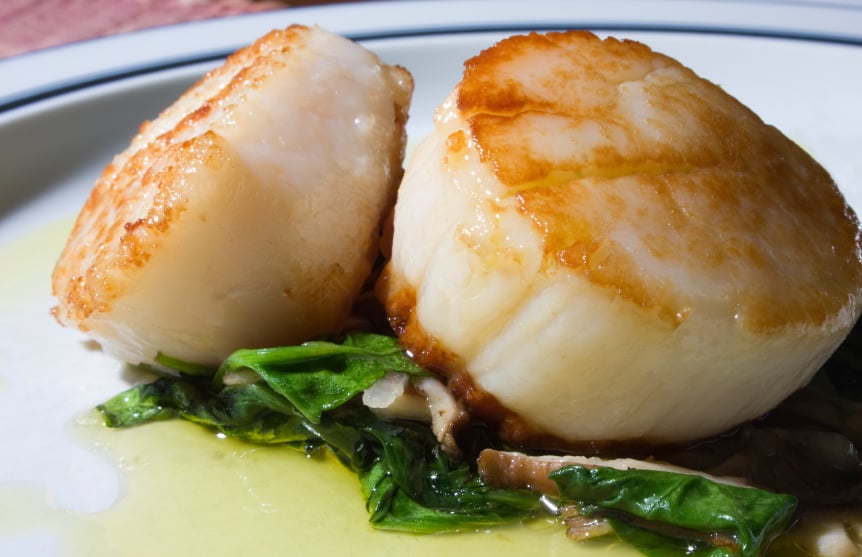 Skip the restaurant, and master your favorite fancy meal at home. Enter: scallops with Brussels sprouts from Food & Wine. The dinner serves 2 and will take only 25 minutes of your time. Scallops might seem intimidating to prepare, but they're actually quite easy. They're perfect served over a bed of sautéed Brussels sprouts and pancetta. This light, elegant meal will leave you and your date feel satisfied and happy rather than stuffed. Plus, there's no need to clean up leftovers.
Ingredients:
¼ cup crème fraîche
¼ teaspoon finely grated lemon zest
1 teaspoon fresh lemon juice
1 tablespoon snipped chives
3 tablespoons extra-virgin olive oil
Salt and freshly ground pepper
6 jumbo scallops (about ¾ pound)
6 thin slices pancetta (about 2 ounces)
½ pound Brussels sprouts, thinly sliced
1 shallot, thinly sliced
1 tablespoon unsalted butter
1 garlic clove, minced
Directions: In a small bowl, whisk the crème fraîche with the finely grated lemon zest, fresh lemon juice, snipped chives and 1 tablespoon of the olive oil. Season the lemon-chive crème fraîche with salt and pepper.
In a medium skillet, heat the remaining 2 tablespoons of olive oil until shimmering.
Generously season the scallops with salt and pepper, and add them to the skillet. Cook the scallops over moderately high heat, turning once, until they are golden and just cooked through, about 5 minutes. Transfer the scallops to a plate; tent with aluminum foil to keep warm.
Meanwhile, in another medium skillet, cook the pancetta over moderately high heat, turning once, until browned and crisp, about 4 minutes. Add the Brussels sprouts and shallot and cook, stirring, until the Brussels sprouts are softened but still bright green, about 2 minutes. Off the heat, stir in the butter and garlic and season with salt and pepper; transfer to plates and top with the scallops. Serve with the lemon chive crème fraîche.
5. Filet Mignon with Brie Butter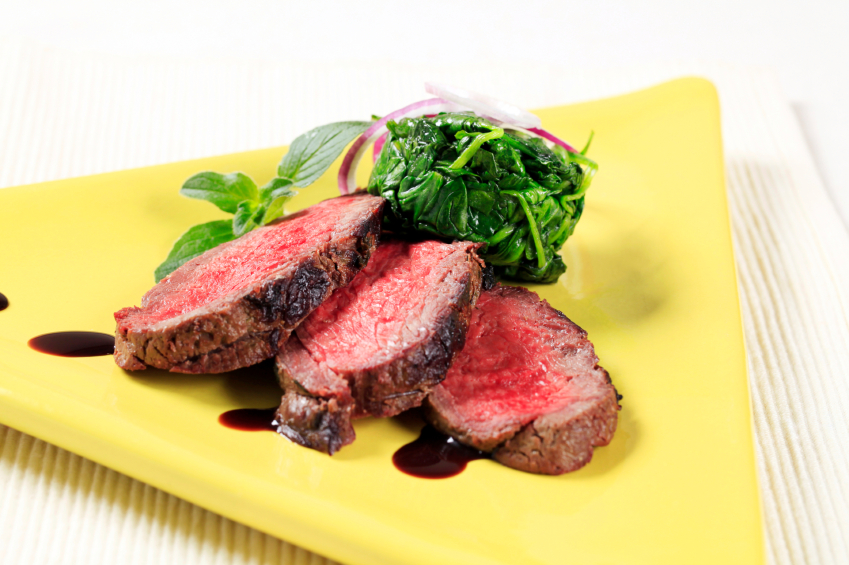 If a red meat lover is coming over for dinner, you are going to want to make him or her this filet mignon with Brie butter from Fine Cooking. The spice-crusted steaks are topped with a Brie butter made from chives and chipotle powder, making this dinner a decadent favorite. Instead of overpaying at restaurants for steak dinners you can make at home, pull the meat out of the refrigerator and get to work. You can make a sophisticated homemade steak dinner and impress your guest with a Brie butter that is secretly easy to make by combining Brie, butter, chive, chili powder, salt, and pepper.
Ingredients:
4 ounces Brie, rind removed, softened
3 tablespoons unsalted butter, softened
1 tablespoon thinly sliced fresh chives
Pinch chipotle chili powder
Fresh coarsely cracked black pepper and kosher salt
1 tablespoon ground cumin
2 6- to 7-ounce beef tenderloin steaks, preferably 1 ½ to 2 inches thick
2 tablespoons olive oil
Directions: Position a rack in the center of the oven, and heat the oven to 425 degrees Fahrenheit.
In a small bowl, combine the Brie, butter, chives, chili powder, ¼ teaspoon cracked pepper, and ⅛ teaspoon salt with a fork until smooth.
In another small bowl, combine the cumin, 1 teaspoon cracked pepper, and ½ teaspoon salt. Rub the steaks evenly with the mixture, pressing it on firmly.
Heat the oil in an oven-safe 12-inch skillet, preferably cast iron, over medium-high heat until simmering. Add the steaks and cook, flipping once, until browned on both sides, 2 to 3 minutes per side. Transfer the skillet to the oven, and roast until cooked to your liking, 2 to 3 minutes.
Tent the steaks with aluminum foil, and let rest for about 5 minutes. Serve the steaks topped with some of the Brie butter.
6. Korean Beef Stir Fry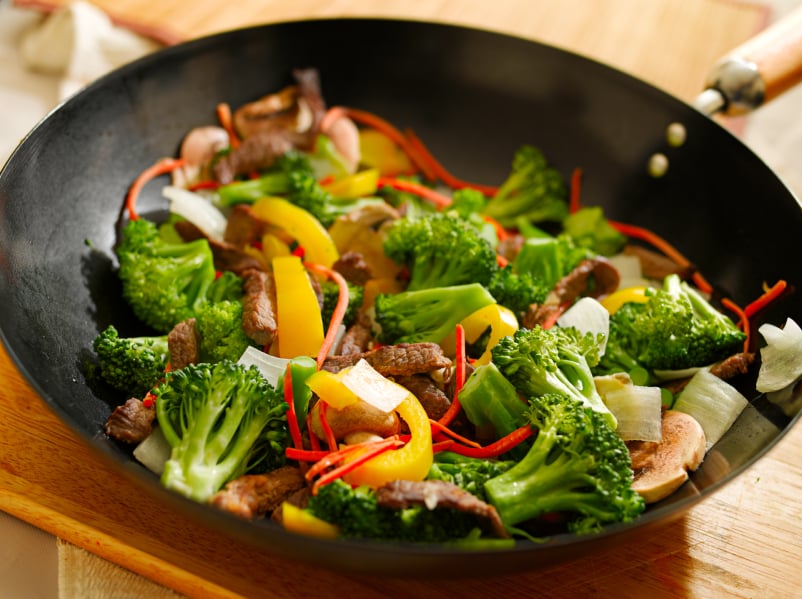 If you want to replicate your favorite take-out at home, try your hand at this Korean beef stir fry from Eating Well. A stir fry is actually one of the easiest dinners you can make, and now you can master one with flavors inspired by Korean barbecue. Once again, the dinner only serves two. Each dinner guest will get a hot plate of Asian stir fry, starring flank steak. The recipe will take you a quick 30 minutes to make.
Ingredients:
3 tablespoons mirin
2 tablespoons reduced-sodium soy sauce
2 teaspoons cornstarch
1 tablespoon canola oil
8 ounces flank steak, trimmed of fat and very thinly sliced against the grain
1 tablespoon chopped garlic
2 teaspoons chopped jalapeno pepper, or to taste
1 ½ teaspoons chopped fresh ginger
4 cups mung bean sprouts
1 6-ounce bag baby spinach
¼ cup chopped fresh cilantro
1 teaspoon toasted sesame oil
2 tablespoons toasted sesame seeds, optional
Directions: Combine mirin, soy sauce, and cornstarch in a small bowl.
Heat oil in a large nonstick skillet over medium-high heat. Spread steak out in the pan and cook until seared on one side, about 1 minute. Add garlic, jalapeno and ginger, and cook, stirring, until fragrant, about 30 seconds. Add bean sprouts and spinach.
Pour the mirin mixture into the pan, and stir gently until the sauce thickens and the spinach is wilted, about 3 minutes. Stir in cilantro and sesame oil. Serve topped with sesame seeds.
7. Chicken Parmesan for Two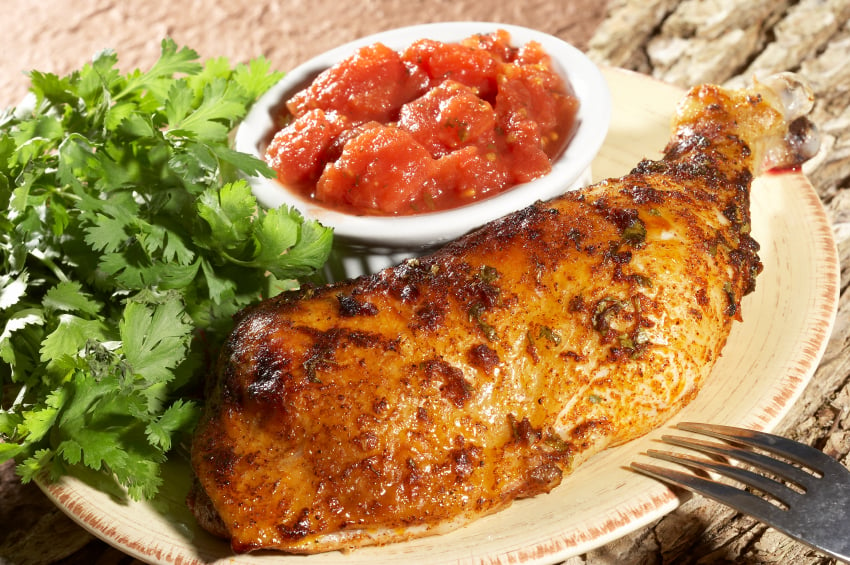 It's hard to beat the classic dish that is chicken Parmesan. Make it for 2 with this recipe from Eating Well. You'll make your date feel comfortable with this easy and traditional dish. And you won't have to stress about time in the kitchen. Chicken Parmesan takes only 35 minutes to master, and you can easily serve it with bread and a side salad. There's a time and a place for everything, and sometime it's best to stick with the classics. For those times, cook your dinner date homemade chicken Parm.
Ingredients:
1 8-ounce boneless, skinless chicken breast, trimmed
¼ teaspoon freshly ground pepper, divided
¼ cup coarse dry breadcrumbs, preferably whole wheat
1 tablespoon freshly grated Parmesan cheese
1 ½ tablespoons extra virgin olive oil, divided
1 small onion, chopped
2 small cloves garlic, minced
1 14-ounce can no-salt-added crushed tomatoes (or 1 ½ cups from a 28-ounce can)
½ teaspoon Italian seasoning
¼ teaspoon salt, divided
½ cup shredded part-skim mozzarella cheese
2 tablespoons chopped fresh basil or parsley
Directions: Cut chicken breast in half on the diagonal to make 2 roughly equal portions. Place between pieces of plastic wrap and pound with the smooth side of a meat mallet or a heavy saucepan to an even ¼-inch thickness. Sprinkle the chicken with ⅛ teaspoon pepper. Combine breadcrumbs, Parmesan and ½ tablespoon oil in a small bowl; set aside.
Position rack in upper third of oven; preheat broiler to high.
Heat 1 tablespoon oil in a medium, ovenproof skillet over medium-high heat. Add the chicken, and cook until golden, 2 to 3 minutes per side. Transfer to a plate.
Add onion and garlic to the pan and cook, stirring, until beginning to soften, 2 to 3 minutes. Remove the pan from the heat. Pour in crushed tomatoes; add Italian seasoning, salt and the remaining ⅛ teaspoon pepper. Return the pan to medium heat, and cook, stirring, until the onion is tender, 2 to 3 minutes. Return the chicken and any accumulated juice to the pan. Turn to coat with the sauce.
Sprinkle about ¼ cup of mozzarella cheese over each piece of chicken, then top with the reserved breadcrumb mixture. Broil until the cheese is melted, about 1 minute. Serve the chicken with the sauce, sprinkled with basil.
8. Spaghetti with Clams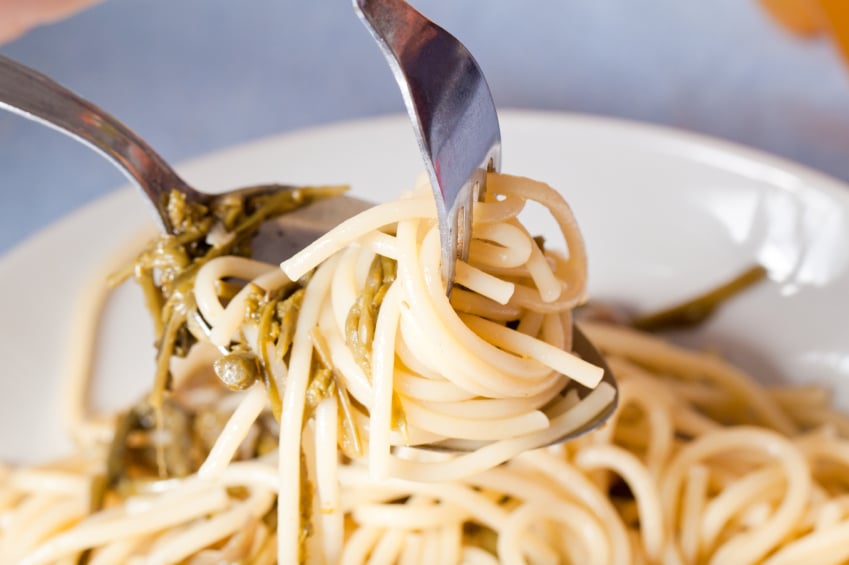 When in doubt, cook them carbs. This spaghetti recipe featured on Epicurious will show you how it's done. Make a perfectly portioned plate of spaghetti for you and your date. Add sophistication by throwing fresh clams into the mix. The fresher the clams, the more flavorful the dish — and the better the date goes. The juice from your fresh clams will flavor the broth, and their meat will be served with the pasta, along with oil and fresh parsley. The recipe for spaghetti with clams serves 2 and tastes even better than it looks.
Ingredients:
Kosher salt
6 ounces spaghetti
4 tablespoons extra-virgin olive oil, divided
1 garlic clove, thinly sliced
¼ teaspoon crushed red pepper flakes
¼ cup white wine
2 pounds cockles, Manila clams, or littlenecks scrubbed
2 tablespoons roughly chopped fresh flat-leaf parsley
Directions: Bring 3 quarts water to a boil in a 5-quart pot. Season lightly with salt; add pasta and cook, stirring occasionally, until about 2 minutes before tender. Drain, reserving ½ cup pasta cooking water.
Meanwhile, heat 3 tablespoons oil in a large skillet over medium heat. Add garlic and cook, swirling pan often, until just golden. Add red pepper flakes and continue cooking 15 more seconds. Add wine, then clams; increase heat to high. Cover skillet and cook until clams open and release their juices, 3 to 6 minutes, depending on size of clams. As clams open, use tongs to transfer them to a bowl.
Add ¼ cup of the reserved pasta water to skillet; bring to a boil. Add pasta to pan. Cook over high heat, tossing constantly, until pasta is al dente and has soaked up some of the sauce from the pan. Add clams and any juices from bowl to pan, along with parsley, and toss to combine. Transfer pasta to warm bowls and drizzle with remaining oil.
9. Champagne Risotto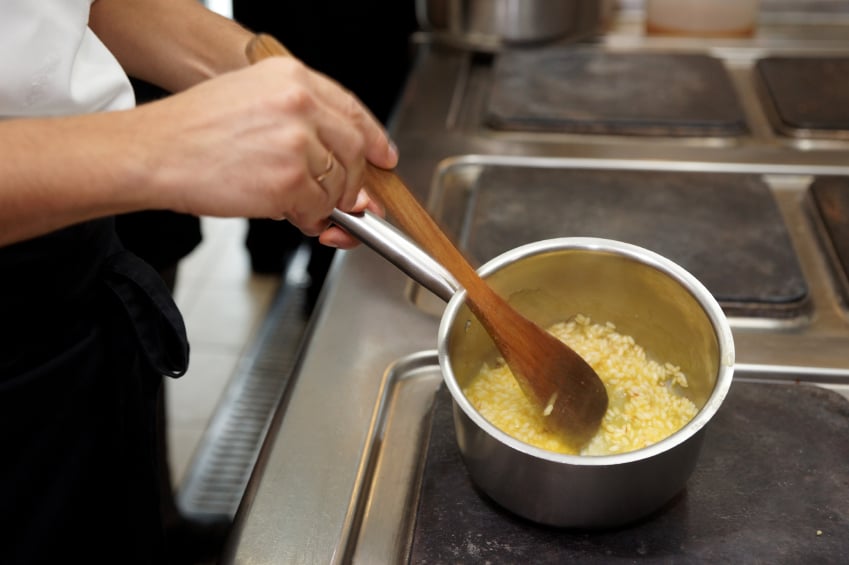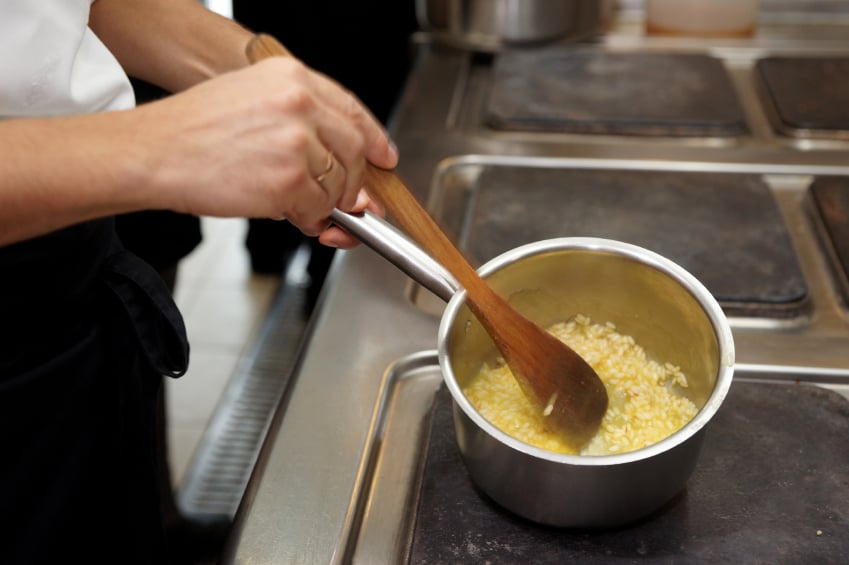 Toast to Hallmark's favorite holiday with this champagne risotto from Food Network. It's decadent yet delicate, and it enlists a full ¾ cup of champagne. That's something worth celebrating. Homemade risotto is always impressive, and if you don't want to get stuck with leftovers, make this recipe that serves 2. It'll take you only 20 minutes to prep, and if you're cooking for a vegetarian, nix the prosciutto and chicken stock and sub in veggie broth instead.
Ingredients:
4 thin slices prosciutto
3 cups reduced-sodium chicken broth
12 asparagus spears, cut diagonally into 1-inch pieces
2 tablespoons butter, divided
1 shallot, finely chopped
¾ cup Arborio rice or medium-grain white rice
¾ cup Champagne
¼ cup freshly grated Parmesan
¼ teaspoon salt
½ teaspoon freshly ground black pepper
Directions: Preheat the oven to 450 degrees Fahrenheit. Place the slices of prosciutto on a lightly greased baking sheet. Bake until the prosciutto slices are almost completely crisp, about 6 to 8 minutes. The slices will crisp up even more as they cool. Reserve for garnish.
In a medium saucepan, bring the chicken stock to a boil. Reduce heat to a simmer. Blanch the asparagus in the chicken stock for 2 minutes. Remove the asparagus with a slotted spoon. Set the asparagus aside and keep the chicken stock at a low simmer.
In another medium saucepan, melt 1 tablespoon of the butter. Add the shallot and cook until tender, about 3 minutes. Add the Arborio rice and stir to coat in the butter. Continue toasting the rice, stirring constantly, for about 3 minutes more. Add the Champagne and simmer until the liquid has almost evaporated, about 3 minutes. Add ½ cup of the simmering broth and stir until almost completely absorbed, about 2 minutes.
Continue cooking the rice, adding the broth ½ cup at a time, stirring constantly and allowing each addition of broth to absorb before adding the next, until the rice is tender but still firm to the bite and the mixture is creamy, about 20 minutes total. Remove from the heat. Gently stir in the asparagus, remaining butter, Parmesan, salt, and pepper. Spoon the risotto into serving dishes and garnish by breaking the crisp prosciutto into smaller pieces over the top of the risotto. Serve immediately.
1o. Chili, Lemon, and Basil Shrimp with Couscous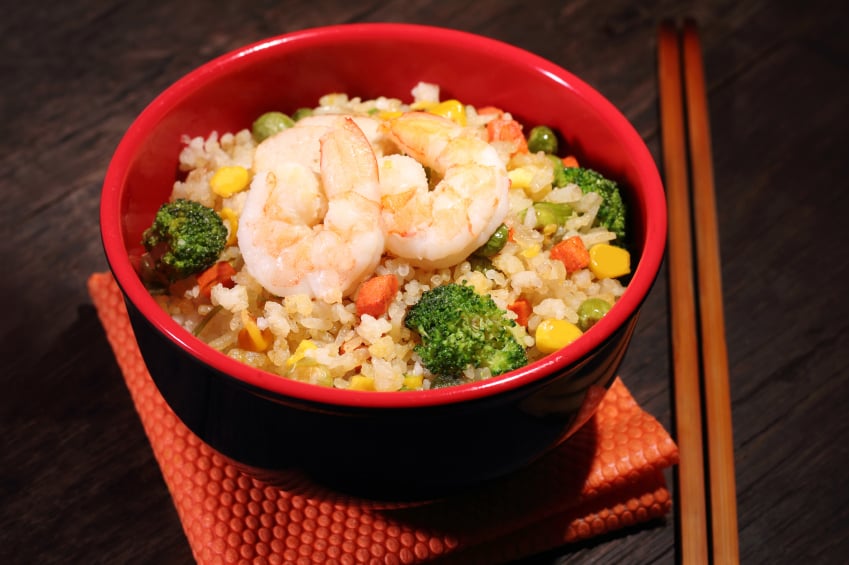 Last but not least is one more seafood dinner from The Kitchn. The chili, lemon, and basil shrimp dish serves 2 and can be ready from start to finish in all of 20 minutes. Serve your naturally flavored shrimp on a bed of Israeli couscous, and you have a meal that tastes indulgent but is actually good for you. Your dinner guest will love this sweet, simple, and sophisticated shrimp dish. And you won't have to slave away in the kitchen working on it. Depending on how spicy you want your shrimp, add more or less red pepper flakes. Serve your dinner with a cold beer or glass of white wine to temper the spice.
Ingredients:
For the couscous:
Olive oil
1 cup Israeli (pearl) couscous
1 lemon, zested and juiced
1 ½ cups chicken broth
Salt and freshly ground black pepper
For the shrimp:
4 large cloves garlic, minced
Pinch red pepper flakes, to taste
1 pound cooked shrimp, deveined and tails removed
1 cup loosely packed fresh basil
Salt and freshly ground black pepper
Directions: Heat a drizzle of olive oil in a 2-quart saucepan over medium heat. Add the couscous and fry for 2 to 3 minutes. Add the lemon juice and stir until the lemon juice evaporates. Add the chicken broth and bring to a simmer then turn the heat to low and cover the pan tightly. Cook for 15 minutes, then take off the heat and let the pan sit, still covered, until you are ready to serve the couscous.
In a 10-inch sauté pan, heat another drizzle of olive oil over medium-low heat. Add the garlic and the red pepper flakes and cook gently for about 5 minutes, or until the garlic is golden and fragrant. Pat the shrimp dry, turn the heat up to high, and add the shrimp to the pan. Cook quick, turning the shrimp frequently and stirring the oil and garlic into the shrimp. As soon as the shrimp is heated through, turn off the heat and stir in the basil and the lemon zest.
Season the couscous and shrimp to taste with salt and pepper. Serve the shrimp on a bed of couscous.