Homemade Fast Food: 25-Minute Pretzel-Coated Chicken Nuggets
Inviting some pals over to hang out can quickly turn stressful when you realize they're going to expect some food. Before you reach for your phone to order delivery, take a few deep breaths. Homemade eats don't have to be difficult. With original recipes from our Everyday Appetizers series, you can pull off showstopping starters without losing your cool. 
Something about throwing back a few drinks makes fast food sound unbelievably delicious. Obviously no one's getting behind the wheel after consuming alcohol, so the drive-through is out of the question. The snacks rarely live up to your expectations, so it's hardly a tragedy. With a little bit of effort, you can make these pretzel-coated chicken nuggets in less time than it would take to make the drive anyways. And the taste of fast food doesn't even compare, so get cooking.
About this recipe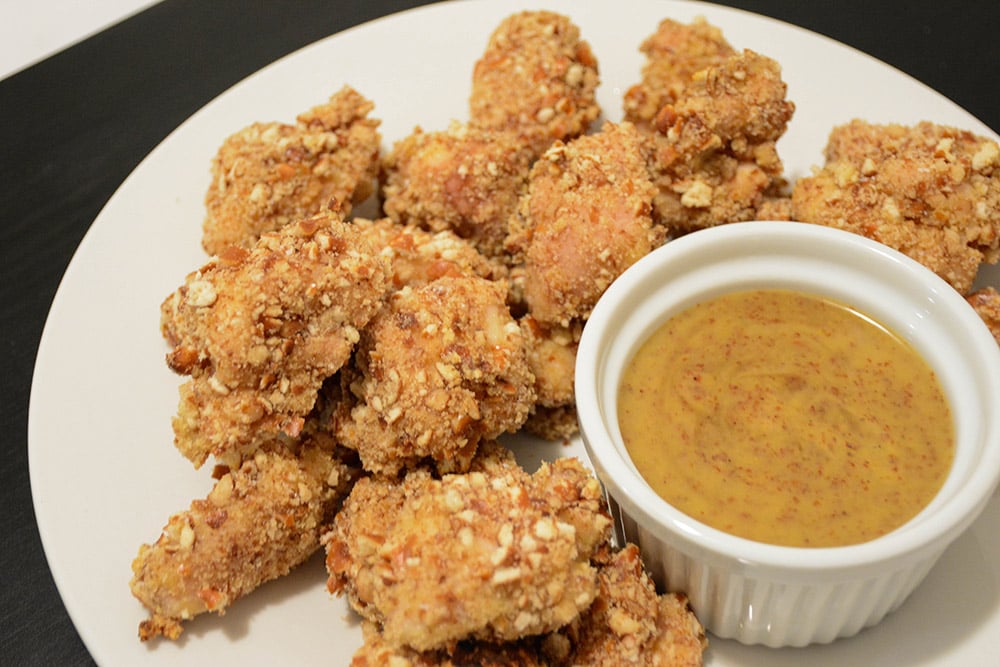 Though we're fans of fried food here at The Cheat Sheet, it's not always the most convenient way to cook. Breaded exteriors can shed a bit when food moves around in the hot oil, leaving you with substandard coating and quite a mess to clean up. Baked chicken nuggets are the way to go, but you need to make a few adjustments to make sure they're just as delicious as their fried counterparts. The first is to use a fair amount of butter, or oil if you prefer, in the coating for the best color and flavor. The second is to bake at a relatively high temperature to ensure the exterior browns without overcooking the chicken. With these simple adjustments, your homemade chicken nuggets will be a hit.
Most people head for the boneless, skinless chicken breasts at the grocery store. Some fast-food restaurants even tout their use of only white meat as if it's superior. Let everyone else go for this pricier cut, and grab chicken thighs instead. They're more flavorful and less likely to dry out. Once you have your meat, cut it into cubes. Don't worry if you end up with irregular shapes because consistent size is a lot more important than aesthetics.
To coat the chicken, you'll use a standard breading procedure with flour, egg, and a crumb coating. Instead of breadcrumbs, we used pretzels and added a good dose of melted butter for a more flavorful dish. Try to use one hand for coating the chicken in flour and pretzels and the other for coating in egg to avoid turning your hands into a sticky mess. If you don't have a food processor, you can break up the pretzels by tossing them into a food storage bag and bashing them with a rolling pin or skillet.
Place the nuggets on a baking tray, making sure to leave a bit of space between each, then pop them in the oven. The chicken will take between 10 and 13 minutes, leaving you enough time to stir together a two-ingredient sauce for dunking. As a nod to honey mustard, we used a grainy Dijon and maple syrup. It's slightly more sophisticated, but you can use regular old yellow mustard and honey if you prefer.
Though chicken nuggets might sound like the type of food undergrads go for long after they've finished drinking for the night, this version goes wonderfully with some of your favorite beverages. Beer is probably the most obvious choice, and it's really hard to go wrong with any of your favorite brews. If you're an IPA lover, this is a good opportunity to break out one of your favorites. NPR explained the saltiness of pretzels helps bring out the bitter flavor. A stout would also be a good choice to stand up to the intensity of the mustard and lightly echo the sweetness of the maple syrup. Though not a beer, hard cider pairs beautifully with the flavors in this dish. Go for something off-dry.
When it comes to wine, white is probably our first choice. Pinot Gris has enough acidity to counteract the richness and a hint of sweetness that will go nicely with the sauce. If you're more of a red drinker, Wine Enthusiast recommended pairing Pinot Noir with pretzels and mustard.
For cocktail drinkers, this dish offers a lot of inspiration for some fun concoctions. Try a drink made with maple syrup, like this maple old fashioned.
Pretzel-Coated Chicken Nuggets with Maple Mustard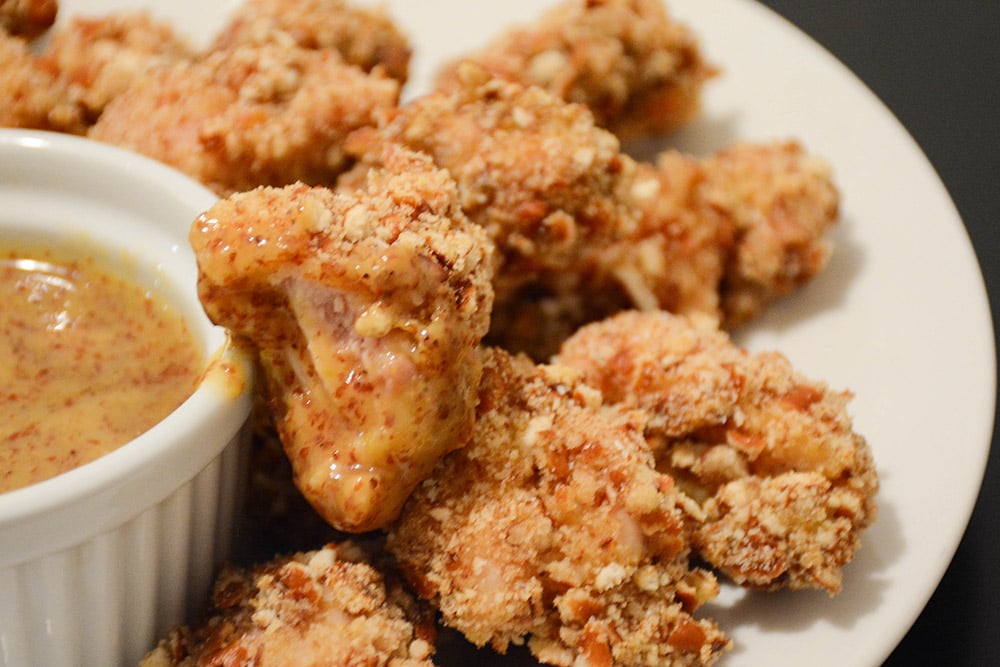 While the pretzels have salt on them, it's not enough to carry through the entire chicken nugget. Make sure to season the meat and pretzel crumbs before breading. This recipe serves 4.
Ingredients:
5 ounces pretzels
4 tablespoons unsalted butter, melted
Salt and pepper
½ cup all-purpose flour
2 eggs, lightly beaten
1 pound boneless, skinless chicken thighs, cut into 1½-inch pieces
4 tablespoons grainy mustard
4 tablespoons dark maple syrup
Directions: Preheat oven to 400 degrees Fahrenheit. Lightly grease a baking sheet. In a food processor, grind pretzels until most are finely ground and some slightly larger pieces remain. You should have about 1½ cups of crumbs. Transfer crumbs to a medium, shallow bowl. Season pretzel crumbs with salt, and mix in the melted butter.
Set up an assembly line with flour in a shallow dish, eggs in a separate shallow dish, followed by the bowl with pretzel crumbs.
Season chicken pieces liberally with salt and pepper. Working in batches, dredge chicken pieces in flour, shaking to remove excess. Next coat in eggs, then transfer to bowl with pretzel crumbs. Evenly coat with crumbs, pressing to adhere, and transfer to prepared baking sheet. Repeat until all chicken is coated. Transfer to the oven, and bake 10 to 13 minutes, or until chicken is fully cooked and coating browns.
Meanwhile, stir mustard and syrup together in a small bowl. Serve with chicken nuggets.
See you back here next weekend.
More from Culture Cheat Sheet: