Homemade Soups That Taste Better Than the Canned Kind
As convenient as canned soups are, they're also packed with sodium and unpronounceable ingredients galore. A can of tomato soup can yield up to 500 milligrams of sodium, and in other soup varieties, there can be even more. Luckily, you can easily make your soup homemade and keep the sodium, calories, and preservatives at bay. 'Tis the season for soup, and 'tis the season to swap out store-bought sodium and swap in real, wholesome foods. Try these six low-sodium soups we're highlighting today and experience what healthy and hearty soup takes like.
1. Vegetable Carrot Soup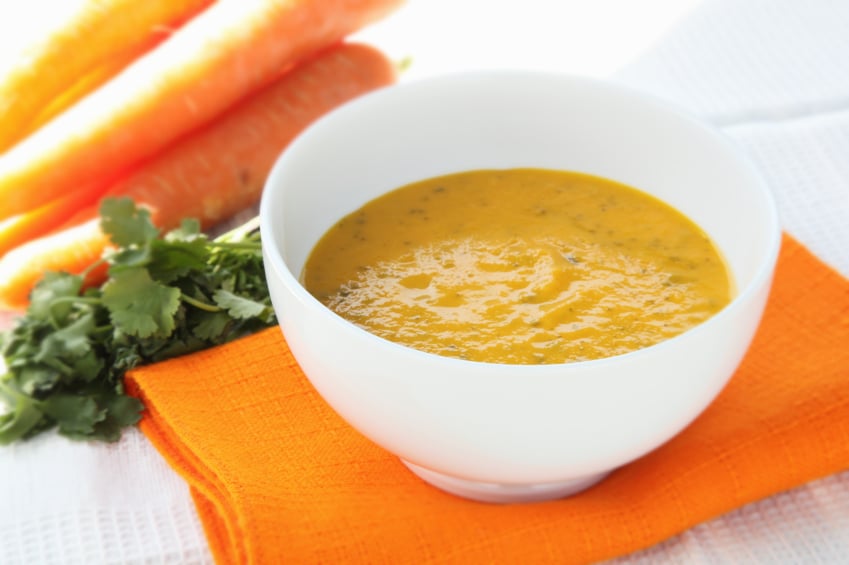 This first soup recipe from Taste of Home yields one-fifth the amount of sodium the typical store-bought brand boasts. According to Taste of Home, one serving has 136 calories, 116 milligrams of sodium, and 5 grams of protein. You can't beat that. The soup is a blend of carrots, potatoes, celery, and onions, and nutmeg and pepper top it off. Vegetable carrot soup's rich golden color will look great on your dinner table, and it is delicious, too.
Ingredients:
3 cups thinly sliced carrots

1 cup chopped onion

⅔ cup chopped celery

1½ cups diced peeled potatoes

1 garlic clove, minced

½ teaspoon sugar

2 teaspoons canola oil

4 cups reduced-sodium chicken broth

Dash ground nutmeg

Pepper to taste
Directions: In a Dutch oven or soup kettle over medium-low heat, saute carrots, onion, celery, potatoes, garlic, and sugar in oil for 5 minutes. Add broth, nutmeg and pepper; bring to a boil. Reduce heat; cover and simmer for 30-40 minutes or until vegetables are tender.
Remove from the heat and cool to room temperature. Puree in batches in a blender or food processor. Return to the kettle and heat through.
2. Creamy Tomato Soup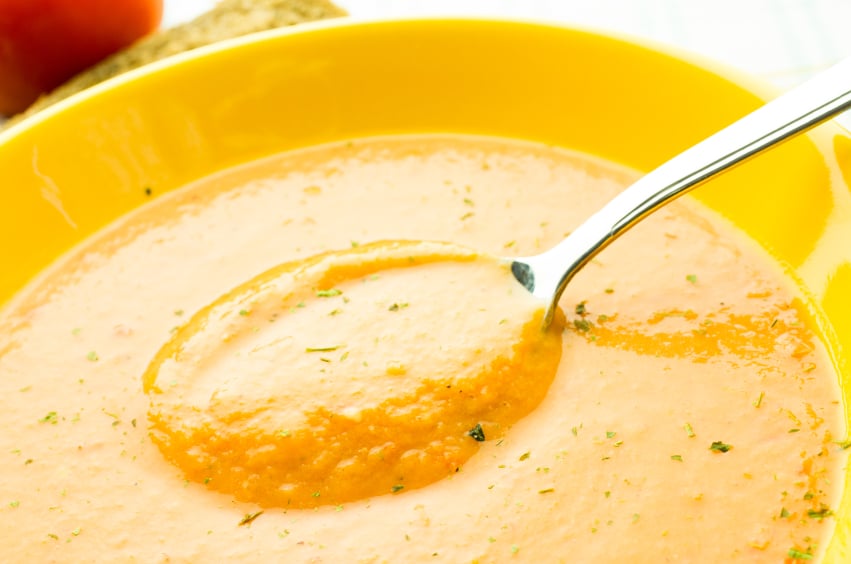 This next soup is a twist on an old classic. The creamy tomato soup from Foodie Fiasco is paleo, low-sodium, low-fat, and vegan. It's made with almond milk and all the classic tomato soup ingredients including garlic, diced tomatoes, vegetable broth, onions, and seasonings. Foodie Fiasco's recipe serves 4 and each serving yields only 41 calories. Stick to unsalted broth and commit to low sodium.
Ingredients:
1 medium onion, chopped
2 teaspoons minced garlic
1 can diced tomatoes
1 teaspoon dried oregano
1 teaspoon dried basil
1 teaspoon apple cider vinegar
1 cup vegetable broth
½ cup almond milk
salt and pepper, to taste
Directions: Heat a large greased or nonstick-sprayed pot over medium high heat. Add onion and cook, stirring occasionally, until golden, about 5 minutes. Stir in the minced garlic and cook for another minute. Add the tomatoes, oregano, basil, and apple cider vinegar, and bring to a boil. Once boiling, add the broth and almond milk and bring to a boil once again.
Using your beloved immersion blender, puree the soup until smooth. Alternately, if you don't have an immersion blender, puree the soup in batches in a standing blender. Salt and pepper to taste. Pour the soup into four bowls, top with cheese if desired, and serve.
3. Chicken Noodle Soup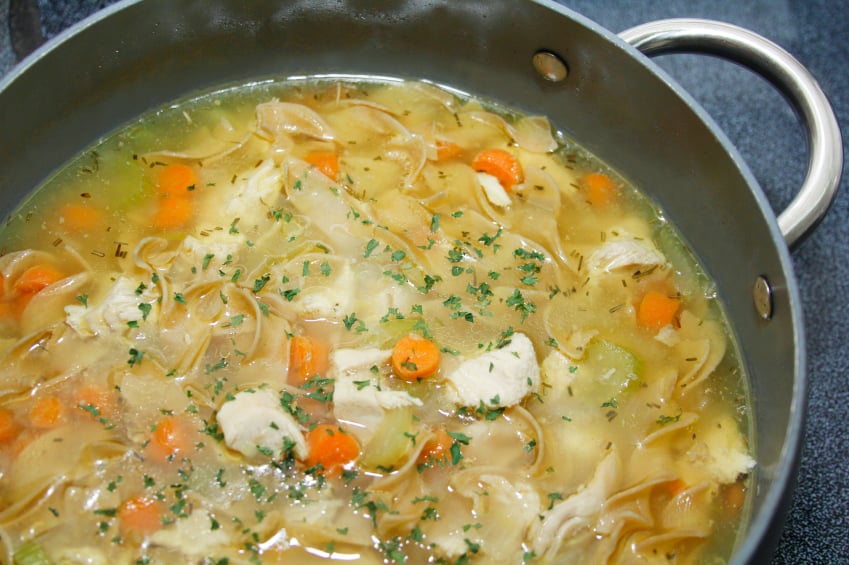 Here's another classic soup recipe from Skinny Ms. You can find chicken noodle soup cans everywhere, but you can also go the low-sodium route at home and ditch the over-salted canned broths. Follow the instructions provided by Skinny Ms. and see how much real flavor a homemade soup can boast. This soup enlists the shortcut of using a rotisserie chicken, and thanks to that trick, it takes only 30 minutes to make.
Ingredients:
1 tablespoon olive oil
2 medium carrots, chopped
3 medium celery stalks, trimmed and diced
1 medium white onion, diced
4 cups high quality or homemade chicken stock
1 teaspoon black pepper
1 teaspoon garlic powder (or 2 cloves crushed)
1 teaspoon dill weed
1 rotisserie chicken
1 cup whole wheat egg noodles
3 tablespoons fresh parsley, minced
Crackers, for serving
Directions: In a pot that is able to hold at least 3 quarts, heat the olive oil over medium high heat. Add the mirepoix and saute for about 4 minutes, until the onion has softened.
While the vegetables are in the pot, disassemble the chicken: Remove the skin from the entire bird, save half and throw the other half away. Pull as much meat off the bones that you can, set aside. Throw away all of the bones and large pieces of fat.
After the onion has softened, add the chicken stock, black pepper, garlic, and dill weed. Bring back to a simmer over medium heat and simmer for 5-6 minutes.
Add in the reserved chicken skin, 1 cup of chicken meat, and the noodles. Simmer for about 10 minutes until a light foam forms. Skim this foam with a spoon. Remove and discard the skin once the 10 minutes are up.
4. Low-Sodium Vegetable Beef Soup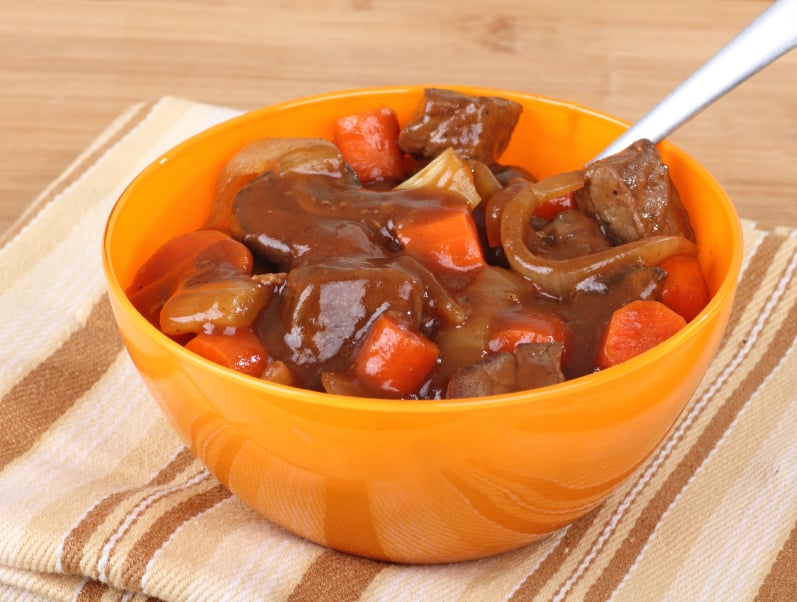 Bring on the beef. Here's a recipe for Vegetable beef soup featured on Food.com that is flavorful, fibrous, and low on salt and sodium. You'll feel no guilt indulging in this hot soup whose star ingredients are stew meat and russet potatoes. The recipe serves 4 to 6.
Ingredients:
1 pound stew meat, cut into smaller chunks
1 medium onion, cut into large chunks
3-4 stalks celery, sliced
½-¾ cup sliced carrot
2 large russet potatoes, peeled and cut into bite sized pieces
1 can no-salt-added stewed tomatoes
2 garlic cloves, diced fine
⅛-¼ teaspoon salt
1 teaspoon black pepper
2 tablespoons olive oil
2 cups water
Directions: Sauté garlic in oil in large skillet. Cut meat into smaller chunks and brown meat in skillet; remove meat. Put meat, onion, carrots, stewed tomatoes, celery, and potatoes into 4 quart dutch oven with 2 cups water; set aside.
Make gravy: On med-low heat add flour to skillet and stir to brown flour but don't burn it. Add beef broth and stir to simmer for 2-3 minutes or until smooth.
Pour gravy into dutch oven. Bring to boil and then reduce heat and simmer covered till vegetables are done, 30-45 minutes typically. Remove lid and simmer 10-15 minutes if needed to thicken stew. Add salt and pepper to taste.
5. Butternut Squash Soup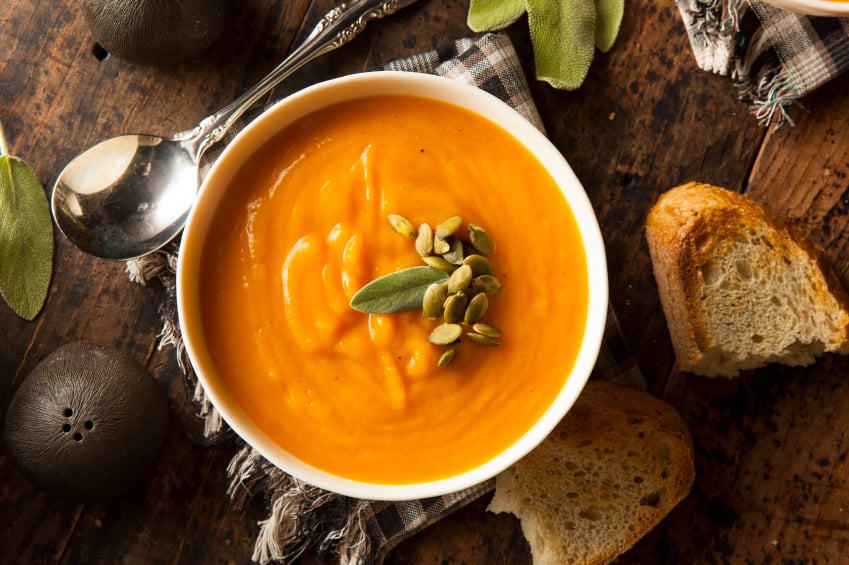 Butternut squash soup can also boast minimal sodium content when you make it from home. Follow this recipe featured on Whole Foods's website, which requires only a handful of ingredients and serves 6. When you whip this butternut squash soup up in your immersion blender, you're guaranteed to enjoy a fresh, healthy, and fibrous lunch or dinner.
Ingredients:
2 tablespoons extra-virgin olive oil
1 carrot, diced
1 celery stalk, diced
1 onion, diced
4 cups cubed butternut squash, fresh or frozen
½ teaspoon chopped fresh thyme
4 cups low-sodium chicken broth
½ teaspoon fine sea salt
½ teaspoon ground black pepper
Directions: Heat oil in a large soup pot. Add carrot, celery, and onion. Cook until vegetables have begun to soften and onion turns translucent, 3 to 4 minutes. Stir in butternut squash, thyme, chicken broth, salt, and pepper. Bring to a boil, reduce heat and simmer until squash is fork-tender, about 30 minutes. Use an immersion blender to purée soup. Alternatively, let the soup cool slightly and carefully purée in batches in an upright blender.
6. Turkey Noodle Soup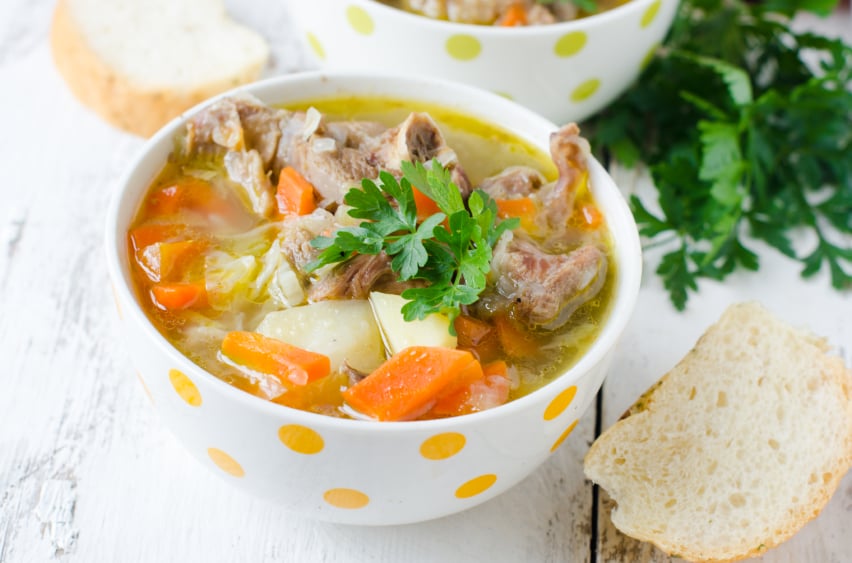 Last but not least: a healthy way to use up your turkey leftovers, whether the meat is from a holiday, special occasion, or weeknight dinner. This turkey noodle soup from Skinny Taste feeds 4 and each serving yields only 130 calories, 57 milligrams of sodium, 4 grams of fiber, and 5 grams of protein. The secret ingredient is homemade turkey stock, but if you don't have that reserved, low-sodium canned broth works, too. Instead of serving up your leftover turkey on a sandwich or in a wrap, warm up with this turkey noodle soup and feel good about what you're feeding yourself and your family members and friends.
Ingredients:
6 cups homemade turkey stock (or low sodium canned)
1 bay leaf
1 cup diced carrot
¾ cup chopped onion
¾ cup diced celery
2 garlic cloves, minced
salt to taste
freshly ground black pepper
¼ cup chopped parsley
3 ounces uncooked egg noodles
2 cups leftover shredded turkey
Directions: Fill a large saucepan with homemade turkey stock. Add bay leaf, carrots, onion, celery, garlic, salt, and pepper to taste and simmer 10-15 minutes, until the vegetables are soft. Add parsley, noodles, and shredded turkey; cook according to noodle directions, about 5 minutes.
More from Culture Cheat Sheet: