Common Ground: Surprising Ways Melania Trump and Michelle Obama Are Alike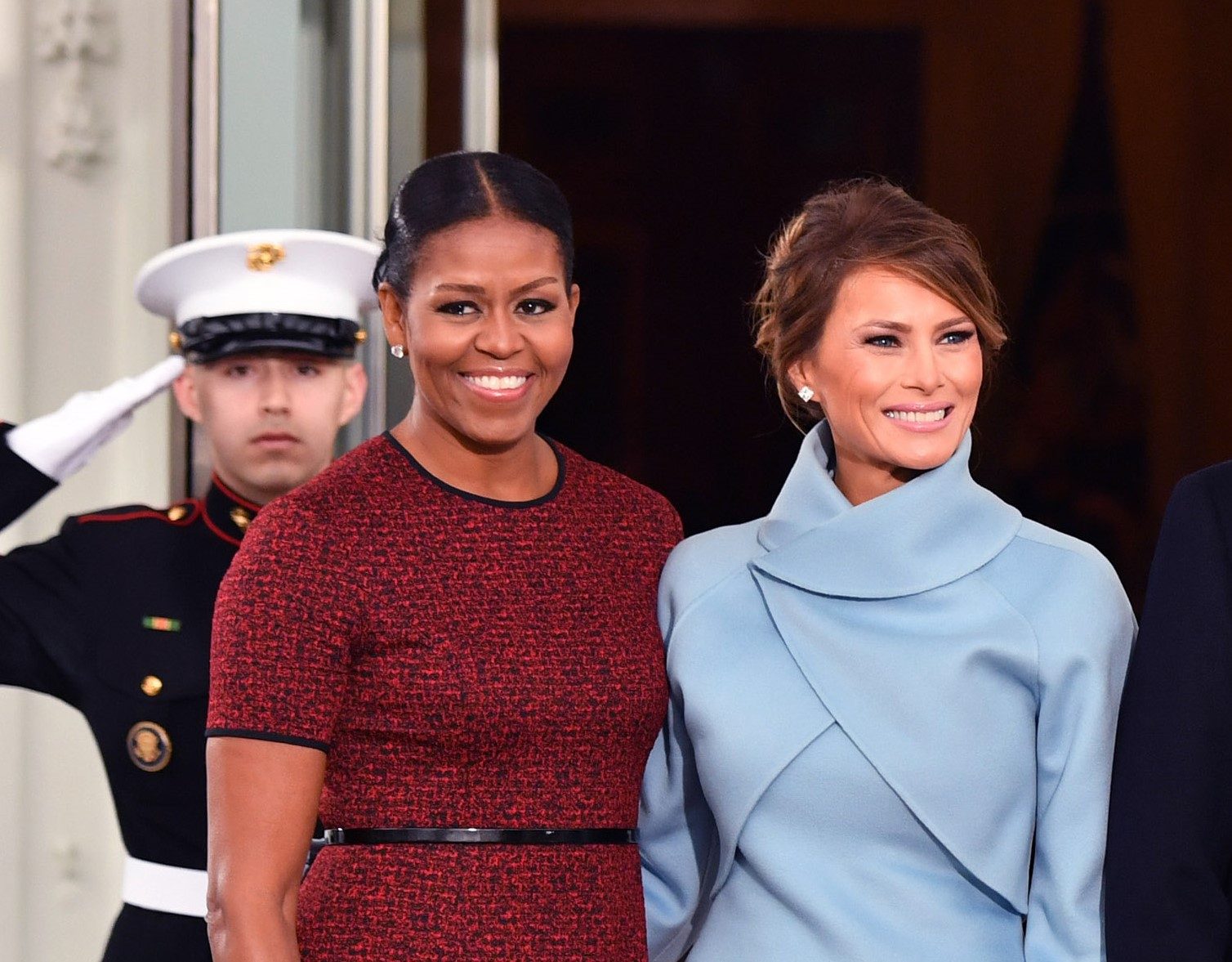 Because Donald Trump and Barack Obama are so different, most Americans wouldn't hesitate to assume that Melania Trump and Michelle Obama have nothing in common. It seems like common sense, right? But when you take a look at the facts, you'll realize that the two first ladies are much more alike than you might think.
Below, check out the most striking similarities between Melania Trump and Michelle Obama.
1. They both have agendas separate from their husbands'
Both Melania Trump and Michelle Obama have had agendas separate from their husbands'. As CNN reports, Melania Trump's communications director said, "Mrs. Trump is independent and acts independently from her husband." Michelle Obama also pursued an agenda independent from her husband's. But a former White House official told CNN that it was unnecessary for Obama to distance herself from her husband. Trump hasn't had that luxury.
"It wasn't an issue for the Obamas," the official told CNN. "Michelle Obama had her own agenda — Let Girls Learn, Let's Move, Joining Forces — but at no point did any of those conflict with the President's words, actions, or policies." The comment alludes to the way Melania Trump's efforts to tackle cyber bullying and online harassment have been criticized as conflicting with Donald Trump's reputation as a bully.
Next: Both first ladies took an interest in these issues.
2. They have both taken an interest in children's issues, women's empowerment, and military families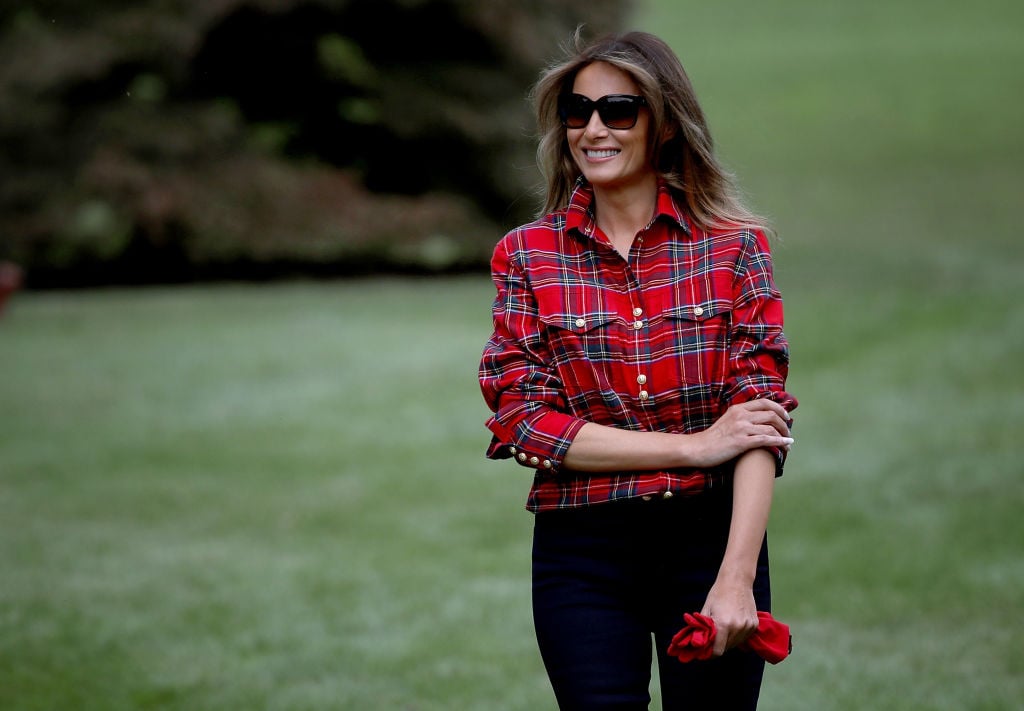 According to The Boston Globe, Melania Trump has "shown interest in women's empowerment, military families and children's issues. Mrs. Obama championed all as first lady." The Washington Post reports that Michelle Obama championed healthier eating for families and school children. But, the Post explains, "The heart of Obama's efforts, however, was a message about the persistent inequities of race, class and gender in America."
Obama addressed obesity, which disproportionately affects low-income families and children of color. She established Joining Forces to help military personnel and families with jobs and workplace issues. And she worked to ease the path for first-generation college students. It remains to be seen exactly which causes Melania Trump champions during her husband's time in office. But she has expressed an interest in many of the same issues that Michelle Obama made part of her agenda.
Next: Americans love this about both Michelle Obama and Melania Trump.
3. Americans admire both first ladies for their sense of style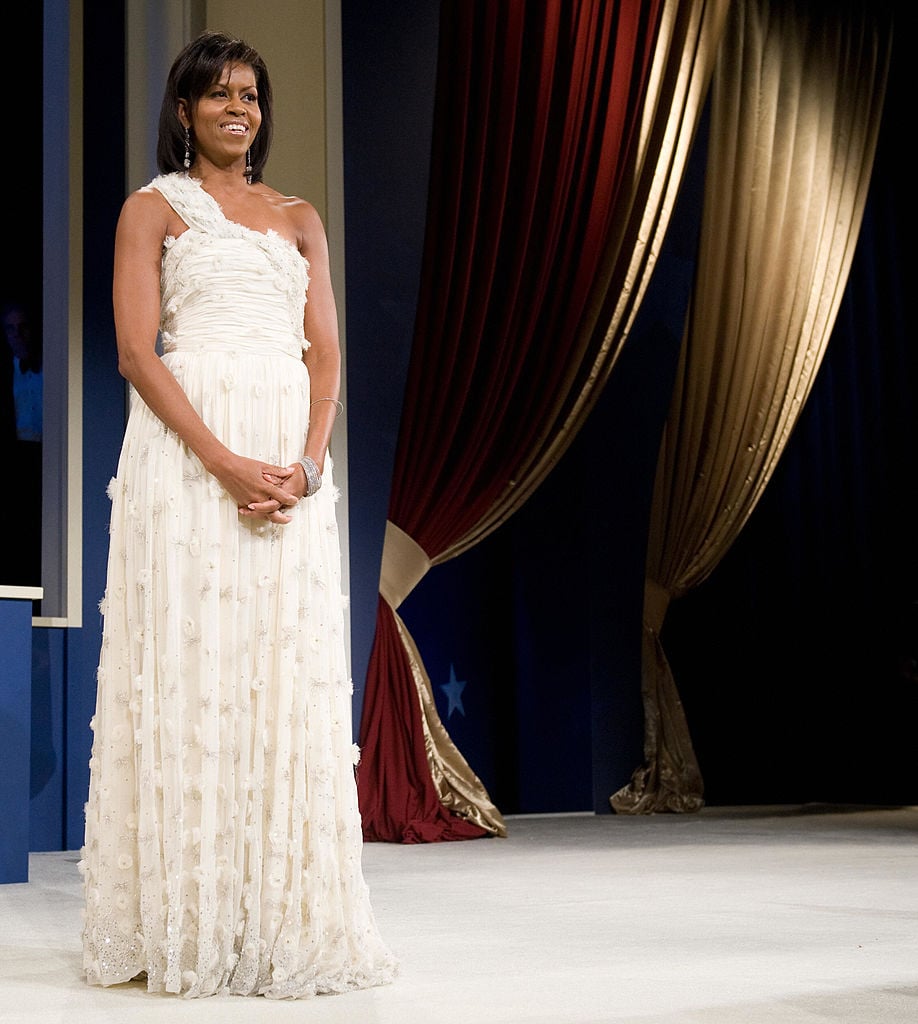 The Boston Globe reports that Michelle Obama "made it acceptable for first ladies to shun the confining, jewel-toned suits that her predecessors wore like uniforms, and her successor is embracing that same free-wheeling fashion sense." Of course, the two first ladies do have very different senses of style, as Business Insider chronicled. But neither seems to have a problem with the media scrutinizing their choices of clothing or accessories.
In fact, that seems to have become part of the job. As Michelle Obama once told the press as journalists made a fuss over her new haircut, "We take our bangs and we stand in front of important things that the world needs to see. And, eventually, people stop looking at the bangs and they start looking at what we're standing in front of."
Next: Both first ladies wear this popular brand.
4. Both wear brands like J. Crew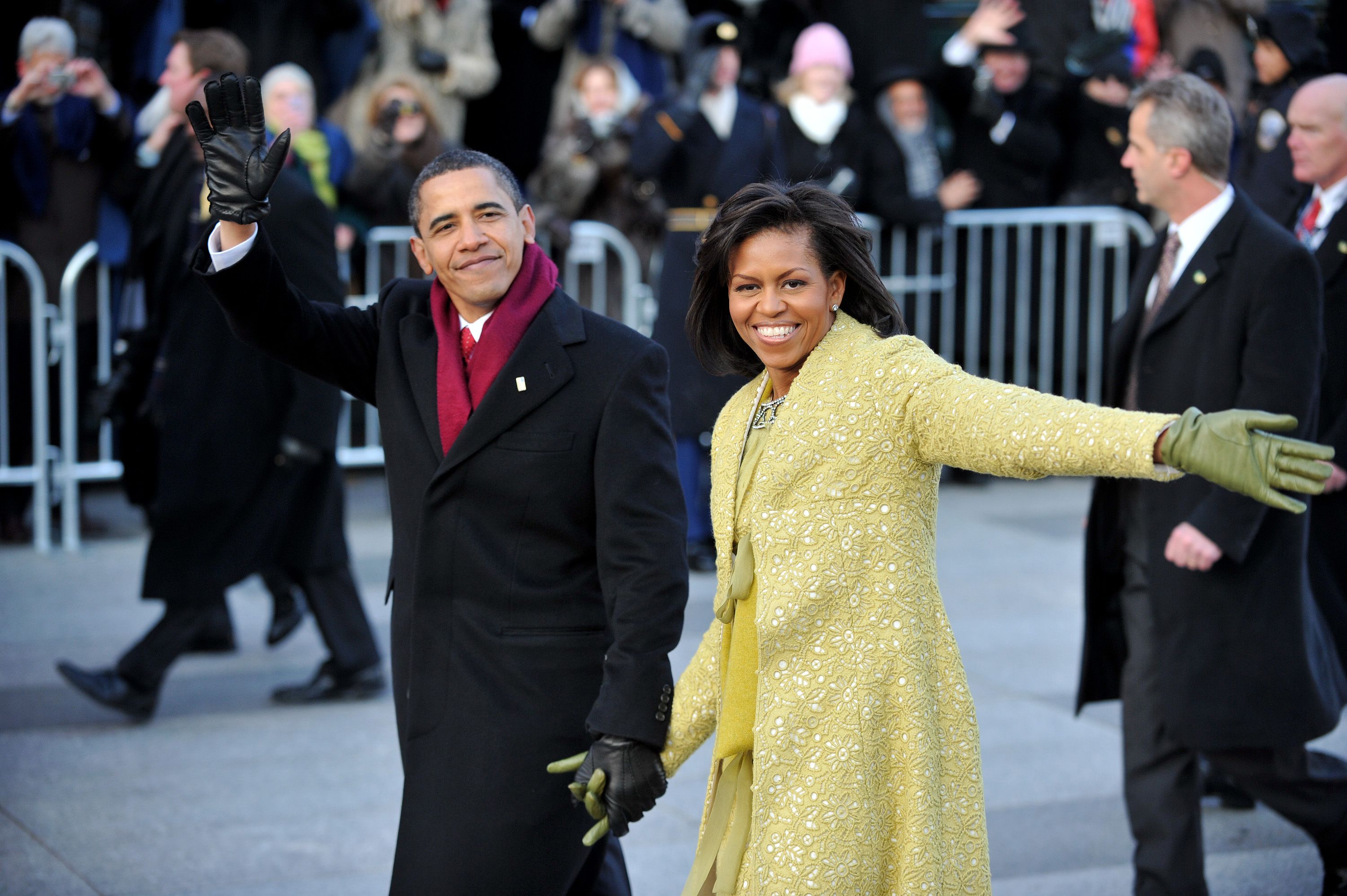 Melania Trump has attracted criticsm for wearing designer brands out of reach for most Americans. But at times, she also wears a brand frequently spotted on Michelle Obama: J. Crew. When Trump wore a gingham shirt from the mall brand, Vanity Fair reported, "Trump's predecessor Michelle Obama was often lauded for wearing J.Crew during her time in the White House, coming across as a more relatable and accessible First Lady than many in the past."
The publication reported that Melania Trump also emulated Michelle Obama — and the average American — by re-wearing dresses. Vanity Fair noted, "Former First Lady Michelle Obama re-wore a green Michael Kors dress, deploying it both at the White House and at a conference in New York. Obama even called out husband Barack recently on his ability to get away with wearing the same tuxedo for years."
Next: Melania Trump and Michelle Obama have welcomed these special people to the White House.
5. Both first ladies' parents have spent time at the White House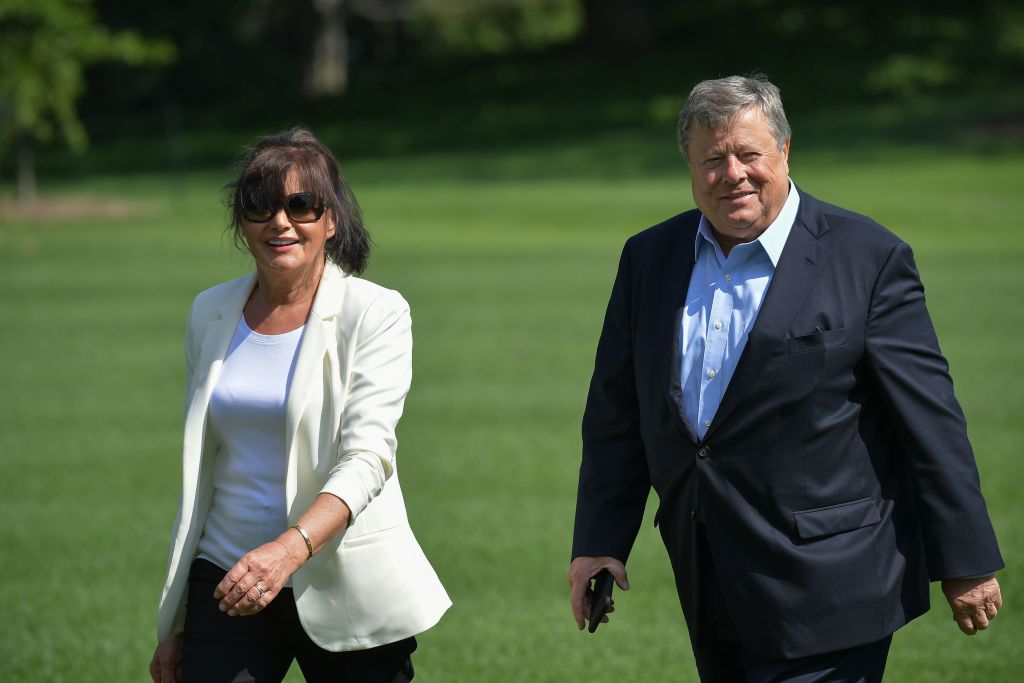 Another surprising similarity between the two first ladies? Their choices to have their mothers (or parents) stay at least temporarily at the White House. The Boston Globe notes that Melania Trump's parents, Viktor and Amalija Knavs, spent time at the White House after their daughter moved in in June. They also spent Father's Day weekend at Camp David with the Trumps. The Knavs live in New York, however. They aren't expected to live at the White House.
Michelle Obama's mother, Marian Robinson, also spent lots of time at the White House. In fact, she lived at the White House during the eight years that Barack Obama held office. There, she helped care for her granddaughters. The Washington Post reports that Robinson has played a critical role in the Obamas' family. And she ensured that Malia and Sasha "maintain some normalcy."
Next: Both first ladies consider this one of their most important duties.
6. Both Melania Trump and Michelle Obama are devoted mothers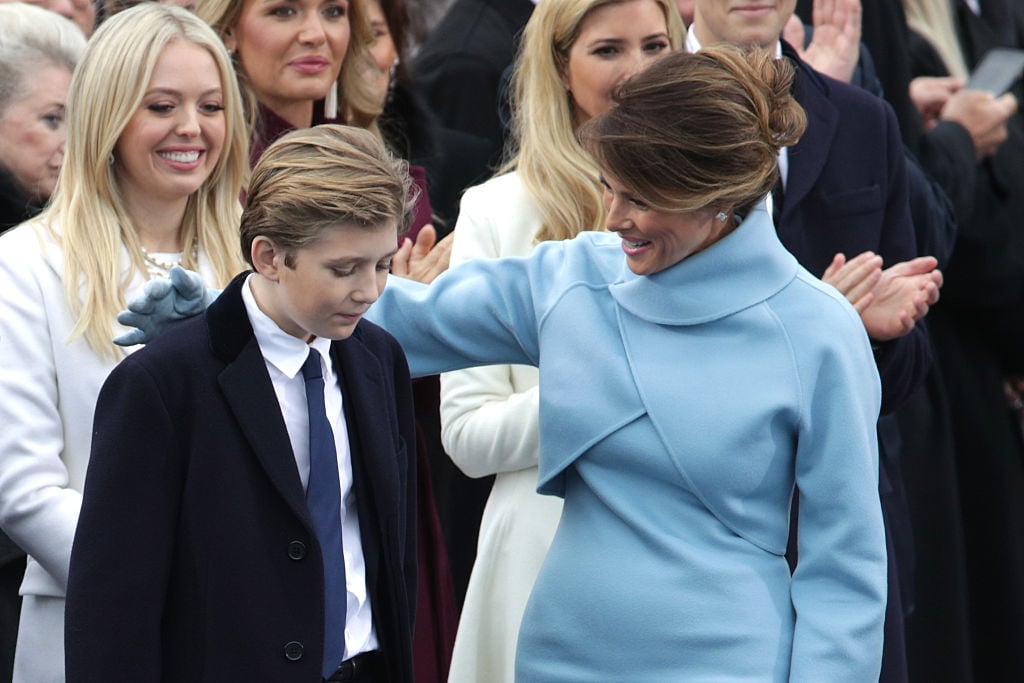 Newsweek, comparing Melania Trump's first 100 days as first lady to Michelle Obama's, noted that both women had to find their footing as first lady "while balancing the demands of motherhood." Obama famously referred to herself as "mom-in-chief," according to The Huffington Post. She put motherhood front and center as her two young daughters adjusted to life in Washington, D.C.
Melania Trump also seems to consider herself a mother first and first lady second. Relatively little has been reported about her son, Barron, at least by Trump standards. But Vanity Fair reports that he "is by most accounts sweet and well behaved, a testament to Melania's devotion as a mother. The two sometimes speak to each other in Slovenian, and until recently she consistently did drop-off and pick-up from Columbia Grammar and Preparatory," his school in New York City.
Next: They both promote this lifestyle choice.
7. Both Michelle Obama and Melania Trump promote healthy eating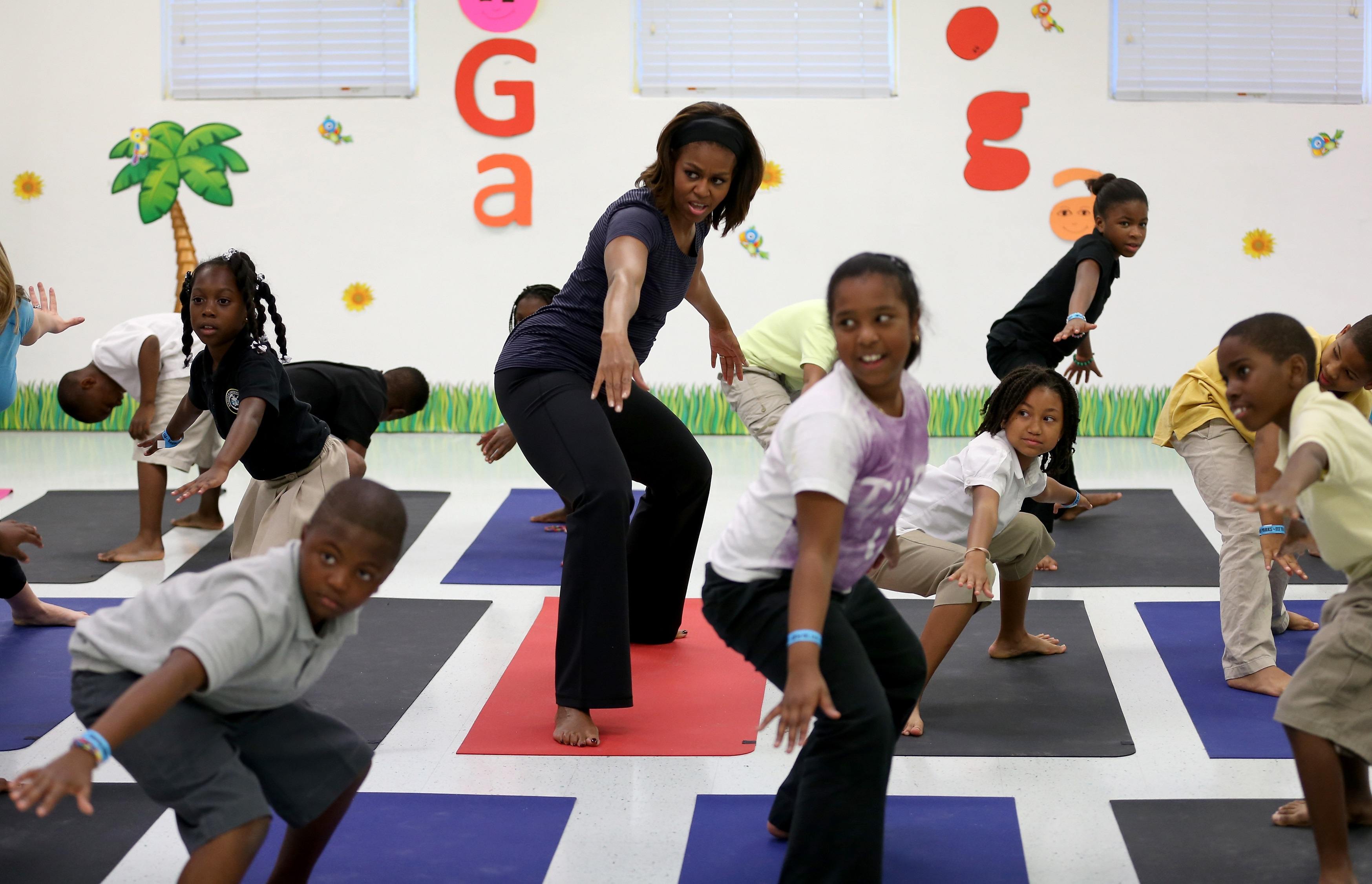 Michelle Obama made better nutrition and more exercise for children a part of her agenda. She championed rules on federally funded school lunch programs. Those rules required schools to serve their students more whole grains, fresh fruits, and fresh vegetables, while limiting salt and fat. She also launched a "Let's Move" campaign to encourage children to stay physically active in order to counter childhood obesity.
Melania Trump also seems willing to promote better nutrition and healthier lifestyles. At her event at the White House Kitchen Garden, she told the children in attendance, "I'm a big believer in healthy eating because it reflects on your mind and your body." She added, "I encourage you to continue to eat a lot of vegetables and fruits, so you grow up healthy and take care of yourself."
Next: The first ladies have this attribute in common.
8. They are both very tall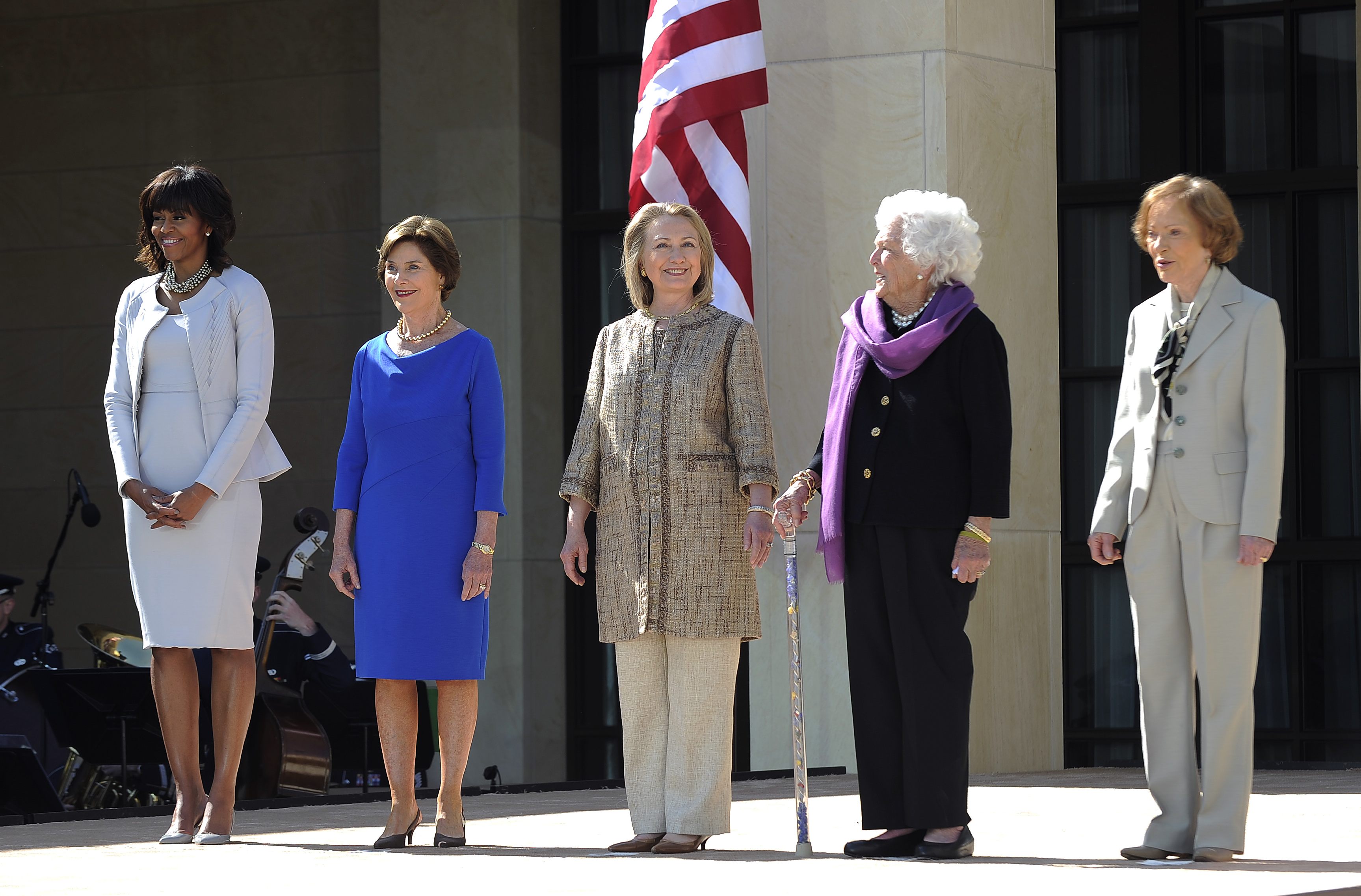 Both Michelle Obama and Melania Trump are quite tall: 5'11", to be exact. The two tie with Eleanor Roosevelt as the tallest first ladies. As People reported in 2010, "Compared to the other wives of presidents, Mrs. Obama is a towering figure." Jackie Kennedy, who was considered tall, measured up at 5'7″, while Bess Truman was 5'9″.
Obama's immediate predecessor as first lady, Laura Bush, measured 5'4.5″. Bush welcomed Obama to the White House, as Obama did for Melania Trump. And even Nancy Reagan — 5'4″, for the record — came to call at the Obama White House to have lunch with Michelle and walk around each room with her.
Next: Both first ladies came from this kind of background. 
9. They both come from relatively modest backgrounds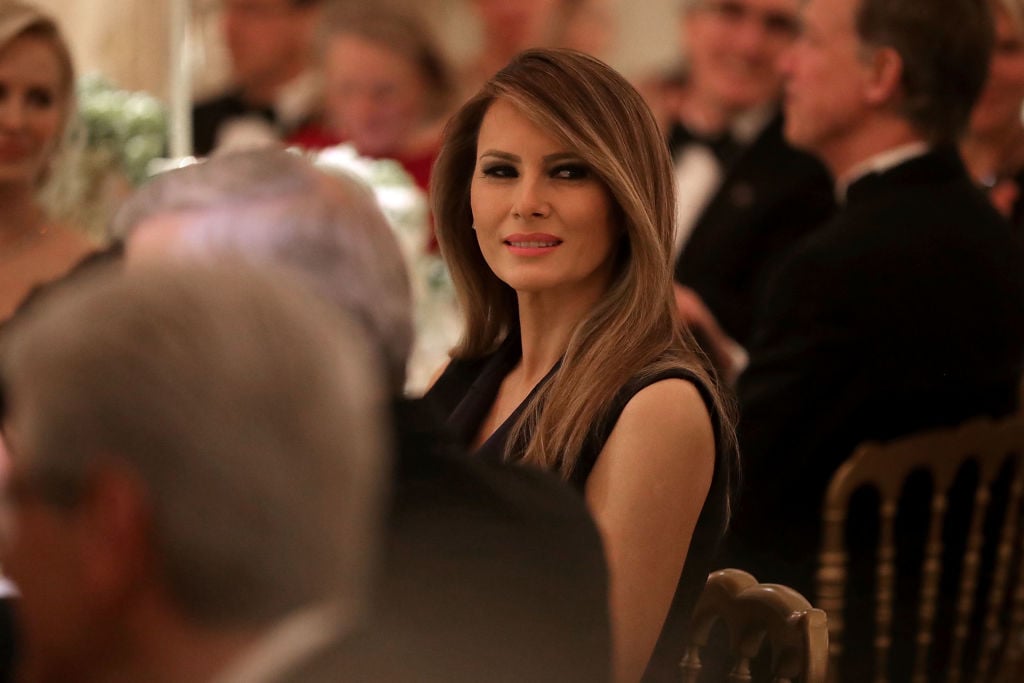 Michelle Obama called herself "the little black girl from the South Side of Chicago," according to The Washington Post. She was born to working class parents, and her upbringing shaped her outlook. The Post reports that when Barack Obama met her in 1989, he sensed a vulnerability that he attributed to Michelle's sense that life was "terrifyingly random." She referred to herself and her professional success, first as an attorney, then in economic development work and as a university administrator, as "a statistical anomaly."
Melania Trump grew up in Sevnica, Slovenia, then known as Yugoslavia. There, her family lived in Communist-style apartment housing. They lived well but modestly under Communist rule. Her family moved to the country's capital when Melania entered high school. She began modeling at age 16. Then, she traveled around Europe and learned various languages as she pursued her career. She eventually moved to New York City.
Next: First ladies often get higher approval ratings than their husbands, Melania Trump and Michelle Obama included.
10. Both first ladies tend to have higher approval ratings than their husbands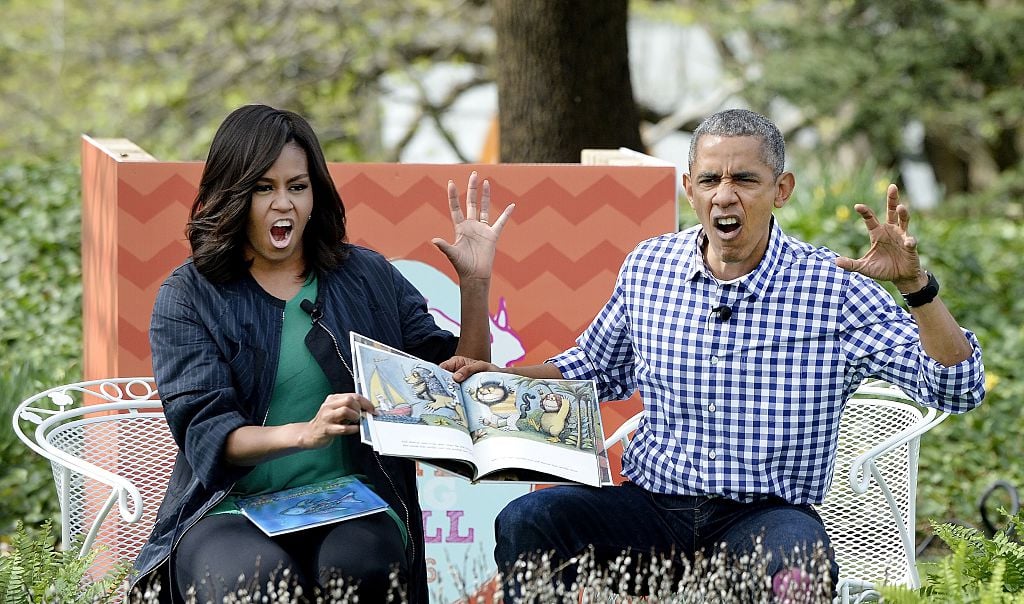 Both Melania Trump and Michelle Obama tend to get higher approval ratings than their husbands. As Politico reported in April 2009, Michelle Obama had three percentage points on Barack in terms of favorable ratings. Gallup explained at the time that first ladies often poll higher than their husbands. According to Gallup, the phenomenon "likely reflects that their role is far less controversial than that of the president, which often results in less-partisan ratings of the first lady."
Similarly, a recent CNN poll revealed that Melania Trump has become the most popular member of the first family. About 44% of respondents had a favorable view of her, compared with 41% for her husband. Newsweek recently reported, though, that Melania Trump isn't quite as popular a first lady as Michelle Obama.
Next: They both made this transition when their husbands assumed office.
11. They both moved to D.C. from major American cities, and took their time settling in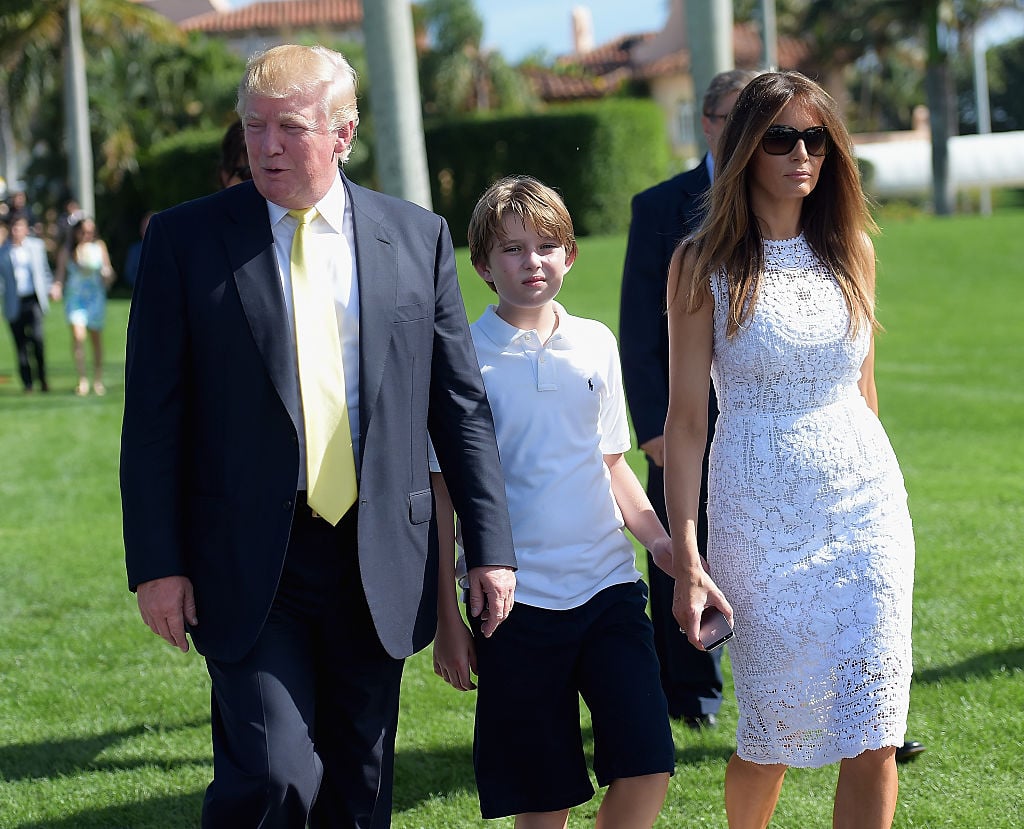 Michelle Obama moved her daughters from their Chicago home to Washington, D.C., soon after her husband assumed office as president. In Chicago, she had been a working mother. And according to The Washington Post, she "spoke openly about juggling jobs, chores and child-rearing with her increasingly famous and preoccupied husband."
Similarly, Melania Trump moved her son from their New York City home to the nation's capital. But only after Barron had finished out the 2016 to 2017 school year. The New York Times reported that Trump delayed moving from New York City to ensure a smooth transition for the 11-year-old. And as the Times reports, Trump "is far from the first person in the role to take time adjusting to the unwritten rules and expectations. Her predecessor, Michelle Obama, was less than enthused about life in the East Wing."
Next: Each first lady made this choice for her children's education.
12. Both first ladies send their children to private schools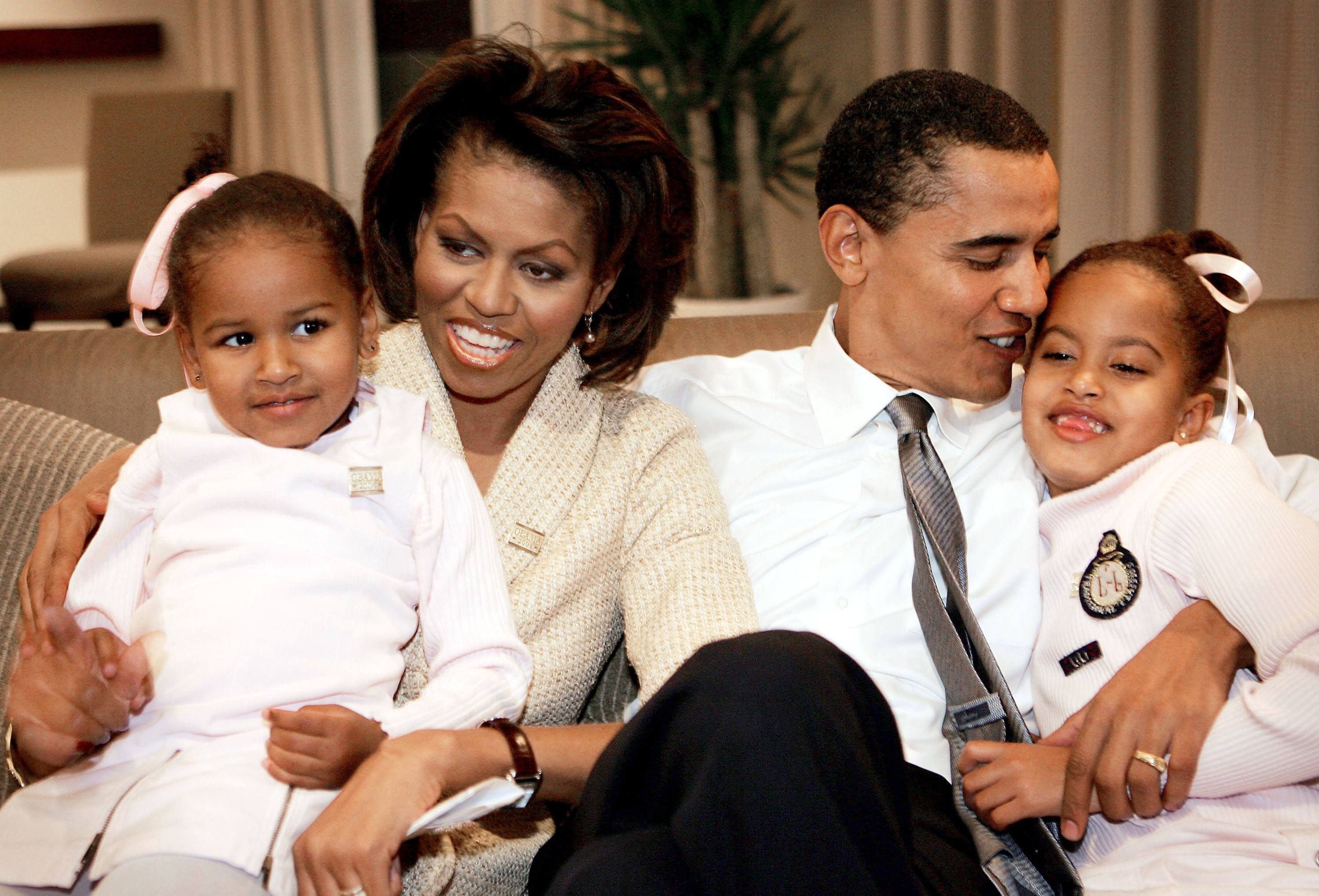 Melania Trump and Michelle Obama alike opted to send their children to private schools, both at home and in Washington D.C. Barron Trump attended Columbia Grammar and Preparatory School on the Upper West Side of Manhattan. Once he moved to Washington, he began attending St. Andrew's Episcopal School in Potomac, Maryland. There, he was the first presidential child to attend.
Similarly, Barack and Michelle Obama's daughters, Malia and Sasha, enrolled at Sidwell Friends, an elite Quaker school with campuses in the District and Bethesda, in 2009. Before moving to Washington, they attended the University of Chicago Laboratory Schools, one of the city's top private schools.
Next: They have each spent time doing this on the White House lawn.
13. They have both cultivated a vegetable garden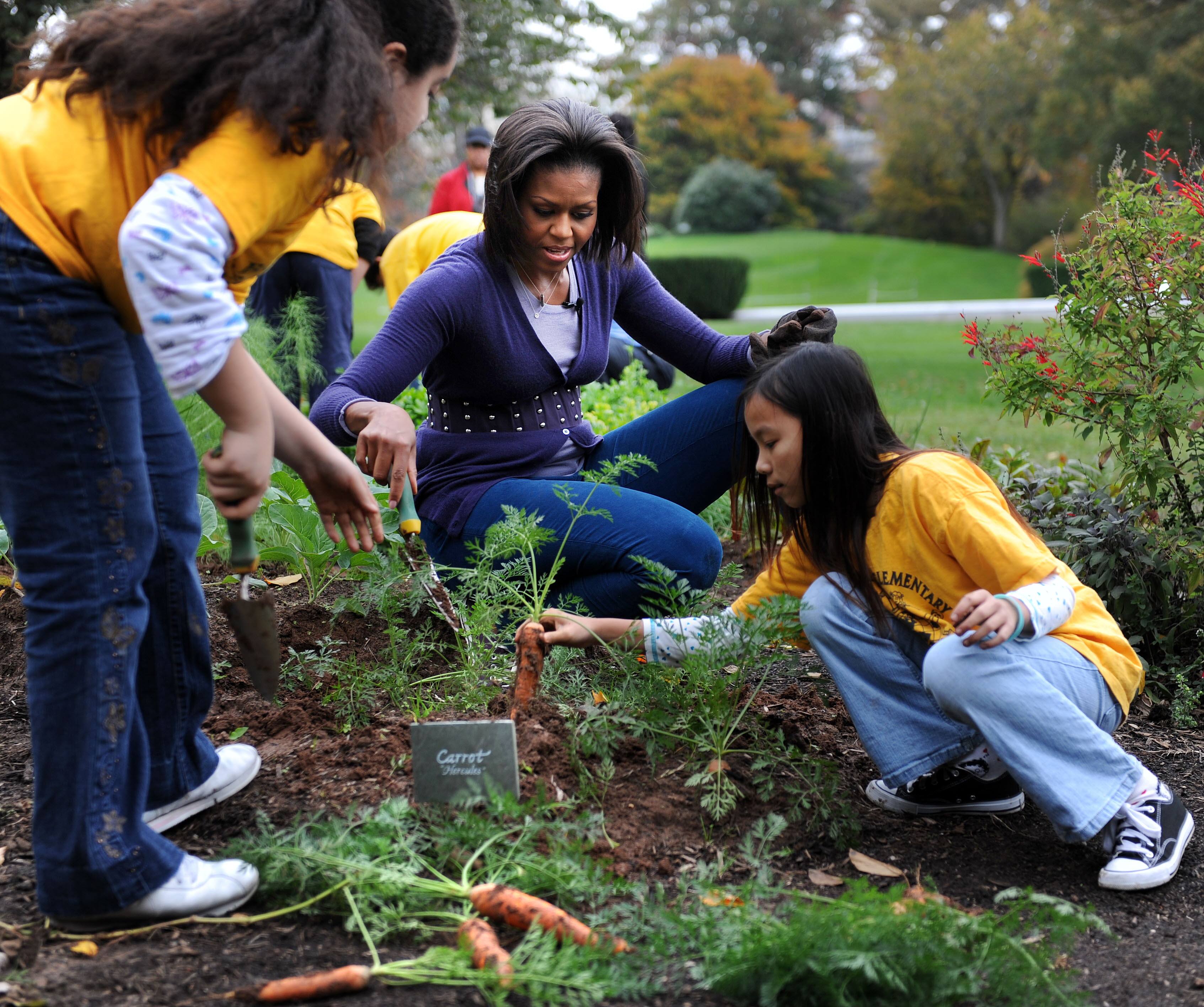 Michelle Obama planted an organic vegetable garden that Politico characterized as "a symbolic piece of the Obamas' food policy legacy." Some worried that Melania Trump wouldn't continue cultivating the expansive White House Kitchen Garden. But the new first lady showed no intentions of razing the plot in the South Lawn.
In fact, she held an event at the garden, and invited children from a local Girls and Boys Club to help her plant and harvest vegetables. They harvested lettuce and kale, peas, radishes, Swiss chard, and mustard. Plus, they planted cabbage, cauliflower, turnips, carrots, spinach, and kale.CNN reported, "The harvesting and planting event might have been Trump's first, but it felt reminiscent of those of Obama's tenure, perhaps a subtle homage from the new first lady to the old."
Next: They have both had this relationship to the limelight. 
14. Neither one asked to be in the spotlight
Dahleen Glanton reports for The Chicago Tribune that neither Melania Trump nor Michelle Obama asked to land in the spotlight. Both adjusted as their husbands campaigned and assumed office. But the American people have seen them very differently. According to Glanton, that illustrates Melania's white privilege. In Glanton's estimation, that privilege has made Americans willing to give Melania the benefit of the doubt as she stepped into the limelight — an advantage that Michelle Obama did not have.
"Like Melania Trump, Michelle Obama never asked to be in the public spotlight," Glanton explains. "The first time she appeared at a political convention, she didn't feel comfortable speaking to the nation either. But she has never been able to garner the empathy and patience people were willing to immediately bestow upon Melania Trump," even when, for example, Trump's convention speech notoriously borrowed a little too much from Obama's.
Next: Both Melania Trump and Michelle Obama share this attribute.
15. Neither first lady is an open book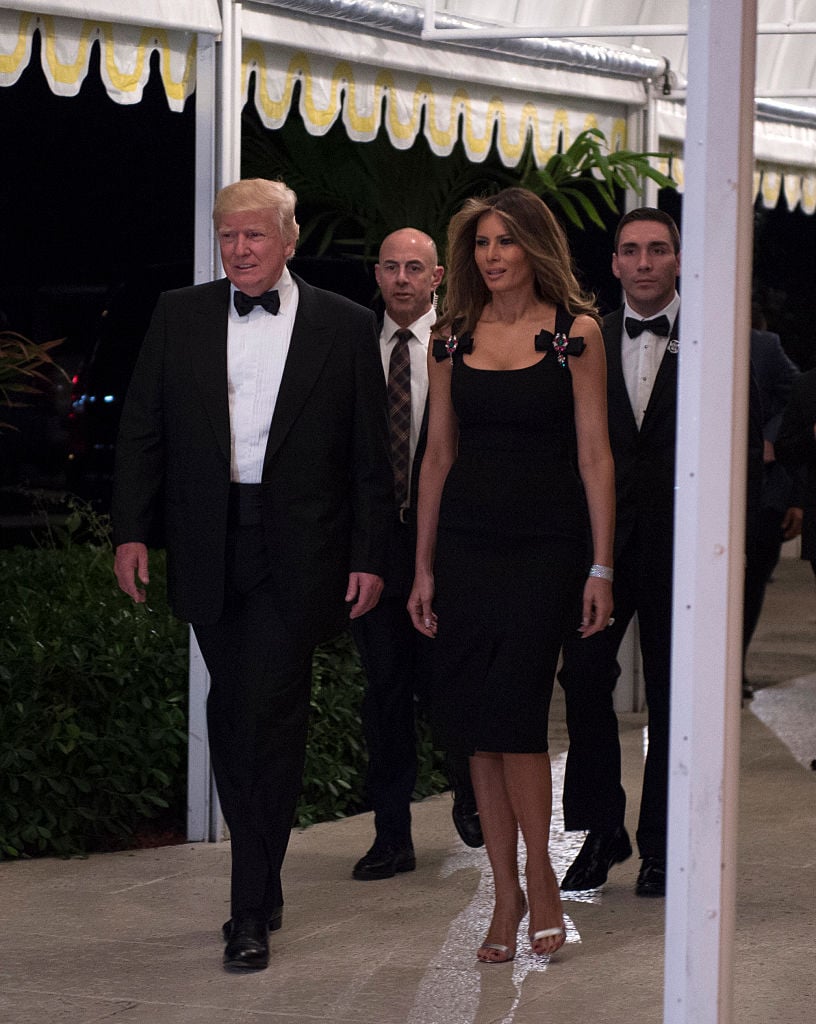 Vanity Fair reported that in marrying Melania, Donald Trump "seems deliberately to have chosen as his third [wife] a woman who would be both bombshell and cipher." A friend of the Trumps told the publication of Melania, "She speaks only when spoken to." She also taken pains to evade the spotlight as first lady. And she rarely breaks publicly with the Trump camp or its message.
According to The Boston Globe, "the first ladies share at least one common interest: not to cause political headaches for their spouses." Michelle Obama was much more agenda-driven than Melania Trump has been, at least so far. But Obama worked to support her husband's agenda, even as she pursued her own objectives in office. As such, she spoke to the press carefully. Neither first lady is an open book, even though one is much more willing than the other to speak candidly about her own experiences and views than the other.
Read more: Shocking Secrets Reveal Donald Trump's Tumultuous Relationship With His Family