How the 'Me Too' Anti-Sex Abuse Campaign Is Actually Bad for Victims
The hashtag "me too" swept the internet recently. Actress Alyssa Milano proposed all women who have experienced sexual harassment respond with it. The movement grew out of the avalanche of sex abuse accusations against former Hollywood producer Harvey Weinstein, and subsequent women coming out against men in power. While it empowered scores of women to respond, the movement also reveals a darker side to the issue.
1. Women speak out against sexist assumptions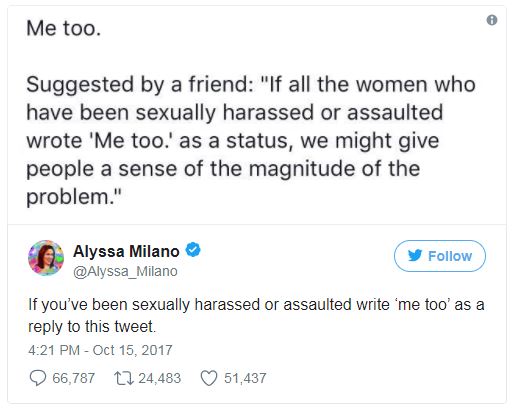 As of press time, Milano's tweet saw more than 24,400 retweets, 51,000 likes, and 51,000 replies. The hashtag appeared more than 500,000 times on Twitter, and more than 6 million people took "me too" to Facebook.
The campaign grew as a response to Mayim Bialik's op-ed in The New York Times. That article suggested that women can make "wise" choices to prevent it. "I still make choices every day as a 41-year-old actress that I think of as self-protecting and wise," Bialik wrote. "My sexual self is best reserved for private situations with those I am most intimate with. I dress modestly [and] don't act flirtatiously with men as a policy."
The actress noted that she remains "aware that these types of choices might feel oppressive to many young feminists. Women should be able to wear whatever they want. They should be able to flirt however they want with whomever they want. Why are we the ones who have to police our behavior?"
While legions of women protest using "me too," the action feels familiar to many. 
2. 'Me too' actually started a decade ago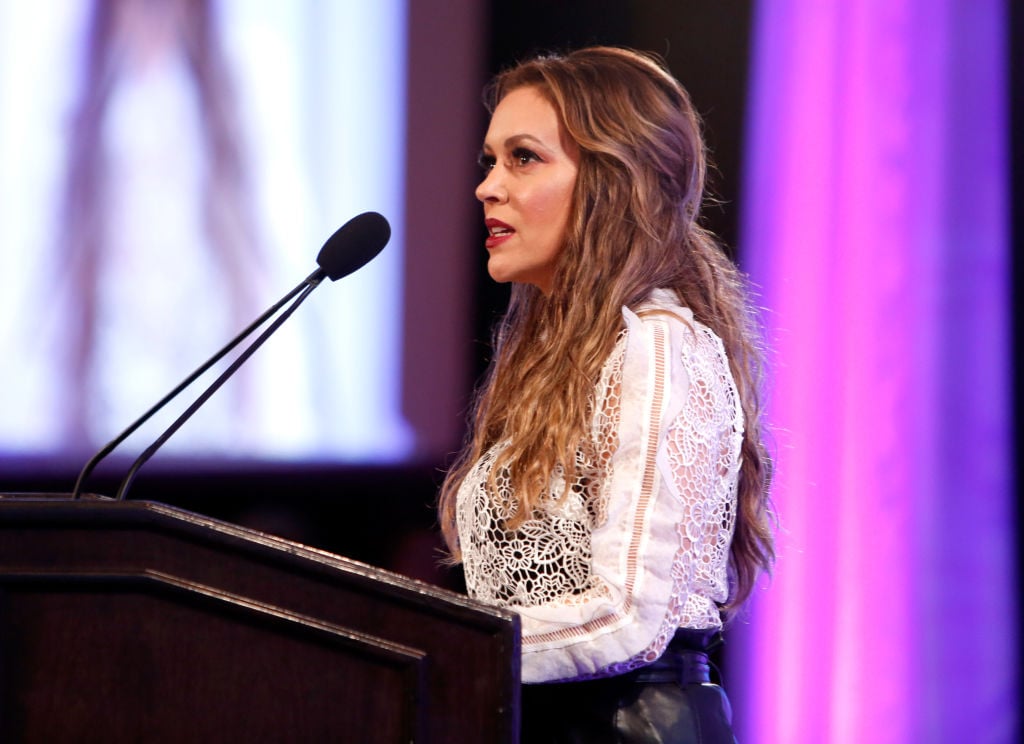 Tarana Burke actually started the "me too" movement in 2006. It grew as a response to hearing young women of color share their stories of abuse.  As the Me Too website explains, "the 'me too' movement started in 2006 as a program of our organization, Just Be Inc. In our work with young women, we not only encountered more and more disclosures of sexual violence. We also encountered almost an equal amount of youth who had experienced sexual violence and didn't know how to name it."
As Just Be Inc. grew, it expanded to include all women and gender nonconforming individuals. It now focuses on supporting women who have endured sexual abuse, assault, or exploitation. "The definition of exploitation … covers a wide variety of situations," Just Be Inc. says. "Young women who are … harassed daily in school or made to commit to sexual favors or perform sex acts under duress can be severely traumatized by their situations. The effects can be just as damaging as being raped or otherwise sexually assaulted."
The organization seeks empowerment and connection for survivors. It also provides education for schools and communities. According to Vox, Milano did not know about Burke's movement when she first tweeted. The "me too" hashtag also does not stand out as the first of its kind. 
3. We've been here before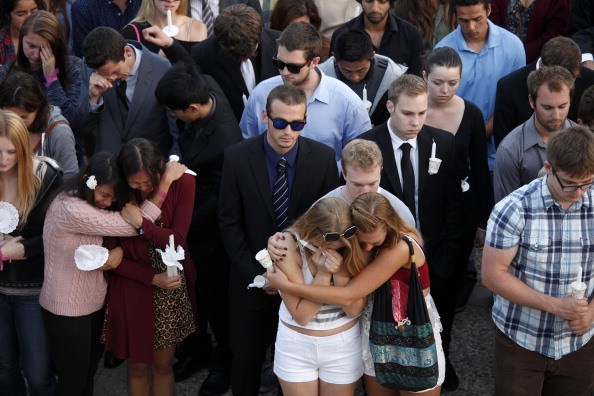 According to Slate, back in 2014, #YesAllWomen became the harassment awareness hashtag of the day. The hashtag #WhatWereYouWearing also trended at that time. It formed in response to the Isla Vista slaying, in which Elliot Rodger killed six people, and wounded four others as revenge for a romantic rejection. In less than a week, the hashtag appeared 1.2 million times on Twitter. It also spawned a counterhashtag, #NotAllMen, which still appears to this day.
Feminist writer and analyst Zerlina Maxwell noted to CNN that #YesAllWomen succeeded in drawing the mainstream — including men — into the conversation. She called the conversation's focus on "misogyny and its negative impact on men and women" unique. Maxwell also started #rapecultureiswhen, in response to a TIME op-ed criticizing "rape culture hysteria." Users retweeted that hashtag more than 67,000 times.
"It's not somebody on high saying this is a problem in society and everyone should fix it," she said, of the hashtags' impact. "It's people talking about real experiences, and each experience is validated by the next."
As far as measurable impact on rape culture, the fact that "me too" even happened speaks to that. Years later, the #metoo hashtag shows that society at large still needs reminding. Women still need their experiences validated. However, the movement has other, unintended effects as well. 
4. 'Me too' can trigger survivors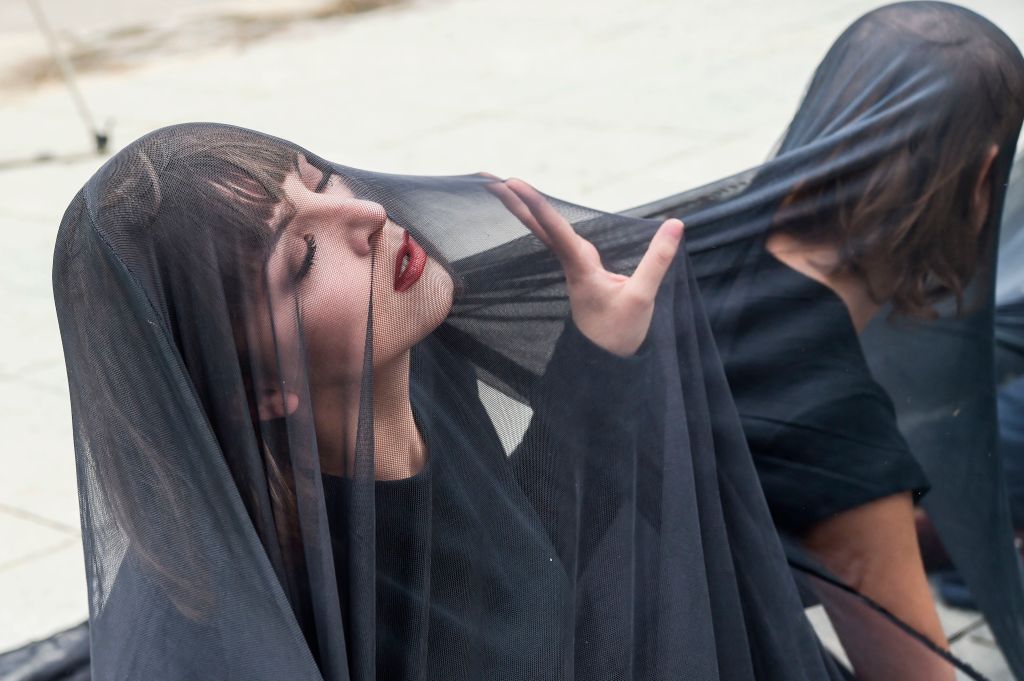 For many survivors of assault, the flood of stories causes pain. In Slate's Dear Prudence, one woman highlighted its effects. "I don't know how to deal with #MeToo as a rape survivor. I'm feeling triggered and angry," she wrote. She also criticized the limitations of the movement — that people post or read a status and then forget all about it. "I understand why people would want to post, but it just makes me furious. It makes me feel like everything I've gone through has been reduced down to a hashtag so that it can trend on social media."
Kristen Jordan Shamus posted an op-ed in the Detroit Free Press about its effects, as well. "A campaign that's supposed to be empowering … to me feels like revictimization," she shared. "It feels a little like pushing women who might not yet be mentally ready to tell their stories to tell … Survivors have precious little power over their assaults. Often, the only power they wield is when — or whether — to tell. We should respect their silence."
"For some survivors, 'Me Too' is incredibly empowering and validating, because they realize they're not alone … this happened to other people, people they wouldn't necessarily expect," Samantha Manewitz told NBC. The licensed social worker and sex therapist specializes in sexual trauma. "For other people, it can be incredibly triggering. I have clients who feel incredibly empowered and others who can't go on their Facebook page without getting panic attacks." 
5. Sexual assault survivors owe society nothing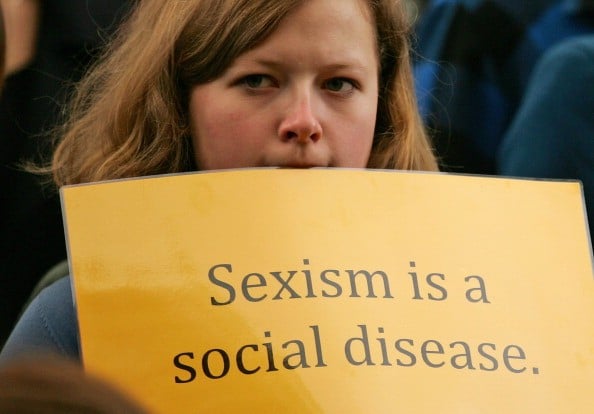 Irish author, Louise O'Neill touched on a similar issue, SheMazing pointed out. "I've been a little wary about #MeToo because it feels like it's asking women … to share our most traumatizing experiences in order to convince the world that our humanity deserves to be respected too. But … it's still important, despite my reservations," she wrote. "You don't owe anyone your story and I don't think any woman who has shared theirs would expect you to do the same. We're all in this together."
A spokeswoman for RAINN, the nation's largest anti-sexual-violence organization, said the organization has received an uptick in calls to its sexual assault hotline since the Weinstein news broke.
Laura Palumbo, a certified sexual assault counselor and communications director for the National Sexual Violence Resource Center, told NBC conflicting emotions make sense. Survivors can experience "uplifting" feelings seeing fellow survivors being believed and supported. "But the other aspect is that the trauma that you've experienced is now becoming an element of the national conversation … something that you, as an individual, have experienced that was a really difficult experience is now becoming a feature of everyday conversation," she said.
The virality of the "me too" hashtag has made many feel they must participate for their stories to gain validation. That's false premise perpetuates the culture that has made rape so difficult to prosecute. 
6. The onus should fall on abusers, not victims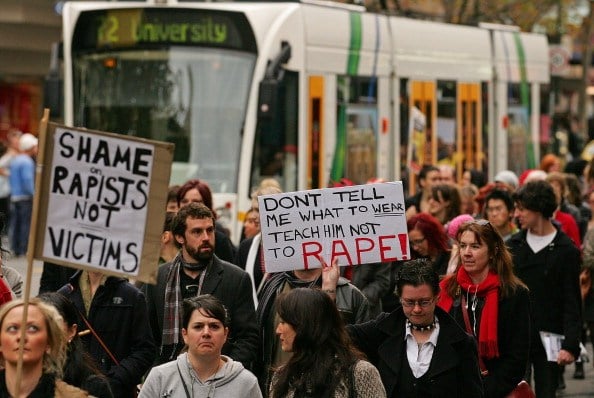 As a Vice article noted, campaigns like "me too" place responsibility on victims, not perpetrators. "I felt, yesterday, the same vague despair I feel at the proliferation of  'Let's Talk' campaigns and journalism around mental illness. What began … as a well-intentioned encouragement to do away with personal shame around your diagnosis, transformed eventually into a slick and meaningless catchphrase which puts the burden on the sufferer to heal themselves without any resources."
The author took issue with the performative nature of hashtags like this one. "It seems grotesque to me to lay the burden of representation on women, that we are tasked with performing our pain so often." She noted the media's fascination and the lack of meaningful change as a result. "[People] are horrified and fearful when it comes to speaking about the realities of abuse. They are often unable to bear a straight conversation about it. People compel you to talk and then find themselves incapable of looking you in the eye when you do."
That response sensationalizes the act of sexual abuse. It also reduces its victims to juicy statistics, even as most women on social media chime in. The nature of the hashtag makes victims answer for crimes committed against them. It should make abusers do the same.
Men have to take responsibility for their actions, and not just because they know a victim. 
7. You shouldn't need daughters to hate sex abuse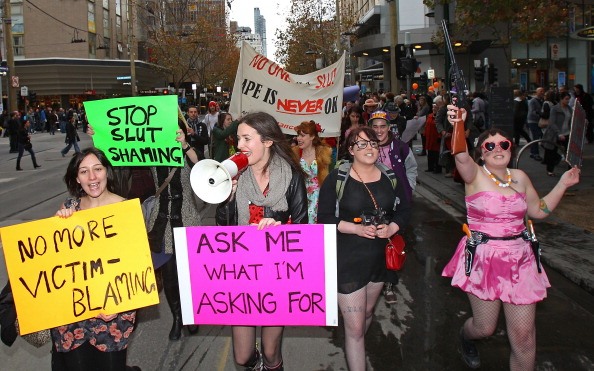 Matt Damon came under fire for using his daughters as a reason why he condemns Weinstein's actions. "Look, even before I was famous I didn't abide this kind of behavior. But now, as the father of four daughters, this is the kind of sexual predation that keeps me up at night," Damon told Deadline.
Judd Apatow took issue with that on Entertainment Weekly. "As if you have to be a father of daughters to know this is awful, right? You shouldn't need daughters to get this." He then joked, "As an owner of a bird, I think this is awful."
"I have three daughters," Cuomo told reporters, when responding to the issue. "I want to make sure at the end of the day, this world is a safer, better world for my three daughters."
As Vulture pointed out, needing to invoke daughters as proof of disagreeing with sexual abuse rings false. "Only a sociopath needs a daughter — or a sister, a girlfriend, a wife … to make him queasy enough at the thought of a sexual predator in his industry to do something about it," the author wrote. "You don't need a daughter to feel guilty about working with a man who preys on young women, or about not acting to stop him. You just need a conscience."
How can we fix this? Some activists have an idea. 
8. We should focus on the perpetrators, not the victims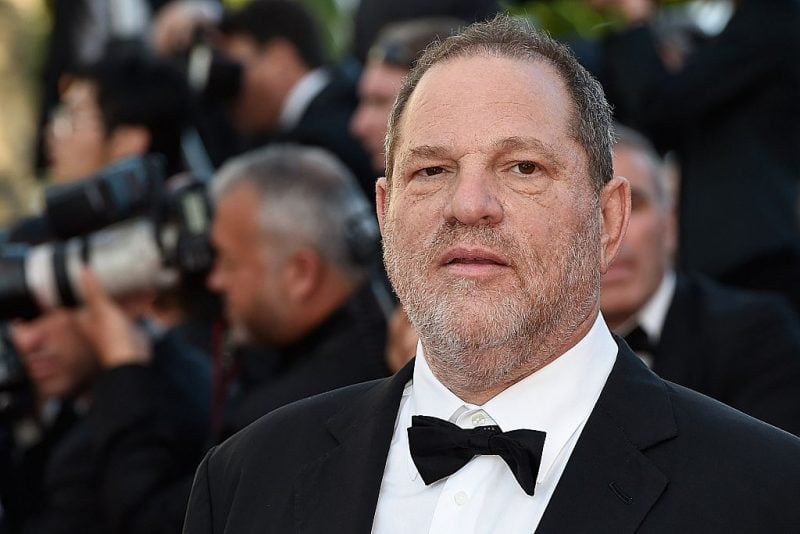 Minister and blogger John Pavlovitz wants men to speak up, according to the News & Observer. "The victims, most of whom are female, shouldn't have to announce 'Me too' on social media to help the world grasp the ubiquity of sexual violence and harassment," Pavlovitz wrote in his blog. "It should be the perpetrators and those whose silence allows the behavior to go on. We should not be expecting women to further make themselves vulnerable just to wake our consciences up and to call us to places of decency and accountability that we should already be aspiring to."
According to TIME magazine, some men have taken that on. Using #HowIWillChange, several men pledged to start calling out predatory behavior.  They promised to teach their children to honor and respect women and listen more, as well.
Anne Hedgepeth, who works for the American Association of University Women, agrees with Pavlovitz. The interim vice president of public policy and government relations for the Washington-based non-profit advocates for equity for women.
"It will matter what follows from it," Hedgepeth said. "It is important for survivors to have a space to share their stories if they want to. But will we stop forcing them to carry the burden of convincing society that this is a problem they need to stop?"
In a New York Times article, the comedian and activist Nick Jack Pappas called on his peers. "Men, Don't say you have a mother, a sister, a daughter… Say you have a father, a brother, a son who can do better. We all can."
Follow The Cheat Sheet on Facebook!